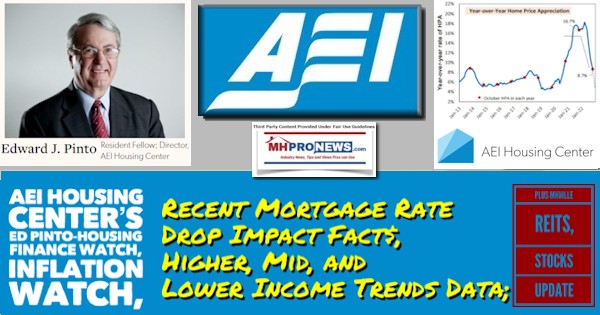 There is not always a direct or perfect correlation between the rise in the Federal Reserve rate and mortgage rates. So observed a 35-year mortgage industry veteran in comments provided to MHProNews a few months ago. That observation has been born out once again by the latest information from the American Enterprise Institute (AEI) Housing Center data set.  Following the graphics, facts, and narrative below from the AEI Housing Center to MHProNews will be additional information with more manufactured housing industry focused analysis and commentary. The third and final segment to today's report will be the Daily Business News on MHProNews manufactured housing industry connected equities report, which includes our signature left-right 'market moving' mainstream headlines recap.
In an email from AEI's Edward "Ed" Pinto dated Tue, Dec 13, 2022 at 11:17 AM to MHProNews were the following updates. Note that in the remarks below "HPA" is an abbreviation for Home Price Appreciation.
Subject: Housing Finance Watch and Inflation Watch: Purchase Rate Lock Volume Shows No Sign of a Rebound Despite Rates Dropping

Purchase rate lock volume is below 2018 levels and shows no sign of a rebound despite rates dropping by 1/8% and the seasonal slowdown continues. Home Price Appreciation (HPA) continues to decline with higher interest rates and is expected to sharply decline in 2023. 
Median Purchase rates in 2022 week 49 declined further to 6.375% from 6.49% last week. Mortgage News Daily reported a 30-year rate of 6.39% for Dec.12, 2022.
Purchase volume in 2022 week 49 is down 47%, 38%, and 29% from 2021, 2019, and 2018, respectively. YTD 2022 volume is down 21.7% through week 49 in 2021. Given seasonal trends, weekly volume is likely heading lower through year end.
Cash out volume in 2022 week 49 is down 83%, 69% and 57% from 2021, 2019, and 2018, respectively & trending lower.
No cash out volume is now at its lowest level of the 2019-22 period due to rates having more than doubled (+3 5/8 ppts) since the beginning of 2021, resulting in refi burnout. Volume in 2022 week 49 is down 94% from 2021.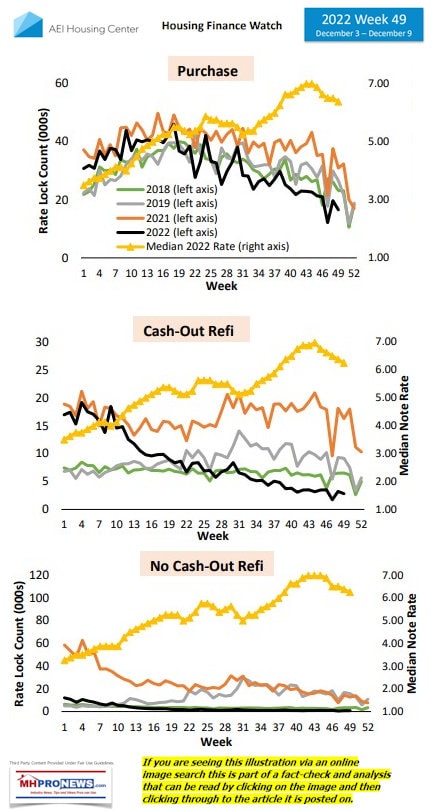 Home Price Appreciation (HPA) 
Sharply higher interest rates since Jan. 2022 have led month-over-month (m-o-m) home price appreciation (HPA) to turn negative in July 2022. Oct. 2022 had -0.6% (m-o-m), down from Oct. 2021's rate of +0.4% (m-o-m). Our analysis of Optimal Blue data indicates that m-o-m HPA will be increasingly negative through the rest of 2022, with Dec. likely to be -1.2% (m-o-m). Y-o-y HPA is expected to slow to about 5% by Dec. 2022, resulting in a cumulative price drop of about 5% from the June peak.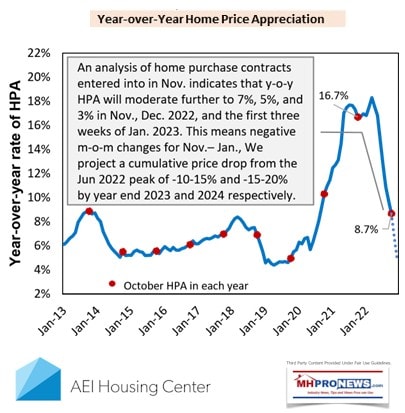 Key takeaways:
Purchase volume in week 49 trended lower (down 47% from 2021) despite the rates having recently cooled down from their peak in week 44.
Y-o-y HPA is projected to moderate to 7%, 5%, and 3% in Nov.2022, Dec. 2022, and first three weeks of Jan.2023, respectively.
The 10-year old seller's market is showing its age, with moderate purchase volume & HPA declines due to sharply higher rates & a cumulative 39% increase in HPA since Jan. 2020.
Metros with less affordability are hit the hardest: the Western metros of San Francisco, Salt Lake City, San Jose, and Sacramento are already having y-o-y HPA declines.
Over time price declines will spread to the low end of some FHA markets & in metros with stagnating or declining job growth.
We expect the national seller's market to end in 2023.

The Fed spiked the monetary punchbowl for too long with the housing market experiencing a massive boom. With the spiking ending, a hangover is developing as we are in the midst of the most rapid slowdown in Home Price Appreciation (HPA) since the bust of 2007-2011. The Fed's expected rate hikes are likely enough to cool the housing market. Doing more may inflict pain on low-income and minority borrowers with less staying power to withstand price volatility. Middle- and upper-income borrowers are much better positioned to withstand such volatility.
Inflation Adjusted Spending Remains Relatively Strong Notwithstanding High Inflation
In the last four weeks (weeks 43-46), inflation-adjusted spending continues to be resilient with income quintiles 4 & 5 up 8.5% & 7.4%, vs. 6.7% (y-o-y) for quintile 1*. Spending growth in the lowest income quintile continues to lag. Inflation-adjusted spending trended upwards in week 46 as the Christmas holiday season started. (see panel below).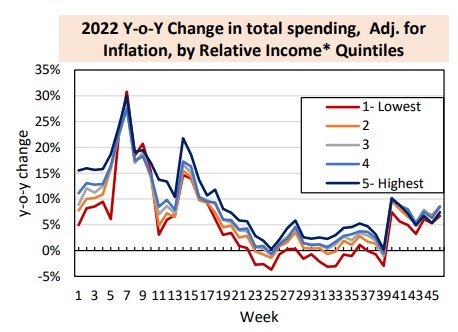 The trend in total spending generally tracks the decline in the stock of excess savings [bottom panel]. Excess savings began to decline in 2021:Q4, but it remained at a high level of $1.7 trillion by 2022:Q2. Goldman Sachs reported another $0.2 trillion drop in excess savings in 2022:Q3 and projected it will continue to decline through the end of the year. Real spending increases combined with relatively high excess savings have kept inflation running hot.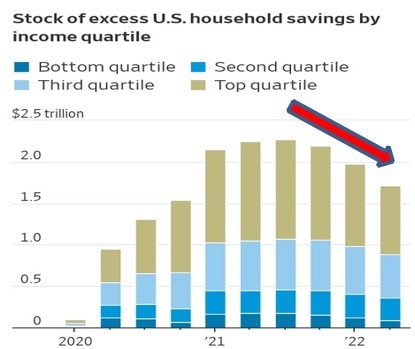 However, demand pull inflation** should abate due to a likely continuing decline in excess household savings and a reversing of the wealth effect created by Fed policy as nominal HPA (YoY) expected to slow to 5% for Dec. 2022 and -10 to -15% for Dec. 2023. The stock market declines will also decrease pressure from demand pull inflation. It should still take awhile to bring consumer price inflation under control as demand destruction takes time.
Low-income Consumers Purchase Fewer Gallons of Gasoline Lower income homeowners face increasing stress as inflation, especially for gasoline & food, eats into budgets. As gasoline prices retreated from their peak levels in June and with the holiday season starting, gallons of gasoline purchased were up around 1-2% (y-o-y) in week 49 for all income quintiles except for quintiles 1 & 5 where it was flat (see panel below). The effect on highly leveraged homeowner's budgets may eventually lead to either a voluntary or forced home sale. We are seeing lower-income and credit score borrowers tap home equity through cash out refis. Expect home prices to soften or decline in areas with concentrations of highly leveraged FHA loans.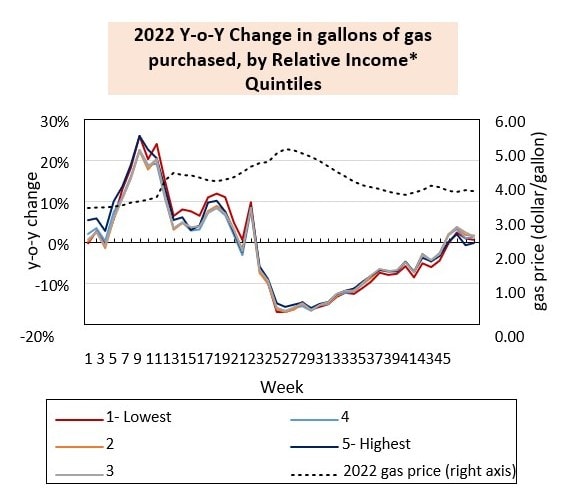 * We assign each ZIP code to a quintile based on its ratio of income to area median income (AMI). The lowest quintile had a median income of 63% of AMI, while the highest quintile had a median of 136% of AMI. Note: Total spending refers to national household credit and debit card spending. Total spending accounts for about 45% of all Personal Consumption Expenditures (PCE). All data are in nominal dollars. Monthly CPI excluding shelter and new and used cars, which are not normally charged or debited (not seasonal adjusted), is used for inflation adjustment. October CPI was used for November data.
** Demand Pull Inflation is when aggregate demand in an economy strongly outweighs the aggregate supply causing prices to go up.
Source: American Community Survey 2019, HMDA, Commerce Signals, a TransUnion business, AEI Housing Center (left and bottom right panel), Federal Reserve & WSJ (top right panel). ##
Additional Information with More MHProNews Analysis and Commentary 
The latest AEI Housing Center data set and analysis is suggesting in part that economically fragile households could see an increase in foreclosures and financially forced sales. Quoting Pinto: "The effect on highly leveraged homeowner's budgets may eventually lead to either a voluntary or forced home sale. We are seeing lower-income and credit score borrowers tap home equity through cash out refis."
Per AttomData on 10.13.2022, "States that posted the greatest number of foreclosure starts in Q3 2022, included California (7,368 foreclosure starts); Florida (6,671 foreclosure starts); Texas (6,217 foreclosure starts); Illinois (4,702 foreclosure starts); and New York (3,997 foreclosure starts)." That was in an article entitled, "U.S. Foreclosure Activity Continues to Increase Quarterly." PropertyOnion reported on August 13, 2022 that "Foreclosures in the first half of 2022 are up 219% across the United States annually. 90% of those foreclosures took place in major metro areas."
Should foreclosure levels reach sufficient volume, they tend to be a drag on housing in general. But foreclosures can historically also become stronger housing competition for new manufactured home sales.
While AEI in this report tended to suggest or 'pin the blame' on the Fed's policies, Democratic House Minority Whip James "Jim" Clyburn admitted to MSNBC that Democrats knew that their spending policies would result in increased inflation. Restated, both the Fed and Democratic spending measures – however 'well intentioned' – have contributed to the trends, per various sources.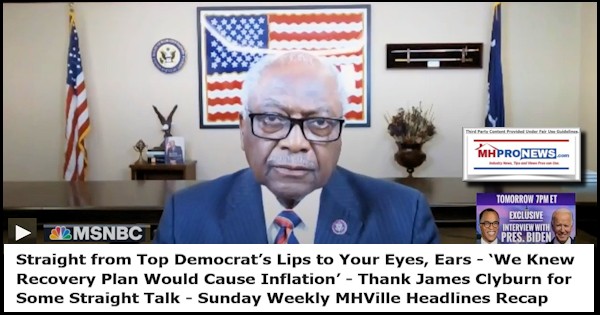 Among the outcomes has been an apparent failure in the Biden Housing plan.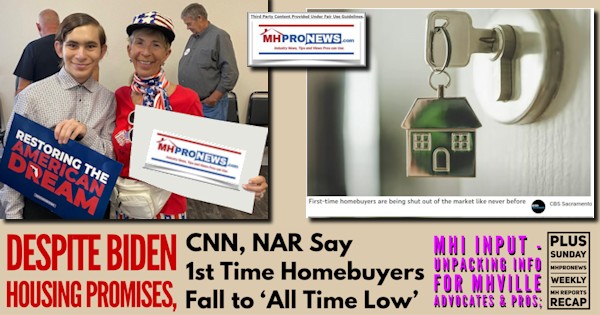 These factors do not let the Manufactured Housing Institute (MHI) off the proverbial hook for their part in this arguably avoidable housing downturn and how it is impacting HUD Code manufactured home sales.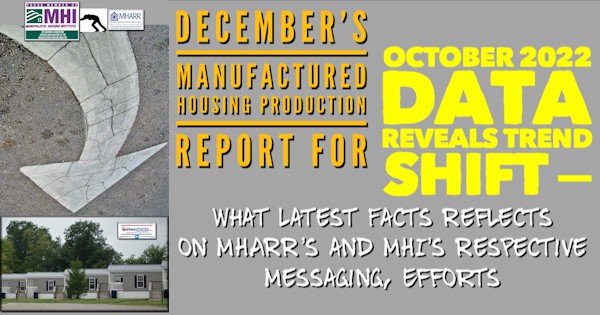 Perhaps oddly, after consecutive months of MHProNews hammering the MHI affiliated Texas Manufactured Housing Association (TMHA) monthly report produced in conjunction with the Texas A&M Real Estate Reseach Center (TRERC), their most recent report suggests that an uptick will follow the downturn. Time will tell.
Has MHVille Reporting Forced Pivots? TRERC, TMHA, Manufactured Housing Institute Each Change Tune Following MHARR, MHProNews Reports – Fact Check, Analysis; plus Manufactured Home Community REITs, Stocks Update
Problems that flow from inflation couple with a shortage in housing supply, strong demand, and in some cases job/income related struggles have reportedly combined to press some 9 million millennials into moving back in with their parents.
Fears of Future – MILLIONS of Millennials Move Back in 2022 with Parents-Facts, Top Reasons, and Possible Silver Lining for Manufactured Housing Pros, Investors; plus MHVille REITs, Stocks Update
The above could, with a proper press of manufactured housing's rights under various federal laws result in a boom for the industry.  But instead, relatively modest swings in manufactured home production may cause observers, advocates, investors, and professionals to miss the fact that manufactured housing has been underperforming for essentially most of the 21st century.
Pew Research Manufactured Home Financing Data Reveals Harm from Enough Federal Lending Shuts Out Many Prospective Buyers-Concerns on Berkshire Owned MHLenders, Manufactured Housing Institute
Manufactured Housing Properties-Results for Three and Nine Months Ending September 30.2022–Exploring 'Mobile Home Park' Manufactured Home Community Investing; plus MHVille REITs, Stocks Update
Unpacking Equity LifeStyle Properties, Inc. (ELS) Q3 2022, Earnings Fact$, Call Transcript, Q4 Dividends – Eye Opening 'Govt Intervention,' 'Lawsuit,' 'Inflation,' Remarks plus MHC REIT Comparison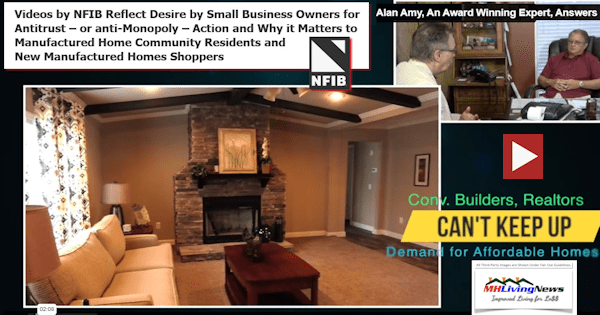 These facts and trends may explain why the report below is producing so much attention among industry professionals, per third-party metrics.
Consumers 'Fears for the Future'-Mortgage Payments Surge Since 2021, Buyers Get Priced Out–Conventional Housing Woes are Manufactured Home Pro Opportunities; plus MHVille REITs, Stocks Update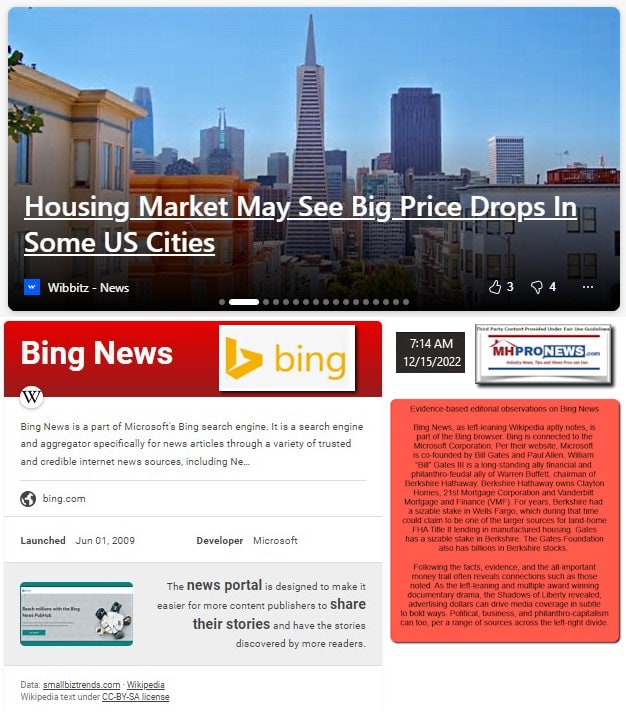 MHI Owes the Manufactured Home Industry an Explanation and a Lawsuit – the Need to Stop Destructive Energy Regulations of Manufactured Housing
Institute for Justice (IJ) Prepares Litigation and Sues Jurisdictions to Protect Rights to Tiny Homes-Affordable Housing-Will Manufactured Housing Institute Follow Suit for Manufactured Homes?
Has the Manufactured Housing Industry Become a Target-Rich Environment for Plaintiffs' Attorneys? Facts, News & Views; plus, Sunday Weekly Manufactured Home Industry (MHVille) Headlines Recap
50 States Manufactured Home Production, Shipments-Dec 2022 Report for Oct 2022, plus Fresh Census Info Yield Broad Manufactured Housing vs. Site Built Insights; plus MHVille REITs, Stocks Update
Daily Business News on MHProNews Markets Segment
The modifications of our prior Daily Business News on MHProNews format of the recap of yesterday evening's market report are provided below. It still includes our signature left (CNN Business) and right (Newsmax) 'market moving' headlines. The macro market moves graphics will provide context and comparisons for those invested in or tracking manufactured housing connected equities.
In minutes a day readers can get a good sense of significant or major events while keeping up with the trends that are impacting manufactured housing connected investing.
Reminder: several of the graphics on MHProNews can be opened into a larger size. For instance: click the image and follow the prompts in your browser or device to OPEN In a New Window. Then, in several browsers/devices you can click the image and increase the size. Use the 'x out' (close window) escape or back key to return.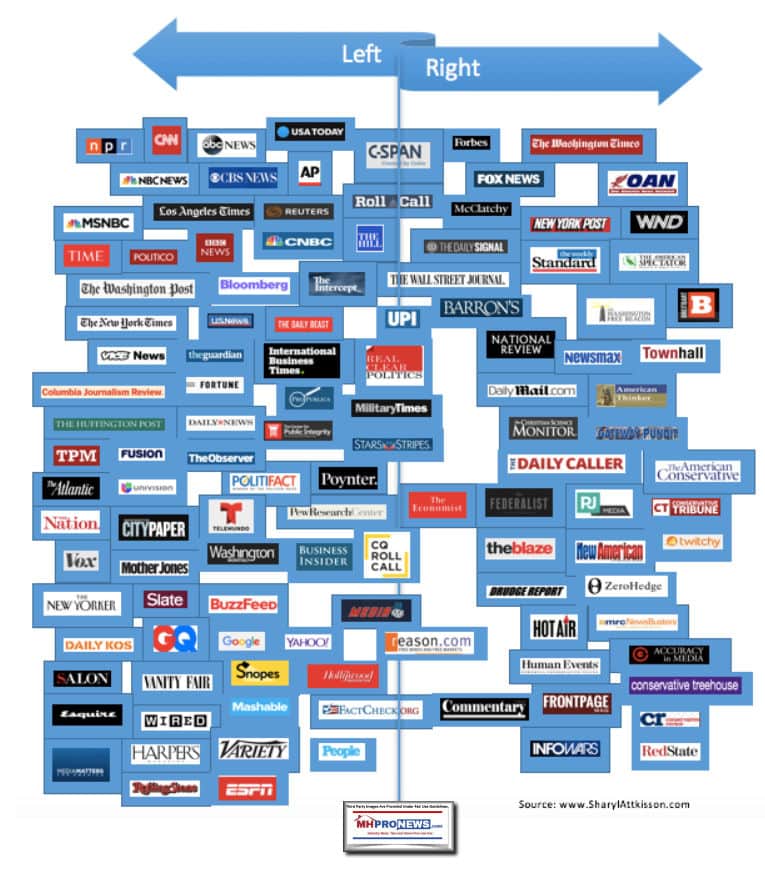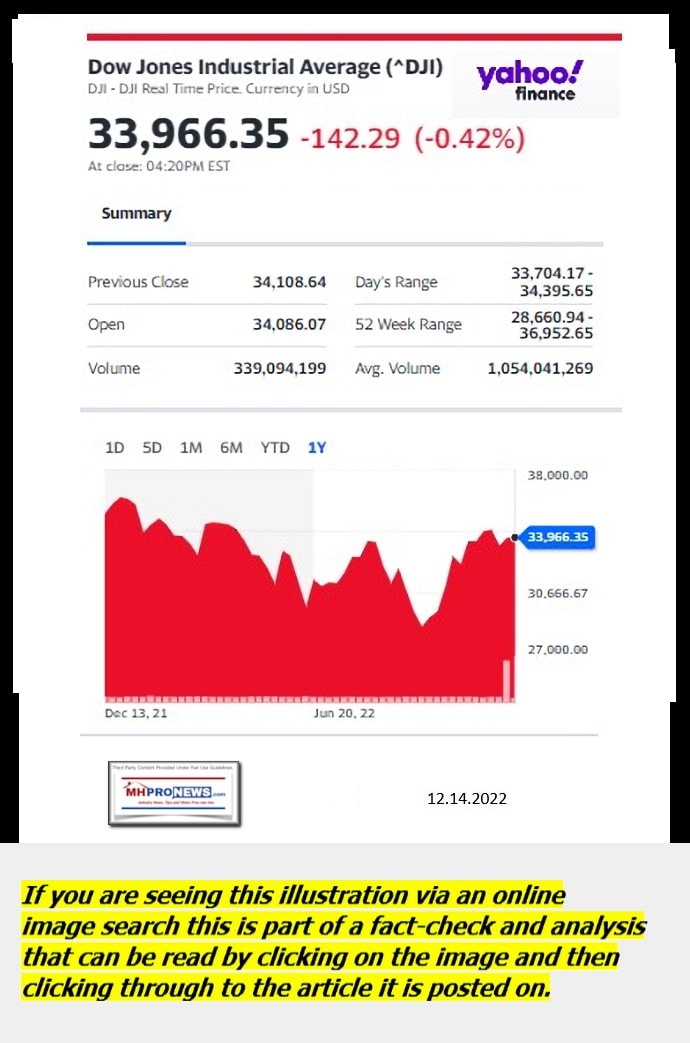 Headlines from left-of-center CNN Business – from the evening of 12.14.2022
No rate cuts in 2023
Jerome Powell speaks during a news conference today in Washington, DC.
LIVE UPDATES
Live Updates: The Fed may not hike rates next year. But don't expect it to cut them either, Powell says
Jerome Powell, Chairman of the U.S. Federal Reserve, attends the National Association of Business Economics (NABE) economic policy conference in Washington, D.C, United States on March 21, 2022.
Fed lifts rates by half a point, acknowledging that inflation is easing
Sam Bankman-Fried, who founded and led FTX until a liquidity crunch forced the cryptocurrency exchange to declare bankruptcy, is escorted out of the Magistrate Court building after his arrest in Nassau, Bahamas December 13, 2022.
Parents of Sam Bankman-Fried face scrutiny over their roles in FTX
A Norfolk Southern freight train pulled by Locomotive 7565, a GE ES44DC Evolution Series diesel locomotive, travels East. At the railroad tracks running parallel to Penn Ave in the 1400 block Wednesday morning January 27, 2021.
Who's manning the train? Railroads want a one-person crew
Taco Bell nacho fries FILE
Taco Bell may add fries to its menu permanently to compete with McDonald's
David Ortiz Jimmy Fallon Tom Brady Gwyneth Paltrow SPLIT
Why Tom Brady, David Ortiz, Jimmy Fallon and other celebrities are getting sued over crypto
SpaceX founder Elon Musk addresses the media during a press conference announcing new developments of the Crew Dragon reusable spacecraft, at SpaceX headquarters in Hawthorne, California on October 10, 2019.
Twitter suspends account that tracked Musk's private jet, despite billionaire's 'free speech' pledge
A sign at Twitter headquarters is shown in San Francisco, Thursday, Dec. 8, 2022.
The real revelation from the 'Twitter Files': Content moderation is messy
Money management savings STOCK
Adobe Stock
What rising interest rates mean for you
Live Updates: Stocks struggle after the Fed eases up on rate hikes
Bernard Arnault just became the world's richest person. So who is he?
Investors are hoping for the economic tide to turn. The wait may soon be over
US government charges 8 social media influencers over alleged pump-and-dump scheme
An electric scooter company just pulled off Russia's only IPO of the year
Elizabeth Warren unveils bipartisan bill to crack down on crypto money laundering
Why people in China are panic buying canned yellow peaches as Covid surges
Attention procrastinators: Drop-dead holiday shipping deadlines are coming soon
Lawmakers introduce bill to ban TikTok
Why a growing number of states are cracking down on TikTok
Binance withdrawals jump to $3 billion in 24 hours, research firm says
Airbnb finds people have more trouble booking stays if hosts think they are Black
Here's where mortgage rates and home prices may be headed in 2023
The Washington Post will conduct layoffs as it reorients company for future, its publisher says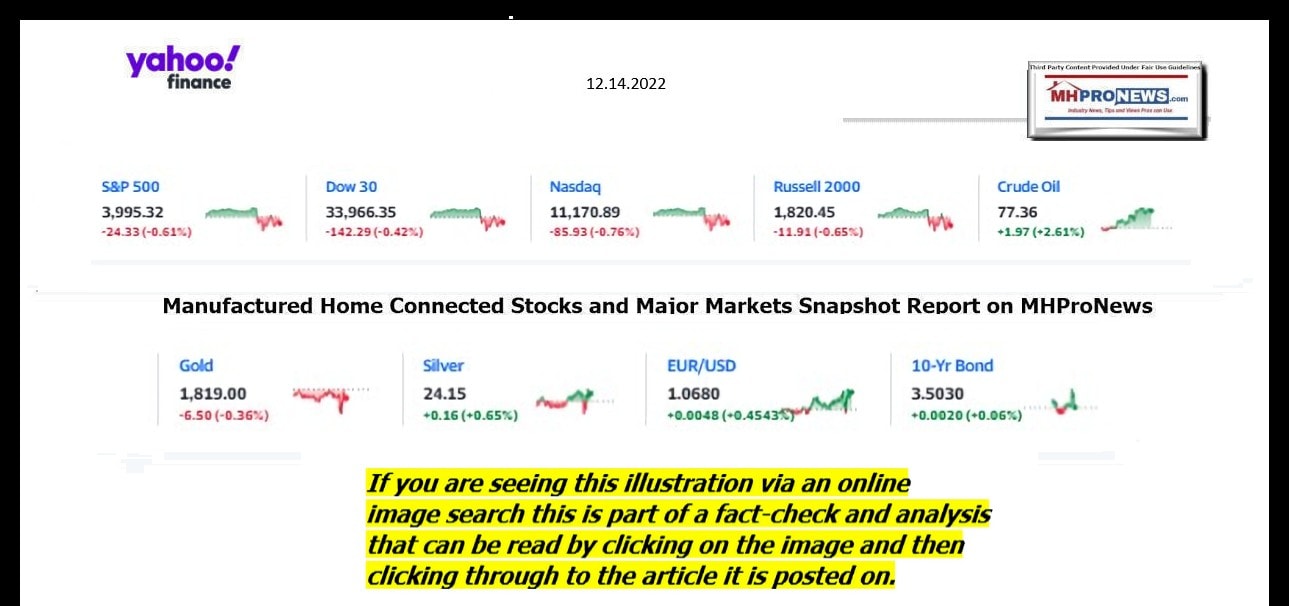 Headlines from right-of-center Newsmax 12.14.2022   
Inflation Stubbornly High at 7.1% Despite Fed Increases, See More Here
Texas Dem Rep. Cuellar Urges Biden to Visit Border: 'Just Show Up'
Migrants walk across the Rio Grande to surrender to US Border Patrol agents in El Paso, Texas, Tuesday. Rep. Rep. Henry Cuellar, D-Texas, inset. (Getty Images)
Henry Cuellar, D-Texas, said Wednesday that President Joe Biden should "just show up" at the Southwest border, adding that it "would send a strong signal" that he "cares about the border communities." [Full Story]
Newsmax TV
Davidson: Political Angle Part of FTX Scandal
Lankford: Griner Swap 'Dangerous Precedent' | video
Donalds: Fauci Must Testify on COVID-19 Origins | video
Ernst: Lifting Title 42 Means 'Free-for-All' | video
Mike Carey: House Should Investigate Mayorkas | video
Sessions: Govt Questionable in FTX Collapse | video
James Comer: Mayorkas 'Telling Border Agents to Stand Down' | video
Steil: Indicting Bankman-Fried Before House Testimony 'Suspicious' | video
Newsfront
Fed Lifts Rates Half Percentage Point
The Federal Reserve raised interest rates by half a percentage point Wednesday and projected at least an additional 75 basis points of increases in borrowing costs by the end of 2023 as well as a rise in unemployment and a near stalling of economic growth… [Full Story]
Abbott: Texas to Build Large Portion of Trump Border Wall in 2023
The state of Texas will begin construction on a massive wall along [Full Story]
Club Q Shooting Survivors Press Congress to Act on Guns
Survivors of last month's deadly mass shooting at a Colorado gay [Full Story]
Related
Sandy Hook Anniversary: Biden Claims 'Societal Guilt' on Guns
How Far Will New Congress Take Laptop Probe?
When Republicans take control of the House of Representatives in [Full Story] | Platinum Article
North Dakota, Iowa Are Latest to Ban TikTok From State-Owned Devices
North Dakota and Iowa have joined a growing number of U.S. states in [Full Story]
Zelenskyy Shuts Court, Says Ukraine Can Fight Graft, Russia at Same Time
President Volodymyr Zelenskyy hailed his dissolution on Tuesday of a [Full Story]
Ukraine Shoots Down Drones as Russia Attacks Kyiv; US Considers Air Defense Boost
US Warns of 'Unprecedented Russian-Iranian Military Partnership'
Fmr NSA Head: Putin Focused on Cyber Attacks Against Ukraine, Not Nukes
Pentagon: Russia Seeking Military Aid From North Korea
Zelenskyy: War Causing Environmental Calamity for Ukraine
US Planning to Ship Patriot Missile Defense System to Ukraine
Twitter Suspends Bot Account Tracking Elon Musk's Jet
Twitter Inc. suspended a bot account tracking its owner Elon Musk's [Full Story]
Biden Administration Publicly Silent on Palestinian Antisemitism
While opposing antisemitism has become a frequent rhetorical theme [Full Story] | Platinum Article
John Kirby Refuses to Discuss Trump Policy Toward Whelan
White House National Security Council spokesman John Kirby refused to [Full Story]
Iran Ousted From UN Women's Group After US Campaign
Iran was ousted from a United Nations women's group on Wednesday for [Full Story]
Democrats Push for Meta to Extend Trump Ban
A group of Democrats asked Meta to extend the ban on former President [Full Story]
Trump Teases 'Major Announcement'
Senate Crypto Hearing Sparks Fierce Debate, Possible Regs
Whether increased regulation would have prevented the spectacular [Full Story]
Studies: Hypertension Caused by Poor Lifestyle Rather Than Stress
Nearly half of U.S. adults have hypertension (high blood pressure), [Full Story]
C. Council Mulling Bill for Pets' Well-Being in Divorces
The Washington, D.C. Council is considering legislation that would [Full Story]
Florida Pastor, Son Arrested for $8M COVID Fraud
A Florida pastor and his adult son were arrested Wednesday on charges [Full Story]
Texas Dem Rep. Cuellar Calls on Biden to Visit Border
Henry Cuellar, D-Texas, said Wednesday that President Joe Biden [Full Story]
Raffensperger: Georgia Should End Runoff Elections
Georgia should get rid of its runoff system for general elections, [Full Story]
Iran Ousted From UN Women's Commission After US Campaign
Iran was ousted from a United Nations women's commission Wednesday [Full Story]
Paul Pelosi's Alleged Attacker to Appear in Court Wednesday
The man who attacked Paul Pelosi is set to appear in court Wednesday [Full Story]
Unclear If Dem Groups Will Return Bankman-Fried Donations
The arrest of FTX founder Sam Bankman-Fried for fraud has rocked [Full Story]
Trump Sues Pulitzer Board for Defamation
Former President Donald Trump filed a lawsuit against the Pulitzer [Full Story]
Bail Set for Nonbinary Biden Official Accused of Felony Larceny
Bail was set at $15,000 for Sam Brinton during a Wednesday court [Full Story]
Officer Overdoses on Fentanyl After Exposure From Traffic Stop
A Florida police officer is being treated for a drug overdose after [Full Story]
Video Report: Growing Fears in Iran After Public Execution
On Wednesday's "Wake Up America," Newsmax's Daniel Cohen reports on [Full Story] | video
'When Harry Met Sally,' 'Iron Man' Added to Film Registry
They'll have what she's having. The 1989 rom-com "When Harry Met [Full Story]
US Storm Brings Tornadoes, Blizzardlike Conditions; 2 Dead
A destructive storm marched across the United States, spawning [Full Story]
Famed LA Mountain Lion May Have Been Hit by Car
The famous Hollywood-roaming mountain lion known as P-22 is [Full Story]
US to Resume Full Patrols With SDF in Northern Syria
The United States has resumed full patrols in northern Syria with [Full Story]
Billionaire Ken Griffin Sues IRS Over Public Tax Records
Citadel CEO Ken Griffin filed a lawsuit Tuesday against the Internal [Full Story]
El Paso Asks WH to Use Military Bases to House Illegals
Officials with the city of El Paso, Texas, are asking the Biden [Full Story]
Masks Creeping Back Into Major US Cities
Across the United States' major metropolitan cities, masks are [Full Story]
Finance
Americans Say Holiday Gifts Harder to Afford
More than half of U.S. adults say it's harder to afford the holiday gifts they want to give this year…. [Full Story]
TIAA Trader Charged in NY With Front-Running
Nigel Green on Fed Hike: Inflation Remains Investors' Major Headwind
Citigroup Promotes Most Women Ever to MD
Fed Lifts Rates 0.50%, Sees Economy Nearing Stall Speed
More Finance
Health
CDC: Long COVID Can Be Deadly
More than 3,500 Americans died of long-COVID-related illness during the pandemic's first 2 ½ years, according to a new report published by the Centers for Disease Control and Prevention National Center for Health Statistics. Long COVID lacks a specific definition, but…… [Full Story]
US to Pay Pfizer Nearly $2B for More Paxlovid Courses in 2023
Why Fusion Could Be a Breakthrough in Clean Energy
Heart Syndrome 5 Times More Likely With COVID Infection Than With COVID Vaccine
Study: Two Years Later, COVID-19 Vaccines Saved 3 Million US Lives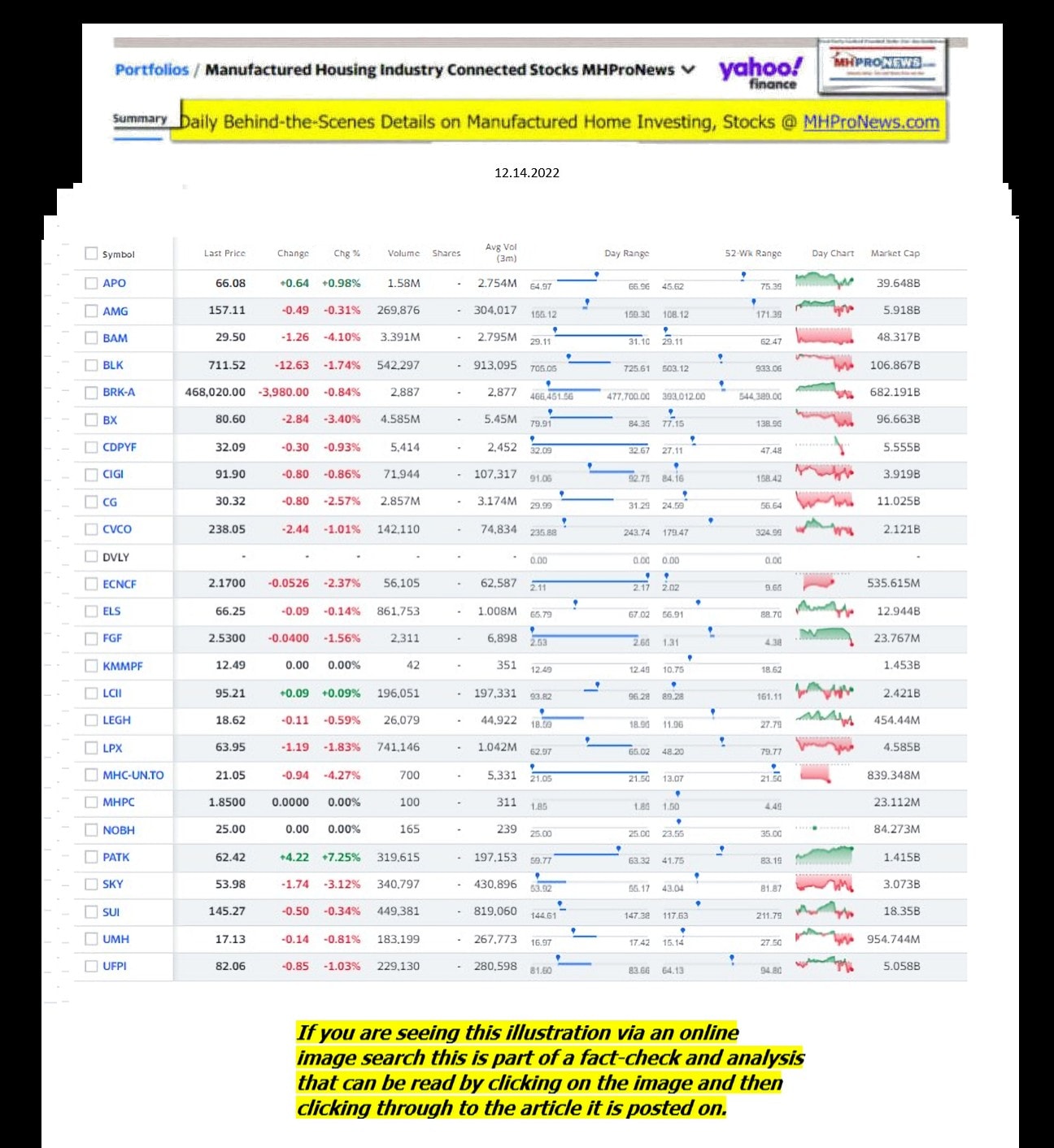 ====================================
Updated
NOTE 1: The 3rd chart above of manufactured housing connected equities includes the Canadian stock, ECN, which purchased Triad Financial Services, a manufactured home industry finance lender.
NOTE 2: Drew changed its name and trading symbol at the end of 2016 to Lippert (LCII).
NOTE 3: Deer Valley was largely taken private, say company insiders in a message to MHProNews on 12.15.2020, but there are still some outstanding shares of the stock from the days when it was a publicly traded firm.  Thus, there is still periodic activity on DVLY.
Note 4: some recent or related reports to the REITs, stocks, and other equities named above follow in the reports linked below.
Manufactured Housing Properties-Results for Three and Nine Months Ending September 30.2022–Exploring 'Mobile Home Park' Manufactured Home Community Investing; plus MHVille REITs, Stocks Update
Manufactured Housing's Next BIG Regulatory Battle That MHARR's Spotlighted and Which MHI Conveniently Ignored in Recent 'Manufactured Housing Institute News;' plus Sunday Weekly Headlines Recap
'Changes Will Benefit Customers,' Boost Sales-Legacy Homes CEO Duncan Bates – LEGH 'Delivered 22.5% Return on Equity in 1 Yr' – Corp Q3 2022 Insights, Analysis; plus MHVille REITs, Stocks Update  
'No Assurance Inflation Will Not Affect Our Future Profitability Financial Position'=Cavco Industries 10-Q, Solitaire Deal, More CVCO Data; Supreme Court Ruled-SEC Regs on False-Omitted Remarks
Skyline Champion Provides Quarterly Results, Adding Retail Centers, Improved Delivery Times-CEO Mark Yost Says 'Can Outperform Conventional Housing' Explored; Plus MHVille REITs, Stocks Update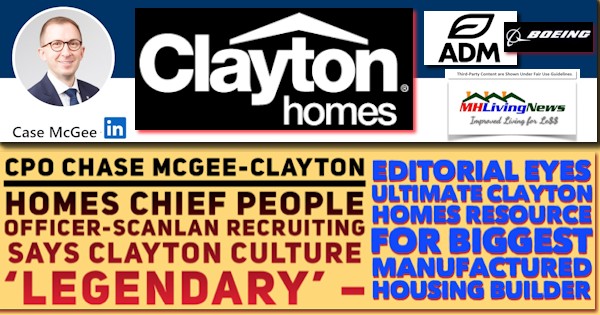 Triad Financial Services Q2-2022 FINANCIAL RESULTS, per ECN Capital – Several Bright Spots in Manufactured Home Market Highlighted, Including Communities, Retail, Land-Home, Floor; MHStocks Update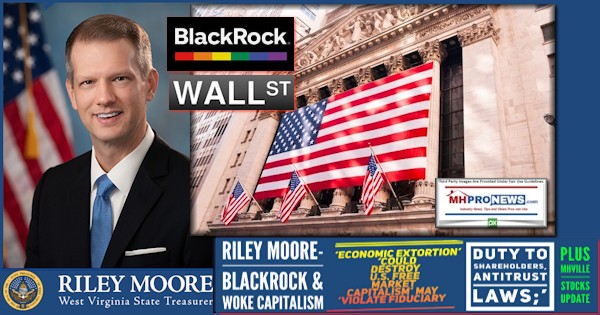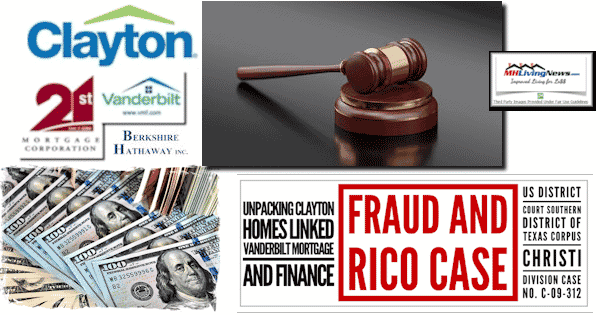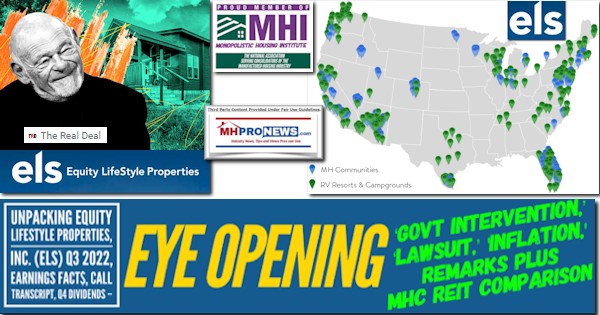 Manufactured Home Communities (a.k.a. 'Mobile Home Parks' – SIC) – Exploring UMH Properties; Fellow Manufactured Housing Institute Member Yes! Communities Suits and Settlements; plus MH Markets Updates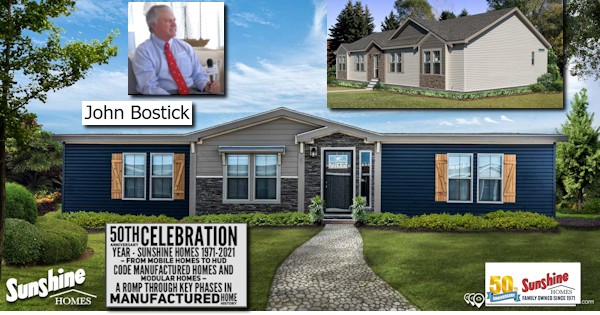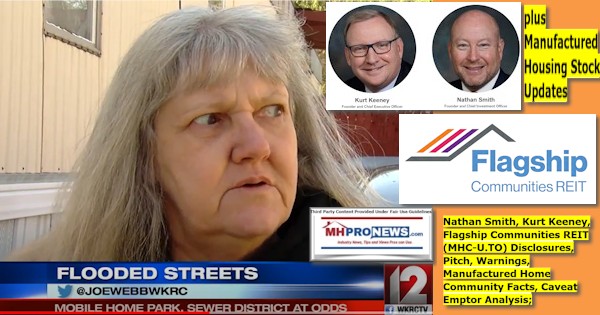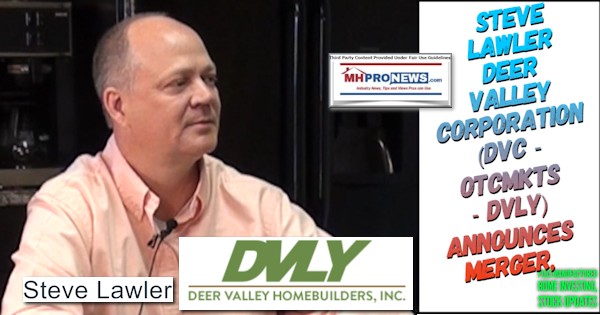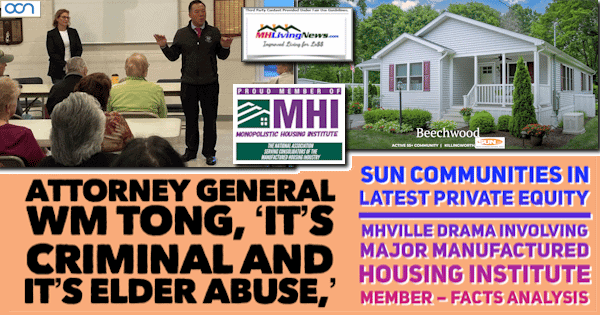 2022 …Berkshire Hathaway is the parent company to Clayton Homes, 21st Mortgage, Vanderbilt Mortgage and other factory-built housing industry suppliers.
· LCI Industries, Patrick, UFPI, and LP each are suppliers to the manufactured housing industry, among others.
· AMG, CG, and TAVFX have investments in manufactured housing related businesses. For insights from third-parties and clients about our publisher, click here.
Disclosure. MHProNews holds no positions in the stocks in this report.
· For expert manufactured housing business development or other professional services, click here.
· To sign up in seconds for our industry leading emailed headline news updates, click here.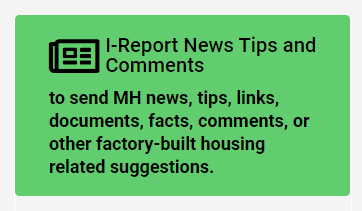 That's a wrap on this installment of "News Through the Lens of Manufactured Homes and Factory-Built Housing" © where "We Provide, You Decide." © (Affordable housing, manufactured homes, stock, investing, data, metrics, reports, fact-checks, analysis, and commentary. Third-party images or content are provided under fair use guidelines for media.) (See Related Reports, further below. Text/image boxes often are hot-linked to other reports that can be access by clicking on them.)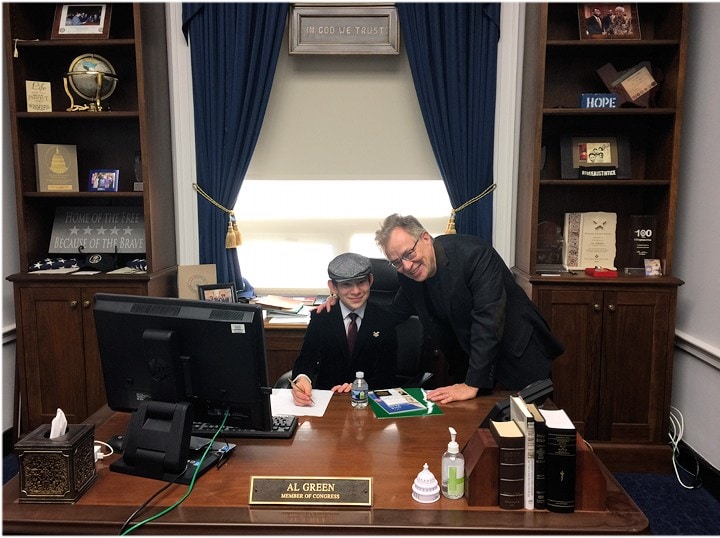 By L.A. "Tony" Kovach – for MHProNews.
Tony earned a journalism scholarship along with numerous awards in history. There have been several awards and honors and also recognition in manufactured housing. For example, he earned the prestigious Lottinville Award in history from the University of Oklahoma, where he studied history and business management. He's a managing member and co-founder of LifeStyle Factory Homes, LLC, the parent company to MHProNews, and MHLivingNews.com. This article reflects the LLC's and/or the writer's position and may or may not reflect the views of sponsors or supporters.
Manufactured Home Production Growth Continues in September 2022, per Manufactured Housing Association for Regulatory Reform-Added Facts, Analysis, plus MHVille REITs, MH Connected Stocks Update
Consumers 'Fears for the Future'-Mortgage Payments Surge Since 2021, Buyers Get Priced Out–Conventional Housing Woes are Manufactured Home Pro Opportunities; plus MHVille REITs, Stocks Update