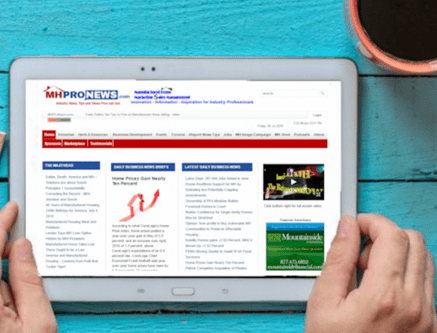 What's New in public focused Manufactured HomeLivingNews.com
Comparing Tiny Houses vs Manufactured Homes – Function and Value vs. Fashion
What's New in Manufactured Housing Industry Professional News
Children of home owners more likely to own homes. Trump tells NAHB he identifies with them. Residents of closing community continue trying to obtain relocation compensation. Boston testing mini-modular prototype for city lots. Can MH lenders base loan term on age of applicant, legally? Heartland Estates in Fla. sold. Lowry Grove MHC tests first right of refusal law in Minn. Southern Idaho has 10,000 shortage of homes. California obtains control over use of manufactured homes for fire survivors. Assisted Living homes on the rise. Canadian First People getting modular homes. Comparison: Manufactured Homes vs. Tiny Homes. Philly sees 50-unit modular apartment rise over one weekend. GOP, Dems have different ideas about housing market. UMH posts positive notes. Maine MH community expanding.
Saturday, Aug. 13 , 2016
Living in an Owned Home Young Begets Living in an Owned Home Later
Friday, Aug. 12
Trump's Speech Plays to National Association of Home Builders
Manufactured Home Community Tangled in Legal Issues, Resident AG Complaints
Cavco continues to lead as Manufactured Housing Composite Value (MHCV) best the broader markets, posting gain
Modular Apartments may Alleviate Boston's Housing Crunch
Discrimination? Was a Limited MH Loan Approval Legal? MHProNews Investigates
Developers Pare Down Size of New MH Community; Neighbors Still Unsure
Thursday, Aug.11
Cavco Industries biggest gainer as Manufactured Housing CV climbs
Florida's Heartland Estates changes Hands
Cavco Industries, Second Largest Producer of Manufactured and Modular Homes, Reports Quarterly Results
First Time First Right of Refusal Law in Minn. Will be Tested
RV/MH Hall of Fame Releases Expansion Plans for Northern Indiana Event Center
Is Student Loan Debt Stifling the Economy?
Modular Housing Suggested for 10,000 Affordable Housing Shortage
Wednesday, Aug, 10
Nobility Homes rising, The Carlyle Group slips and Manufactured Housing CV dips
Manufactured Home can Provide Temporary Health Care
FEMA Grants California Control over Distribution of Emergency Manufactured Homes
Drew's Q2 – Dividends and Insider Trading
Kashechewan First Nation getting Modular Homes following Major Flood
Management Group Increases Holdings in Equity LifeStyle Properties (ELS)
Tuesday, Aug. 9
Mainstream newspaper shares the love for MH, compares favorably to trendy Tiny Houses
Modular Apartment Building Rises in Three Day Weekend
UMH leads gainers, Skyline slips as MHCV trails the broader markets
Senior Single-family Market Remains on the Upside
Housing Platforms: Dems say Up the Ante; GOP says Shut Federal Spigot, Throttle Regulators
UMH Properties Q2 Conference Call Reveals a Winning Strategy in Manufactured Home Communities sector
Mon. Aug 8
Maine Manufactured Home Community Plans to Expand
Skyline 4Q Leaps Skyward, MH Composite Index rallies despite Dow's slide
Media in North Coastal Oregon Advocates Manufactured Homes
Unemployment Rate Tells One Story; Labor Participation Rate Determines Revenue, Federal Debt
Three Delaware Residents of Manufactured Homes Receive Scholarships
Sunday Morning Recap-Manufactured Housing Industry News July 31-Aug. 7, 2016 ##
(Photo credit: MHProNews)

Article submitted by Matthew J Silver to Daily Business News-MHProNews.