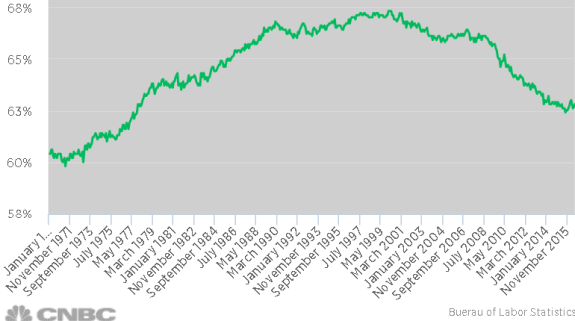 Each first Friday of the month the Labor Department's Bureau of Labor Statistics issues its jobs report for the previous month—commonly called the U-3 number–an abundance of employment-related data, each of which has a story about the employment scene.
While the official unemployment rate held steady at 4.9 percent—called the "total unemployed, as a percent of the civilian labor force"– most economists look beyond that to what they call the U-6 number, which provides a broader perspective. That rate fell in June to 9.6 percent, the lowest level since April 2008, but rose slightly in July to 9.7 percent. It is defined as all the unemployed, plus "persons marginally attached to the labor force, plus total employed part time for economic reasons, as a percent of the labor force." In other words, it is the unemployed, underemployed and the discouraged, as cnbc informs MHProNews.
Of concern is the labor force participation rate, which measures what part of the population is employed or seeking employment. That rate rose one tenth of a percent to 62.8 percent.
While job growth was only 24,000 in May, June's numbers swelled to 292,000 and July another 255,000 jobs were added, statistics which have fueled a rise in wages following several years of tepid growth.
July's average hourly wage rose to $25.69, while weekly wages hit $886.31.
Jobs are an important battleground in the race for the White House. Democrat Hillary Clinton has called for an increased spending in infrastructure programs, promising workers in a speech outside Denver "millions of jobs with rising incomes."
Republican candidate Donald Trump meanwhile claims the Obama administration has allowed American companies to ship jobs overseas without creating growth at home. Trump also noted that then-Senator Clinton promised jobs in New York state that didn't materialize.
While ten million jobs have been added since President Obama took office, it is the equivalent of about half the jobs added during Bill Clinton's tenure in the White House, and a bit less than those added when Ronald Reagan was president.
Meanwhile, according to cnsnews, 94,333,000 Americans were not in the active labor force in July, just a bit of improvement from the 94,517,000 in June.
In July, while the unemployment rate remained at 4.9 percent, the number of those unemployed dropped 13,000 to 7,770,000, as the number of those employed rose 420,000 to 151,517,000.
The nation's civilian noninstitutional population, comprised of all people 16 or older who were not in the military or an institution, reached 253,620,000 in July. Of those, 159,287,000 participated in the labor force, either holding a job or actively seeking one, equaling 62.8 percent of the 253,620,000 civilian noninstitutional population.
The Congressional Budget Office (CBO) issued a report in July predicting that the labor force participation rate will fall to 58 percent in 2046. The number obviously may change based on any number of demographics, a change in male and female roles, economic conditions, technological developments as well as medical breakthroughs that could increase the age of the work force.
However, if the labor force participation hits 61 percent in 2046, the higher gross domestic product (GDP) would lead to increased revenues, higher interest rates, smaller budget deficits as well as less federal debt.
Conversely, if labor participation drops to 55 percent in 2046, the slowdown in economic growth will result in larger budget deficits and more federal debt.
Finally, the CBO forecast that the labor force will grow at the average rate of 0.4 percent per year during the coming 30 years, compared with 1.5 percent from 1966 to 2015. ##
(Graphic credit:CNBC/Bureau of Labor Statistics–labor force participation rate)

Article submitted by Matthew J Silver to Daily Business News-MHProNews.