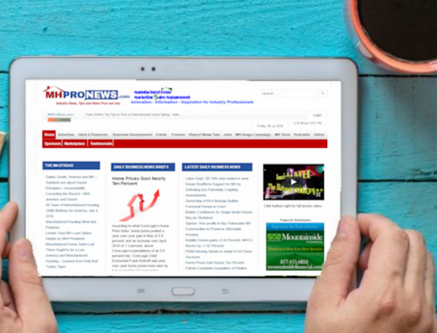 What's New in public focused Manufactured HomeLivingNews.com
What's New in Manufactured Housing Industry Professional News
Sale of Minn. MHC challenged by Attorney General. Section 8 vouchers can now but MH. Hall of Fame inducts Class of 2016. NC MH community being redeveloped. Two Conn. MHCs sold. Drew net sales rise 22%. HUD Code sales up 20%. Ritz-Craft expanding. Assisted Living modular homes on the rise. Maine MH community expanding. Muncie, IN gets Tiny Homes for homeless. Texas home sales set record. Patrick acquires electronics firm. Tenn. city bans Tiny Homes. FEMA providing homes for Calif. fire survivors. Texas home sales set record. Plus news and views about affordable housing you can peruse for decision-making as an MH Pro.
Saturday, Aug. 6 , 2016
Modular Container Homes Rising in Edmonton, Alberta
Friday, Aug. 5
Minn. Attorney General Files Brief to Halt Sale of Community to Developer
Class of 2016 Inducted into RV/MH Hall of Fame
Dow Comes Back Strong; MHCV Outgained the Dow, +1.79 percent
Bill to Use Section 8 Vouchers to Buy Manufactured Home Signed by President Obama
Redevelopment of MH Community in North Carolina Approved
RHP Acquires two MHCs in Connecticut
Thursday, Aug. 4
Drew Reports Net Sales 22% Above Last Year's Comparable Quarter
Modular, Manufactured Homes Coming to Ute Mountain Indians
Skyline Advances +5.02%; Drew Industries Close behind at +4.88%
Production of HUD Code Homes up 20 Percent
Modular Homes Rising above the Ocean outside San Diego
Modular Home Builder Opening Third Plant in Mifflinburg
Wednesday, Aug, 3
Clayton Moving in where Champion Homes Moved Out
Sun Communities Beats Analysts EPS Estimate by $0.03
Dow Reverses Seven-Day Drop; Northstar Realty Finance Tops MH-related Gainers
Housing Affordability Data Suggestive rather than Definitive
Cavco Industries Set to Release Quarterly Financials
MH Community Owner Slapped with Lawsuit, Slaps back at Former Resident
Tuesday, Aug 2
Home Prices in Northwest Nearly Double National Average
Equity LifeStyle Properties, Inc. Yields ROI of 8.40 percent
Manufactured Housing-related Stocks Fall Except Nobility Homes
Assisted Living Modular Homes expected to Rise with Aging Population
Texas Home Sales Set a Record in Second Quarter
Affordable Housing Included in $500k HUD Grant to Oklahoma City
Mon. Aug 1
Oil Falls Below $40/bbl again; Deer Valley Shoots Up 15+ Percent
"Smart" Blocks Will Transform Our Lives-a/k/a Redefining 'Blockhead'
Patrick Completes Acquisition of BHE, another Thermoformed Producer
An American August in MHVille – New Feature Articles Alert
FEMA Providing Manufactured Homes for CA Wildfire Victims
(Photo credit: MHProNews)

Article submitted by Matthew J Silver to Daily Business News-MHProNews.