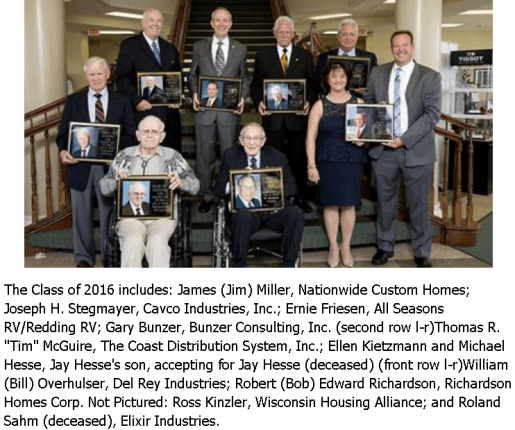 In a gala ceremony before 300 friends, family and colleagues, the Class of 2016 was inducted into the RV/MH Hall of Fame (Hall) Aug. 1, at the Hall in Elkhart, Indiana.
Prior to the induction ceremonies, Hall President Darryl Searer said after four years, with support from individuals and companies, the hall is closing in on its debt-free goal, and can now boast 90 percent equity.
Searer continued, mapping out future plans for the 40-acre site that include sustained growth with the MH and RV industries, the event center and the Scoular Manufactured Housing Museum. He says, "These plans will also insure a positive cash flow to make certain the Hall will be here forever. The goal would be to have the new expanded Hall of Fame, Event Center, rally site, offices and manufactured housing museum completed by 2020 or sooner based on how soon we can raise the funds so we are debt free when we occupy the new facility."
In addition to the inductees, Searer presented the annual Hall of Fame Spirit Award to Barry Cole, owner of MH Insurance Services, Hall of Fame member and for chairman of the RV/MH Heritage Foundation.
For more extensive biographies of the inductees, more photos and a video, please click here. ##
(Photo credit: RV/MH Hall of Fame)

Article submitted by Matthew J Silver to Daily Business News-MHProNews.