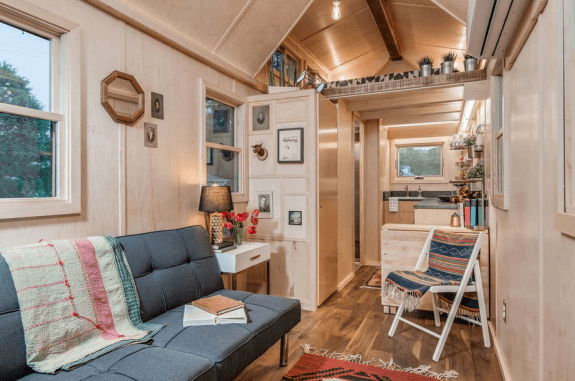 The city commissioners of Etowah, Tennessee in the southeast part of the state have passed an amendment banning the siting of Tiny Homes within the city limits, as newschannel9 tells MHProNews.
While some communities use the miniature homes for homeless people, and others to support simpler lifestyles, Etowah Director of Community Development Chris Ingram said he wants to preserve the historic look of the town and keep home prices high, something Tiny Homes do not provide. "It seemed wise to study the issue for maintaining our neighborhoods and trying to keep a fairly consistent look to the extent that we decided it best to institute a minimum square foot requirement," Ingram said.
The new ordinance restricts new homes built in Residential Zone 1 are required to be at least 800 sq ft, while any new homes in Residential Zones 2 and 3 have to be at least 600 sq ft.
Tiny Home builder Jeremy Weaver said the ban is discriminatory against people who want to live a certain way. "There are a lot of people these days that want a smaller house – under 800 square feet. A lot of people even want them under 500 square feet that want a really nice house, they just want it to be smaller," he added.
David James, Etowah's vice mayor, voted for the amendment but is having second thoughts. He noted, "We have a lot of homes in Etowah that are in disrepair or burned out, or grown up in weeds. I'd rather see a very pretty quote-unquote tiny house than a grown up lot."
Weaver said progressive cities around the nation are beginning to allow Tiny Homes. ##
(Photo credit: Frontier Tiny Home, Tennessee)

Article submitted by Matthew J Silver to Daily Business News-MHProNews.