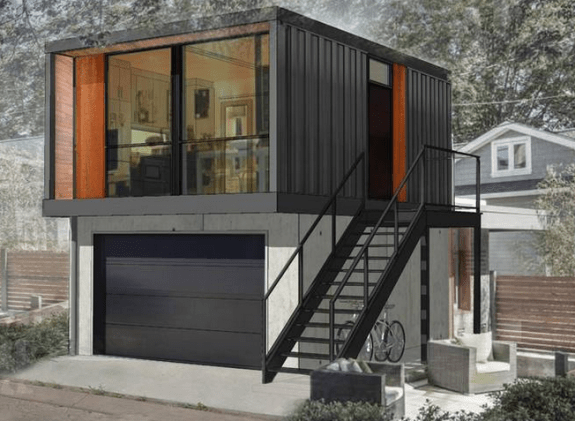 Changes to Edmonton, Alberta, Canada's by-laws have led to a mini-boom in modular container homes, called laneway housing locally, small homes added to property that may already contain a regular size family home.
Honomobo co-founder Daniel Engelman, who has teamed up with Devon Siebenga, president of BigSteelBox Structures in Kelowna, B.C., for the laneway venture, said he has been trying for years to bring small, modular homes to his home town of Edmonton.
Changes by the city include a reduction in required lot size, an increase in the maximum height allowed and easing of regulations regarding site location. Permit applications have risen nearly100 percent from April 2014-2015 to the same period 2015 to 2016, according to what theglobeandmail informs MHProNews.
Noting Edmonton needs diversity of housing, Engelman says these houses can also allow homeowners another source of income by renting the home. Alberta's oil downturn has resulted in available factory space as well as an available workforce.
Honomobo currently offers six floor plans ranging in size from 200 sq ft to 1,200 sq ft, and prices starting at $99,000. The most popular seller so far has been the three module, 528 sq ft container home, model HO3, featuring a full private bedroom, a kitchen with an island and one full wall of floor-to-ceiling windows.
Engelman: "I'd say 50 per cent of our sales have been rental investments. You can add a container home to your mortgage for about $500 a month and rent it out for $1,000 a month. That's pretty appealing for people. The other 50 per cent are either for aging parents or adult children. We wanted to sell 50 homes in the first year," he said. "We're well on track to achieve that."
Additionally, Engelman is working with the city to build an 18-unit modular container apartment building in downtown Edmonton on the site of an old hotel. ##
Photo credit:theglobeandmail/Honomobo–the company's best-selling model, the HO3)

Article submitted by Matthew J Silver to Daily Business News-MHProNews.