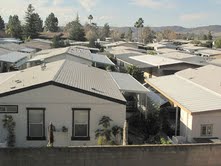 Following up on the recent Senate passage of a bill that passed in the House in February – The Housing Opportunity through Modernization Act (HOTMA), posted on MHLivingNews and picked up hundreds of mainstream media outlets and advocacy sites – President Obama signed that bill it into law, as expected.  The bill willl allow Section 8 vouchers to be used for the purchase of a manufactured home (MH),
Currently, the vouchers can be used only for renting an MH, but the new law will allow those who qualify for Section 8 housing to use the vouchers for mortgage payments, property taxes and insurance for the entire year. The goal is to enable those of limited means to become homeowners, according to nationalmortgagenews.
A coalition of advoacy groups, including manufactured housing, were instrumental in the passage of the act. Lesli Gooch, from the Manufactured Housing Institute (MHI), said public housing agencies and HUD need to reach out to families to make them aware of this program; and work with lenders, including state housing finance agencies and the Rural Housing Service (RHS) to make sure lenders will honor the vouchers.
RHS currently finances MH only if the home is secured by land, or they will lend if the home is on a 99-year lease. "However, USDA (United States Department of Agriculture) is conducting a pilot in Vermont, New Hampshire and Oregon that allows borrowers to lease land for two years longer than the mortgage term," according to an RHS spokesman.
Sponsored by Reps. Blaine Luetkemeyer, R-Mo., and Emanuel Cleaver, D-MO., the bill also authorizes the USDA to develop a direct endorsement program for the RHS whereby private lenders can approve loans. This will expedite the loans since the staffing at RHS has been diminished, and each loan must be approved by the agency.
The law further includes reforms to the Federal Housing Administration (FHA) condominium program.  Learn more at the link here. ##

(Photo credit: MHProNews-manufactured homes)

Article submitted by Matthew J Silver to Daily Business News-MHProNews.