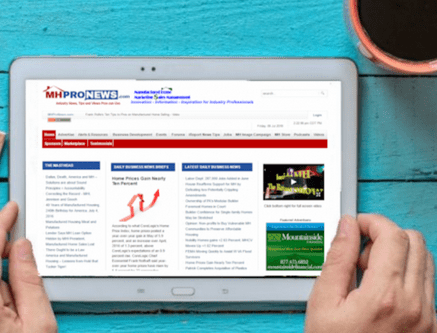 What's New in public focused Manufactured HomeLivingNews.com
NIMBYism? Debunking Myths About Manufactured Home Communities (aka 'Mobile Home Parks')
What's New in Manufactured Housing Industry Professional News
FEMA moving manufactured homes into four W. VA. Counties. CFPB proposes clarification of Know Before You Owe. Patrick's revenues rise 35%. Sun's stock projected to rise 67%. Robot lays brick at super human speed. Desire for homeownership remains strong. MHARR awaits formaldehyde rules. MH industry grows despite negative image. MH Community owner sued by Penn. attorney general. Homeless in IN town get Tiny Homes. Maine manufactured home community growing. Commodore acquires manufactured home builder in Wis. MHARR smells collusion in DOE proposal. Modular container homes going to First Nation peoples in Canada. Lender offering one percent down on home purchase. Sun drawing institutional investors. Habitat for Humanity, air base, team to replace caregiver's manufactured home. Plus, news and views for yhou to peruse as you make your MH-related industry decisions.
Saturday, July 30, 2016
CFPB Tries to Clarify Know Before You Owe, but Lenders Still See Glitch
Friday, July 29
Patrick's Sales Rise 35% in Q2; NOI Increases 37%
FEMA Moving Manufactured Homes into two Additional West Virginia Counties
NeighborWorks Achieving Excellence Program Teaches Leadership
Carlyle Group Leads Gainers; MHCV Slips to 1380.4
Sun Communities Stock hits New High, but Projected Higher
Robotic Bricklayer Lays 225 Bricks/Hour. On Tap: 1000 Bricks/Hour
Thursday, July 28
MHARR Braces for EPA's New Formaldehyde Ruling
Desire for Home Ownership Remains Strong
NorthStar Tops MH-related Gainers; UFPI Slips -0.99 Percent
Singapore Building Four Blocks of Modular Housing
While Negative Perceptions of MH Persist, the Industry Grows says Seeking Alpha
Pending Home Sales Index Inches Up in June
Wednesday, July 27
Pennsylvania MH Community Owner Sued for not Paying Relocation Costs
Tiny Homes Arrive in Muncie, IN to House Homeless
Planning Commission Approves Siting of Two Manufactured Homes
Patrick Industries Moves Up; Nobility and Carlyle fell the Most
Maine Manufactured Home Community Expanding
Site-built Home Sales Looking Good. Can it Continue?
Tuesday, July 26
Commodore Corporation Acquires Canadian American Homes of Wis.
Resident: Site Manufactured Homes on Vacant lots for Hillcrest Neighbors
MHCV Nudges Up as Dow Edges Down
MHARR Continues Tirade over HUD/MHI/DOE Collusion
First Nation People in Canada getting Modular Container Homes
Sun Communities Draws Hedge Fund Investors
Mon. July 25
One Percent Down Could Put You in a Home
Dow Jones Slips; MH-related Stocks Similarly Quiet
Habitat Teams with Air Base to Replace Special Needs Caregiver's Manufactured Home
Politically Tarnished Philadelphia Prepares for Democratic Convention, Demonstrators
(Photo credit: MHProNews)

Article submitted by Matthew J Silver to Daily Business News-MHProNews.