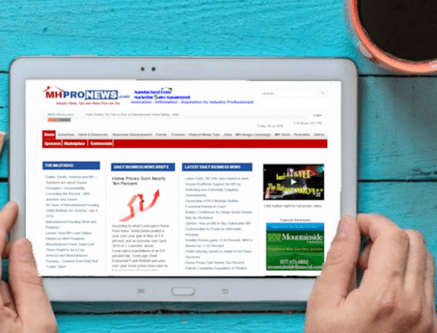 What's New in public focused Manufactured HomeLivingNews.com
The Aha! Moment – Entertainer's Delight LifeStyle Model Home Video Tour
Proud to be American, God Bless the USA, Lee Greenwood Music Video, Interview
What's New in Manufactured Housing Industry Professional News
Trump's acceptance speech unexpectedly draws favorable response on CNN. New Jersey modular builder draws charges of fraud. Hotel in UK will be modular. Texas city denies MHC development; DJ Pendleton objects. After spending billions, Dodd-Frank leaves muddy trail. 22 million tune in to Republican National Convention. Patrick Ind. creating 60 jobs. Housing starts rise in June, builder confidence slips. Hispanic leaders choose Trump over Clinton. Laramie, WY updating antiquated MH regulations. Sweden wants modular homes for immigrants. FEMA seeking MH sites for flood victims. And much, much more in news and views for manufactured home professionals to peruse.
Saturday, July 23, 2016
New Jersey Home Improvement Firm Accused of $1.1 Million Fraud in Modular Home Scam
Friday, July 22
CNN Instant Poll on Donald Trump GOP Nomination Acceptance Speech Fuels Twitter Commentary
MH Component Supplier Drew to Discuss Q2 Financials
UFPI Gains 5.59 Percent; Dow Returns to Positive Territory
Wyoming City Finally Settles on MH and RV Ordinances
UK Hotel will be Modularly Built
First Time Home Buyers Returned in June
Thursday, July 21
Texas Commissioners Deny MHC App, Prompting DJ Pendleton to Come out Swinging
Manufactured Home Community Changes Hands in Pennsylvania
Dow Jones Ends Run-up; UFPI Falls -2.31 Points
The Dodd-Frank Legacy: Billions Spent, More Designated, Questionable Gains
Petitioners in Ill. City Seek Special Use Permits for MH Sitings
UMH Properties, Inc. Stock being Pursued
Wednesday, July 20
22 Million Tune into GOP Convention; the Media Rundown
Patrick Industries Subsidiary Creating 60 Jobs in Mississippi
Dow Jones Continues Upward; Louisiana-Pacific Tops MH-related Stocks
Hedge Funds Upping Stake in Drew Industries, Inc.
Housing Starts, Single-family Home Construction Shows Promise in June
Builder Confidence Index Slips in July, but Still in Positive Territory
Tuesday, July 19
ELS Q2 2016 Indicates Revenue, Income and Community Growth
Large Religious Camp Seeking Manufactured Homes for Participants
MHCV Falls -5.78 Percent; Dow Jones Continues Flying Higher
Despite the Bashing, Hispanic Politicos Endorse Trump as Stronger than Clinton
Two Tornado-struck Families Receive Gifted Manufactured Homes
Laramie, WY Updating 50-year old Manufactured Home Regulations
Mon. July 18
Canadian City to Deal with MH Community Rezoning, Hold Housing Forum
Cavco Industries tops Today's Gainers, as Dow Rises ever Higher
Sweden wants to Site Modular Homes on Tiny Island
FEMA Set to Site Manufactured Homes for Flooding Survivors
Seattle has Tiny Homes, but without Prices to Match
Sunday Morning Recap-Manufactured Housing Industry News July 10-July 17, 2016 ##
(Photo credit:MHProNews)

Article submitted by Matthew J Silver to Daily business News-MHProNews.