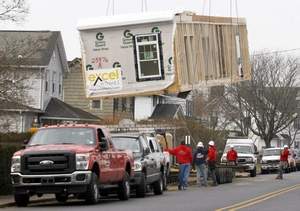 A Manahawkin, New Jersey construction company and two of its owners have been accused of bilking the federal government and Superstorm Sandy victims out of more than $1.1 million for work either not done or not completed.
According to a complaint filed by the New Jersey Department of Community Affairs in Superior Court in Ocean County, the Price Home Group LLC and its owners, Jonathan Price and Scott Cowan, took deposits to elevate or replace Sandy-damaged modular homes but then failed to deliver as promised.
The nine homeowners named in the complaint had all received grants from the Reconstruction, Rehabilitation, Elevation and Mitigation (RREM) Program, the state's largest rebuilding initiative, totaling $898,331.11, paid to the Price Home Group, plus $220,483.28 of their own money for the work.
The Price Home Group allegedly "failed to begin work, performed the work in a substandard manner, and/or abandoned unfinished projects without returning for weeks, months, or at all," according to what modularhomecoach tells MHProNews.
The complaint accuses them of violating the Consumer Fraud Act, the Contractors' Registration Act, the Home Elevation Regulations, the Home Improvement Regulations and the Advertising Regulations.
In one case, Price was accused of abandoning a modular home elevation project while the home was on temporary supports. Although not registered with the state as a home elevation contractor, Price allegedly raised a home to half a foot short of the required height, installed inferior footings, and then failed to make corrections. Additionally, the company was accused of repeatedly rescheduling work dates for elevating homes and/or siting modular homes, and then failed to do the work.
In another instance, Price Home Group allegedly contracted to replace a home it had demolished with a new modular home, but failed to install the new home.
The state seeks consumer restitution, repayment of RREM funds, attorney's fees and civil penalties. Moreover, the state is filing to revoke the home contractor registration of Price Home Group, and prevent Price and Cowan from operating any type of home improvement operation in New Jersey. ##
(Photo credit:asburyparkpress/Mary Frank-Zarrilli Homes-MonmouthBeach, New Jersey)

Article submitted by Matthew J Silver to Daily Business News-MHProNews.