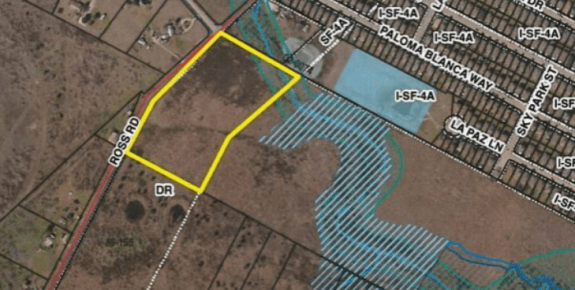 In Del Valle, Texas, near Austin, despite a zoning recommendation from city staff in favor of a new manufactured home community as requested by the applicant, members of the Zoning and Platting Commission voted against the zoning change. Neighbors complained of crime– "We don't want that increased vandalism, that increased crime out there," said Patricia Burton, president of the homeowners association for the nearby Los Cielos subdivision–lower property values, increased traffic and overcrowded schools, according to austinmonitor.
The seven commissioners did not respond to the slam about crime in MHCs, focusing mostly on traffic and flooding, but in the end voted to deny the application and approve the ten acres for small, single-family lots, SF-4A.
Commissioner Betsy Greenberg, in an interview with the Austin Monitor the next day, said, "The fact that people are poor doesn't make them criminals." She added her parents' property value was not damaged by a nearby MHC, and criticized the other commissioners for their stand.
Commissioner Jolene Kiolbassa said it did not make sense to put an MHC between two developments of single-family homes
However, the 10.6 acre plot is part of a larger 60-acre parcel, the remaining 50 acres situated outside city limits in Travis County, MHProNews has learned. Commissioner Gabriel Rojas had spoken in favor of the MHC inside the city to show support for affordable housing. When it became apparent that would not obtain the necessary six votes, he made a motion for the SF-4A housing, knowing that applicant Najib Wehbe could site MH on the other acreage.
Wehbe's agent, Alice Glasco, said he was prompted to develop an MHC because the Cactus Rose Mobile Home Park was closing for redevelopment, and residents were having difficulty finding communities that would accept their homes—but Wehbe would. Some involved in the relocation effort, however, say the Del Valle location does not have public transportation, creating a burden for the residents.
Kiolbassa said she's not convinced MH represents an affordable housing option, to which Rojas responded in a later interview that the market has clearly created demand for manufactured homes.
DJ Pendleton, Executive Director of the Texas Manufactured Housing Association (TMHA), said it's unfortunate that MH and the people who live in them are so unfairly characterized. As he told MHProNews, "the trouble is many of these same opposing views were fine with single family, or as one commissioner mentioned multifamily projects for the exact same 10 acres."
Noting that any housing that is put up will have the same effect on schools, traffic and flooding, Pendleton added, "Like for so many diversified housing development decisions that fall short politically not from logic or sound argument, but rather those who would tell you they are for affordable housing options, just Not-In-My-Back-Yard (NIMBY-ism)."
For our Industry Voices blog post on this matter, please click here. ##
(Image credit: austinmonitor-site of proposed manufactured home community in Del Valle, TX)

Article submitted by Matthew J Silver to Daily Business News-MHProNews.