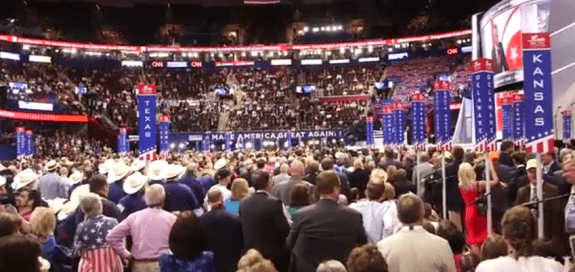 Nielsen Ratings reports during the 10 PM eastern time slot when Donald Trump's wife Melania and former NYC Mayor Rudy Giuliani were addressing the first night of the Republican National Convention, several cable news outlets raised their viewer audience substantially over four years ago, while one slipped in the ratings.
CNN's average viewership more than doubled from the 1.47 million in 2012 to 294 million Monday night, while MSNBC posted a 35 percent increase over the last convention, nearly two million viewers, according to wsj.
Fox News slipped from 6.89 million viewers in 2012 to 6.35 million average the first night of the charged gathering, perhaps, as MHProNews understands, related to the expected ouster of Fox News founder and chairman, Roger Ailes. He has built the network into a conservative powerhouse over the last 20 years.
Among the broadcast networks during the 10 PM slot, NBC posted the highest number with an average viewership of 3.91. ABC was second with 3.64 million and CBS topped out at 2.69 million. The networks did not cover the first night of the 2012 Republican convention.
As unorthodox as Mr. Trump's campaign style, so too was the first night in Cleveland: Trump's elegant wife, Melania, addressed the crowd, borrowing a similar pair of phrases from current first lady Michelle Obama's 2008 address to the Democratic convention. (The speech writer has since offered to resign over the error, but Trump refused to accept her resignation.)
Additionally, reality star Willie Robertson from Duck Dynasty, and one time pitchman for Clayton Homes, also spoke as did actor Scott Baio.
Moreover, traditionally, the party's nominee does not appear until the last day of the convention. Trump appeared briefly to introduce his wife.
For the Masthead's view on the race, click here. ##
(Photo credit:wsj.com–2016 Republican National Convention)

Article submitted by Matthew J Silver to Daily Business News-MHProNews