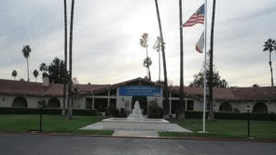 The glitz and glamor that attach to an ownership interest in businesses such as hotels, a race track or a small chain of upscale restaurants suddenly tarnishes for some when the investment being considered is manufactured home communities (MHCs).  While many think of them as "mobile home parks," or in much of today's parlance, "trailer parks," the realities of MH Communities as a sound investment as spotlighted by REITs focused on manufactured home communities, as SeekingAlpha  recenty noted in a report to investors.
SA notes that those negative image issues, spurred on by those who inaccurately equate MH Communities with meth heads, criminals and other uneducated ne'er-do-wells they imagine are inhabiting MHCs. 
Further negativity includes recent, wrongfully slanted publicity which charged Warren Buffett/Clayton Homes with predatory lending and taking advantage of low income consumers –  and again, that seems to tarnish the industry itself.
Despite steady demand for MH as affordable housing – witness the steadily rising monthly production of MH in recent years – municipal zoning officials are often refusing permits for new MHCs, largely because of public perceptions.
But are MHCs turning a profit for their owners?
SeekingAlpha  analyzes the most prominent MHC owner, Equity LifeStyle Properties, Inc., whose stock has risen strongly in recent months. Their Manufactured Housing: A Bull And Bear Thesis for This Overlooked REIT Sector, is a mixed bag of interesting, accurate and missed-the-mark-by-a-mile facts, comments and insights.  
For example, their report states that "According to the National Multifamily Housing Council, five percent of all U.S. residents live on one of two million manufactured housing sites (MH)."  That statistic would not accurately reflect the true number of MH Community home sites nationally, which some industry insiders say is in the 3-million+ home site range (an estimated 40,000 communities with an average of 75 home sites). 
As an overview of the demand for manufactured homes, SeekingAlpha offers a chart that depicts the income peak for the highest number of MH borrowers at $35,000 for 6,000 MH buyers, but that number drops sharply from 6,000 to 2,000 borrowers between $35,000 and $65,000 income. For site-built borrowers, the peak income is $45,000, 120,000 borrowers, and that number moves gradually downward to 20,000 borrowers at income levels of $145,000 and up.
On this graph indicating the education levels and employment numbers for MH residents, 73 percent have at least a high school degree and some college, nine percent have a four-year degree or higher, and only seven percent have less than a high school education.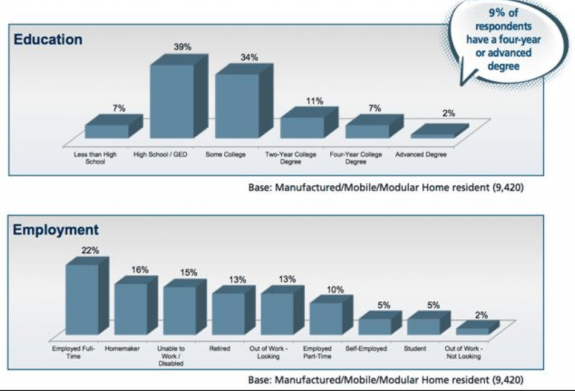 The employment numbers show 22 percent have full-time employment, and 15 percent are unemployed or have quit looking for work, three times the national average.
Table 5 indicates site-built homes in metro areas cost over $800 more in housing costs than a comparable manufactured home.

Equity LifeStyle Properties, Inc. is one of the largest of the real estate investment trusts (REITs), with 389 manufactured housing and recreational vehicle communities composed of 144,700 sites. As the chart shows, based on statistics from April, 2016, nearly 70 percent of its revenue is from MH, which accounts for 202 of the communities.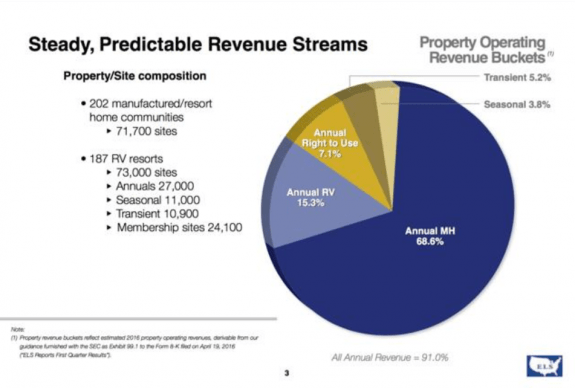 President of ELS, Marguerite Nader, when asked how prolonged low interest rates might affect business, replied that many of their residents are retired, depend upon Social Security and worry that their SS cannot keep up with increased site rents.
However, it is on a market-by-market basis, she added, and even though the Consumer Price Index (CPI) has not risen much recently (it's the benchmark by which rents in some MHCs are figures), "We've seen periods for the last couple of years of low CPI rates and we've been able to continually increase the rates on the MH side."
Warren Buffett was quoted in the report as saying, "If home buyers throughout the country had behaved like our (manufactured) buyers, America would not have had the crisis that it did. The government want high quality, low cost housing and manufactured housing provides that product."  Entirely missing from the report was any suggestion that millionaires are opting for the MH Lifestyle, see examples, linked here.
Even though SA has an estimated 1.1 million visitors monthly, this somewhat favorable report must be considered with more than a grain of salt, for reasons like inaccuracies such as those noted above and others. That said, their spot on when saying the MH Industry and MHC sector are worthy of investors interests.  ##

(Graphic credit:seekingalpha)
(Photo credit:Equity LifeStyle Properties, Inc. Hawaiian MHC, San Jose, CA)

Article submitted by Matthew J Silver to Daily Business News-MHProNews.