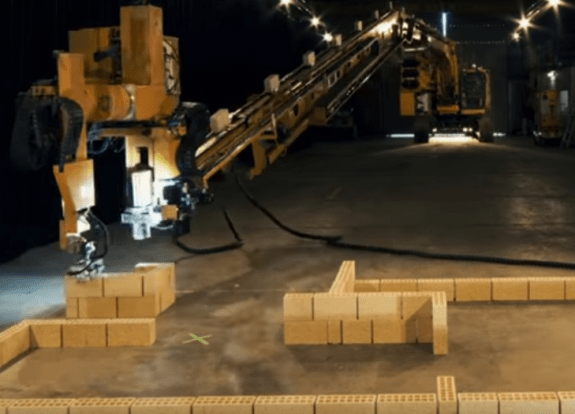 Fastbrick Robotics in Perth, Australia has developed a robotic arm that can lay brick at the rate of 225 standard bricks an hour, the equivalent of half a day's work for a top human bricklayer. It is a form of 3D printing, creating the shell of a house without human hands touching anything, according to businessinsider.au.
The Hadrian 105 robot, named for the Roman emperor who built a wall in ancient Britain, has one mechanical arm guided by an exacting laser system that makes it lay bricks in a particular pattern that forms the shell of a house, minus the "mud," or adhesive that bonds the bricks together. No mention was made of that.

The goal is to create a machine capable of completing a home in three days at much less cost and higher quality than paying a "brickee," in local parlance.
Coming: A prototype is already in the works that will put down up to 1,000 standard equivalent bricks in an hour using a 30 meter boom. MHProNews has learned all the ingredients will be shipped in via truck.
"We are a frontier technology company, and we're one step closer to bringing fully automated, end-to-end 3D printing brick construction into the mainstream," says Fastbrick CEO Mike Pivac.
The company states Hadrian saves time and money and also ensures safety and provides exceptional quality. The bricklaying market in Australia, the U. K., the U. S. and Canada is worth $12 billion. In Sydney, the cost of laying 1000 bricks is $1500. and moving up. ##
(Photo credit: businessinsider.au–Robotic Bricklayer)

Article submitted by Matthew J Silver to Daily Business News-MHProNews.