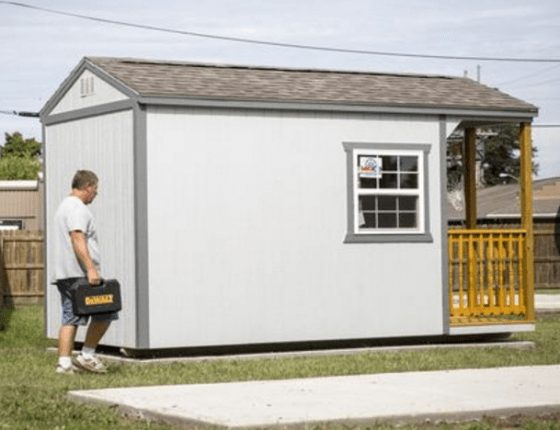 Six Amish-built tiny homes, each 96 square feet, have arrived in Muncie, Indiana to house the homeless, according to what thestarpress tells MHProNews. "It's going to let us reach a population that no one has been able to serve yet," said Susie Kemp, director of the non-profit Bridges Community Services. "That will be a population of people somehow disenfranchised by standardized housing."
Purchased for $2,614 apiece from Scott Quirk, owner of Barn Lot dealerships in several Indiana cities, he is a dealer for Built-rite Express which sells portable buildings made in Amish workshops. He said this is the first project of its kind in Indiana that he knows of, as he bids on a similar micro-village project for the homeless in Indianapolis.
Additionally, the Muncie project will include a walkway, community garden and a building containing showers, restrooms and kitchen facilities. Electricity will cost several hundred dollars for each home, but materials and labor are being donated.
The state of Indiana has enumerated 5,863 homeless people, almost 800 of them veterans, some of whom are victims of mental illness and post traumatic stress syndrome. Muncie's Delaware County has 190 homeless people.
Muncie planner Fred Daniel attended this year's American Planning Association annual conference where one of the presentations dealt with the growing popularity of micro-villages to address homeless populations. He said, "It's better than a cardboard box. It gives them a space of their own. They can close the door and get away from people."
Spokesman for the Indiana Housing and Community Development Authority, Brad Meadows said in April he was unaware of any other such project in the state. ##
(Photo credit:thestarpress–Tiny Homes for homeless in Muncie, Indiana)

Article submitted by Matthew J Silver to Daily Business News-MHProNews.