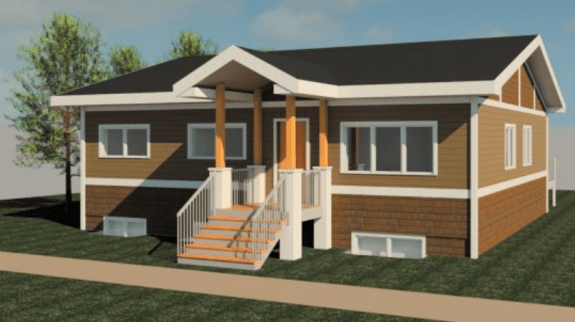 A pilot project that will repurpose shipping containers into modular homes for First Nations reservations in Alberta, Canada has begun with a ground-breaking ceremony 55 miles southwest of Calgary at Eden Valley. Bearspaw First Nation Chief Darcy Dixon and council members Rex Daniels and Larry Daniels were joined by representatives from Alberta Innovates Technology Futures, and Ladacor Advanced Modular Systems which has previously used the technology for hotels, senior housing and apartments.
"The strong, non-combustible steel modular core offers great durability and fire safety, and by the time the home is finished, it is indistinguishable from conventional construction," said Joe Kiss, president of Ladacor. "The homes are of a very high quality, very well insulated and very durable – both interior and exterior, making them exactly the sort of building that many remote communities need."
While many First Nations people live in substandard housing with thin walls, and are typically 10 times more likely to die in a fire than the rest of Canada, the container homes are made from non-combustible steel.
Rhys Kane, business development director for Ladacor, says the process reduces the build time for a home to six weeks. Noting that costs are similar to a wood stick-built home, but that the Ladacor product cannot burn and is much more durable, he said, "We are hoping to build many homes on reserves across Canada with this being a demo project. The cost-effective technology is highly repeatable, has multiple configurations and is an ideal solution for First Nations housing requirements."
Rob Shotclose, Bearspaw First Nation CEO, commented that "the Bearspaw First Nation is proud to be a partner in this important project." Members of the community have provided input to the design of the homes to make sure they fit the First Nations lifestyles from both a technical and cultural point of view.
Construction has begun, and a family has already been lined up to move into the first house when it is completed in early September. As homes are built and families move in, a monitoring program will commence to test the suitability of the homes for the families. ##
(Rendering credit: Ladacor–modular container homes to house First Nation peoples in Alberta, Canada)

Article submitted by Matthew J Silver to Daily Business News-MHProNews.