Elkhart, Indiana based Drew Industries (NYSE:DW), a leading supplier of RV and manufactured housing industries components, has announced their second quarter results. According to their August 9th, 2016 SEC filing by Chief Financial Office (CFO) David Smith, their Board of Directors approved a regular quarterly cash dividend of $0.30 per share of common stock, payable on September 2, 2016, to stockholders of record at the close of business on August 19, 2016.
MHProNews has also learned from CerbatGem that Drew Director David A. Reed sold 2,500 shares of the firm's stock on Monday, August 8th. The stock was sold at an average price of $96.39, for a total value of $240,975.00.

FIDaily told the Daily Business News that Mr. Leigh J. Abrams, Director disclosed the sale of 10,000 shares of DW stock. The shares were purchased at an average price of $96.43. Abrams now owns $6,317,708 of the stock per the Form 4 SEC filing.
On August 9, Brian Michael Hall, Corporate Controller disclosed the sale of 687 shares of (DW). The shares were sold on June 8th for an average price of $80.68. The Corporate Controller now owns $161,360 of the stock, according to the SEC filing.
On August 8, Director John B. Jr Lowe disclosed the sale of 10,687 shares. The shares were purchased at an average price of $77.38. Lowe now owns $1,925,369 of the stock per the Form 4 SEC filing.
The company is worth $2.45 Billion, and is classified as low risk with multiple segments of profit generation. Zacks Investment Research stated,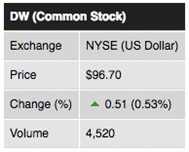 "Drew Industries Incorporated has two reportable operating segments, the manufactured housing products segment and the recreational vehicle products segment. Several of the Company's customers produce both manufactured homes and recreational vehicles, and the Company supplies products having similar characteristics for use in both these lines of business."
Highlights from Drew include:
Revenues of USD 440.83 million, Net Earnings of USD 37.57 million.
Gross margins widened from 22.66% to 26.52% compared to the same period last year, operating (EBITDA) margins now 16.02% from 12.15%.
The Daily Business News market tracker shows DW at $97.14 up 0.95 on Aug 10, 2016 intraday trading.  Drew is one of the manufactured home industry connected stocks reported each business day on MHProNews, with yesterday's closing numbers linked here.
Continued growth in both the RV and manufactured housing sectors makes the outlook for suppliers like Drew bright. The Manufactured Housing Association for Regulatory Reform (MHARR) reported that new HUD Code manufactured home shipments rose 20% in June, 2016, click here for more details.
Drew's Q2 report can be download here. ##
(Image credit, Drew Industries (DW) logo.)

Submitted by Frank Griffin to Daily Business News, MHProNews.com.