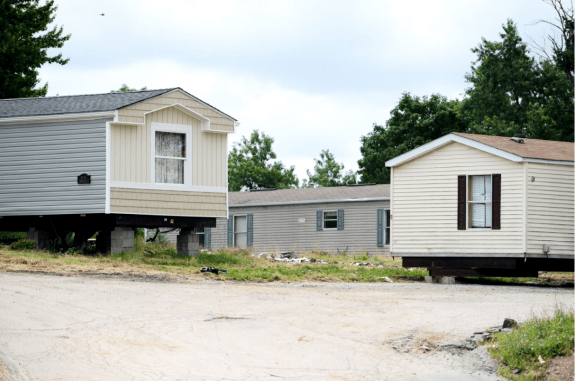 The manufactured home community in Robinson Township, Pennsylvania remains in legal limbo between its owners and the final residents remaining on the property, which is moving towards closure.
Channel 11 News shared its investigation of Twin Circle Mobile Home Park with MHProNews, where only a handful of residents remain.  Residents state that they're awaiting compensation outlined by the state's Manufactured Home Community Rights Act.
As a general rule under the act, owners are required to pay some $4,000 to $6,000 to relocate residents, with the lower end of $2,500 compensation if the home has already been abandoned.
Most have already moved out of the location. Among the remaining residents include Skip Benish, concerned with relocation, as well as his recent $6,800 worth of renovations he completed on his home.
Benish explained his frustrations, "All new windows, crown molding all around, paint, carpet and sub-flooring. I'm fighting for my rights is what it is."
More than 20 residents have filed complaints with the Attorney General's Office against the owner of the community, who plans to build a strip-mall on the property. Eileen Yacknin, litigation director at Neighborhood Legal Services Association, has said that "Clearly, this violates the law, in my opinion."
11 Investigates conducted an investigation recaped in the video below. The report has the all-too-common errrors found in media report, including refering to the homes as "mobile homes (sic)," when informed industry professionals can look at a glance and see from the exteriors that they are in fact manufactured homes.
Nomenclature issues aside, the local media reports highlight the tensions and negative publicity that generally arise in a town when a community closure takes place, and residents and ownership haven't worked closely together to make the transition as painless as possible.
The Post-Gazette has reported that Gary Kalmeyer, an attorney for park owner Bill Chen, asserts the community's ownership is working to comply with state law.
MHProNews previously reported on this case, and will continue to monitor the matter for industry professionals. ##
(Photo credit, Post-Gazette)

Reported by Frank Griffin to Daily Business News – MHProNews