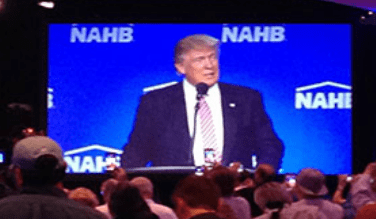 Saying that "housing equals jobs," Republican presidential nominee Donald Trump, playing to members of the National Association of Home Builders (NAHB), said that he would cut regulations, lower taxes and create jobs if he is elected, as the 900 small business owners responded with resounding applause at the Fontainebleau Miami Beach.
Noting his background as the son of a home builder, Fred Trump, Donald Trump said, "I have great respect for homebuilders," he said during his speech. "I grew up with a homebuilder — he's a really good homebuilder — and I used to sit at his knee with blocks, and watch my father or listen to my father negotiate on the phone with plumbers and sheet-rockers and electricians ….  I learned tremendous things from a homebuilder."
Saying he was "so comfortable" with his audience, Trump underscored one of the main issues that concerns builders, namely that regulations account for 25 percent of home building costs. He said he would put a temporary moratorium on new agency regulations, and that "We should get it down to about two percent."
At one point during his 30-minute speech, according to what thereadeal informs MHProNews, he displayed a chart revealing that homeownership is at its lowest level in 51 years.
During his talk he took jabs at his opponent, Democratic presidential nominee Hillary Clinton and President Obama on taxes, trade and foreign policy, including his oft-repeated claim that Clinton and Obama founded ISIS.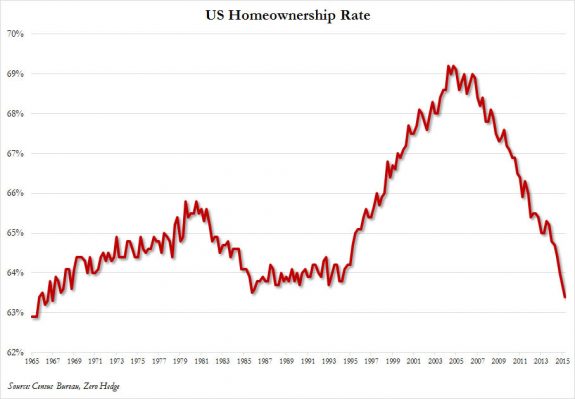 The crowd responded with a standing ovation when he finished his talk, yet some were not convinced. "He played us perfectly; he played us extremely well," Joe Schwab of Bellevue, Washington-based HCS Construction, an NAHB board member, told therealdeal after the speech.
Overregulation is a "big problem," Trump said. "We'll have a massive cut in regulations," as quoted in HousingWire. "We will eliminate all regulations that kills jobs. Hillary Clinton wants to tax and regulate our economy to death." Trump closed his speech with his campaign slogan of America First and another story about his father. ##
(Editor's Note: To learn more about Donald Trump's son – Eric Trump – and their involvement with modular homes, click here.)
(Photo credit: therealdeal-Donald Trump speaking to members of the National Association of Home Builders)

Article submitted by Matthew J Silver to Daily business News-MHProNews.