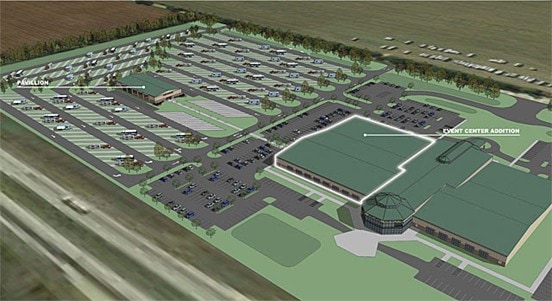 The Elkhart, IN based RV/MH Hall of Fame has released more details this week about their plans for their Northern Indiana Event Center, Inside Indiana Business tells MHProNews.
RV/MH Hall of Fame staff projects they will triple the available space, to take advantage of the lucrative event-planning market.
Darryl Searer, President of the museums operator, RV/MH Heritage Foundation, expressed missed opportunities in upwards of $100,000 for the year, due to current limitations.
In addition to taking advantage of future prospects, the center will also provide a tourism boost for the region and local economy.
Searer further explained the internal benefits specific to the industry:
"These plans will allow us to grow with the RV and Manufactured Housing Industries, as well as the greater Elkhart community to service the event center needs, office needs and the long-awaited Scoular Manufactured Housing Museum. These plans will also insure a positive cash flow to make certain the Hall will be here forever."
Searer expressed that fundraising efforts will play a major role in financing the $8 to $10 million expansion budget, while outlining the optimistic goal of a 2020 opening.
The photo above is an overview of the proposed plans for the 40-acre property and you can see the virtual tour of the expansion at this link here.
MHLivingNews previously reported on the expansion while highlighting the RV/MH Hall of Fame Class of 2016 Inducted Gala Ceremony in a story linked here.  ##
(Image credit, RV/MH Hall of Fame and Inside Indiana Business.)

Submitted to the Daily Business News by Frank Griffin, for MHProNews.