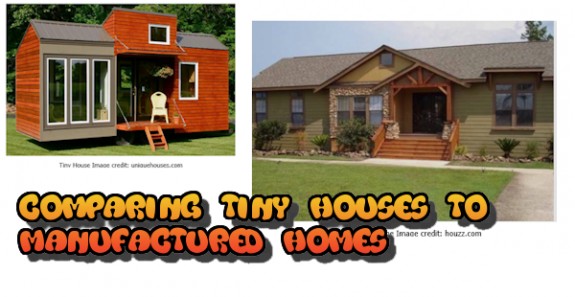 Jim Weiker at the Columbus Dispatch recently told MHLivingNews about their take on the growing popularity of "Tiny Houses," and compared them to the manufactured home (MH) market.
Factory-built home industry professionals have been aware for years of the trend.  Some – like Fairmont's President Brian Cira – have wondered why the mainstream media hasn't shown the same degree of love for today's manufactured homes, as tiny houses get favorable coverage on TV or from other mainstream media outlets.
Tiny houses are a hit on TV, but their numbers are small in terms of actual homes being built.  Meanwhile, the cost per square foot is every bit as high as their designs may be cute.  Cira noted that a tiny house can cost $400 per square foot, while some manufactured homes may sell for 1/10th of that, with a number of entry-level models available at $40 per square foot, depending on the market.
Many tiny houses aren't constructed to any particular building code, or might be built to an RV code. As the Daily Business News' Matthew Silver has previously report, tiny houses are being banned in some jurisdictions. By comparison, manufactured homes are built to strict federal standards, commonly known as the HUD Code for manufactured housing.
When the mainstream media does share the love, industry pros take note, as did Tim Williams from the Ohio Homes Association, who cheered and shared Weiker's story widely, as you can see along with more photos in the detailed report found linked here. ##
(Photo credits as shown below each picture in the collage above, collage credit – MHLivingNews.)

Submitted by Frank Griffin, Daily Business News, MHProNews.com.