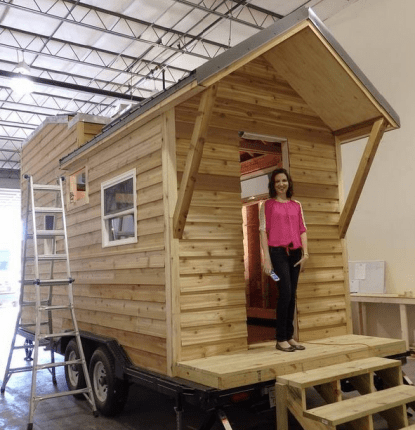 Zoning laws have not caught up with the Tiny House movement, as Jennifer Baxter of Mecklenburg County North Carolina has discovered. The 144 square-foot home that is scheduled for delivery May 31, is built on a 20-foot trailer. Since it is not on a foundation, it cannot lawfully be considered a home in the traditional sense, and it is not large enough to be called a manufactured home in any case.
Local officials, while not wanting to deny anyone their dream house, say changing the rules is a process, according to charlotteobserver. Shad Spencer, of the Charlotte-Mecklenburg Planning Department, says, "There's a place for it somewhere. We've just got to figure out where." Baxter tells MHProNews her home is like a recreational vehicle (RV). Since RVs are not considered permanent homes, Spencer says that makes it difficult to park for any length of time in Mecklenburg County.
For the meantime, Baxter will site the Tiny House on a friend's property. ##
(Photo credit: charlotteobserver/Jennifer Baxter standing at the front of her tiny house.)

Article submitted by Matthew J. Silver to Daily Business News-MHProNews.