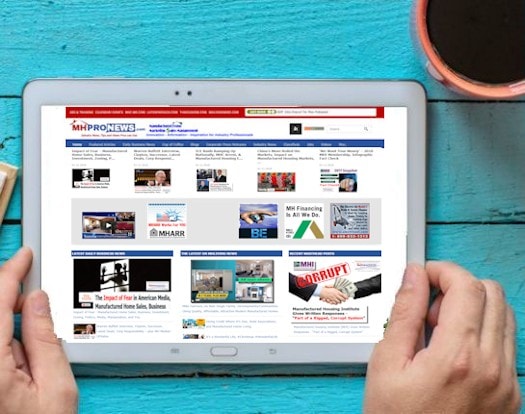 Years and time are made up of cycles.  There are seasons, celebrations, memorials, and events.
There are days off, and days on duty.
At times, the coastal tides are rolling in, at others, the tide is retreating.
This upcoming week is one of those crescendos, an event.  Thousands will roll into Louisville, KY for the manufactured housing show.
There will be actions that are seen, and others that aren't.
What's Coming
During the next 48 hours, there will be some important pre-show items to consider in the Daily Business News. 
Tomorrow – odds are good you'll be off.  Take Warren Buffett's and Donald Trump's advice. Invest the time in yourself, and your career to learn as much as you can about the forces that drive and impact your location, and your industry. The markets will be closed, in honor of Dr. Martin Luther King Jr. There will be a commentary that only 4 political types should read.  
·        Those who vote, and those who don't.
·        Those who are politically engaged, and those who aren't, and could care less.
·        Those on the left, the right, the centrists and independents.
·        Those who are open minded, and those whose minds are closed. 
Other Timely Reports Upcoming For Industry Pros
As important for others will be reports that hit in the next 48 hours that will bring new revelations to the industry as to why the industry lost thousands of its independent member companies.  New documents and evidence, some of it from the Manufactured Housing Institute (MHI). More clues as to how two former corporate giants, Fleetwood and Champion, slid from power and fell.  That will come from their then rival, and the now dominant player, Clayton. We mean revelations from within the top levels Clayton Homes itself. 
You won't find this anywhere else in Manufactured Housing, only here on MHProNews.
There will be more clues on 'the secret hiding in plain sight,' and significant testimony and evidence comes directly right sources within the industry's power structure.
You won't want to miss it.
To sign up for our typically twice weekly emailed headline news update, click here.  Thousands get it, from the biggest names to the mom-and-pops, and all in between. 
Our emailed news updates are highly read, by top people and those who want to be. That's according to third-party MailChimp data, that says we blow away the mainstream media news sites in opens, reads and click through. See for yourself. Find out why an industry executive said, "Tony, If MHProNews is writing about it, I want to know about it." 
Readers are Leaders. Those in the know can better navigate and grow.
Let's dive into the week in review.
What's New on MHLivingNews

What's New on the Masthead
The Manufactured Housing Institute has finally provided a series of written responses to concerns raised by a number of industry members. MHI did so to via an email to their members, as they ask them to renew their annual membership dues. Let's make this hyper-simple.
What's New on MHARR News
What's New on the Daily Business News
Saturday, 1.13.2018
Marcus & Millichap CEO Hessam Nadji, Tax Reform Impact on Real Estate
Friday, 1.12.2018
Immediate Expensing, Investing in Manufactured Housing, Developments w/Manufactured Homes
Thursday, 1.11.2018
ICE Raids Ramping Up Nationally, MHC Arrest, & Manufactured Housing Employers Alert
'We Want Your Money' – 2018 MHI Membership, Infographic Fact Check


Tuesday 1.9.2018
GSE's Duty to Serve MH Rigged, Benefits 21st, VMF, Clayton, Buffett's Berkshire, Harming Consumers & Independents, per MH CEO, Calls for Congressional Investigation
Shake Up at HUD Manufactured Housing Program May Stop Industry Overregulation, per MH State Association
Monday 1.8.2017
Atmosphere, and Super-Charging Results – Monday Morning Sales Meeting
MHCommunity & Other Curation – Business, Marketing, Investment Info for Manufactured Housing Industry Professionals
Manufactured Housing Industry Headline News Sunday Morning Weekly Review 1.1.2018 to 1.7.2018
We'll leave you with two thoughts.
The first is an invitation to share your insights, news tips, and feedback.  Many of our stories – as with any worthwhile media – begin with an emailed news tip.  We've had documents and other items emailed.  We respect confidential sources, which is why we have them.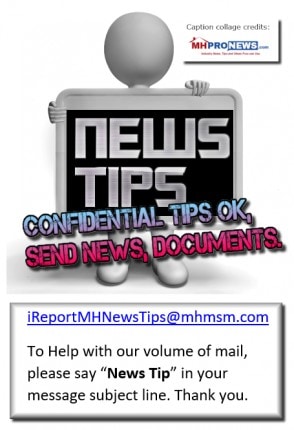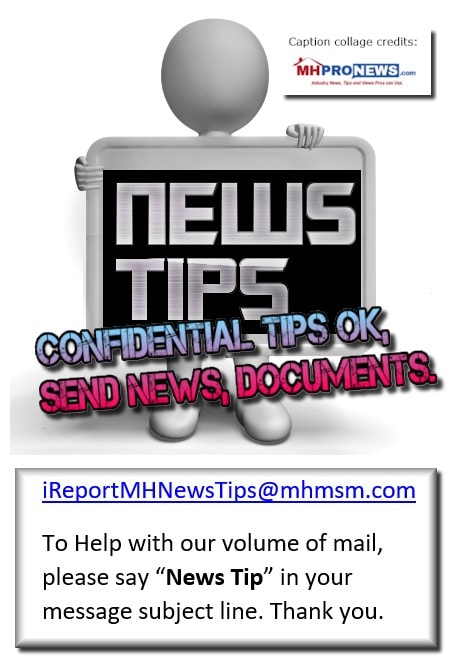 The second are a pair of quotes, one from a Democrat, the other from a former Democrat who is now a Republican. Consider how they apply to our industry, as well as our nation.
We now know from then Democratic National Committee Chair Donna Brazile that the primary contest between Sen Bernie Sanders (I-VT) and Sec Hillary Clinton was "rigged."
There are new revelations coming out, for those who follow the details, that the Russia/Trump collusion story is a huge diversion.  They have, so far, what are called 'process crimes,' but nothing related to collusion itself.  As the Daily Business News reported almost a year ago, legal experts like Harvard Law professor emeritus, Alan Dershowitz (who supported Democrats) has said that even if the allegations were true, they are not a violation of a law.  It's a huge nothing burger, as a CNN producer admitted on camera to Project Veritas last year.
Ratings are good, advertisers like it, so they keep it going.  It's a terrible reflection on the state of the media, which Pew Research said in a recent report is the worst in America among some 20 countries they surveyed. Ouch.
No one should embrace being deceived, or conned. We've all experienced the pain of betrayal, and many are in denial over being betrayed.  Who says? Among others, an independent retailer, numerous corporate executives, community pros, and more than one president that speaks, messages and interacts with MHProNews.
Against, that backdrop an inspirational thought, below.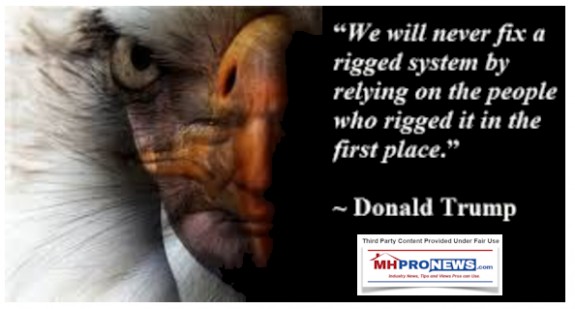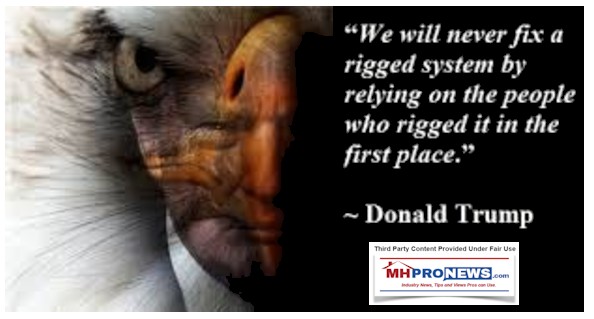 Will we see you in Louisville? We'll be in the meeting rooms, on the show floor, among the exhibits, and of course enjoying some of the local meals.  We thank you, as always, for your checking in.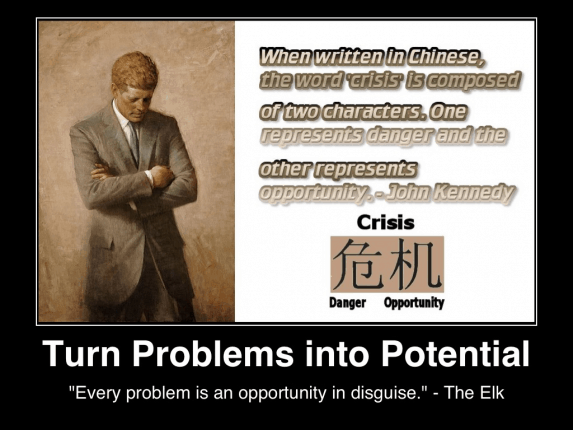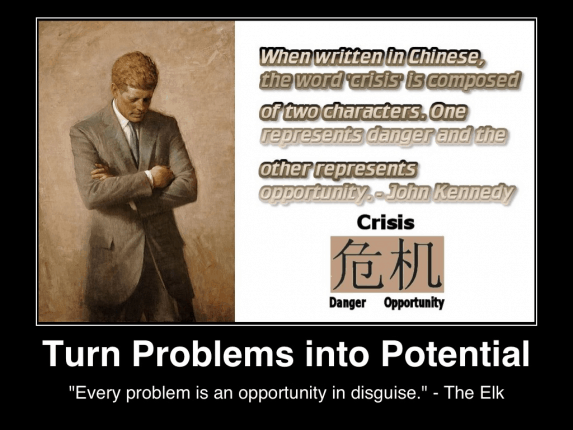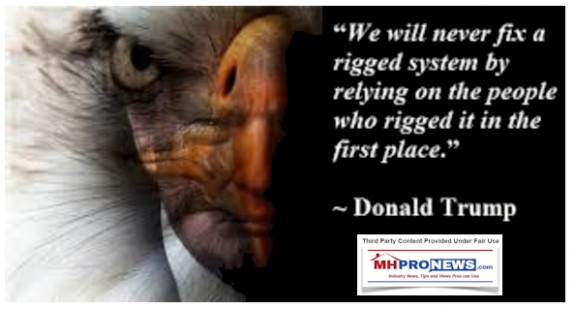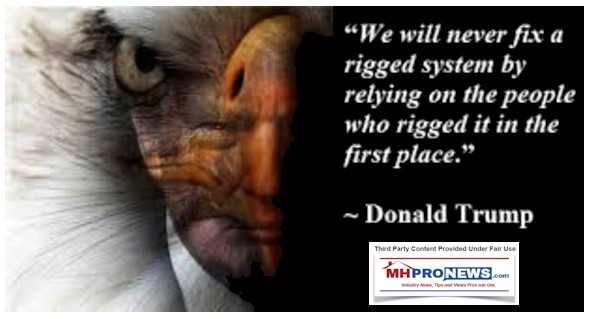 ## (Headline News, Week in Review, Analysis, and Commentary.)
(Image credits are as shown above, and when provided by third parties, are shared under fair use guidelines.)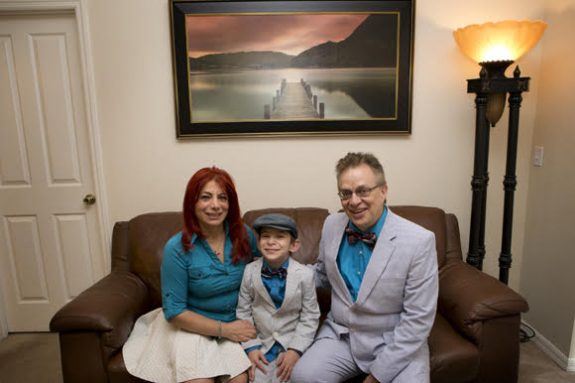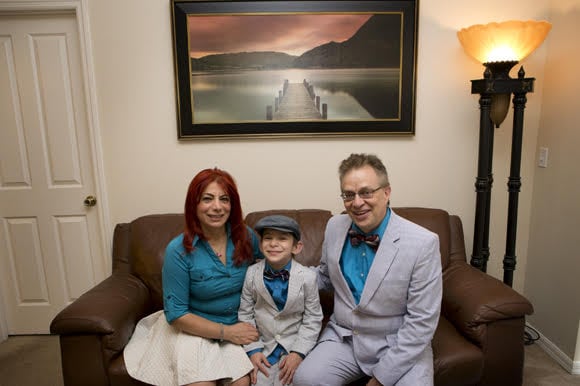 Submitted by Soheyla Kovach to the Daily Business News for MHProNews.com.