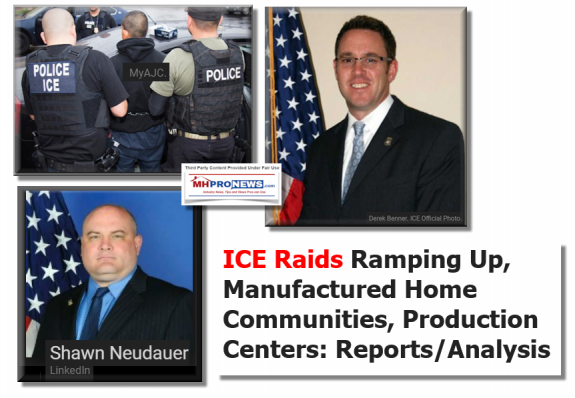 "It's not going to be limited to large companies or any particular industry — big, medium and small," said Derek Benner.
Benner is a "top official at U.S. Immigration and Customs Enforcement [ICE]," says AP.
7-11s have made headlines, as "employment audits and interviews with store workers could lead to criminal charges or fines. And they appeared to open a new front in Trump's expansion of immigration enforcement, which has already brought a 40 percent increase in deportation arrests and pledges to spend billions of dollars on a border wall with Mexico."
Benner said the audits were "the first of many" and "a harbinger of what's to come" for employers.
"This is what we're gearing up for this year and what you're going to see more and more of is these large-scale compliance inspections, just for starters," said Benner, acting head of ICE's Homeland Security Investigations, which oversees cases against employers.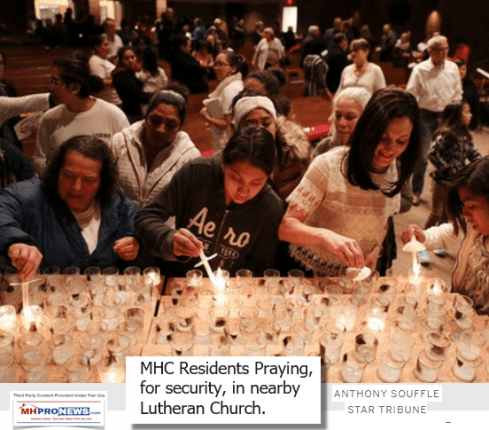 MH Community Arrests, Things To Come?
"A group of residents at Oak Grove Mobile Home Park say the tip that led to the arrest of five men came from a park manager and kicked off a string of arrests and deportations last year. Amid an intense national debate on immigration, the allegations have reverberated well beyond the park," reports the Star Tribune in Minnesota.
"Dave Anderson with the advocacy group All Parks Alliance for Change, who is not involved in the case, says the nonprofit has never handled such claims, but he said mobile home park tenants often worry that managers could wield immigration status as leverage to suppress complaints," per the Star Tribune.
Anderson is also the head of NMHOA, the National Manufactured Home Owners Association, led by long-time activist, Ishbel Dickens.
"Because they did not provide names, ICE could not confirm the arrests. The agency, which last year ramped up enforcement, does not discuss its investigative methods, including tips through a hot line to report criminal activity. Shawn Neudauer, a St. Paul-based spokesman, says tips about people breaking immigration laws arrive daily," the Minnesota media outlet reported.
But Neudauer stressed the tip line is not for settling scores.
"Somebody using law enforcement to coerce people is potentially violating both civil and criminal federal laws," Neudauer said.
That statement from Neudauer may prove important in manufactured housing, beyond this reported community incident. Because there were industry whispers last year that the raids at several independent producers in the south were the result of one, or more, tips from a larger competitor.
If so, the Star Tribune reports that such a practice of misusing the law as a tool of retaliation can be illegal, with civil and criminal penalties.
Are More Raids in MHCs, MH Production Centers Other MH Businesses Coming?
12 percent of undocumented (illegal) immigrants are in construction, says Pew, cited as part of a broader report on manufactured and  conventional housing industries yesterday.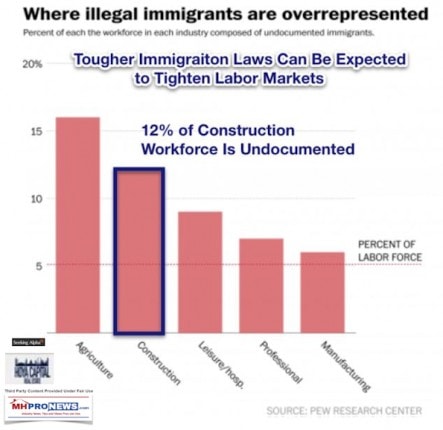 Sources tell MHProNews that percentage of undocumented workers is higher in some plants.  There are other segments of the industry which utilize such labor too, per reports from industry sources.
As the immigration controversy heats up, MHProNews will continue to monitor these developing issues.
Warning to MH Community Operators
As a reminder, with the current state of fair housing laws, communities should be cautious in using anything that smacks of national origin as being a cause for an enforcement action. It could, as in the Minnesota case noted above, lead to a charge of discrimination. ## (News, analysis, and commentary.)
Note 1: Thousands of MH Pros, Investors, Officials and Housing Experts do it. You, your team, and industry colleagues can sign up to the MH Industry leading headline news/updates – typically sent twice weekly – click here to sign up in just seconds.

Submitted by Soheyla Kovach to the Daily Business News for MHProNews.com.