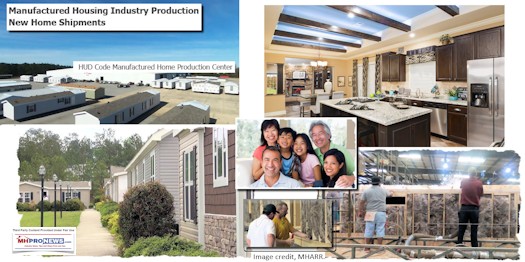 The following press release was provided to the Daily Business News, which will be followed by a brief analysis and commentary, with some related links.
 MANUFACTURED HOUSING PRODUCTION UP IN NOVEMBER 2017
Washington, D.C., January 5, 2018 – The Manufactured Housing Association for Regulatory Reform (MHARR) reports that according to official statistics compiled on behalf of the U.S. Department of Housing and Urban Development (HUD), year-over-year manufactured housing industry production grew once again during November 2017. Just-released statistics indicate that HUD Code manufacturers produced 8,602 homes in November 2017, a 21.1% increase over the 7,098 HUD Code homes produced during November 2016. Cumulative industry production for 2017 now totals 85,657 homes, a 15.5% increase over the 74,141 HUD Code homes produced over the same period in 2016.
A further analysis of the official industry statistics shows that the top ten shipment states from the beginning of the industry production rebound in August 2011 through November 2017  — with cumulative, monthly, current year (2017) and prior year (2016) shipments per category as indicated — are: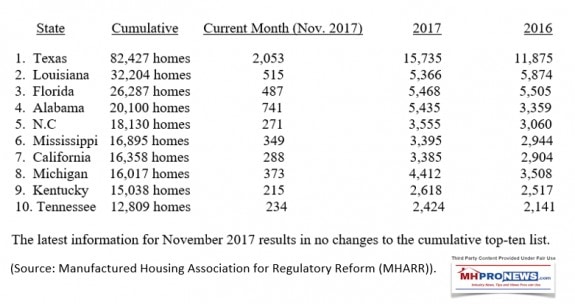 The Manufactured Housing Association for Regulatory Reform is a Washington, D.C.-based national trade association representing the views and interests of independent producers of federally-regulated manufactured housing.
-– 30 –
Last month's report is linked below.
Latest Manufactured Home Shipment Data, for October 2017 Released
The industry needs to look at such statistics through a dual lens.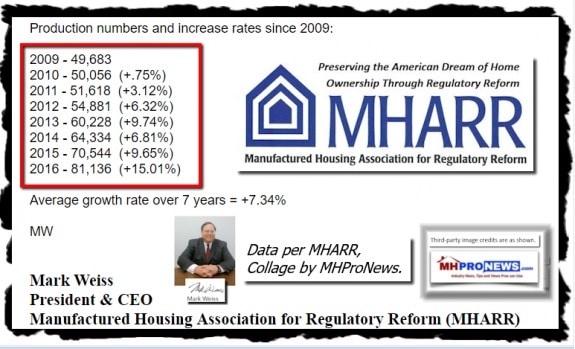 First, it naturally a good thing that the industry is witnessing rising shipments since it hit bottom in 2009.
NAR's Yun – No Quick Fixes Spell$ Manufactured Housing Opportunitie$
Second, the industry is only scratching the surface of its potential.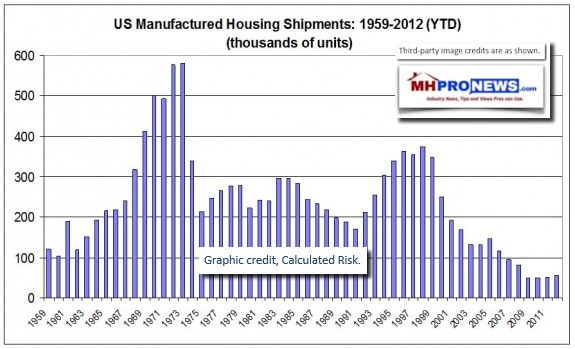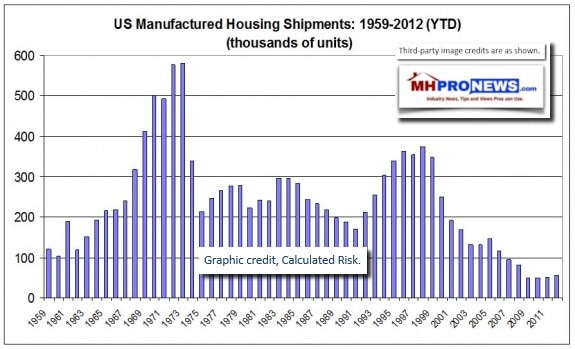 Historically and in the future, the industry did more, and could do roughly 10 times (+/-) better than it currently is in terms of new home sales.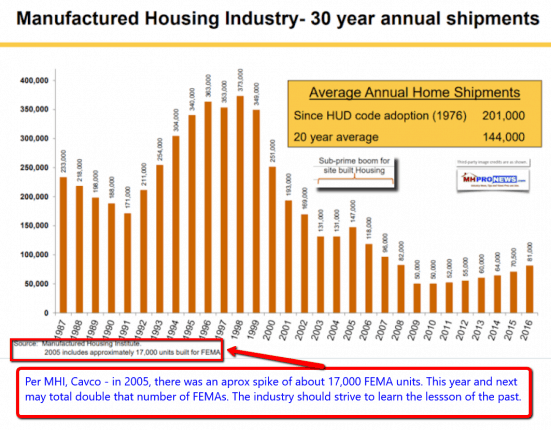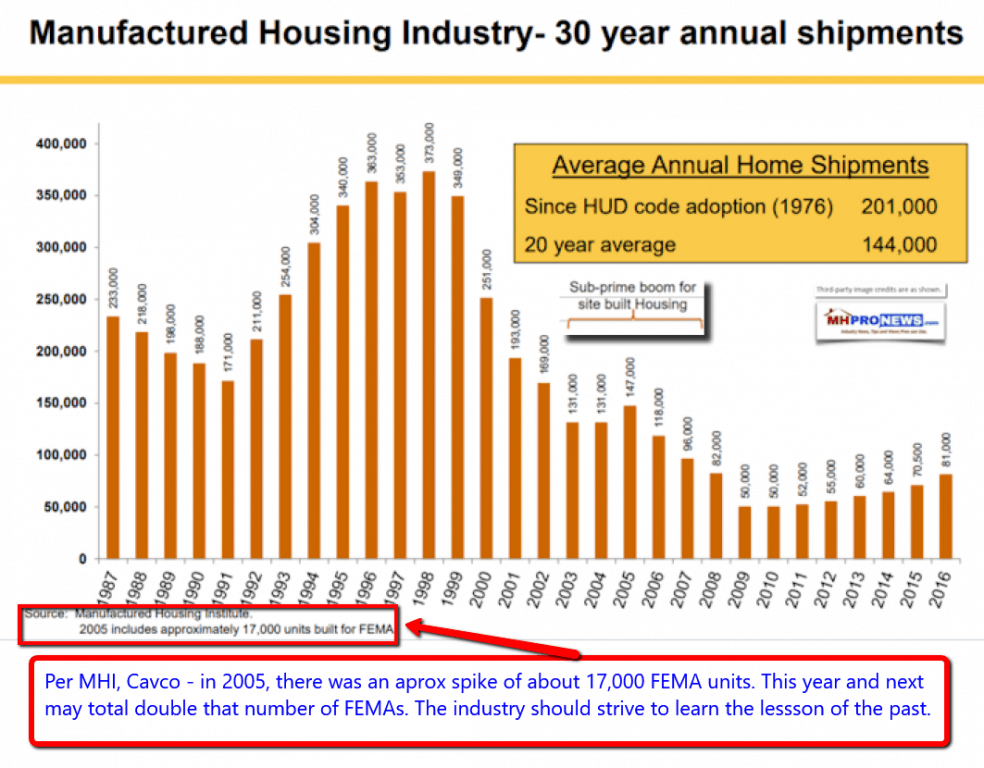 With over 8 million new housing units needed now, and conventional construction unable to meet those needs in terns of speed, price, quality and volume, investors ought to be salivating of the potential in manufactured housing.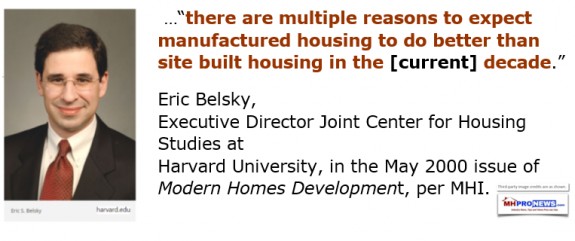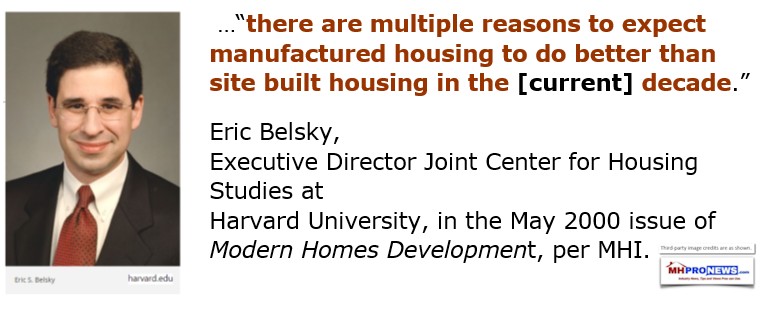 Appealing Manufactured Housing Institute (MHI) Marketing, Finance Booklet Reviewed
That said,  there are also several warning signals and possible rivals to the industry that professionals must grasp, and cross.
Trends in MH Communities, Impacting Producers; Looming Crash?
While Manufactured Housing Overall Rises, Some Slip Sliding Away
Properly understood, each of the issues can be navigated with the correct effort.
Is their proof for that claim?
Yes.
Because there are companies growing at more than double the rate of the industry at large, and individual locations growing at more than 4 times the rate of the industry at large.
KYPs, and the $64 Billion Dollar Question-Monday Morning Manufactured Housing Sale$ Meeting
Finally, the potential could be tapped by others, it won't simply fall into manufactured housing's lap.
So, the industry's potential must be approached as a mid-to-longer term move.
Survey Top 2017 PreFab, Modular, Tiny and 3D Printed Housing News Stories
Manufactured housing isn't a fast buck.  That's a key lesson from Warren Buffett, who took the long term view.
Warren Buffett, "the Moat," Manufactured Housing, Berkshire Hathaway, Clayton Homes, 21st Mortgage, Vanderbilt, Wells Fargo, NAI…
Beyond Skyline/Champion Merger, What's Next in Manufactured Housing? Plus MHMarket Update$
But it's a sure buck for those who know what they are doing, and are wiling to invest the time, talent, and treasure to mine the opportunities. ## (News, analysis, and commentary.)
Note 1: Thousands of MH Pros, Investors, Officials and Housing Experts do it. You, your team, and industry colleagues can sign up to the MH Industry leading headline news/updates – typically sent twice weekly – click here to sign up in just seconds.
Connect:
Note 2: Business development, training, web, video, consulting, expert witness, or other professional services, click here. Using our services supports our industry leading trade publishing, yielding good ROI/benefits to you.

Submitted by Soheyla Kovach to the Daily Business News for MHProNews.com.