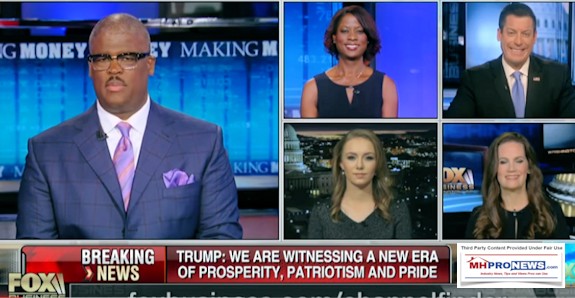 "Unemployment is at 17-year low," said President Donald J. Trump, quickly adding that, "African American unemployment is at the lowest ever since records have been kept," which keeps a campaign pledge the Daily Business News noted just last week to minorities.
"What the Hell?" "The Audacity of Hope" – Obama, Trump, Presidential Promises Kept, & MH
Farmers, and rural Americans, represent a significant part of the customer base of manufactured housing, per federal data.
"Today, President Donald J. Trump delivered remarks at the American Farm Bureau Federation's annual convention in Nashville, Tennessee, outlining his agenda to boost agriculture and rural prosperity," said Joel Ebert in the Tennessean.
"Trump's return to Music City — his second since entering office — will coincide with the release of recommendations from the task force established in April 2017," said Ebert. "The task force's work features five core components, including "enhancing broadband access and commercial connections in the country's rural areas" and "improving quality of life, including addressing opioids."
Sen. Mike Rounds (R-SD) penned an op-ed in the Rapid City Journal that the White House press room called to MHProNews' attention.  Rounds' highlighted how tax reform will help families in 2018. "For far too long, Americans have been saddled with high taxes and an overly-complicated tax code," Sen. Rounds said. "As we welcome in this new year, the Tax Cuts and Jobs Act will provide the tax relief they deserve."
Rising employment and wages are a factors frequently cited by publicly trade manufactured home companies as reasons to expect more sales.
Former CKE Restaurants CEO Andy Puzder explains in an op-ed in the Wall Street Journal how American workers are already benefitting from the President's tax reform leadership. "The formula is simple: When the economy accelerates, employers compete for employees and wages increase," Puzder said. "Wage growth doesn't come from government mandates. It comes from policies that get the economy moving."
CivicForumPAC Chairman Ford O'Connell, Fox News contributor Deneen Borelli, Olympic Media managing editor Katie Frates and attorney Gayle Trotter discuss President Trump's speech to farmers in rural America, in this panel discussion that features some event highlights to the Farm Bureau. ## (News, analysis, and commentary.)
Note 1: Thousands of MH Pros, Investors, Officials and Housing Experts do it. You, your team, and industry colleagues can sign up to the MH Industry leading headline news/updates – typically sent twice weekly – click here to sign up in just seconds.

Submitted by Soheyla Kovach to the Daily Business News for MHProNews.com.