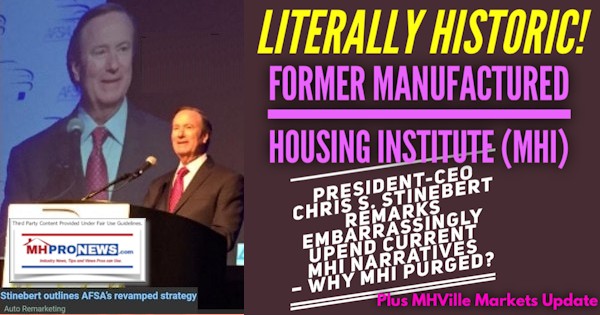 To grasp why what follows is literally historic, it helps to understand who Christopher "Chris" S. Stinebert is and the significant role he played in the now tragically diminished world of 21st century manufactured housing (a.k.a. MHVille). According to Chris Stinebert's LinkedIn profile, he served as the president and CEO of the Manufactured Housing Institute (MHI) for some 7 years, from 1999 to 2006. That was during the crucial period when MHI pivoted, joined the Manufactured Housing Association for Regulatory Reform (MHARR) and they teamed up along with the Texas Manufactured Housing Association (TMHA), the latter led back then by the late Will Earle, J.D. While Stinebert was at MHI, MHI-MHARR-TMHA led the charge to enact what became the Manufactured Housing Improvement Act of 2000 (MHIA) which Congress believed would boost manufactured housing sales and would improve consumer protections in the process. Coincidentally, the Stinebert era of MHI was also the period during which the meltdown in manufactured housing lending occurred. Manufactured housing's subprime crisis presaged the crisis in conventional housing, but the meltdown in conventional housing was much worse. That segue noted, right or wrong, the Government Sponsored Enterprises (GSE) of Fannie Mae and Freddie Mac used the wave of manufactured home repossessions in the late 1990s and early 2000s as their reason for pulling out of manufactured home chattel (personal property, home only) lending.
While there are several contributing factors, manufactured housing production has never recovered since that era.
Those years that Stinebert was at the helm as MHI's staff president and CEO also happened to be when Warren Buffett led Berkshire Hathaway acquired a big interest in Oakwood [Manufactured] Homes Corporation (was NYSE:OKWHQ). Per a 2002 SEC filing about the firm's bankruptcy: "Oakwood Homes Corporation…" "…As a result, Berkshire Hathaway Inc., which is the largest holder of the Company's unsecured debt, would become the Company's largest shareholder upon the Company's emergence from bankruptcy." Regular and detail-minded readers of MHProNews will recall our recent review of the controversial battle for control of Clayton Homes by Berkshire Hathaway in the report linked below.
'Warren Buffett Apparently Has Eye on New Double-Wide' MarketWatch-Fast Company Reports on Clayton Homes and Related Manufactured Housing Acquisitions, plus Sunday Weekly MHVille Headlines Recap
With that brief tee-up, in Part I of this report are some introductory remarks from Chris Stinebert to The Wall Street Transcript on behalf of MHI. Highlighting below is added by MHProNews, and will be unpacked in Part II of this article.
Part I – The following is from The Wall Street Transcript (TWST) at the link shown above.
Chris S. Stinebert
CHRIS S. STINEBERT is the President and CEO of the Manufactured Housing Institute (MHI) located in Arlington, Virginia. The Manufactured Housing Institute, formed in 1936, is the national trade association that represents all sectors of the factory-built housing industry including manufactured and modular housing. MHI provides an aggressive advocacy program in Washington, DC, serving the membership by improving the image of factory-built housing and representing the industry's interests on Capitol Hill. MHI also maintains active educational, technical and research programs. In 2003, one-fourth of the homes sold in America were manufactured and modular homes and it is estimated that over 20 million Americans live in a factory built home. MHI's current members build 80% of the annual production of manufactured homes. Factory-built housing represents more than 50% of the affordable housing sold in the United States. In addition to representing the interests of the producers, MHI membership includes the national network of retailers, public and private community owners, financial institutions, suppliers, and state manufactured housing associations. As President, Mr. Stinebert serves as the association's chief executive officer. His primary responsibilities include serving as the industry's national spokesman to Congress and the general public; expanding factory-built housing's market share; promoting the industry's image, and maintaining a highly respected and effective government affairs program in Washington. Prior to coming to MHI, Mr. Stinebert was the President of the National Concrete Masonry Association in Herndon, Virginia. His previous positions included serving as the Executive Vice President and CEO of the American Subcontractors Association and Executive Director of
the Wall and Ceiling Industry – International.

MANUFACTURED HOUSING: AN OVERVIEW: CHRIS STINEBERT – MANUFACTURED HOUSING INSTITUTE
October 11, 2004
MANUFACTURED HOUSING: AN OVERVIEW: CHRIS STINEBERT – MANUFACTURED HOUSING INSTITUTE – The Wall Street Transcript (twst.com)
TWST: Can we start with a quick overview of the Manufactured Housing Institute?
Mr. Stinebert: MHI represents 85% of the manufactured homes produced in the United States and those manufacturers that produce them. But in addition MHI also represents the retailers who sell them, the communities where the homes are often placed, the finance companies that finance the homeowners, the state associations, and, of course, the suppliers that market their products and services to this industry. All of those companies, organizations and people belong to the Institute.
TWST: How big is the industry today and what is the outlook?
Mr. Stinebert: The industry is expected to produce about 130,000 manufactured homes for the 2004 year, which is flat compared to its production of the year before. But we are expecting a healthy increase for 2005 up to between 145,000-150,000 homes.
TWST: Those levels are well below peak.
Mr. Stinebert: Yes. As recently as 1998, the industry produced 375,000 homes.
TWST: Why the change? What went on to bring this number down so far?
Mr. Stinebert: We over-produced and built up inventory in the late 1990s. Retailers were encouraged to expand their stock of homes at the sales centers, creating sales for the manufacturers, while home sales to consumers did not keep pace. That was one factor. A second factor is that a lot of the homes that sold to individuals who could not afford them. Loose underwriting, lenient loan terms, and fraud lead to increased delinquencies and defaults. Repossessions flooded the market, directly impacting the severity of recoveries. Numerous lenders exited the industry at both the wholesale and retail markets and those remaining greatly tightened their underwriting requirements. The lending capacity for personal property loans ' chattel financing ' was severely curtailed. At the same time, the GSEs ' Fannie Mae and Freddie Mac ' segregated their manufactured housing portfolios and mandated new requirements and restrictive underwriting for conforming home loans. There are other factors that contributed to the recent decline in sales or production but these are the biggest. In the end, it was a combination of 'perfect storm' factors that fell upon the industry over a two-year period, and we're just now starting to emerge as a stronger industry and certainly a smarter one.
TWST: Are all these issues pretty much behind you?
Mr. Stinebert: I would have to say yes. Inventory levels are very good and back to balanced levels. The high level repossessions from loans made during the 1990s, which have plagued the industry, have returned to manageable levels. The performance of loans made over the last several years continues to improve. The underwriting guidelines and terms for financing the homes has been vastly improved to the extent that some feel that there has been an over-reaction and an over-tightening and that some credit-worthy purchasers or customers do not have the ability to purchase a manufactured home but easily qualify for a site-built home. But there are other positive factors as well. … ##
Part II – Additional Information with More MHProNews Analysis and Commentary in Brief
There may well be plenty of more interesting items in that interview, and in other items from Stinebert that we've examined before or are considering doing in the future. But for the next several minutes, let's focus on that brief set of remarks from Stinebert, and compare then at MHI to now.
It is useful to once again share the shipments by year from the 1995 through 2022 and the circle back to what Stinebert said.
1995 – 344,930
1996 – 363,345
1997 – 353,686
1998 – 373,143
1999 – 348,075
2000 – 250,366
2001 – 193,120
2002 – 165,489
2003 – 130,815
2004 – 130,748
2005 – 146,881
2006 – 117,373
2007 –  95,752
2008 –  81,457
2009 –  49,683
2010 –  50,056
2011 –  51,618
2012 –  54,881
2013 –  60,228
2014 –  64,334
2015 –  70,544
2016 –  81,136
2017 –  92,902
2018 –  96,555
2019 –  94,615
2020 – 94,390
2021 – 105,772
2022 – 112,882
Then, according to MHARR which cites the official information collected on behalf of the U.S. Department of Housing and Urban Development (HUD) said this. "HUD Code manufactured housing industry year-over-year production declined again in September 2023. Just-released statistics indicate that HUD Code manufacturers produced 7,955 new homes in September 2023, a 15.2% decrease from the 9,381 new HUD Code homes produced in September 2022. Cumulative production for 2023 is now 66,647 homes, a 25.7% decrease from the 89,812 homes produced over the same period during 2022." In the prior month "HUD Code manufacturers produced 8,670 new homes in August 2023, a 19.1% decrease from the 10,722 new HUD Code homes produced in August 2022." So, in September 2023, there was both a year over year decline and a month-over-month decline in production. That's difficult to paint as anything other than trouble.
Manufactured Housing Production Decline Persists in Sept 2023 per Manufactured Housing Association 'During Affordable Housing Crisis Affordable Manufactured Housing Continues to Underperform', Facts Analysis –
Indeed, MHI's new chairman, William "Bill" Boor – the CEO for Cavco Industries – said as much to Congress on July 14, 2023. Per Boor: "The manufactured housing industry is at a critical crossroads due to regulatory barriers and market forces. Cumulative shipments from January 1 through April 30, 2023, decreased by 30 percent compared to the same time period of 2022. April 2023 shipments were down 34 percent compared to April 2022 shipments." (Bold emphasis in Boor's words added). MHARR has updated that data, see the report linked above.
But at least on surface, Boor and MHARR seem to agree that the industry is in a sharp downturn.
While there are useful remarks by Cavco's CEO and MHI's new chair, Bill Boor, what's missing from that snapshot from Boor to Congress last summer is this.  The factors which are routinely cited as causing the industry's sharp drop in the late 20th and early 21st century were, per Stinebert, largely in the rear-view mirror.
Look again at what The Wall Street Transcript (TWST) asked, and how Stinebert began his answer.

TWST: Are all these issues pretty much behind you? [i.e.: inventory, financing, etc.]
Mr. Stinebert: I would have to say yes."
Stinebert said the issues which hampered manufactured housing were "yes" "pretty much behind" the manufactured housing industry. Restated, Stinebert expressed the belief that the industry would be moving up again after 2004.
Now, let's look again at some of those years of production data. Stinebert's remarks in 2004 were followed by a rise from 130,748 in 2004 to 146,881 in 2005.  True, FEMA orders made up a chunk of that increase. The case is made by some that the increase in purchases for FEMA in 2005 led to a decrease in purchases from manufacturers in 2006 and later because the roughly 10,000 FEMA "Manufactured Housing Units" that numbers of those units that were stored at one point in Hope, Arkansas were eventually bought by wholesalers and retailers instead of buying new product from HUD Code producing factories.
Rephrased, from 2003 to 2006, there was a kind of relative stability once FEMA orders are factored out. From 2003 through 2006 a total of 525,817 manufactured homes were produced. That's 131,454 averages over those four years. While that should not be the goal of big thinkers in the manufactured housing industry, it has been about 18 years since manufactured housing collectively shipped that number or more manufactured homes. And that, ladies and gentlemen, was during the Stinebert era at MHI.
1998 – 373,143
1999 – 348,075
2000 – 250,366
2001 – 193,120
2002 – 165,489
2003 – 130,815
2004 – 130,748
2005 – 146,881
2006 – 117,373
Yet, despite Stinebert's prediction in 2004, referenced in that interview with The Wall Street Transcript (TWST), manufactured housing production began to decline again following the year of Katrina.
Stinebert told TWST that the issues holding manufactured housing back were behind the industry in 2004. Stinebert clearly said he expected the industry to recover. It obviously did not do so.
Indeed, the debacle over FEMA units for Katrina revealed an ongoing part of the problem for manufactured housing.  According to the: "Testimony of David Garratt, Acting Director of Recovery Efforts, Federal Emergency Management Agency [FEMA], U.S. Department of Homeland Security" told Congress: "Thousands of unused mobile homes sit vacant in Arkansas, even as many Louisiana and Mississippi victims of Hurricane Katrina continue to wait for temporary housing…" "The second factor has been the reluctance of communities to accept mobile homes in group sites. Mobile homes, while larger and more spacious than travel trailers, are regarded with some degree of trepidation by communities and neighborhoods, who often view such temporary unit developments as potentially permanent fixtures. As a result, there has been widespread resistance to allowing such sites in many areas." Garrett should have said "manufactured home" or "manufactured housing" instead of "mobile home" to be accurate. But that terminology point aside, at about the same time as Stinebert was telling TWST that the industry's issues were behind it, MHI had commissioned what became known as the Roper Report.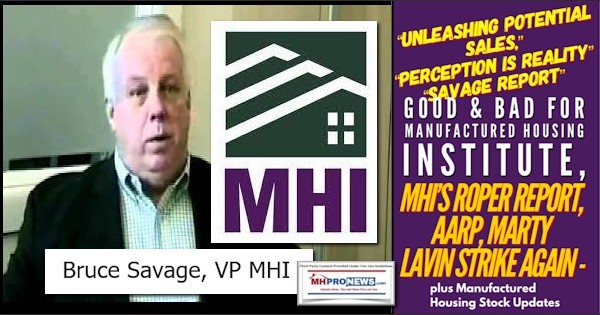 Per the Roper Report as presented by MHI to their membership at the time these slides (see the presentation in the article above) were made, manufactured housing had image issues that could be successfully turned into opportunities to grow the industry. That being so, why didn't MHI do so? Isn't it obvious that some in the industry felt there was a benefit for their business model for the industry to continue to underperform? Anyone who thinks otherwise has likely not looked at enough evidence yet, or has not looked at the evidence with an open mind seeking the true meaning of the various statements and behaviors.
Note: to expand this image below and some others herein to a larger or full size, see the instructions
below the graphic below or click the image and follow the prompts.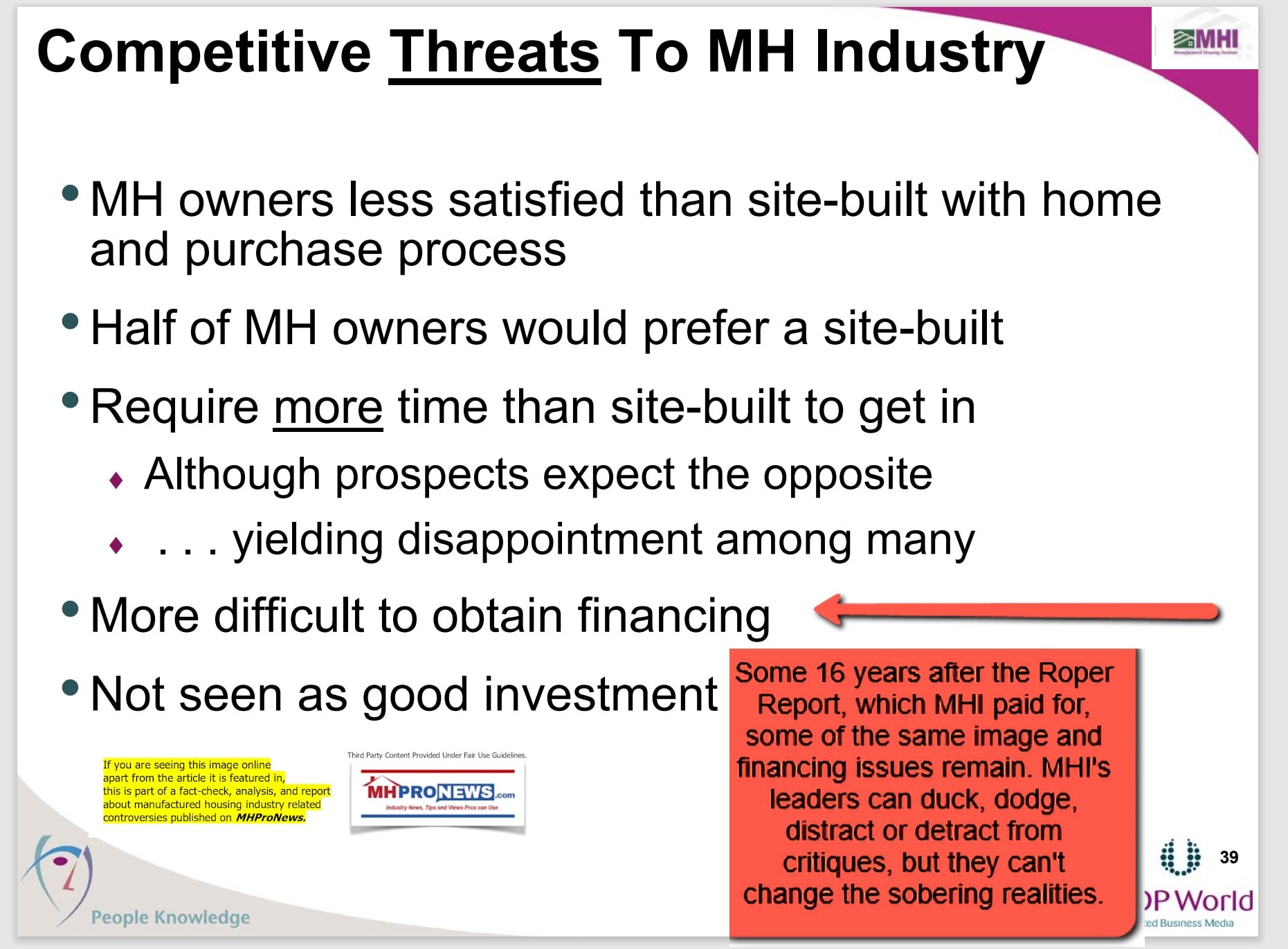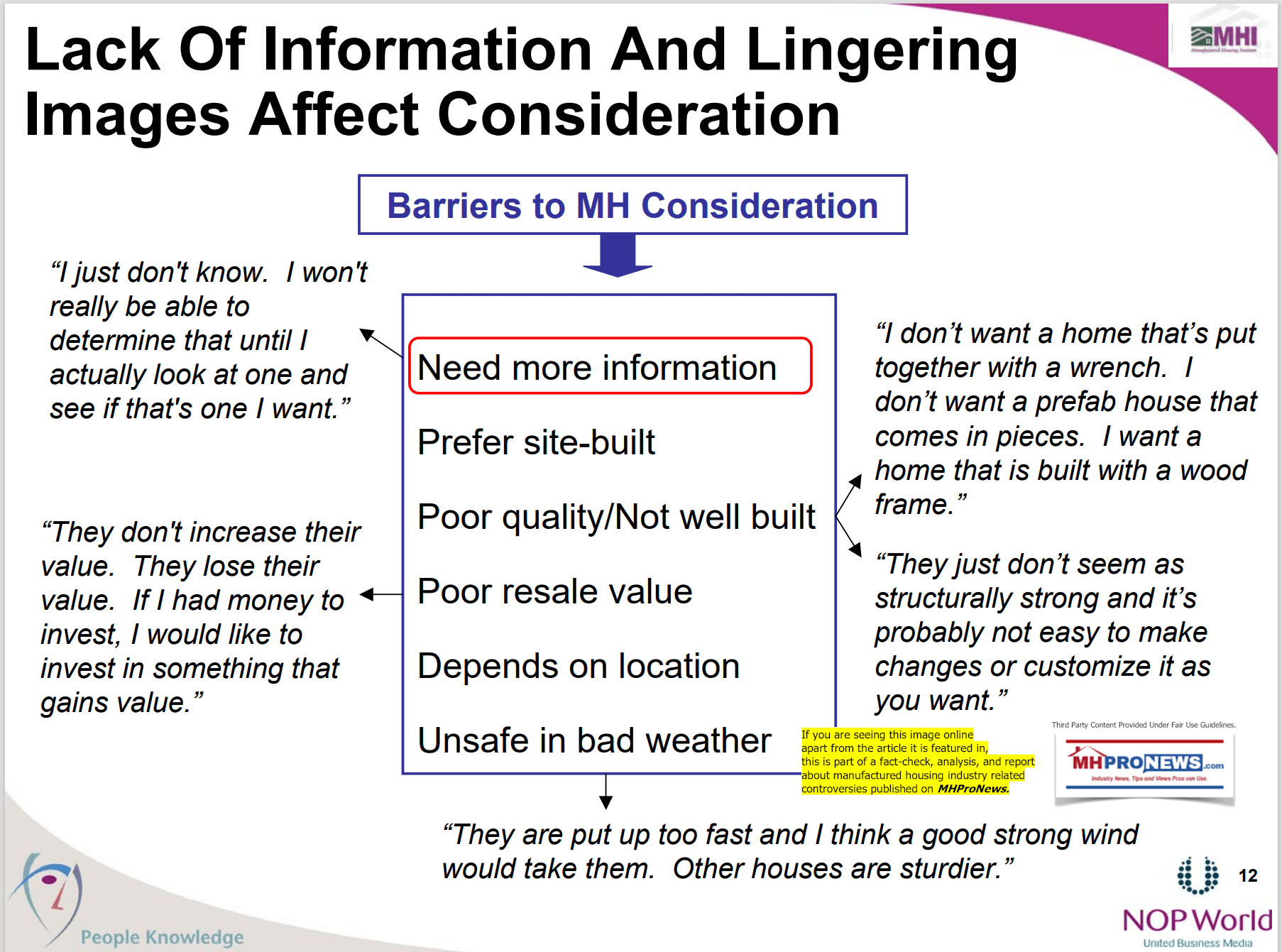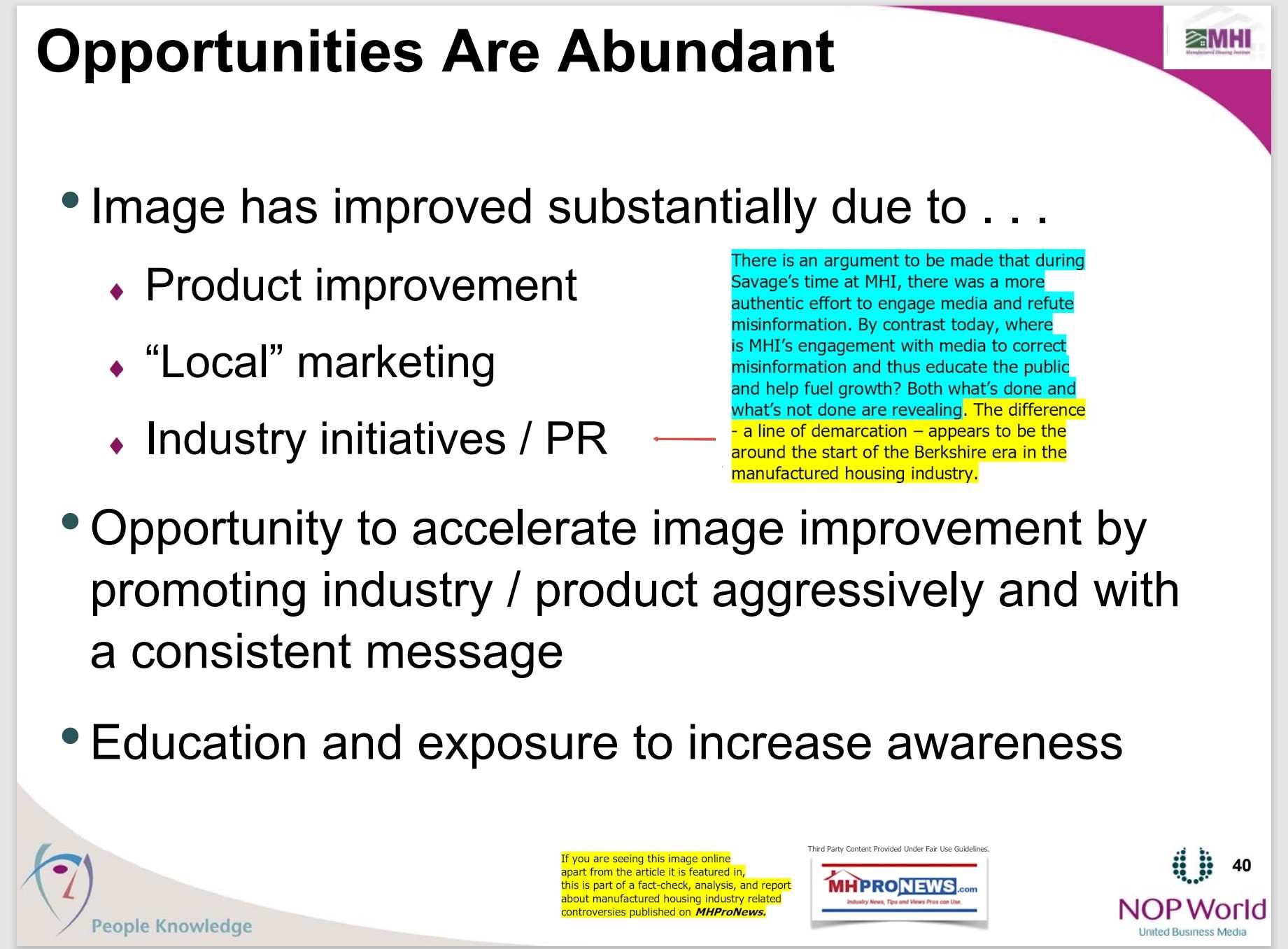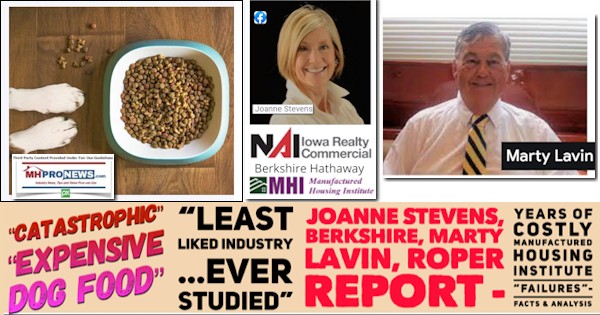 Applying the point that the executive director for the Florida Manufactured Housing Association (FMHA) aptly observed, achieving growth in manufactured housing isn't rocket science.  It is applied common sense. That being so, why hasn't common sense been applied by MHI for most of the 21st century?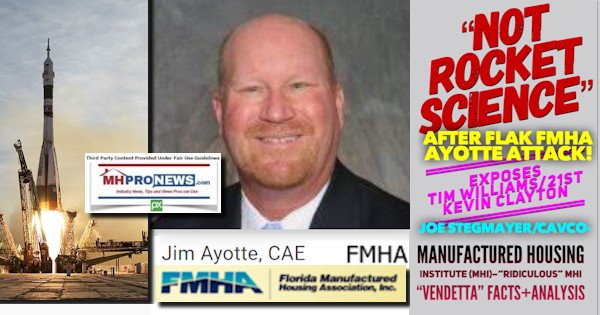 Let's swiftly note that even though MHI has arguably never dealt with this image/education problem, as several recently Bing AI searches have substantially documented, the reality of many of these issues is per more recent third-party research largely in the past. HUD, FHFA, LendingTree and the Urban Institute have all documented that manufactured housing has been appreciating for years. But obviously, the public had not gotten that message. That's what the Roper Report revealed, failures by the "post-production sector" of manufactured housing, i.e.: MHI, to address the barriers that existed then, and still exist today.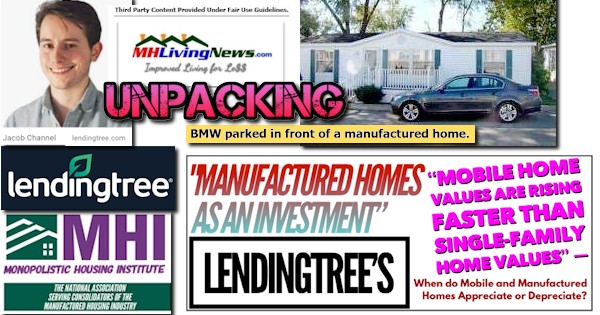 Perhaps by scrubbing the name of prior MHI presidents and CEOs, MHI hopes to keep people looking into manufactured housing from considering the industry's history?  As the second screen capture graphic with analysis below reflects, MHI has literally removed from public view what they previously had posted prior to their new website relaunch as the 'history of MHI.'
Note: to expand this image below and some others herein to a larger or full size, see the instructions
below the graphic below or click the image and follow the prompts.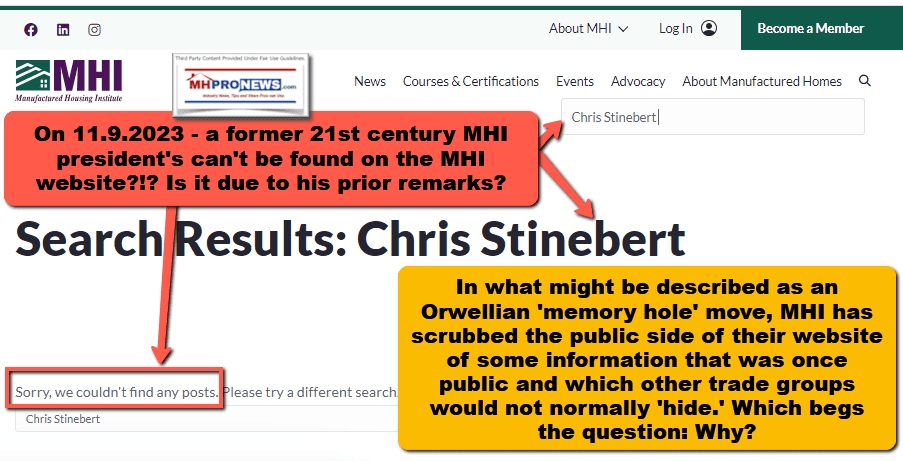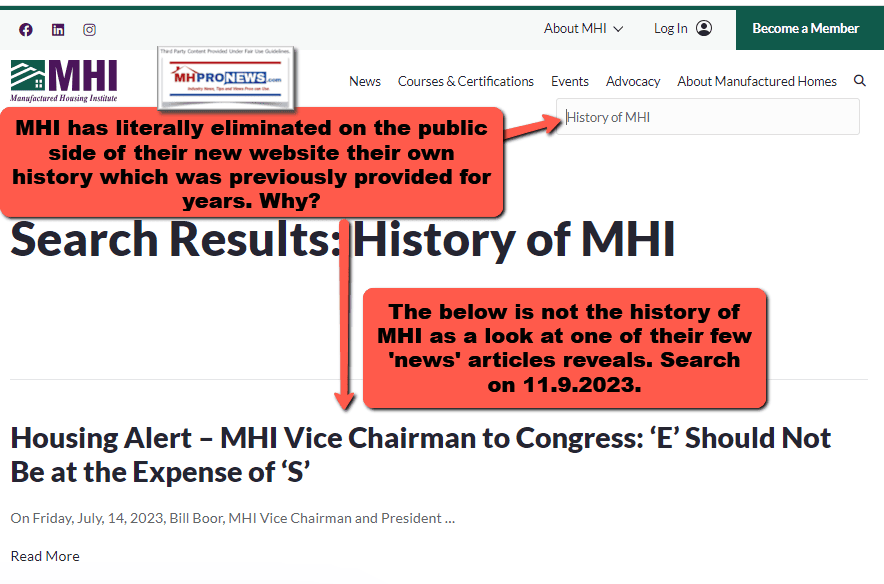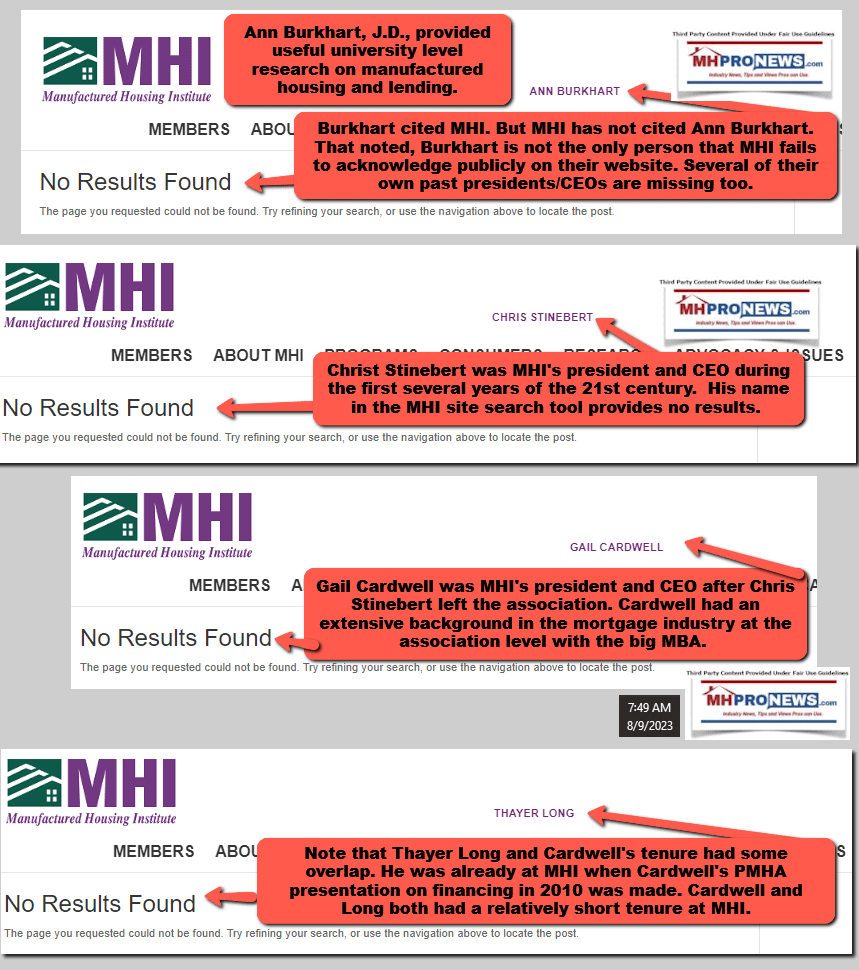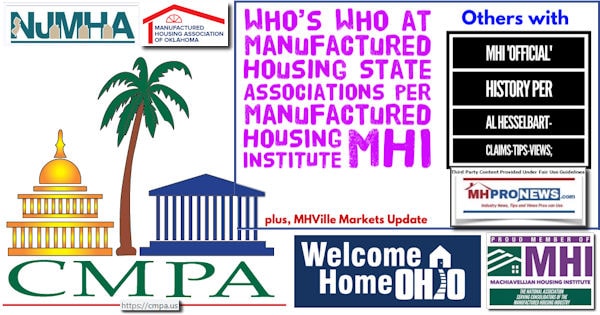 Because once that history is known, starting with historic data and continuing with historic remarks, what emerges is a picture of 21st century failures by MHI. Among those failures?
Despite MHI's and Kevin Clayton's remarks about an image/education campaign, that obviously has not occurred, as Bing AI recently said in remarks provided to MHProNews readers.
MHI failed to stop a problematic provision of law (2007 EISA) and in some ways made the problem worse once it passed.  It is an open question if MHI's belated efforts since would have occurred at all absent the press by MHARR that periodically keeps MHI's 'failures' in front of the industry's members.
While there are two good laws (there are more, but two are more common focus) routinely mentioned, neither of those good laws are properly enforced. Who says? MHI, as well as MHARR.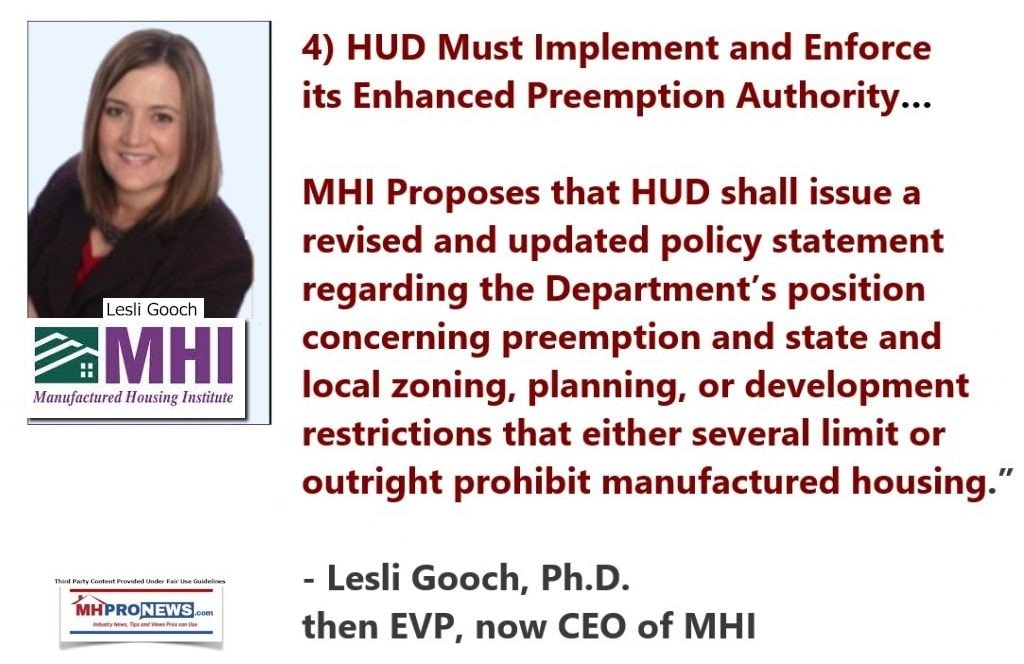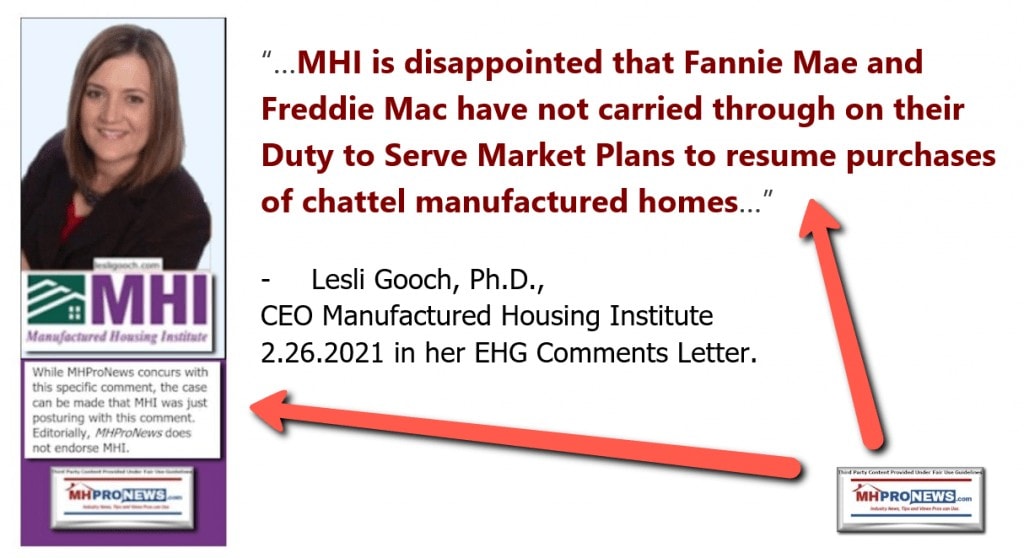 4. But an arguably revealing example of how little MHI wants those good laws to be enforced, at least at this time, is current CEO Gooch's mindbogglingly harmful remarks carefully examined in the remarks by Mark Weiss, J.D., for MHARR, below. Gooch's flub was so bad that Weiss called it 'inexcusable and a major problem.'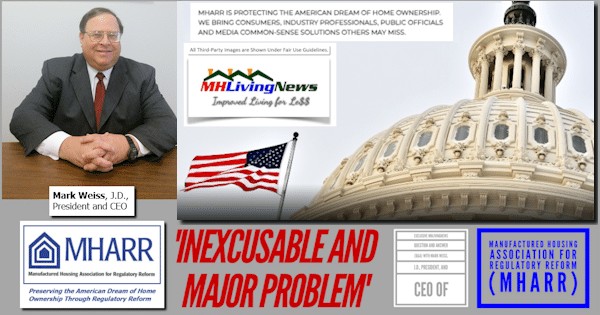 5. And as Weiss-led MHARR more recently remarked, if that 'sabotage' remark be Gooch truly was sincere, then why hasn't MHI asked to have Senator Tim Scott fix it in this draft legislation? The point is well made. If MHI has believed this for years, but never said so until recently, then why didn't they attempt to amend the law that passed some 15 years ago?
Manufactured Housing Association for Regulatory Reform (MHARR) and Manufactured Housing Institute October 2023 Washington, D.C. – Industry Updates – Exclusive Report-Analysis; w/MHVille Markets
Summary and Conclusions
By looking at remarks by Chris Stinebert and MHI from earlier in the 21st century, and comparing it to what emerged since then, several sobering revelations occur. Either MHI has been cursed with inept leadership, OR they are operating in favor of an agenda that they don't openly state. The evidence is the later, which is arguably in part an underlying subject of recently launched class action litigation involving several prominent MHI members. As the Sun Communities report linked below illustrates and details, the Sun and the defendants in that class action lawsuit have said this.

Since August 31, 2023, several putative class action complaints have been filed in the U.S. District Court for the Northern District of Illinois, Eastern Division, against Datacomp Appraisal Systems, Inc., us, and nine other large MH operators in the United States. The complaint alleges that the defendants have violated federal antitrust laws by sharing and receiving competitively sensitive non-public information to maintain artificially high site rents. The plaintiffs have moved to consolidate the complaints into the case captioned Carla Hajek and Gregory Hammerlund v. Datacomp Appraisal Systems, Inc., et al., No. 1:23-cv-6715.
Plaintiffs seek both injunctive and monetary damages, as well as attorneys' fees. We are unable to estimate a range of loss, if any, that could result were there to be an adverse final decision in this litigation. If an unfavorable result were to occur, it is possible that the impact could be material to our results of operations in the periods in which any such outcome becomes probable and estimable.
We believe that the plaintiffs' allegations are without merit and intend to defend against them vigorously. However, litigation is inherently uncertain and there can be no assurance regarding the likelihood that our defense of this litigation will be successful."
Gary Shiffman–'We Stopped New Development and Acquisitions'–Plan for Property and Manufactured Housing Sales, More Eye-Openers Unpacked in Sun Q3 Earnings Call; plus MHVille Markets Update
MHProNews has uniquely and often exclusively predicted for some time that the industry was ripe for an array of legal actions aimed against purported bad actors who are prominent at MHI.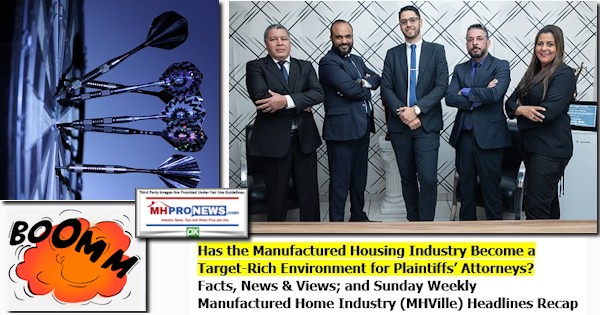 The case for corruption involving MHI is only getting stronger.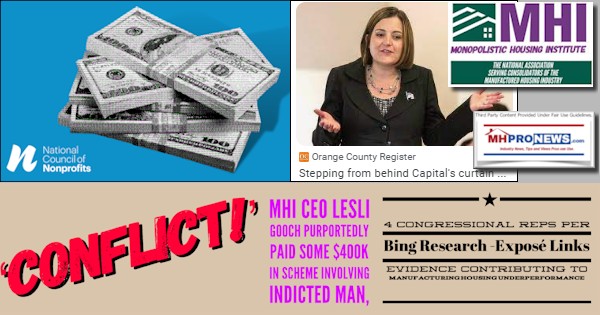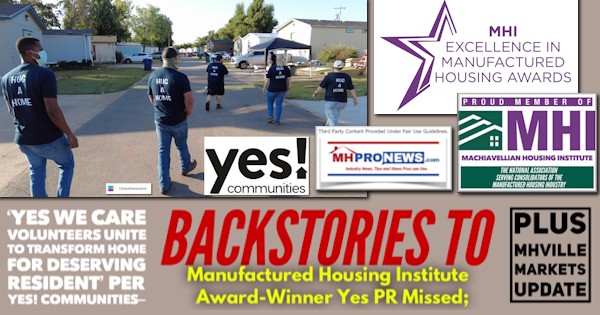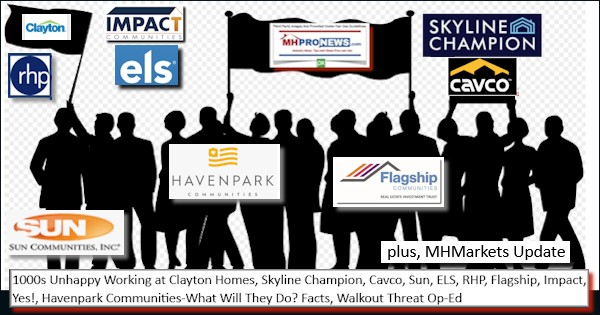 Artificial Intelligence Answers: 'Why Manufactured Housing Has Underperformed in 21st Century During Affordable Housing Crisis?' Facts, Analysis, plus Sunday Weekly MHVille Headlines Recap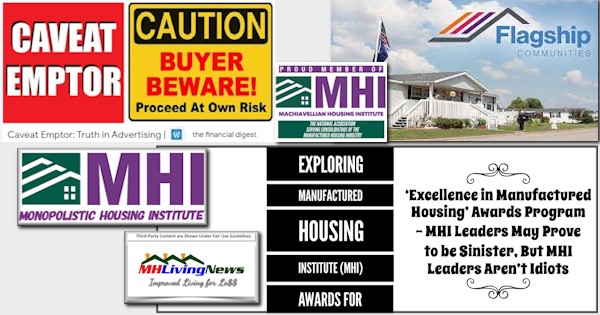 MHI's own former president and CEO Stinebert pointed out years ago that the industry ought to be on the road to recovery. Stinebert's departure from MHI merits more exploration.  But as an MHI insider told MHProNews, since Stinebert left 'f-cking greedy' and self-serving interests have taken over at that trade group.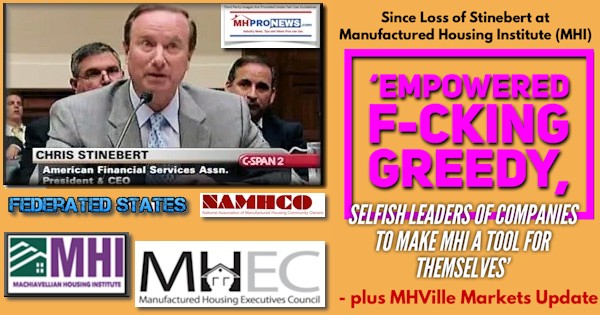 Part III – is our Daily Business News on MHProNews stock market recap which features our business-daily at-a-glance update of over 2 dozen manufactured housing industry stocks.
This segment of the Daily Business News on MHProNews is the recap of yesterday evening's market report, so that investors can see at glance the type of topics may have influenced other investors. Thus, our format includes our signature left (CNN Business) and right (Newsmax) 'market moving' headlines.
The macro market move graphics below provide context and comparisons for those invested in or tracking manufactured housing connected equities. Meaning, you can see 'at a glance' how manufactured housing connected firms do compared to other segments of the broader equities market.
In minutes a day readers can get a good sense of significant or major events while keeping up with the trends that are impacting manufactured housing connected investing.
Reminder: several of the graphics on MHProNews can be opened into a larger size. For instance: click the image and follow the prompts in your browser or device to OPEN In a New Window. Then, in several browsers/devices you can click the image and increase the size. Use the 'x out' (close window) escape or back key to return.
Headlines from left-of-center CNN Business – from the evening of 11.9.2023
Fed Chair Powell: The US economy may be more resistant to interest rates
A shortage of small milk cartons is sending the industry scrambling.
A milk carton shortage has schools scrambling. Here's what's going on
OpenAI says ChatGPT outages may be caused by targeted attack
Vice Media offices display the Vice logo at dusk on February 1, 2019 in Venice, California.
Vice to end several news shows and lay off dozens of staffers in hollowing out of news division
The Trevor Project poster detail at Trevor NextGen Spring Fling 2016 on April 15, 2016 in New York City.
A top LGBTQ+ advocacy org is quitting X over safety concerns
The Jezebel website is seen on a laptop on November 9, 2023.
Jezebel shuts down, lays off staff in 'excruciating' decision, parent company says
Ticket prices are plunging ahead of Formula 1's next race set on the Las Vegas Strip
Mortgage rates plunge by largest amount in a year
Garment workers clash with police personnel during a rally in Gazipur on November 9, 2023. Up to 25,000 garment workers clashed with police in Bangladesh on November 9, officials said, as protests rejecting a government-offered pay rise forced the closure of at least 100 factories outside Dhaka.
Violent wage protests in Bangladesh could hit top fashion brands
Fountains stands in front of the Bellagio Hotel and Casino at night in Las Vegas, Nevada, U.S., on Sunday, July 26, 2020.
Another labor deal averts strike at eight more Vegas casinos
Apple co-founder Steve Wozniak hospitalized in Mexico City, source says
Actors' union reaches tentative deal with Hollywood film and TV studios, ending historic strike
Apple's fight against a $14 billion EU tax bill suffers a setback
Janet Yellen to host China's top economic official ahead of expected Biden-Xi talks in San Francisco
Ohio just legalized cannabis. Now comes the hard part
Shell sues Greenpeace for $2.1 million after boarding oil vessel
The US presidential election is next year. Here's what that could mean for stocks
The deal to end the historic actors' strike came down to the wire, averting 'a huge financial blow to everybody'
Plunging pork prices tip China back into deflation
Singles Day: China's e-commerce giants try to lure reluctant consumers with 'truly low' prices
A former Fox News correspondent is refusing to reveal a source. Her fate is now in a judge's hands
Tentative deal reached to avert walkouts at half of Vegas casinos set to strike
Citi targeted Armenian Americans and treated them like criminals, US regulator alleges
Note: to expand this image below to a larger or full size, see the instructions
below the graphic below or click the image and follow the prompts.