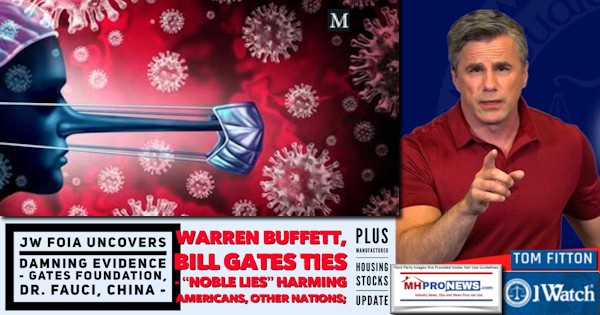 It is safe to say that one of the top if not most disruptive events impacting the American economy and political landscape in roughly the past 20 months has been the COVID19 outbreak and its handling. That's true for our part of the affordable manufactured housing industry, but for virtually every other aspect of American life. Mainstream corporate media in recent weeks has been telling aspects of the outbreak and its handling that stand in contrast to how some of those same news outlets reported roughly 15 (+/-) months ago. Matters censored or shadow banned by tech and social media platforms in 2020 or early 2021 are now – in the light of 'new' revelations – are demonstrably plausible, acceptable, or even 'true.' So-called 'fact checks' from 2020 are now being refuted by these reversals in corporate media reporting. Various interconnected ties exist between some of these corporate interests and their billionaire leaders. Specific billionaires' names, corporate, and nonprofit beneficiaries of these issues emerge.  Those individuals include Warren Buffett and Bill Gates as well as several others. It is with that brief backdrop that a Freedom of Information Act (FOIA) lawsuit by Judicial Watch (JW) obtained over 120 pages of records that tie the Gates Foundation to Dr. Anthony Fauci and the so-called "gain of function" research at the controversial Wuhan Institute of Virology (WIV) lab in Wuhan China. Both tax dollars and nonprofit funds flowed to the Wuhan, China lab that is increasingly believed to be the source of this deadly and disastrous coronavirus outbreak. Note that until recently, Warren Buffett was a trustee of the Gates Foundation. Buffett is one of the biggest donors to the Gates Foundation. Bill and Melinda Gates are still trustees of the foundation that bears the Gates name. Gates, Buffett, and Berkshire have numerous financial, nonprofit, and political ties that have been previously documented on MHProNews and MHLivingNews.
As has been noted previously, those reports on our site in 2020 and since have stood up well under the test of time. That's stated because it is demonstrably true when objectively examined. But it is also stated because it shines a bright light on just how either inept, agenda-driven, corrupt or some combination of those items much of the mainstream corporate media increasingly appears to be.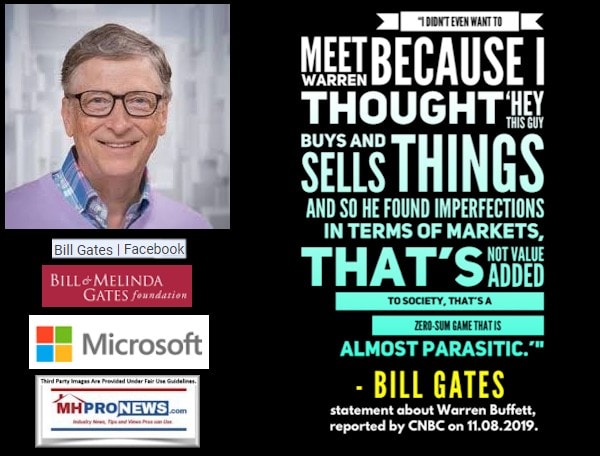 Reading between the lines, the pull-quotes above and below should be considered in reading the reports that follow. The sheer volume of deception is difficult for some to imagine, which is why deep dive, fact- and evidence-based reports like this and what follows are useful. Lying, deception and misdirection are relatively easy. The time and effort needed to illustrate the lies are considerably greater. Who says? It is a reasonable takeaway from the Buffett quote shown below. "..the bad guys win. They know more games."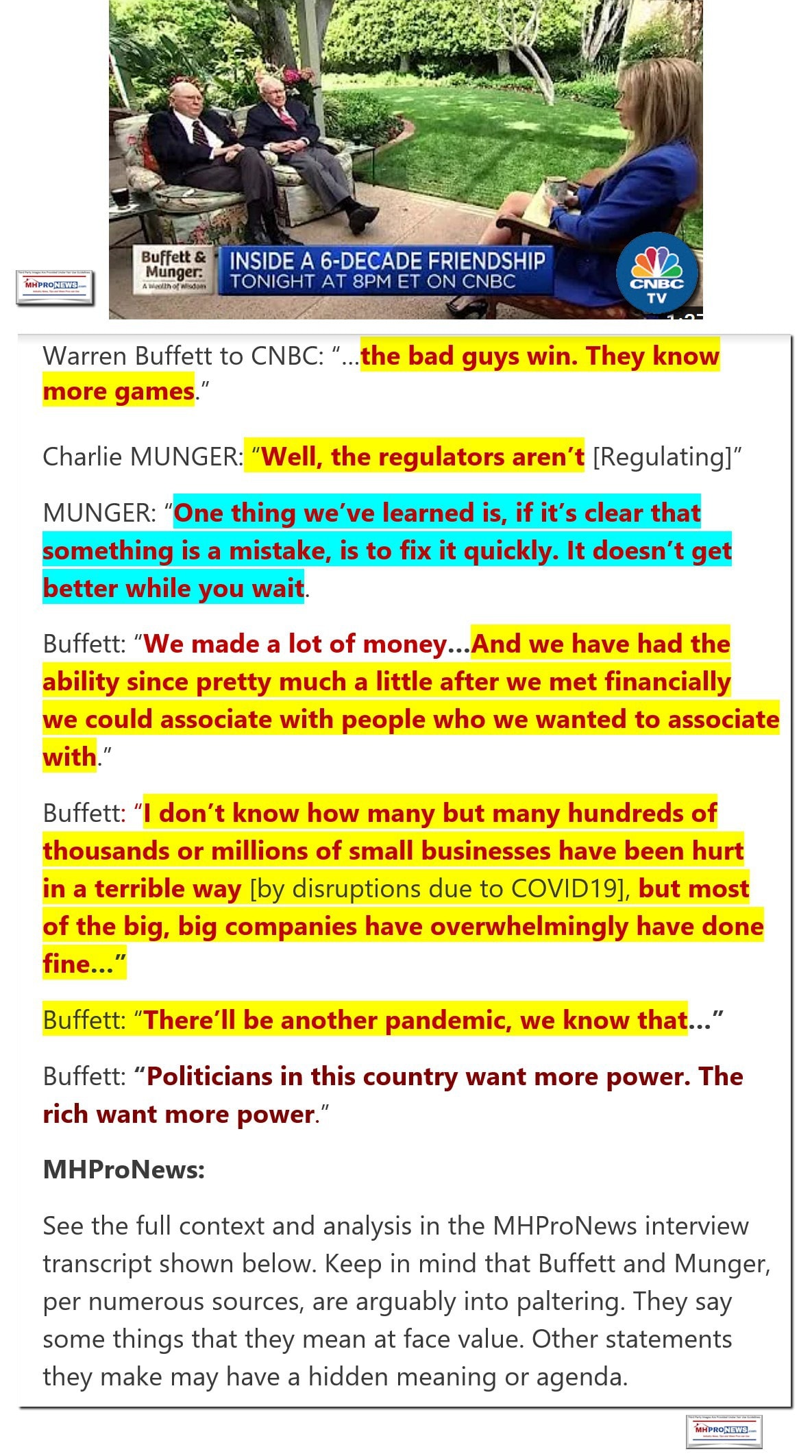 This report and analysis will have four (4) segments before moving into the stock market and related headline reporting. Those four segments will be as follows.
An overview provided by the WND Newscenter to MHProNews, which has an edit for and focus and clarity on one statement in that report. Statements by Joe Biden and others on the matter are shown. The original is linked below.
The Judicial Watch PR (press release or media release) that includes the 120+ pages of documents obtained from the JW Freedom of Information Act (FOIA) lawsuit that they obtained. Their PR happens to detail items the WND report outlined. Meaning that the two independent reports confirm key "elements" of the insights provided by the other source.
The latest from Mercola and Dr. Anthony Fauci on what left-of-center Slate deemed "noble lies" said by Fauci, or for that matter, others in the federal government.
Additional Information, more MHProNews Analysis and Commentary
For emphasis, let's note that these Wuhan Coronavirus related items are quite apparently at or near the pinnacle of what has turned the roaring American economy in January 2020 into the trillions of new federal debt, plus the death and disruption of millions of independent businesses. While corporate giants have routinely and demonstrably benefited from this outbreak, the vast majority of Americans and smaller businesses have not. The change from the Trump Administration to the Biden White House has brought shocks that when examined also seem to routinely benefit the larger corporate interests. That includes the interests of people, powers, and corporations involved in Communist China.
"If something is going to affect your life, it's best to know as much as you can about it." That is per QuoteWise, and one need not be a fan of deposed President Donald J. Trump (R) to realize the validity of that quotation. It is akin to the following quote from Democratic House Whip, James Clyburn. Agree or disagree with the person or his politics in general, this specific statement is eye opening and demonstrably true. "We study history in order to understand the present and to prepare for the future. Because anything that's happened before can happen again."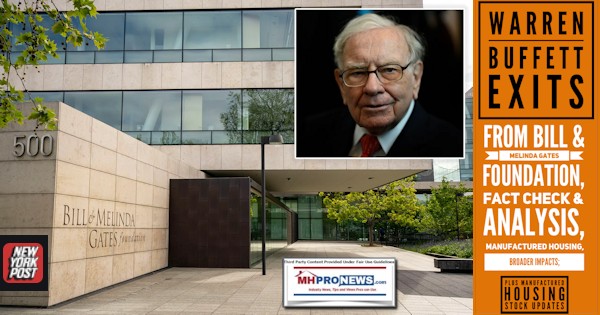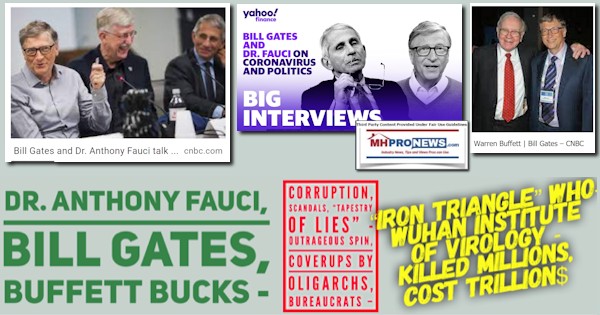 With that backdrop is the following follow up to the Biden White House's promise to report back on the finding of the intelligence community. Yellow highlighting is added by MHProNews. Note that WND links the sources that they have cited. Serious researchers
Part I of IV. From WND Newscenter with highlighting and bracketed comments added by MHProNews, that are not in the original. 
17 agencies unable to reach conclusion in review ordered by Biden
By Art Moore
Published August 27, 2021 at 7:50pm
The review by the intelligence agencies of the origin of the coronavirus pandemic ordered by President Biden was inconclusive, but an "element" of the intel community believes COVID-19 began in a Chinese lab.
According to a declassified summary of the 90-day review, some in the intelligence community believe COVID-19 spilled over to humans naturally from animals, the Daily Caller Foundation reported.
However, analysts with the unidentified "element" of the intel community assessed with "moderate confidence" that the novel coronavirus could have accidentally leaked from the Wuhan Institute of Virology, according to the report summary released Friday by the Office of the Director of National Intelligence.
The analysts noted the "inherently risky nature of work on coronaviruses" and said it's possible activities at the Wuhan lab could have triggered the outbreak.
The lab-leak theory was initially dismissed by establishment media and politicians after a prominent scientist who collaborated with the Wuhan lab on dangerous "gain of function" research engineering bat coronaviruses, Peter Daszak, published a paper in the journal The Lancet mocked the idea as a "dubunked conspiracy theory."  But last month, after a former New York Times science reporter presented strong circumstantial evidence, WHO Director-General Tedros Adhanom Ghebreyesus admitted there was a "premature push" to dismiss the lab-leak theory. The WHO chief cast doubt on his own organization's collaborative probe with China by a panel in which Daszak was the sole U.S. representative.
No certainty unless China cooperates
All of the 17 agencies, with the exception of two, assessed with "low confidence" that the virus was not genetically engineered. [MHProNews Note: that's a tortured phrasing by Biden's intelligence agencies that means that there is high confidence that the Wuhan coronavirus was genetically engineered].
The report said the two holdouts concluded they did not have "sufficient evidence to make an assessment."
Significantly, the intelligence community said it's unlikely it will make a definitive conclusion because China is unwilling to allow a thorough investigation.
"These actions reflect, in part, China's government's own uncertainty about where an investigation could lead as well as its frustration the international community is using the issue to exert political pressure on China," the report said.
In a statement after the release of the report, the White House said President Biden pressured China to cooperate with international investigative efforts.
" Critical information about the origins of this pandemic exists in the People's Republic of China, yet from the beginning, government officials in China have worked to prevent international investigators and members of the global public health community from accessing it," Biden said.
" We must have a full and transparent accounting of this global tragedy," he added. "Nothing less is acceptable."
'Your trusted voice'
Daszak received funding from Dr. Anthony Fauci's National Institute of Allergy and Infectious Disease to conduct the "gain-of-function" research on bat coronaviruses in collaboration with Chinese virologist Shi Zhengli at the Wuhan Institute of Virology.
Two months after his February 2020 letter in The Lancet dismissing the lab-leak theory as a "conspiracy," Daszak emailed Fauci to thank him for "publicly standing up and stating that the scientific evidence supports a natural origin for COVID-19 from a bat-to-human spillover, not a lab release from the Wuhan Institute of Virology."
"From my perspective, your comments are brave, and coming from your trusted voice, will help dispel the myths being spun around the virus's origins," Daszak wrote April 18, 2020.
Fauci, according to emails obtained recently through a Freedom of Information Act request, had been told by a top virologist in late January that the novel coronavirus may have been "engineered."
But he replied to Daszak's April email with, "Many thanks for your kind note."
Overwhelming circumstantial evidence
The lab-leak theory gained momentum in early May when former New York Times science writer Nicholas Wade published a nearly 11,000-word analysis concluding the circumstantial evidence clearly points to a lab leak.
The Wall Street Journal later reported three researchers at the Wuhan lab were hospitalized with possible COVID symptoms in November 2019, when the outbreak in the city of 11 million began.
In May, House Intelligence Committee Republicans released a report concluding there is "overwhelming circumstantial evidence" the novel coronavirus came from the Wuhan lab and that scientists there were secretly working with the Chinese military, conducting gain-of-function research. The report noted the People's Liberation Army has "a documented biological weapons program."
A poll last month by Politico and Harvard University found a majority of Americans believe the COVID-19 pandemic began with a leak from a laboratory. ##
##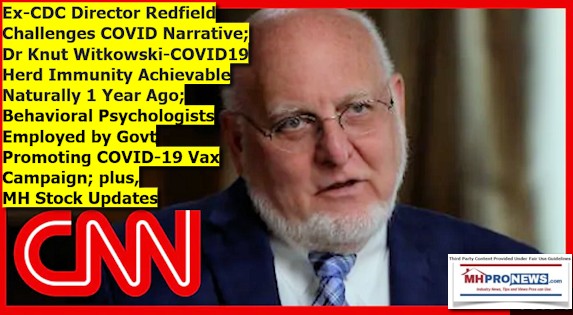 MHProNews note: it should be obvious that saying something – even if reasonable and true – is not the same as doing something. White House Resident Biden has a logical point in the highlighted comments above. That said, this is arguably part of an apparent slow walk of information that was previously reported well over a year ago in some cases.  See the reports linked below.
Part II of IV. The following media release from Judicial Watch (JW) President Tom Fitton was provided on 8.28.2021. It says the following.
Fauci Agency Emails Describe Close Gates Foundation/China Relationship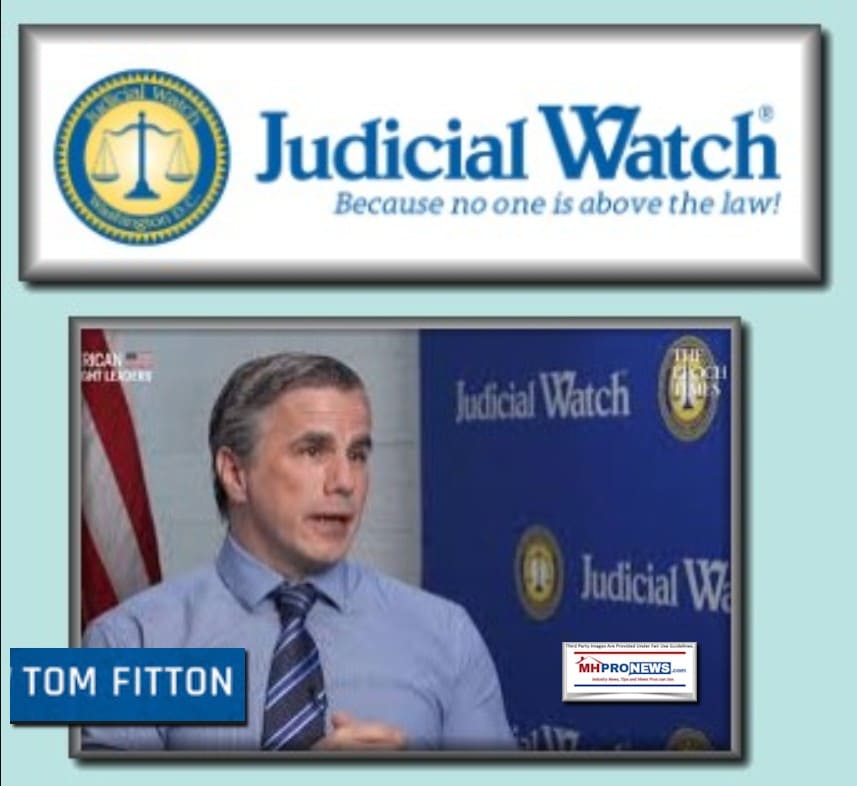 Bill Gates has been a controversial figure these days, and the new documents detailing his foundation's ties to China ought to raise substantial additional questions.
We received 129 pages of records from the Department of Health and Human Services (HHS), which include "urgent for Dr. Fauci" email chain that cites ties between the Wuhan lab and EcoHealth Alliance, a non-profit that works on infectious diseases and is funded by U.S. taxpayers and the Gates Foundation.
The emails also report that the Gates Foundation worked closely with the Chinese government to pave the way for Chinese-produced medications to be sold outside China and help "raise China's voice of governance by placing representatives from China on important international counsels as high level commitment from China."
These records also include a January 6, 2020, "Wuhan Pneumonia Update" report that details how Peter Daszak, president of EcoHealth Alliance, was tied to the Wuhan lab and was "funded for work to understand how coronaviruses evolve and jump to human populations."
We obtained the documents through a FOIA lawsuit for records of communications, contracts and agreements with the Wuhan Institute of Virology (Judicial Watch, Inc. v. U.S. Department of Health and Human Services (No. 1:21-cv-00696)). The lawsuit specifically seeks records about NIH grants that benefitted the Wuhan Institute of Virology. The agency is only processing 300 pages of records per month, which means it will take until the end of November for the records to be fully reviewed and released under FOIA.
The new emails include a report from Dr. Ping Chen, who had been the top Fauci agency official working in China:
You can ask [NIAID Human Coronavirus, Rhinovirus Research Program Officer] Erik Stemmy for the grant awarded to the Ecohealth in NYC who collaborates with Dr. Shi, Zhengli in Wuhan Institute of Virology (WIV), who has been doing coronavirus research in cave bats in China. Erik would know what exactly NIH funding supports.
I visited her and others at the Wuhan Ins Viro in 2018 and visited its BSL4 1ab. [Redacted]
Also in 1983 NIH and CAS [Chinese Academy of Sciences] (WIV is one of the research institutes under CAS) signed a MOU and it included sharing research materials. I know [sic] this a long time ago.
This email chain is part of a previously released January 23, 2020, exchange with the subject line "Urgent for Dr. Fauci: China's lab for studying SARS and Ebola is in Wuhan." It begins with Melinda Haskins, chief of legislative affairs for NIAID, writing to senior NIAID officials, and includes a link to a Daily Mail article, titled "China built a lab to study SARS and Ebola in Wuhan – and US biosafety experts warned in 2017 that a virus could 'escape' the facility that's become key in fighting the outbreak." She writes: "Dr. Fauci will be brief [sic] multiple Senators tomorrow on our novel coronavirus response … Would you please confirm the exact nature of our support to the Wuhan Institute of Virology/Biosafety Lab. You'll want to read the Daily Mail article above."
A January 6, 2020, email exchange on "coronavirus countermeasures," initiated by NIAID Chief Medical Officer Hilary Marston, includes a "Wuhan Pneumonia Update" report prepared by NIH/DMID.
The report was updated on January 8, 2020, and lists in its background information on "Wuhan Pneumonia:"
In December 2019 the Wuhan Municipal Health Committee identified an outbreak of viral pneumonia cases of unknown cause.
On December 31st the WHO China Country Office was notified of 44 patients with pneumonia of unknown etiology, 11 of which were severely ill.
As of January 5th, 2020 there are 59 patients with a diagnosis of unknown viral pneumonia is Wuhan, 7 of which are severely ill. At least one patient is on ECMO … The earliest case was reported December 12th, and the latest onset was December 29th. All patients are isolated and receiving treatment in Wuhan medical institutions. 163 close contacts have been identified for ongoing medical observation.
Case-patients in the outbreak are reported to have fever, difficulty breathing, and bilateral lung infiltrates on chest radiography (CDC, http://bit.ly/36GxY3y).
Hong Kong has added Wuhan Pneumonia to the list of notifiable diseases. As of January 7th, 2020 the Hong Kong Center for Health Protection has reports of 30 cases under enhanced surveillance with recent travel history to Wuhan….
Epidemiological investigation showed that some patients operated businesses in the Wuhan South China Seafood City. As of January 1st, 2020 the market has been closed for environmental sanitation and disinfection.
There is currently no clear evidence of human-to-human transmission, however one family cluster has been identified. No nosocomial transmission has been seen …
Fragments of coronavirus RNA with an 86% homology to SARS has been found in one patient…
News reports on 1/8/2020 the virus is a novel coronavirus, sequenced in one patient and identified in others.
The report also details an NIH coronavirus grant "portfolio" that funded 13 basic science research grants, two treatment research grants and five vaccination research grants related to coronavirus:
Peter Daszak (R01A|110964-06) is funded for work to understand how coronaviruses evolve and jump to human populations, with an emphasis on bat CoVs and high-risk populations at the human-animal interface. Main foreign sites are in China (including co-investigators at the Wuhan Institute of Virology).
The report notes that one of the grants, made to Fang Li, "is funded to investigate the receptor recognition and cell entry in coronaviruses using structural approaches using spike proteins in complex with receptors. This award found the first evidence of a MERS-related CoV that uses the human receptor and provides evidence of a natural recombination event between bat CoVs." Another grant involves "a team of investigators using mouse models of SARS and MERS to investigate CoV pathogenesis and develop vaccines and therapeutics."
A section of the report on "Vaccines" details:
"The VRC [Vaccine Research Center] and collaborators have stabilized the MERS-CoV spike protein in its prefusion conformation. The stabilized spike protein is potently immunogenic and elicits protective antibodies to the receptor binding domain, n-terminal domain and other surfaces of the spike protein. The stabilized coronavirus spike protein, and mRNA expressing the spike protein through collaboration with Moderna Therapeutics, is currently being evaluated in the humanized DPP4 mouse model at UNC.
Another grant description indicates that NIH was funding research at Jefferson University using the rabies virus as a vector to deliver a potential vaccine. In an accompanying spreadsheet detailing the grants, one grant is listed as having gone to Dr. Ralph Baric of UNC-Chapel Hill to study "Mechanisms of MERV-CoV Entry, Cross Species Transmission and Pathogenesis." That grant had been funded from 2015-2020.
In a January 7, 2020, email exchange with the subject line "Wuhan Pneumonia" Stemmy asks Chen if she has any information about the "viral pneumonia outbreak in Wuhan." Chen replies: "Yes, I have been following the news. Here is what I know so far [redacted]. Chen also revealed that her tour in Beijing had ended three weeks earlier.
Stemmy asks, "Do you know if there is a replacement for you in embassy in Beijing? If so I'd love to connect with them." Chen replies, "No replacement for now <smiley face emoji>."
In a January 22, 2020, email exchange titled "Collecting info on N CoV [novel coronavirus]", NIAID "Senior Volunteer", Dr. Karl Western, informs Chen and other NIAID officials:
Two recent examples involving CAS Institute of Virology and BSL-4 facility include:
University of Minnesota and CAS Institute of Virology review of the origin and evolution of pathogenic coronaviruses in Nature Reviews: Microbiology. Minnesota had a CEIRSaward for one funding cycle.
Columbia University School of Public Health, Eco-Health Alliance and CAS Institute of Virology published a few days ago on the results of surveillance of human animal interactions and bat coronavirus spillover potential in rural southern China. Columbia is a current CETR
In a heavily redacted response email, Chen writes: "Thanks Dr. Western. Eco-health has NIAID grant which has collaboration with the Wuhan Institute of Virology, CAS, studying the coronaviruses in wild animals, focusing on bats, in China. One of the key Chinese collaborators is Dr. Zhengli Shi, who works on coronaviruses."
On February 6, 2020, Han Koo, an executive assistant to the Director of NIH who works in the Office of Grants Administration (OGA), emails Chen and Matthew Brown, then-Director of the NIH China Office: "We need POCs [points of contact] of the National Natural Science Foundation of China (NSFC) and The Chinese Academy of Science (CAS) ASAP."
Later in the chain Chen writes: "In 2018, NSF [the U.S. National Science Foundation] and NSFC [the National Science Foundation of China] had a joint initiative on Ecology and Evolution of infectious diseases. A workshop was held prior to the initiative (NIH is one of the participants to this initiative. Many participants of the workshop are from CAS institute including WIV [Wuhan Institute of Virology] scientists. NIAID grant to EcoHealth is studying coronaviruses in animals including bats. The grant has different countries as collaborators in addition to China." A colleague then responds: "Thanks! Do you recall who the US and Chinese PIs [principal investigators] are on that coronavirus vector/reservoir grant are?" Chen replies: "See the attachment I prepared previously. This grant is on bat [redacted]."
In an October 20, 2017, email exchange following Chen's submission of a situation report, NIAID official James Meegan tells Chen: "Jim LeDuc at U Texas Medical Branch, Director of the Galveston BSL4, works closely with them [Wuhan Institute of Virology]. In 1986 Jim and I spent the year on and off in Wuhan setting up a virology lab and studying Hantavirus infections and treating patients with ribavirin. We trained many, and some later came to the States. I think that helped it on its way to becoming a center for virology."
Further in the exchange, Chen writes, "The [Wuhan] lab will be operational soon. The visit has been arranged through one of our grantees. I know Jim LeDuc has been worked with WIV and had done some training. [Redacted.] Also, I was told only certain viruses can be worked in this lab. [Redacted]" Handley then tells Chen: "Please make a very careful and full report on what you learn during this visit. It will be a very important interaction and one that many are interested in. Please share your report with us before it goes into any other reporting. We will be glad to engage directly or via grantees in whatever will help ensure safe operations."
On March 4, 2020, Greg Folkers, Fauci's chief of staff, emails an academic paper titled "On the origin and continuing evolution of SARS-COV-2", published in National Science Review on March 3, 2020, to David Morens and other unidentified officials within NIAID, and asks in his cover note: "David, this may come up in ASF's [Anthony S. Fauci's] 10:00 hearing [likely referring to House Appropriations Committee hearings held on March 4, 2020, on NIH budget requests.] What do you make of this paper and the attendant press coverage?" Folkers highlights within the report two passages. One reads: "Our results suggest that the development of the new variations in functional sites in the receptor-binding domain (RBD) of the spike seen in SARS-COV-2 and viruses from pangolin SARS-CoVs are likely caused by mutations and natural selection besides recombination." The second highlighted passage reads: "Although the L type (~70%) is more prevalent than the S type (~30%), the S type was found to be the ancestral version. Whereas the L type was more prevalent in the early stages of the outbreak in Wuhan, the frequency of the L type decreased after early January 2020." Morens replied, but his response is entirely redacted.
Five years prior to the outbreak, in an October 30, 2014, report titled "Wuhan," Chen informs Ken Earhart that she had met with a Chinese official from Wuhan. Chen reports that his office "is similar to what I am doing here seeking, facilitating, and promoting international scientific collaborations for scientists in Wuhan." She continues that this official was asked by an organization put together in part by the Wuhan Institute of Virology "to help the members in the organization increase scientific exchanges between the members and international ID [infectious disease] experts."
In a September 5, 2017, situation report, Chen informs her colleagues that she had "attended a 'Belt and Road' High Level Meeting for Health Cooperation: towards a Health Silk Road." She also reported:
Last week USAID, CDC, ESTH [Environment, Science, Technology, and Health] and I met with Gates Foundation, initially planned to talk about global Malaria eradication efforts to see if there is any area we can work together. But we ended talking in general Chinese policies and the foundation's current strategies in China – capacity building to help China raise its national standards and leverage China's resource to help others. One of the examples for raising the national standards is to help China FDA for its reform. Gates foundation has managed to work out a mechanism with China FDA to provide fund[ing] to China FDA for placing experienced Chinese-Americans who had worked at US FDA for many years to work in China FDA as senior consultants….
On the approach for leveraging China's resource to help others, Gates Foundation is working with Chinese government on donations to its neighboring countries and African countries such as anti-malaria medicines, bed nest, diagnostics etc. More specifically, it helps Chinese companies to gain pre-qualification on medications so that Chinese company manufactured drugs can be sold outside China, helps the Chinese to establish bilateral collaboration with specific countries in Africa, teaches the Chinese how to do resource mobilization, and helps raise China's voice of governance by placing representatives from China on important international counsels as high level commitment from China.
Chen goes on to describe numerous other ways the Gates Foundation was helping the Chinese government by, for example, helping "Chinese companies gain pre-qualification on medications so that Chinese company manufactured drugs can be sold outside China." Chen continues: "Just met with a group from the Global Virome Project (GVP) which is funded partially by USAID. The head of the project, Peter Daszak of EcoHealth Alliance, is an NIAID funded PI. His collaborator at the Wuhan Institute of Virology in China has done excellent work on corona viruses in Chinese bat populations."
A heavily redacted October 26, 2017, email released to us in a previous production includes a newly released response from Handley. The email chain begins with Chen sending a trip report to her colleagues regarding her visit to the BSL4 Lab in Wuhan. She notes: "My contact who helped arrange the visit is Dr. Zhengli Shi, who is a Chinese collaborator on a NIAID grant to EcoHealth for SARS like corona virus project." She continues: "The P4 lab is located in a new developing zone about one hour car ride from the current institute location in central Wuhan city. The location will be the new campus for the entire institute in the near future (a lot of construction is going on right now). Since we are not allowed to take photos so only the photo from the outside is attached."
Newly released in these HHS documents is Handley's reply in the email chain: "This is a sensitive subject and will be of interest to others."
Later in the exchange, Handley tells Chen, "Please send us by e-mail your full report on the visit and then we can decide what to do with the information." After Chen emails Handley the report, he writes: "There is enough good information in your report that it needs to be shared in some form or another."
On July 18, 2016, Chen sends an "activity update" to top NIAID officials, summarizing her activities for the prior three weeks. In a discussion of the Chinese needing assistance with conducting clinical trials of new medicines, Chen notes: "GSK's [Glaxo Smith Kline's] Zhi Hong (the head of the GSK anti-infective program and led the GSK center for infectious diseases and public health in Beijing) met with Dr. Fauci on Monday, the 11th, asking for NIAID support for this clinical trial network in China. I know Dennis [presumably Dennis Dixon, Chief of NIAID Bacteriology and Mycology] and Carl [possibly Carl Dieffenbach, Director of NIAID AIDS Research] attended the meeting with Fauci. I don't know the outcome of the meeting."
Further along, Chen writes: "I met with EcoHealth Alliance, a NY based non-profit organization on health. They have an R01 grant from DMID [Division of Microbiology and Infectious Diseases] on identifying SARS-like coronaviruses in China. They partner with Dr. Shi Zhengli at Wuhan Institute of Virology. I visited Dr. Shi over a year ago. She took bat samples in caves in certain regions of China, isolated and identified viruses and found some viruses are similar to SARS by sequencing. Now [redacted]. We are talking about close animal-human close contact in densely populated city." Chen also mentions an upcoming meeting of "Chinese NIH Alumni" and talks about NIH Director Francis Collins discussing with the head of Peking University Medical School "about the establishment of a Chinese NIH Alumni as there are so many Chinese researchers trained and worked at NIH in the past."
On October 12, 2016, Chen sends a "High" importance email to senior NIAID officials Handley, Bernabe and Dixon regarding an upcoming conference in China. Chen notes: "Another topic under session 1, Zoonotic Disease Characterization and Prevention, has some relevance to us. NIAID funded George Gao at CAS [Chinese Academy of Sciences] for avian flu (I think it was on avian flu genetics in birds) and we have grant from RDB funding coronavirus survey in bats. The Chinese collaborator is Wuhan Institute of Virology, a CAS institute too. The request for zoonotic diseases is from a Chinese agency I don't know, AQSIQ. [Redacted.]" Dixon replies: "Thanks Ping. I see the topic of 'prevention and control' by your name. While we have occasional projects in that realm, they are at the border of our mission area relative to CDC who list their name that way sometimes in reverse order."
In a January 20, 2017, situation report, Chen discusses the Global Virome Project "to identify viruses present in wildlife with potential crossing over to humans … Following the identification of the viruses is the development of vaccines to protect human population. China has huge capacity for vaccine development (I think it has 7 national owned vaccine manufacturing facility and over 30 private vaccine making companies.) [Redacted] One of the partners in this project is EcoHealth Alliance. Peter Daszak from EcoHealth Alliance is one of the leaders of GVP and he has NIAID grant from RDB looking at the coronaviruses in bat populations in China in collaboration with Wuhan Institute of Virology. He came to visit me once in the Embassy. This grant has direct connection with the purpose of GVP."
In a July 7, 2017, situation report, Chen informs her colleagues: "RDB [NIAID's Respiratory Disease Branch] has a grant to EcoHealth which has a Chinese collaborator at WIV working on finding similar SARS viruses in bat populations and then look for human exposures to the viruses carried by the bats in the villagers near the caves. USAID funds the same organization and they do more virus seeking projects in China."
On May 27, 2018, Chen emails colleague Nancy Boyd, forwarding her an announcement sent to Chen by people at the Wuhan Institute of Virology, which Chen describes as "China's only publicly known P4 lab." Chen adds: "I copied Gayle [Bernabe] at OGR and she can forward to programs officers with the P4 pathogen portfolio."
These emails provide extraordinary and troubling information about Fauci's agency partnership with China and its monitoring, concerns and funding for the Wuhan Institute. And the Gates Foundation should also explain the government report about its assistance to and advocacy for China.
These documents add to our growing knowledge of U.S.-China entanglement before the pandemic.
In July, we obtained records from NIAID officials in connection with the Wuhan Institute of Virology revealing significant collaborations and funding that began in 2014. The records revealed that NIAID gave nine China-related grants to EcoHealth Alliance to research coronavirus emergence in bats and was the NIH's top issuer of grants to the Wuhan lab itself.
In June, we announced that it filed Freedom of Information Act (FOIA) lawsuits against the Office of the Director of National Intelligence (ODNI) and the State Department for information on the Wuhan Institute of Virology and the origins of the SARS-CoV-2 virus.
Also in June, we obtained records from HHS revealing that from 2014 to 2019, $826,277 was given to the Wuhan Institute of Virology for bat coronavirus research by the NIAID.
In March, we publicly released emails and other records of Fauci and Dr. H. Clifford Lane from HHS showing that NIH officials tailored confidentiality forms to China's terms and that the WHO conducted an unreleased, "strictly confidential" COVID-19 epidemiological analysis in January 2020. Additionally, the emails reveal an independent journalist in China pointing out the inconsistent COVID numbers in China to NIH's National Institute of Allergy and Infectious Diseases' Deputy Director for Clinical Research and Special Projects Lane.
In October 2020, we uncovered emails showing a WHO entity pushing for a press release, approved by Fauci, "especially" supporting China's COVID-19 response.
More documents are coming, and I will keep you apprised accordingly… ##
##
MHProNews notes: as noted in the preface at the top, the Judicial Watch report filled in details that the WND Newscenter item reported on. Such cross-confirmation should not necessarily be taken as 'confirmation' that something stated is true. For example, as the item from Mercola below reflects, mainstream media often reports similar items.  They often appear to confirm each other's 'reporting.' But this is where the understanding of spotting fake vs. authentic of agenda driven news matters.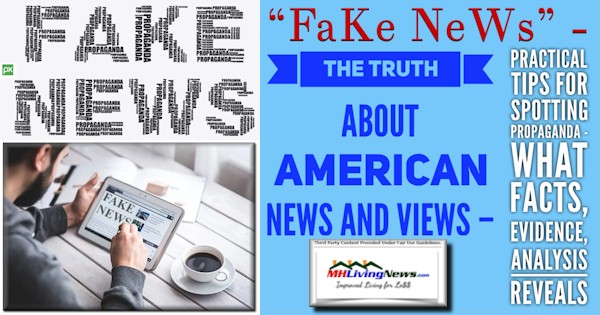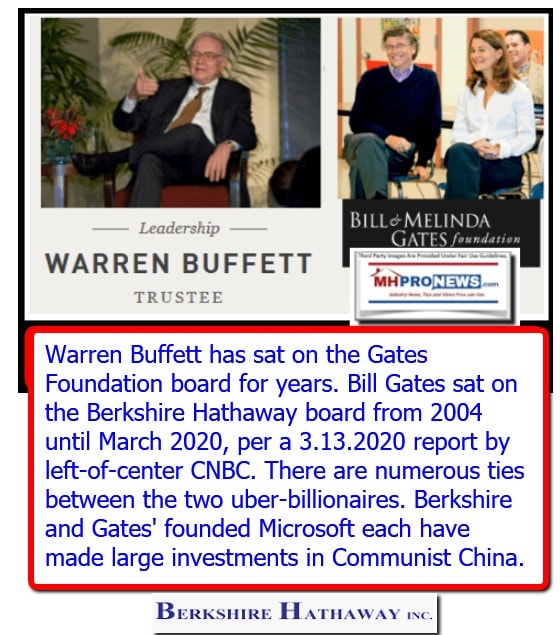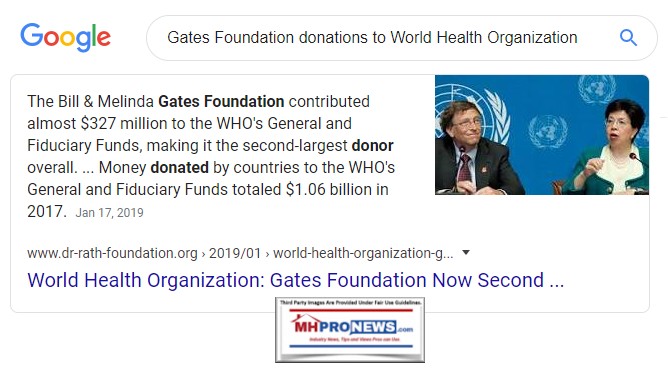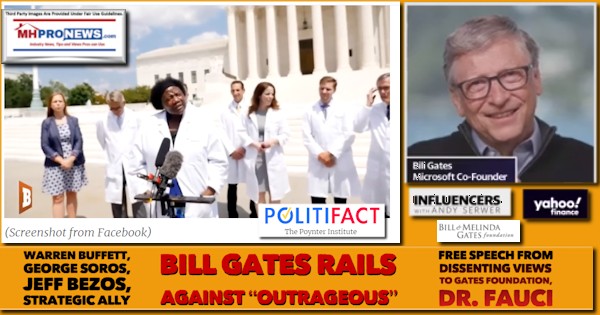 There are new insights in the statements and documents items in the above from JW. What makes them of particular interest to MHProNews/MHLivingNews readers is that these confirm the thrust of reports on our platforms a year or more ago. Sometimes it is what begins as the minority view that over time becomes demonstrably true.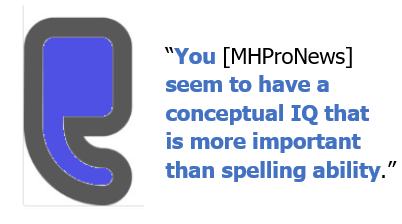 Part III of IV. Editor's notice: there have been three (3) edits in the content that follows that were made by MHProNews in this article below. They are relative to Representative Jim Jordan (OH-R). They have been corrected below as well as brought to the attention of the editor at Mercola. Otherwise, the content is as was provided by Mercola, and is used with permission. This is noted for several reasons, including, but not limited to this point. Where demonstrably incorrect information is found in this report, it was spotted and corrected. MHProNews strives to provide the most useful overall content because the majority of the population does not have access to the information that the so-called elites do. The fact that our reports stand the test of time speaks for itself. It should give confidence to our readers. Note the items corrected may have been innocent typos, noting that we get unintentional typos too.
When Do Noble Lies Just Become Blatant Lies?
Analysis by Dr. Joseph Mercola  Fact Checked
August 28, 2021
STORY AT-A-GLANCE
A noble lie is paternalistic, or those where the deceiver must make an assumption that lying serves the best interest. Fauci claims misinformation and lies he shared may have been to influence behavior
Fauci's first comments were that masks are not effective in the community, after which he recommended people wear one or even two masks; he stated the spread of the virus was unlike anything he's seen before, but the varying severity of the illness he quotes are much like flu virus
In a video from a House committee, Jim Jordan, Ohio-R, quickly illustrates the change in Fauci's position over gain-of-function research in the last 18 months, from "it never happened" to "it would have been negligent not to fund the lab"
Fauci has consistently been nudging up the percentage of people required to be vaccinated to achieve what he calls herd immunity. He started at 60% and currently believes it may need to reach 85%. "But I'm not going to say 90%" — right now, he says
The past 18 months has provided Dr. Anthony Fauci, director of the National Institute of Allergy and Infectious Diseases and chief medical adviser to the president of the U.S., ample opportunity to truthfully share information about an ongoing health situation. However, as his statements have been tracked, it appears he has not taken the higher path of truth that would have helped American's make smart decisions.
Instead, he has engaged in what the daily online magazine Slate labeled "noble lies." The writer asks this question: "Do we want public health officials to report facts and uncertainties transparently? Or do we want them to shape information?"1
Although this is a question only you can answer for yourself, Fauci's inaccurate representation of the truth likely has a deeper meaning than what philosophers define as a noble lie. It may be difficult to untangle the reason behind the lies, but there are several theories as to why Fauci believes he can determine what is true and what is not.
The lab leak theory was first publicly proposed by then-President Trump2 and vehemently denied by Fauci. Experts postulate the reason the media did not further explore the idea was the announcement politically polarized it, burying the possibility it might be fully and independently investigated.3
Yet, objective accurate news reporting may only be an illusion since, as TechStartUps reports,4 six corporations control 90% of what is published in America as of September 2020. And, Vanguard and Blackrock are the top investors in each of those six corporations, namely Comcast,5 Disney,6 ViacomCBS,7 News Corp,8 and AT&T.9
As you may note, there are only five corporations listed above. That's because TechStartUps listed Viacom and CBS separately as the merger between the companies had only recently closed.10 In other words, the five or six supposedly competitive corporations vying for 90% of the American public are really controlled by two investment firms, Vanguard and Blackrock. And, in an interesting twist of events, Vanguard is the top investor in Blackrock.11
Whether Fauci is politicizing the truth, or the news media is picking and choosing the truth they tell you to serve their own financial needs, it is highly likely that what you read in mainstream news media is exactly what serves the purposes of an elite class that controls "what we read, watch or listen to."12
What Is a Noble Lie?
The origin of a "noble lie" is from Plato's Republic,13 a book written in 380 B.C., which essentially is a discussion of the meaning and nature of justice.14 Without getting too embroiled in the philosophical argument over truth and lies, it's important to note that Immanuel Kant (1724-1804) was a central figure in the development of modern philosophy.15
His position was that lying was never morally acceptable,16 something few contemporary philosophers agree with. Philosophically, there are two lies that are generally believed to be acceptable. The first prevents catastrophic events and the second are "white lies," where the consequences are considered by the speaker to be insignificant.17
A noble lie falls under the category of paternalistic lies. The American Psychological Association18 states this about lies with paternalistic motives: "Many lies that are intended to help others require the deceiver to make assumptions about whether lying serves others' best interest."
In other words, Fauci may be functioning under the delusion that he has the right and responsibility of making an assumption about whether the lies he tells are serving the best interest of those who have the full capacity and capability of understanding the science and making up their own mind.
One of the Lies Began With Masking
Although Fauci's string of lies about the public health response and origins of COVID-19 are far-reaching, some of the first he told were about the effectiveness of wearing masks to reduce the spread of the virus.
In the short video below, Rep. Jim Jordan, Ohio-R, gives a scathing account of Fauci's vacillating recommendations regarding masking in public. Fauci was appointed the director of the NIAID in 1984, which you would think would make him an expert by 2020 on infectious disease transmission. However, he hasn't been able to make up his mind during the entire pandemic what his "expert" advise is on mask wearing.
Fauci explained his first recommendation not to wear masks during a March 2020 "60 Minutes" interview, saying using a mask in the community was unnecessary, and specifically:19
"The masks are important for someone who is infected to prevent them from infecting someone else. There's no reason to be walking around with a mask. When you're in the middle of an outbreak, wearing a mask might make people feel a little bit better and it might even block a droplet, but it's not providing the perfect protection that people think that it is.
And often, there are unintended consequences. People keep fiddling with the mask and people keep touching their face."
In other words, based on his expert knowledge, wearing a mask in the community would not be effective. But just three months later in an interview on TheStreet, Fauci justified changing his expert advice as he talked about some of the characteristics of the illness:20
"It is a very unusual infection. I've quite frankly never seen anything like it, where a single, well characterized virus in an individual is going to have a range of manifestations that go from being completely asymptomatic, no symptoms at all, to having a few symptoms that don't bother you much to having symptoms that are enough to keep you home, to have symptoms enough to keep you in bed really feeling poorly for a couple of weeks to having the symptoms and signs of having to go to a hospital to then possibly having to go to intensive care and then to dying."
The only thing is, as the director of NIAID who focuses on infectious diseases, Fauci has to have been aware of studies demonstrating the asymptomatic nature of other respiratory viral illnesses such as influenza21 and statements on the CDC website that flu "can cause mild to severe illness, and at times can lead to death."22
In other words, while we know that a SARS-CoV-2 infection can trigger symptoms like flu, it seems odd that Fauci's characterization of COVID-19 spread is something "I've quite frankly never seen anything like."
Fauci Claims We Can Crush COVID as Vaccinated People Get Sick
During the same interview he said the reason he recommended not wearing masks in the beginning was to avoid mass panic that might lead to a shortage of masks for health care workers.23 Fauci's unique brand of justifying behavior, like his flip-flopping over mask wearing, has also slipped into his reasoning for the shot program. In an interview with MSNBC, he says:24
"The delta variant is the totally dominant variant now in this country. More than 80 or 85%, and in some areas 95%, but even more importantly it is clear now that when there are breakthrough infections, namely people who are vaccinated but still get infected with the delta variant, which happens because no vaccine is 100% effective.
We've learned clearly now, without a doubt, that people who are vaccinated get a breakthrough infection, actually have enough virus in their nasopharynx, that they can actually transmit it to other people and have documented transmission to other people."
From here he advises that all people who have been vaccinated to wear a mask indoors to prevent the spread of the infection. His explanation is that the delta variant has "changed the entire landscape." However, as we know from other viruses, the coronavirus will continue to mutate and change, which means, from Fauci's explanation, people will always be wearing masks to prevent the spread of a continually mutating virus.
The interviewer points out that as the virus continues to change, it means we won't be able to "turn the page on coronavirus, because there might be new variants …"25 to which Fauci responds, "It doesn't have to be if the overwhelming majority of the people in this country get vaccinated. We could nail this down by just crushing it."26
So, within the space of four minutes Fauci said that without a doubt, people can get infected after vaccination and carry enough virus to transmit the infection — BUT — if the overwhelming majority of people are vaccinated the virus would be crushed.
Fact Checkers Believe What's Missing Is Context
The evidence about mask effectiveness does not change based on one virus among well over 200 different types27 that affect the respiratory system. February 5, 2020, Fauci wrote in an email: "The typical mask you buy in the drug store is not really effective in keeping out virus, which is small enough to pass through the material."28
June 2, 2021, under the Freedom of Information Act (FOIA), BuzzFeed received 3,234 pages of Fauci's emails.29 Some of these emails concerned the changing mask recommendations for the community. The writer of a fact-checking article in USA Today wrote that guidance on masks and other mitigating measures were updated as scientists learned more about the virus.
Ultimately, the writer defends the information released through the FOIA, claiming that the emails are missing context.30 In other words the supposedly most superior infectious disease expert in the U.S. only developed a greater understanding about the effectiveness of masks against viruses, which have been used and studied for decades,31 as the SARS-CoV-2 infection evolved over 2020.
Half-Truths About Gain-of-Function Research and Herd Immunity
Gain-of-function research can make a pathogen more infectious or more lethal. The moratorium on gain-of-function research that began in October 2014 was lifted in 2017 so federal money could once again be used for this purpose.32 In this short video, Jordan quickly illustrates the change in Fauci's position over the past 18 months, saying:33
"He initially said the United States taxpayer money did not fund the Wuhan Institute of Virology. He later changed that to say, no we did fund it, but it was through a sub-grant.
Then he subsequently said, no we funded it but we did no gain-of-function research. And then just last Sunday he said, we funded it, there was gain-of-function research, but it was a sound scientific decision. And then he said this: It would have been negligent to not fund the lab in China."
Jordan goes on to say, "Talk about being all over the board. I'll tell you what's negligent. Negligent is Dr. Fauci's ever-changing statements to the American people regarding the subject matter that this committee should be looking into."
In June 2021, The Nation pointed out that as he testified before the U.S. Senate in May, "Fauci was asked by Rand Paul, 'Do you still support [National Institutes of Health] funding of the lab in Wuhan?'" to which Fauci replied "with all due respect, you are entirely and completely incorrect."34 However, this half-truth, told after his admission that it would have been negligent not to fund the lab in China, is not a noble lie as it doesn't protect anyone except Fauci.
Later in his testimony, Fauci hedged: "Dr. Baric is not doing gain-of-function research, and if it is, it is according to the guidelines, and it is being conducted in North Carolina."35 So, does this mean research is being done, or it isn't?
Fauci's lies include his definition of herd immunity. A New York Times36 article in December 2020 discussed Fauci's perspective on herd immunity. The reporter noted that in the early months of 2020, Fauci cited a 60% to 70% estimate.
Later in the year he boosted this to 70% to 75% during television interviews. In an interview with CNBC news December 16, 2020, he said, "I would think that you would need somewhere between 70, 75, maybe 80%."37
In a telephone interview with The New York Times the very next day, Fauci admitted that he had slowly been moving the goal posts, "partly based on new science and partly based on his gut feeling that the country is finally ready to hear what he really thinks."38
Fauci claimed he had delayed raising the estimate because of vaccine hesitancy, saying, "We really don't know what the real number is. I think the real range is somewhere between 70 to 90 percent. But, I'm not going to say 90 percent."39
Can Fauci Predict the Future?
What is Fauci saying? In his own words, he was raising the estimate for the target range for herd immunity to promote more people taking the vaccine. However, infectious disease specialists are not necessarily social behavioral experts and cannot predict how people will react to information.
Fauci claims he downplayed the importance of wearing masks to avoid a shortage for health care professionals. However, does this mean he knew masks were not effective against viral transmission and were less likely to be effective in the community, or that he just didn't care?
The question remains, do you want a public health official who reports the facts transparently, or one who manipulates your behavior to take specific actions? ##
Additional Information, MHProNews Analysis and Commentary 
During the President John F. Kennedy (D) term of office, left-of-center Time, The LA Times, and others in mainstream media have reported that late president used "back channels" to communicate with the Soviet Union during the Cuban Missile Crisis. What that suggests is that Kennedy did not trust his own State Department. Kennedy made his own brother Robert F. Kennedy his Attorney General, also over the issue of having trust in someone in a key role.  These examples are from about 6 decades ago. Prior to Kennedy's abbreviated term of office, Republican President Dwight D. "Ike" Eisenhower warned against the influence and power of what he called the military-industrial complex. Note that in while Ike himself used the Central Intelligence Agency (CIA) in numerous paramilitary missions in a range of countries, he nevertheless did not implicitly trust them or the military that they were closely aligned with.  That's 68 years into the rear view mirror.
But one can go back to the early 20th century, or even into the later half of the 19th century to see examples American business and corporate interests, often in tandem with supportive media outlets, that illustrate the struggle for the powerful to control the levers of government. Something similar has occurred in other nations too.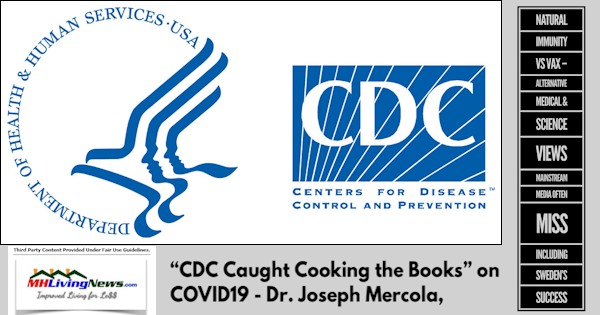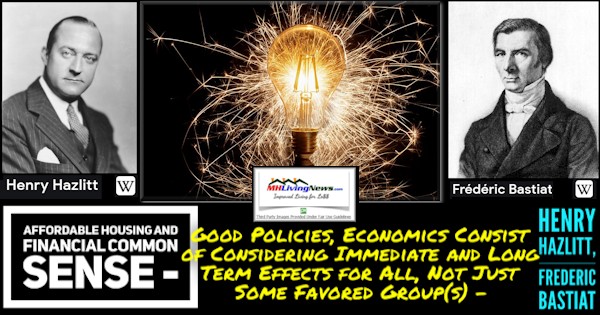 The possible takeaways are many. But let's boil it down to a few.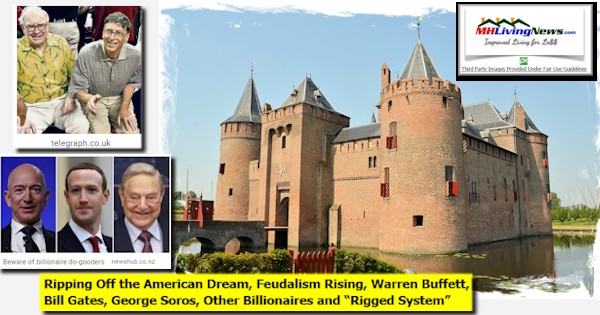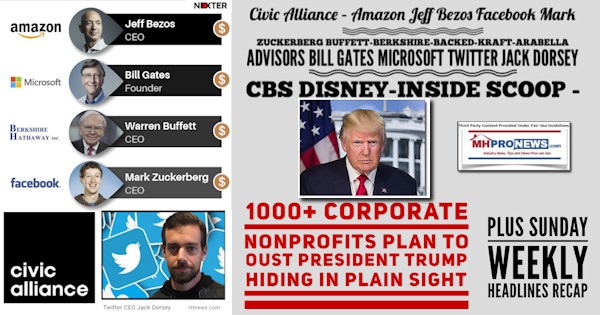 Decades before names like Warren Buffett, Bill Gates, George Soros, Mark Zuckerberg, Jeff Bezos et al came into prominence, there were prior titans of business and finance that in some sense were akin to them at work in American society. Something similar is true in other nations.
A key takeaway from founding father Thomas Jefferson was his opposition to monopolies.
George Washington, the military leader and first President of the United States believed that the insights from religious beliefs were essential to maintaining the freedoms that were won at the point of the barrel and bayonet.
There has always been 'infowars.' The truth always has challenges from those who mean to use lies, deception and misdirection in an attempt to control, rip off, and dominate others. Money and information manipulation have long gone hand in hand. Who says? How about Charlie Munger and Warren Buffett to CNBC?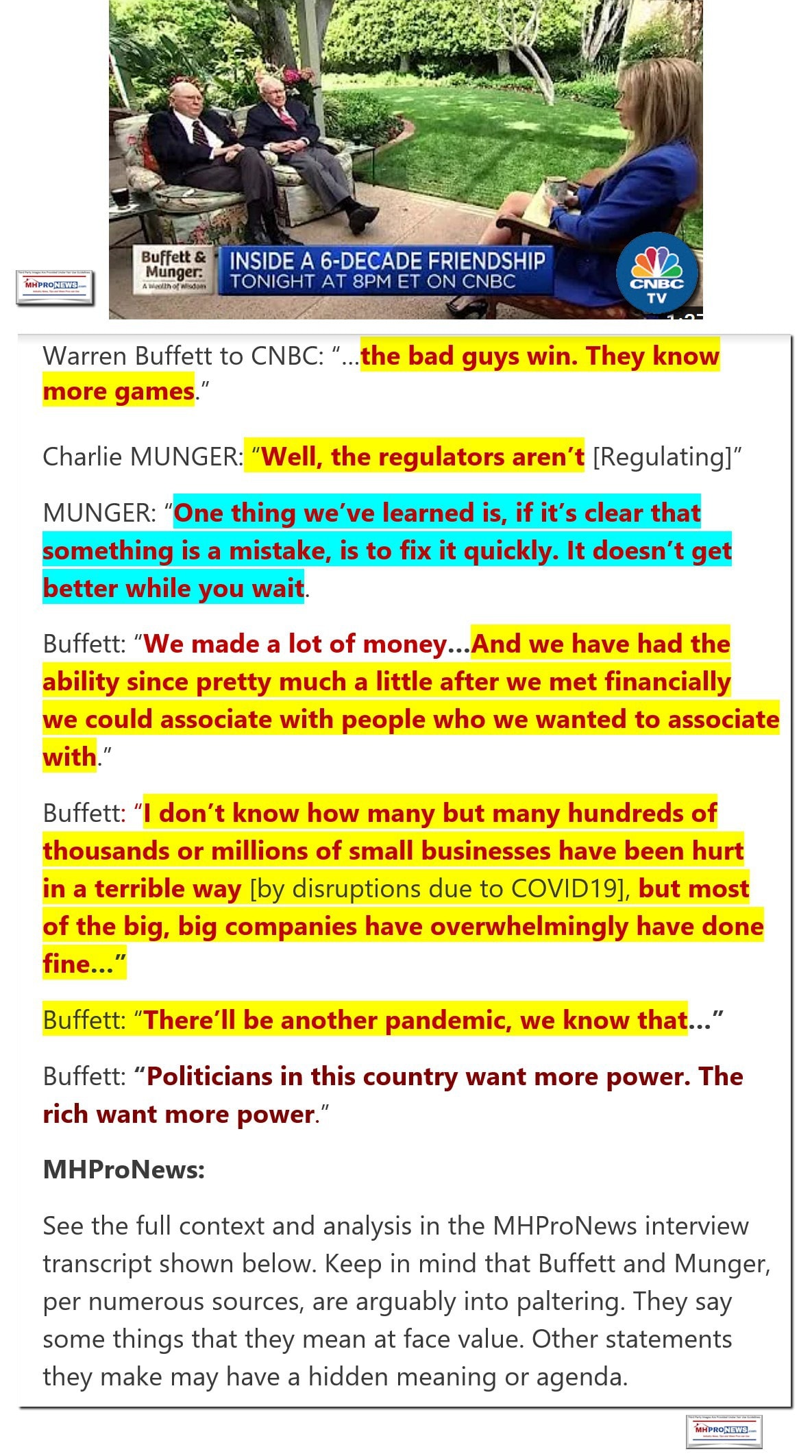 The size of the media outlet is no guarantee of its accuracy. Indeed, some media giants have proven to be mere mouthpieces of corporate and political interests that they represent.
The puppet master portfolio, referenced above by Mercola, and the Civic Alliance reports previously published illustrates how there are connections between these financial, nonprofits, and political interests.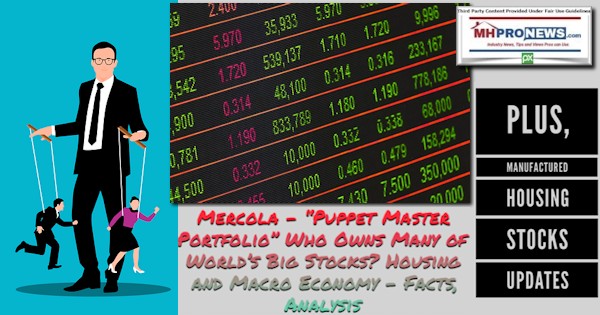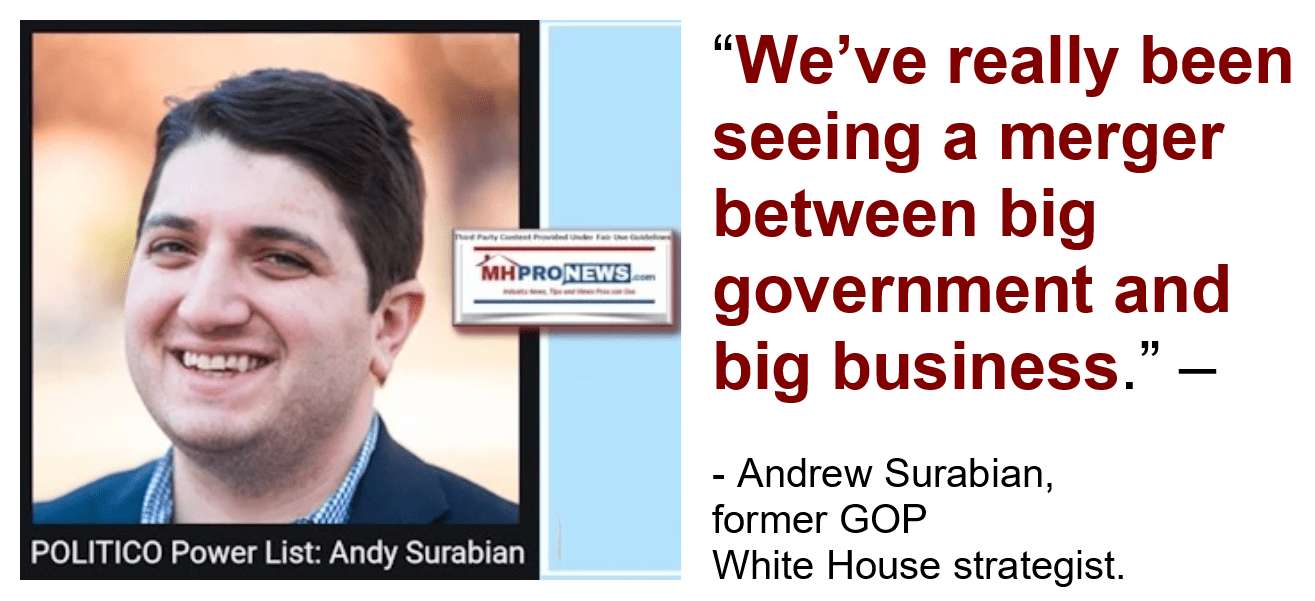 ###
Next up is our business daily recap of yesterday evening's market report, related left-right headlines, and manufactured housing connected equities.
The Business Daily Manufactured Home Industry Connected Stock Market Updates.  Plus, Market Moving Left (CNN) – Right (Newsmax) Headlines Snapshot. While the layout of this daily business report has been evolving over time, several elements of the basic concepts used previously are still the same. For instance. The headlines that follow below can be reviewed at a glance to save time while providing insights across the left-right media divide. Additionally, those headlines often provide clues as to possible 'market-moving' news items.
Market Indicator Closing Summaries – Yahoo Finance Closing Tickers on MHProNews…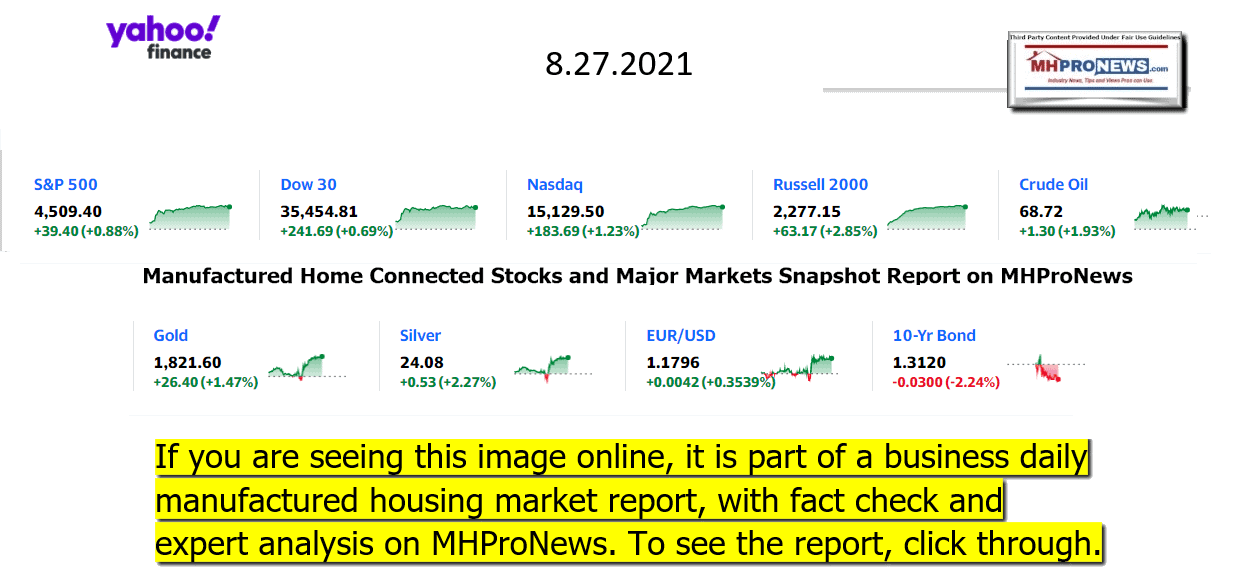 Headlines from left-of-center CNN Business – evening of 8.27.2021 
'No one has money'
Afghan people stand in a queue as they wait for their turn to collect money from an ATM in front of a bank along a roadside in Kabul on August 21, 2021, days after the Taliban takeover of Afghanistan.
Under Taliban rule, Afghanistan's banking system is imploding and many people are without cash
The Fed is about to wind down its emergency economic stimulus, Jerome Powell hints
Here's what renters can expect after the end of the federal eviction ban
Flying on Southwest has been awful. The company has a fix: Fewer flights
British Airways could launch a new low-cost airline for Europe
Rivian files to go public with IPO, reportedly seeking valuation up to $80 billion
A key inflation measure rose at fastest pace in 30 years in July
China blasts '996' excessive work culture
Tim Cook gets $750 million bonus on 10th anniversary as Apple CEO
Opinion: The world is running dry at an alarming rate. Here's how businesses can help
TikTok bans the 'milk crate challenge' because of injuries
Kanye West's Yeezy jacket is a huge hit for Gap
Manchester United stock soars on return of Ronaldo
F-bombs and hate mail: Restaurants take heat when they ask for proof of vaccination
WASHINGTON, DC – MARCH 09: Elon Musk, founder and chief engineer of SpaceX speaks at the 2020 Satellite Conference and Exhibition March 9, 2020 in Washington, DC. Musk answered a range of questions relating to SpaceX projects during his appearance at the conference.
Tesla files to sell electricity in Texas
F-bombs and hate mail: Restaurants take heat when they ask for proof of vaccination
Headlines from right-of-center Newsmax – evening of 8.27.2021
Trump: My Deal With Taliban Cost No American Lives
Hundreds of people, some holding documents, gather near an evacuation control checkpoint on the perimeter of the Hamid Karzai International Airport, in Kabul, Afghanistan, Friday.
Former President Donald Trump says his deal with the Taliban in exchange for the withdrawal of U.S. service members cost no American lives — turning his successor's Afghanistan narrative on its head. In an interview posted Thursday, Trump noted the deal he signed in February 2020 with Taliban leader Abdul Ghani Baradar was based on the condition there would be no American casualties. [Full Story]
Fall of Afghanistan
Lindsey Graham Wants Biden to Recognize Opposition Forces
Zeldin Calls on Biden to Resign After Kabul Airport Attack
Kinzinger: No Biden Impeachment for 'Bad Decision' in Afghanistan
3 More Domestic US Military Bases to House Afghan Evacuees
YouGov Snap Poll: Most Americans Blame Biden for Kabul Attack
Trump: Biden's Afghanistan Withdrawal Makes US Look 'Pathetic'
US Fears More Attacks as Afghanistan Evacuations Continue
About 12,500 People Evacuated From Afghanistan on Thursday, White House Says
More Fall of Afghanistan
Newsmax TV
Blackburn: 'Boots Win the War, Suits Lose the War'
Bacon: Kabul Attacks 'Worst National Security Debacle' |
RNC's McDaniel to Newsmax: Biden Has 'Blood on His Hands,' Should Resign |
Roy: Congress Must Take Action on Biden, Blinken |
Ken Paxton: Open Border Is Open Invitation to Terrorists |
Ashli Babbitt's Husband: DC, Media Ran Cover for Officer Who Killed My Wife |
MSG Jason Beardsley: US 'Morale, Prestige' Take Huge Hit |
Mike Waltz: Biden Needs to 'Some Show Spine' |
More Newsmax TV
Newsfront
Rasmussen Reports Poll: Fauci Popularity Dips
White House medical adviser and infectious disease expert Dr. Anthony Fauci has lost some popularity with Americans, with less than half saying they have a favorable opinion of him, a Rasmussen Reports survey…… [Full Story]
'Daily Show' Rips 'Epic News Bro' Chris Cuomo in Mini Documentary
"The Daily Show" on Comedy Central has released a mini documentary [Full Story]
US Intelligence: China's Leaders Were Unaware of COVID Before Pandemic
S. intelligence agencies remain divided on the origins of the [Full Story]
ESPN Explores Sports-Betting Deal Worth at Least $3 Billion
Walt Disney Co's ESPN is looking to license its brand to major [Full Story]
Biden Stokes COVID Confusion With Latest Booster Shot Comments
President Joe Biden said his administration is considering whether to [Full Story]
Biden's Blunders Diminish America's Standing, Elevate China, Experts Say
United States citizens and world leaders alike are judging President [Full Story] |
Politico: Cuomo Plotting Revenge on Hochul
One of former New York Gov. Andrew Cuomo's top advisers is reportedly [Full Story]
Summer of Deadly Amusement Park Accidents Raises Safety Questions
They're supposed to provide fun seekers with thrills and chills – but [Full Story] |
Powell: Fed on Track to Slow Aid for Economy Later This Year
The Federal Reserve will start dialing back its ultra-low-rate [Full Story]
Florida, Texas Didn't Push Masks, They're Not in Top 20 of COVID Death States
Two of the country's largest states that didn't mandate masks [Full Story] |
Ida Aims to Hit New Orleans on Hurricane Katrina Anniversary
Hurricane Ida struck Cuba on Friday as a rapidly intensifying storm [Full Story]
Kinzinger: No Biden Impeachment for 'Bad Decision' in Afghanistan
Adam Kinzinger, R-Ill., on Friday refuted GOP calls for [Full Story]
Biden Tells Israeli PM He'll Try Diplomacy First with Iran
President Joe Biden told Israeli Prime Minister Naftali Bennett on [Full Story]
DeSantis: Ruling 'Made With Incoherent Justifications, Not Based in Science and Facts'
A Florida Circuit Judge ruled Friday that Gov. Ron DeSantis had [Full Story]
Trump: My Deal With Taliban Cost No American Lives
Former President Donald Trump says his deal with the Taliban in [Full Story]
Man Accused in Capitol Attack Raises Almost $200K in Donations
An Alabama man who faces six charges after allegedly taking part in [Full Story]
Florida Judge Throws Out Gov. DeSantis' Mask Mandates Ban in Schools
A Florida Circuit Court judge Friday overturned Gov. Ron DeSantis' [Full Story]
More Medical Workers Coming to Texas to Help Fight COVID
Texas Gov. Greg Abbott announced the state will get 2,500 [Full Story]
Harvard University's New Chief Chaplain Is an Atheist
Harvard University's newest chief chaplain is an avowed atheist. Greg [Full Story]
CDC To Restart Gun Violence Research
The nation's top pubic health agency is taking on gun violence as a [Full Story]
Texas House Passes Key GOP Voting Overhaul Bill
Texas' House of Representatives on Friday passed a bill restricting [Full Story]
Powell: Fed on Track to Slow Aid for Economy Later This Year
The Federal Reserve will start dialing back its ultra-low-rate [Full Story]
Gallup: Most Americans Believe Economy Worsening Amid COVID Surge
Americans believe the economy is worsening as the country deals with [Full Story]
Mom Sues TSA Over Request to Strip Search Her Transgender Teen
A North Carolina mother has filed a lawsuit against the [Full Story]
US Consumer Spending Slows to 0.3% gain in July
Growth in U.S. consumer spending slowed in July to a modest increase [Full Story]
Vaccine Hesitant Confused by 'Comirnaty,' Pfizer's Branded COVID Vaccine
The brand name of Pfizer's COVID-19 vaccine is a mouthful, and its [Full Story]
Texas House Passes Voting Bill That Lawmakers Fled State to Protest
Texas' House of Representatives on Thursday advanced a voting bill, [Full Story]
Former Italian Prime Minister Berlusconi Admitted to Hospital: Source
Italy's former Prime Minister Silvio Berlusconi was admitted to [Full Story]
A Struggle to Prevent Suicides at Soaring NYC Sculpture
When it opened 2 1/2 years ago near the Hudson River, the [Full Story]
Al Capone's Favorite Gun, Personal Items Head to Auction
Al Capone is infamous for having been a ruthless mob boss, but one of [Full Story]
Supreme Court Lifts Biden's Covid-19 Moratorium on Evictions
The Supreme Court's conservative majority is allowing evictions to [Full Story]
More Newsfront
Finance
Stocks Rise Ahead of Powell's Jackson Hole Speech
S. equities gained before a key speech by Jerome Powell, in which the Federal Reserve chair may reinforce the message that it would be appropriate to begin tapering the Fed's bond purchases by the end of the year.The S&P 500 and Nasdaq 100 rose ahead of the… [Full Story]
Fed's Waller Calls again for Quick, Early Bond-buying Taper
Barbara Roper Joins SEC as Senior Advisor to Chairman
Hurricane Ida Could Drench Nashville, Still Drying From Floods
Canada Approves Moderna's COVID-19 Vaccine for Adolescents
More Finance
Health
Need a Happiness Boost? 8 Secrets of Happy People
Some people seem genuinely happier than others. Even in the midst of a world full of doom and gloom, they manage to spread sunshine wherever they go. Scientists say that happiness may be inherent to our DNA, however studies have shown that there are certain habits shared by… [Full Story]
Demand for Monoclonal Antibody Treatment Surges Across the Country
How Not to Die of a Silent Heart Attack
When Is a Person With COVID-19 Most Infectious?
Implanted Electrode 'Pulses' Cut Back, Leg Pain Without Drugs
Manufactured Housing Industry Investments Connected Equities Closing Tickers
Some of these firms invest in manufactured housing, or are otherwise connected, but may do other forms of investing or business activities too.
NOTE: The chart below includes the Canadian stock, ECN, which purchased Triad Financial Services, a manufactured home industry lender
NOTE: Drew changed its name and trading symbol at the end of 2016 to Lippert (LCII).
NOTE: Deer Valley was largely taken private, say company insiders in a message to MHProNews on 12.15.2020, but there are still some outstanding shares of  the stock from the days when it was a publicly traded firm.  Thus, there is still periodic activity on DVLY.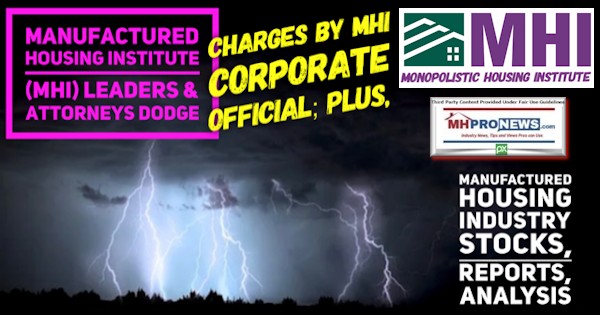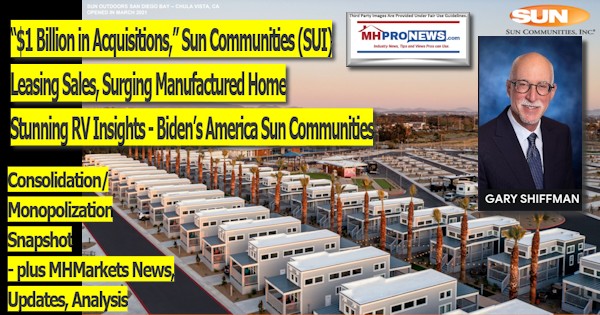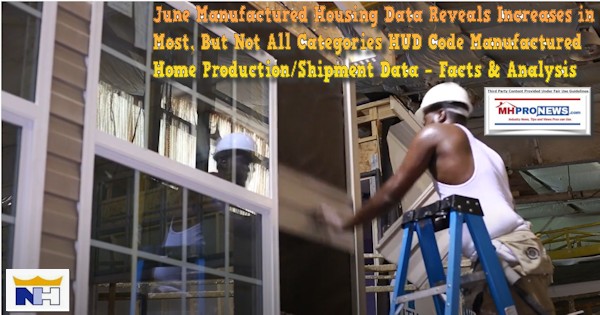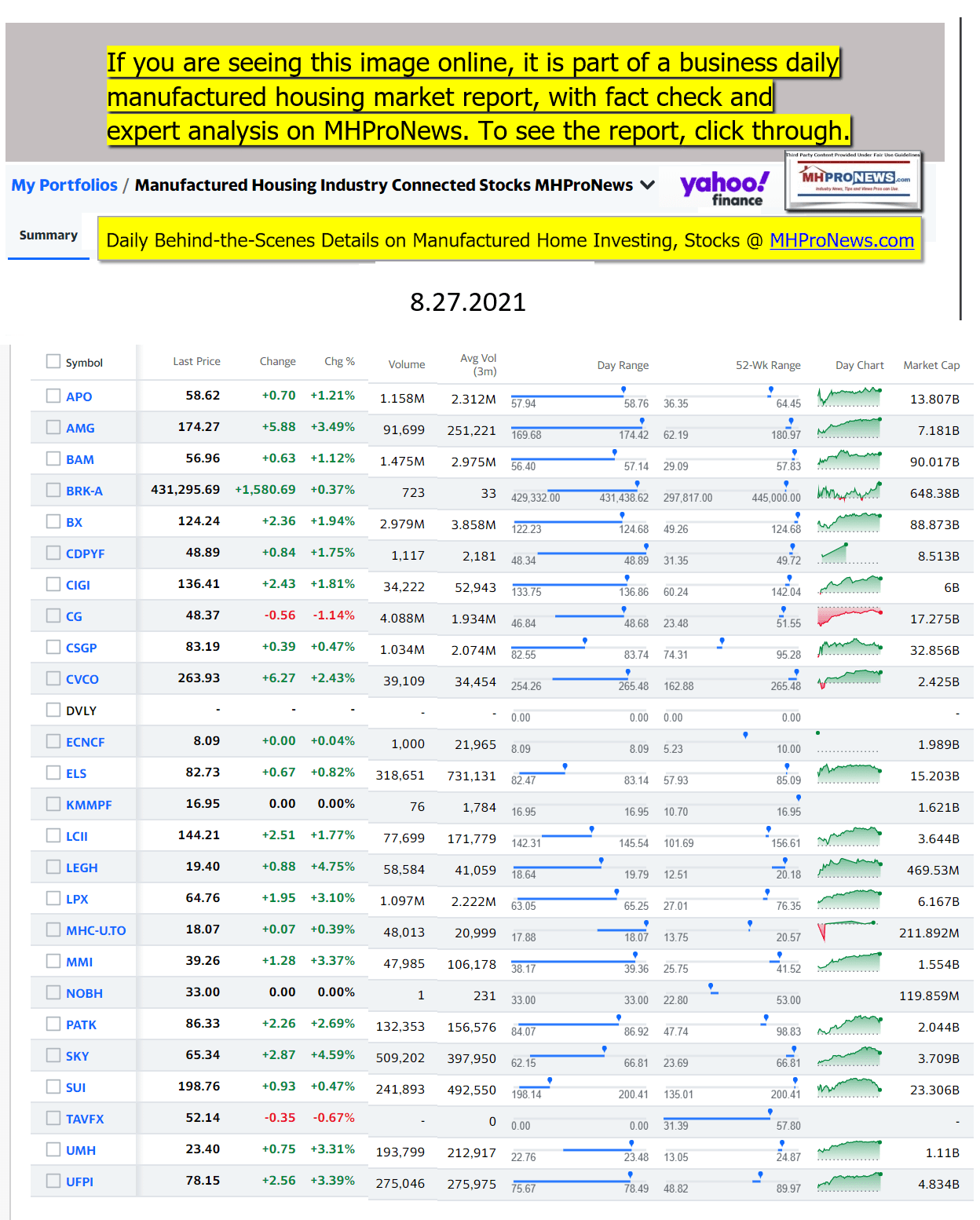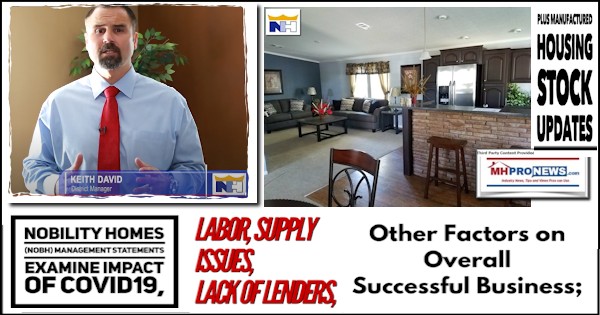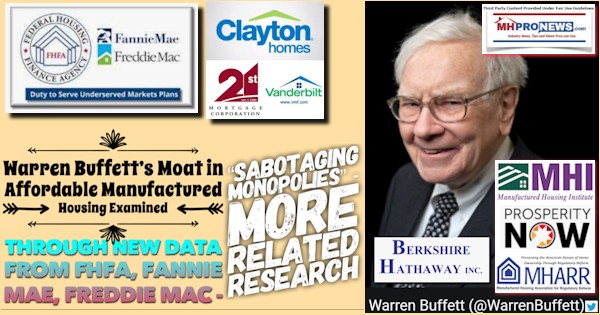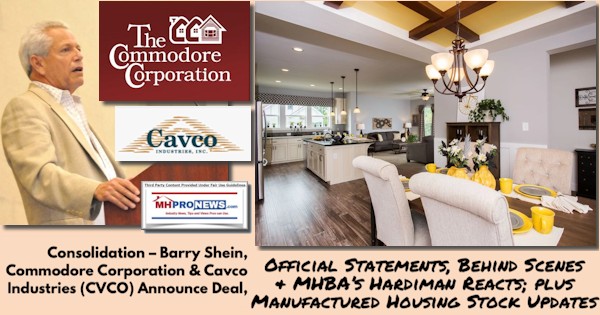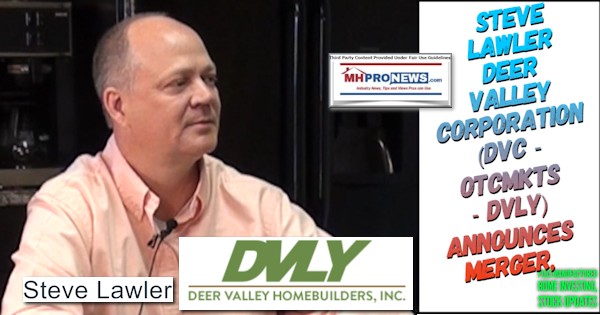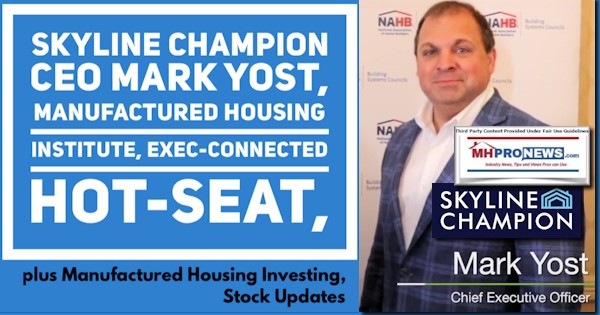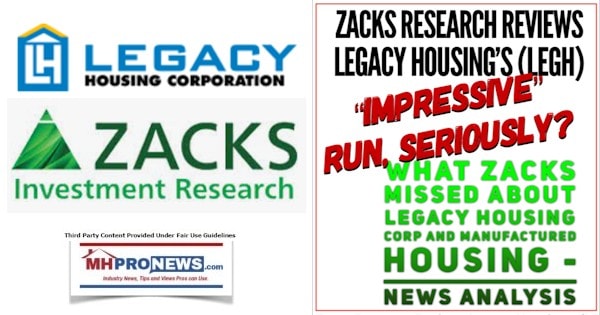 Summer 2021…
Berkshire Hathaway is the parent company to Clayton Homes, 21st Mortgage, Vanderbilt Mortgage and other factory built housing industry suppliers.
· LCI Industries, Patrick, UFPI, and LP each are suppliers to the manufactured housing industry, among others.
· AMG, CG, and TAVFX have investments in manufactured housing related businesses. For insights from third-parties and clients about our publisher, click here.
Enjoy these 'blast from the past' comments.
MHProNews. MHProNews – previously a.k.a. MHMSM.com – has celebrated our 11th year of publishing, and is starting our 12th year of serving the industry as the runaway most-read trade media.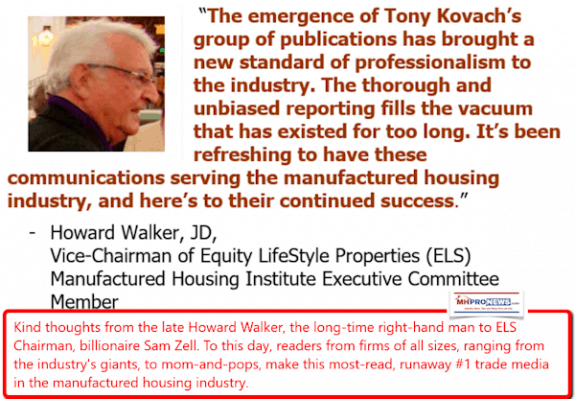 Sample Kudos over the years…
It is now 11+ years and counting…
Learn more about our evolutionary journey as the industry's leading trade media, at the report linked below.
· For expert manufactured housing business development or other professional services, click here.
· To sign up in seconds for our industry leading emailed headline news updates, click here.

Disclosure. MHProNews holds no positions in the stocks in this report.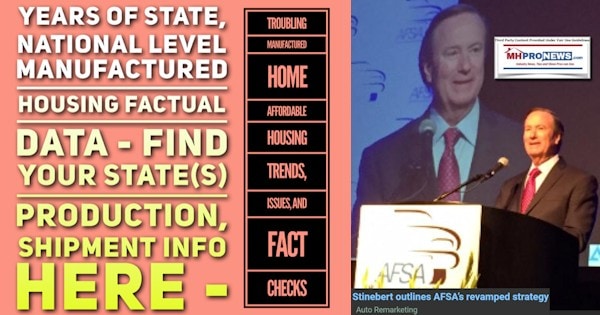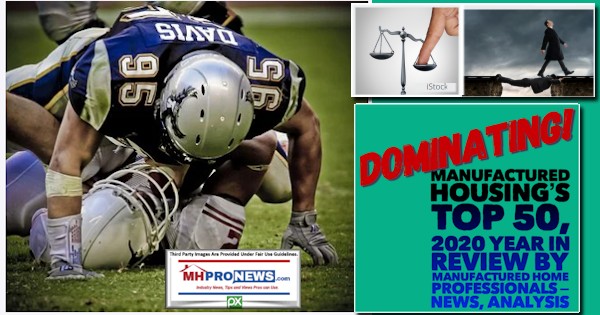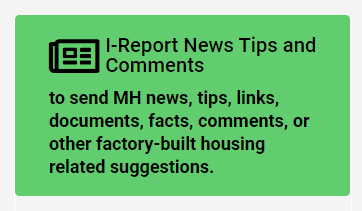 That's a wrap on this installment of "News Through the Lens of Manufactured Homes and Factory-Built Housing" © where "We Provide, You Decide." © (Affordable housing, manufactured homes, stock, investing, data, metrics, reports, fact-checks, analysis, and commentary. Third-party images or content are provided under fair use guidelines for media.) (See Related Reports, further below. Text/image boxes often are hot-linked to other reports that can be access by clicking on them.)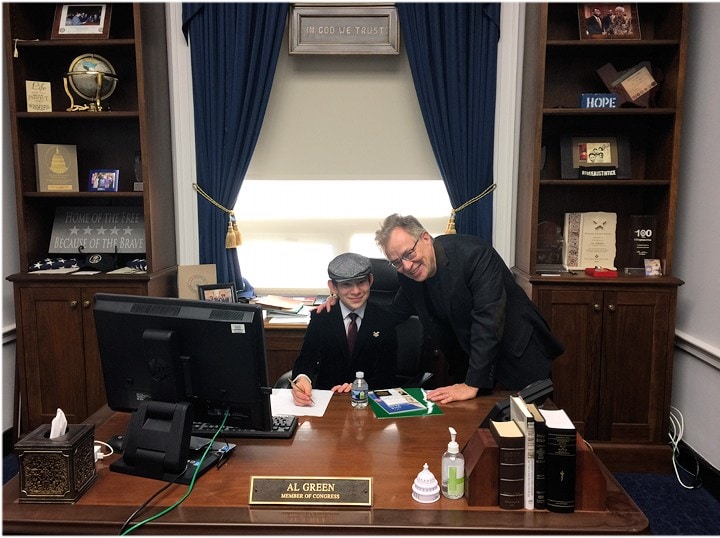 By L.A. "Tony" Kovach – for MHProNews.
Tony earned a journalism scholarship along with numerous awards in history. There have been several awards and honors and also recognition in manufactured housing. For example, he earned the prestigious Lottinville Award in history from the University of Oklahoma, where he studied history and business management. He's a managing member and co-founder of LifeStyle Factory Homes, LLC, the parent company to MHProNews, and MHLivingNews.com. This article reflects the LLC's and/or the writer's position, and may or may not reflect the views of sponsors or supporters.