Business and other news sites erupted on Wednesday afternoon with the word that Warren Buffett had announced that he will retire as a trustee of the Bill and Melinda Gates Foundation. The word comes in the wake of the announced between the William "Bill Gates III and his estranged wife Melinda, following numerous allegations of affairs by Gates, and a probe by Microsoft leadership that confirmed at least once of those claims.
As left-of-center USA Today framed it, "Warren Buffett resigns from Gates Foundation board, calling himself an 'inactive trustee' … The announcement comes weeks after Bill and Melinda Gates announced that they were divorcing after 27 years of marriage but would continue to jointly run the foundation, one of the largest charitable foundations in the world."
Left-leaning CBS reported Buffett saying, "I am now resigning from that post, just as I have done at all corporate boards other than Berkshire's."
"Warren Buffett leaves Gates Foundation board — and says he's halfway to giving away most of his fortune," was the spin, per MarketWatch.
"Warren Buffett defends his approach to philanthropy as he quits the Gates Foundation board," said left-leaning Vox.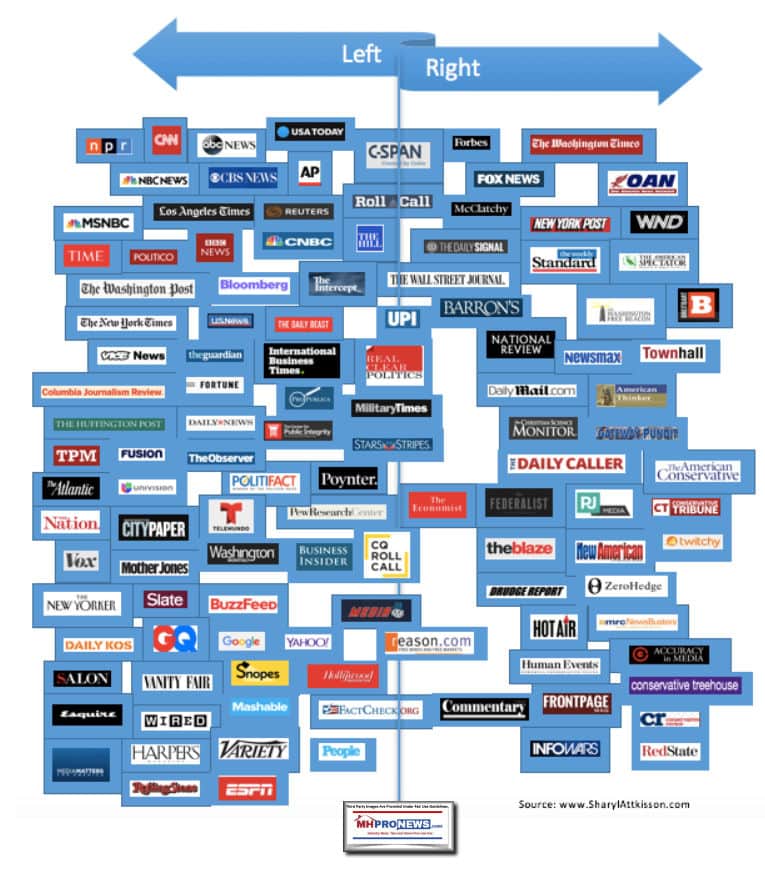 In examining the report below from Tompson-Reuters, one should keep in mind this pledge from that firm. "The Trust Principles imposed obligations on Reuters and its employees to act at all times with integrity, independence, and freedom from bias," per the page linked here on the Tompson Reuter's news website. Additional information, an MHProNews analysis and commentary in brief will follow. Those items precede the manufactured housing market report at the closing bell for 6.23.2021.
It is worth noting that this was aptly filed under the "Business" news category, rather than philanthropy, human interest, or some other more banal news classification. While announced on 6.23, this was updated by Reuters on June 24, 2021 AT 3:25 AM EDT. Note too that the Reuters headline is contradicted by Buffett himself, who has pledged to give half his fortune, but has not yet done so.
June 23 (Reuters) – Billionaire investor Warren Buffett said he is resigning as a trustee of the Bill and Melinda Gates Foundation, and has donated half his wealth to philanthropy since pledging 15 years ago to give away his fortune from running Berkshire Hathaway Inc (BRKa.N).
Buffett, 90, said in a Wednesday statement he has been an "inactive trustee" for years at the foundation, but fully supported Chief Executive Mark Suzman and that their goals were "100% in sync."
He did not explain why he is resigning, while noting he has given up all directorships outside Berkshire, reducing his workload.
Buffett also announced a new donation of more than $4.1 billion, comprising nearly 15.2 million Berkshire Class "B" shares, to the Gates Foundation and four family charities, part of his pledge to give away 99% of his net worth.
He has since 2006 donated more than $41.5 billion of Berkshire shares, including $32.7 billion to the Gates Foundation. The overall total is now equivalent to about $100 billion because Berkshire's stock price has risen.
"Over many decades I have accumulated an almost incomprehensible sum simply by doing what I love to do," Buffett said. "Society has a use for my money: I don't."
Founded in 2000, the Gates Foundation focuses on combating poverty, disease and inequity, spending $54.8 billion in its first two decades.
Its future has been uncertain since its namesake co-founders said last month they were divorcing after 27 years of marriage.
Microsoft Corp (MSFT.O) later said it had reviewed an accusation that Bill Gates had tried in 2000 to have an intimate relationship with an employee. read more
GOVERNANCE COMMITMENT
In an email to Gates Foundation employees, Suzman said he has discussed with Buffett and the Gateses how to strengthen governance and decision making, and planned to share more information in July.
"I am fully committed to following [Buffett's] guidance to ensure we are the best possible stewards of his, Bill, and Melinda's resources," Suzman said.
In statements released by the foundation, Bill Gates said he was grateful for his "enduring friendship" with Buffett and that "we will always have a deep sense of accountability" to him, while Melinda French Gates said Buffett's teachings will help "chart a way forward." Berkshire did not immediately respond to a request for comment.
Buffett's donations also go to the Susan Thompson Buffett Foundation, named for his late first wife, and charities run by his children Howard, Susan and Peter: the Howard G. Buffett Foundation, the Sherwood Foundation and the Novo Foundation.
Had Buffett not made his donations, his fortune would roughly equal that of Amazon.com Inc (AMZN.O) founder Jeff Bezos, the world's richest person according to Forbes magazine.
Bill Gates and Buffett also pioneered "The Giving Pledge," where more than 200 people like Michael Bloomberg, Larry Ellison, Carl Icahn, Elon Musk, Mark Zuckerberg and Saudi Prince Alwaleed bin Talal have committed at least half their fortunes to philanthropy.
NO 'SWAN SONG'
Buffett has since 1965 built Omaha, Nebraska-based Berkshire into a more than $600 billion conglomerate, owning businesses such as the BNSF railroad and Geico auto insurance, and stocks such as Apple Inc (AAPL.O).
He still holds 31.5% of Berkshire's voting power, even after the donations.
Buffett's statement on Wednesday also addressed recent criticism after a ProPublica investigation included him among wealthy people who paid low taxes.
Buffett said his donations have resulted in only about 40 cents of tax savings per $1,000 given.
"Nevertheless, tax deductions are important to many – particularly to the super-rich – who give large amounts of cash or securities to philanthropy," he said.
Buffett also used references to American football to assure fans he has no plans to step away, including from Berkshire.
"These remarks are no swan song," he said. "I still relish being on the field and carrying the ball. But I'm clearly playing in a game that, for me, has moved past the fourth quarter into overtime." ##
Reporting by Eva Mathews in Bengaluru; Editing by Anil D'Silva
Our Standards: The Thomson Reuters Trust Principles.
###
Additional Information, MHProNews Analysis and Commentary in Brief
Gates Foundation CEO Mark Suzman makes it clear that this 'stepping down' from the board has little practical meaning. " Suzman said he is "100% in sync" with Buffett and that "I am fully committed to following [Buffett's] guidance to ensure we are the best possible stewards of his, Bill, and Melinda's resources." A fair reading of that is that nothing practical will change.
Vox, in contrast to covering the same news as Reuters above, took their story of Buffett's announcement more in the direction of a critique. That critique begins to probe the 'why' behind Buffett and other billionaires nice words about their so-called 'philanthropy'  For example: "Vox and Data for Progress polling from earlier this year found that the American public is skeptical of the idea that billionaires are role models and frustrated by the growth of their wealth in the pandemic. New reporting into how the rich sidestep federal income taxes makes these figures even less sympathetic."
Vox elaborated in part by saying: "This all means the importance of and dynamics behind billionaire philanthropy is only growing. Billionaires become more plentiful and more powerful, making charities more dependent on their funds and their critics more restless to rein in the power of the ultrarich. That growing frustration with the rich, and how they use their money, stands in stark contrast to the words of Buffett…"
That's a start, but still misses some relevant and meaty points that clearly impact the public view of manufactured housing, as the following will unpack.
Buffett's son, Peter Buffett, has made it plain during a video interview that the so-called philanthropy of his father and others is more akin to "philanthro-feudalism." It is a method of extending influence for business, political and other reasons while dressing up tax-deductible 'donations' that buttress the public image of a 'donor.' MHProNews, and our sister-site MHLivingNews, have explored those themes periodically in a manner that reveals that the foundations and nonprofits Buffett-bucks flows to are used to influence more than one side of the issues in manufactured housing.
For instance, nonprofits like MHAction or Prosperity Now, PBS, NPR, and other organizations have been used to frame stories that have often cast a darker tone to manufactured housing, thus apparently acting as part of the Buffett moat in the industry. See the linked reports below for the details.
Further, Gates and Buffett bucks have apparently influenced the 2020 election through nonprofits too.
It is not only his son Peter's revelations, but also statements by those recorded in the documentary drama, Poverty, Inc that makes it clear that numbers of nonprofits are not changing anything for the good. Robert F. Kennedy Jr, a self-proclaimed life-long Democrat, is among the voices on the left that has ripped the Gates Foundation by name.  Influencer Russell Brand, ripped Gates and Buffett, as has others.
These are issues that have gone largely overlooked or ignored by others reporting on manufactured housing industry issues. That noted, the arguably more important need is to formally probe the Buffett and Gates empires to see what laws may have been violated, as the evidence of purported wrongdoing grows. Once more, to learn more, see the linked reports.  Those links will be followed by our manufactured housing market snapshots for 6.23.2021.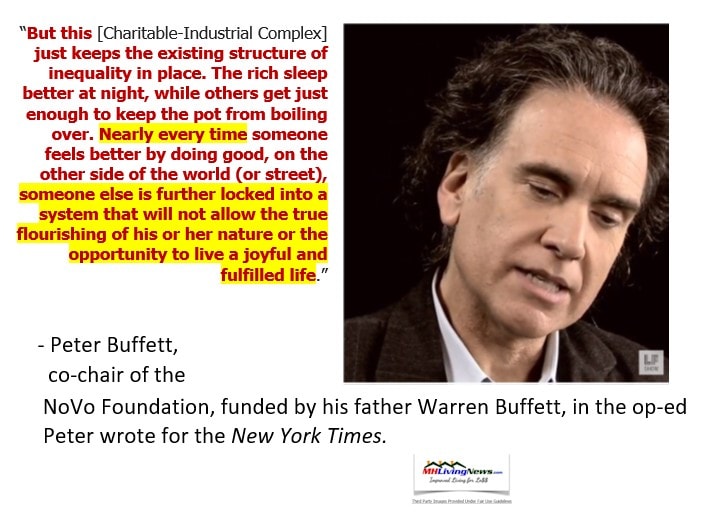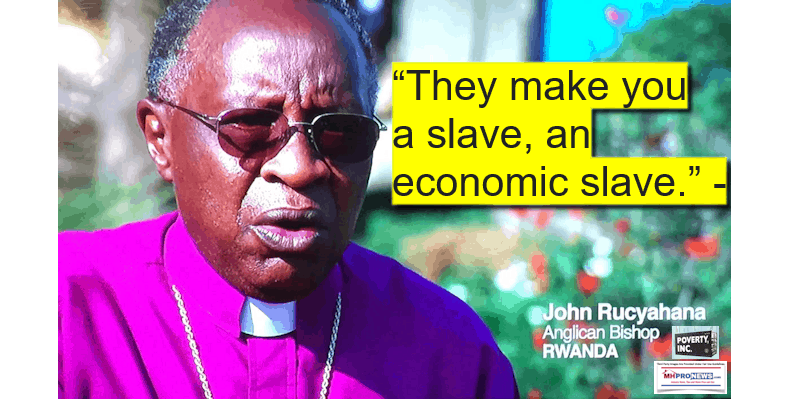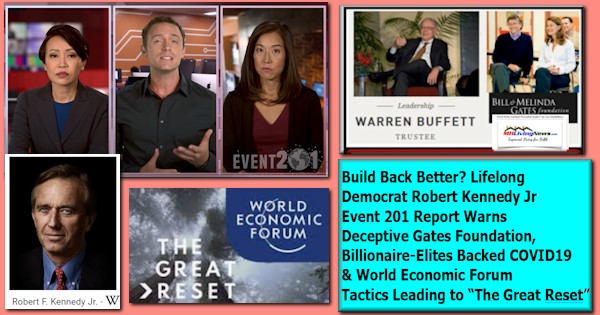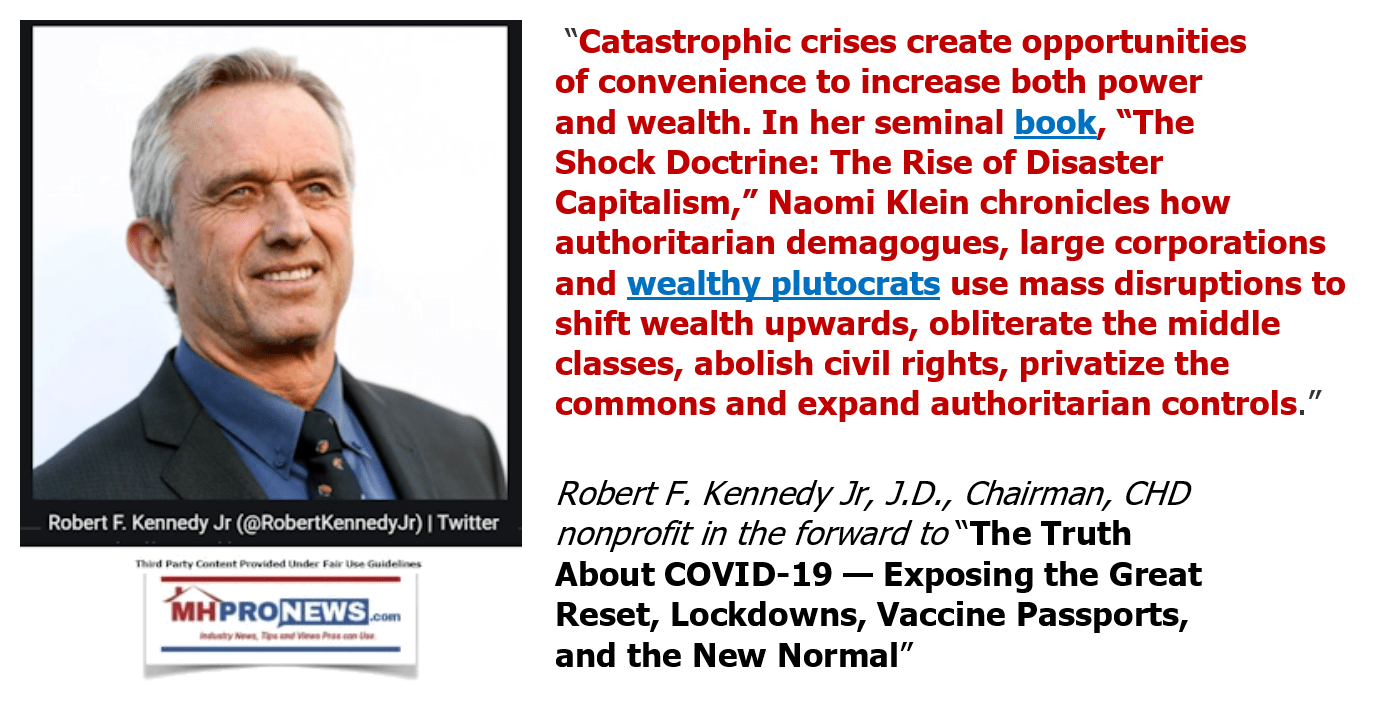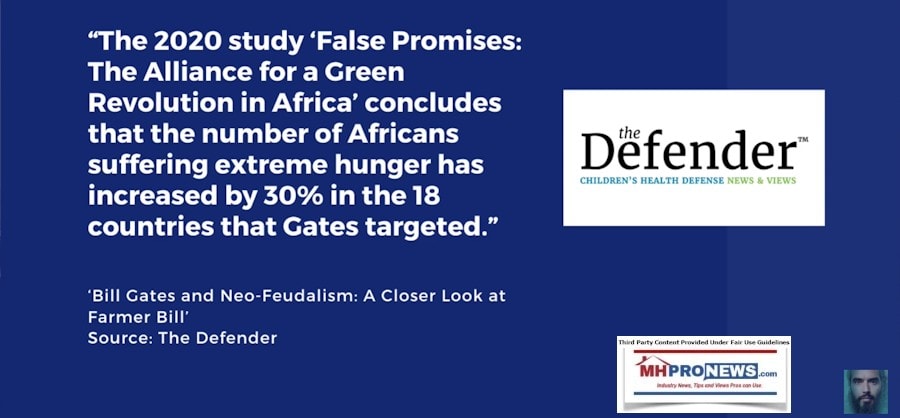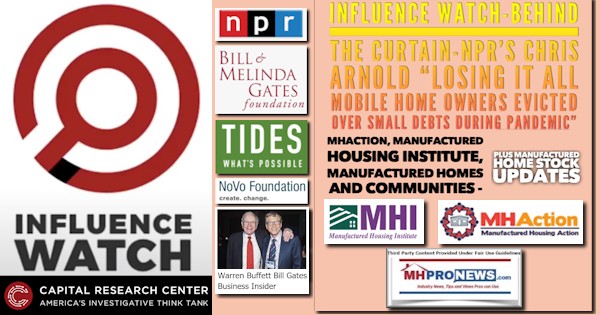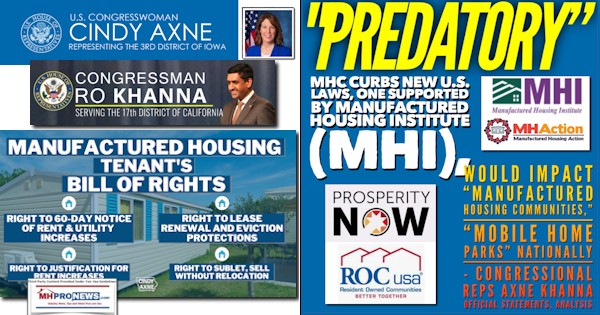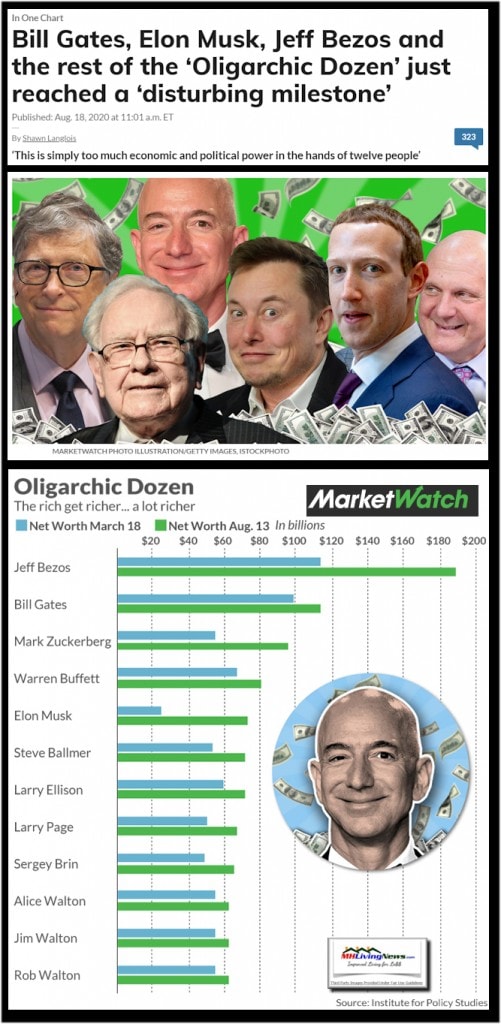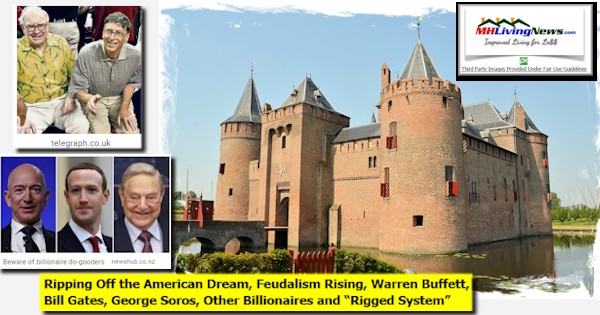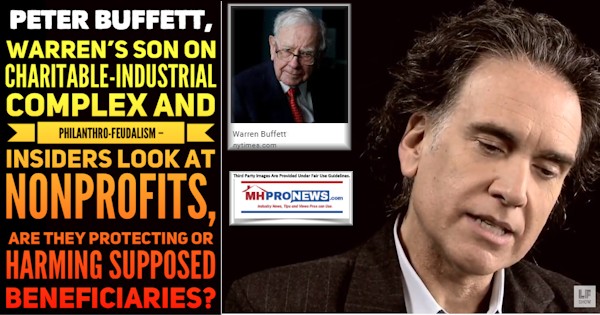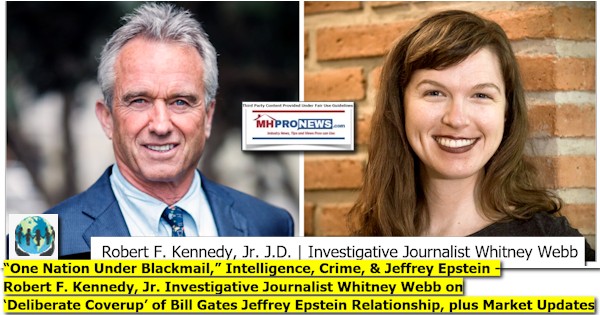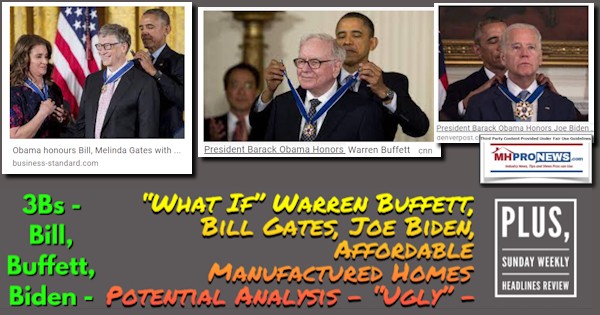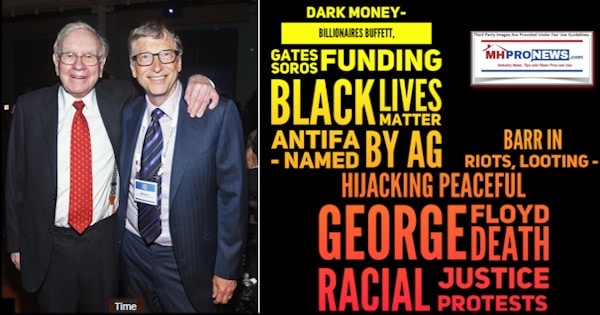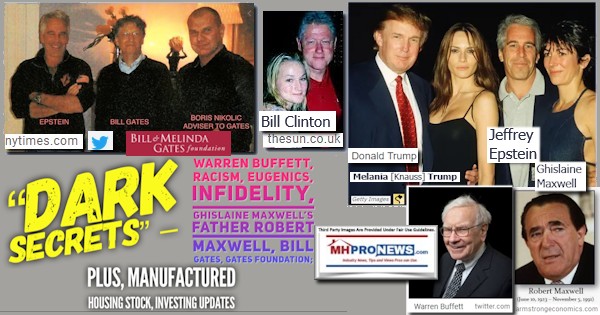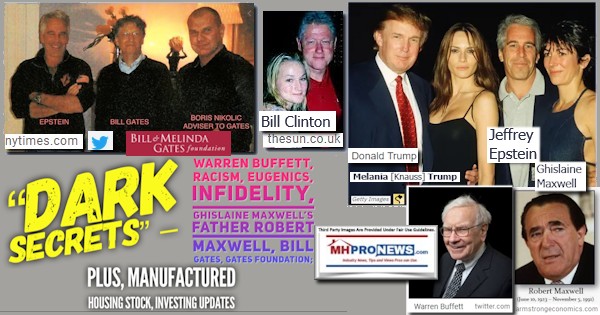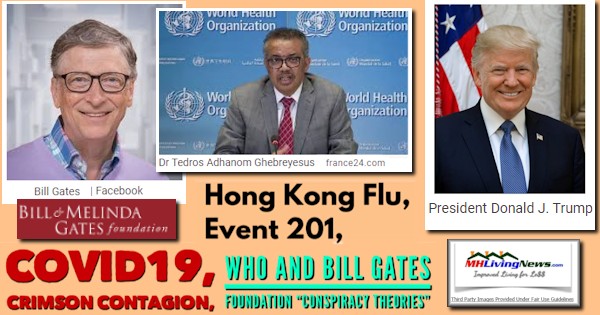 If someone or an organization has a largely compliant/complicit media, then the truth can hide in plain sight for weeks, months, or years on end.
Even when reality is periodically revealed by a mainstream 'news' account, if it's preceded and followed by largely glowing accounts, sobering realities can continue to lurk in a manner that won't stir up serious scrutiny, much less legal investigations that fit the meaning of that phrase.
Reuters arguably did not do as good a job as Vox at raising issues about Buffett's so called philanthropy. Ironically, what MHProNews and our sister site has reported are largely based on records that are publicly available and are cited in our research, reports, and analysis.
It's not that mainstream news and big tech media are dead, as some like to say. Rather, they are often propaganda tools unwilling to look behind the curtain for authentic stories far larger and more consequential than the offered spin-laden and paltering coverage too many provide instead. Not least is the notion that without a sense of history on a person, organization, or topic, the truth that has been previously revealed can effectively get papered over and memory holed.
Who makes such allegations and claims? Ironically it is often those in the media itself, as well as those who have studied and reported on these concerns.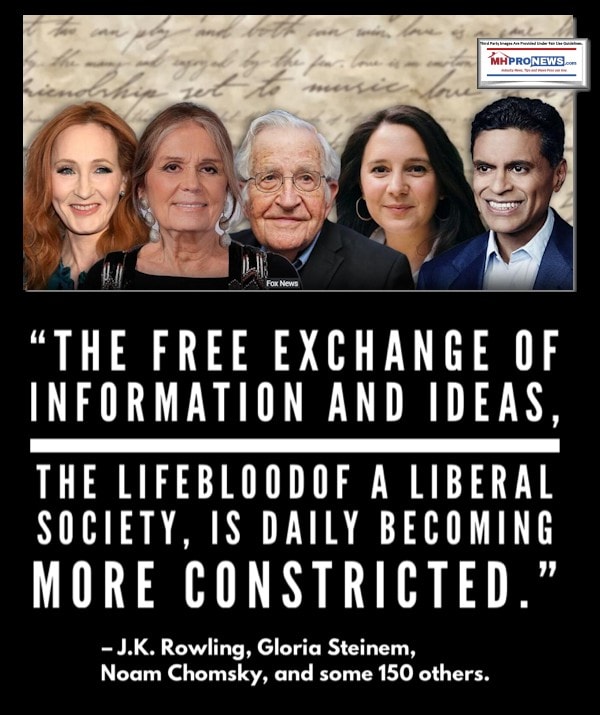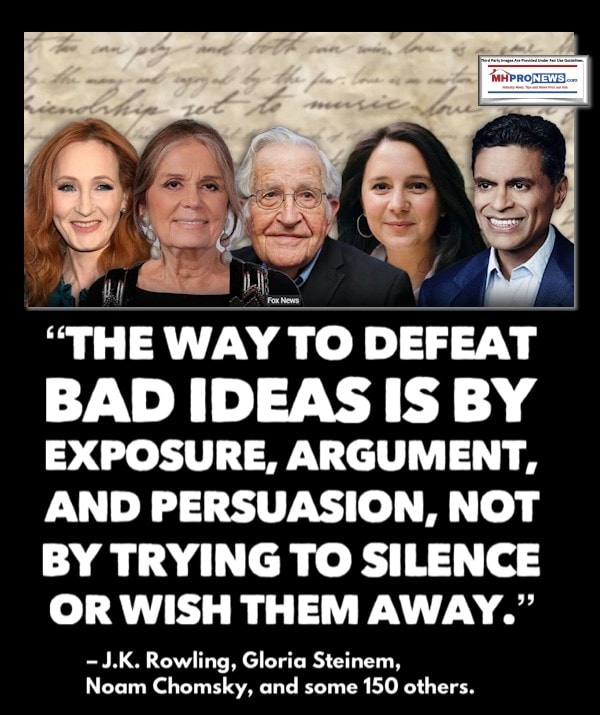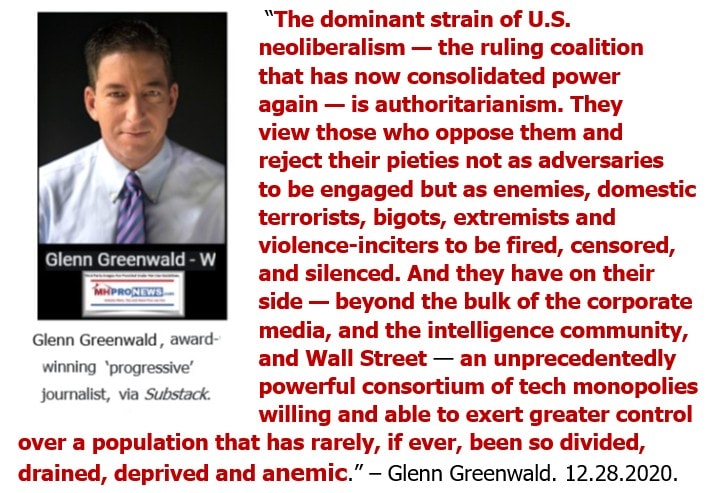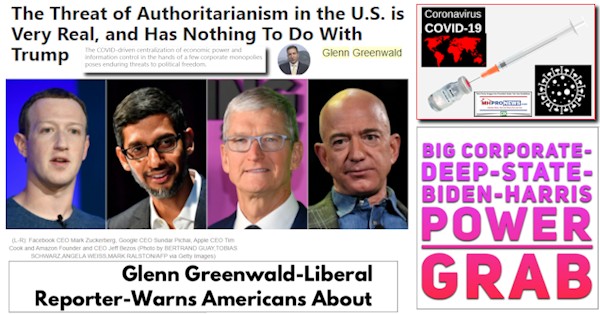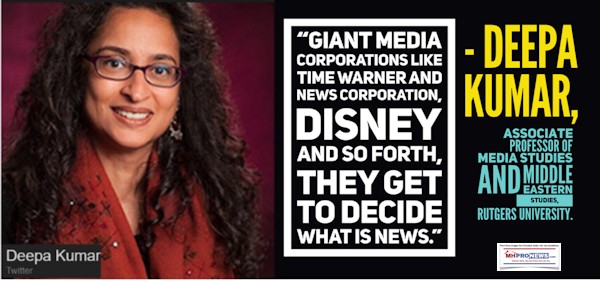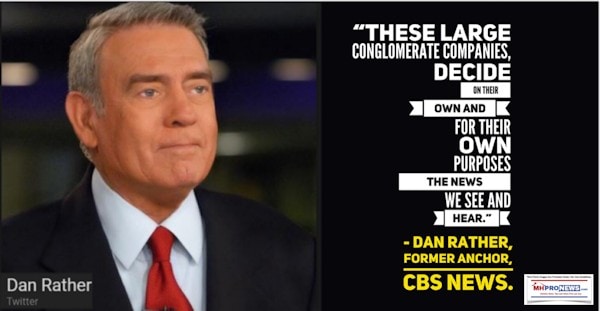 Next, is our evening market report and related left-right headlines.
The Business Daily Manufactured Home Industry Connected Stock Market Updates.  Plus, Market Moving Left (CNN) – Right (Newsmax) Headlines Snapshot. While the layout of this business daily report has recently been modified, several elements of the basic concepts used previously are still the same. The headlines that follow below can be reviewed at a glance to save time while providing insights across the left-right media divide. Additionally, those headlines often provide clues as to possible 'market moving' items.
Market Indicator Closing Summaries – Yahoo Finance Closing Tickers on MHProNews…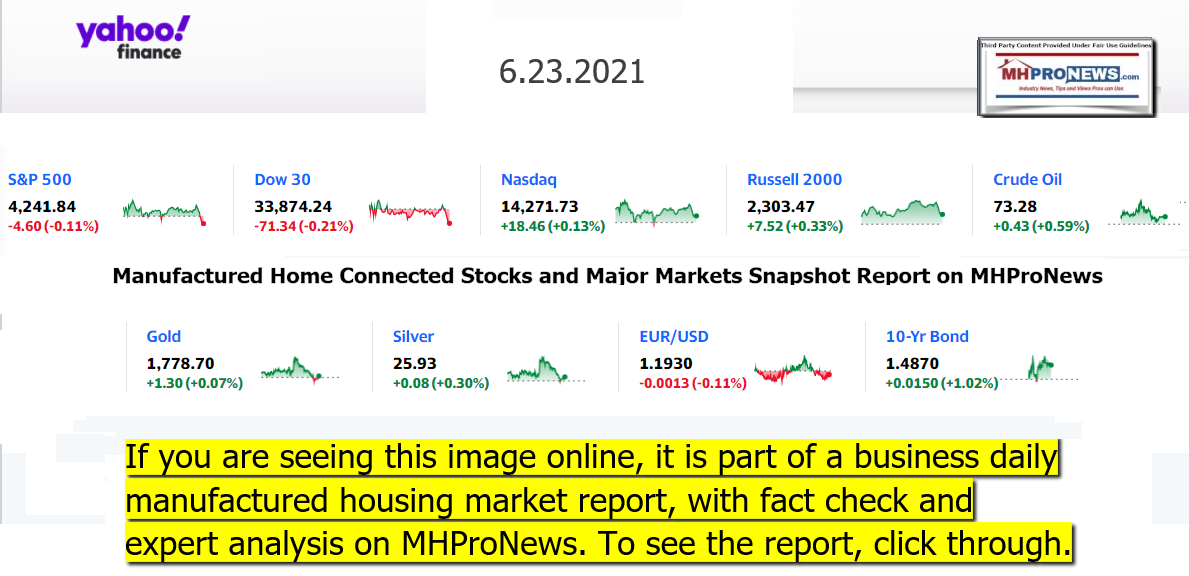 Headlines from left-of-center CNN Business = evening of 6.23.2021
Marketing fail
Coke tried make-your-own labels: 'White lives matter' is OK but 'Black Lives Matter' isn't
New York's economy is America's worst
Warren Buffett resigns from the Bill & Melinda Gates Foundation
This bank is the latest to require employees to report vaccination status
LIVE UPDATES Nasdaq Composite hits record high
This tech company just hit a $2 trillion market cap
Amazon ditched cannabis testing, and more employers will likely follow
This year's Prime Day broke sales records
Here's why it's not a great time to become a real estate agent
How PepsiCo is rethinking the office: More remote work. No assigned desks
Gender neutral clothes are the next big thing in fashion
Abigail Disney: Executives would rather be shot than fly first class
Intern blooper leads to slew of hilarious confessions
John McAfee, founder of McAfee Associates Inc. and chief cybersecurity visionary at MGT Capital Investments Inc., listens during a Bloomberg Television interview on the sidelines of the Shape the Future: Blockchain Global Summit in Hong Kong, China, on Wednesday, Sept. 20, 2017. McAfee, who now runs a bitcoin mining company, says China's banning of initial coin offerings won't halt the momentum of cryptocurrencies globally.
John McAfee found dead in Spanish prison
FILE – In this March 30, 2021 file photo, the Ever Given, a Panama-flagged cargo ship, is anchored in Egypt's Great Bitter Lake. An Egyptian appeals court on Sunday, May 23, 2021, said it lacks jurisdiction to look into the Suez Canal Authority's demands to uphold financial claims that led to the the seizure of the massive Ever Given that blocked the waterway in March. The authority and the ship's owners are in dispute as to whose fault it was that the ship ran aground and how much compensation should be paid.
The Ever Given could soon be released by the Suez Canal
'Sexy Beasts' is more fever dream than dating show, and it's vital to Netflix
TRAVEL
Tails fins of passenger aircraft operated by American Airlines Group Inc. at Miami International Airport in Miami, Florida, U.S., on Wednesday, June 16, 2021. Daily U.S. air travelers exceeded 2 million for the first time since the coronavirus pandemic began, reaching almost three-quarters of the volume recorded on the same day in 2019, according to the Transportation Security Administration.
American Airlines canceling flights in part due to labor shortages
A new ruling says the CDC can't stop cruise ships
Hotels face labor shortages as travel surges
FAA's new cleaning methods aim to curb delays
How travelers navigate Europe's pandemic guidelines
FOOD SHOPPING
People shop at a Kroger grocery store in Madeira, Ohio, on Tuesday, March 2, 2021.
Grocery stores are excited to charge you higher prices
How Amazon is changing grocery shopping
Oat milk is everywhere. Here's why
Grocery retailer Boxed is going public
Dollar stores are offering fresh food now
Headlines from right-of-center Newsmax – evening of 6.23.2021
Biden Launches Campaign Targeting Gun Dealers as Violent Crime Surges
People wait in line to enter a gun store in Culver City, Calif. in March. (AP)
President Joe Biden unveiled new steps to curtail U.S. gun violence on Wednesday, including measures aimed at stemming the flow of firearms used in crimes, after pledging to push for sweeping changes to firearms laws. Homicides rose 30%, and gun assaults rose 8% in large cities in 2020. The rate of increase was largest in big cities including Chicago and Houston; overall the national rate is still far below the national average in the 1970s or 1980s. [Full Story]
Newsmax TV
RNC's McDaniel to Newsmax: Focus Must Be on 2022, Not 2024 Race
Brian Kemp to Newsmax: Georgia Following Federal Law With Voter Purge
Ernst to Newsmax: Biden Should Have Pushed China on COVID Sooner |
Jody Hice to Newsmax: Dems' Voting Bill Was 'Extremely Horrible'
Dick Morris: Trump 'Confident' Media Silence on Audits Will End |
Nigel Farage: PM Johnson Acting Like 'Big State Socialist' |
Marjorie Taylor Greene: Fire Fauci Act Surging |
Eric Trump: 'We're Going to Win it Again' |
More Newsmax TV
Newsfront
Hawley Proposes Hiring 100,000 New Police Officers to Combat Crime Wave
Josh Hawley on Wednesday said he will introduce legislation to combat rising crime nationwide by hiring 100,000 new police officers. … [Full Story]
Related Stories
In Effort to Reform, Ohio Starts Police Recruitment Program
Ex-Detroit Police Chief: 'No Surprise' Cops Quitting In Face Of Reforms
3 People, Including a Police Officer, Killed in Denver-area Shooting
School Board Meeting Devolves into Arrests of Gender Policy Protestors
Two people protesting critical race theory policies were taken out of [Full Story]
Trump: I'm the Reason Kamala Finally Is Visiting the Border
Vice President Kamala Harris would "have never gone" to the [Full Story]
Related
House Republicans to Join Trump on Texas Border Visit
Cruz: Biden, Harris Have 'Zero Intention' of Fixing Border Crisis
Border Patrol Chief, Who Supported Wall, Is Leaving Job
The chief of the Border Patrol said Wednesday he was leaving his job [Full Story]
FBI Director Wray Urges Companies Stop Paying Ransoms to Hackers
FBI Director Chris Wray on Wednesday pleaded with public companies [Full Story]
Catholic Bishops Now at War with Biden and Pope Francis
The election of the second Catholic president in U.S. history has [Full Story] |
Yellen: Without Debt Limit Hike, US Could Face August Default Risk
Treasury Secretary Janet Yellen on Wednesday urged Congress to raise [Full Story]
Supreme Court Has a Chance to Reverse 50 Years of Abortion Law
For nearly 50 years, pro-life advocates have waited for their perfect [Full Story] |
Software Founder John McAfee Found Dead in Spanish Prison Cell
Antivirus creator John McAfee, 75, was found dead in his prison cell [Full Story]
Brian Kemp to Newsmax: Georgia Following Federal Law With Voter Purge
Georgia Secretary of State Brad Raffensperger's call to remove just [Full Story]
Pentagon Leaders Reject Accusations That Military Is 'Woke'
The top uniformed officer hit back at allegations that the U.S. [Full Story]
Rasmussen: 41 Percent of Voters Don't Think Biden Won Election Fairly
A new nationwide poll from Rasmussen Reports shows that 41% of voters [Full Story]
Ric Grenell Co-Hosts 'Wake Up America' This Week
The former ambassador and former acting director of national [Full Story]
Can ET See Us? Study Finds Many Stars with Prime Earth View
Feeling like you are being watched? It could be from a lot farther [Full Story]
Brett Favre: 'Unfair' for Laurel Hubbard, Transgender Female Athletes to Compete as Women
Brett Favre is speaking out against transgender athletes competing in [Full Story]
New Digital Tech Supported by Gates Foundation
When Tom Glocer went to bed on Tuesday night in the Hamptons, Morgan [Full Story]
In Effort to Reform, Ohio Starts Police Recruitment Program
Ohio Gov. Mike DeWine made good on his promise Wednesday to [Full Story]
CDC: Heart Issues After COVID-19 Shots Surpass 1,200 Cases
More than 1,200 cases of heart inflammation have been reported in [Full Story]
YouGov Poll: US Trust in News the Lowest in the World
Americans expressed the least amount of trust in news media of all [Full Story]
Tucson Helicopter Crew Chased Mysterious Drone 'Not Like Any Other'
More details have been revealed about the mysterious drone in [Full Story]
Justice Thomas: Cheer Ruling Ignores Precedent, Leaves Confusion
Usually a staunch defender of constitutionally protected free speech, [Full Story]
Related
US Supreme Court Hands Victory to Cheerleader in Free-Speech Case
GOP Senators Doubt Biden's Interest in Bipartisan Infrastructure Deal
Attempts to reach a bipartisan deal on infrastructure again appeared [Full Story]
Curtis Sliwa Wins Republican Nomination for Mayor's Race
Guardian Angels founder Curtis Sliwaon Tuesday won the Republican [Full Story]
DHS to Reconsider Rejected 'Remain in Mexico' Asylum Seekers
Some migrants rejected for asylum under the Trump administration's [Full Story]
Michigan County Requests Audit of State's 2020 Election Results
The state of Michigan has been asked to conduct an audit of the 2020 [Full Story]
Tokyo 2020 Sets Strict Fan Rules, Prohibits Booze and Autographs
No alcohol, no hugs, no cheers and no autographs: Tokyo Olympic [Full Story]
Russia Fires Warning Shots at British Warship in Black Sea
Russia used bombs and gunfire in "warning shots" against a British [Full Story]
NSA Opens Arms to Private Sector in Hopes of Curbing US Hacks
The U.S. National Security Agency, which is renowned for its secrecy, [Full Story]
Pro-democracy Hong Kong Tabloid Apple Daily to Shutter Thursday
Hong Kong's pro-democracy tabloid Apple Daily will print its last [Full Story]
AstraZeneca, Pfizer Vaccines Effective Against Delta COVID-19 Variants: Study
COVID-19 vaccines made by AstraZeneca and the Pfizer-BioNTech [Full Story]
More Newsfront
Finance
Bitcoin Sinks Below $30,000 for 1st Time Since January
Bitcoin's decline amid a crypto crackdown from China has pushed it below $30,000 for the first time since January, nearly pulverizing its entire 2021 gain. The original cryptocurrency has lost more than 50% from its mid-April high… [Full Story]
Saudi Arabia Says OPEC+ Has a Role in Containing Inflation
Fed's Bostic Sees 2022 Rate Liftoff, Taper Call in a Few Months
S. Lumber Prices Seen Extending Losses as Sawmills Ramp Up
Crypto Crash: Bitcoin Bashers and Crypto Cynics Are Wrong
More Finance
Health
Take These 15 Steps to Get Out of the Hospital Alive
As the pandemic subsides, people who put off elective surgery, such as a hip or knee replacement, are now scheduling these procedures that typically require hospital stays. If you or someone in your family is heading to the hospital, there are important steps you need to… [Full Story]
Don't Count on Weight Loss Supplements to Work: Study
Unvaccinated Missourians Fuel COVID: 'We Will be the Canary'
CDC Investigating Myocarditis Reports After COVID-19 Vaccines
Pollen Helps Spread COVID-19: New Study
Manufactured Housing Industry Investments Connected Equities Closing Tickers
Some of these firms invest in manufactured housing, or are otherwise connected, but may do other forms of investing or business activities too.
NOTE: The chart below includes the Canadian stock, ECN, which purchased Triad Financial Services, a manufactured home industry lender
NOTE: Drew changed its name and trading symbol at the end of 2016 to Lippert (LCII).
NOTE: Deer Valley was largely taken private, say company insiders in a message to MHProNews on 12.15.2020, but there are still some outstanding shares of  the stock from the days when it was a publicly traded firm.  Thus, there is still periodic activity on DVLY.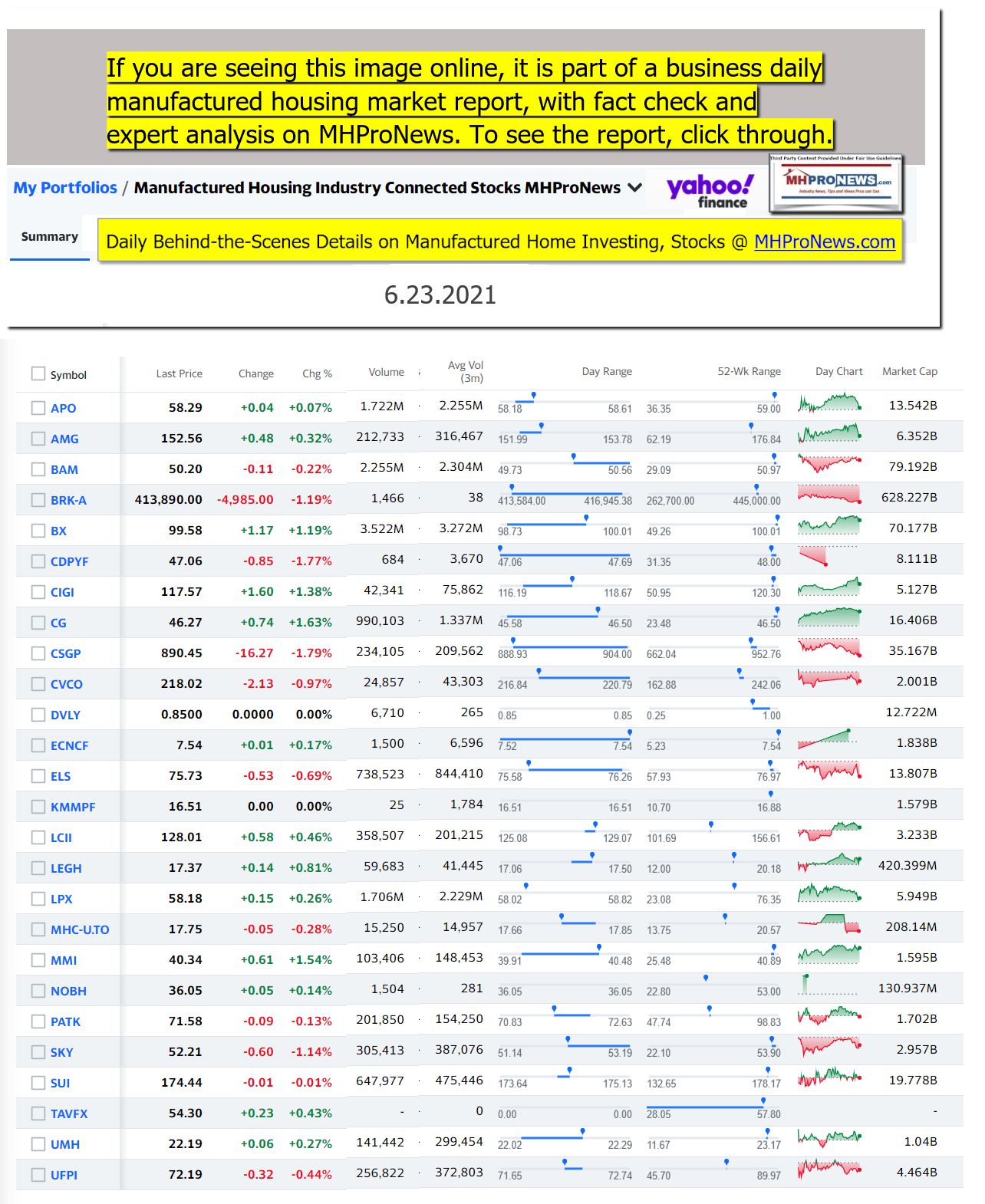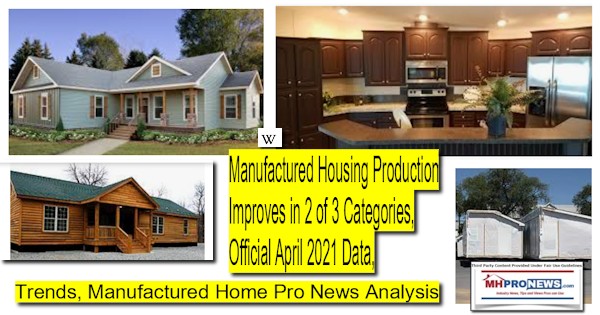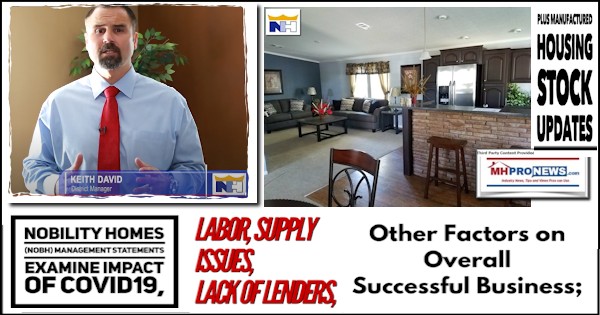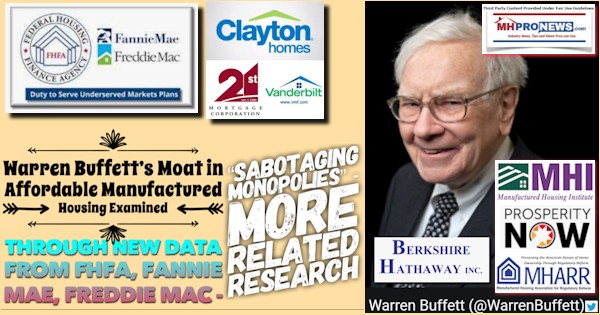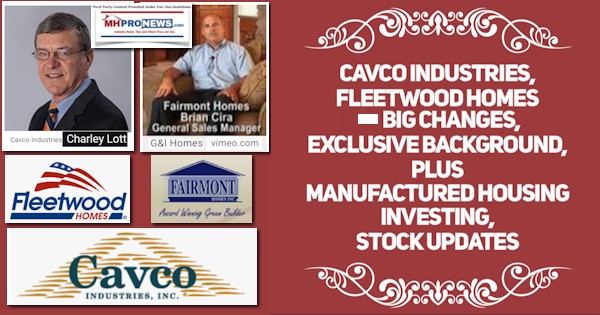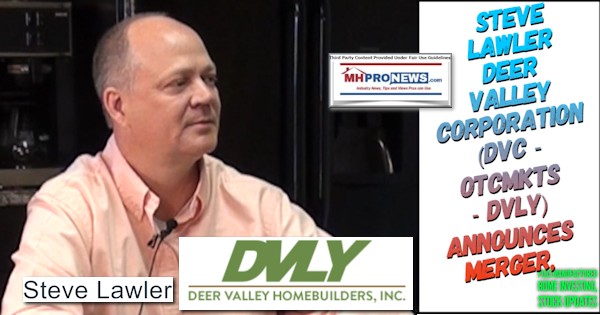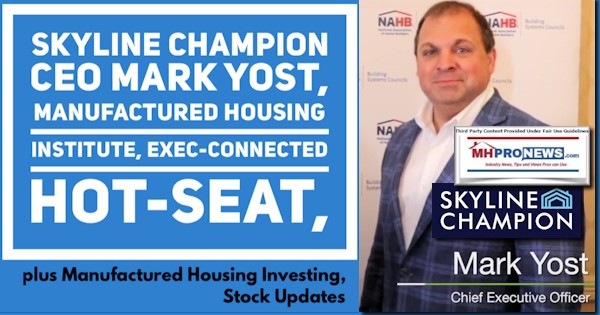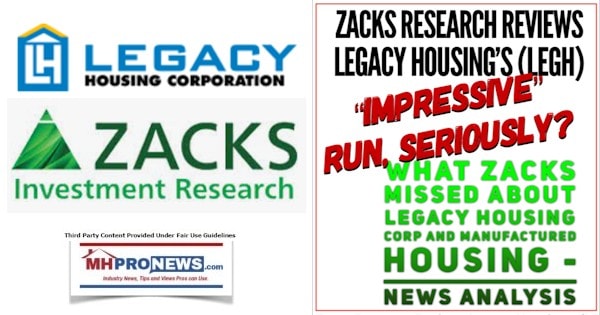 Spring 2021…
Berkshire Hathaway is the parent company to Clayton Homes, 21st Mortgage, Vanderbilt Mortgage and other factory built housing industry suppliers.
· LCI Industries, Patrick, UFPI, and LP each are suppliers to the manufactured housing industry, among others.
· AMG, CG, and TAVFX have investments in manufactured housing related businesses. For insights from third-parties and clients about our publisher, click here.
Enjoy these 'blast from the past' comments.
MHProNews. MHProNews – previously a.k.a. MHMSM.com – has celebrated our 11th year of publishing, and is starting our 12the year of serving the industry as the runaway most-read trade media.
Sample Kudos over the years…
It is now 11+ years and counting…
Learn more about our evolutionary journey as the industry's leading trade media, at the report linked below.
· For expert manufactured housing business development or other professional services, click here.
· To sign up in seconds for our industry leading emailed headline news updates, click here.

Disclosure. MHProNews holds no positions in the stocks in this report.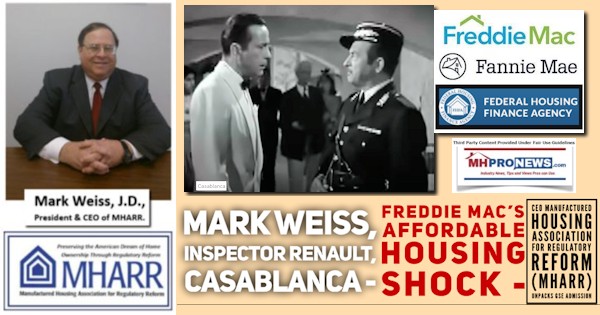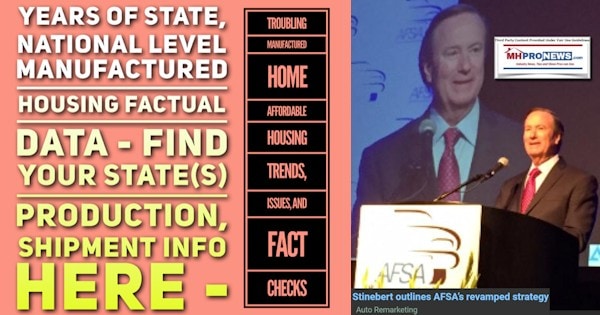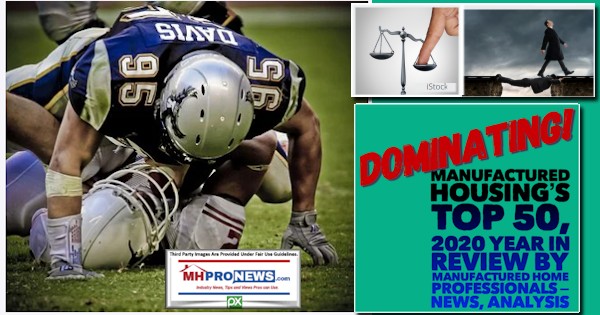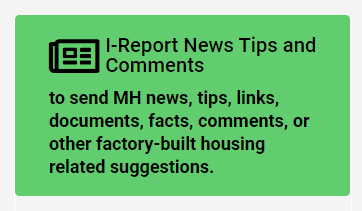 That's a wrap on this installment of "News Through the Lens of Manufactured Homes and Factory-Built Housing" © where "We Provide, You Decide." © (Affordable housing, manufactured homes, stock, investing, data, metrics, reports, fact-checks, analysis, and commentary. Third-party images or content are provided under fair use guidelines for media.) (See Related Reports, further below. Text/image boxes often are hot-linked to other reports that can be access by clicking on them.)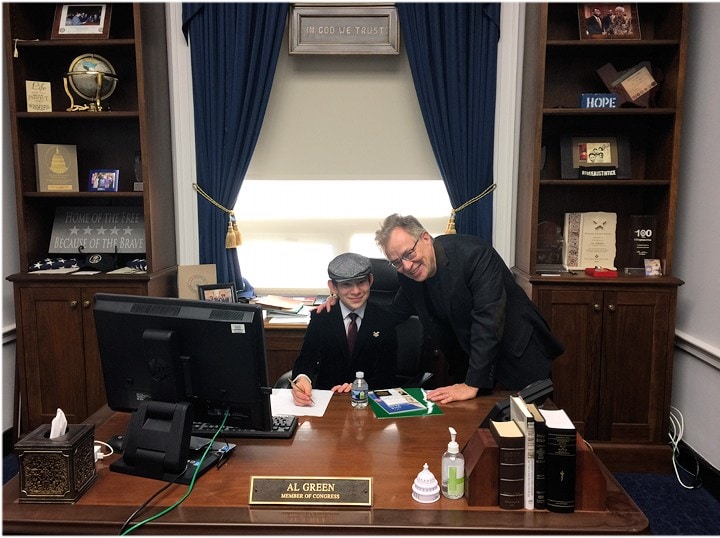 By L.A. "Tony" Kovach – for MHProNews.
Tony earned a journalism scholarship and earned numerous awards in history and in manufactured housing. For example, he earned the prestigious Lottinville Award in history from the University of Oklahoma, where he studied history and business management. He's a managing member and co-founder of LifeStyle Factory Homes, LLC, the parent company to MHProNews, and MHLivingNews.com. This article reflects the LLC's and/or the writer's position, and may or may not reflect the views of sponsors or supporters.