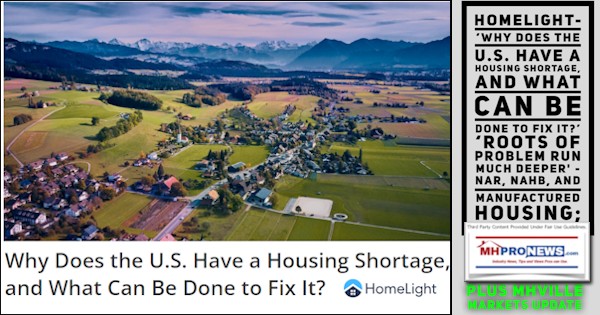 According to HomeLight: "If you've turned on the news or tried to buy a house since 2020, you've probably already heard about the housing shortage and its contributions to the soaring cost of real estate. And while it's easy to blame this shortage on the pandemic, the so-called "urban exodus," and lack of inventory — the truth is that the roots of the problem run much deeper." What follows are excerpts from a report done by real estate firm HomeLight, which bills itself like this. "HomeLight empowers people to achieve better outcomes during one of life's most important events: buying or selling their home. Our vision is a world where every real estate transaction is simple, certain, and satisfying." The organization overlooks any mention of manufactured housing, mobile homes, modular, factory-built, or prefab construction. That said, what follows ought to be of interest to manufactured home pros in a variety of ways that will be explored in Part II of this report.
Part I will be excerpts from their study, because their history and topics are potentially useful.
Part III of this article will be our Daily Business News on MHProNews markets and market-moving left-right headlines updates.
As part of this preface, note that HomeLight is a real estate focused site that features 'top agents' in a given area. As such, while they state that they have strict editorial standards, it is useful to keep in mind that they are making an obvious pitch for their own services to buyers and sellers.
That stated, one should keep in mind that the real estate sale market dwarfs that of HUD Code manufactured housing. The conventional construction and multifamily housing markets also dwarf manufactured housing. Savvy manufactured housing professionals and advocates should keep those factors in mind.
For instance. Per Statista: "A total of five million [existing real estate] housing transactions were completed in 2022, down from 6.12 million in 2021."
The National Association of Realtors (NAR) said in their October 2023 report that the seasonally adjusted national rate for housing sales is 3.96 million. "September 2023 brought 3.96 million in sales, a median sales price of $394,300, and 3.4 months of inventory. The median sales price is up 2.8% year-over-year, and inventory was up 0.2 months from September 2022."
Trading Economics, associated with the National Association of Home Builders (NAHB), said the following. Note that for new conventional houses, prices are down year-over-year despite of inflation.
"Sales of new single-family houses in the United States surged by 12.3% to a seasonally adjusted annualized rate of 759 thousand in September 2023, up from a revised 676 thousand in the previous month and surpassing the market consensus of 680 thousand. New home sales reached their highest level since February 2022, driven by limited supplies of previously owned houses, which in turn have increased demand for new housing and homebuilding. Sales increased in all regions: the South (up 14.6% to 456 thousand); the West (up 7.5% to 187 thousand); the Midwest (up 4.7% to 67 thousand); and the Northeast (up 22.5% to 49 thousand). The median price of new houses sold was $418,800, while the average sales price was $503,900, as opposed to $477,700 and $530,100 respectively a year ago. At the end of September, there were 435 thousand houses remaining for sale, equivalent to a 6.9-month supply at the current sales rate."
So, while manufactured home sales are down sharply year-over year in 2023 vs. 2022, Trading Economics points to the data below to indicate that even with higher rates, the overall trend in new site built (i.e.: conventional) housing sales are rising.
More specifically, manufactured housing sales through August 2023, per the Manufactured Housing Association for Regulatory Reform (MHARR) are as follows: "statistics indicate that HUD Code manufacturers produced 8,670 new homes in August 2023, a 19.1% decrease from the 10,722 new HUD Code homes produced in August 2022. Cumulative production for 2023 is now 58,692 homes, a 27% decrease from the 80,431 homes produced over the same period during 2022."
So, while more costly convention housing sales are rising in 2023, manufactured housing has broadly fallen year over year. More on some of these issues in Part II.
With that evidence-based tee up, here are some takeaways from what HomeLight said in their analysis of the U.S. housing crisis. Yellow highlighting is added by MHProNews on items that may be mentioned in Part II.
Part I
Part I
Excerpts that follow are from the HomeLight research and report linked here.
"While it would be nice to pin down the causes of the housing shortage to just one or two variables, the reality is there are many factors that first caused and then further exacerbated a lack of homes for sale in America. Additionally, much of the housing shortage affects first-time homebuyers and affordable housing, creating a market that is simultaneously on fire and unattainable."
"To untangle the causes of the housing shortage and offer recommendations for how to fix it, we did a ton of research and talked with Mike Galbally, a top agent in O'Fallon, Missouri. He gave us some much-needed perspective on the causes of the current housing shortage as well as possible solutions to help boost inventory and make housing more affordable over time.
After the recession, they built far fewer houses than in any other time period. And the houses that they would build at the time in our area were not what people would describe as desirable."
Why is there a housing shortage?
Unfortunately, this is a very complex problem, and there aren't just one or two reasons for today's housing shortage. Let's take a look at some of the major causes.
The Great Recession
After the housing bubble burst in 2008, 10 million people had their homes foreclosed on, and home prices plummeted by 33%. After the Great Recession, the market slowly recovered, reaching a point of relative normalcy a full 10 years later with prices up 50% since hitting the bottom.
Galbally still sees the impact of the Great Recession in today's market, saying: "After the recession, they built far fewer houses than in any other time period. And the houses that they would build at the time in our area were not what people would describe as desirable." In Galbally's area, building projects at this time were focused on cheap townhomes rather than single-family homes.
As the market started to recover, there was a shift towards building big, expensive homes. This created the "missing middle" — a shortage of entry-level and mid-level housing, including townhomes, duplexes, cottage housing, garden apartments, and smaller single-family homes.
These missing "middle" homes are integrated into residential neighborhoods, allowing for more occupancy without the need for a large, high-rise apartment building.
Today, in Galbally's market, he says they have plenty of big houses and lots of townhouses, but not enough single-family homes. And now, people who bought the big houses are looking to downsize and are entering the market with equity and a large down payment — two things that first-time homebuyers often don't have.
Entry-level homes aren't being built
In the 1980s, just a little more than 40% of new home builds were below 1,400 square feet — deemed an entry-level home. Construction of homes of this size has steadily decreased since then but experienced a sharper decline after the 2008 recession. In 2020, the percentage of homes built that were under 1,400 square feet was closer to 10% — a 50-year low.
Between January 2012 and June 2021, 12.3 million American households were formed, according to the U.S. Census. During that time, only 7 million new single-family homes were built, creating a shortage of around 5 million homes. This number is higher than the 2019 gap of 3.84 million homes.
The cost of materials and labor is rising
When the COVID-19 pandemic hit in 2020, much of the world effectively shut down, halting production and deliveries, and creating supply chain issues that persist today. These shutdowns led to shortages of building materials and caused prices to rise.
As of August 2021, building material prices had risen 19.4% during the past 12 months compared to a 1.1% increase in the same period in the previous year.
Wages for construction workers are also rising, and those costs are typically passed onto the consumer. So as it becomes more expensive to hire people to build houses, house prices rise. There is also a labor shortage in the construction industry, with the Bureau of Labor Statistics reporting 389,000 job openings in January 2022 (contrast that with 293,000 job openings in January 2019). The labor shortage can extend the time it takes to build a home, therefore decreasing the number of houses that can be built and increasing the price of those that are completed.
Zoning laws don't keep up with new options
According to a March 2022 NPR article, the chief economist for the National Association of Home Builders cites overly restrictive zoning laws as a significant contributor to the housing shortage. Some zoning laws require one single-family home on lots that could feasibly hold two or three, creating a more expensive home on a larger lot than what the market can support. Other zoning laws may restrict townhomes, accessory dwelling units, or apartments.
Changing zoning laws can be difficult territory to navigate. Many existing homeowners, typically those 58 and older, oppose the construction of housing that would increase traffic in the neighborhood or make the area more crowded, and those residents won't support changing the zoning laws. This may change as time goes on, as 86% of both Gen Z and Millenials, and 78% of Gen X, approve of either accessory dwelling units or duplexes and triplexes as a way to address housing shortages.
While the federal government can take steps to push local governments to change zoning laws through financial incentives and other means, local governments ultimately approve the laws. The Biden administration, for instance, has proposed financial incentives for local governments to change zoning laws that restrict certain neighborhoods to single-family homes.
More people are "aging in place"
As of 2021, baby boomers held 44% of real estate wealth, with Gen Xers coming in second with 31%. As previous generations have aged, they've sold their houses, preferring to live in assisted living or nursing homes or with family.
Baby boomers, on the other hand, are deciding to "age in place," staying in their homes as they age rather than selling and downsizing or moving into a senior facility. This trend was only exacerbated by the COVID-19 pandemic, which created concern and caution around living in nursing homes.
Would-be sellers are reluctant to get into the market
Selling a house typically means buying a house to replace it. With prices soaring, some would-be sellers are waiting to sell because they're not sure if they'd be able to find an affordable home to replace their current home.
Online platforms have increased short-term and vacation rentals
Airbnb and VRBO have made it possible for nearly anyone to turn their home into a vacation rental. As a result, the typical Airbnb host in the U.S. made over $13,800 in income in 2021.
Before short-term and vacation rental platforms became popular, it was often difficult to hold onto more than one home and potentially pay more than one mortgage. With the ease of listing a home as a vacation rental, many are deciding to hold onto their previous home instead of selling it, and are then using the income generated to pay the mortgage or as a side hustle.
iBuyers are offering convenience and cash offers
Cash offers from iBuyers (instant buyers) have resulted in sellers selling their homes to companies rather than private buyers. According to Zillow, in Q2 of 2021, iBuyers accounted for 1% of the market, but this affects markets very differently.
In Galbally's area, he says, "Opendoor is buying up a good amount of properties in our area. It remains to be seen if they make a profit, but they are disrupting the market for sure." He sees this as providing a service to the seller but not necessarily supporting the market as a whole.
Often iBuyers will buy homes and then sell them to investors who will either fix-and-flip (raising the price of the home) or use them as a rental property, increasing the number of rentals available, but not homes to purchase."
A pitch for HomeLight's version of those programs, Simple Sale, followed.
Eviction moratorium/mortgage forbearance
Pandemic mortgage forbearance phased out in 2021, and HomeLight's Top Agent Insights survey showed that 38% of agents surveyed think the end of mortgage forbearance plans will result in new listings. Redfin reported that the supply of affordable homes rose 13% from the previous year as homeowners of low cost homes whose mortgage was in forbearance decide to sell their homes.
According to Black Knight's February 2022 Mortgage Monitor, the expected flush of houses into the market after many forbearance periods ended in 2021 didn't fill the inventory gap despite 28% of the 8.1 million homeowners previously in forbearance selling their homes.
How to handle the housing shortage
While we don't know what the future holds, there are a number of scenarios and steps that could ease the housing shortage in the upcoming months and years.
Wait for interest rate hikes
This may seem counterintuitive, as many want to take advantage of historically low interest rates. But as interest rates rise throughout 2022, the urgency of buyers to lock in low interest rates will lessen and may serve to cool the market, reducing the frenzy to scoop up any listing that hits the market, which will mean added inventory and a little breathing room for buyers.
Find the 'missing middle'
A recent Zillow survey found broad support for "missing middle" homes in residential neighborhoods. They found that even modest densification measures, such as allowing two units on 10% of single-family lots in some of the largest U.S. metros, could boost the housing supply enough to slow housing price growth in a meaningful way.
Of the respondents, 73% supported at least one "modest densification" option that included duplexes, triplexes, accessory dwelling units (often referred to as a "mother-in-law suite"), and small apartment buildings known as garden or cottage apartments.
De-incentivize investments
A solution to the housing shortage that we could see as political and economic policies change is to take away incentives that encourage investments in single-family rentals.
Galbally observes, "if they take away the incentives that are in single-family rentals — the tax exemptions, the depreciation — you'll see all these people dump this inventory. If they can make more money somewhere else, they're going to move the asset." If this type of policy change occurs, we could see an influx of homes hit the market, easing the shortage."
Again, keeping in mind that HomeLight is a real estate site, the discussion shifts to tips for agents to prospect and find existing housing inventory to sell.
Increase adaptive reuse projects
Adaptive reuse architecture takes existing buildings and repurposes them, often into homes. Adaptive reuse projects include repurposing schools, banks, electricity plants, factories, and more.
The benefits of this strategy include slowing urban sprawl, maintaining culture and architectural styles, lowering construction costs, and speeding up construction." Leveraging options, whether it's moving back in with parents or renting an apartment, will allow you to sell your current home while waiting until a better time to buy a new one."
And, of course, getting a trusted real estate agent, which is where HomeLight's service comes in."
Part II – Additional Information with More MHProNews Analysis and Commentary
That 2022 report by HomeLight used the word "unattainable" early on and spoke about innovation. Those are almost a laugh out loud contrasts to the lingo that has increasingly been used by the Manufactured Housing Institute (MHI), which now prominently claims on their recently revised website: "Elevating Housing Innovation;
Expanding Attainable Homeownership."  But an evidence-based case can be made that both of those claims by MHI are mere posturing, because manufactured housing sales are not expanding, they are dramatically lower, as even MHI had to admit (see report linked below).
Tipster Provides 'Secret' 'For Members Only' Document-But Why? Manufactured Housing Institute (MHI) Monthly Economic Report for August 2023 – Data Released in October 2023; plus MHVille Markets Update
HomeLight quoted Mike Galbally, "a top agent in O'Fallon, Missouri." who said that "the causes of the current housing shortage as well as possible solutions to help boost inventory and make housing more affordable over time." Galbally is making part of the point completed by prior HUD Secretary Ben Carson in his pitch for why he wanted to see more manufactured housing.  But oddly, then Secretary Carson's speech was not found on MHI's website, even though he gave that speech to an audience that included dozens of MHI members.  Carson said the issue boils down to supply and demand, and that there is not enough supply. More housing is need to fill that demand. Carson also noted that something had to be done to lower costs, and that "manufactured housing has emerged out of the limestone and stepped into the limelight, to address precisely this need."  Why would MHI – if their leaders are serious about robustly boosting the sale of HUD Code manufactured homes, not have this speech on their website?
Note: to expand this image to a larger or full size, see the instructions
below the graphic below or click the image and follow the prompts.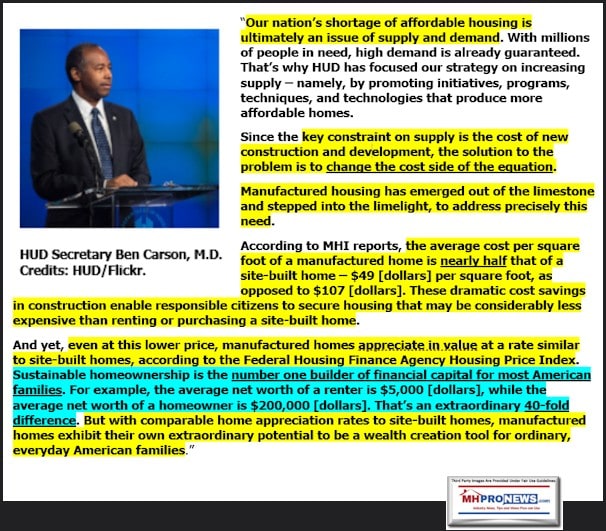 Zoning, said Homelight citing the NAHB can be: "overly restrictive zoning laws as a significant contributor to the housing shortage." "Changing zoning laws can be difficult territory to navigate." "While the federal government can take steps to push local governments to change zoning laws through financial incentives and other means, local governments ultimately approve the laws." There are elements to truth to those remarks, but they miss the key point that an appropriate understanding of manufactured housing and the Manufactured Housing Improvement Act of 2000 (MHIA) was meant to address. While the MHIA covered several important topics, one of the keys was "enhanced preemption." As the late William Wade "Bill" Matchneer told MHProNews not long before he died, is the following.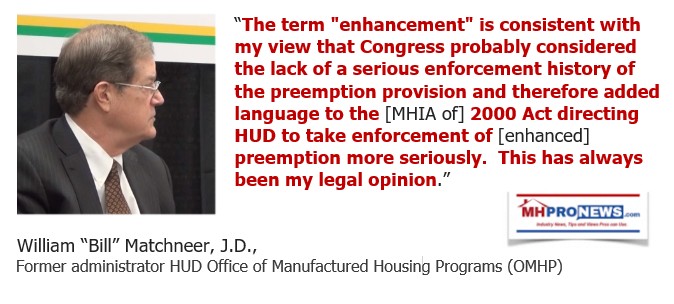 Matchneer told MHProNews that HUD's Office of General Counsel routinely failed to act when "enhanced preemption" related zoning barriers for manufactured homes were involved.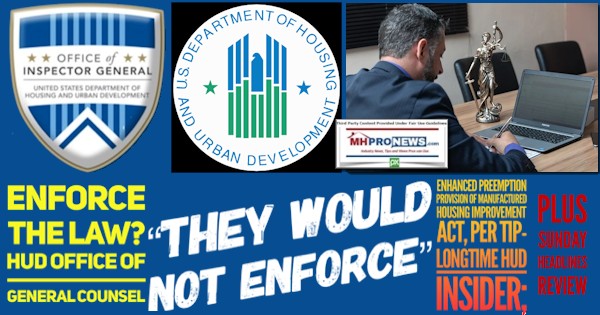 The way to overcome the patchwork of zoning barriers across the U.S. is precisely to deal with it at the Congressional or federal level.
But that is precisely what MHARR, later joined in a joint effort by MHI and the TMHA, was pushing for in the 1990s. By making "enhanced preemption" a top issue in the MHIA, the thousands of town- and city-zoning battles could be simplified for manufactured housing by invoking what became known as "enhanced preemption."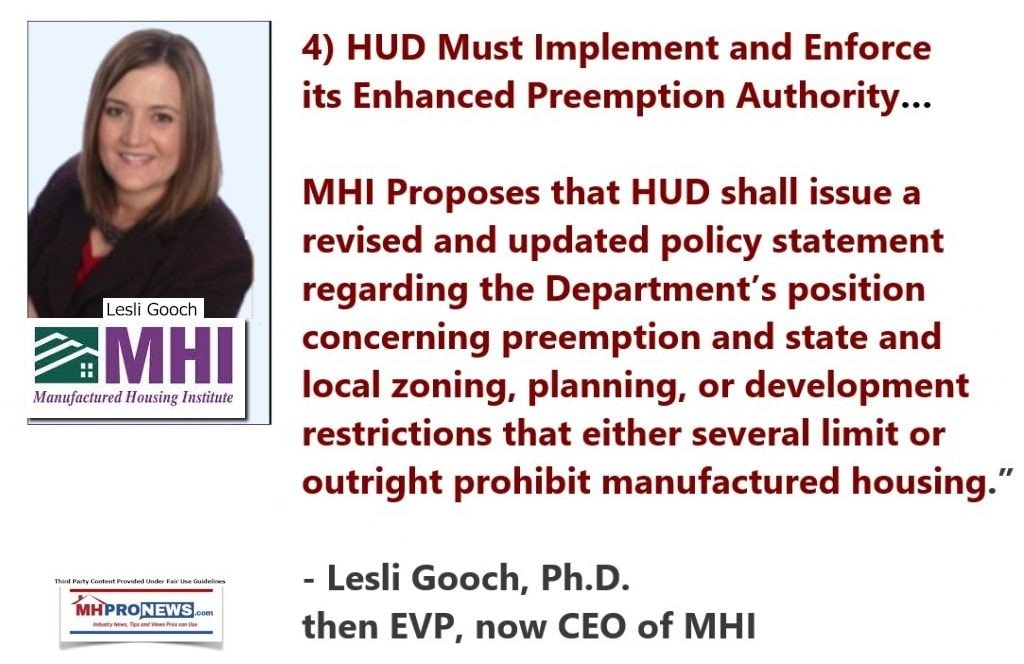 While the appears to be MHI's 'official' stance, as MHProNews has often exposed, numbers of MHI's leading brands state and behave differently than Gooch's remarks might superficially seem to desire.  For instance. As Sun Communities (SUI), and others in manufactured housing, have stated in their investor pitches – a lack of new development is stated as a feature for investing in existing manufactured home communities.
Sun Communities 'Compelling Supply–Demand Fundamentals' 'Virtually No New Supply Added for Years' but Manufactured Home Sales Drop, Quarterly-Y2D2023 Data with Analysis; plus MHMarkets
So, it isn't just conventional builders that have for decades opposed manufactured housing placement, as James A. "Jim" Schmitz Jr. and his research colleagues have said. There is an evidence-based argument to be made that MHI leaders have for much of the 21st century slyly allowed conventional housing interests to be advanced, so that consolidation of manufactured housing cold be accomplished.
The fact that HomeLight didn't even mention manufactured housing ought to be a concern for any sincere supporters of MHI who may desire to believe and 'trust' that national trade group's cover story instead of the evidence of consolidations and money trail touted by several of their publicly traded members. Instead of 'partnering' with conventional builders, who are routinely the industry's competitors, MHI could be partnering with MHARR and other pro-manufactured housing nonprofit organizations. But as the report linked below details, that is not what is occurring.
Manufactured Homes–Prosperity Now, Housing Assistance Council, Lincoln Institute Weigh in on Needs-Exploring Other Side of Manufactured Housing Institute Amen Corner; plus Sunday Weekly MHVille Headlines Recap
Manufactured Housing Association for Regulatory Reform (MHARR) and Manufactured Housing Institute October 2023 Washington, D.C. – Industry Updates – Exclusive Report-Analysis; w/MHVille Markets
Millions of Housing Units Needed 
While there have been several different claims on how many housing units the nation needs, HomeLight focused on the shortage of units built to keep pace with population growth post-2008. While that can be a valid consideration, it fails to note that there was a need for more housing pre-2008 as well.  That noted, one of several key takeaways from the exclusive report and analysis linked below is that manufactured housing's 21st century underperformance means that some 5 million fewer manufactured homes were built than prior late 20th century trends.
Facts-Data-Surveys-U.S. Manufactured Housing Industry Production Trends from all 50 States with Latest Census Data 10.2023 for Manufactured Homes+HUD Single Family Conventional Housing Sales
Once again, the facts linked above makes a de facto mockery of MHI's home page gaslighting.
While conventional builders are managing to overcome their hurdles of rising interest rates and other factors, the data clearly reflects that manufactured housing is not achieving those same outcomes. That is despite the fact that MHARR-MHI and the TMHA teamed up successfully in the late 20th century to get the MHIA and its enhanced preemption clause enacted.
Not only does the HomeLight article support years of reports on MHProNews, but it also de facto makes a mockery of MHI's posturing and claims.
A source with ties to MHARR told MHProNews recently that MHI should be allowed to pivot. The implication of the remarks was that MHI leaders should be allowed to make good on their years of posturing without yielding results that can be measured by the acid test of ever-higher production.
Note: to expand this image to a larger or full size, see the instructions
below the graphic below or click the image and follow the prompts.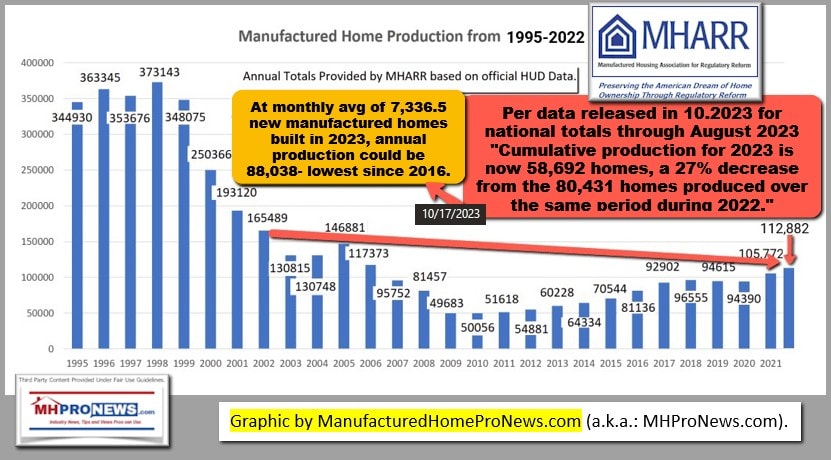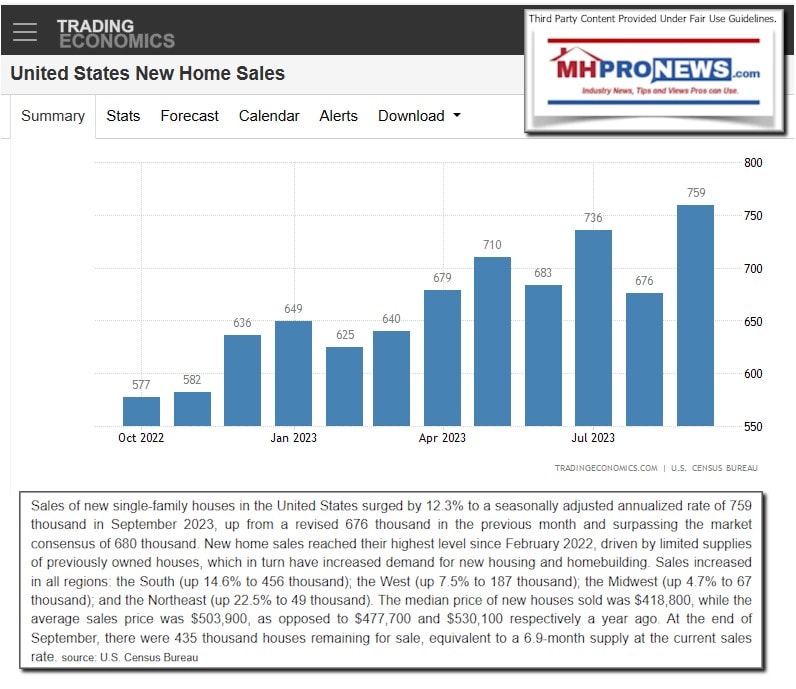 In August 2023, there was an uptick of manufactured housing production when compared to July 2023. But year over year production has continued to be down. At the current pace, the year could end around 88,000 new homes (see above) produced. If so, that would make new manufactured home production at the lowest rate since 2016.
A) Be it the DOE energy rule issue:
Shock! Manufactured Housing Institute Says Rep Ralph Norman Amendment Could Stop Spending Package for Dept of Energy (H.R. 4394) Standards for Manufactured Homes-Backstory; plus MHVille Markets
B) Or finance issues:
Biden Era GAO-'Affordable Housing Crisis Grows While Efforts to Increase Supply Fall Short' 'HUD Hasn't Implemented Proposed Changes' Supporting Manufactured Housing – plus MHVille Markets Update
C) Or zoning and placement: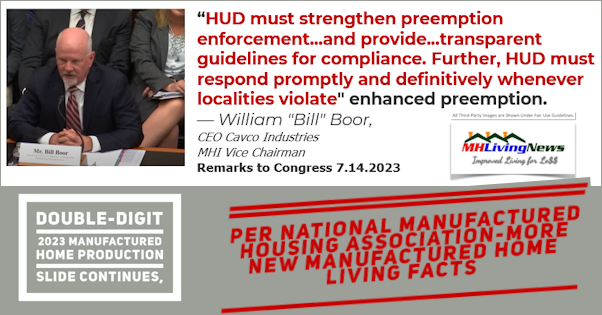 …part of the pragmatic solutions ought to include MHI taking ownership of actual outcomes.  If they accomplish that via one of the 3 Ls of lobbying, lawsuits, or legislation, so long as it is done as promptly and transparently as possible, fine. It should be, as they have from time to time claimed, an all of the above effort. Meaning, let them lobby, let MHI litigate, and let them legislate as needed. But for MHI to simply say, oh, there is a problem = which they have often directly and/or indirectly fostered = should not be acceptable. They claim to be a trust partner for growth. Well, let them demonstrate a growth that is different than growth in consolidations. Let it be growth as measured by more production. And let the minimum floor be what prior MHI President and CEO Richard "Dick" Jennison said. 500,000 new units per year.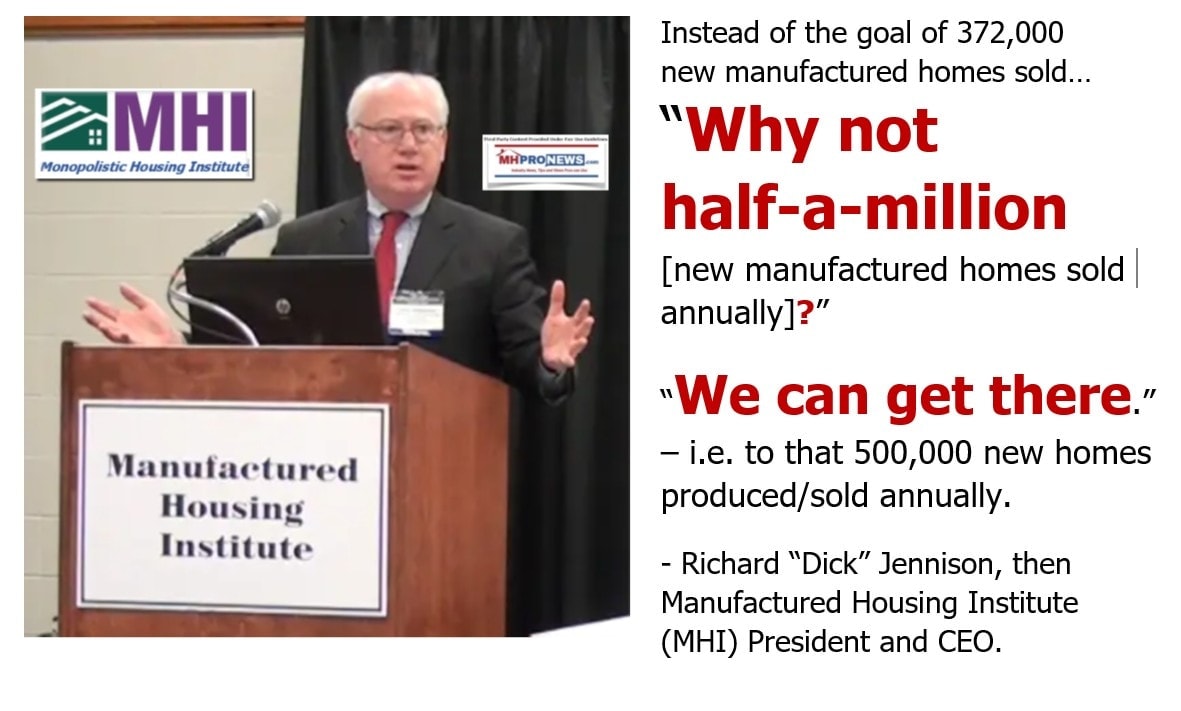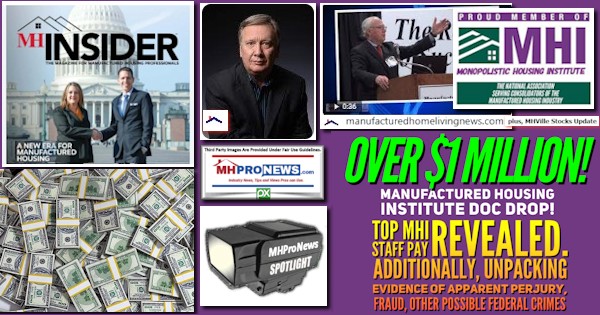 Not so long ago, MHI had a document that was available on their website which stated their top priorities. But on 10.31.2023, clicking on the above yields a member's only page. There is a growing body of evidence that MHI has been eliminated information once publicly available on their website.
Note: to expand this image to a larger or full size, see the instructions
below the graphic below or click the image and follow the prompts.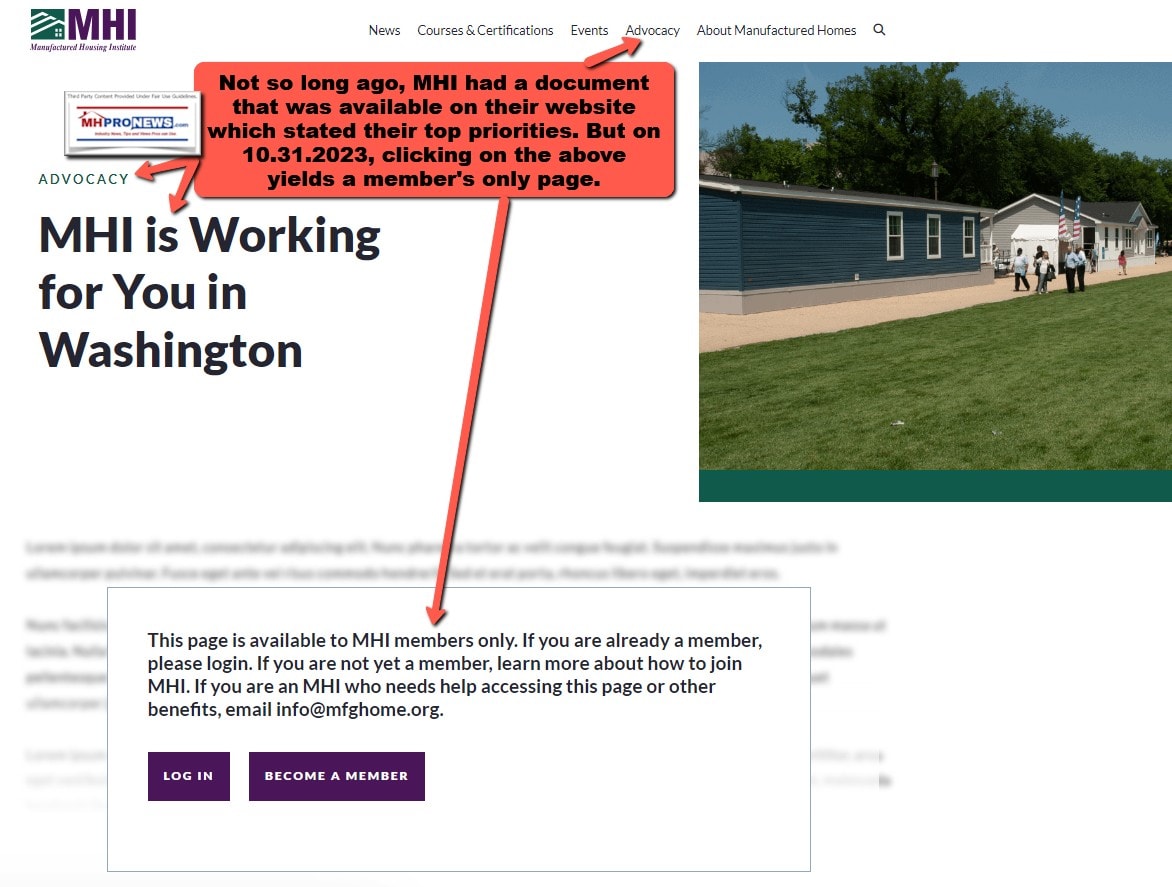 Why would MHI eliminate information and documents that were once previously available free to the public on their website? Perhaps to avoid accountability.
It is similar to the question of why MHI hides their own emailed news from the public. Why? MHARR, and other trade groups, routinely post on their websites information that they similarly make public.  It seems that MHI has a pattern of avoiding accountability for their own recent or past claims. This may be one factor why MHProNews will become an ever more important resource, because they have not saved their 'news' and 'alerts' but MHProNews often has. The 'history' of manufactured housing is increasingly being preserved on MHProNews and MHLivingNews, because it most certainly is not being saved by MHI which seems more interested in ducking authentic history.
The Rise and Fall of HUD Code Manufactured Housing – a History of U.S. Manufactured Home Production by Year – 1995-2022 and 2023 Year to Date Data; plus MHVille Markets Update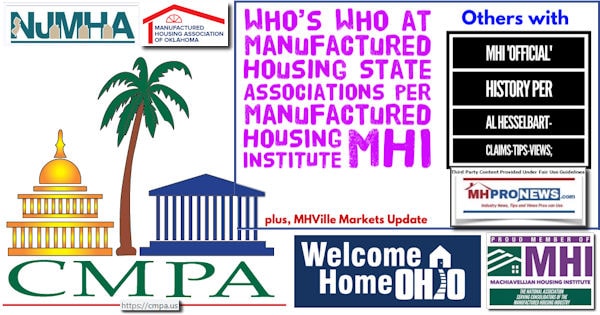 In conclusion, the HomeLight report provides some useful insights on the broader contributing factors to the affordable housing and housing shortage crises.  But directly and indirectly, they underscore how MHI continues to fail to live up to their brash claims: "We are your trusted partner, advocate and industry leader." "Grow your business – Get the tools, platform and information you need" and "Elevating Housing Innovation; Expanding Attainable Homeownership." If those claims by MHI were accurate, with respect to independents and possible newcomers to the industry, then MHI's critics could swiftly be muted via evidence. But so long as MHI's defenders have to resort to sleight of hand, razzle dazzle, promises without performance, the critiques of MHI are likely to not only mount, but could blossom into even more litigation than has already sprouted against some of their key members. Stay tuned to the only sources in MHVille trade media – MHProNews and MHLivingNews – demonstrably ready, willing, and able to spotlight reality vs. paltering, posturing, fakery, and falsehoods.  ##
Part III – is our Daily Business News on MHProNews stock market recap which features our business-daily at-a-glance update of over 2 dozen manufactured housing industry stocks.
This segment of the Daily Business News on MHProNews is the recap of yesterday evening's market report, so that investors can see at glance the type of topics may have influenced other investors. Thus, our format includes our signature left (CNN Business) and right (Newsmax) 'market moving' headlines.
The macro market move graphics below provide context and comparisons for those invested in or tracking manufactured housing connected equities. Meaning, you can see 'at a glance' how manufactured housing connected firms do compared to other segments of the broader equities market.
In minutes a day readers can get a good sense of significant or major events while keeping up with the trends that are impacting manufactured housing connected investing.
Reminder: several of the graphics on MHProNews can be opened into a larger size. For instance: click the image and follow the prompts in your browser or device to OPEN In a New Window. Then, in several browsers/devices you can click the image and increase the size. Use the 'x out' (close window) escape or back key to return.
Headlines from left-of-center CNN Business – from the evening of 10.30.2023
Dow closes up more than 510 points to kick off a busy week for the US economy
Sam Bankman-Fried testifies he called 'some of the' shots at FTX
The US Treasury Department building is seen in Washington, DC, on January 19, 2023.
Treasury set to borrow $776 billion next quarter, the most ever borrowed in the fourth quarter
Google CEO Sundar Pichai defends search deal with Apple in landmark antitrust trial
In this November 2022 photo, a pedestrian walks into a CVS Pharmacy in Washington, DC.
CVS and Walgreens pharmacy staff begin 3-day walkout
Leon Cooperman in his home office in Boca Raton, FL on Monday, Jan. 24, 2022. Cooperman is a hedge fund manager, long-time investor, and founder of Omega Advisors.
Hedge fund billionaire Leon Cooperman, in rare public rebuke of a Republican candidate, says Trump 'belongs in jail'
GM and the UAW come to tentative agreement
Europe's biggest economy shrank in the third quarter, spelling trouble for the region
A man holds an Apple iPhone 13 with Instagram on the screen at a cafe.
Facebook and Instagram users in Europe can now opt out of ads — for a price
A Southwest Airlines plane lands in Los Angeles, California.
Southwest Airlines says it expects to be fined for last winter's meltdown
Oil prices are falling even as Israel steps up its war on Hamas. A spike could still happen
Janet Yellen to deliver major speech detailing US economic strategy toward Indo-Pacific
Magic Johnson is a billionaire, Forbes says
Candy corn is polarizing. Here's how Brach's is trying to keep it relevant
Native American populations are 'invisible' to banks. That needs to change
HSBC takes $500 million hit on Chinese real estate and warns of risk of 'further deterioration'
Australia snubs EU terms for free trade deal
Young Indians should work 70 hours a week, says billionaire tech founder
GM halting driverless car service nationwide after California ban
How the Fed is using its multi-trillion-dollar balance sheet to fight inflation
What to expect from Apple's 'scary fast' event
Can America afford two wars? Here's what the bond market thinks
UAW reaches tentative agreement with Stellantis, expands strike at GM
Note: to expand this image to a larger or full size, see the instructions
below the graphic below or click the image and follow the prompts.