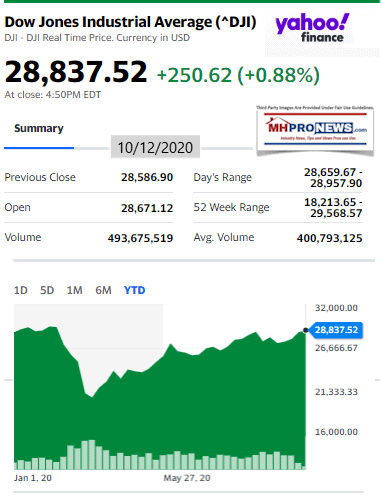 On October 7, 2020, Flagship Communities Real Estate Investment Trust (REIT) announced that they had completed on that date its initial public offering. Flagship's symbol on the Toronto Stock Exchange (TSX) is MHC.U.
MHProNews is adding Flagship Communities today to the list of publicly traded firms that are tracked here each business day, with their trading data posted each evening.
If the past is prologue, as some historians and business wonks have observed, then Flagship could be a source of periodic fireworks. But those fireworks, depending on the investors perspective, may not be the type that is sought.
For instance. Simply Wall Street 4 days ago asked – "Should you invest in Flagship Communities Real Estate Investment Trust (TSX:MHC.U)? They noted that the firm had an "Adequate balance sheet with weak fundamentals." At this time, the firm has a 1.5 star rating out of 5 with Simply Wall Street.
Tonight's featured focus will the firm's formal release, along with some added information and linked reports. As normal, the featured focus follows tonight's quotable quotes, left-right headlines, and two of our three market snapshot graphics at the closing bell today. The final market graphic that summarizes over a dozen manufactured housing industry connected stocks at the closing bell follow the featured focus, recent and related report links.
Quotes That Shed Light – American Social, Industry, National Issues..
Headlines from left-of-center CNN Business
Gravy train
A person uses an automated teller machine (ATM) at a temporarily closed JPMorgan Chase & Co. bank branch in New York, U.S., on Friday, April 10, 2020. JPMorgan Chase is scheduled to release earnings figures on April 14. Photographer: Mark Kauzlarich/Bloomberg via Getty Images
Banks make billions on overdraft fees. A Biden White House could end that
Here comes another $10 billion in losses for US airlines
Disney is set to overhaul its entertainment business with focus on streaming
It's not just Amazon: Here's where you can get deals this week
Amazon workers worry about Prime Day, peak season and the pandemic
Good news for Amazon: Prime Day just turned into a holiday shopping event
Americans are racing to create new businesses during the pandemic
Microsoft disrupted a massive hacking operation that could have affected the election
What to expect from Apple's iPhone 12 event
Land O'Lakes CEO: How businesses can help our nation's farmers
Goodbye 'Finger Lickin' Good.' KFC's new signature sauce is here
Tracksuits and laundry service: Companies are getting creative with remote employee perks
Nobel Prize in economics awarded to Paul Milgrom and Robert Wilson
A street performer dressed in costume stands in front of the Nasdaq MarketSite in the Times Square neighborhood of New York, U.S., on Monday, Sept. 14, 2020. U.S. stocks touched a more than one-week high amid a flurry of deal activity and signs of progress toward a coronavirus vaccine. The dollar weakened and Treasuries were little changed.
Nasdaq soars as tech stocks lead a market rally
eBay announces the expansion of its Authenticity Guarantee service for sneaker sales on the platform.
EBay will now guarantee that those expensive sneakers are real
People seen outside the Apple store at Marina Bay Sands. In a shape of a giant orb, Apple's third retail store, Apple Marina Bay Sands officially opened on September 10 this year.
The iPhone 12 will probably have 5G. Many people won't notice
Headlines from right-of-center Fox Business
POLITICS
California judge rules inmates owed $1,200 stimulus payments
The CARES Act did not specifically prohibit payments from being sent to these individuals
TECHNOLOGY
Amazon Prime Day is cash haul for Bezos backed e-commerce giant
MARKETS
Nasdaq leads stock gains ahead Amazon Prime Day, Apple reveal
POLITICS
ACB addressed senators as Dems frame her as threat to ObamaCare
OPINION
These are the top 5 retirement questions. Are you asking them?
COVID-19 CASH
MARKETS
Regeneron officials sell $1M in stock after Trump calls drugs 'miracles'
BAD TASTE
LIFESTYLE
CEO of Haliburton Foods resigns after charged with child prostitution
GOLDEN YEARS
MONEY
4 good ways to go broke in retirement
THEATERS STRUGGLING
LIFESTYLE
'Tenet' loses No. 1 box office spot to Robert De Niro's 'War with Grandpa'
TRADING BOOST
MARKETS
Dillard's get boost after Warren Buffett's right-hand man loads up on stock
RETIREE CALCULATIONS
MONEY
The most important Social Security table you'll ever see
BEWARE, DOG OWNERS
LIFESTYLE
Dog food recall over high levels of mold byproduct expands: FDA
FUTURE LOCKDOWNS?
ECONOMY
Varney: WHO warning on COVID lockdowns matters for presidential race
MAKING MONEY
MONEY
Here's how to add $335k to your 401(k) with absolutely no effort
LIFESTYLE
Biden's stance on fracking resurfaces in 'Saturday Night Live' cold-open
HEALTHCARE
Abbott's coronavirus antibody test gets FDA's emergency use approval
MARKETS
Coronavirus vaccine more important for stocks than presidential election winner: Goldman Sachs
LIFESTYLE
British Airways replaces CEO amid industry's 'worst crisis' as coronavirus pandemic continues
LIFESTYLE
Michigan county partners with Shipt to launch free grocery delivery service for seniors
LIFESTYLE
Ava DuVernay says Hollywood losing millions for lack of diversity 'might move people to change'
ENERGY
California utility may cut power to reduce wildfire risks as equipment probed in deadly blaze
POLITICS
Graham challenger, Harrison, shatters Senate fundraising record with $57M haul
PERSONAL FINANCE
Social Security benefits in 2021: How much your check may increase next year
ECONOMY
White House pushes for limited coronavirus relief bill as broader effort meets resistance
ECONOMY
2 Stanford economists win Nobel prize for auction theory
ENERGY
California rolling blackouts during summer heat wave caused by 3 main factors, report says
LIFESTYLE
Ewan McGregor's Obi-Wan Kenobi series for Disney+ set to film in March
HEALTHCARE
Bill Gates says Trump's coronavirus treatment won't work for everyone, shouldn't be called 'cure'
LIFESTYLE
Regeneron CEO says President Trump's antibody cocktail treatment is 'case report'
LIFESTYLE
Danbury, Connecticut officially naming sewage plant after John Oliver following feud
LIFESTYLE
US officials looking to open New York-London travel with shorter quarantine times as early as the holidays: report
MONEY
50% crop loss estimates from a rare wind storm that slammed Iowa
LIFESTYLE
Diners want more meals to go during coronavirus. Chefs are feeling boxed in.
LIFESTYLE
Colorado town to pay visitors $100 to travel there
MONEY
Florida man gets 2 years in prison for 'Shark Tank' investment-turned-fraud
LIFESTYLE
McDonald's, Chipotle and Domino's feast during COVID-19 while your neighborhood restaurant fasts
Market Indicator Closing Summaries – Yahoo Finance Closing Tickers on MHProNews…
Featured Focus –
Where Business, Politics and Investing Can Meet
Nathan Smith is a prior chairman of the Arlington, VA based Manufactured Housing Institute (MHI). He still is active and holds an important role and has influence with the trade group.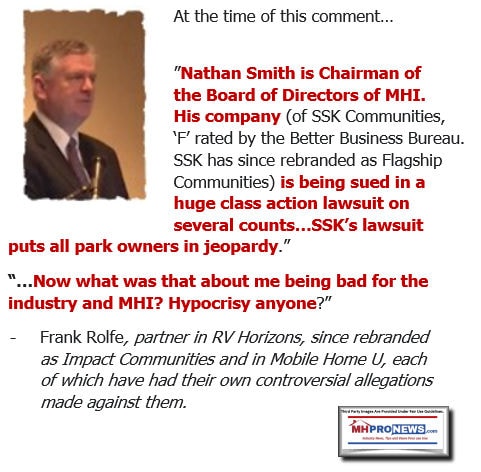 The initial stock result for Smith and partner Kurt Keeney since the completion of their IPO is shown below.
Their media release is below, which will be followed by additional linked information.

TORONTO, Oct. 7, 2020 /CNW/ – Flagship Communities Real Estate Investment Trust (the "REIT") (TSX:MHC.U) announced today that it has completed its initial public offering of 6,250,000 trust units (the "Units") at a price of US$15.00 per Unit (the "Offering"). The Offering raised gross proceeds of US$93,750,000. The Units will begin trading on the Toronto Stock Exchange today under the symbol "MHC.U".
The REIT has been formed to own and operate a portfolio of 45 income-producing manufactured housing communities (the "Initial Communities"), comprising 8,255 lots located in the following four contiguous states: Kentucky, Indiana, Ohio and Tennessee, and a fleet of approximately 600 manufactured homes for lease to residents of the Initial Communities (together with the Initial Communities and certain ancillary and head office assets, the "Initial Portfolio") held indirectly by Flagship Operating, LLC. In connection with the closing of the Offering, the REIT is acquiring (the "Acquisition") the Initial Portfolio other than two Initial Communities comprising 622 lots located in Louisville, being Barrington Pointe and Copperstone Pointe, which the REIT expects to acquire upon receipt of applicable necessary customary lender and servicer consents (the "Deferred Acquisition"). A portion of the net proceeds of the Offering will be used to fund the cash component of the Acquisition, to repay certain secured indebtedness, for capital expenditure reserves, to fund transaction costs associated with the closing of the Offering and for general business purposes. The consideration to be paid on closing of the Deferred Acquisition will be redeemable class B units in Flagship Operating, LLC, which class B units will be issued at the same per unit price as Units issued in the Offering.
The Offering was underwritten by a syndicate of underwriters co-led by Canaccord Genuity Corp. and BMO Capital Markets and including CIBC World Markets Inc., National Bank Financial Inc., RBC Dominion Securities Inc., Scotia Capital Inc., TD Securities Inc., Echelon Wealth Partners Inc. and Industrial Alliance Securities Inc. (collectively, the "Underwriters"). The REIT has granted to the Underwriters an over-allotment option, exercisable in whole or in part at any time for a period of 30 days following the closing of the Offering, to purchase up to an additional 937,500 Units at US$15.00 per Unit which, if exercised in full, would increase the total gross proceeds of the Offering to US$107,812,500. The net proceeds of the over-allotment option, to the extent exercised, will be used by the REIT to fund future acquisitions and for general business purposes.
Following completion of the Offering and the Acquisition that will close today, the executive officers of the REIT, Legacy Portfolio Holdings, LLC and certain other persons formerly owning an interest in the Initial Portfolio will retain an aggregate approximate 43.1% ownership interest in the REIT and will retain an aggregate approximate 39.7% ownership interest in the REIT if the over-allotment option is exercised (in each case, determined as if all redeemable securities are redeemed for units of the REIT). Upon completion of the Deferred Acquisition, the executive officers of the REIT, Legacy Portfolio Holdings, LLC and certain other persons formerly owning an interest in the Initial Portfolio will own an aggregate approximate 46.7% ownership interest in the REIT and an aggregate approximate 43.2% ownership interest in the REIT if the over-allotment option is exercised (in each case, determined as if all redeemable securities are redeemed for units of the REIT). 
Blake, Cassels & Graydon LLP, is acting as Canadian counsel to the REIT and Taft Stettinius & Hollister LLP and Adams, Stepner, Woltermann & Dusing, PLLC, are acting as U.S. counsel to the REIT. Torys LLP is acting as Canadian and U.S. counsel to the Underwriters.
No securities regulatory authority has either approved or disapproved the contents of this news release. The Units have not been and will not be registered under the United States Securities Act of 1933 (the "U.S. Securities Act"), as amended, or any state securities laws, and may not be offered, sold or delivered, directly or indirectly, in the United States or to, or for the account or benefit of, "U.S. persons" (as defined in Regulation S under the U.S. Securities Act, as amended) except pursuant to certain exemptions from the registrations requirements of the U.S. Securities Act and applicable state securities laws. This press release does not constitute an offer to sell or a solicitation of an offer to buy any of the Units in the United States or to, or for the account or benefit of, U.S. persons.
Forward-Looking Statements
This press release contains statements that include forward-looking information within the meaning of Canadian securities laws. These forward-looking statements reflect the current expectations of the REIT regarding future events, including statements concerning the Acquisition and the Deferred Acquisition and the use of proceeds of the Offering. In some cases, forward-looking statements can be identified by terms such as "may", "will", "could", "occur", "expect", "anticipate", "believe", "intend", "estimate", "target", "project", "predict", "forecast", "continue", or the negative thereof or other similar expressions concerning matters that are not historical facts. Material factors and assumptions used by management of the REIT to develop the forward-looking information include, but are not limited to, the REIT's current expectations that: inflation will remain relatively low; interest rates will remain relatively stable; tax laws remain unchanged; conditions within the U.S. manufactured housing communities industry, including competition for acquisitions, will be consistent with the current climate; the Canadian and U.S. capital and financial markets will provide the REIT with access to equity and/or debt at reasonable rates when required, notwithstanding the ongoing economic downturn; and the current members of management will continue their involvement with the REIT. While management considers these assumptions to be reasonable based on currently available information, they may prove to be incorrect.
Although management believes the expectations reflected in such forward-looking statements are reasonable and represent the REIT's internal expectations and beliefs at this time, such statements involve known and unknown risks and uncertainties and may not prove to be accurate and certain objectives and strategic goals may not be achieved. A variety of factors, many of which are beyond the REIT's control, could cause actual results in future periods to differ materially from current expectations of events or results expressed or implied by such forward-looking statements, such as the risks identified in the REIT's final prospectus available at www.sedar.com, including under the heading "Risk Factors" therein. Readers are cautioned against placing undue reliance on forward-looking statements. Except as required by applicable Canadian securities laws, the REIT undertakes no obligation to update or revise publicly any forward-looking statements, whether as a result of new information, future events or otherwise, after the date on which the statements are made.
SOURCE Flagship Communities Real Estate Investment Trust
For further information: Eddie Carlisle, Chief Financial Officer, Flagship Communities Real Estate Investment Trust…"
###
Additional Information, MHProNews Analysis and Commentary
First, let's note that reporting on this stock – or others – should not be considered as an endorsement of the firm or its leadership. It's not. Reports and analysis are just that here on MHProNews.
Next, there are an array of controversies that have followed Smith and company, notably under their original brand name, SSK Communities. Shortly after one of our reports linked below, Alice Smith, one of the "S" in SSK died.
The related reports that are linked below outline a significant history on the firm and Smith, much of which will not found on other platforms. MHProNews has routinely ranked highly – page 1, often top of fold – on searches related Flagship Communities and Nathan Smith.
The drama around this firm and its leadership arguably sheds light on why manufactured housing as an industry has been underperforming for years.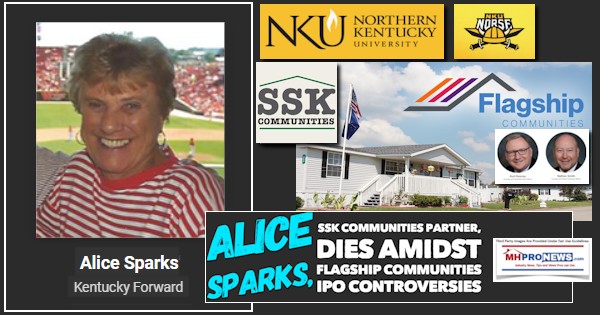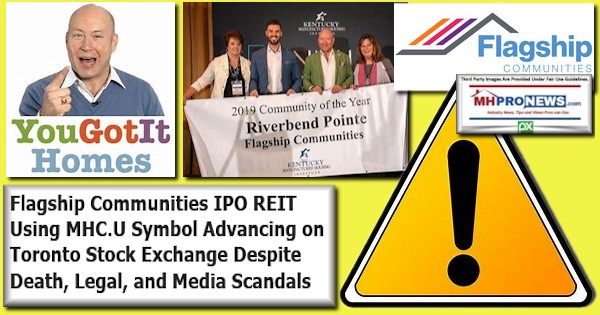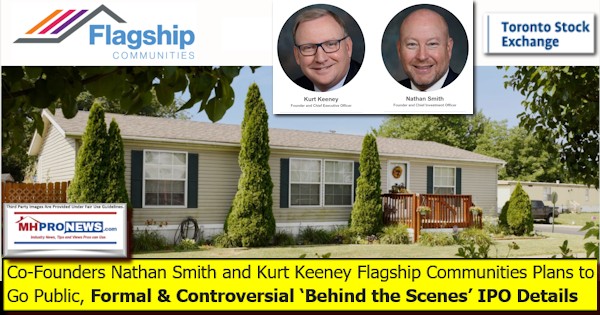 See the linked and related reports to learn more.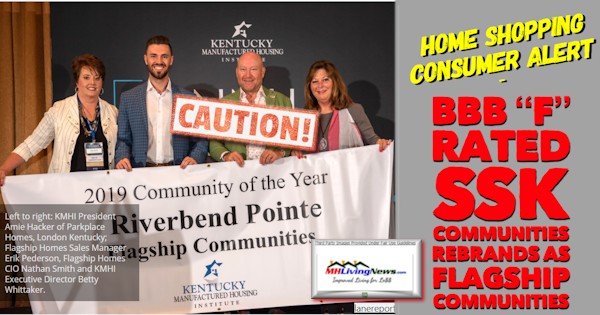 Related, Recent, and Read Hot Reports
"Let This Moment Radicalize You," FBI Raids Manufactured Home to Foil Radical Plot, Gov Whitmer Blames President Trump
Fake News, Fake Debates, Fake Science, Fake History – VP Mike Pence + Senator Kamala Harris Debate, plus Manufactured Home Investing, Stock Updates
Wall Street Backing, Black Americans Platinum Plan, KKK & Antifa Branded "Terrorist Organizations," plus Manufactured Housing Investing, Stock Updates
China vs USA, Antitrust Looms, AP Highlights 'Competing Versions of Reality,' Sunday Weekly MHVille Headlines Review
"More Punitive Regulatory" Regime Looms Warns New Manufactured Housing Industry Insider
U.S. Senate Homeland Security and Governmental Affairs Report Obtained, Purported Corrupt and Illegal Acts by Bidens, plus Manufactured Housing Investing, Stock Updates
James O'Keefe-Project Veritas Sting Video Spotlights Pay-for-Ballot Allegations Against Rep Ilhan Omar; plus, Presidential Debate Preview, Manufactured Home Investing, Stock Updates
White Billionaires vs Blacks, Minorities, "Uncle Tom" "Gaslighting" "Misdirection and Deception" – "Uncle Tom" Videos Review, plus Sunday Headline Recap
Attorney Jamie Smith – RBG Fan – Explains Joining Satanic Temple; Judge Amy Coney Barrett Connection, plus Sunday Weekly Headlines Review
"We are trained Marxists." – Black Lives Matter (BLM) co-founder Patrisse Cullors, "Deception and Misdirection" – Capital Research Center
Leaked Secret Democratic Memo On Black Lives Matter Emerges; "Haven't Seen Sh-t Like This Before"
U.S. Revolutionary Communist Leader Bob Avakian Endorses Democrat Joe Biden for President, plus Manufactured Housing Investing, Stock Updates
Trevor Loudon's "Who's Who of House Pro-Socialists…Is Your Representative On The List?" Plus, Manufactured Housing Investing, Stock Updates
Dark Money-Billionaires Buffett, Gates, Soros Funding Black Lives Matter, Antifa – Named by AG Barr in Riots, Looting – Hijacking Peaceful George Floyd Death Racial Justice Protests
'Dawn of the New Middle East,' says President Trump After Signing Peace Deal with Bahrain, UAE, Israel – Why It Matters – plus Manufactured Home Investing, Stock Updates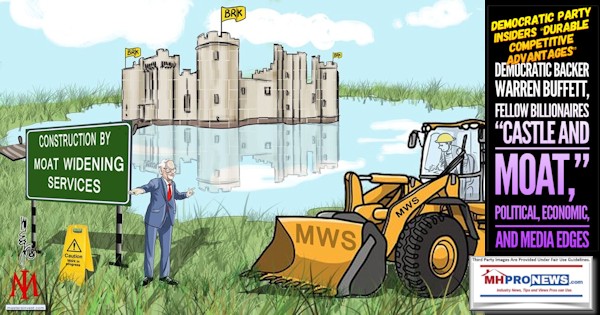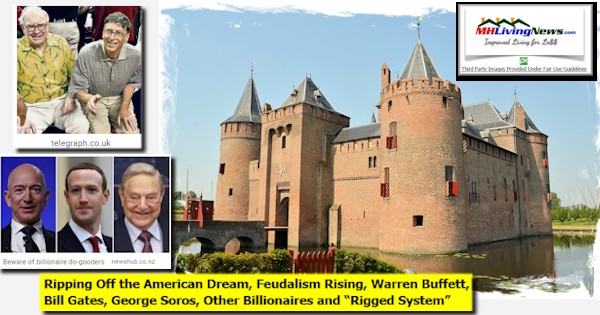 "Strong Horse" Post-Debate Surge? Hunter Biden, Blacks, Hispanics, Other Debate Insights Plus Manufactured Housing Investing, Stock Updates
Manufactured Housing Industry Investments Connected Closing Equities Tickers
Some of these firms invest in manufactured housing, or are otherwise connected, but may do other forms of investing or business activities too.
NOTE: The chart below includes the Canadian stock, ECN, which purchased Triad Financial Services, a manufactured home industry lender
NOTE: Drew changed its name and trading symbol at the end of 2016 to Lippert (LCII).
Fall 2020…
Berkshire Hathaway is the parent company to Clayton Homes, 21st Mortgage, Vanderbilt Mortgage and other factory built housing industry suppliers.
· LCI Industries, Patrick, UFPI, and LP each are suppliers to the manufactured housing industry, among others.
· AMG, CG, and TAVFX have investments in manufactured housing related businesses. For insights from third-parties and clients about our publisher, click here.
Enjoy these 'blast from the past' comments.
MHProNews. MHProNews – previously a.k.a. MHMSM.com – has celebrated our tenth anniversary and is in year 11 of publishing.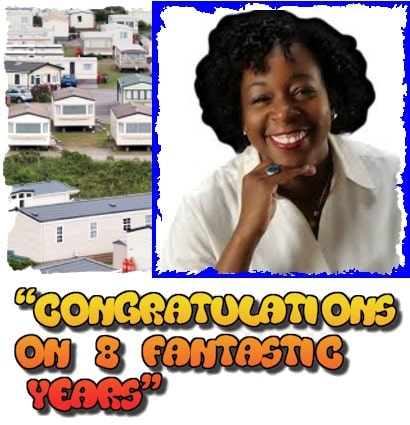 Learn more about our evolutionary journey as the industry's leading trade media, at the report linked below.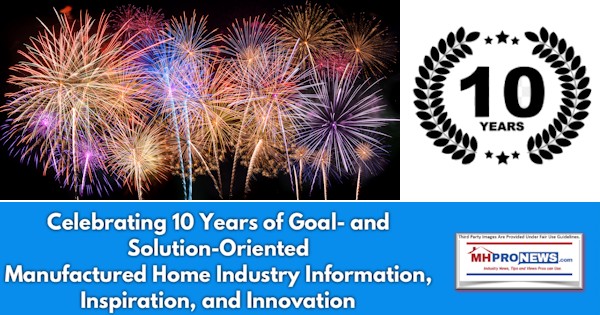 · For expert manufactured housing business development or other professional services, click here.
· To sign up in seconds for our industry leading emailed headline news updates, click here.

Disclosure. MHProNews holds no positions in the stocks in this report.
2019 Year-End Totals Reveals Decline in New HUD Code Manufactured Home Production, Shipments vs. 2018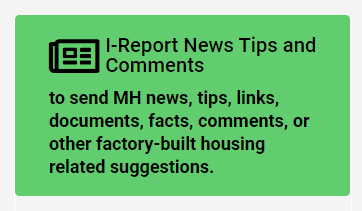 That's a wrap on this installment of "News Through the Lens of Manufactured Homes and Factory-Built Housing" © where "We Provide, You Decide." © (Affordable housing, manufactured homes, stock, investing, data, metrics, reports, fact-checks, analysis, and commentary. Third-party images or content are provided under fair use guidelines for media.) (See Related Reports, further below. Text/image boxes often are hot-linked to other reports that can be access by clicking on them.)
By L.A. "Tony" Kovach – for MHLivingNews.com.
Tony earned a journalism scholarship and earned numerous awards in history and in manufactured housing. For example, he earned the prestigious Lottinville Award in history from the University of Oklahoma, where he studied history and business management. He's a managing member and co-founder of LifeStyle Factory Homes, LLC, the parent company to MHProNews, and MHLivingNews.com. This article reflects the LLC's and/or the writer's position, and may or may not reflect the views of sponsors or supporters.