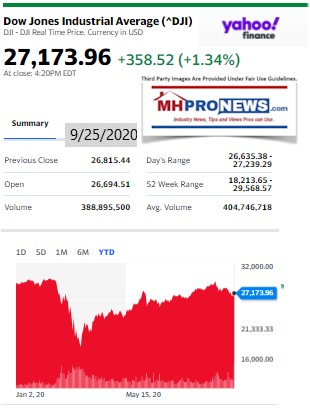 There is a difference between posturing and doing.
There is often a chasm between cheap talk and real action.
Politics and the implementation – or lack thereof – of good laws are essential for a smoothly functioning marketplace in our industry or any other.

For those who follow the money trail and follow the action carefully, the 2020 race is shaping up as a tale of two streets. One is Wall Street and another is Martin Luther King Jr. Blvd.
There are some who simply won't be persuaded by facts, reason, or evidence. They often include those who have been taught by often-repeated falsehoods or spin to blindly hate without carefully examining the facts.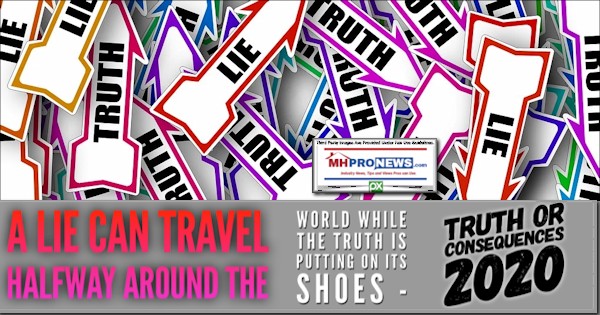 Part two of our evening business report on MHProNews will focus on CNN Business' surprising-to-some donor major data. It will reflect a serious edge that Wall Street donations are flowing to the Biden-Harris Democratic campaign over the Trump-Pence Republican team.
But this initial segment of our business-nightly report is on President Trump's latest move to appeal to black American voters.
Since early in his campaign, despite Democratic and their media allies' cries that Trump is a "racist," candidate turned President Trump appealed directly to minority voters. Some say that the 2016 victory was due in some measure to that minority effort. There are years of proof and over a century of history that reflects that repeating spin or a lie often enough will cause many to accept it as true.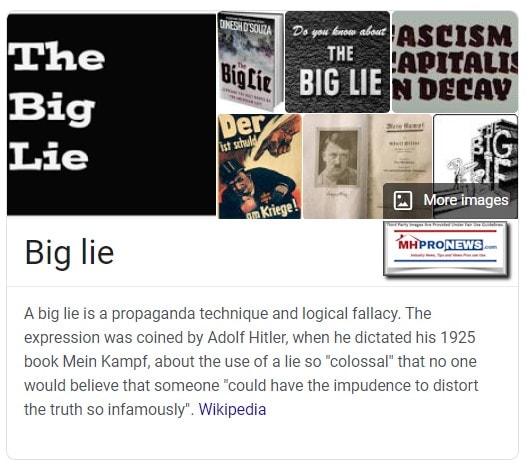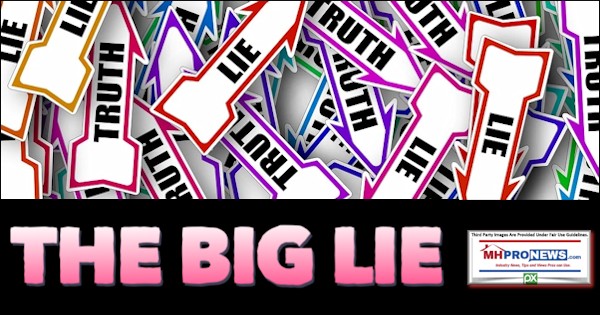 The new announcement today and the plan insights shown later below will build on that "what the hell do have you have to lose?" campaign cry, a sarcastic way he had of saying – what have Democrats done for blacks after an election? But first, some history since the last general election.
The Trump Administration has not stopped the minority outreach effort since his 2016 victory. President Trump has routinely touted at rallies for years the pre-pandemic results that brought record low unemployment and rising incomes to Blacks, Hispanics, women – indeed, seemingly all demographic groups.
MHLivingNews research shows that billionaires like Bill Gates had access to early inside information on the emerging pandemic.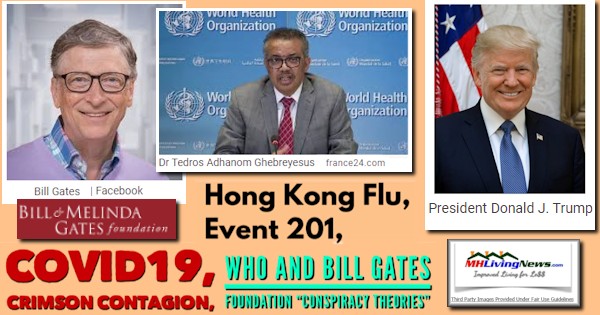 So, perhaps it is no surprise that Gates, Warren Buffett, Jeff Bezos, Mark Zuckerberg, and other Democratic supporting billionaires have per third party research grown over $1 trillion dollars richer personally since the pandemic-sparked shutdowns in mid-March, 2020.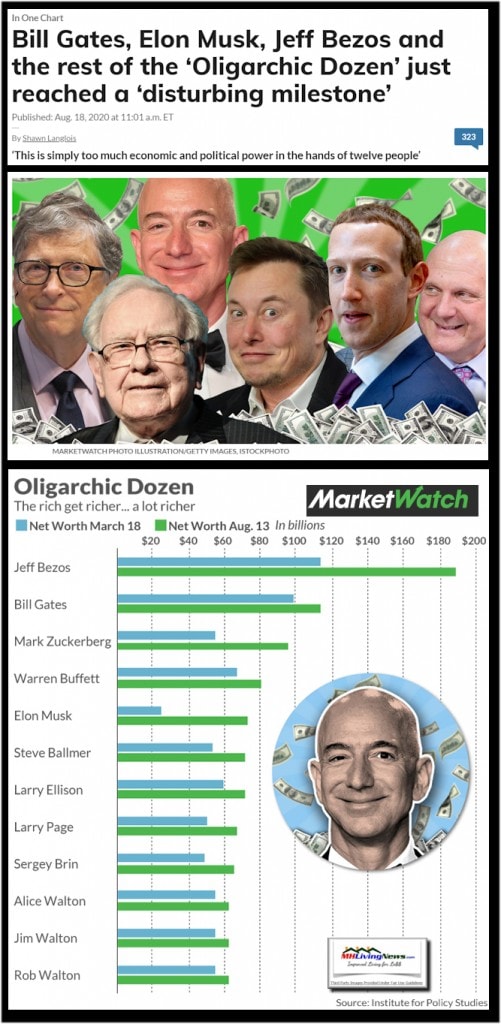 Against that backdrop, today's announcement.
Per Fox News, President Trump has announced a nearly $500 billion dollar Black America Platinum Plan. Among other elements, it designates the Ku Klux Klan (KKK) and Antifa as "terrorist organizations." The plan calls for making lynching a national hate crime. MHProNews obtained that document, which is linked here and shown below.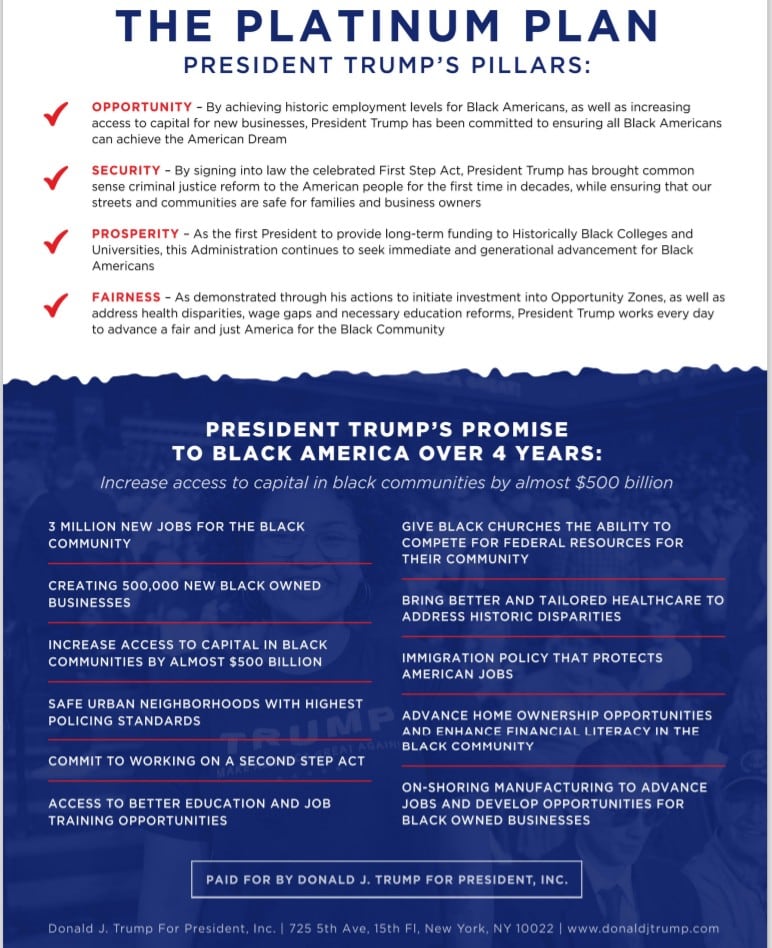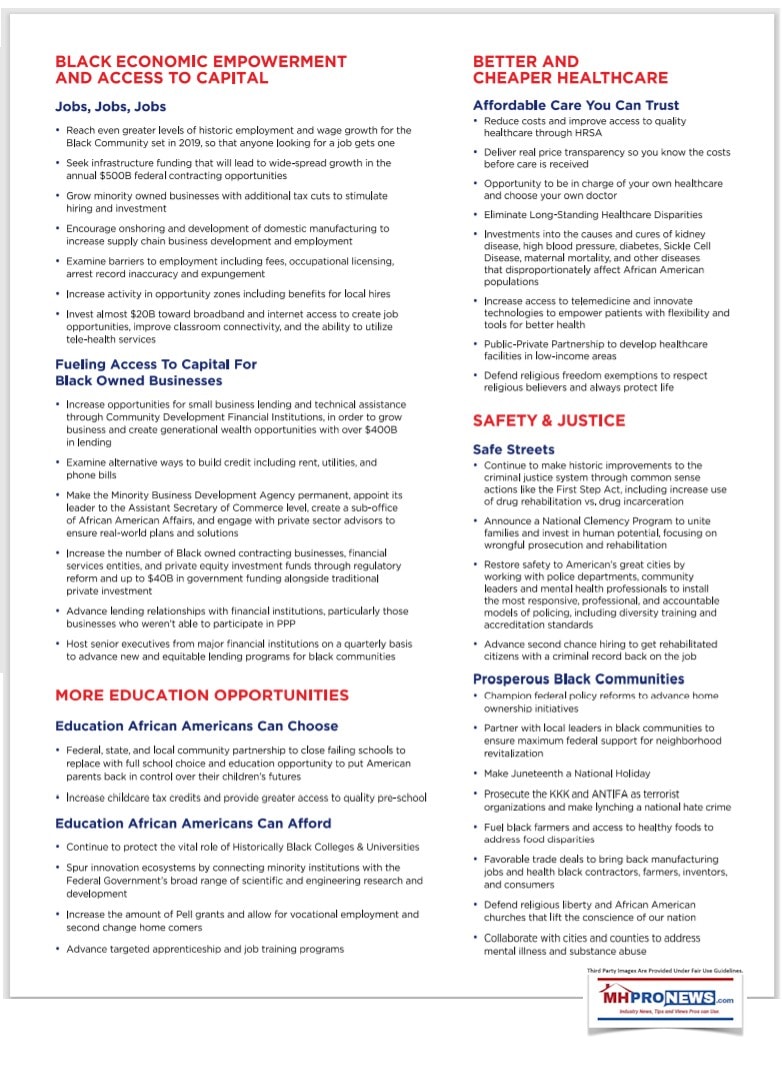 NewsThud, who created the Biden/Wall Street portion of this evening's featured image, is among the sources that have reported that the Biden Campaign has promised them that despite his campaign rhetoric, he will not be targeting them if he wins the 2020 race. Left-of-center Politico made a similar report just a few weeks ago. "No one's standard of living will change," the Biden campaign assured wealth donors, saying that their status quo would be protected.
That is part of the backdrop that should be considered by those who think that Democrats will really 'tax the rich' as the campaign promises. After all, what would be the logic of the wealthy paying for a campaign that will tax them more? Rather, what is likely to occur are outcomes similar to the Obama-Biden Administration. Talk about Dodd-Frank 'reigning in big banks' turned into Dodd-Frank protecting big banks while harming smaller ones. The evidence is found in the hundreds of community lenders that vanished after the Dodd-Frank created Consumer Financial Protection Bureau (CFPB) began enforcing their regulations.
Per right-of-center Fox News:
President Trump's plan for Black America designates the KKK and Antifa as terrorist organizations and calls for making lynching a national hate crime, while pledging to increase access to capital in Black communities by nearly $500 billion, Fox News has learned.
The president rolled out details of what the campaign is calling the "Platinum Plan," which details "opportunity," "security," "prosperity," and "fairness" for the Black Community.
"For decades, Democrat politicians like Joe Biden have taken Black voters for granted. They made you big promises before every election—and then the moment they got to Washington, they abandoned you and sold you out," according to remarks exclusively obtained by Fox News. "The Democrats will always take Black voters for granted until large numbers of Black Americans vote Republican."
The president touts the plan as "a bold vision that we can and will achieve over the next four years."
The president's plan, according to the campaign, will increase access to capital in Black communities by almost $500 billion, help to create 500,000 new Black-owned businesses, and help to create 3 million new jobs for the Black community. It states that it will "prosecute the KKK and ANTIFA as terrorist organizations and make lynching a national hate crime."
The president's plan also vows to make Juneteenth a national holiday.
Meanwhile, the president is also expected to commit to working on a "Second Step Act," and provide access to better jobs and training opportunities for those in Black communities.
The Platinum Plan also pledges to give Black churches the ability to compete for federal resources for their communities; bring better and tailored healthcare to address what the campaign called "historic disparities," and advance home ownership opportunities and enhance financial literacy in Black communities.
As for educational opportunities, the president is expected to vow, in federal, state and local community partnerships to "close failing schools" to replace with "full school choice and education opportunity," while continuing to protect Historically Black Colleges & Universities.
With that summary, let's move ahead to our business nightly quotable quotes, left-right headline summary, and two of the three market summary graphics at the closing bell earlier today. Those will be followed by the featured focus which tonight is former VP Joe Biden's strong advantage over President Trump in fundraising from Wall Street.
Quotes That Shed Light – American Social, Industry, National Issues..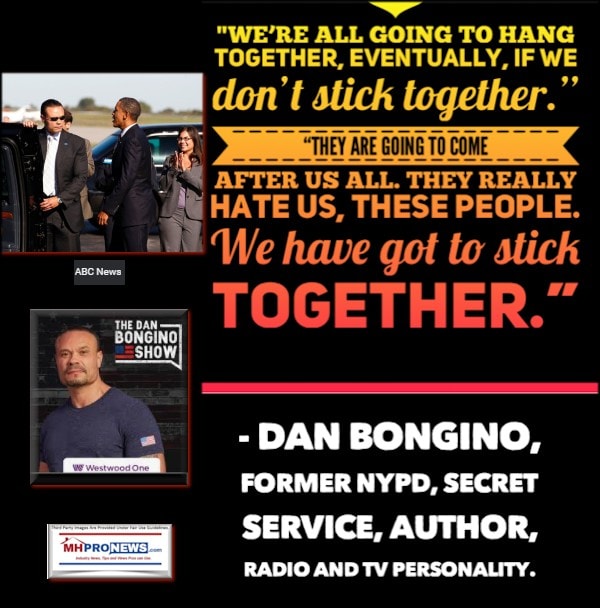 Headlines from left-of-center CNN Business
Retreat from India
NEW DELHI, INDIA FEBRUARY 28: The newly launched Harley Davidson Low Rider at the Harley Davidson showroom in New Delhi.
Harley-Davidson is closing its factory in the world's biggest motorcycle market
Wall Street's campaign donations to Biden are 5 times larger than those going to Trump
Google will temporarily stop running election ads after Election Day
Stocks are headed for their fourth week of losses
Mark Cuban calls for $1,000 bi-weekly stimulus checks through November
Watch Ring's indoor drone prototype patrol a house
She lost her job in the pandemic. She can't even afford the dollar store to feed her kids
Here's why platinum may now be a better bet than gold
Trump's use of false content is often defended as humor. His supporters aren't always in on the joke
What's in the iPhone 12? Wall Street analysts give us their predictions
Apple is in a war for the future of the App Store
The Queen's real estate portfolio slammed by the pandemic
Why Amazon's new Alexa conversation feature is so hard to pull off
In this photo illustration, meatless "Impossible Sliders" sits on a table at a White Castle restaurant, April 12, 2018 in the Queens borough of New York City. The meatless burgers, which sell for $1.99, are about twice the size of White Castle's regular sliders. The patties, made primarily of wheat protein and potato, are the first plant-based burgers sold in an American quick-serve restaurant.
More restaurant rewards are coming your way. But there's a catch
SAN FRANCISCO, CALIFORNIA – SEPTEMBER 01: A pedestrian walks by a building advertising an apartment for rent on September 01, 2020 in San Francisco, California. San Francisco rental prices have dropped nearly 15 percent in the past year as residents begin moving away from the city.
So you want to lower your rent? Here's how to negotiate
Headlines from right-of-center Fox Business
MONEY
Mnuchin, Pelosi agree to revive COVID relief talks; Dems draft $2.4T proposal
Treasury Secretary Steven Mnuchin said he and House Speaker Nancy Pelosi have agreed to resume negotiations.
Stocks stage late day jump with $2.3T coronavirus stimulus package in the works
MARKETS
Trump-Biden delayed election outcome worries overblown: Goldman Sachs
TECH
NYPD commissioner warns against 'real threat' facing businesses, law enforcement
NYPD commissioner: Policy shift has had 'significant impact' on crime surge
POLITICS
Trump sends 'important message' with new insurance plan, ex-top aide says
Trump vows to help these health care beneficiaries cover medication costs
OPINION
COVID has totally changed how we think about dinner — these 3 trends will stick
ELLEN'S WAR CHEST?
RICH & FAMOUS
Scandal-scarred DeGeneres reportedly selling $10 million worth of artwork
ALOHA AGAIN
NEWS
Disney's Hawaii resort announces when it will begin phased reopening
BEHIND THE SCENES
MEDIA
How much money Tom Hanks has made from 'Forrest Gump'
BACK ON TRACKS?
TRAVEL
Amtrak rolls out new way for passengers to book travel
MULTIBILLION-DOLLAR DEAL
HEALTH CARE
Blue Cross Blue Shield OKs tentative settlement in sweeping antitrust suit
CLOSING TIME
REAL ESTATE
Real estate giant Don Peebles: This city's brick-and-mortar retail is dead
TWEET AND SOUR?
MARKETS
JPMorgan says this will stir volatility as investors look toward 'Election Month'
CLEANING UP
BUSINESS LEADERS
New CEO is racing to keep Clorox's wipes on store shelves
WARNING MESSAGE
TECH
Google Maps joins fight against coronavirus with handy new feature
POLITICS
Minneapolis residents say crime is rising after funding shift
ECONOMY
Durable goods weak, as big ticket orders slow
RETAIL
Why Costco says it won't offer curbside grocery pickup
MARKETS
Vanguard, BlackRock add new climate-focused ETFs as demand soars
MARKETS
New York stays ahead of London in top financial centers survey
SPACE BUSINESS
Bezos' Blue Origin to break record with 7th reusable New Shepard rocket
FOOD & DRINK
Grubhub reveals trending dishes for fall, and of course they're decadent
LIFESTYLE
Bill Murray gets legal threat from Doobie Brothers' attorney over golf shirt ads
MARKETS
Dollar direction pointing toward this election outcome
BUSINESS LEADERS
Innocent Madoff investors must pay back profits, court rules
MARKETS
BMW fined $18M for inflating monthly US sales figures
REAL ESTATE
SEE PICS: Hollywood power couple buys $17.5M Beverly Hills palace
TECH
Justice Department asks judge to allow US to bar WeChat from US app stores
ENTERTAINMENT
Parents TV Council urges probe of Netflix for 'sexualized' content amid 'Cuties' controversy
LIFESTYLE
How much money Times Square's Olive Garden is losing every week
ECONOMY
Brooklyn's Industry City rezone proposal pulled, 20,000 potential jobs lost: report
TECHNOLOGY
Ex-eBay workers to plead guilty to sending spiders to Massachusetts bloggers
LIFESTYLE
Party City to open 25 pop-up stores nationwide, hire 20,000 temporary employees
LIFESTYLE
United Airlines offering rapid COVID-19 tests to passengers
Market Indicator Closing Summaries – Yahoo Finance Closing Tickers on MHProNews…
Featured Focus –
Where Business, Politics and Investing Can Meet
According to a report by left-of-center CNN today, the securities and investment industry donated just $10.5 million to Trump's presidential campaign and outside groups aligned with it. That is according to a new tally by OpenSecrets, which uses FEC records. Those same groups have sent nearly five times as much cash, $51.1 million, to Democratic presidential nominee Joe Biden.
That means Trump is losing the fundraising race among Wall Streeters by a greater magnitude than in 2016. During that cycle, former New York Senator Hillary Clinton and groups aligned with her raised $88 million from the securities and investment industry, while Trump took in just $20.8 million.
In some ways, CNN says that Wall Street's preference for Democrats in the last two presidential cycles makes sense. After all, many people who work in the industry reside in deep blue cities including New York City, Boston, Chicago, and San Francisco.
"The bigger deal is where you live versus where you work. It's as simple as that," said Ed Mills, policy analyst at Raymond James.
Some of CNN's analysis is arguably flawed, but their facts on this are fine. President Trump is a threat to the much of the political and uber-business Establishment. It could be boiled down to something as simple as that. The Trump DOJ has been preparing for some time for major antitrust action. That no doubt is a concern to Bezos, Buffett, Gates, Zuckerberg and other uber-billionaires.  While there are billionaires backing both major parties, in 2016 and 2020, the big money clearly fell to the Democrats.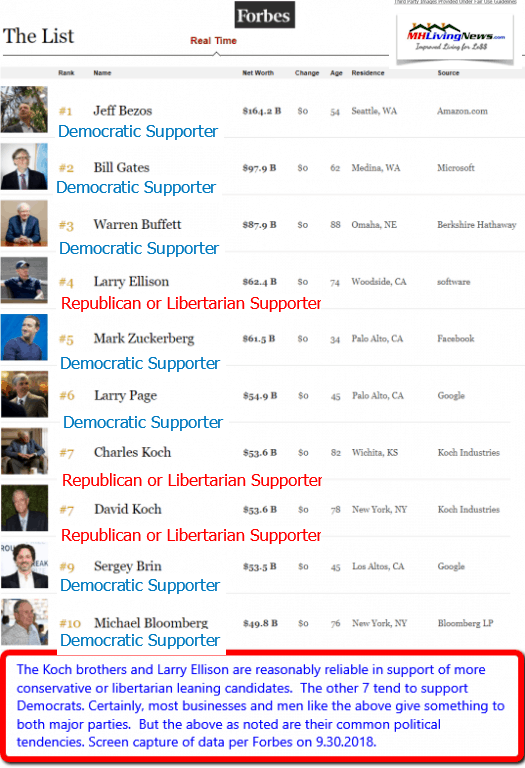 The case can be made that GOP, under President Trump has become the party of the working and middle class. The Trump Campaign's stronger fundraising among small dollar donors makes that clear. See the related reports to learn more.
Related, Recent, and Read Hot Reports
U.S. Senate Homeland Security and Governmental Affairs Report Obtained, Purported Corrupt and Illegal Acts by Bidens, plus Manufactured Housing Investing, Stock Updates
'Dawn of the New Middle East,' says President Trump After Signing Peace Deal with Bahrain, UAE, Israel – Why It Matters – plus Manufactured Home Investing, Stock Updates
Map of Top Billionaire in Every State 2020, plus Teasers, Data, and Manufactured Housing Investing, Stock Updates
'Dawn of the New Middle East,' says President Trump After Signing Peace Deal with Bahrain, UAE, Israel – Why It Matters – plus Manufactured Home Investing, Stock Updates
Who is "Drinking the Kool-Aid" – Sunday Weekly Headline Review
Manufactured Housing Lending 2020 Re-Examination – FEDs, Lenders, and Advocates
Communities, Assoc Exposé – Whistleblower "Leaks" – Lesli Gooch Manufactured Housing Institute (MHI) CEO and Sheila S. Dey, Executive Director Western Manufactured Housing Communities Association (WMA)
HUD's Teresa Payne – Office of Manufactured Housing Programs (OMHP) Administrator – Ducks Charges, MHARR Presses Red Hot Claim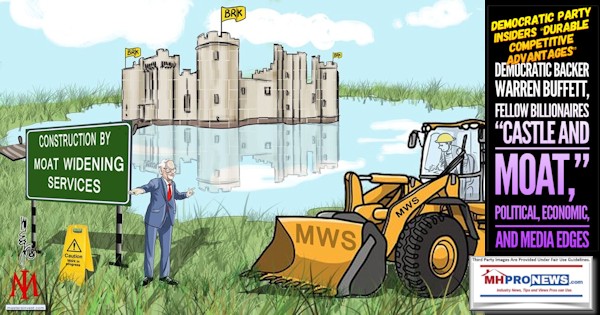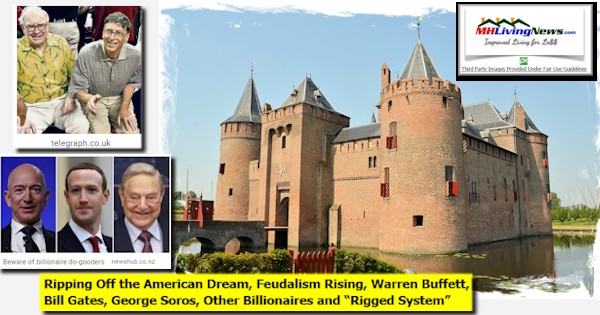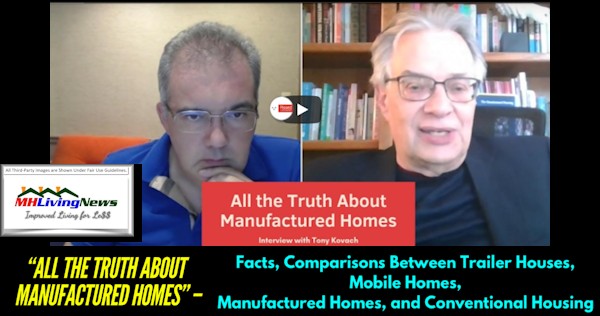 Manufactured Housing Industry Investments Connected Closing Equities Tickers
Some of these firms invest in manufactured housing, or are otherwise connected, but may do other forms of investing or business activities too.
NOTE: The chart below includes the Canadian stock, ECN, which purchased Triad Financial Services, a manufactured home industry lender
NOTE: Drew changed its name and trading symbol at the end of 2016 to Lippert (LCII).
Fall 2020…
Berkshire Hathaway is the parent company to Clayton Homes, 21st Mortgage, Vanderbilt Mortgage and other factory built housing industry suppliers.
· LCI Industries, Patrick, UFPI, and LP each are suppliers to the manufactured housing industry, among others.
· AMG, CG, and TAVFX have investments in manufactured housing related businesses. For insights from third-parties and clients about our publisher, click here.
Enjoy these 'blast from the past' comments.
MHProNews. MHProNews – previously a.k.a. MHMSM.com – has celebrated our tenth anniversary and is in year 11 of publishing.
Learn more about our evolutionary journey as the industry's leading trade media, at the report linked below.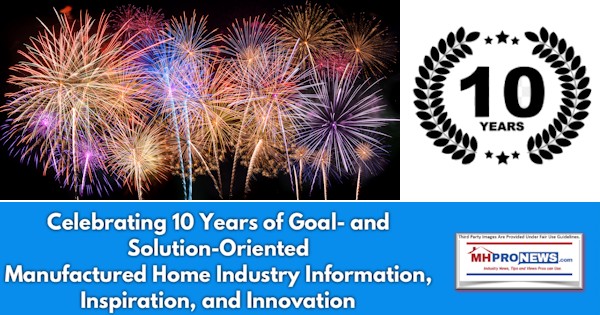 · For expert manufactured housing business development or other professional services, click here.
· To sign up in seconds for our industry leading emailed headline news updates, click here.

Disclosure. MHProNews holds no positions in the stocks in this report.
2019 Year-End Totals Reveals Decline in New HUD Code Manufactured Home Production, Shipments vs. 2018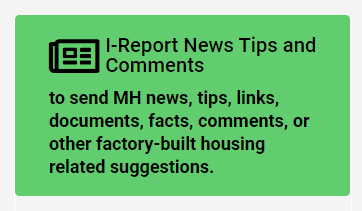 That's a wrap on this installment of "News Through the Lens of Manufactured Homes and Factory-Built Housing" © where "We Provide, You Decide." © (Affordable housing, manufactured homes, stock, investing, data, metrics, reports, fact-checks, analysis, and commentary. Third-party images or content are provided under fair use guidelines for media.) (See Related Reports, further below. Text/image boxes often are hot-linked to other reports that can be access by clicking on them.)
By L.A. "Tony" Kovach – for MHLivingNews.com.
Tony earned a journalism scholarship and earned numerous awards in history and in manufactured housing. For example, he earned the prestigious Lottinville Award in history from the University of Oklahoma, where he studied history and business management. He's a managing member and co-founder of LifeStyle Factory Homes, LLC, the parent company to MHProNews, and MHLivingNews.com. This article reflects the LLC's and/or the writer's position, and may or may not reflect the views of sponsors or supporters.