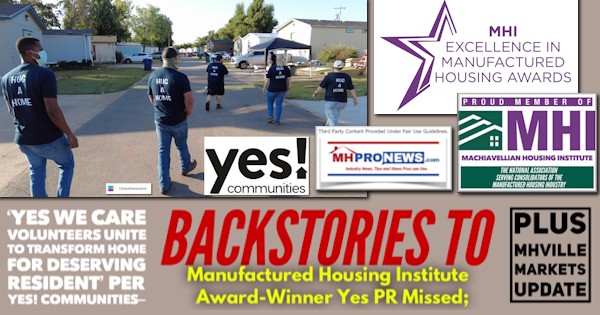 "YES Communities is an operator of manufactured housing communities based in Denver, Colorado. YES has been recognized as the Manufactured Housing Institute's "Community Operator of the Year" from 2009 to 2019." So says the firm's press release (PR) via Globe Newswire. Their PR pitches "A heartwarming community initiative" that per their own remarks are provided in good measure through 'volunteer' hours by Yes! Employees and donations. Meanwhile a Maintenance Worker and Current Employee in Tyler, TX said via Indeed on October 19, 2023 that: Yes! Communities is the "Worst company I've ever worked for. Consistently have to fight an up hill battle with management to get any parts to get task done for livable conditions for tenants. Aside from that use my own tools while working on a w2 with no compensation or gratitude for doing so. Very poor management all the way up to Regional Manager."
According to Bing AI, "Clayton Homes, the largest supplier of manufactured homes, sold 65 of its 66 mobile-home parks to Yes Communities, a Denver-based private equity firm that changed its name…from BaseCamp Capital. The deal involved 65 properties in 11 states and was completed in late January 2008. Clayton Homes had been acquiring land-lease communities where it could place its mobile homes since the 1970s." Bing AI also said that according to Chris Nicely, while he was a former "Vice President of Marketing at Clayton Homes," that "Nicely confirms that Clayton will continue to supply product to Yes" Communities. Nicely reportedly spent 15 years with Clayton before moving onto other roles in the manufactured home industry.
So, Yes! has historic ties to Berkshire Hathaway, Clayton Homes, and the Manufactured Housing Institute, as the first two segments of today's report that follows will reflect. But there is still more to the backstory, as will be revealed herein that is not found in the Yes! Communities press release.
Part I of this report will be the verbatim "Yes we Care" press release per Yes! Communities.
Part II of this report will provide additional information with more MHProNews analysis and commentary.
Part III of this article will provide the Daily Business News on MHProNews macro- and manufactured housing connected stocks, REITs, and other equities associated with the manufactured home industry. Additionally, a headline snapshot is provided from sources that span the left-right media divide to offer balance.
Part I
Yes We Care Volunteers Unite to Transform Home for Deserving Resident 
YES! Communities
Fri, October 27, 2023 at 4:07 PM EDT·2 min read
Denver, CO, Oct. 27, 2023 (GLOBE NEWSWIRE) — A heartwarming community initiative unfolded as a team of dedicated volunteers and skilled contractors joined forces to renovate the home of a deserving resident in Candlelight Village, IN.
The Hug-A-Home project, initiated through the YES We Care program, provided numerous improvements and a revitalized living space for Carey Foerster, a cherished member of the Candlelight community since 2008.
Renovations to the home included new exterior paint and skirting, new window treatments, landscaping, new exterior lighting, and new rear steps.  Building supplies and labor were donated by Justin Vandevanter, General Supply, C&J Remodeling, Palomino Remodeling, Manufactured House Specialists, Sherwin Williams, Lowes, and YES Community team members.
"I can't believe YES Communities did all of this for me," said Foerster.  "I am so blessed."
The YES Communities Hug-A-Home program was developed to assist residents through funding and allocating volunteer time for YES team members to offer help to deserving residents. YES Communities employees donate hundreds of hours of time to serve their own communities and help those who need it most. Hug-A-Home is a part of the YES We Care program, which has invested nearly $1 million since 2018 in assistance to team members, residents, and local organizations supporting YES Communities.
"We are incredibly grateful for the support and dedication showed by our volunteers and contractors in making this renovation project a reality", said Karen Hamilton, the Chief Operating Officer at YES Communities.  "Hug-A-Home truly demonstrates the incredible impact that can be achieved when people come together for a common cause".
About YES Communities
YES Communities is an operator of manufactured housing communities based in Denver, Colorado. YES has been recognized as the Manufactured Housing Institute's "Community Operator of the Year" from 2009 to 2019.  ##
Part II – Additional Information with More MHProNews Analysis and Commentary 
The nature of paltering and posturing is that every word of the above may be true, but to the extent that it leaves out information that may be significant to possible housing seekers at Yes! Communities can still be misleading. Yes! Communities is indeed an MHI award-winner, for example. But that leaves out the point that several MHI award winners reportedly have poor Better Business Bureau ratings, regulatory issues, or other problematic aspects to their business histories.
In Perales vs. Yes! Communities, CIVIL NO. SA-12-CA-450-PM, Yes largely prevailed. But the following are interesting remarks from that case deemed in the pleadings to be "undisputed facts." It is fair to say that this presents insights that may not look so good for Yes!
III.  STATEMENT OF UNDISPUTED FACTS
The following statement of facts is taken from defendant's motion for summary judgment.23  Unless otherwise indicated, plaintiff does not dispute the factual statements:
Defendant is "a company that operates manufactured home communities."24  During her employment, plaintiff worked at two different communities: Springfield Meadows first, and Creston Ridge after a transfer.  Plaintiff complains of the conduct of two of defendants' employees: Michael Johnson ("Johnson"), the manager of Springfield Meadows,[1] and Bert Lopez ("Lopez"), the manager of Creston Ridge.[2]
Plaintiff began working for defendant on June 16, 2009 "as a salesperson/assistant manager at the Springfield Meadows community."[3]  The handbook contains an "equal opportunity policy" at the front, expressly states that unlawful harassment is prohibited, and instructs employees on how to report alleged harassment.[4]  Plaintiff read and understood the handbook, and "understood that she had an obligation to report any conduct that she thought violated company policy as outlined in the Handbook."[5]  Defendant conducts sexual harassment training at least every two years for employees, and plaintiff attended such training on August 17, 2009 and February 10, 2011.[6]
Plaintiff captured in mobile telephone audio recordings examples of Johnson's conduct on two days.[7]  Plaintiff complained about Johnson's conduct to co-workers.  One of plaintiff's co-workers, Vickie Roberts, reported Johnson's conduct to Randal Brooks ("Brooks"), regional manager for defendant and Johnson's supervisor.[8]  Brooks conducted an investigation,
"including interviews of all of the pertinent employees."33  As a result of the investigation, Brooks separated Johnson and plaintiff by transferring plaintiff to Creston Ridge, "issued a reprimand to Michael Johnson and wrote a performance correction notice."[9]  At the time, plaintiff lived in the Creston Ridge community, and her position, salary, and commissions did not change with the transfer.[10]  After her transfer, plaintiff had no more contact with Johnson and reported no more problems with him, but did have some complaints about Lopez, the manager of Creston Ridge.[11]"
The plaintiff, the quoted document above says, recorded information on a smart phone as part of the case. With that in mind, the following is useful for employees or others to consider, perhaps – when possible – along with the advice of counsel.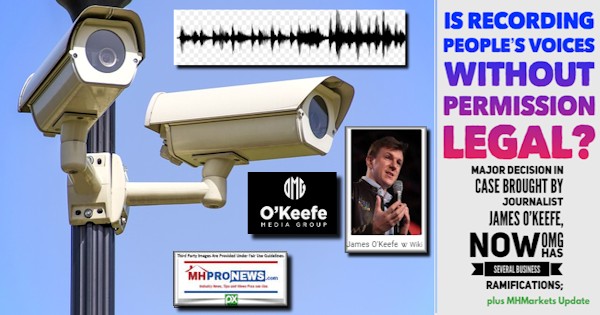 The Yes! Communities press release touts a decade of awards from MHI.  That may be accurate, as far as it goes, but as this report and analysis reveals, it is far from a complete picture. There have been several legal issues, some of which have only recently been launched against Yes!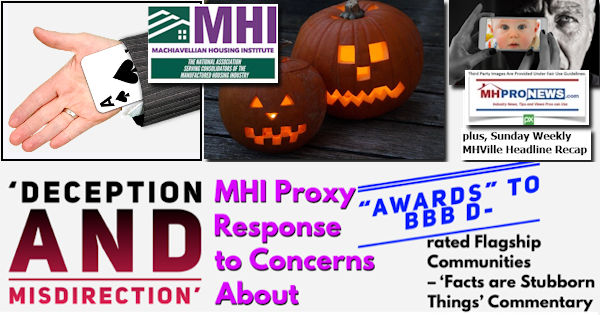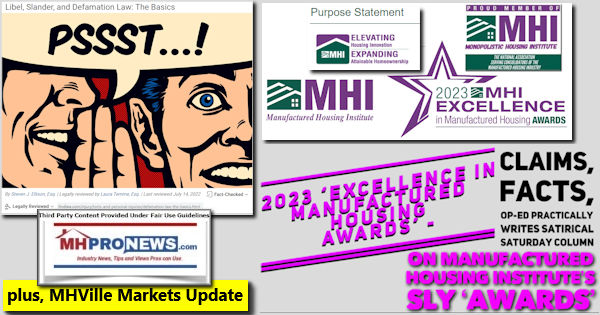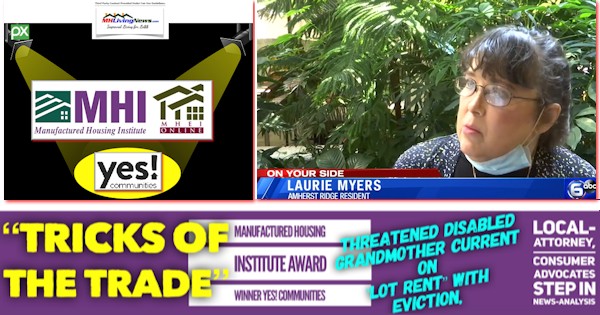 Note: to expand this image below to a larger or full size, see the instructions
below the graphic below or click the image and follow the prompts.

Yes! Community employees have expressed themselves via Indeed in a manner that reveals that significant numbers of them are not happy with the 'corporate culture.'
When even some of the history of Yes! and their 'charitable' efforts are examined, one could quickly come to the conclusion that the problematic news, employee beefs, and the purported harms that they do far outweigh the occasional helping hand to a resident – as they portrayed via press releases like the one shown in Part I.
Indeed, in as much as the "Yes We Care" is deployed as marketing for Yes! Communities, their 'charity' is apparently used to benefit Yes! in several ways.
Along with so-called "Manufactured Housing Institute" "Excellence Awards" these are apparently among "the tricks of the trade" (see linked report above) deployed by Yes! to lure in new trusting clients into the communities. Once living there in a resident-owned home, the ease of moving out in a manner that is financially beneficial to the resident has arguably been limited.  See attorney Marty Lavin's "Witches Brew" linked here and resident-advocate Tim Sheahan's remarks linked here.
Note: to expand this image below to a larger or full size, see the instructions
below the graphic below or click the image and follow the prompts.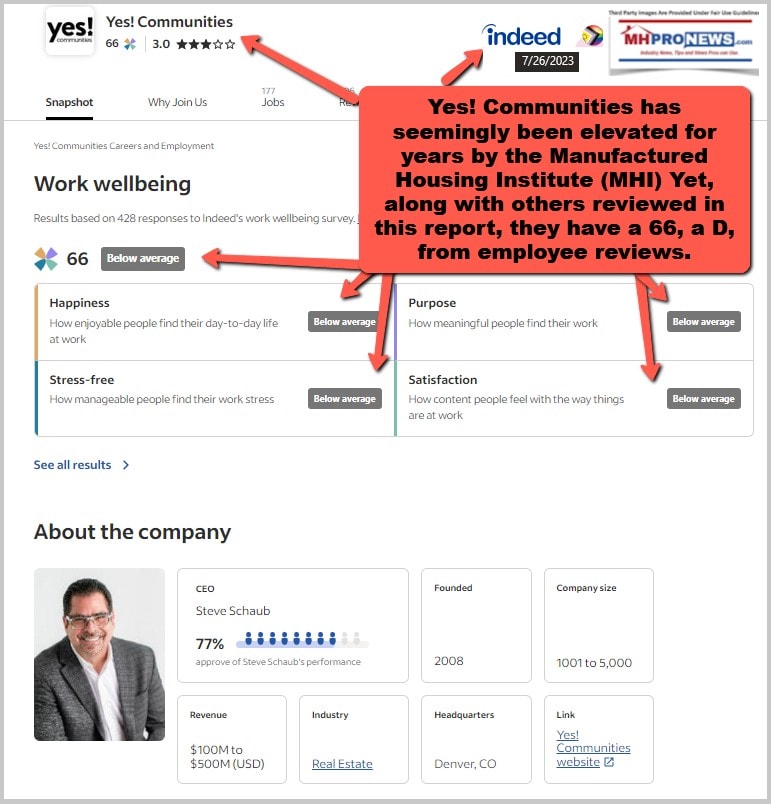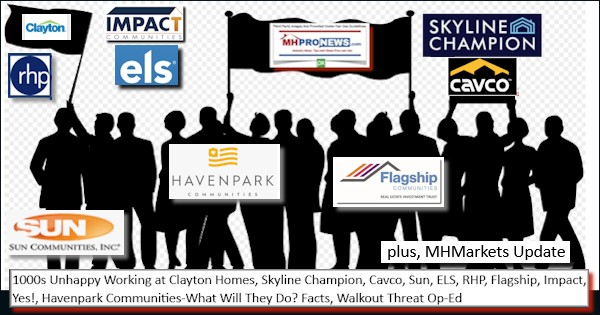 "Derecho" Storm – Yes! Communities Says No? Marion Village Resident Blasts Yes Communities for Caring for Rentals over Manufactured Homeowners
Lawsuit Charges Harm by Giant Mosaic, Yes Manufactured Home Community Operator/Developer, plus Manufactured Home Investing, Stock Updates
More recently, Yes! Communities, along with several other MHI members, has been named as a defendant in a national class action lawsuit.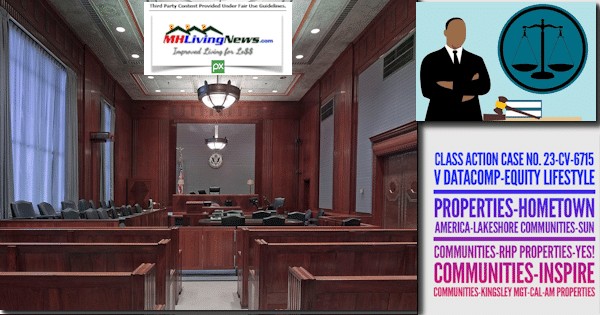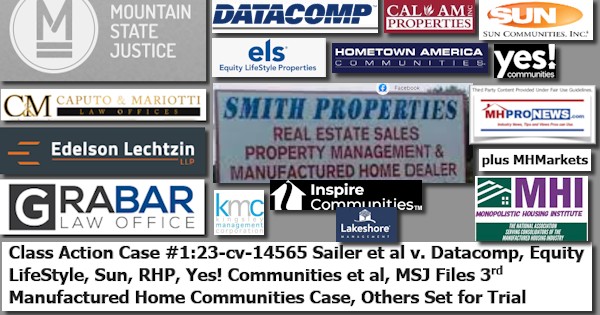 But even before the class action cases above, the Private Equity Stakeholder Project, one of those items that many who posture being trade media in manufactured housing who align with MHI tend to avoid, revealed several areas of concern raised by Yes! residents and their advocates.
> "What has the Private Equity Stakeholder Project said about Yes! Communities?"