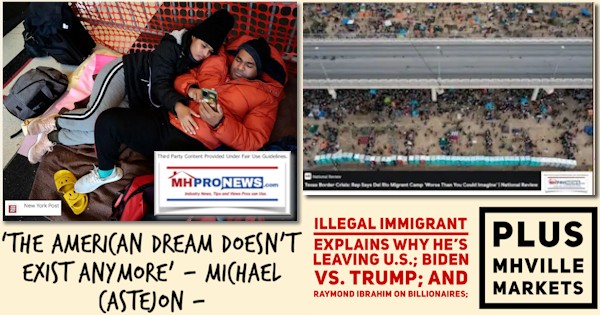 "Some Venezuelan migrants who trekked thousands of miles to the US in search of a better life are so disheartened, they say they're already heading back home," said the New York Post. "Michael Castejon, 39, told the Chicago Tribune he has had enough after he, his wife and teenage stepdaughter spent five months sleeping either in a police precinct or a crowded city shelter in the now-brutally cold Windy City." Castejon, has been unable to secure a work permit or enroll his daughter in a local school, which the New York Post said were two of the main reasons that they thought would bring a better life in the U.S. "The American Dream doesn't exist anymore," Castejon told the Chicago Tribune as they were getting ready to leave the U.S. and return to the South American nation of Venezuela, which they had fled earlier this year.
"If we're going to be sleeping in the streets here, we'd rather be sleeping in the streets over there," said Castejon. Meaning, in South American Venezuela.  Venezuela is significantly closer to the Equator than Chicago, so it is naturally warmer, which could be significant to those who are not used to a cold winter, such as occurs in cities like Chicago or New York City.
Note: to expand this image below to a larger or full size, see the instructions
below the graphic below or click the image and follow the prompts.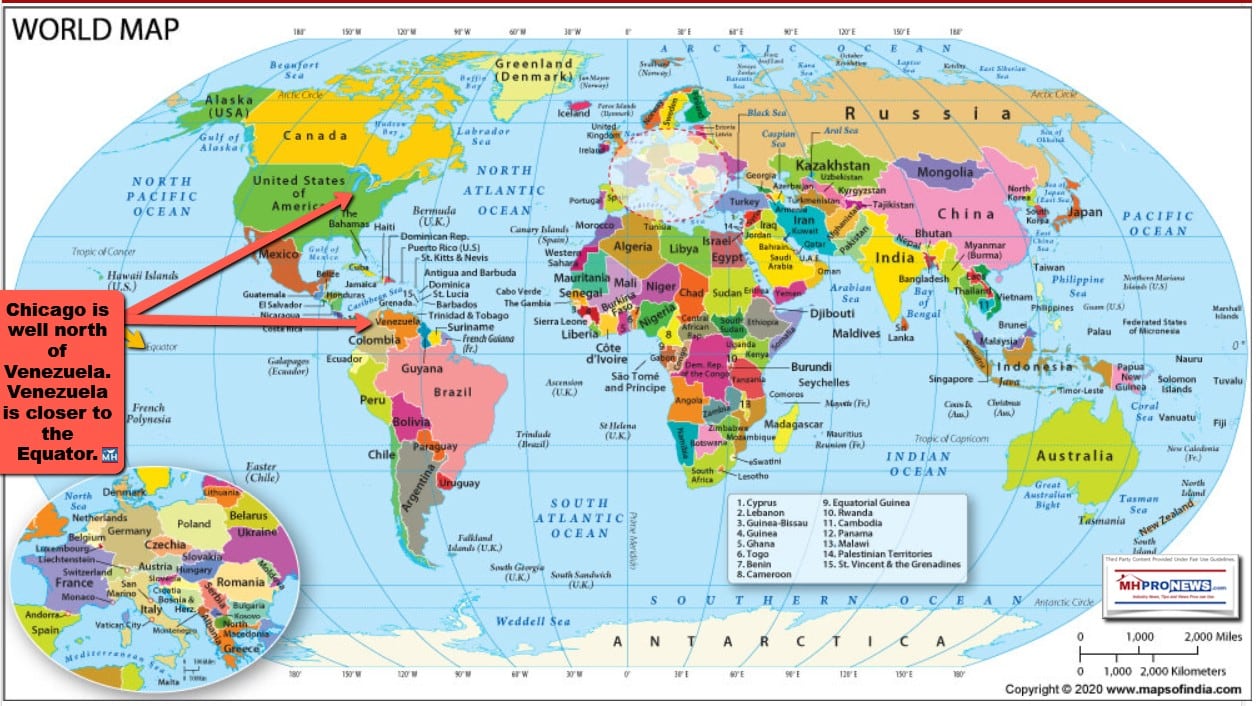 For more insights, the WND News Center provided the following to MHProNews.
Part I
HEALTH MONEY POLITICS U.S. WND NEWS CENTER WORLD
WND
One U.S. city is so unpleasant, migrants return to tyrannical nation they left!
'We didn't know things would be this hard'
By Bob Unruh
Published November 13, 2023 at 4:34pm
It's true that Chicago, run for many years by Democrats, has a horrifyingly high crime rate, worse even than some Third World nations.
And both corporations and residents in recent years have pulled up stakes and moved elsewhere.
But in what has to be a crowning insult, the city has become so "unpleasant" that migrants are fleeing back to Venezuela, despite its socialist government.
It is the Daily Mail that described the city's fall.
"Since August last year, 20,700 migrants have arrived in Chicago from Texas. The Lone Star State's Gov. Greg Abbott sent migrants to Chicago and other Democrat-run cities because of their proud status as 'sanctuary cities.' They offer enhanced protection against detention or deportation for undocumented migrants," the report said.
But "Illinois' harsh winters, lack of migrant infrastructure, and ambivalent support from locals has made many people, who undertook the harsh U.S.-Mexico border journey, actually turn around and go back home," it said.
The report explained how Venezuela-born Michael Castejon, 39, and family members have had to sleep on police station floors and in shelters, because his work permit was slow to arrive and they could not afford rent without subsidies, which expired.
So they decided to return to South America.
"Nothing here for us," Castejon explained, warning others the failed journey was not worth the effort and expense.
Now they'll be returning to an authoritarian regime, the report said.
He told the publication, "We didn't know things would be this hard."
"How many more months of living in the streets will it take? No, no more. It's better that I leave. At least I have my mother back home," he said, "We just want to be home. If we're going to be sleeping in the streets here, we'd rather be sleeping in the streets over there."
The thousands of illegal aliens are in Chicago after mostly crossing the U.S. border in Texas. Texas Gov. Greg Abbott, noting the boasting from multiple leftists cities about how they were sanctuary locations, then dispatched loaded buses to them.
Catholic Charities already has helped multiple families to return, the report said.
Brayan Lozano, head of the volunteer group of the Police Station Response Team, told the Daily Mail, "The word of the situation in Chicago is beginning to spread."
The report described the situations of others, also forced to sleep on police station floors, who also have decided to return.
The report noted Chicago now has some 11,000 illegal aliens in shelters and another 4,000 living in police stations or its airport.
The catastrophe, triggered by Joe Biden's decision to make the nation's southern border virtually open by cancelling the security measures installed by President Trump, has prompted city resident to debate the whole issue of offering "sanctuary."
The report said, "Progressives in Chicago are outraged that a move to end Chicago's status as a sanctuary city is even being considered for a ballot. But many of the city's residents – including a large number of those who are themselves ethnic minorities – are keen to end the Windy City's sanctuary city status." ##
Part II – Additional Information with More MHProNews Analysis and Commentary
In yesterday's report on UMH Properties, Eugene Landy was quoted as saying: "There is a severe shortage of affordable housing in the United States. Estimates of this shortfall are as high as 4 million units, which does not even account for the mass migration now happening across the Southern border." While Cavco Industries says that the housing shortage may be millions larger than 4 million units, nevertheless, Landy's point is not to be ignored.
SHOCKING REPORT: Migrants Return to Venezuela Due to Unpleasant Conditions in Chicago Shelters and Job Shortages..

SO far, Over 20,700 Have Already Bused to Democratic 'Sanctuary City.'

Illinois' harsh winters, lack of migrant infrastructure, and ambivalent support from locals… pic.twitter.com/2CRGtP6czw

— Chuck Callesto (@ChuckCallesto) November 12, 2023
Chicago has gotten so bad even the migrants (I mean, "asylum seekers", of course) don't want to be here…

"Chicago migrants return to Venezuela ahead of winter: 'There's nothing for us here' " https://t.co/KzAvTXNrlj

— Carol Roth (@caroljsroth) November 13, 2023
Recall that Roth is a self-described "Small Biz" advocate and best-selling author. "Advocate for Big Hair + Small Biz; Biz Consigliere; Play Myself on TV," who is the x2 New York Times best-selling author of her new hit book "You Will Own Nothing."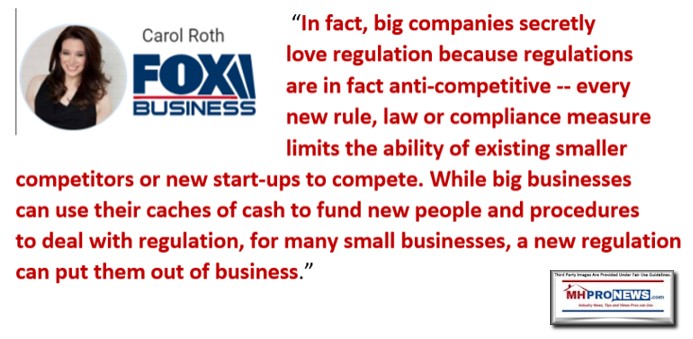 Yeah, honey, that's not going to do it.
First tweet great, second tweet a joke. pic.twitter.com/tplGzXKVyd

— Carol Roth (@caroljsroth) November 13, 2023
Bing AI said that "I found a report from House Republicans that cites the cost of the migrant crisis to be $451 billion 1. The report states that "Every day, millions of American taxpayer dollars are spent on costs directly associated with illegal immigration and the unprecedented crisis at the Southwest border sparked by Department of Homeland Security (DHS) Secretary Alejandro Mayorkas' policies" 1. The report also outlines the taxpayer costs incurred in medical care, housing, education, and other welfare benefits for tens of millions of migrants 1." Bing AI acknowledged reports on MHProNews about the immigration crisis and its impact on housing, but could not find similar reporting from others in the manufactured housing industry. Per Bing AI: "Manufactured Home Pro News is a manufactured housing trade media publisher 1. I was unable to find any specific reports from other manufactured housing trade media on the illegal immigration crisis."
'We Will Have Illegals in U.S. Deny Citizens the Right to Run Our Govt' – How Illegal Immigration Impacts Housing Costs-Ramifications of Biden v Trump 2024; plus Sunday MHVille Headlines Recap
Quinnipiac Polling Brings Biden Bad News, Most Hispanics Oppose Handling of Immigration, Most Americans Think "Biden Administration Is Not Competent" – MHIndustry Analysis; plus MHMarket Updates
MHProNews has covered immigration related topics in manufactured housing for over a decade. All the others that say they cover MHVille? Not so much.
While there may be some heading back to their homeland, there are still far more coming into the U.S.
Note in the report that follows, the Daily Torch provided to MHProNews is clearly on the political right. That said, the Daily Torch routinely cites the various sources, which are often from polls taken by organization that are on the political left. The Daily Torch's Rob Romano gives facts and more facts. A focused analysis will follow further below.
Part III 
Trump leads Biden 47% to 41% in swing states, wins GA, AZ, NC, PA, WI and NV in four-way and two-way races
Former President Donald Trump continues to lead incumbent President Joe Biden in the most important battleground states in the latest Morning Consult-Bloomberg poll taken Oct. 30 to Nov. 3 with an overall 47 percent to 41 percent margin.
Trump leads Biden individually in Georgia, Arizona, North Carolina, Pennsylvania, Wisconsin and Nevada in both the two-way race and in four-way race between Trump, Biden, Robert Kennedy, Jr. and Cornell West.
In Georgia, Trump leads with 43 percent, Biden garners 34 percent, Kennedy 10 percent and West 1 percent.
In Arizona, Trump gets 40 percent, Biden 36 percent, Kennedy 11 percent and West 1 percent.
In Michigan, Trump and Biden are tied in Michigan 43 percent to 43 percent in the two-way race, and Biden leads there by 1 point in the four-way race, 38 to 37 percent, with Kennedy getting 10 percent and West getting 2 percent.
In North Carolina, Trump gets 42 percent, Biden 33 percent, Kennedy 9 percent and West 2 percent.
In Pennsylvania, Trump gets 41 percent, Biden 38 percent, Kennedy 8 percent and West 1 percent.
In Wisconsin, Trump gets 38 percent, Biden 36 percent, Kennedy 13 percent and West 1 percent.
And in Nevada, Trump gets 39 percent, Biden 35 percent, Kennedy 11 percent and West 1 percent.
The results confirm other swing state polls recently taken, including the New York Times-Siena poll taken Oct. 22 to Nov. 3, showing Trump winning Georgia, Arizona, Michigan, Nevada and Pennsylvania.
Obviously, that's all really bad news for President Biden, with increasing calls for Biden to step aside for 2024 growing even though alternatives like Kamala Harris do even worse than Biden does in the polls. Trump has been easily leading Harris in most recent polls taken, according to the RealClearPolitics.com average of polls, showing Trump with a 46 percent to 42 percent edge.
Giving Biden some breathing room were the Nov. 7 elections, which saw Democrats hold onto the Kentucky governor and pick up the House of Delegates in Virginia, in turn fostering some confidence that Democrats will still show up at the polls in 2024 with the incumbent Biden running. Jim Messina, Barack Obama's campaign manager in the former president's successful 2012 reelection bid wrote in Politico on Nov. 13, "There's No Need to Panic Over Biden," arguing that early polls taken right now are unreliable, that polls showed Mitt Romney beating Obama too, but in hindsight Obama won reelection relatively easily.
There's some truth to that. Incumbent presidents win about 66 percent of the time when they stand for reelection, even ones who appeared weak at the time.
On the other hand, weak economies had the tendency to oust sitting presidents in 1932, 1976, 1980, 1992 and 2020. Obama did not have to contend with high inflation or a potential recession on the horizon, nor did Biden have third party challengers like Kennedy and West pulling votes from him.
In that sense, there is still a lot of time in the race for conditions in the country economically to improve, potentially improving Biden's poll numbers as the Republican primary process continues apace with Trump still easily leading the GOP field by 44 points on average with just a short time before the contests begin in the Iowa Caucus on Jan. 15, 2024 and the New Hampshire primary likely on Jan. 23, 2024.
But by now, with a confirming set of polls from Morning Consult-Bloomberg and New York Times-Sienna, showing Biden trailing in these swing states, the hour grows late.
Robert Romano is the Vice President of Public Policy at Americans for Limited Government Foundation.   ##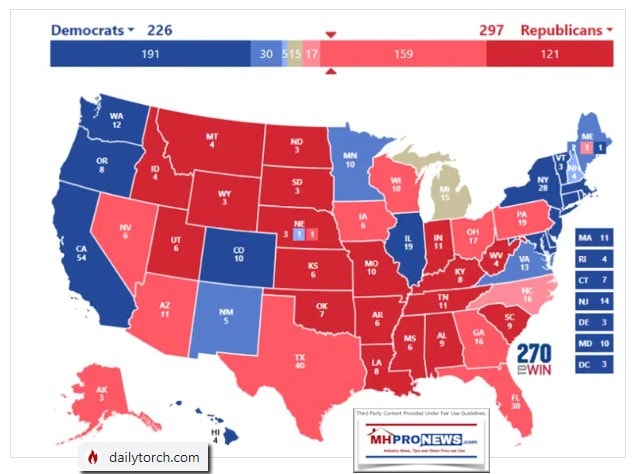 MHProNews notes that according to experts, strengthening election integrity laws and more poll watchers are necessary to reduce the chances for illegal voting scams, a topic which cropped up again in a race between Democrats.  There are several pundits and sources which assert that while Biden might not drop out of the 2024 contest any time soon, but say that he will do so before his party's convention.  Among the names floated that will then step in could be Governor Gavin Newsome (CA-D), Michelle Obama (former first lady to president Barack Obama), former Secretary of State Hillary Clinton (D), and of course, Kamala Harris (D).
BOOK REVIEW
How the billionaire elite employ Marxism to manipulate the world
Raymond Ibrahim lauds Hanne Herland's new work on the erosion of liberty and rise of groupthink
By Raymond Ibrahim
Published November 10, 2023 at 6:05pm
What is ultimately behind so many of the (manufactured) ills currently plaguing the West, from leftist lunacy and gender insanity, to unnecessary lockdowns and wars?
In a word, the ultra-rich – the billionaire elite. So argues bestselling author and WND columnist Hanne Nabintu Herland, in her latest book, "The Billionaire World: How Marxism Serves the Elite."
In a series of brisk chapters, Herland – an African-born historian of religions and founder of The Herland Report in Scandinavia – traces all of the world's major problems back to the billionaire elite and their use of Marxist repression and social engineering.
While this may seem counterintuitive, Herland makes – and documents – several powerful arguments.
The fact that a tiny elite control much can be seen in that even seemingly opposing and competing brands, such as Coke and Pepsi, are usually owned by the same company, says Herland. The same applies to supposedly opposing "leftist" and "rightist" media. A paltry six corporations control 90% of all U.S. media. As for the political arena, the "richest 0.01% have accounted for 40% of all campaign contributions through corporate donations."
In short, "These mastodonte private companies completely dominate our way of life, what we eat, drink, watch on TV, what we wear, and who we vote for."
Little wonder that, no matter what happens in the world, and no matter how such developments are detrimental to the average person, the ultra-rich tend only to get richer. According to Herland, "82% of all wealth generated in 2017 went to the richest 1% among us, while the poorest world population of 3.7 billion saw no increase in wealth."
But it's worse than that; There seems to be a direct correlation between how much poorer the average man gets and how much richer the billionaires get. Writes Herland:
"[T]he richest among us made billions of dollars on the COVID-19 world tragedy, while the world's poor plunged into unimaginable poverty. … The shutdown strategy made the billionaires' profit soar. In the span of just a few months in 2020, Bill Gates made $75 billion, Jeff Bezos $67.9 billion, Mark Zuckerberg $37.8 billion, and Elon Musk $33.6 billion."
Meanwhile, 48% of small business owners in America experienced severe economic turmoil – with fully one-third of them going bankrupt, and with black-owned businesses suffering disproportionately – due to this lockdown that otherwise profited the billionaires.
From a macro-historic perspective, the West is slowly regressing, and the ultra-rich are becoming "the globalist version of feudal lords, as the new Western slave class emerges beneath them."
But how did this lamentable state of affairs comes to pass in the first place? Marxism – in its myriad forms and iterations – is Herland's answer. Since the 1960s, beginning with the "free sex and drugs" movement, Marxism, especially in the guise of godless materialism, has wormed its way into Western culture, poisoning, corrupting and destroying everything that originally made the West great, and therefore making it ripe for the most powerful – meaning the richest – to manipulate and control. Writes Herland:
"The Marxist attack on historic Western values has weakened the very core of our culture, destroyed social stability and the family, quenched free speech and silenced the people – and thereby removed the obstacles for the billionaire class to gain centralized control. … The combination of strong private corporations coupled with political socialist ideologies has pushed for a radical groupthink model in which the population is expected to agree with the consensus – not unlike that which we witnessed during the National Socialism in Germany before and during World War II."
Environments where freedom and liberty erode and are replaced with groupthink are especially ripe for Marxist exploitation. As Vladimir Lenin, who admired Marx, once wrote:
"We must be ready to employ trickery, deceit, law-breaking, withholding and concealing truth. … We can and must write in a language which sows among the masses hate, revulsion and scorn towards those who disagree with us."
More than a century after these tactics were first written down, surely it needs no great expounding to see how they now dominate Western discourse and politics – especially through the media, most of which are owned by a handful of elites.
There is much more to recommend Herland's "Billionaire World." Almost every pressing topic – including the politicization of science, the rise of (openly Marxist) groups such as Black Lives Matter, the global persecution of Christians, the stoking of racial tensions and the rewriting of history – is connected to the overlooked role of the billionaire elites and their self-serving agendas. ##
About Ibrahim.
Raymond Ibrahim, an expert in Islamic history and doctrine, is the author of "Defenders of the West: The Christian Heroes Who Stood Against Islam" (2022); "Sword and Scimitar: Fourteen Centuries of War between Islam and the West" (2018); "Crucified Again: Exposing Islam's New War on Christians" (2013); and "The Al Qaeda Reader" (2007). He has appeared on C-SPAN, Al-Jazeera, CNN, NPR and PBS and has been published by the New York Times Syndicate, Los Angeles Times, Washington Post, Financial Times, Weekly Standard, Chronicle of Higher Education, and Jane's Islamic Affairs Analyst. Formerly an Arabic linguist at the Library of Congress, Ibrahim has guest lectured at many universities, including the U.S. Army War College, briefed governmental agencies such as U.S. Strategic Command, and testified before Congress. He has been a visiting fellow/scholar at a variety of Institutes – from the Hoover Institution to the National Intelligence University – and is currently the Distinguished Senior Shillman Fellow at the Gatestone Institute and the Judith Friedman Rosen Fellow at the Middle East Forum. His full biography is available here. Follow Raymond at Twitter and Facebook.
Recall that MHProNews recently did a report on Herland's book, which is linked below. It includes a more detailed analysis.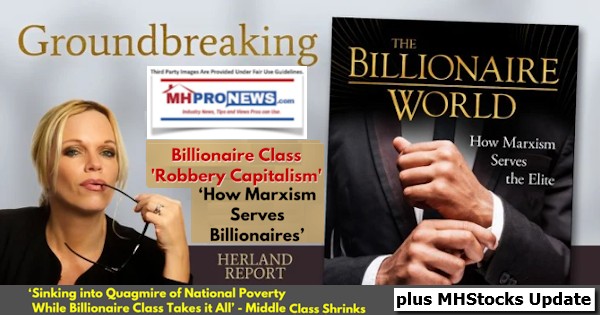 Part V – is our Daily Business News on MHProNews stock market recap which features our business-daily at-a-glance update of over 2 dozen manufactured housing industry stocks.
This segment of the Daily Business News on MHProNews is the recap of yesterday evening's market report, so that investors can see at glance the type of topics may have influenced other investors. Thus, our format includes our signature left (CNN Business) and right (Newsmax) 'market moving' headlines.
The macro market move graphics below provide context and comparisons for those invested in or tracking manufactured housing connected equities. Meaning, you can see 'at a glance' how manufactured housing connected firms do compared to other segments of the broader equities market.
In minutes a day readers can get a good sense of significant or major events while keeping up with the trends that are impacting manufactured housing connected investing.
Reminder: several of the graphics on MHProNews can be opened into a larger size. For instance: click the image and follow the prompts in your browser or device to OPEN In a New Window. Then, in several browsers/devices you can click the image and increase the size. Use the 'x out' (close window) escape or back key to return.
Headlines from left-of-center CNN Business – from the evening of 11.13.2023
Walmart, Costco and other companies rethink self-checkout
Expanded hydrophilic polymer
Lawmaker calls for national ban on children's toy due to health risks
Woman using ATM holding wallet an pressing the PIN security number on the keyboard automatic teller machine
Three things you can do if deposit delays hurt your ability to pay your bills
The New York Stock Exchange (NYSE) in New York, US, on Friday, Oct. 20, 2023.
Most Americans think the economy should be in fairly good shape this time next year
Here's how much you need to make to afford a home in America
Doughnuts are sold at a Krispy Kreme store on May 05, 2021 in Chicago, Illinois. The doughnut chain reported yesterday that it plans to take the company public again. The company was taken public in 2000 but struggled before being acquired by JAB Holding Company in 2016.
Krispy Kreme is giving away free boxes of donuts today, but there's a trick to getting them
Car parts maker Continental plans thousands of job cuts
Waikiki hotel is ditching the Trump name
People walk through the produce department at the new Wegmans Astor Place grocery store on October 28, 2023, in New York City.
Americans are losing faith that inflation will return to normal. The Fed is terrified
'Wake-up call.' Britain's Royal Mail can't deliver letters and parcels on time
Why the American whiskey industry is freaking out
Hyundai plans to make 200,000 EVs a year at new plant in South Korea
He's leading the biggest banking deal in history. Failure is not an option
Australian ports resume some operations after major cyberattack
Fashion mogul Peter Nygard found guilty of 4 counts of sexual assault
'The Marvels' struggles at box office on opening weekend
Powell made a big statement this week after bond yields slid. Here's why
The wildest moments of WeWork's rise
This was a massive week for AI
Gina Raimondo seeks better ties with China amid tensions over tech, Taiwan
More than 1,600 Jewish Harvard alumni threaten to withdraw donations over antisemitism concerns
IRS announces new income tax brackets
The US minimum wage has been $7.25 since 2009. What that means for the economy
Note: to expand this image below to a larger or full size, see the instructions
below the graphic below or click the image and follow the prompts.