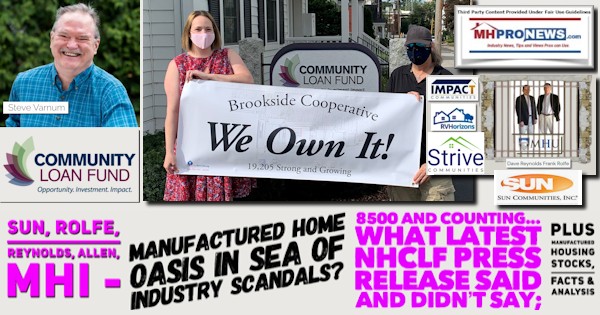 No offense to those who craft a news release, but there is routinely a different story lurking behind whatever is being presented by a given organization. When the New Hampshire Community Loan Fund's (NHCLF) director of communications sent the release that follows, it is unlikely that Steve Varnum imagined that a report like this would emerge. This has his base release, uses their featured image, plus much more from NHCLF. They are a "CDFI," which they say is a "Community Development Financial Institutions (CDFIs) [that] strengthen communities." Their website seems to indicate that they have been doing conversions of commercially owned communities into resident owned cooperatives communities (ROCs) since 1984. But there is not a word in what they sent about what arguably makes then a kind of oasis amid the often troubling, "predatory," and potentially illegal practices since the dawn of the Warren Buffett led Berkshire Hathaway era of manufactured housing in 2002. Buffett, his allies at the Manufactured Housing Institute (MHI), include a far more dramatic telling of factual tales that include evidence from Sun Communities Inc (SUI), 'Berkshire's Bads' such as Frank Rolfe's and Dave Reynolds's latest pitch, and the under told take of how ROCs repeatedly outperformed Col. George F. Allen (ret.) and his daughters experience in manufactured home community operations. Following the NHCLF's release will be additional information, related analysis, plus our business daily left-right headline news, manufactured Home connected stock and results at yesterday's closing bell.
Here is the information and photo provided by Varnum to MHProNews. Per their website, "ROC-NH™ is a program of the New Hampshire Community Loan Fund, Inc. and a ROC USA® Certified Technical Assistance Provider. ROC-NH is a registered service mark of ROC USA, LLC."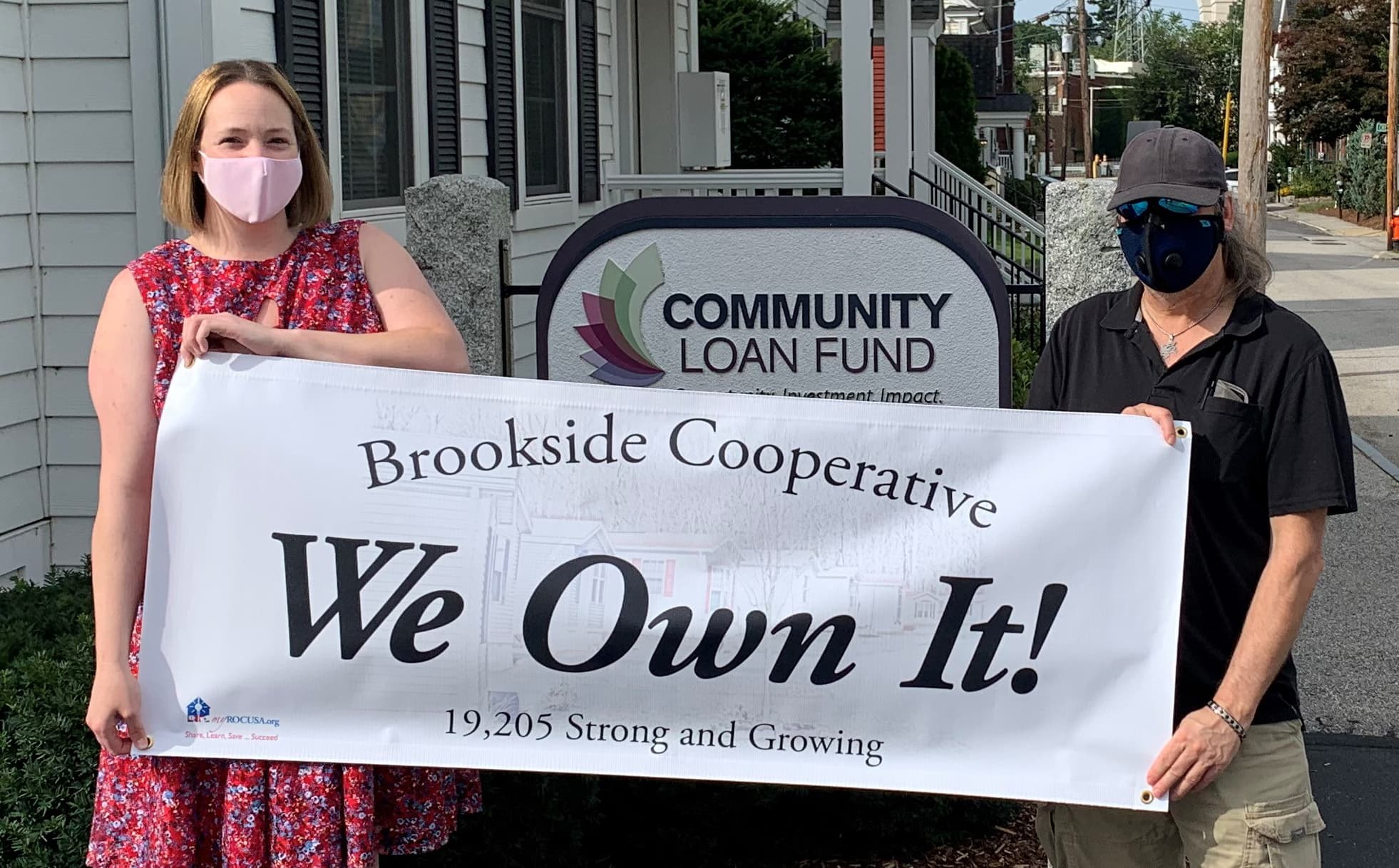 Photo caption [top center]: From left, Brookside Cooperative Secretary Lynzey Ly and President David Kirsch. Photo courtesy NH Community Loan Fund.
Manufactured-home park in
Hill purchased by residents
NH Community Loan Fund helps families in
Brookside Cooperative organize and purchase
Brookside Mobile Home Park
HILL, NH (9/7/2021) – The homeowners in Brookside Mobile Home Park recently purchased their 21-unit manufactured-home park, making it New Hampshire's 139th resident-owned community (ROC).
Using training and technical assistance from the New Hampshire Community Loan Fund's ROC-NH™ team, homeowners organized and formed Brookside Cooperative, Inc. in April 2021.
The cooperative then negotiated with the park's owners, Timothy and Sherri Minor, reached a $440,000 purchase price, and finalized the deal August 31 with a mortgage from the Community Loan Fund.
Sherri Minor said, "Being a family-owned and -operated business has made us really understand the people and know them and their families. I have great comfort in knowing they own it as a group. I know what it means to them."
Co-op President David Kirsch said that through the work of buying their community he has already seen a heightened sense of responsibility and more engagement among Brookside's residents.
"We are making plans for getting all urgent repairs completed and looking to the future to see what else we can do to improve the condition of the park. There is a growing sense of community that I didn't see before. I can envision our small park hosting events for our residents to enjoy together," he said. "None of this would have been possible had we chose to just let some other private investor buy the park."
On the day of the closing, co-op Treasurer Ellie Duclos remembered the day she phoned ROC-NH's office looking for help. "I called because I didn't want to see the park bought out. As a ROC, we have the control and ability to do what needs to be done. We have an amazing board, each with their own unique outlooks, abilities, and experiences that I believe will bring this park together to form a fantastic community."
Brookside Cooperative is Merrimack County's 20th ROC. Those communities contain 1,201 permanently affordable homes.
Cooperative ownership means Brookside's homeowners are now eligible for products and services, including real mortgages, that haven't been available to them. Studies show that when the land is secure, the availability of home financing improves the home's value, the owner's ability to make improvements, and overall housing affordability.
The nearly-8,500 homeowners in New Hampshire's ROCs, spread across every county, also have access to management guidance, technical assistance, and leadership training in which they earn college credit through ROC-NH and its national network, ROC USA.
For 38 years, the Community Loan Fund has worked across N.H. to connect people, families, and business owners with the loans, training, and advice that allow them to have affordable homes, secure jobs, and quality child care, and become more economically stable.
A complete list of ROCs in New Hampshire is available at https://www.communityloanfund.org/co-op-list/.
More information on the Community Loan Fund is online at www.communityloanfund.org.
About the New Hampshire Community Loan Fund
The New Hampshire Community Loan Fund, based in Concord, N.H., turns investments into loans and education to create opportunity and transform lives. We collaborate with a wide range of donors and investors, and with business, nonprofit and government partners, to provide the financing and support people need to have affordable homes, have quality jobs and child care, and become financially independent. Established in 1983, the Community Loan Fund was one of the first Community Development Financial Institutions in the nation, and has received industry awards and recognition for social impact, financial strength, and performance.  ##
##
Per the information on their website, from 1984-2001, there were 49 ROCs funded by NHCLF. From 2002-YTD 2021 there have been 90 ROCs funded by the same organization.
Additional Information on ROCs, MHCs, Manufactured Housing Institute (MHI), Frank Rolfe, Dave Reynolds, Legislation That's Moving, GF Allen and his Daughter, Plus more Related Facts, Analysis, and MHProNews Commentary
When investigators begin to pull back the veil on the timeline of events in manufactured housing in the late 20th into the 21st century, several factual elements should emerge to objective and truth-seeking thinkers.  Among them, in no particular order of importance, are the following.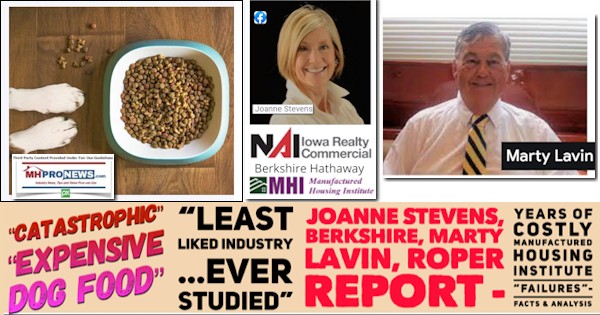 The disruption caused by the wave of repossessions that followed in the wake of the wet and wild "GreenSeco" era of manufactured housing is reflected in contemporary reports like the MHI commissioned Roper Report, the writing of Marty Lavin, Joanne Stevens, Bruce Savage, and Fast Company.  Taking the last first, Reingold's narrative of the Ballad of Clayton Homes challenges the folksy yarn spun by Berkshire, Clayton, and MHI sycophants.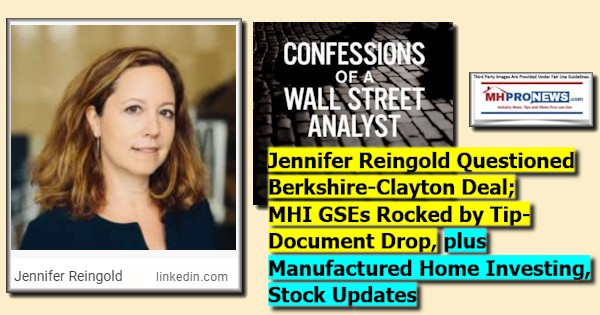 Reingold's evidence-based claims in Fast Company tear at what investors or others are told to believe about the 'official' version of Berkshire's acquisition of Clayton Homes, which even Kevin Clayton called an "ugly" legal battle. What is it that causes people to lie about something that doesn't need to be lied about, if all is good?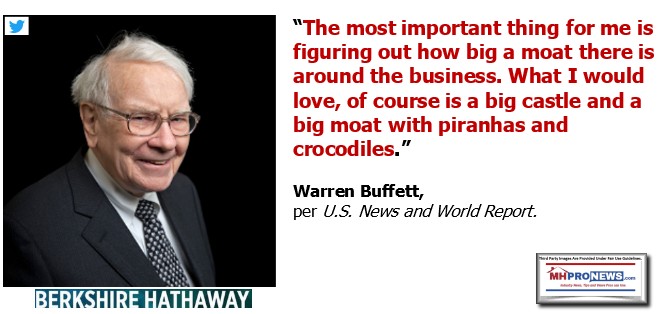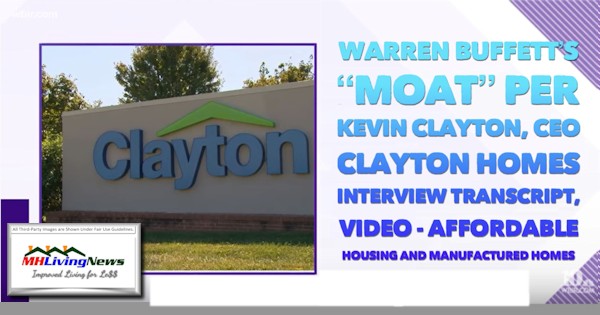 The NHCLF website makes several interesting statements. Among them are the following on their mission statement page.
"we believe
1). One of the barriers that keeps people with low incomes from achieving greater self-sufficiency is a lack of access to credit."
That statement from the NHCLF website is demonstrably true.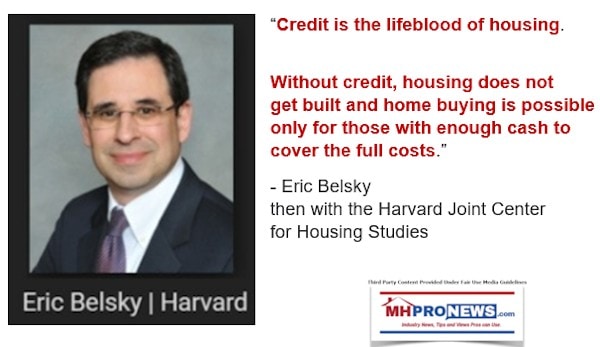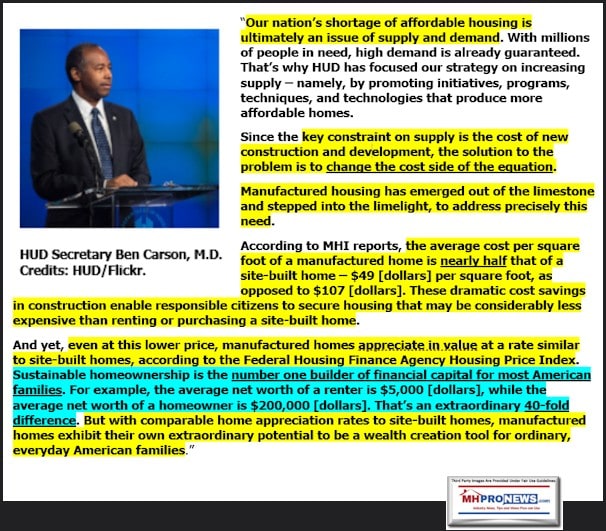 That was one of the reasons that the Congress made part of the Housing and Economic Recovery Act (HERA) of 2008 what was a hopeful provision for manufactured housing advocates. HERA "mandated" a Duty to Serve (DTS) manufactured housing, which critics say has been twisted, weaponized, and is making dozens of manufactured home communities less affordable, not more affordable. Who says? NPR in a report on August 6, 2021: "We find out what happens when big investors spend billions of dollars buying mobile home parks and make them less affordable for the people" who live in those communities that NPR said are commercial "loans are backed by Fannie Mae and Freddie Mac."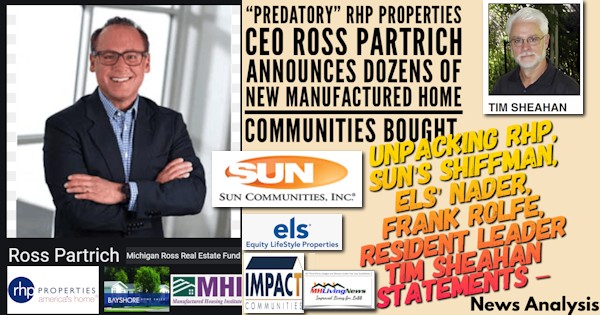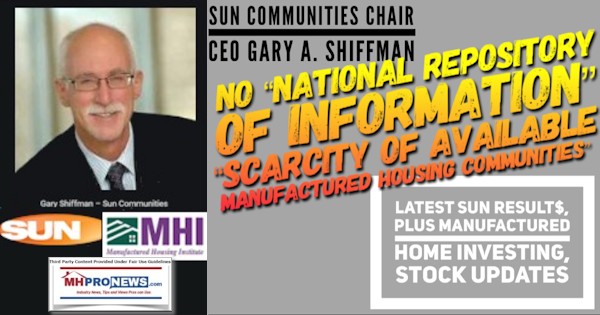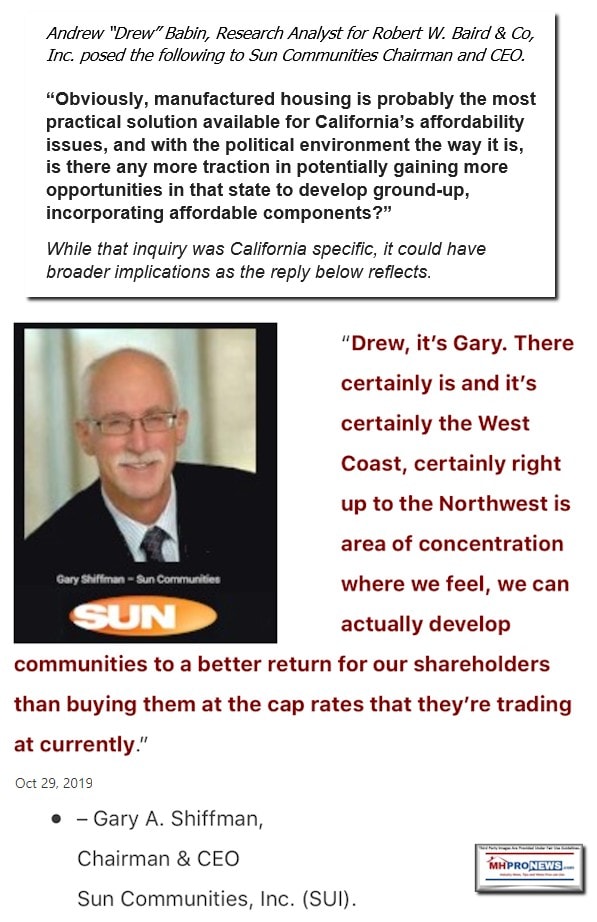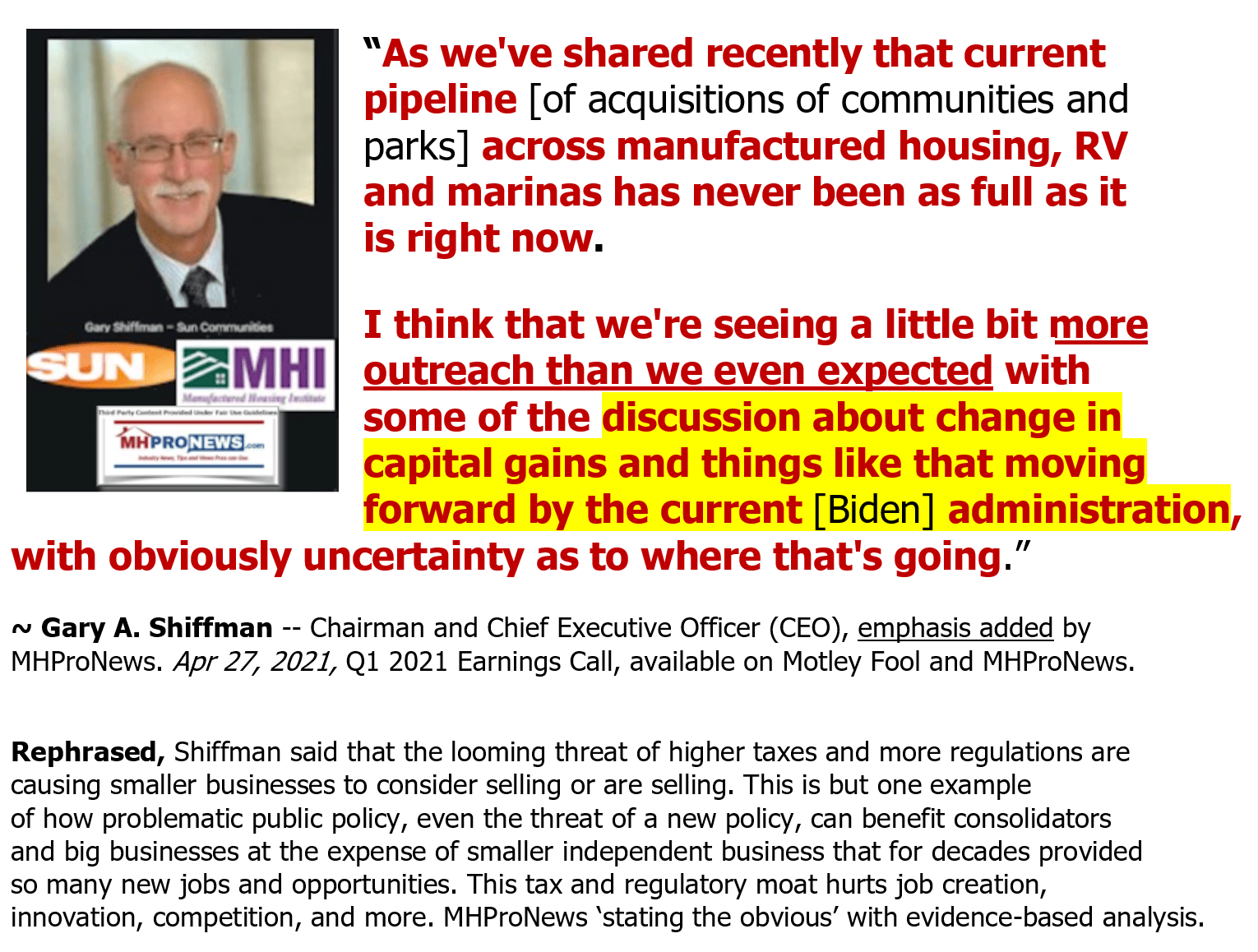 But why is this possible? As fact- and evidence-based MHProNews Masthead report and analysis revealed, Buffett announced not long after his buyout of Clayton Homes that they would be portfolioing their loans. That strategy would only work if the Government Sponsored Enterprises (GSEs) would not get heavily involved in financing individually owned single family manufactured homes via personal property (chattel or home only) loans.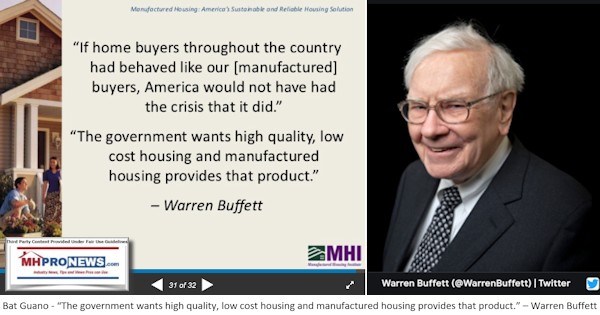 Depending on the source cited, some 80+ percent of all manufactured homes are financed that way, see the Consumer Financial Protection Bureau (CFPB) recent reporting on that topic.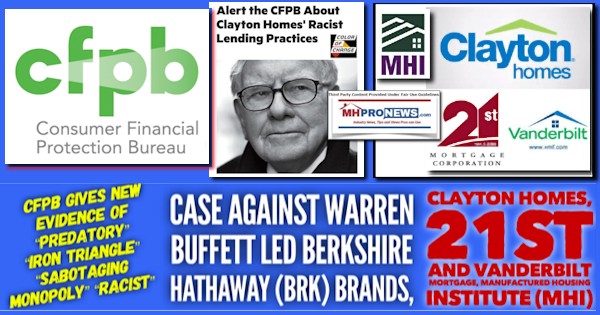 The Roper Report, Joanne Stevens – whose business unit is now ironically a member of the "Berkshire Hathaway family of companies" – Marty Lavin, and the late MHI VP of communications Bruce Savage have all provided useful insights into what the manufactured housing world looked like post-2002.
Without a doubt, Berkshire had the money, media, and means to grow manufactured housing. But instead, as his buddy Bill Gates observed, in a parasitic fashion, Berkshire's presence in manufactured housing was "parasitic." A parasite, per the CDC is a creature that feeds of a host. By the hook or crook crippling of access to credit for those with more modest means – the very ones that DTS was supposed to benefit – the apparent Iron Triangle working in manufactured home lending turned a program meant for good into one weaponized for harm.
To be objective, Joel Kotkin describes a similar hollowing out from within in other industries too.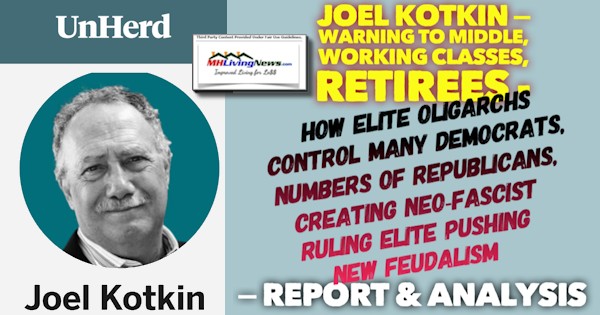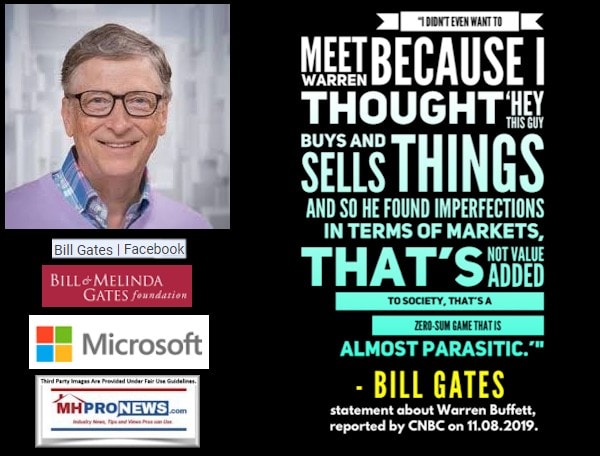 That noted, the seminal third-party research by Samuel Strommen at Knudson Law – whose research and allegations of wrongdoing as yet still publicly unchallenged by Berkshire and MHI – explains in a systematic and well documented fashion how the once proud manufactured home profession was all too often turned into "a Rube Goldberg Machine of Human Suffering."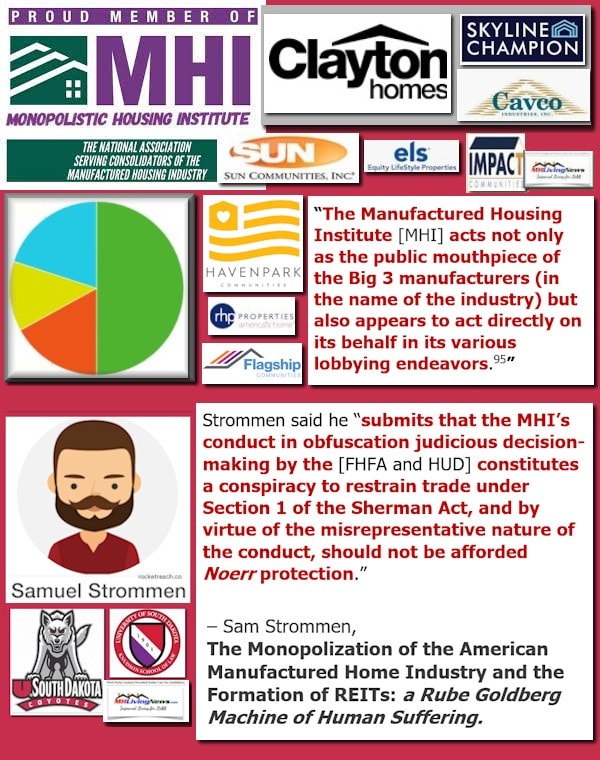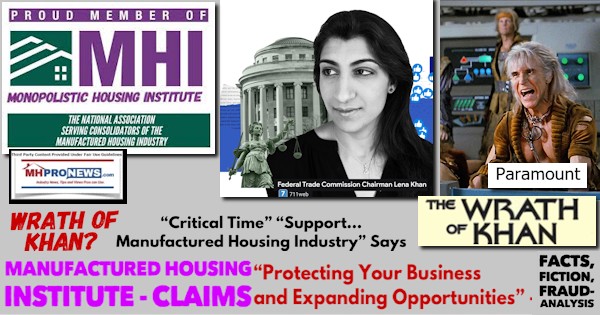 In that context, George F. Allen (GFA), cited along with other apparent MHI & Berkshire surrogates, attacks Strommen for documenting what Allen himself has previously alleged himself, though GFA did so with less thorough research and evidence.  But then, do not expect Allen to be consistent, as he touted his credentials as a community-investor, when a well-placed source in his orbit said that Allen's own daughter Carolyn failed in a land-lease community venture that had a financial drag on Allen. Allen's never denied that well-sourced claim.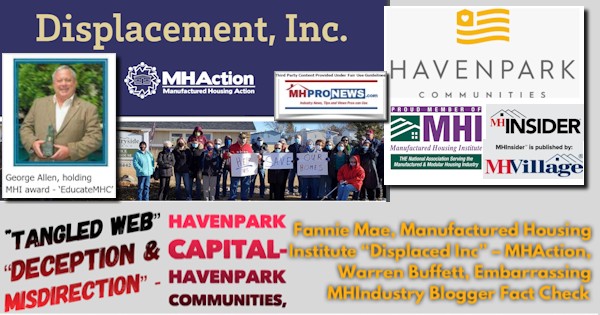 But the sometimes entertaining 'magician' Allen is arguably not the only 'flim flam man' in manufactured home community investing. Allen himself once mused harshly about Frank and Dave for luring investors by claiming that investing in a manufactured home community was passive investing. As recently as this past week, Frank and Dave have emailed out that arguably bogus claim. Per their 'educational' pitch on September 3, 2021, "How To Keep Mobile Home Park Investing Passive." Perhaps it could be somewhat passive if someone else is doing the managing and other day-to-day details. But the reality is that in the Berkshire-era of manufactured housing, it often requires more work to properly operate a manufactured home community than it did when NHCLF began making loans to convert investor owned properties into ROCs in 1984.  Why? Because the elimination of perhaps 10,000 plus or more retailers post-January 2009 resulted in a loss of the source many if not most community owners used to fill vacant sites.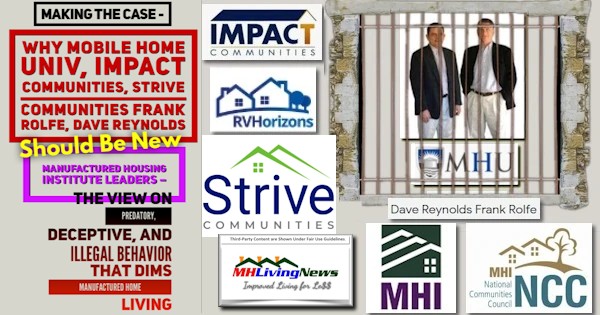 The Rest of the Story? Management and Investing 101
Inspect what you expect. If you don't know your numbers, you don't know your business. No one report, no single story or even a single volume book could begin to cover the various nuances that have caused manufactured housing to underperform during an apparent and growing affordable housing crisis.
ROCs are not perfect, as our reporting on the saga of Millie Francis has revealed. By the way, Francis recently called to thank MHLivingNews because following our most recent reports, yet another manager was reportedly dismissed (separated from) Vanguard's management of the ROC she calls home.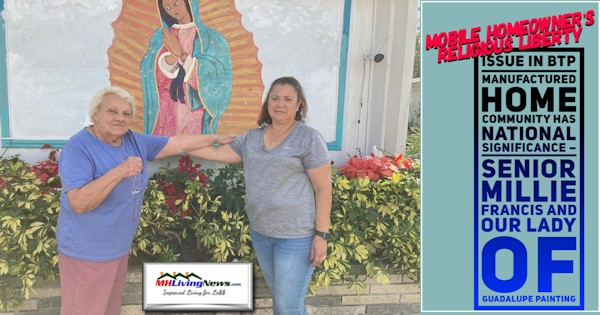 But ROCs are a fine and important option that provides a useful alternative to the so-called predatory behavior that is often traced back to MHI member firms. MHProNews has editorially supported ROCs from early on and have continued to do so.
But that predatory behavior operating in the background of the NHCLF release is fostering the push in Congress to pass new legislation to regulate and impose certain conditions on sellers of manufactured home communities. MHI supports one of those two bills. This is the true-to-life, fact- and evidence-based reports and analysis that literally no one else in our profession's other trade bloggers and publishers has the cojones to report on, or to do so in anything like an authentic fashion.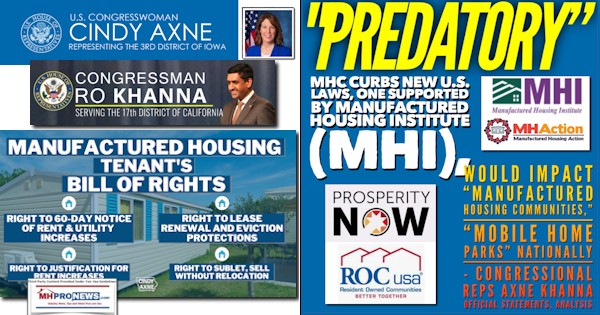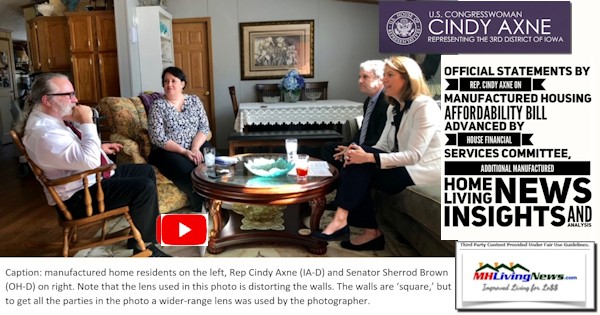 So, while ROCs predated the Berkshire era, there is an apparent surge in conversions since 2002, the year that Berkshire began his move into manufactured housing. There are a variety of valid ways to tell a story. Compare and contrast is one of them. Gathering the facts, providing them to readers, allowing a range of views, that's a proven way of getting closer to the truth. There is more to the story of how so much of traditionally affordable manufactured housing has gone astray, of course. But now you know more of the rest of the story than a mere press release – no matter how good – would have provided.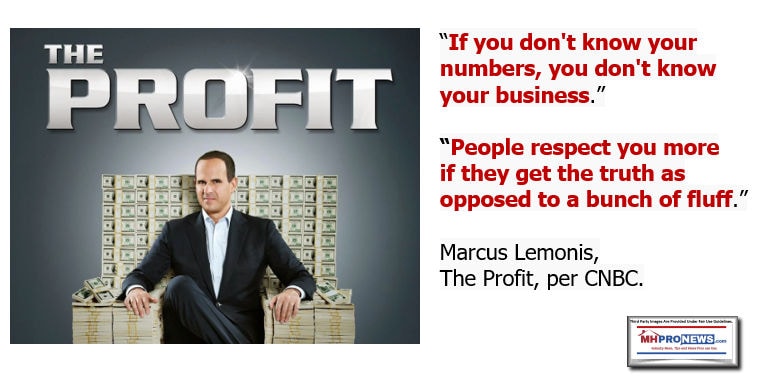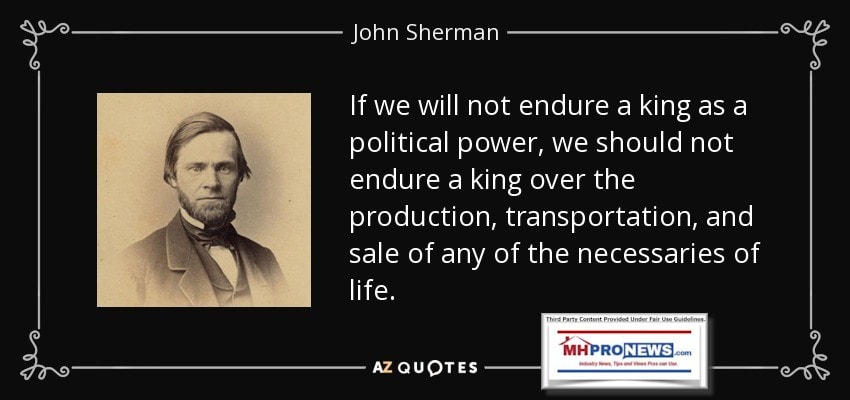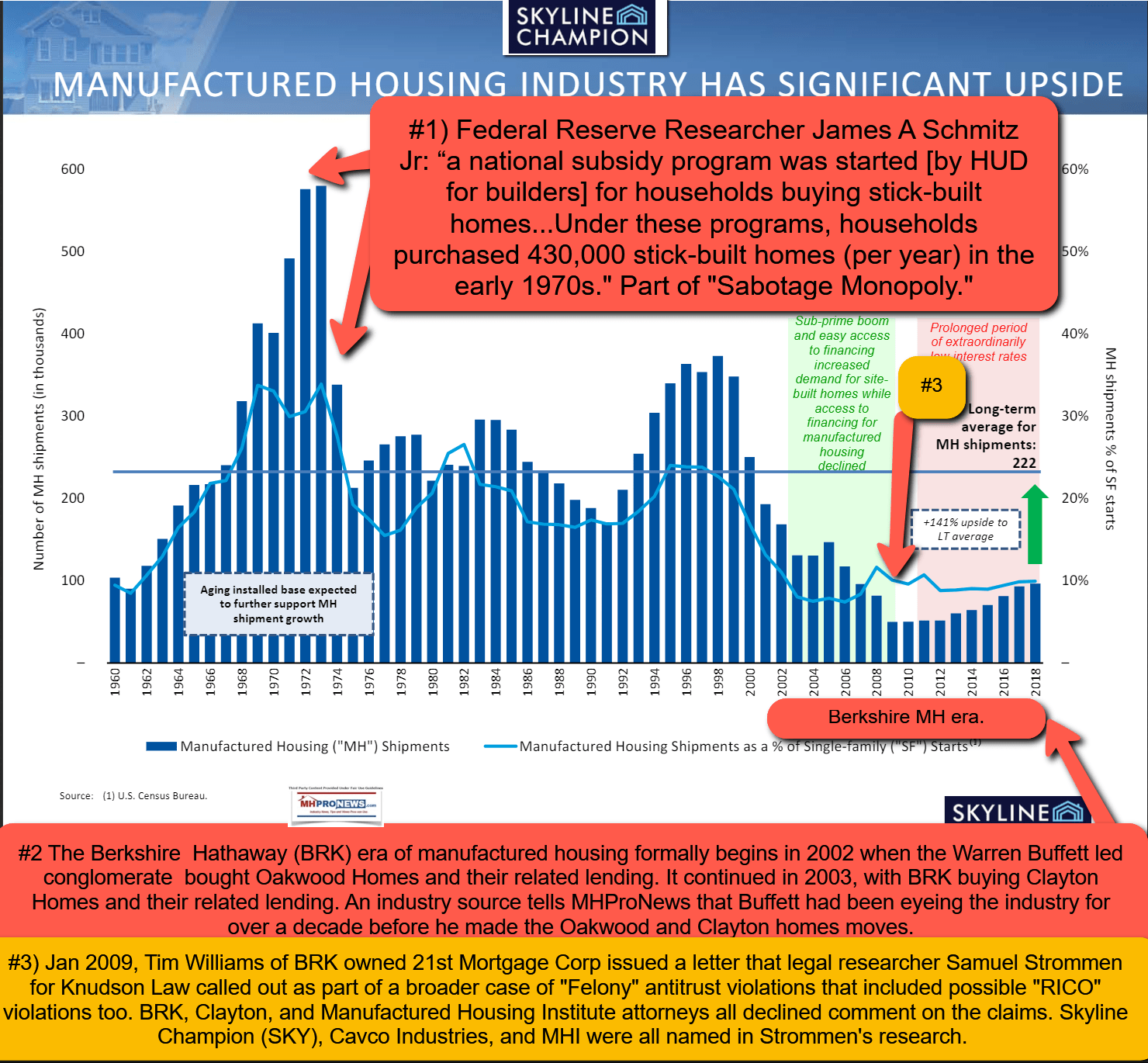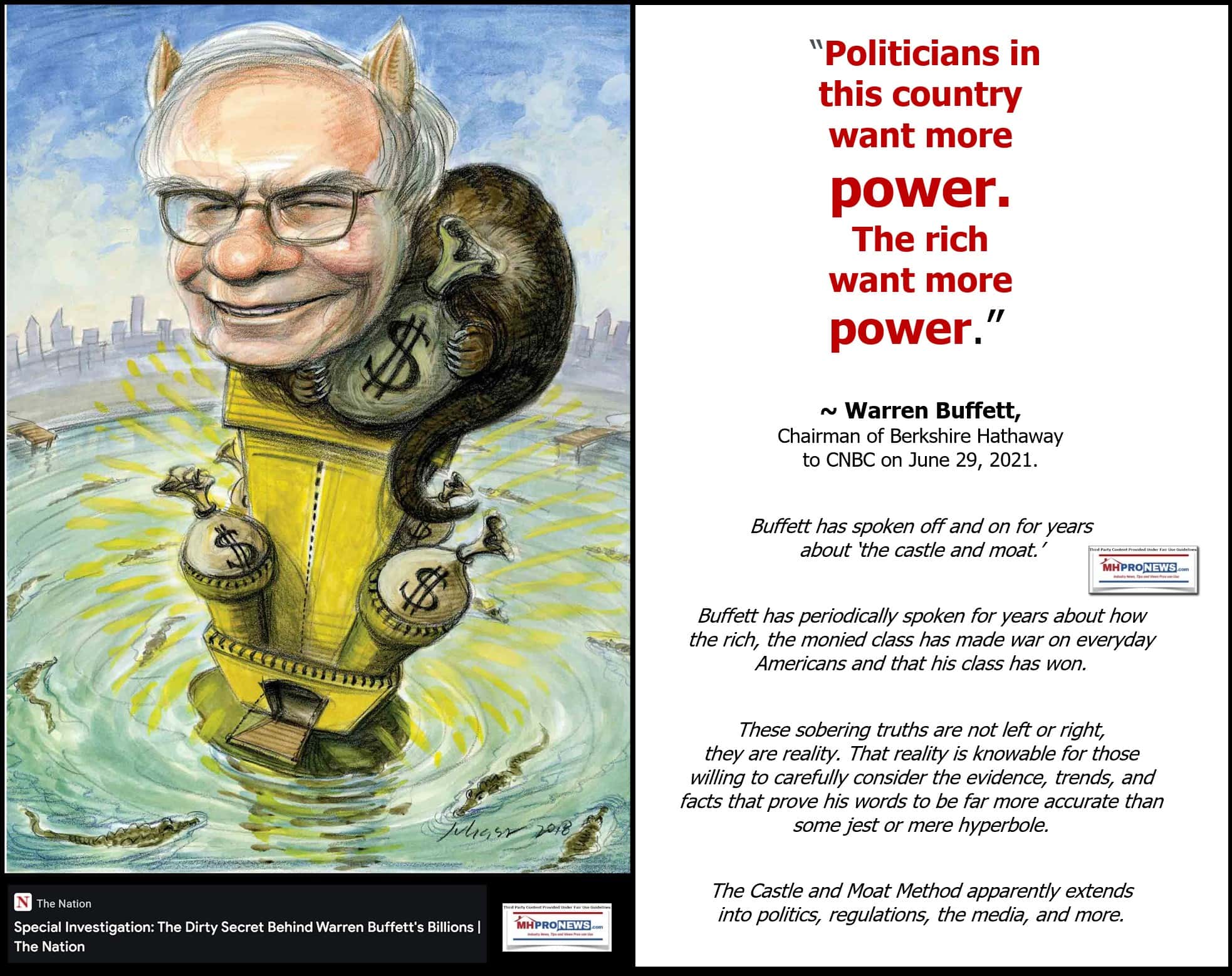 ###
Next up is our business daily recap of yesterday evening's market report, related left-right headlines, and manufactured housing connected equities.
The Business Daily Manufactured Home Industry Connected Stock Market Updates.  Plus, Market Moving Left (CNN) – Right (Newsmax) Headlines Snapshot. While the layout of this daily business report has been evolving over time, several elements of the basic concepts used previously are still the same. For instance. The headlines that follow below can be reviewed at a glance to save time while providing insights across the left-right media divide. Additionally, those headlines often provide clues as to possible 'market-moving' news items.
Market Indicator Closing Summaries – Yahoo Finance Closing Tickers on MHProNews…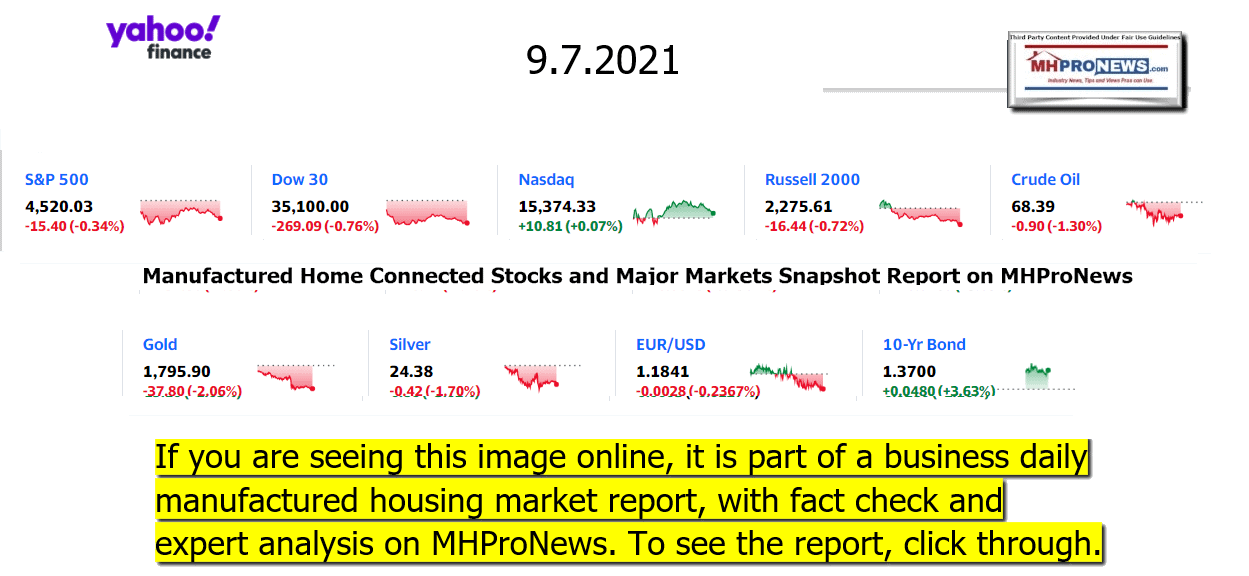 Headlines from left-of-center CNN Business – evening of 9.7.2021 
A big drop
This photograph taken on September 24, 2020 shows a physical imitation of a Bitcoin at a crypto currency "Bitcoin Change" shop, near Grand Bazaar, in Istanbul.
Bitcoin falls below $43,000 on El Salvador's first day using it as legal tender
El Salvador buys bitcoin as the digital currency becomes legal tender
George Soros calls out BlackRock's 'China blunder'
Risk Takers 2021: Wall Street's hottest investor is betting big on a handful of stocks. Critics say she's playing with fire
The US workforce has gotten significantly older and more diverse
Russian space chief invites Elon Musk to his home: 'I already set the teakettle on heat'
Volkswagen CEO on the race to electric, the chip shortage and Elon Musk
Greener and cheaper: Crewless vessels are mapping the ocean thanks to an Irish startup
These companies are pushing back against the Texas abortion law
Video game CEO is out after praising Texas abortion law
New Orleans businesses survived Katrina and Covid. Now they're contending with Ida
Pro-choice protesters march outside the Texas State Capitol on Wednesday, Sept. 1, 2021 in Austin, TX.
Why Texas's strict abortion law is terrible for the economy
Apple expected to unveil new iPhones at event scheduled for September 14
US media personality Kim Kardashian attends the 2020 Vanity Fair Oscar Party following the 92nd Oscars at The Wallis Annenberg Center for the Performing Arts in Beverly Hills on February 9, 2020.
Kim Kardashian and crypto FOMO: Why regulators are worried
IN THE WORKPLACE
A union organizer stands outside an Amazon fulfillment center on March 27, 2021 in Bessemer, Alabama.
US labor unions are better off, but still a long way from their former might
Lots of people are quitting. Here's how to do it right
It took a pandemic to crack India's glass ceiling
Why East Asian youth are 'lying flat'
Attacked, rejected and harassed: Asians around the world speak out on workplace discrimination
ON THE ROAD
2022 Grand Wagoneer Series III.
Here's what it's like to drive a new $100,000 Jeep
Nissan unveils a new retro-styled Z sports car
Audi unveils a shape-shifting concept car
Aston Martin reveals its topless Valkyrie hypercar
This $4.7 million racer will likely be Bugatti's last gas-powered supercar
Headlines from right-of-center Newsmax – evening of 9.7.2021
Next Door to Texas, Mexico Supreme Court Rules Abortion Isn't a Crime
A striking decision in a nation with a huge Catholic population, coming even as neighbor Texas ratchets up abortion limits and many neighboring countries continue to take a harder line. [Full Story]
11th at 20
More Deaths From 9/11-Linked Illnesses Than in Attack: Report
Lawmakers Recall 'Haunting' Moment the World Changed
9/11 'New York Values' Was One of Donald Trump's First Great Political Moments
Poll: Americans Warier of US Government Surveillance
9/11 NYPD Dispatcher: Need Unity, Compassion Again
The Flight That Fought Back
Son of 9/11 Victim to Biden: Don't Come to Ground Zero
Gitmo Pretrial Hearings for 9/11 Suspects Are Restarting
The Day That Changed Our World
More Sept. 11th at 20
Newsmax TV
Chansley Attorney: Client 'Harmless' but Forever Tied to Jan. 6
Waltz: Biden Has Set Stage for 'Terrorist Superstate' |
Murphy: Border Wall News Shows Biden's Hypocrisy |
Burchett: Taliban Expects 'Checkbook Diplomacy' |
Mullin: State Dept 'Lied' on Afghanistan Evacuation |
Pete King, Rep. Biggs: Afghanistan, Taliban Stronger Than on 9/11
Ronny Jackson: US Helped 4 Citizens Leave Afghanistan Overland
Wittman: Taliban Holding Americans Hostage If Detaining Planes |
More Newsmax TV
Newsfront
Pro-Choice Caitlyn Jenner Backs Texas' 'Right' to Restrict Abortion
Prominent transgender voice and California GOP gubernatorial candidate Caitlyn Jenner has rankled pro-choice voters amid the ongoing recall election for Democrat Gov. Gavin Newsom, standing up for Texas…… [Full Story] |
Bolsonaro Supporters March Against Brazil's Supreme Court
Supporters of Brazilian President Jair Bolsonaro gathered in major [Full Story]
Whitmer Urges GOP Legislature to Repeal Abortion Ban
Democratic Gov. Gretchen Whitmer on Tuesday urged the [Full Story]
Trump Backs Challenger to Third House Republican Who Voted to Impeach
Former President Donald Trump on Tuesday endorsed Michigan state [Full Story]
Harris-Backed Bail Fund Helped Release Man Who Was Then Arrested for Murder
A man recently arrested for murder had just been released on a [Full Story]
Hurricane Ida 9 Days Later: 430K Still Without Power
Hundreds of thousands of homes and businesses in Louisiana, most of [Full Story]
Anti-Taliban Resistance Declares It Will Fight On in Panjshir
The anti-Taliban resistance force in Afghanistan's Panjshir Valley is [Full Story]
Related
Taliban Claim Total Control Over Afghanistan
Poll: 40 Percent of Voters Blame Biden for Tragedy in Afghanistan
The Flight That Fought Back
United Airlines Flight 93 was 46 minutes into its six-hour journey [Full Story] |
White House: U.S. States to Decide Whether to Extend Lapsed Jobless Benefits
White House: U.S. States to Decide Whether to Extend Lapsed Jobless Benefits
Local officials who want to extend enhanced unemployment benefits can [Full Story]
Chansley Attorney to Newsmax: Client 'Harmless' but Forever Tied to Jan. 6
Jacob Chansley, the so-called "QAnon Shaman," will continue to be a [Full Story]
Taliban Announce Hardline Govt as Protests Grow
The Taliban announced their new government on Tuesday, with a [Full Story]
'Tiger King' Zookeeper Erik Cowie Found Dead at 53
Erik Cowie, known as one of the zookeepers featured in the Netflix [Full Story]
The Big Bang Theory Cast Is Much Different In Real Life
UpbeatNews
Trump Showing More Signs He'll Run in 2024
An increasing number of signs point to former President Donald Trump [Full Story]
Man in Vietnam Gets 5 Years in Prison for Spreading COVID
Breaking quarantine and infecting others has gotten a 28-year-old man [Full Story]
El Salvador's World-First Adoption of Bitcoin Hits Snags
El Salvador on Tuesday became the first country to adopt bitcoin as [Full Story]
Reasons for Florida Family's Massacre May Never Be Known
Investigators say that when they captured Marine veteran Bryan Riley [Full Story]
Taliban Gloat Over Ruins of CIA's Afghan Base
After America's longest war, Taliban commander Mullah Hasnain [Full Story]
Related
Blinken Denies Taliban Blocking Americans From Leaving Mazar-i-Sharif
Texas Gov. Abbott Signs New GOP Voting Bill Into Law
Republican Texas Gov. Greg Abbott signed an elections overhaul into [Full Story]
Virginia Set to Remove Richmond's Lee Statue Wednesday
A towering statue of Confederate Gen. Robert E. Lee in Richmond, [Full Story]
NYC to Pay Youth Not to Commit Crime, Get High School Diploma
New York City plans to fight crime by paying at-risk youths to choose [Full Story]
Portland, Oregon, Weighs Boycott of Texas for Abortion Law
Texas' six-week abortion restriction has spurred Portland, Oregon, to [Full Story]
Related
Texas Bishops Praise Supreme Court's Decision on 'Heartbeat Act'
Justice Dept Will 'Protect' Abortion Seekers in Texas
SF Archbishop: Catholic Politicians Who Support Abortion Should Be Challenged
Boy, 4, Among 6 Dead, 60 Hurt in Chicago Weekend Shootings
Another violent holiday weekend in Chicago left six dead, including a [Full Story]
Trump Defeats Biden in 2024 Election Poll
Former President Donald Trump defeats President Joe Biden in a 2024 [Full Story]
California Bill Seeks to Halt Prison-to-ICE Deportation Pipeline
Leonel Sanchez thought he was about to go home to his family after [Full Story]
Virginia to Take Down Robert E. Lee Statue
A statue of Confederate Civil War General Robert E. Lee that towers [Full Story]
9/11 NYPD Dispatcher to Newsmax: Need Unity, Compassion Again
Candace Baker, a New York Police dispatcher on Sept. 11, 2001 who [Full Story]
Actor Michael K. Williams, Omar on 'The Wire,' Dead at 54
Actor Michael K. Williams, who as the rogue robber of drug dealers [Full Story]
Guantanamo Pretrial Hearings for 9/11 Suspects to Begin
Pretrial hearings for suspected 9/11 mastermind Khalid Sheikh [Full Story]
Labor Secretary Walsh: Focus Must Shift From Unemployment to Job Connections
Labor Secretary Marty Walsh said the focus now must be on [Full Story] |
Shortage of Supplies and Workers Will Delay Gulf Rebuilding After Ida
Joe Sobol, owner of Big Easy Construction in New Orleans, has bad [Full Story]
Related
Biden Declares New York Disaster Area After Ida Damage
Pele Hospitalized for 6 Days With Undisclosed Health Issue
Brazilian soccer legend Pele has been in the hospital for six days [Full Story]
Incredible Miniature Telescope Lets You See for Miles
Starscope
More Newsfront
Finance
Ryanair Ends Talks With Boeing on Large 737 MAX 10 Order
Ryanair has ended talks with Boeing on a major new order for Boeing 737 jets due to a disagreement over pricing, the Irish airline said on Monday. Ryanair is already the largest European customer for the 737 MAX, with 210 firm orders of the 197-seat MAX 8-200 model. In July… [Full Story]
US Stocks Close Mostly Lower, but Nasdaq Still Inches Higher
Djokovic Aims to Tame 'Hammer' Berrettini
NASA Confirms Mars Rover's 1st Rock Sample Grab, 40 to Go
Ford Poaches Apple's Car Project Chief Doug Field
More Finance
Health
New COVID Cases 300 Percent Higher This Labor Day Than Last Year
With the Delta variant surging and many Americans mask- and vaccine-free, new cases of COVID-19 spiked to levels over the long Labor Day weekend that were 300% higher than those seen over the same weekend in 2020, according to a new tally from Johns Hopkins University. That… [Full Story]
COVID-19 Boosters Are Coming But Who Will Get Them and When?
Deciphering Salt Choices: Which is The Most Healthful?
Medical Journals Issue Warning of Health Dangers of Global Warming
Study: Weight Loss Helps Cut Lung Risks in 9/11 First Responders
More Health
Correspondents
What Impact Will Trump Endorsement Have on Pennsylvania GOP Senate Primary?
Insiders
Steve Cortes
Steve Cortes
Economic Nationalism + Cultural Conservatism
Biden's 1970s-Style Economy
Paul F. deLespinasse
Paul F. deLespinasse
Thinking About Politics
Abortion Gambit: If Texas Gets Away With It, There Goes 2nd Amendment
New Agenda for Black Women
Southern Border Makes Plight of Lost Foster Care Kids Worse
Shouldn't Women's Sports be for Women?
The Red Pill
Biden's Foreign Policy: A Falling Tide
High Frontier
The Week That Was … No Help for the Grid
RECOMMENDED
Historical Wild West Photos-discretion Advised
Take a Look Inside Oprah Winfrey's $90-m House
Netflix Cancellations: Effective Immediately
Personality Test – How Do Others See You?
TV Cancelations Announced: Fans Are Not Happy
New "Lung Training" Device Is Going Viral In United States
Historians Just Ranked These U.S. Presidents (Guess Who's At The Top)
New "Lung Training" Device Is Going Viral In United States
Walmart Cameras Captured These Hilarious Photos
Hilarious Airline Photos That Will Make Your Day
Here's Why Some Doctors May Not Prescribe Metformin in Kissimmee
Titanic Photos Are Revealed, Not for Weak Hearts
Top 30 Movies Considered to Be Flawless
Kissimmee: Say Bye to Your Auto Insurance Bill if You Live in These Zip Codes
[pics] Pour Vinegar on Bread and Leave It in the Garage Overnight, Here's Why
The Wire
'Tiger King' Zookeeper Erik Cowie Found Dead at 53
Tuesday, 07 Sep 2021 01:18 PM
Six-Year-Old Girl Dies on Colorado Amusement Park Ride
Tuesday, 07 Sep 2021 01:12 PM
Michael Gandolfini Makes Modeling Debut Ahead of 'Sopranos' Prequel
Tuesday, 07 Sep 2021 12:28 PM
Iron Maiden's Bruce Dickinson Touts COVID Vaccine
Tuesday, 07 Sep 2021 11:46 AM
John Lydon on Wife's Alzheimer's Battle: 'I Won't Abandon Her'
Tuesday, 07 Sep 2021 11:12 AM
Food Network Reacts to Former Host's Controversial Abortion Tweets
Manufactured Housing Industry Investments Connected Equities Closing Tickers
Some of these firms invest in manufactured housing, or are otherwise connected, but may do other forms of investing or business activities too.
NOTE: The chart below includes the Canadian stock, ECN, which purchased Triad Financial Services, a manufactured home industry lender
NOTE: Drew changed its name and trading symbol at the end of 2016 to Lippert (LCII).
NOTE: Deer Valley was largely taken private, say company insiders in a message to MHProNews on 12.15.2020, but there are still some outstanding shares of  the stock from the days when it was a publicly traded firm.  Thus, there is still periodic activity on DVLY.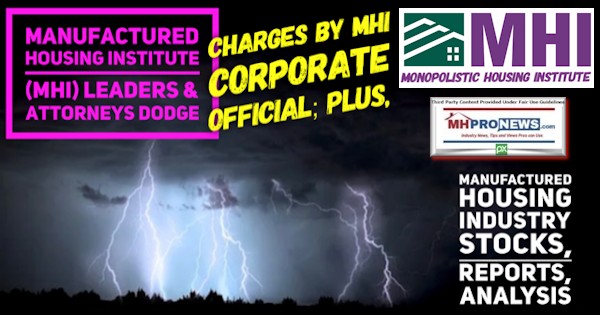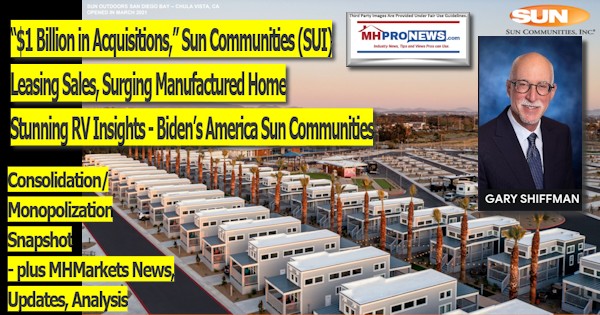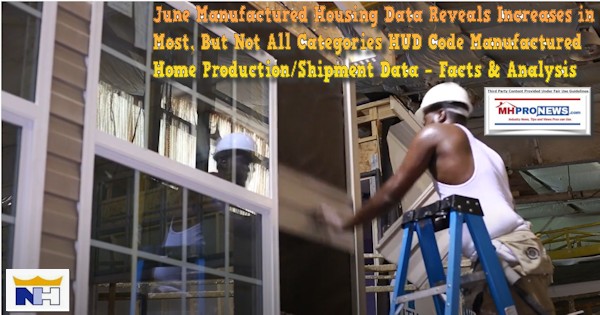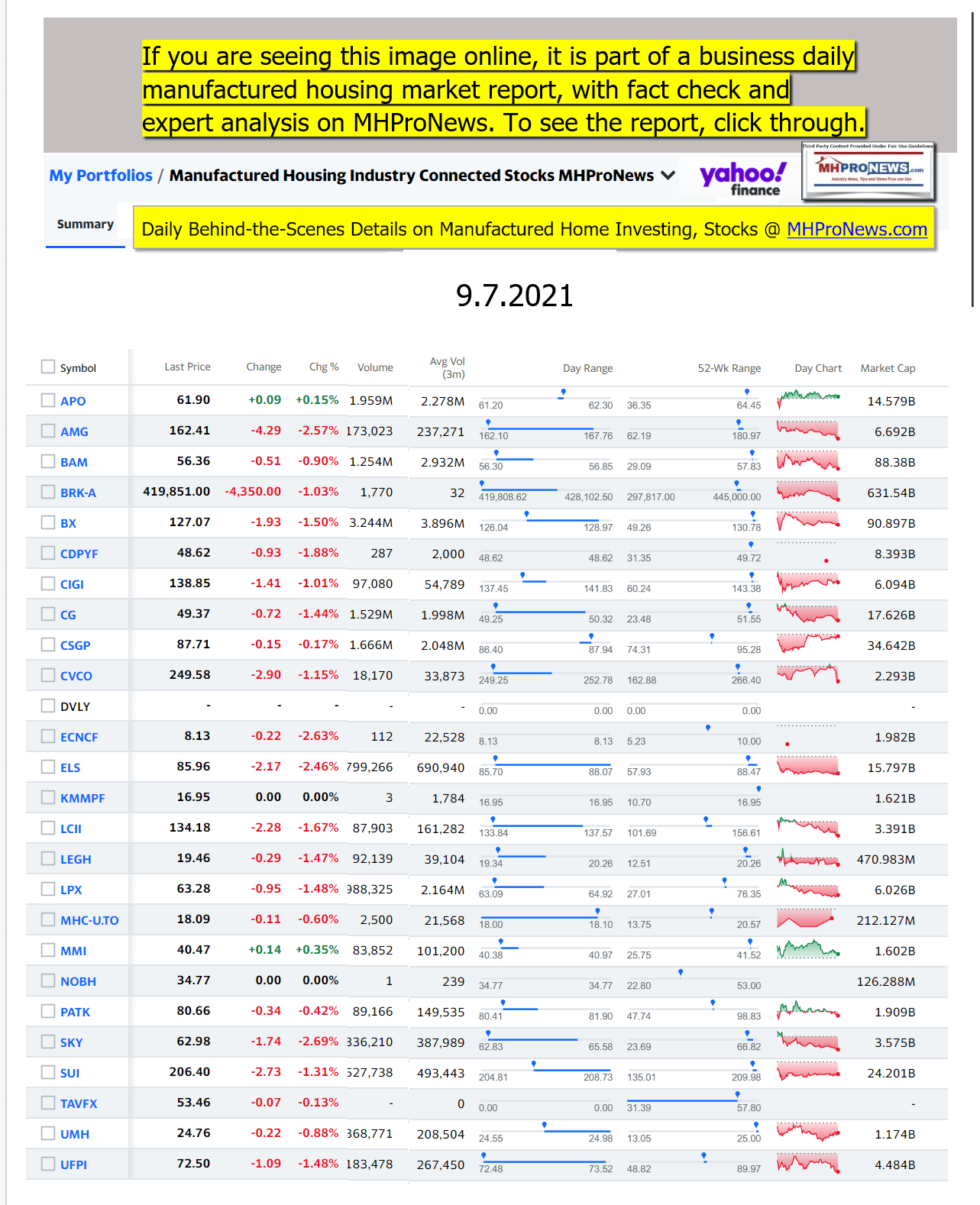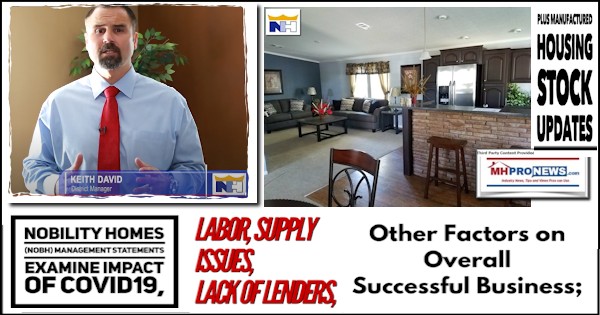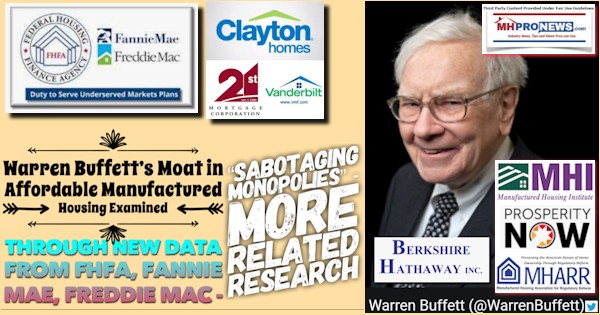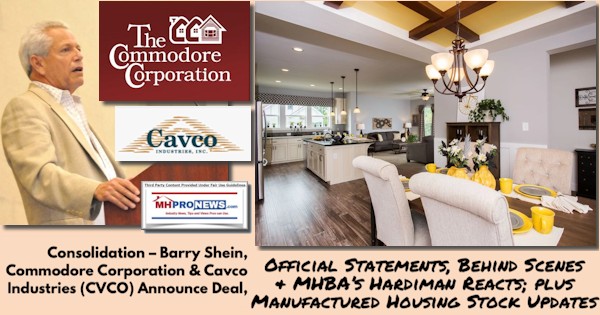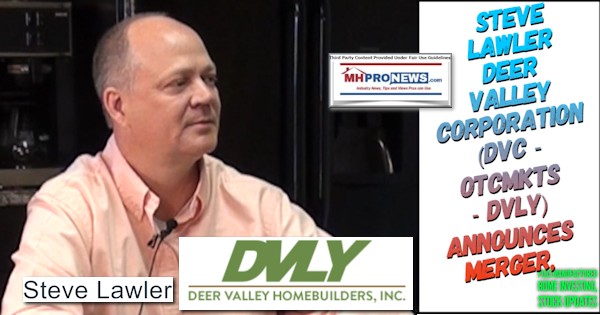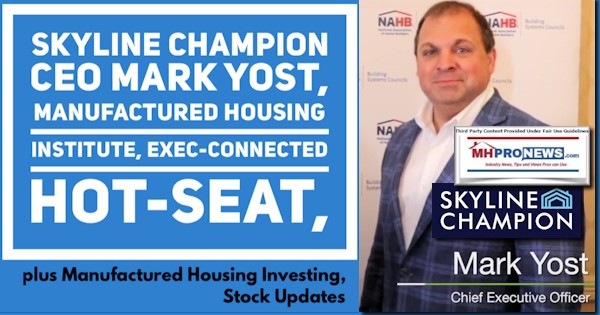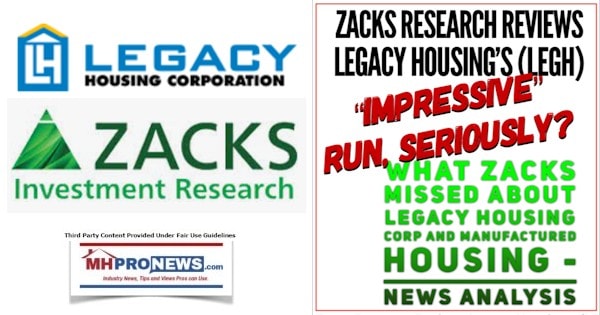 Summer 2021…
Berkshire Hathaway is the parent company to Clayton Homes, 21st Mortgage, Vanderbilt Mortgage and other factory built housing industry suppliers.
· LCI Industries, Patrick, UFPI, and LP each are suppliers to the manufactured housing industry, among others.
· AMG, CG, and TAVFX have investments in manufactured housing related businesses. For insights from third-parties and clients about our publisher, click here.
Enjoy these 'blast from the past' comments.
MHProNews. MHProNews – previously a.k.a. MHMSM.com – has celebrated our 11th year of publishing, and is starting our 12th year of serving the industry as the runaway most-read trade media.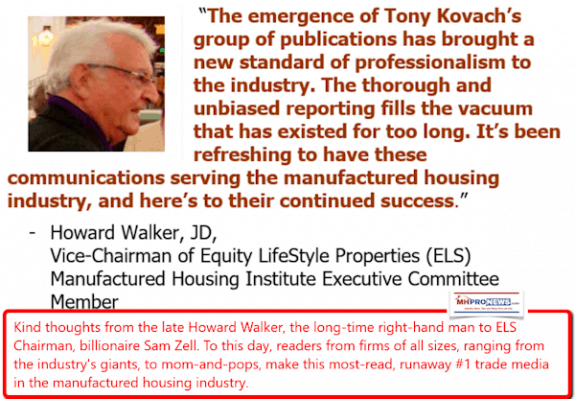 Sample Kudos over the years…
It is now 11+ years and counting…
Learn more about our evolutionary journey as the industry's leading trade media, at the report linked below.
· For expert manufactured housing business development or other professional services, click here.
· To sign up in seconds for our industry leading emailed headline news updates, click here.

Disclosure. MHProNews holds no positions in the stocks in this report.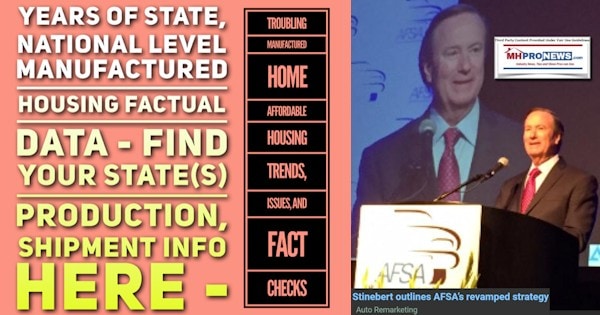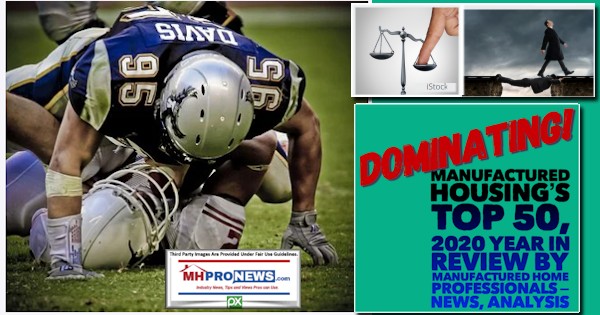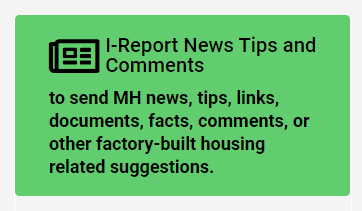 That's a wrap on this installment of "News Through the Lens of Manufactured Homes and Factory-Built Housing" © where "We Provide, You Decide." © (Affordable housing, manufactured homes, stock, investing, data, metrics, reports, fact-checks, analysis, and commentary. Third-party images or content are provided under fair use guidelines for media.) (See Related Reports, further below. Text/image boxes often are hot-linked to other reports that can be access by clicking on them.)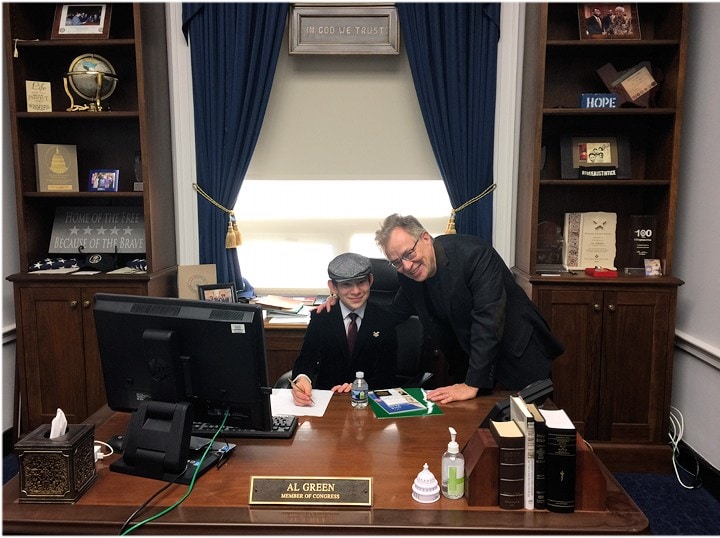 By L.A. "Tony" Kovach – for MHProNews.
Tony earned a journalism scholarship along with numerous awards in history. There have been several awards and honors and also recognition in manufactured housing. For example, he earned the prestigious Lottinville Award in history from the University of Oklahoma, where he studied history and business management. He's a managing member and co-founder of LifeStyle Factory Homes, LLC, the parent company to MHProNews, and MHLivingNews.com. This article reflects the LLC's and/or the writer's position, and may or may not reflect the views of sponsors or supporters.