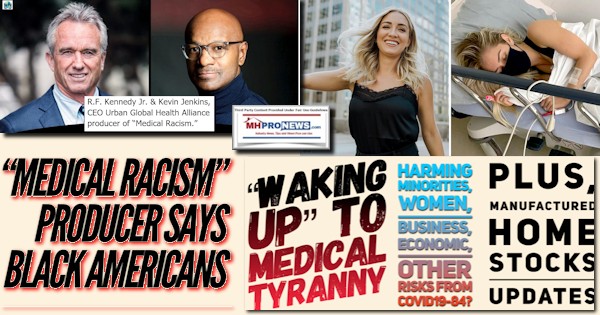 "Africa, a continent of 1.3 billion people, has seen fewer deaths from COVID-19 than the UK, which has a population about a 20th of the size," says Sky News. "Inevitably for such a huge landmass, there are major variations, with South Africa in particular experiencing high rates of infection and death. But, in general, official rates have been perhaps surprisingly low." The International Journal of Infectious Diseases (IJIDonline.com) says similarly. "Most African countries, even with their less advanced healthcare systems, continue to experience lower COVID-19 mortality rates." There are several factors which contribute to this phenomenon, explains the researchers, which "explain why Africa's COVID-19 mortality rate is, ironically, lower than that of more advanced countries with better health systems. This [research data] will also assist various governments in balancing their COVID-19 restrictive and socioeconomic measures." What helps explain the differences? Age, diet, co-morbidities are among them. But also, paradoxically, the "advanced" health systems are often dominated by corporate interests that get their way regardless of the authentic value of their medical, dietary, or health advocacy.  It is against that backdrop that the following troubling research and reporting by the Defender merit a closer look for those who want to take charge of their own health, as Dr. Joseph Mercola similarly advocates. With that backdrop, two reports from the U.S. and global medical controversy examining  Defender will make even more sense.
The Defender says it is focused on Children's Health, but it is obviously interested in adults too, as the following reports make clear. As MHProNews and our MHLivingNews sister site have noted repeatedly, the loss of economic, political, religious, or other freedoms undermines every aspect of society, including but not limited to business. Thus, when specific reports, such as those provided below with permission fit the mission of empowering with relevant insights industry professional, MHProNews will bring that to you in a fashion that allows you to compare it to official narratives. "We Provide, You Decide." ©
09/08/21
'Medical Racism' Producer Tells RFK, Jr.: Black Americans 'Waking Up to Medical Tyranny'
Kevin Jenkins, CEO of Urban Global Health Alliance and producer of the film, "Medical Racism," told RFK, Jr. that Blacks and whites must unite to fight the greatest tyrannies of all time.
By Children's Health Defense Team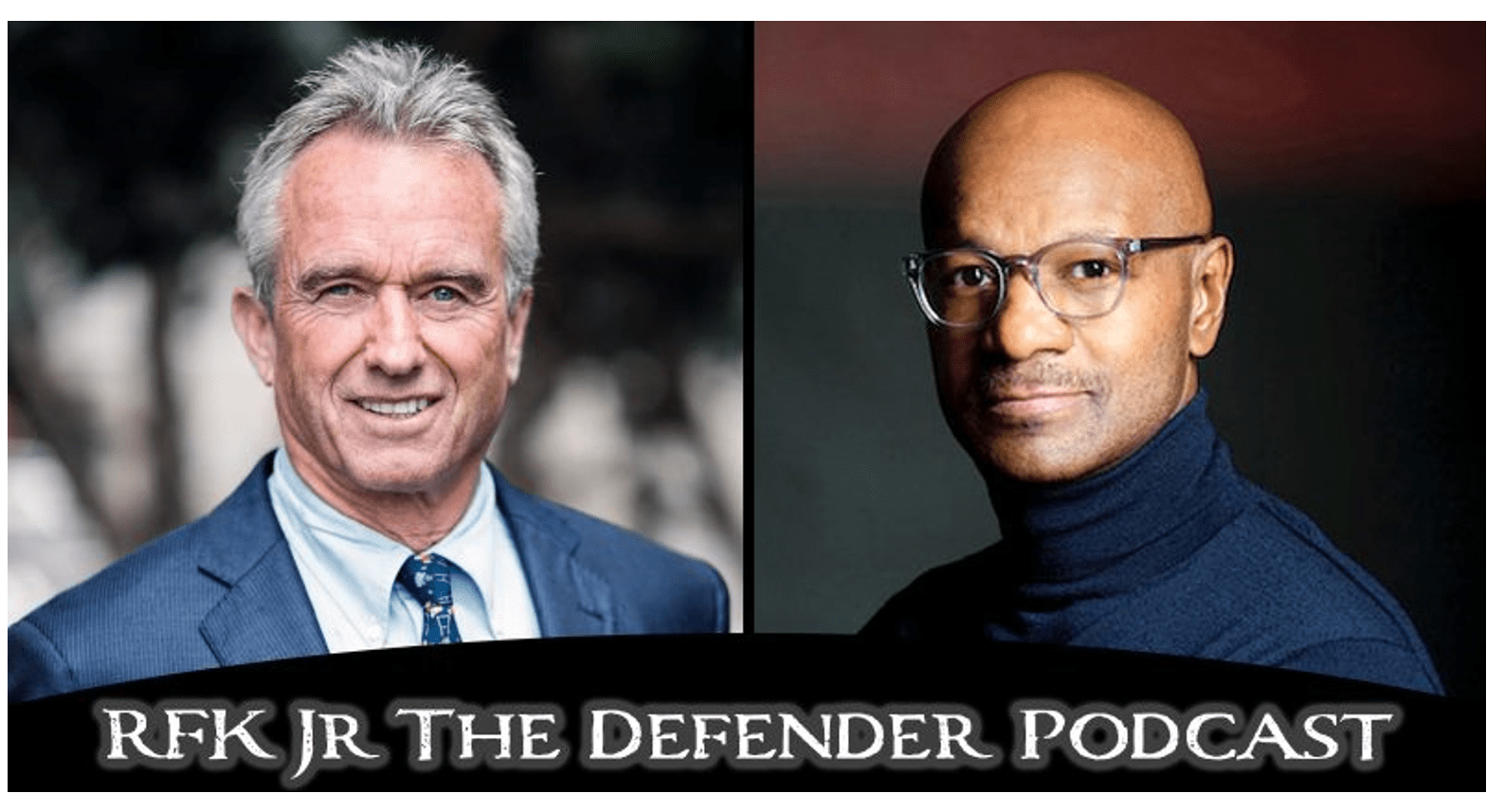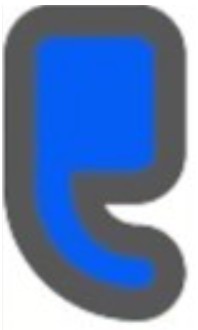 Black Americans are waking up and pushing back against medical tyranny, Kevin Jenkins, CEO of the Urban Global Health Alliance, told Children's Health Defense Chairman Robert F. Kennedy, Jr., on the "RFK Jr. The Defender Podcast."
Jenkins, producer of the documentary film "Medical Racism: The New Apartheid," is a leader in the health freedom movement.
"I'm a firm believer in uniting white and Black Americans in the fight against the greatest tyrannies of all time: Big Pharma, Big Tech, the banking industry and the education cartel," Jenkins said.
Jenkins is working to build new institutions that offer the "ability to move past the world we live in today and build a bridge to a better future for us," one that includes having "ownership in our lives."
Jenkins stressed the importance of embracing "informed consent" when it comes to vaccines.
When Kenndy asked Jenkins why he thought Blacks were among those described as "vaccine hesitant," he answered:
"Black Americans have a deeper understanding of these industries better than anyone, and in particular, Big Pharma. With all of the chronic illness in our community, with all of the experimentation that has happened in our community, they don't want to trust the system that's trapped them in the health system, the [system] that they're now paying more attention to because of this COVID narrative that more Black Americans are dying of COVID than anybody else."
I'm "proud to say that Black Americans are really waking up," said Jenkins.
Black Americans are doing more research, said Jenkins. They're turning off the TV and they're looking at the history of eugenics, racism and events such as the Tuskegee experiments, Jenkins said.
Listen here:

09/08/21© 'Medical Racism' Producer Tells RFK, Jr.: Black Americans 'Waking Up to Medical Tyranny' Children's Health Defense, Inc. This work is reproduced and distributed with the permission of Children's Health Defense, Inc. Want to learn more from Children's Health Defense? Sign up for free news and updates from Robert F. Kennedy, Jr. and the Children's Health Defense. Your donation will help to support us in our efforts.
09/08/21
Exclusive: 30-Year-Old Still Seeking Answers 6 Months After Developing Neurological Complications Following Pfizer Vaccine
In an interview with The Defender, Dominique De Silva described her frustration trying to get answers for the neurological complications she developed after her first dose of Pfizer's COVID vaccine, and with doctors who dismissed her symptoms and refused to acknowledge the vaccine as a possible cause.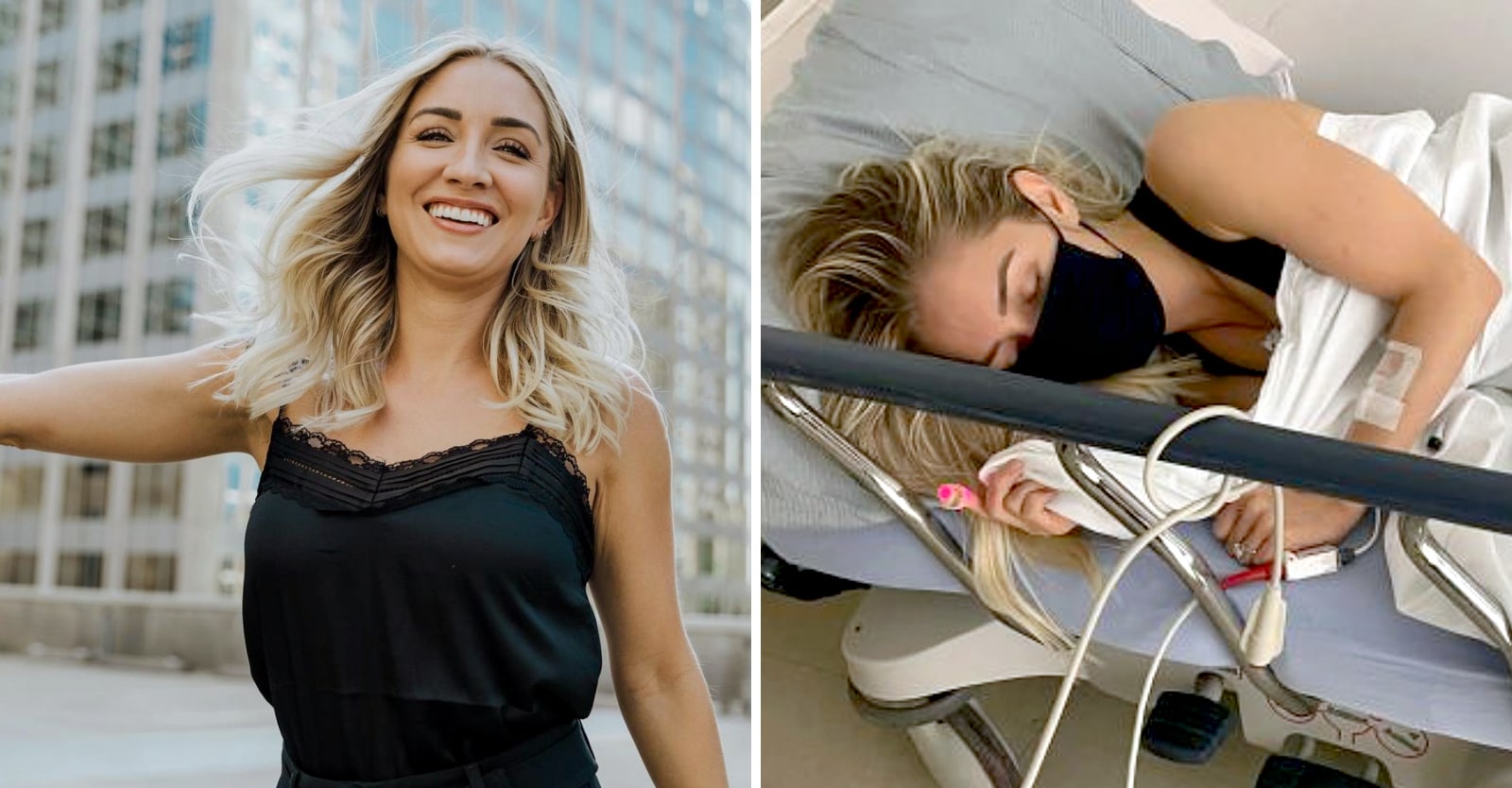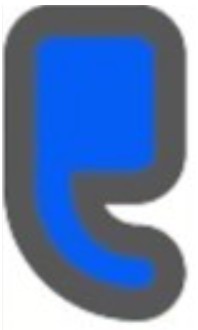 Dominique De Silva, 30, is still searching for answers from doctors after developing a long list of debilitating conditions, including severe neurological complications, pain and at times, an inability to walk, following her first dose of Pfizer's COVID vaccine.
In an interview with The Defender, Dominique, who goes by @QueenCityDom on Instagram, said she was moving from Las Vegas to North Carolina to start her new life, get married and open her real estate practice when she decided to get vaccinated. Because she has only one living parent, she wanted to protect her mother and other loved ones.
"This virus consumed me to the point where I was wiping down my groceries with Clorox wipes, masking up everywhere I went, staying away from my friends, using hand sanitizer 24/7 and living in complete fear of getting sick," Dominique wrote in an update on her GoFundMe. "So, of course, when I had the opportunity to get my V [vaccine], I took it as soon as I could because I was ready for life to go back to how it was before."
On March 18 — two days before her big move — she and her now husband received their first and only dose of Pfizer's vaccine.
Shortly after, Dominique said she felt the typical fatigue she was warned about before getting the vaccine, but she also noticed changes to her vision. "I think I just blew it off because maybe it was just ironic," she said. "It felt like everything was super bright and too much to take in."
Dominique said she felt awful, but thought maybe she was tired from getting ready to move across the country. "I felt like my brain was sick," she said. "That's the best way I can describe it because it is a feeling I had never had before."
The next day Dominique got on the tram to the airport and said it felt like an elephant was sitting on her chest. "I didn't know what was happening with my heart but it did not feel good," she said. "Before I got on the plane, I got hit by the beginnings of a migraine and started seeing spots in my vision, but the migraine never actually came."
Within two weeks of receiving Pfizer's vaccine, Dominique noticed cramping pains in her legs that turned into what felt like growing pains late in the evening. The next morning the leg pain returned.
Dominique said:
"I got up and I had to grab on to the wall because my legs were giving out on me and the pain started kicking back up. So I walked around my bed to the bathroom and it took a really long time to get from point A to point B.
"My legs were weak and numb, and I had trouble walking. At that moment that's when I realized the vaccine had done something to me."
The pain never went away and after seven days, Dominique decided she couldn't wait for her new insurance to kick in before seeing a doctor.
"My husband took me to the hospital that night and they admitted me," she said. "I let the doctor know I had gotten my vaccine two weeks and three days ago, but he brushed it off and said what I was experiencing was absolutely not connected to the vaccine."
After running a full brain and spine MRI along with countless blood tests, the neurologist on duty was unable to find the cause of Dominique's symptoms. Although some conditions were ruled out, her symptoms were not treated or resolved and she was told to follow up with a neurologist.
After waiting months to get in with three separate neurologists, she said multiple other symptoms began to emerge, including dizziness and vertigo, insomnia, pain in her legs, sharp shooting pains, dull pain, weakness, difficulty walking, brain fog, short-term memory loss, vision issues, waves of anxiety, lack of sensation throughout the body, feeling out of body, depth perception issues, internal vibration, tremors in right hand, tinnitus in right ear, muscle twitches, deep pain in the brain stem, tics, vocal utterances and involuntary eye movements.
The first neurologist Dominique saw was very open to the possibility of the vaccine being the cause, she said. "He said he's seen some weird stuff happening with the vaccines, but he wasn't sure what to do about it," Dominique explained.
Next, Dominique visited a traditional neurologist. "As soon as he heard me say I got my vaccine two weeks before this started happening, it seemed like he disconnected from the appointment," she said.
The neurologist reviewed Dominique's MRI and said there was "nothing to see here" and she needed to see a therapist. "We go to these people whom we trust, who told us to get these shots, but when something is wrong with us, we're told it is in our heads," she said.
Dominique then went to a functional neurologist who "heard her loud and clear," she said. The neurologist told her, "Absolutely this is something the vaccine triggered in you."
The doctor told Dominique she was experiencing dystonic storms, and recommended glutathione, turmeric and other supplements to address her dystonic movements and inflammation.
According to the Journal of Clinical Movement Disorders, a dystonic storm is a frightening hyperkinetic movement disorder. Clinical features of dystonic storm include fever, tachycardia, tachypnea or respiratory change, hypertension, sweating and autonomic instability. Dystonia can be tonic (i.e. sustained posturing) or phasic (i.e. irregular jerking). Pain is common, and often requires aggressive symptomatic control.
Dominique changed her insurance and got into a specialist at a prestigious hospital for further testing and diagnosis, but it was going to be a four-month wait.
Her symptoms became so bad she went to the emergency room so she could be seen sooner and waited 22 hours before an "episode" occurred and staff finally performed a CT scan to rule out a stroke.
"The CT came back clear," Dominique said. "The doctor started clapping in front of my face, pinched me to get the episode to stop and recommended seizure medication."
Dominique said the doctor didn't recognize the adverse reaction and said "there's no test to confirm it was caused by the vaccine even if it was." However, a physician's assistant and nurse recognized what she was experiencing as a vaccine injury.
While at the hospital, Dominique also had a D-dimer test to check for blood clots. It came back positive, but she wasn't taken seriously, she said.
Dominique followed up with a movement specialist who also could not find what was wrong with her and recommended she see a therapist.
"She looked at the April MRI, the CT scans, the EEG and the office exam," Dominique said. "She came back in and said, 'You're not going to like what I have to say but I think this is psychosomatic and you need to see a therapist.'"
"Why is another doctor telling me this is in my head?" Dominique said, "This is not in my head."
Dominique made contact with two functional neurologists and a physician in New York, who did blood work and extensive testing that hadn't been done before. Dominique's PET-MRI, EMG nerve study, nerve conduction test and skin biopsy all came back abnormal.
Dominique was diagnosed with postural orthostatic tachycardia syndrome (POTS), a condition she did not have prior to being vaccinated, and autoimmune chronic demyelinating polyradiculoneuropathy — a rare type of autoimmune disorder where the body attacks the fatty coverings on the fibers that insulate and protect the nerves.
She also had neuropathy and brain scan abnormalities.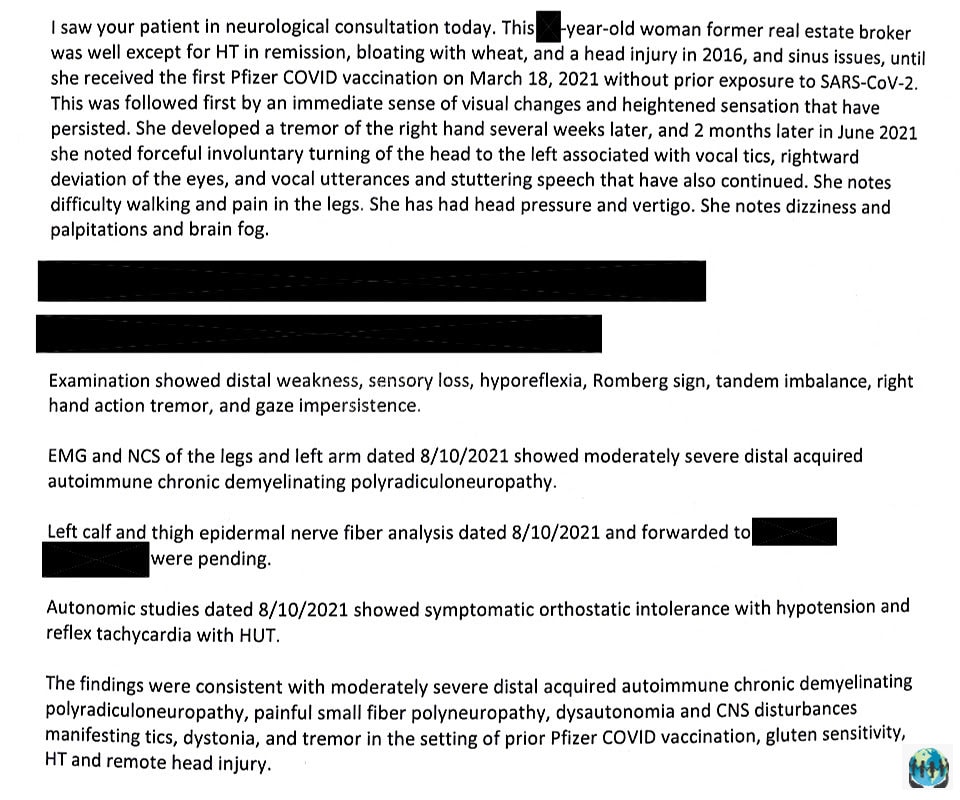 Dominique said her doctor in New York believes in vaccines, but said she "obviously had a bad reaction." Dominique sent her results to the neurologist at the prestigious institute who said her symptoms were "just in her head."
Dominique had no previous exposure to COVID and had a history of autoimmune hashimoto's thyroiditis, though it had been in remission since 2019. She is currently undergoing more testing to determine the extent of her injuries.
CDC and Pfizer ignore vaccine injury
Dominique contacted a local member of Congress about her vaccine injury, who told her to "take it up with VAERS, the CDC and the manufacturer" — none of whom followed up.
Dominique submitted a report to the Vaccine Adverse Event Reporting System (VAERS) and contacted the Centers for Disease Control and Prevention (CDC) about her vaccine injuries. She also contacted Pfizer, who sent her a survey, which she returned in the mail.
She also reached out to Sen. Ron Johnson (R-Wis.), who has been a vocal advocate for government transparency and has recognized others who have been injured by COVID vaccines.
Dominique worked up the courage to share her story on Instagram and it went viral, but she was also harassed, bullied, sent hateful messages and received death threats. She said she has since met many people who are experiencing the same issues and are forced to do their own testing and cover the costs of their injuries.
Dominique started a GoFundMe page to raise money for her medical expenses because there is no financial assistance for people injured by vaccines outside of the Countermeasures Injury Compensation Program, which almost never awards damages.
Dominique has spent thousands of dollars on labs, scans, her PET-MRI, skin biopsy, hospital visit –– which is going to collections — and radiology bills, which she shared on her Instagram and GoFundMe page.
"I'm not here to say do or don't do something with your own body," Dominique said. "Do your own research and make your own decision. I wasn't given that information and I wasn't given that opportunity. The people that are hurt and suffering every day and aren't working need help."
Dominique no longer drives a car and has put her real estate practice on hold. She's not sure if she will ever return to it. She did get married and said it was a "good day" for her symptoms, but had to figure out how to make room for a wheelchair.
On her Go Fund Me, Dominique said:
"I will never regret why I received my vaccine as I did what I believed was right for myself as well and everyone around me. I had the best intention at heart when I rolled up my sleeve and received my first dose. I knew that there wasn't much data on these very new vaccines, however I trusted the science behind them. Unfortunately, my body reacted terribly to it and has placed me in the situation I am in today."
Although Dominique said she believes in freedom of choice, neither she nor her husband will be getting further doses of any COVID vaccine. "This is happening to a lot of people, they just don't want me to talk about it," she said.
According to the most recent data from VAERS, there have been 14,485 total reports of dystonia, dystonic tremors, neurodegenerative disorders, neurological symptoms, neuropathy, polyneuropathy and tremors following COVID vaccination.
Children's Health Defense asks anyone who has experienced an adverse reaction, to any vaccine, to file a report following these three steps. ##
9.8.2021 © "Exclusive: 30-Year-Old Still Seeking Answers 6 Months After Developing Neurological Complications Following Pfizer Vaccine" Children's Health Defense, Inc. This work is reproduced and distributed with the permission of Children's Health Defense, Inc. Want to learn more from Children's Health Defense? Sign up for free news and updates from Robert F. Kennedy, Jr. and the Children's Health Defense. Your donation will help to support us in our efforts. ##
##

Related Reports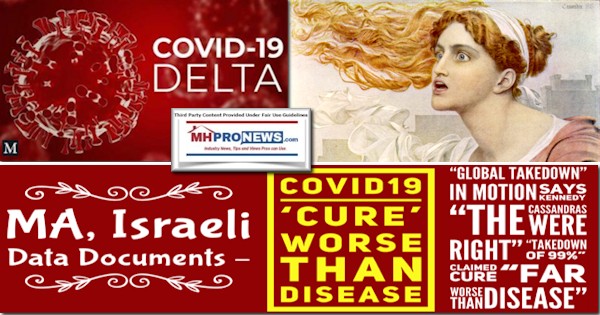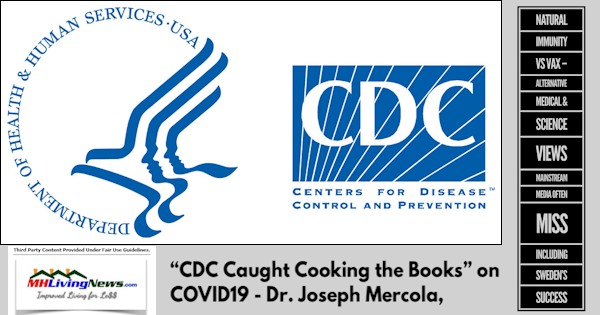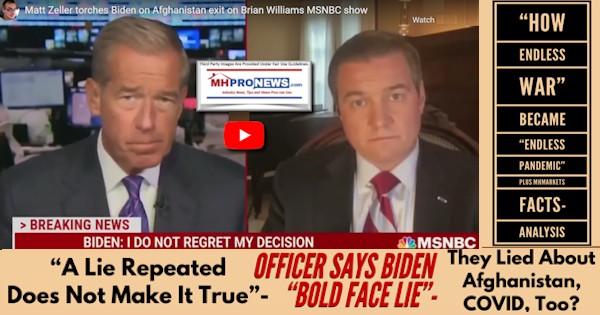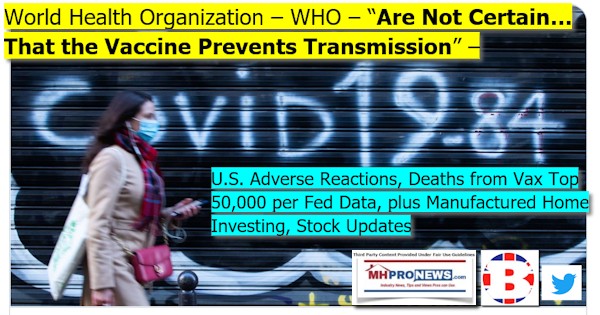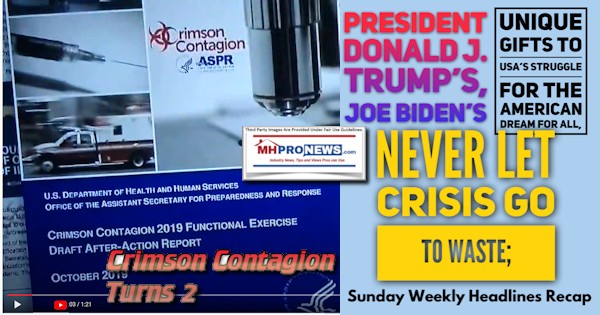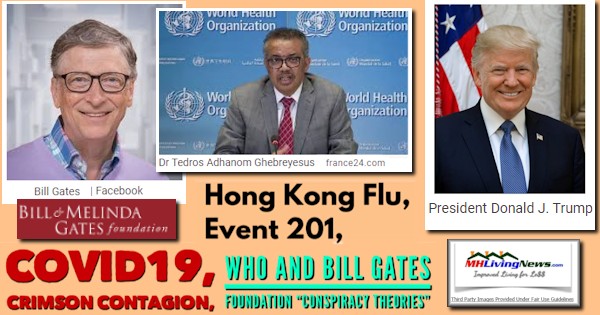 ###
Next up is our business daily recap of yesterday evening's market report, related left-right headlines, and manufactured housing connected equities.
The Business Daily Manufactured Home Industry Connected Stock Market Updates.  Plus, Market Moving Left (CNN) – Right (Newsmax) Headlines Snapshot. While the layout of this daily business report has been evolving over time, several elements of the basic concepts used previously are still the same. For instance. The headlines that follow below can be reviewed at a glance to save time while providing insights across the left-right media divide. Additionally, those headlines often provide clues as to possible 'market-moving' news items.
Market Indicator Closing Summaries – Yahoo Finance Closing Tickers on MHProNews…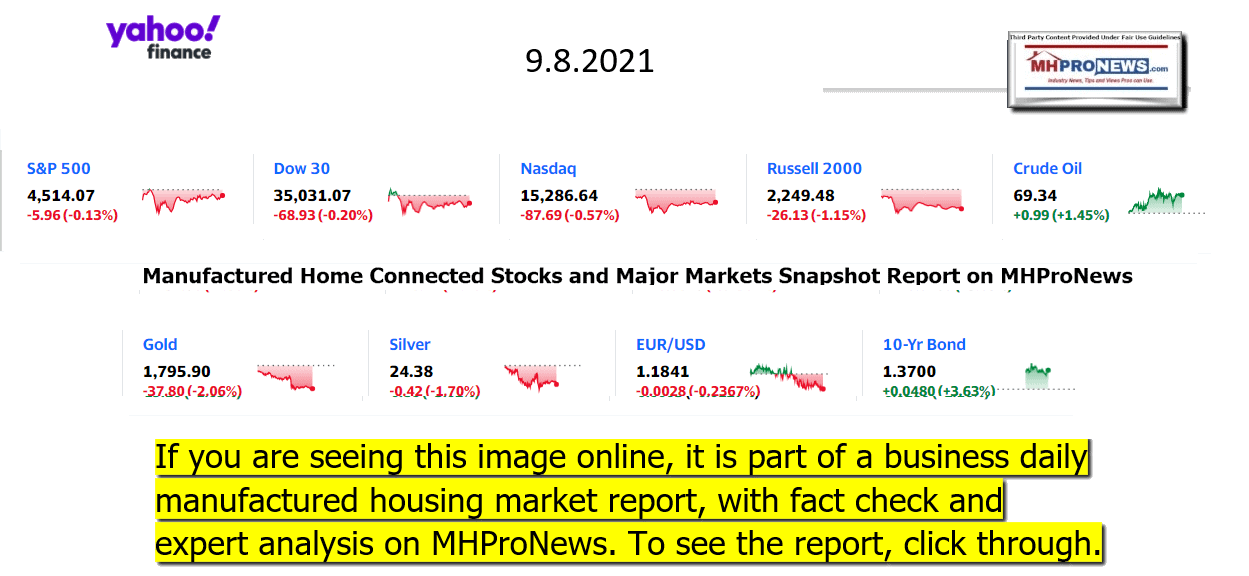 Headlines from left-of-center CNN Business – evening of 9.8.2021 
Risk Takers 2021
Cathie Wood, chief executive officer and chief investment officer of ARK Investment Management LLC, speaks during the Sooner Than You Think conference in the Brooklyn borough of New York, U.S., on Tuesday, Oct. 16, 2018.
Wall Street's hottest investor is betting big on a handful of stocks. Critics say she's playing with fire
Here's what's at stake if the debt limit isn't raised
How the pandemic turned humble shipping containers into the hottest items on the planet
Apple loses a leader of its long rumored car group to Ford
New iPhones expected to be unveiled at event on September 14
El Salvador's bitcoin experiment is a warning to other countries
The Delta variant is hurting US jobs. We now likely won't see a full recovery until 2023
You might not have an assigned desk anymore. Here's how to handle it
Yes, the IRS can tax bitcoin and other cryptocurrencies. What you need to know
Amazon will open two cashier-less Whole Foods stores next year
They will even sing 'Happy Birthday.' Robots are picking up unwanted jobs at a Latin restaurant in Texas
Investing in art? This company sells shares of high-value paintings
A traveller walks through the George Bush Intercontinental Airport on August 05, 2021 in Houston, Texas.
Airlines were counting on a post-Labor Day surge in business travel. It looks like that won't happen
Elizabeth Holmes, the founder and former CEO of blood testing and life sciences company Theranos, arrives for the first day of jury selection in her fraud trial, outside Federal Court in San Jose, California on August 31, 2021. – A female entrepreneur whose multi-billion dollar start-up looked set to revolutionize medical testing, before it crashed and burned in a blaze of fraud claims, goes on trial on Tuesday.
Elizabeth Holmes' trial begins with opening statements
Moviegoers sit, waiting for their movie to start at the AMC Burbank theatre on reopening day in Burbank, California, March 15, 2021.
AMC Theatres, in a shift, rolls out $25 million ad campaign starring Nicole Kidman
REACTION TO TEXAS ABORTION LAW
Video game CEO is out after praising Texas abortion law
Why the Texas law is terrible for the economy
These companies are pushing back
Bumble and Match pledge to help people affected
Lyft General Counsel: I hope that more of Corporate America takes a stand on Texas abortion law
SPACE
Roscosmos CEO Dmitry Rogozin attends a ceremony to lay flowers at the grave of Soviet cosmonaut Yuri Gagarin (1934-1968) in the Kremlin Wall Necropolis to mark the 60th anniversary of the first human space flight. On April 12, 1961, Gagarin orbited the Earth aboard the Vostok 1 spacecraft.
Russian space chief invites Elon Musk to his home
Why the US-Russia space partnership is complicated
Rocket built by startup Firefly explodes
Elon Musk and Jeff Bezos are arguing over the moon
FAA grounds Virgin Galactic
Headlines from right-of-center Newsmax – evening of 9.8.2021
Ex-Trump Officials Told to Resign From Military Advisory Boards, but One Says 'No'
11th at 20
9/11 Artifacts Share 'Pieces of Truth' in Victims' Stories
Shrine to Replace Church Destroyed on 9/11 Nears Completion
Pete King to Newsmax: Firefighter's 9/11 Death First to 'Hit Me Hard' |
Civilian Armada Ferried 500,000 to Safety
Al-Qaida Isn't Public Enemy No. 1 Anymore, but It's Not Defeated Either
2 More Victims of 9/11 Attacks Identified
Trump on 9/11 Heroes: 'Level of Bravery Was Absolutely Incredible' |
Michael Moore Declares Osama bin Laden 'Won'
More Sept. 11th at 20
Newsmax TV
Comer: House GOP Launching 'Full-Scale' Probe on Afghanistan
Tenney: Gold Star Families Feeling Anger, Anguish With Biden |
Ronna McDaniel: NJ Hecklers Gave Biden 'Only True Feedback' |
Meuser: US Must Respond to Taliban With Strength |
Louie Gohmert: Inflation Causing People's Money to Be 'Worth Less' |
Chad Wolf: Corners Cut in Hurried Afghan Refugee Processing |
More Newsmax TV
Newsfront
Three Charged With Stealing Identities of Florida Condo Collapse Victims
A man and two women were arrested and charged with stealing the identities of seven victims of the Surfside condominium collapse near Miami Beach this summer and attempting to obtain credit cards in their names, a Florida prosecutor said on Wednesday.Bettsy Alejandra…… [Full Story]
Some WH Staffers Mute Biden on TV, Anxious He Will Make More Gaffes
Some White House staffers have muted or turned off the TV when [Full Story]
Biden Made Afghanistan More Dangerous Than on 9/11, Experts Say
The poorly planned withdrawal of American service members from [Full Story] |
Related
'Incredible Fear' Among Women Across Afghanistan: UN Official
Ex-Afghan President Ghani Again Denies Fleeing Country With Millions
Taliban Paint Over Murals in Kabul With Victory Slogans
White House Says It Has Not Validated Taliban Government
Tech CEO Resigns After Backlash Over Pro-Life Tweet
The CEO and co-founder of a video game development company resigned [Full Story]
Job Openings Vault to Record High as Employers Scramble for Workers
S. job openings raced to a new record high in July while layoffs [Full Story]
NY Post: Fauci Should Go, Hid Wuhan Truth
NY Post: Fauci Should Go, Hid Wuhan Truth
Anthony Fauci has been "an impediment to knowing the true story [Full Story]
Semiconductor Shortages Mean Longer Waits, Higher Prices for Consumers
Major automakers are reeling from a COVID-created global shortage of [Full Story] |
Court Blocks DeSantis' Ban on School Mask Mandates
A Florida judge has ruled against Gov. Ron DeSantis' ban of school [Full Story]
Soros Targets China for Repression, US Finance Companies for Aiding Them
Billionaire investor George Soros lambasted BlackRock for endangering [Full Story]
Civilian Armada Ferried 500,000 to Safety
It's one of the incredible acts of 9/11 heroism that's mostly been [Full Story] |
Trump to Endorse Former Liz Cheney Ally to Challenge Her
Donald Trump is backing Harriet Hageman, a Wyoming lawyer, in a [Full Story]
Richmond's Robert E. Lee Statue Removed
A statue of Confederate commander Robert E. Lee was removed from its [Full Story]
Supreme Court Returning to In-Person Arguments
The high court announced Wednesday that the justices plan to return [Full Story]
Donald Trump to Newsmax: 'We Rebuilt Military,' and 'They Gave It to the Taliban'
Moved by the imminent 20th anniversary of 9/11, former President [Full Story] |
Related
Trump: Dems Have Newsom Recall Election 'Rigged' to Win |
Trump: China Now Eyes Taiwan Due to Biden 'Incompetence, Weakness' |
Trump: Dems 'Covering Up' Biden's COVID, Afghanistan Failures
GOP Gov. Ron DeSantis on Tuesday announced several proposed [Full Story]
Broadcasters Urged to Cancel Plans to Cover Beijing Olympics
Some of the world's largest broadcasters including American network [Full Story]
China Bans Private Tutors From Giving Online Classes
China on Wednesday banned private tutors from giving classes online [Full Story]
Nobelist, Senior Democrat Economist Stiglitz Says Fed's Powell Should Go
For U.S. President Joe Biden to be true to his agenda he should not [Full Story]
Ex-Afghan President Ghani Again Denies Fleeing Country With Millions
Former Afghanistan President Ashraf Ghani issued a statement [Full Story]
Hate Crimes Against Catholic Churches Rise Dramatically
America has seen a significant rise in hate crimes targeting Catholic [Full Story]
WHO Chief Urges Halt to Booster Shots for Rest of the Year
The head of the World Health Organization is calling on rich [Full Story]
Ex-NY Congressional Candidate, Afghan War Veteran Dead of Apparent Suicide
An Afghanistan war veteran who ran for Congress last year died of an [Full Story]
Fraud Trial of Theranos Founder Elizabeth Holmes Set to Begin
Theranos founder Elizabeth Holmes goes on trial on Wednesday in [Full Story]
Prosecution May Not Call Star Witness in 1st Trial in US College Admissions Scandal
One key face could be missing from the first trial beginning this [Full Story]
Russia's Emergency Situations Minister Dies During Drills
Russia's emergency situations minister has died during drills, the [Full Story]
Russian Court to Consider Transferring Jailed Ex-Marine to US
A Russian court plans to consider a request by a former U.S. Marine [Full Story]
Former US Sen. Adlai Stevenson III Dies at 90
Former U.S. Senator Adlai Stevenson III, the namesake son and [Full Story]
Trump on 9/11 Heroes: 'Level of Bravery Was Absolutely Incredible'
Echoing his televised remarks made at ground zero days after [Full Story] |
Silicon Valley Funds Research to Reverse Aging
A group of Silicon Valley billionaires, including shipping magnate [Full Story]
House Ways, Means Sets Debate for $3.5T Budget Bill
The House Ways and Means Committeewill attempt to advance sweeping [Full Story]
Atomic Energy Group Chides Iran for 'Seriously Undermining' Monitoring
The International Atomic Energy Agency released a strongly worded [Full Story]
More Newsfront
Finance
Ryanair Ends Talks With Boeing on Large 737 MAX 10 Order
Ryanair has ended talks with Boeing on a major new order for Boeing 737 jets due to a disagreement over pricing, the Irish airline said on Monday. Ryanair is already the largest European customer for the 737 MAX, with 210 firm orders of the 197-seat MAX 8-200 model. In July… [Full Story]
Tesla Plans Energy Trading Desk
S. Markets Regulator Takes Aim at Coinbase Lending Product
Leon Black Says Accuser, Eyeing Payday, Made up Jeffrey Epstein Claims
US Capitol Police Says 'Robust Security' Planned for 9/18 Trump Rally
More Finance
Health
More Deaths From 9/11-Linked Illnesses Than in Attack: Report
More people are believed to have died from illnesses related to 9/11 than were killed on the actual day of the Al-Qaeda attacks on New York and Washington, according to a report published on Tuesday.The September 11 Victim Compensation Fund (VCF) has received more than… [Full Story]
Dogs Can Alert Owners Up to an Hour Before Seizures
Early-Stage Trial Begins for Combined Influenza/COVID-19 Vaccine
Study: Postponing Retirement Might Help Keep Dementia at Bay
Recent Pot Use Tied to Rise in Heart Attack Risk
Manufactured Housing Industry Investments Connected Equities Closing Tickers
Some of these firms invest in manufactured housing, or are otherwise connected, but may do other forms of investing or business activities too.
NOTE: The chart below includes the Canadian stock, ECN, which purchased Triad Financial Services, a manufactured home industry lender
NOTE: Drew changed its name and trading symbol at the end of 2016 to Lippert (LCII).
NOTE: Deer Valley was largely taken private, say company insiders in a message to MHProNews on 12.15.2020, but there are still some outstanding shares of  the stock from the days when it was a publicly traded firm.  Thus, there is still periodic activity on DVLY.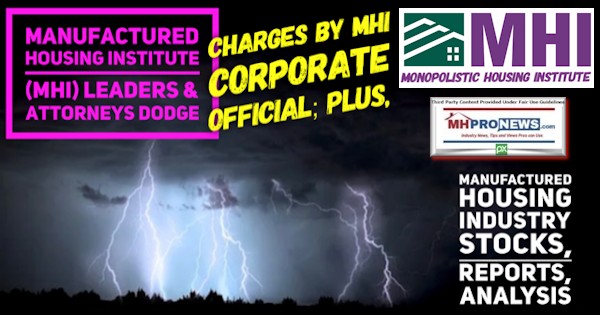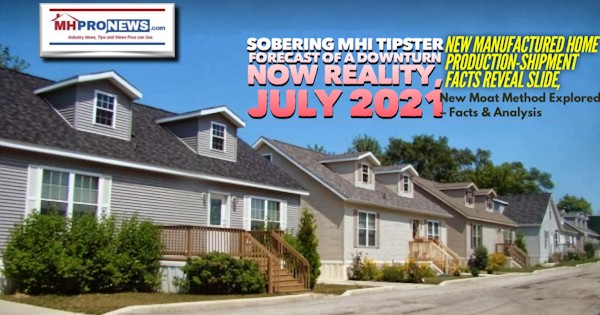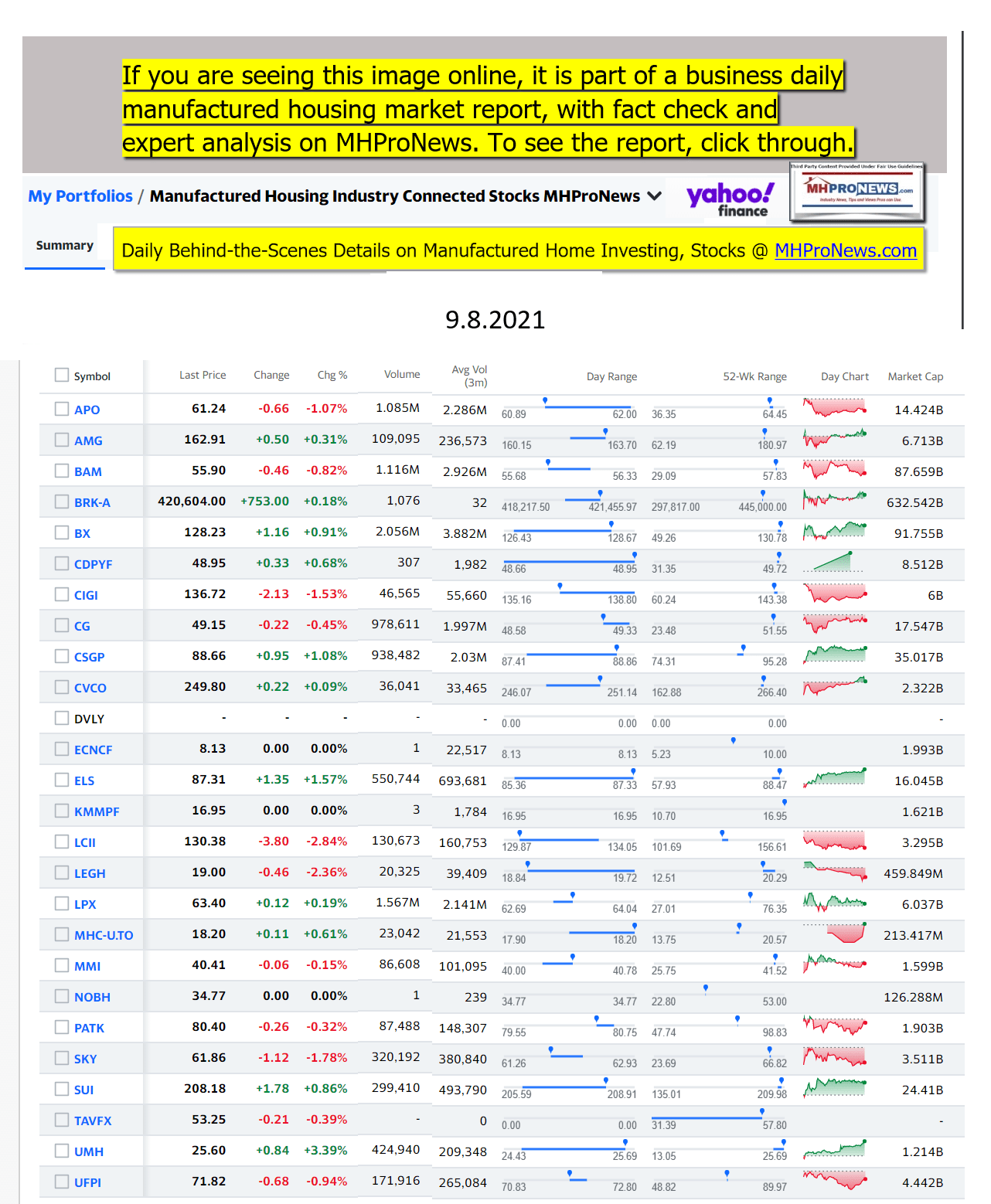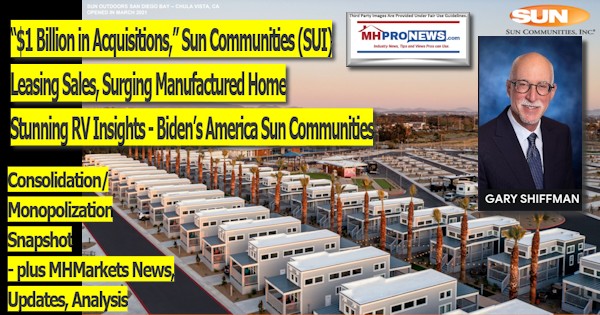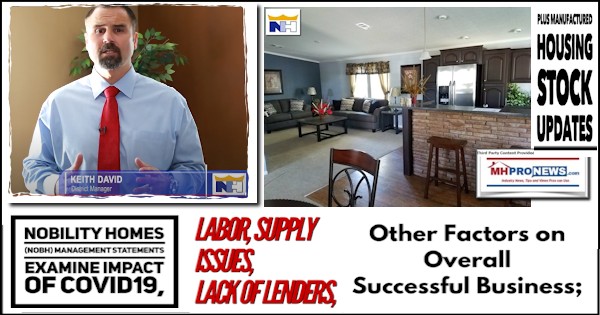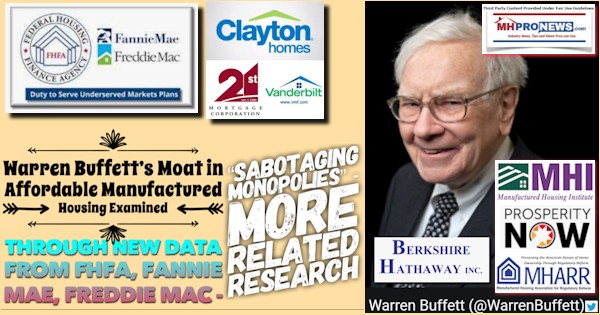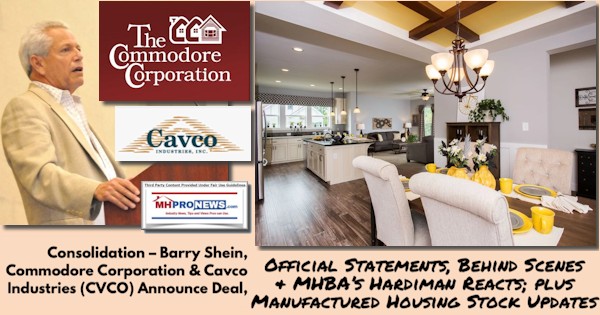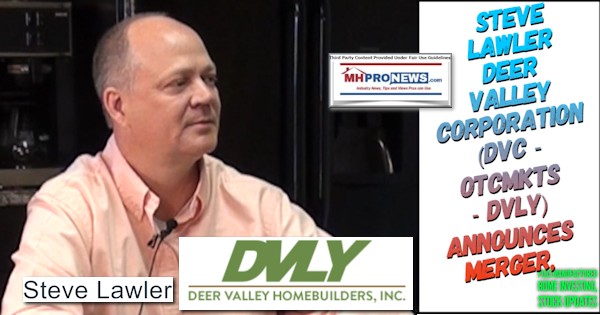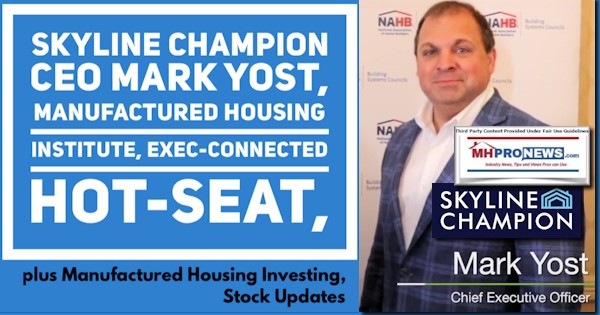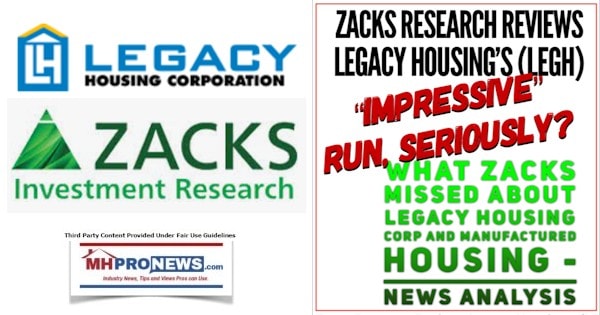 Summer 2021…
Berkshire Hathaway is the parent company to Clayton Homes, 21st Mortgage, Vanderbilt Mortgage and other factory built housing industry suppliers.
· LCI Industries, Patrick, UFPI, and LP each are suppliers to the manufactured housing industry, among others.
· AMG, CG, and TAVFX have investments in manufactured housing related businesses. For insights from third-parties and clients about our publisher, click here.
Enjoy these 'blast from the past' comments.
MHProNews. MHProNews – previously a.k.a. MHMSM.com – has celebrated our 11th year of publishing, and is starting our 12th year of serving the industry as the runaway most-read trade media.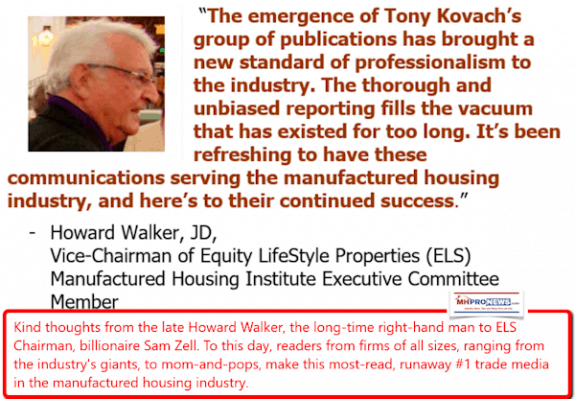 Sample Kudos over the years…
It is now 11+ years and counting…
Learn more about our evolutionary journey as the industry's leading trade media, at the report linked below.
· For expert manufactured housing business development or other professional services, click here.
· To sign up in seconds for our industry leading emailed headline news updates, click here.

Disclosure. MHProNews holds no positions in the stocks in this report.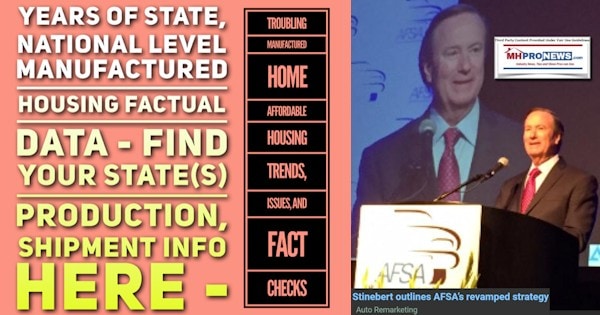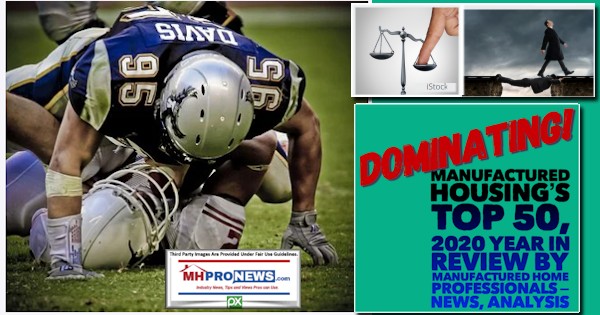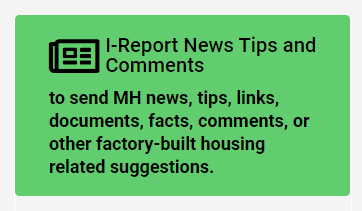 That's a wrap on this installment of "News Through the Lens of Manufactured Homes and Factory-Built Housing" © where "We Provide, You Decide." © (Affordable housing, manufactured homes, stock, investing, data, metrics, reports, fact-checks, analysis, and commentary. Third-party images or content are provided under fair use guidelines for media.) (See Related Reports, further below. Text/image boxes often are hot-linked to other reports that can be access by clicking on them.)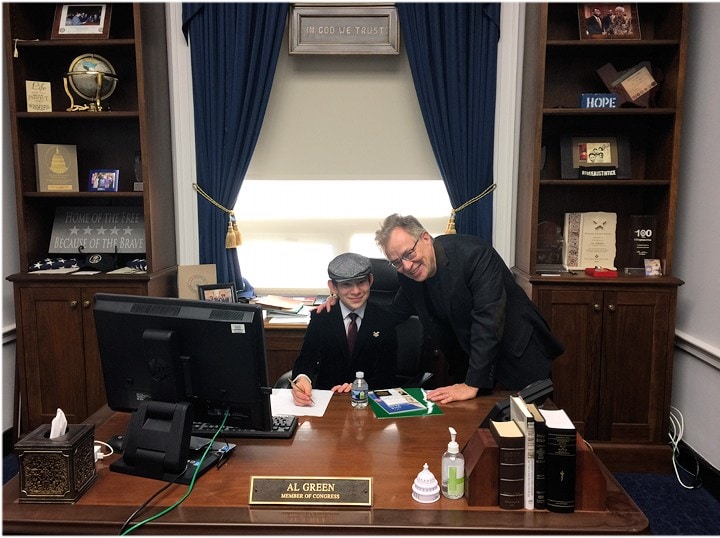 By L.A. "Tony" Kovach – for MHProNews.
Tony earned a journalism scholarship along with numerous awards in history. There have been several awards and honors and also recognition in manufactured housing. For example, he earned the prestigious Lottinville Award in history from the University of Oklahoma, where he studied history and business management. He's a managing member and co-founder of LifeStyle Factory Homes, LLC, the parent company to MHProNews, and MHLivingNews.com. This article reflects the LLC's and/or the writer's position, and may or may not reflect the views of sponsors or supporters.