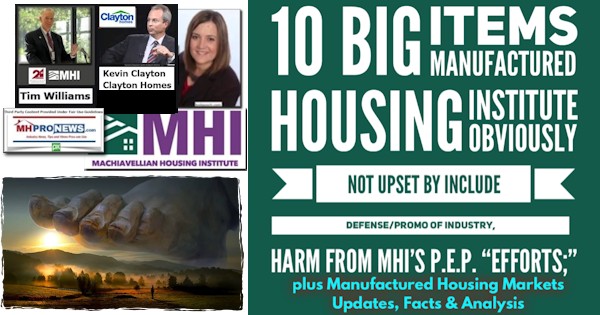 In the summer of 2021, the Arlington, VA based Manufactured Housing Institute (MHI) exhibited rather odd behavior for a trade association that claims to represent "all segments" of "manufactured housing" and "factory-built housing" that includes modular home producers. For an example illustrated by the screen capture and report linked below, MHI could not be bothered by promoting manufactured homes during the month of June, which is the annual National Home Ownership Month. Here's another example. When given an opportunity to weigh in on the controversy brewing in Ayden, NC about the placement of a HUD Code manufactured home desired by a black family in the appealing "Plant-A-Home" program, neither MHI nor their affiliate in North Carolina reportedly made any contact, much less a serious effort, to stop apparent discrimination against manufactured homes or the minorities that desire one. That flies in the face of MHI CEO Lesli Gooch's posturing a few months ago about how manufactured housing could be an important resource in building racial equity. That is a demonstrably true statement. But the more profound question is, why hasn't MHI acted on this years ago? Or when given the opportunity now – following her posturing op-ed – has Gooch and MHI leaders failing to act in any discernable fashion?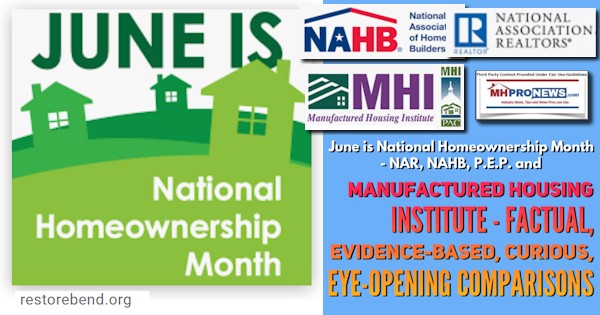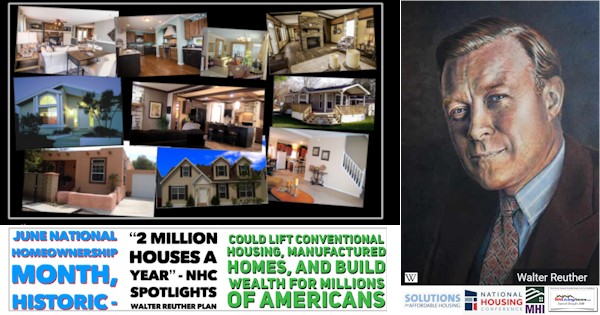 In no particular order of importance are the following. This is not a complete list. It is only a partial list, but illustrative of the difference between MHI's claims versus the reality of MHI's behavior. Note that MHI staff, their board leaders, and their attorneys were directly asked about several these for a response. They have at various times confirmed receipt of those inquiries, but have declined comment. So, the allegations against them stand publicly unchallenged at this time.
1). A tipster from inside the ranks of MHI corporate brand leadership told MHProNews a few weeks ago that a downturn was coming if MHI failed to act on zoning, placement, and more affordable chattel financing issues. What was previously a more robustly rising demand since an overheated mainstream housing market spilled over into manufactured housing in March 2021, has now slowed, as predicted.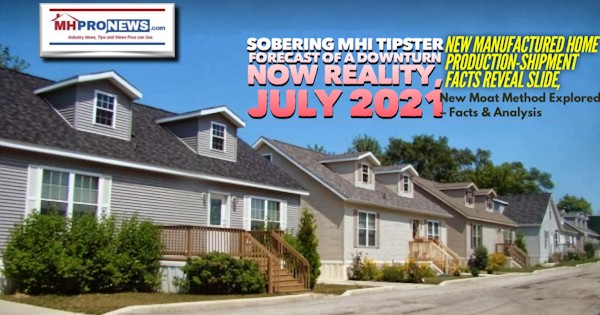 2.) When MHI and the industry were notified that Fannie Mae and Freddie Mac both pulled their unfilled pledge of a pilot program for manufactured home personal property loans, MHI said they were "disappointed." Really? Then, how do they explain that previous MHI Chairman Tim Williams, President and CEO of Berkshire Hathaway owned 21st Mortgage Corporation said months earlier that he was glad that the Fannie and Freddie pilot plans failed? How can MHI's CEO claim to be disappointed while Williams is celebrating?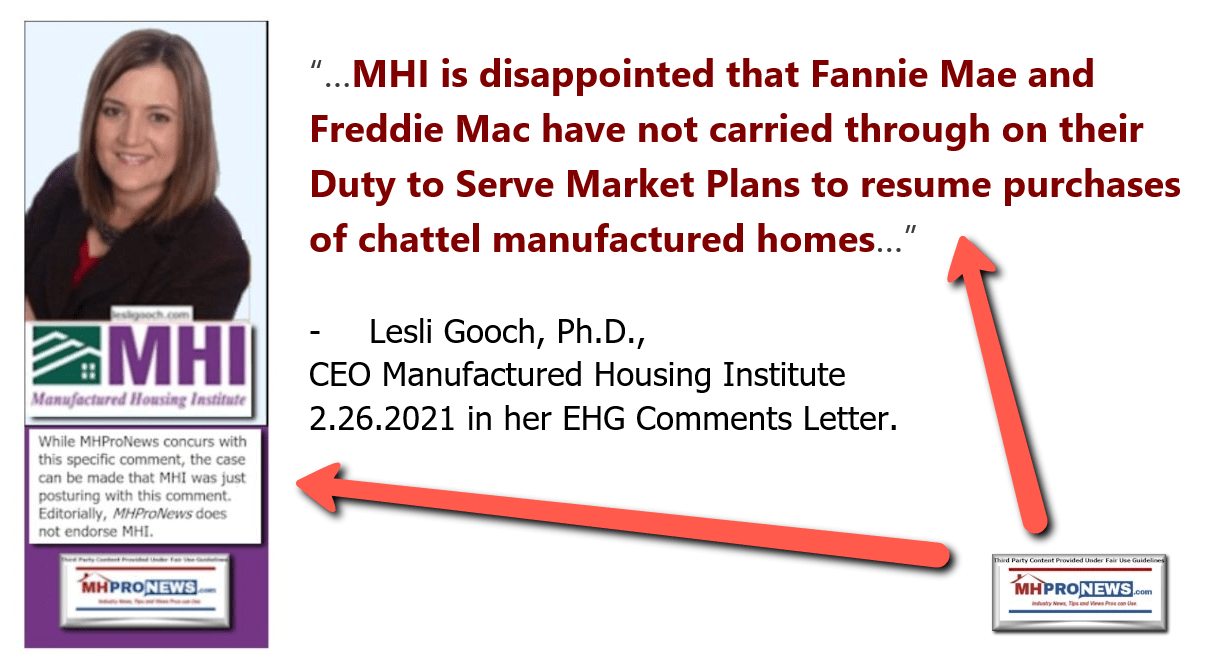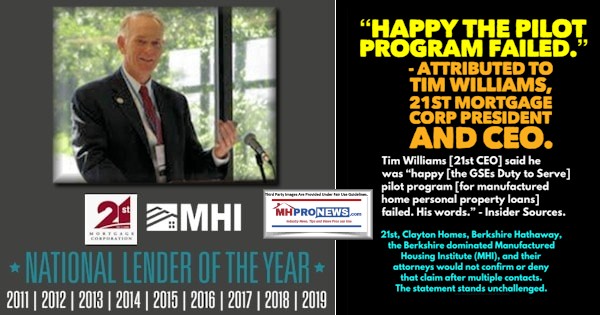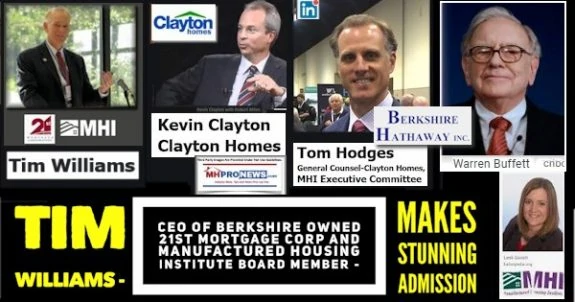 3). Still on the long-sought desire for more competitive financing that independents and consumers have expressed, when document-tips were provided to MHProNews that included a source with Congressional Democratic ties, several points emerged. Among them was a revelation about Warren Buffett, Chairman of Berkshire Hathaway which owns Clayton Homes, 21st, Vanderbilt Mortgage and Finance (VMF), and other entities in manufactured housing. Per a report by a pro-Buffett-Berkshire author writing about "the moat," Buffett expressed not long after the acquisition of Clayton Homes that they would hold their loans in portfolio rather than sell them off to the secondary market. That strategy would only work for moat-building if the Berkshire brands had a high degree of confidence that the Government Sponsored Enterprises (GSEs) of Fannie Mae and Freddie Mac would not be doing serious lending in manufactured housing. Put differently, some 17 years ago, the plan to limit manufactured housing lending was known to those who noted that detail. What did MHI do, beyond posturing about wanting GSE lending? Apparently, photo and video ops, comments letters, and meetings that have led to no discernable action. Where's their self-proclaimed clout? The details are shown in the report below.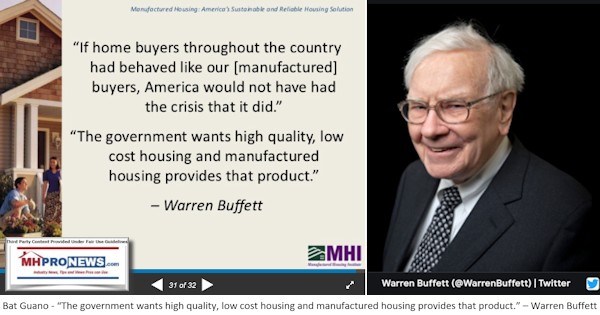 4). Also as a result of another pair of documentary tips, the widespread harm to thousands of businesses and the loss of some 200,000 jobs caused by the Tim Williams/21st cut off of financing to manufactured home independents in 2009 was ironically summed up by none other than Kevin Clayton. MHI's response to the evidence? Silence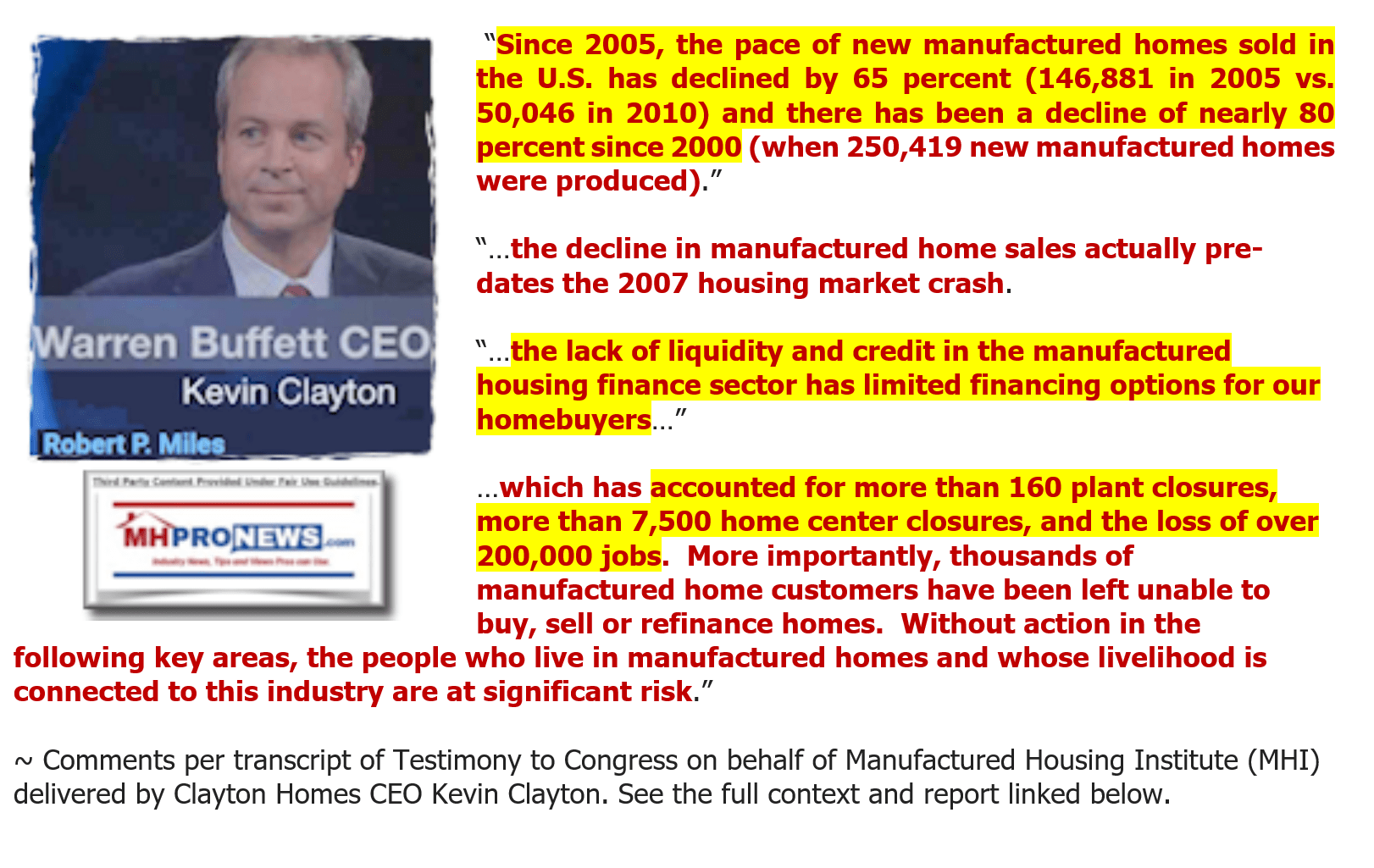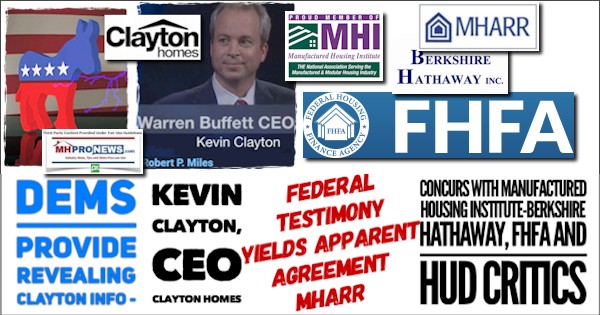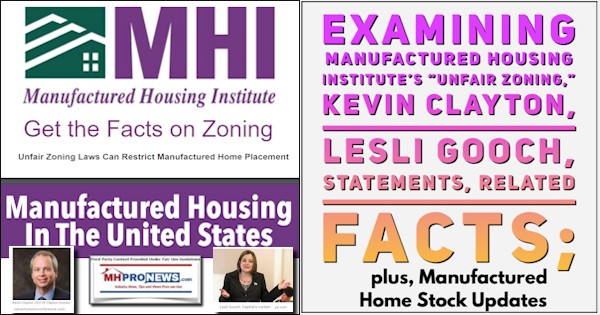 5). When research by the CFPB effectively documented the outcomes from Buffet-Kevin Clayton "moat" in manufactured housing, it illustrated prior allegations of racial bias in lending, among other findings. MHI, which Gooch claimed wants "racial equity" was silent in the face of those allegations. MHProNews exclusives from the CFPB are among the findings in the report linked below.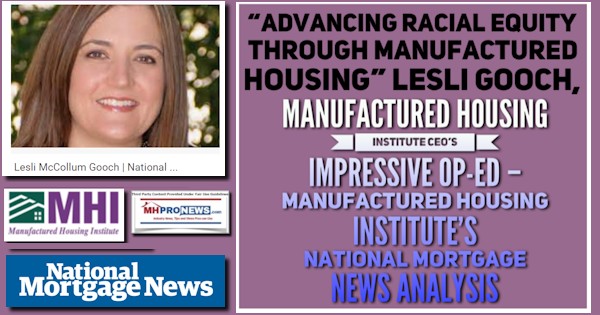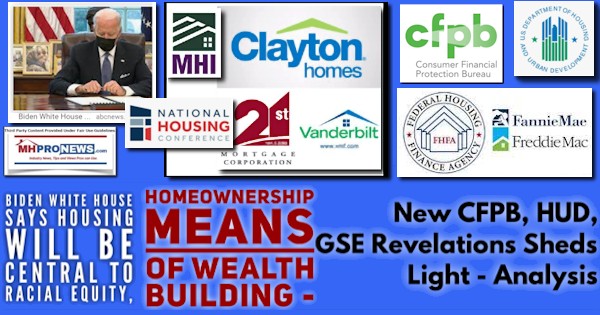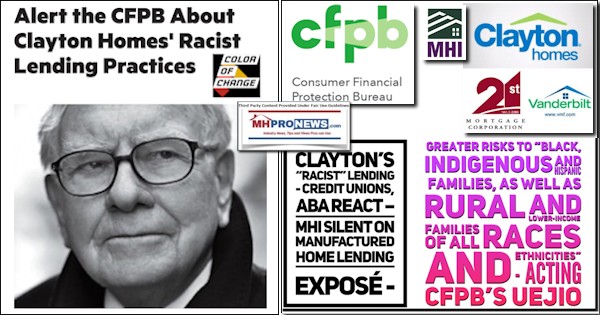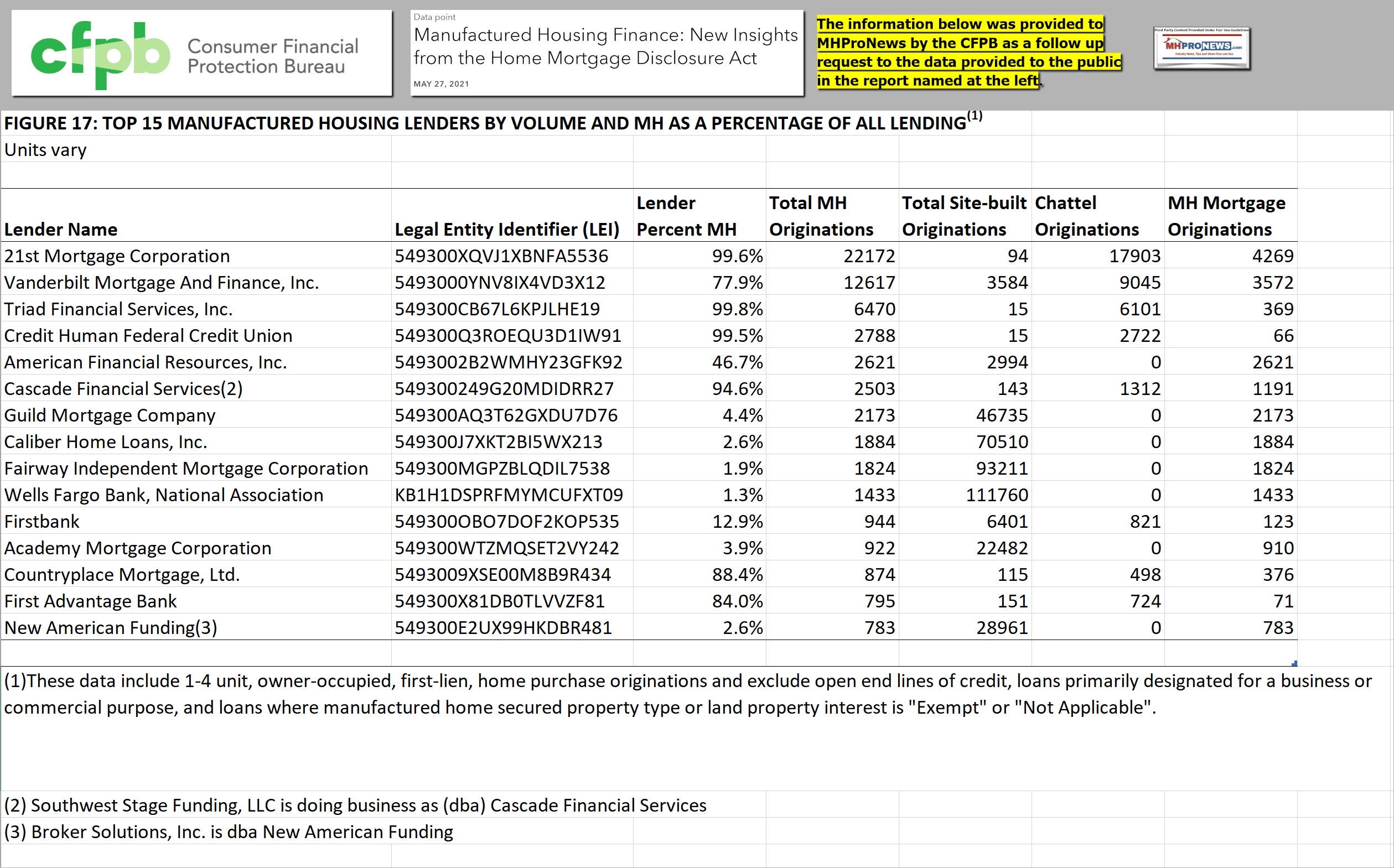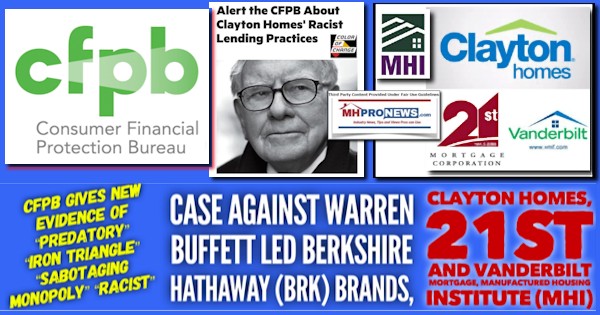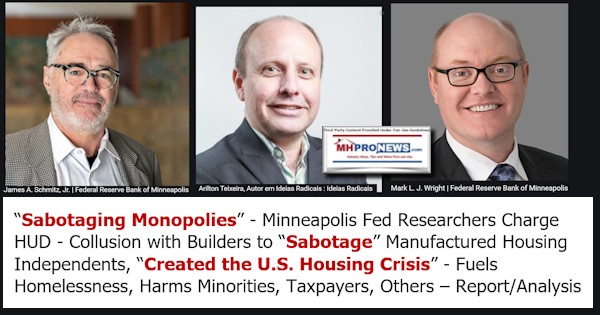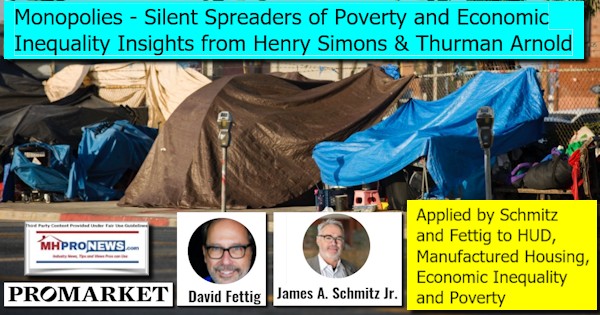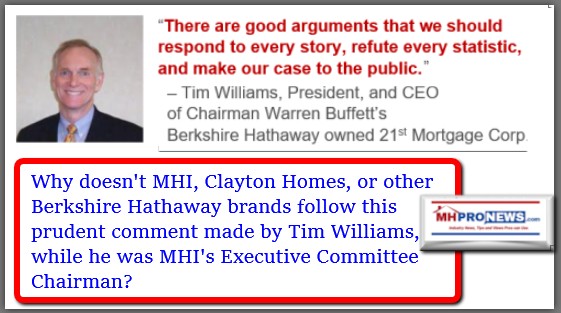 6). MHI has touted as "MHI in Action" their staged questions in Congressional hearings. In fairness, such planted or staged questions could be useful to the industry. But in fact, where they useful or harmful? Sadly, the evidence captured by CSPAN is that it has been harmful. In yet another head-fake to their own members and readers, MHI postured as if the hearing with Secretary Marcia Fudge was something to celebrate. But MHI withheld critical information, for whatever reasons, from their messaging. The reality was that Fudge flatly declined to use her authority under the Manufactured Housing Improvement Act (MHIA) of 2000. There was no follow up question asked. There is also no indication that MHI has lodged any protest of the Fudge remarks. Perhaps, it should be asked, how could they? After all, if they protested then it would reveal that they have attempted to misled their own members? Do you see the level of mendacity, deception, and misdirection that MHI is obviously engaged in?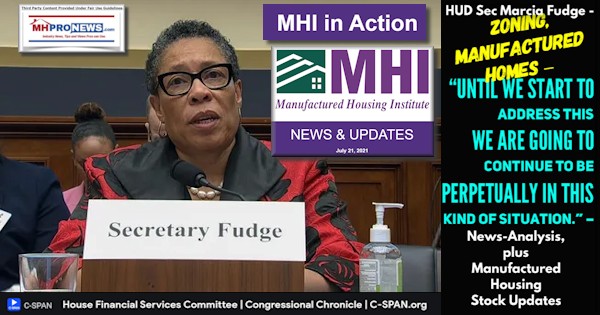 7). Publicly traded MHI corporate leaders are contradicting the MHI stated narrative that they are working for industry growth. Authentic growth would normally occur in an environment that by definition would not support consolidation. But when numerous MHI corporate members make it plain that they have been consolidation focused for years, that belies MHI's claims of working for growth. MHI's response to several such examples has been silence. In fairness, what are they supposed to say? If they call out those companies, won't they be exposing the fraud of claiming one thing while doing another that has been occurring in plain sight?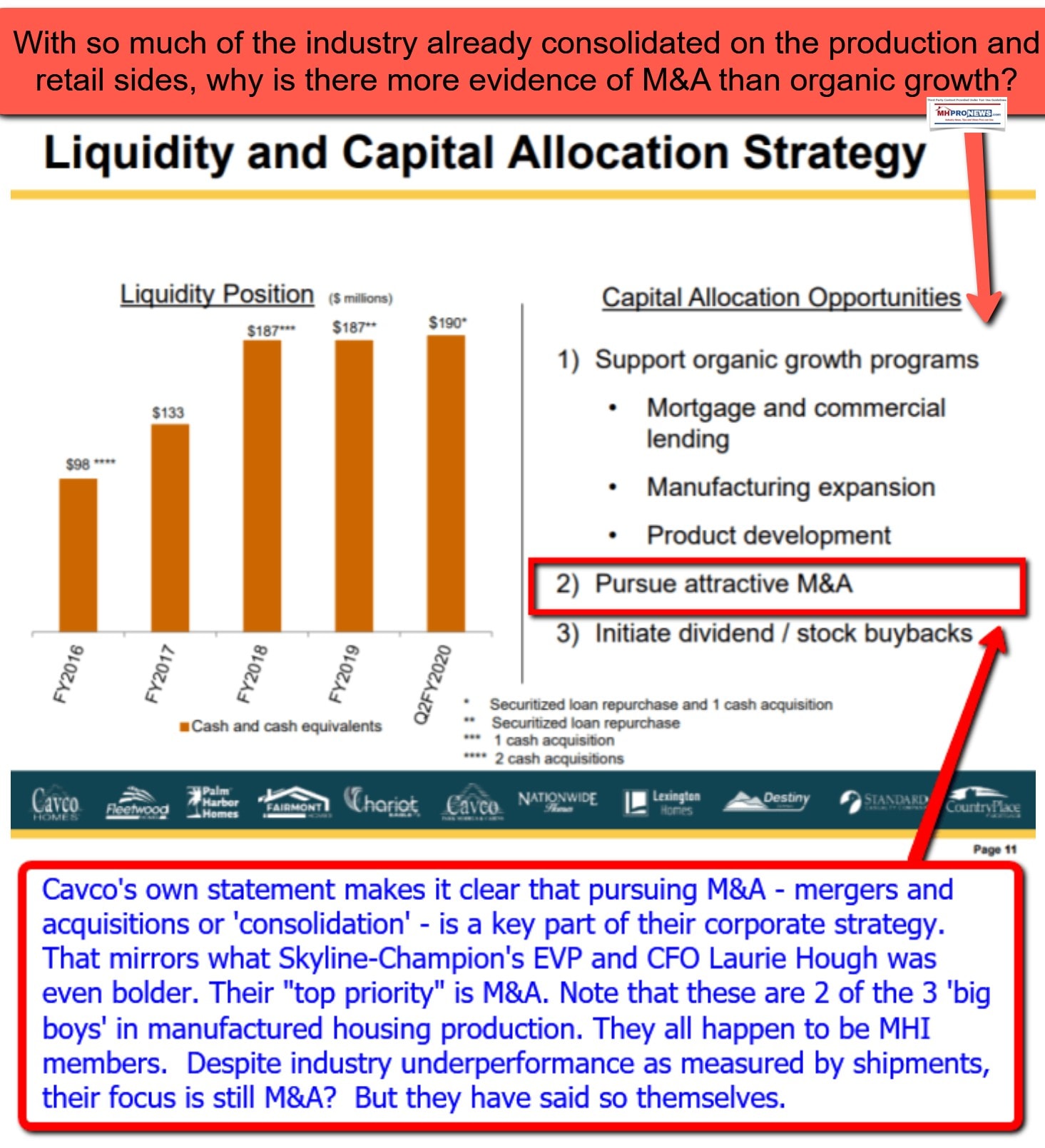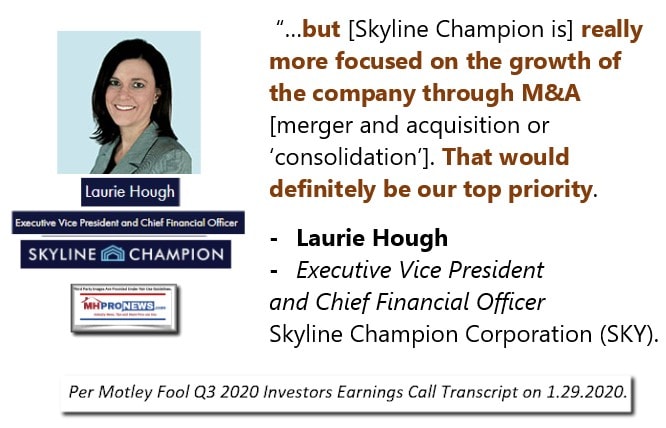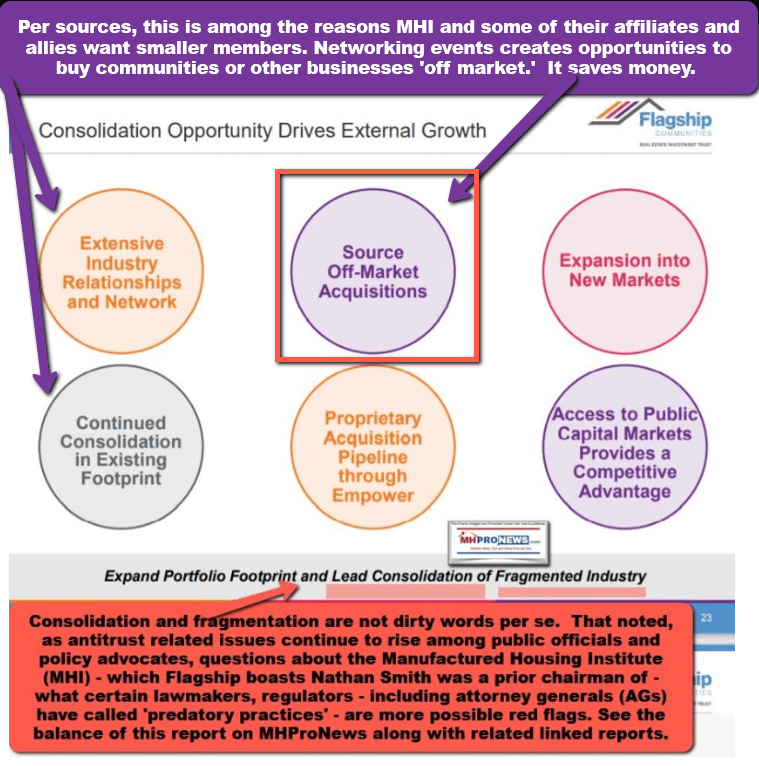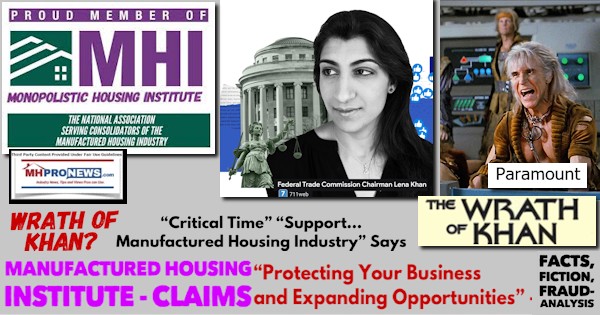 8). When MHEC member and MHI affiliate, the Florida Manufactured Housing Association (FMHA) upstaged MHI, their executive director Jim Ayotte attempted a defense. He said that what is necessary is "not rocket science." In a limited sense, that is quite so. The manufactured home industry has two good laws, not to mention others that could prove beneficial, that if fully and properly implemented, would lead to robust growth. The facts behind the Accessory Dwelling Unit (ADU) story in California is an example of how preemption properly implemented would foster growth. Put differently, MHI's own members and affiliates comments betray the Arlington based trade group's narrative. When Samuel Strommen with Knudson's Law's thesis of several apparent examples of "felony" corruption and illegal behavior in manufactured housing was examined in the light of the 'defenses' offered by MHI surrogates, MHI and their mouthpieces are left looking even more deceptive and foolish.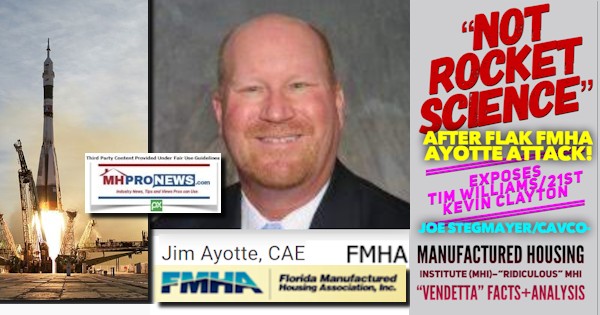 The first two topic at the open of this report above round out those 10 examples.
But as a lagniappe, the Marty Lavin provided insights and Joanne Stevens obtained comments shown in the links below make something crystal clear. For over 16 years, MHI has been talking about a national image and education campaign. So too has Kevin Clayton. They clearly had the resources, because Berkshire alone held dozens of newspapers among the companies that conglomerate owned. Berkshire also has high-level access to any part of the federal government. Buffett's investments and close financial-nonprofit-political ally Bill Gates means several big media and big tech ties. Their corporate coffers, per Kevin, means that whatever Clayton wants they could get. Rest assured there is plenty of money for whatever you need, said Buffett per Kevin.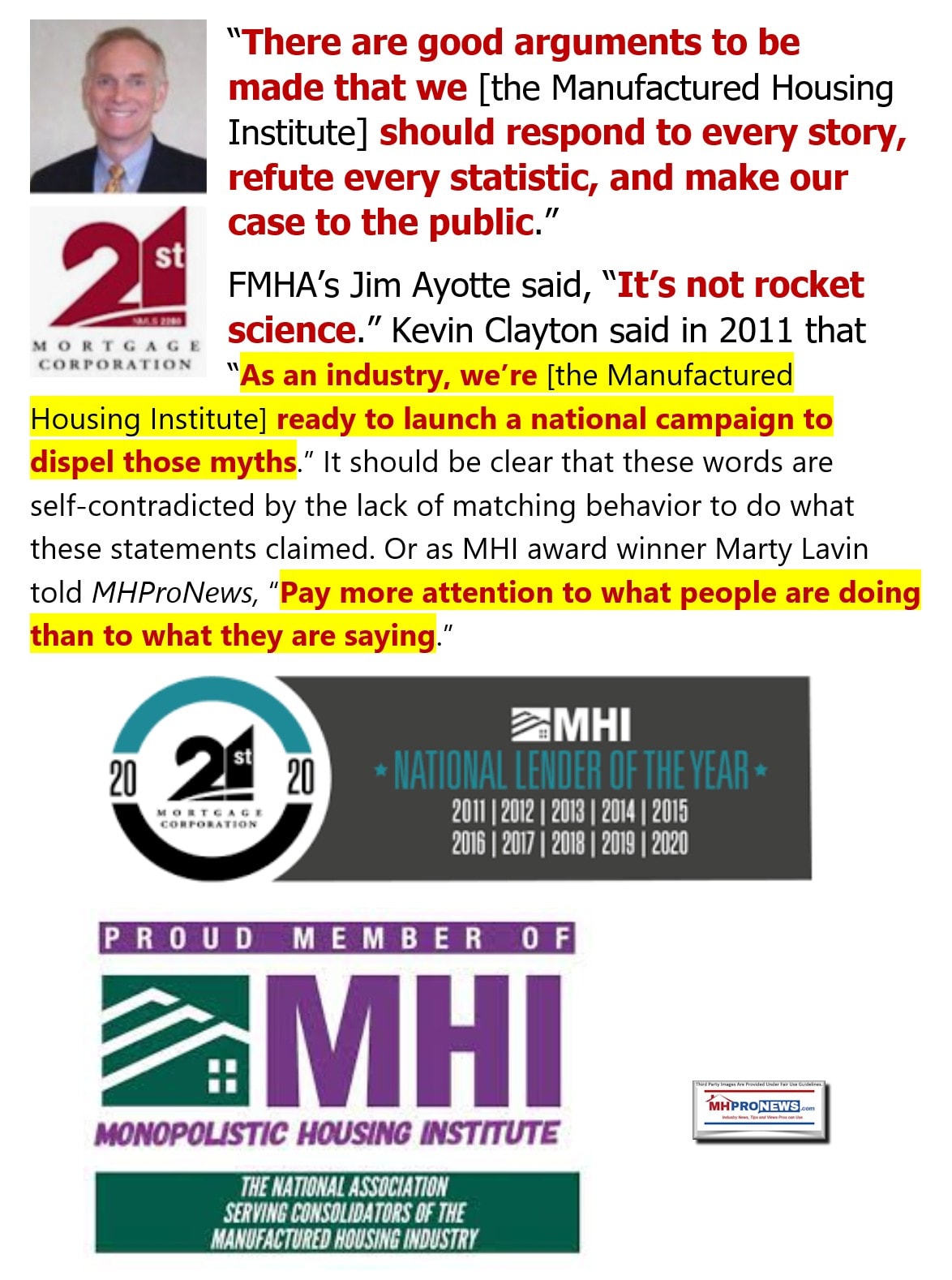 Put differently, the truth has been hiding in plain sight for years. No wonder certain voices in MHEC, that are bothered by what has been occurring, have called this pattern "BS" and "association malpractice."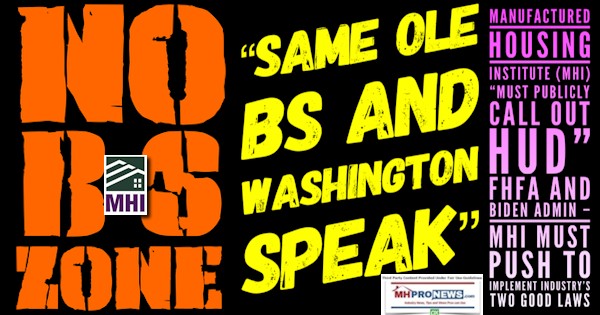 As the days of 2021 summer begin to fade, what is apparent from the above is something that MHProNews reported on some 9 months ago. It is short and sweet.
If MHI would focus on properly implementing the good laws that are already on the books, the industry would be enjoying robust growth. But instead, there are posturing and plans that not only lead to nowhere, they in fact lead to more consolidation.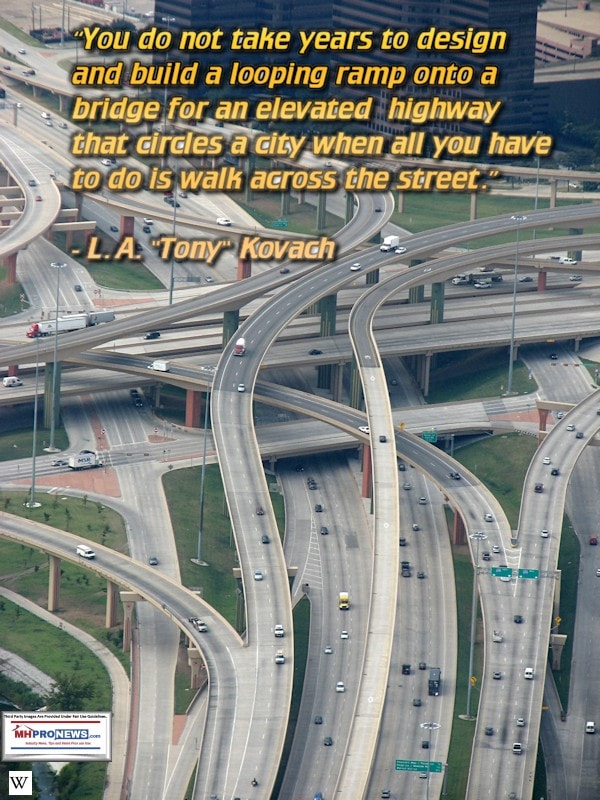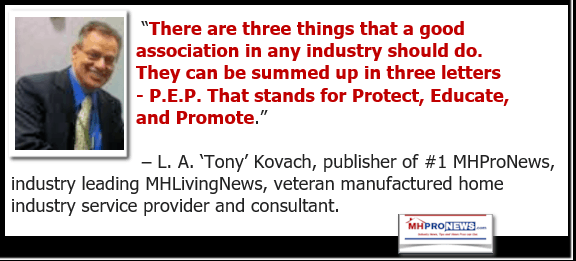 With the above in mind, it is no wonder Strommen's thesis has called what is occurring in manufactured housing a Rube Goldberg Machine of Human Suffering.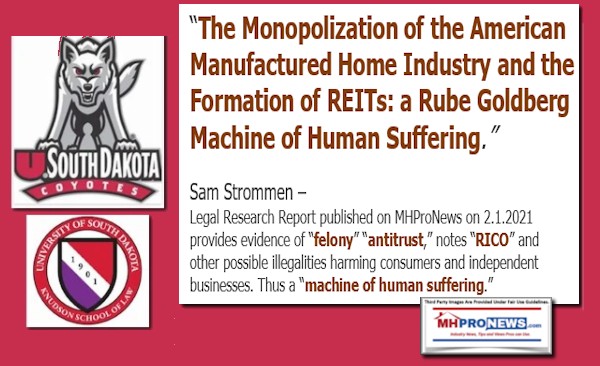 No wonder Marty Lavin has said for years, pay more attention to what people do than what they say, and follow the money trail.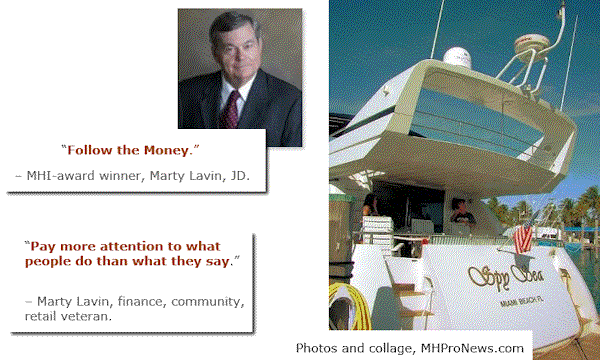 No wonder that MHARR has called for years for the creation of a post-production trade group that MHARR could team up with in order to move the federal government to act to enforce its own laws.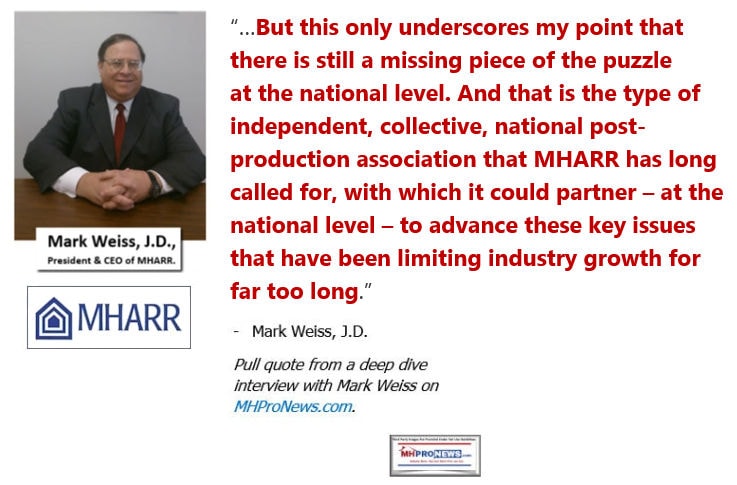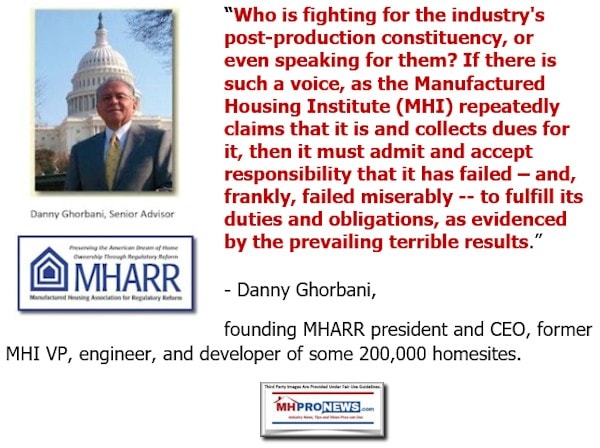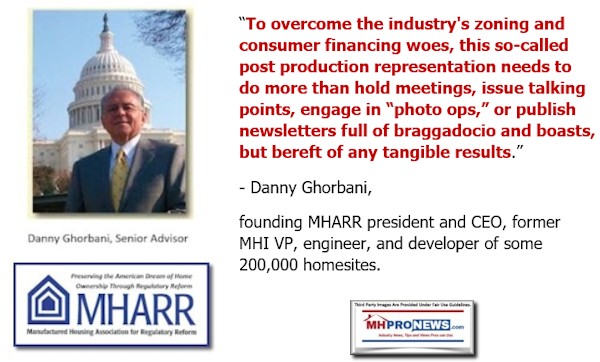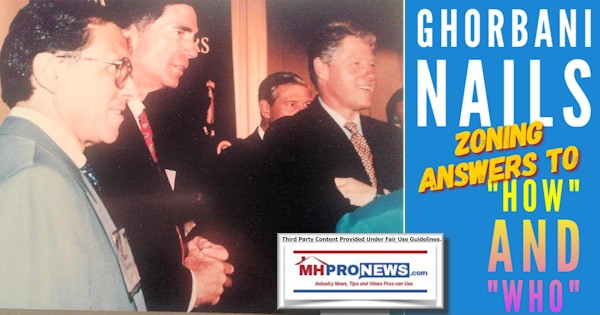 There are always more insights ahead. But those examples above explain why manufactured housing is underperforming during a growing affordable housing crisis. These are all reasons why federal, state, or even in some cases local officials should be demanding answers about what MHI is doing, why they are doing it, and who has benefited from it.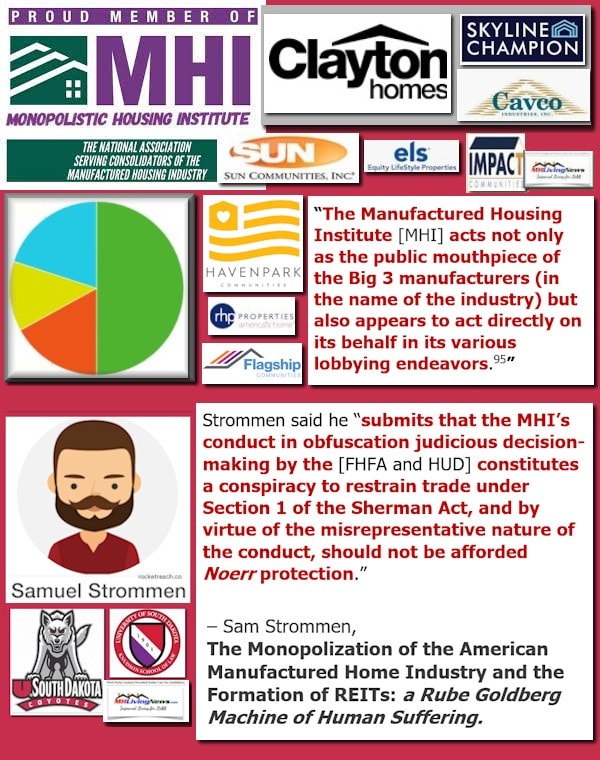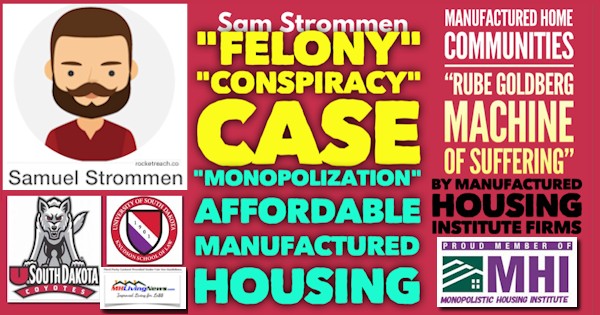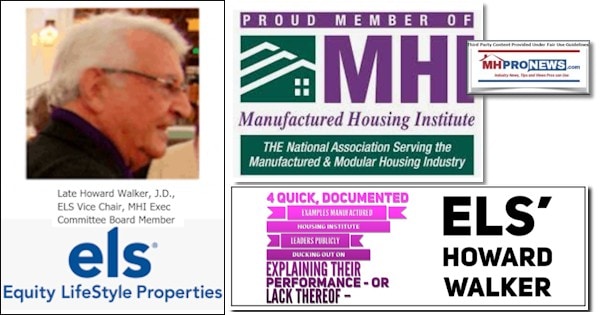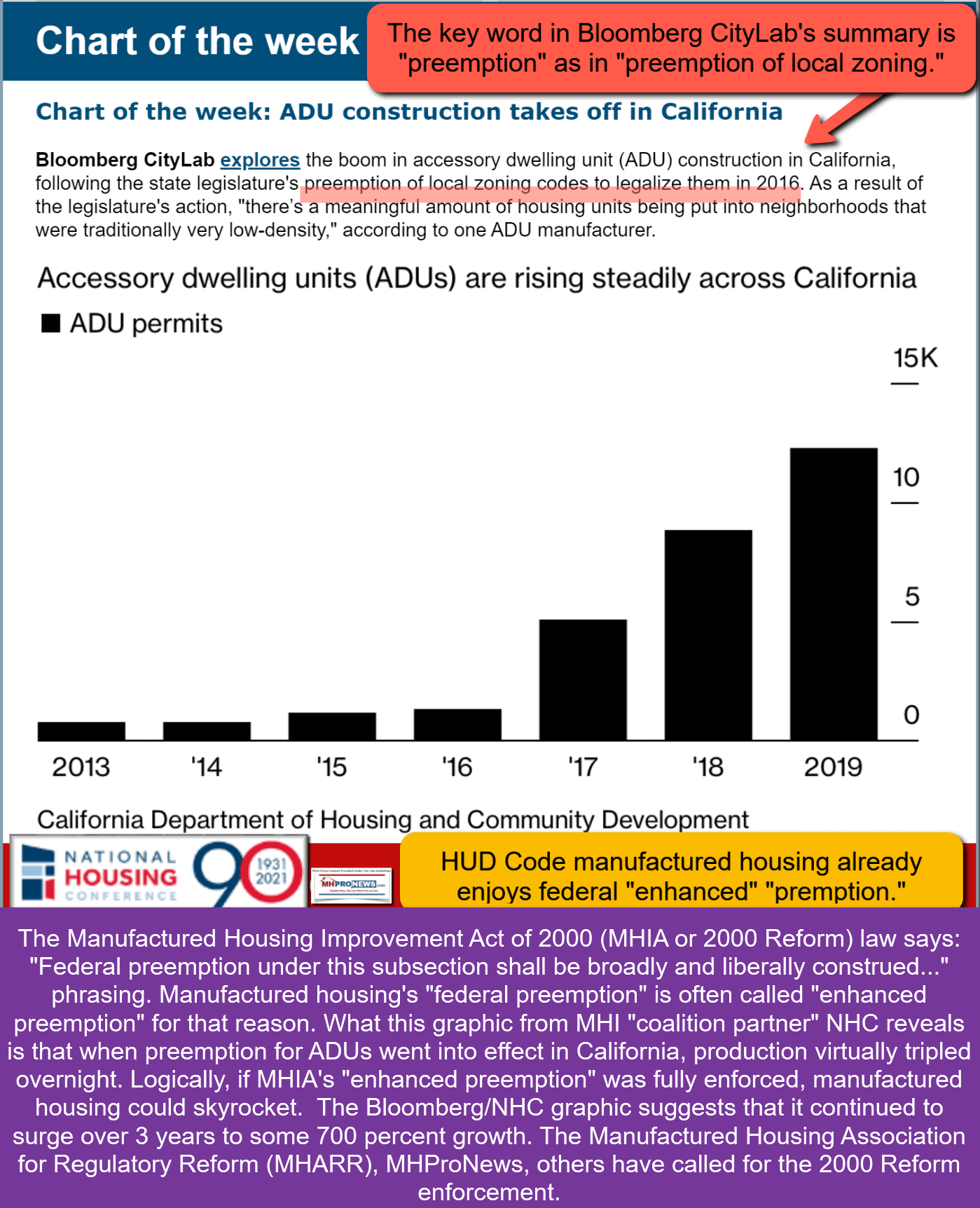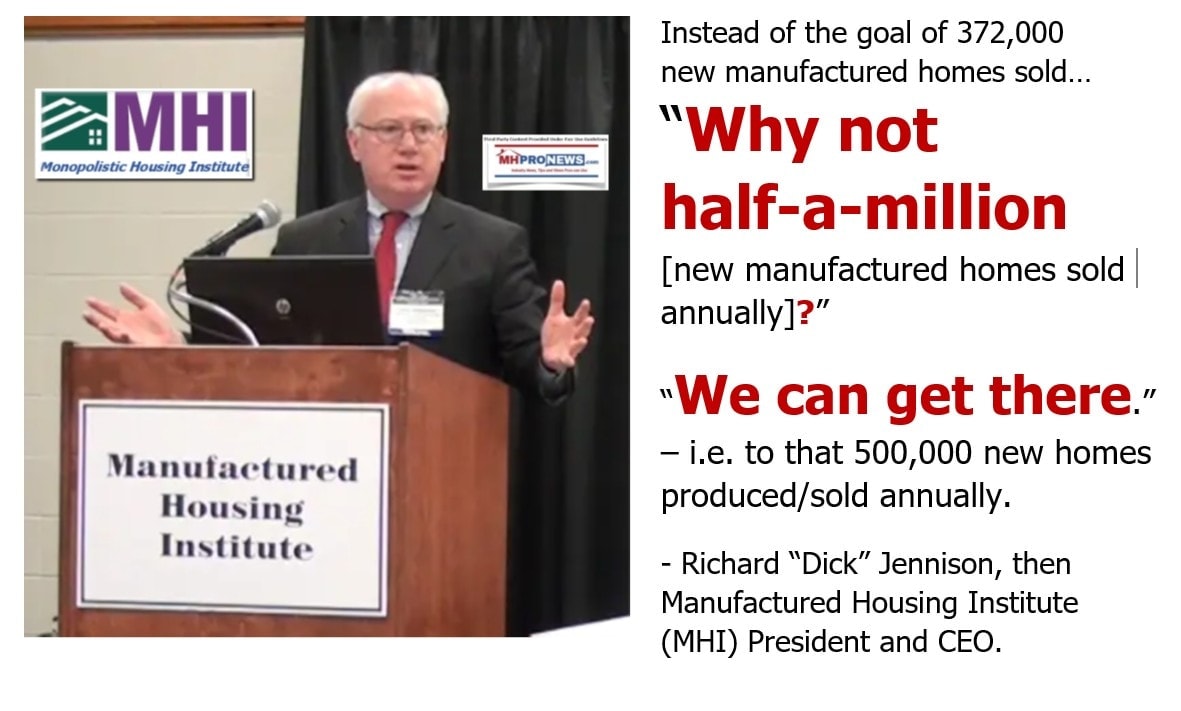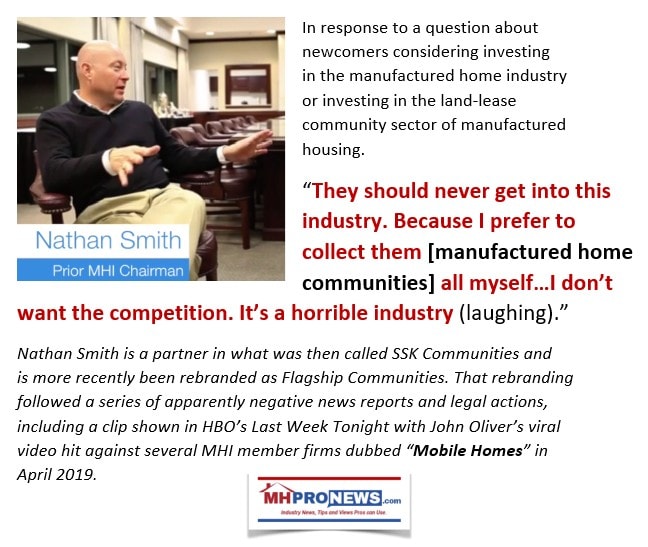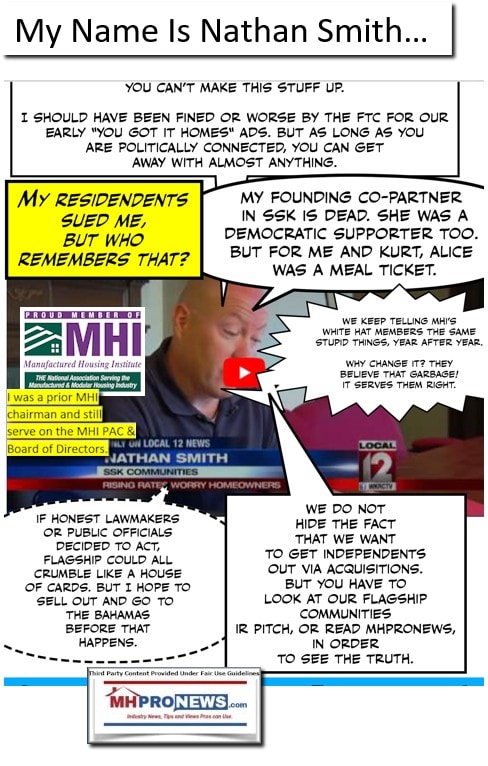 Regular and attentive MHProNews/MHLivingNews readers already know why. Strommen summed it up when he said that various acts of felony were occurring. Per the Cornel University Law site:
15 U.S. Code § 2 – Monopolizing trade a felony; penalty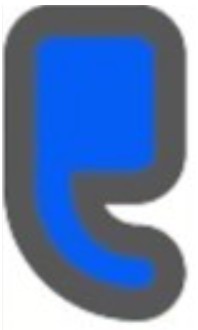 Every person who shall monopolize, or attempt to monopolize, or combine or conspire with any other person or persons, to monopolize any part of the trade or commerce among the several States, or with foreign nations, shall be deemed guilty of a felony, and, on conviction thereof, shall be punished by fine not exceeding $100,000,000 if a corporation, or, if any other person, $1,000,000, or by imprisonment not exceeding 10 years, or by both said punishments, in the discretion of the court.
(July 2, 1890, ch. 647, § 2, 26 Stat. 209; July 7, 1955, ch. 281, 69 Stat. 282; Pub. L. 93–528, § 3, Dec. 21, 1974, 88 Stat. 1708; Pub. L. 101–588, § 4(b), Nov. 16, 1990, 104 Stat. 2880; Pub. L. 108–237, title II, § 215(b), June 22, 2004, 118 Stat. 668.)"
The sooner that leaders and officials, be they association, nonprofit, corporate or whomever, are formally investigated and then properly charged with criminal behavior under that and antitrust and other federal statues (think Hobbs Act, RICO, postal, IRS/perjury etc.), the more likely that authentic growth will return to manufactured housing. The sooner that members of the public organize to demand action on these matters the better. That could be done in a peaceful yet effective manner that indeed benefits racial equity and social justice for all, of whatever background, that desire their part of the American Dream.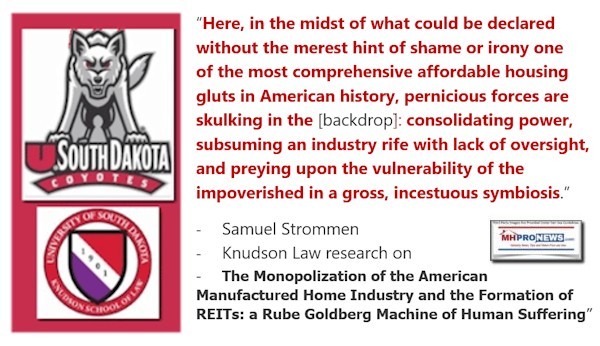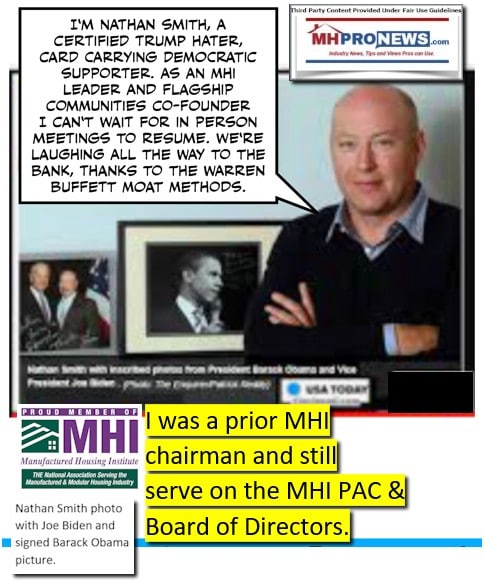 As Ayden Mayor Pro-Tem Ivory Mewborn told MHLivingNews: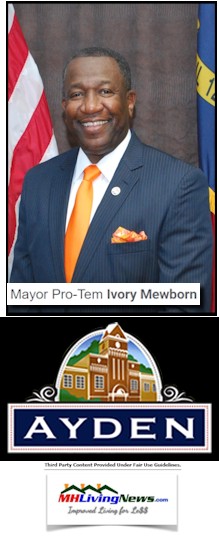 "Every American citizen deserves the privilege to share in the American dream. The Taft family should not be treated any differently. They meet or surpass all qualifications for affordable housing and to deny them the right to live where they choose to live is out of step with reality. In fact it is more in step with the past. There are also other hard working, law abiding families across our great state that can benefit tremendously from "Plant A Home" if given a fair opportunity to do so. Now is the right time to do what is right. "Working Together Works."
###
Next up is our business daily recap of yesterday evening's market report, related left-right headlines, and manufactured housing connected equities.
The Business Daily Manufactured Home Industry Connected Stock Market Updates.  Plus, Market Moving Left (CNN) – Right (Newsmax) Headlines Snapshot. While the layout of this daily business report has been evolving over time, several elements of the basic concepts used previously are still the same. For instance. The headlines that follow below can be reviewed at a glance to save time while providing insights across the left-right media divide. Additionally, those headlines often provide clues as to possible 'market-moving' news items.
Market Indicator Closing Summaries – Yahoo Finance Closing Tickers on MHProNews…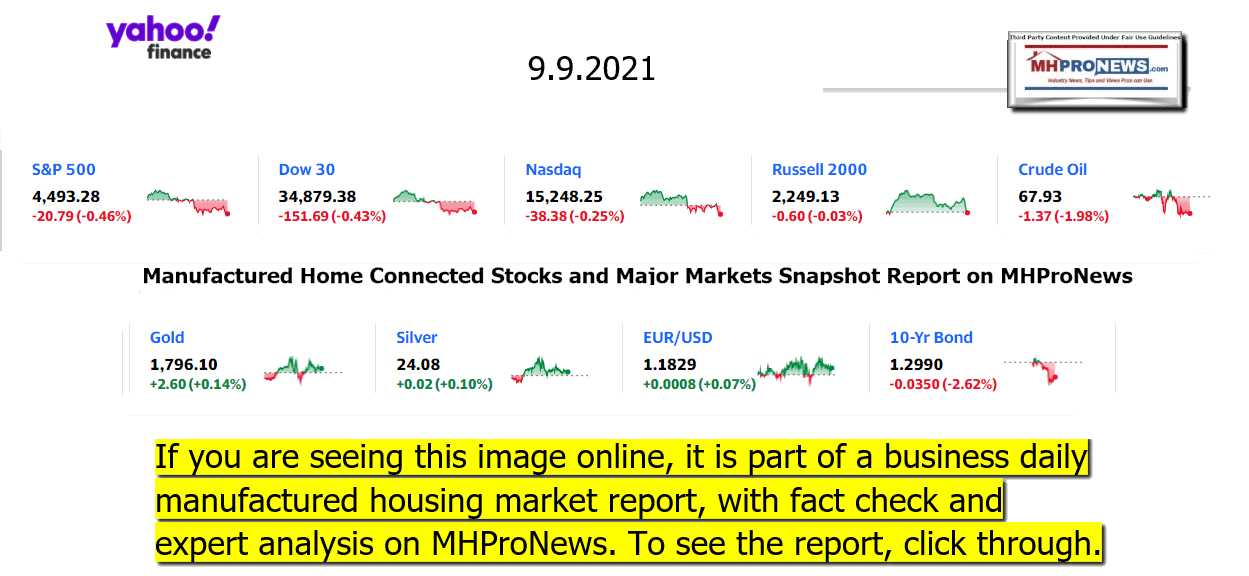 Headlines from left-of-center CNN Business – evening of 9.9.2021 
Piling on Powell
Jerome Powell, chairman of the U.S. Federal Reserve, arrives for a Senate Banking Committee hearing in Washington, D.C., U.S., on Thursday, July 15, 2021.
Lehman-era regulator says Fed chair Jerome Powell forgot a key lesson of 2008
Walmart is ending these bonuses for store workers
Amazon offers to pay four-year college tuition for about 750,000 hourly workers in the US
Jobless claims fall to new pandemic low in last week of enhanced benefits
The taper is starting. What happens next matters most
JPMorgan is buying restaurant review platform the Infatuation
India's got the next big thing in tech, and it could be worth $1 trillion
Microsoft indefinitely abandons plan to reopen US offices during Covid
Why this startup is trying to sail into the eye of the next hurricane
The IRS can tax bitcoin and other crypto. What you need to know
New iPhones expected to be unveiled at event on September 14
You may not have an assigned desk anymore. Here's how to handle it
Taco Bell wants you to send back your used sauce packets for recycling
Facebook and Ray-Ban are rolling out smart glasses that actually look cool. Will anyone buy it?
Content by Quicken Loans
Lock a low rate that will never rise
Hamdi Ulukaya (Chobani), Lisa Osborne Ross (Edelman), Mauricio Gutierrez (NRG Energy), Rich Barton (Zillow), Ben Chestnut, (Mailchimp), Mary Barra (General Motors)
The pandemic changed the way we work. 15 CEOs weigh in on what's next
A Ford Motor Co. employee performs a quality control check at the Ford India Pvt. Maraimalai Nagar factory in Chengalpattu, India, on Tuesday, April 17, 2012. Ford's Maraimalai Nagar plant near Chennai in the southern state of Tamil Nadu makes the Figo hatchback, the Fiesta sedan and Endeavour SUV models.
Ford is ending production in India and taking a $2 billion hit in the process
Burger King copies McDonald's with celebrity meals
ALL THINGS CHINA
Cathie Wood, chief executive officer and chief investment officer of ARK Investment Management LLC, speaks during the Sooner Than You Think conference in the Brooklyn borough of New York, U.S., on Tuesday, Oct. 16, 2018.
Wall Street's hottest investor is cooling on China
Chinese investors pour $1 billion into BlackRock fund
Prosecutors drop sexual assault case against ex-Alibaba employee
China's trade hit record levels last month
Government tells Tencent and Netease to play down on profit
GOING GREEN
Greener and cheaper: Crewless vessels are mapping the ocean
Maersk orders 8 carbon neutral ships
Total's $27B plan in Iraq is about solar, too
How Uganda is moving towards green mobility
How Biden's plan may get some to warm up to green energy
Headlines from right-of-center Newsmax – evening of 9.9.2021
Justice Dept. Sues Texas Over State's New Abortion Law
11th at 20
Ground Zero Rebuilding Still Unfinished, 20 Years Later
Gitmo Prison Lingers, Unresolved Legacy of 9/11
Poll: Most Americans Believe US Changed for the Worse Following 9/11
Top Cop Kerik: Socialism Bigger Threat Now Than Terrorism
Zemek: Honor Fallen, Follow 9/11 Panel's Recs
Ted Olson Warns Against 'Forgetting' 9/11
Ground Zero Rebuilding Still Unfinished, 20 Years Later
What Changed After 20 Years in Afghanistan?
New York City: Hit Hard, Then and Now
9/11 Artifacts Share 'Pieces of Truth' in Victims' Stories
More Sept. 11th at 20
Newsmax TV
Yair Netanyahu: Israeli Govt Spiraling Without Dad as PM
Clay Higgins: US 'Greatly Weakened' Since Biden Took Office |
Ronny Jackson: Congress 'Neglected' Talk of Afghanistan |
Guy Reschenthaler: Charge Fauci for Lying to Congress |
Blackburn: Taliban, Other Enemies, 'Do Not Fear Us' |
Tom Tiffany: No Surprise Afghan Refugees Aren't Vetted |
More Newsmax TV
Newsfront
Biden Plan Mandates Private Employee Vaccinations, Tests
President Joe Biden will require all federal employees to get vaccinated against COVID-19 and the U.S. Department of Labor will issue a rule requiring businesses with more than 100 employees to have their workers vaccinated or tested weekly, officials said on Thursday…. [Full Story]
Biden to Campaign Monday With Newsom as Recall Nears End
California Gov. Gavin Newsom will get a boost in the final days of a [Full Story]
Meghan McCain Lands Post-'View' Gig: Daily Mail Columnist
Conservative commentator Meghan McCain has a new job with the Daily [Full Story]
How Newsom Recall Could Help GOP Take Back Senate
If California's Democrat Gov. Gavin Newsom is recalled Tuesday and [Full Story] |
Justice Dept. Sues Texas Over State's New Abortion Law
The Justice Department is suing Texas over a new state law that bans [Full Story]
Related
Appeals Court Restores Several Indiana Abortion Restrictions
Judge Blocks Florida's GOP-Backed 'Anti-Riot' Law
Florida's new "anti-riot" law championed by Republican Gov. Ron [Full Story]
Vaccine Mandates Could Exacerbate Nursing Shortage, Experts Fear
A nursing shortage that showed signs of worsening before COVID-19 hit [Full Story] |
Murdoch's Australian Media Empire to Embrace Climate Change
Murdoch's Australian Media Empire to Embrace Climate Change
Fox News' owner Rupert Murdoch has long been one of the media's last [Full Story]
Legal Steroid Turning Men Into Beasts Even With No Exercise
SPONSOR: TV famed formula turns back clock, melts fat & shreds muscles [Full Story]
What Changed After 20 Years in Afghanistan?
Just weeks before the war in Afghanistan hit the two-decade mark, the [Full Story] |
Poll: 59 Percent Say US Private Sector Employees Work Harder
A new Rasmussen Reports poll found 59 percent of American adults [Full Story]
Howard Stern Slams Conservative Radio Hosts Who Recently Died of COVID
Radio host Howard Stern has ranted against conservative radio talk [Full Story]
Daniel Craig Admits Struggling With 'James Bond' Fame
Daniel Craig is opening up about his struggle to cope with the fame [Full Story]
GOP Leader McCarthy Asks Supreme Court to Rule House Proxy Voting Unconstitutional
House Minority Leader Kevin McCarthy, R-Calif., is asking the Supreme [Full Story]
Study: Traffic Noise Linked to Increased Risk for Dementia
It's more than just an annoyance: Long-term exposure to traffic and [Full Story]
Biden Facing Pressure From Democrats to Replace Fed Chief
President Joe Biden is facing growing pressure within his Democratic [Full Story]
Poll: Most Americans Believe US Changed for the Worse Following 9/11
Just 49% of Americans say they feel safer in the U.S. from terrorism [Full Story]
Sarah Huckabee Sanders Bid for Arkansas Governor Endorsed by Maggie's List
Maggie's List, a political action committee promoting the election of [Full Story]
Woman in Gorilla Mask Who Threw Egg at Larry Elder Ripped on Twitter
A woman, seen on video wearing a gorilla mask and throwing an egg at [Full Story]
Pelosi: Democrats Will Not Raise Debt Limit in $3.5T Bill
Democrats will not include a provision to raise the federal [Full Story]
House Republicans Seek Docs on Hunter Biden Artwork
House Republicans on the Oversight and Reform Committee are probing [Full Story]
Trump Endorses Hageman Against 'Warmonger' Cheney
Former President Donald Trump on Thursday endorsed lawyer Harriet [Full Story]
Portland Professor Resigns, Says University Turned Into 'Social Justice Factory'
A philosophy professor at Portland State University, Peter [Full Story]
Zemek: Honor the 9/11 Fallen by Adhering to 9/11 Commission's Recommendations
Let us not dishonor the memory of the fallen by contradicting the [Full Story]
Amazon to Fully Fund College Tuition for Frontline Employees
com Inc will fully fund college tuition for over 750,000 of [Full Story]
Fort Hood Shooter Applauds Taliban Taking Afghanistan
The Islamic terrorist currently on death row for murdering 13 people [Full Story]
Delta Variant Hits Airline Ticket Sales
Several U.S. airlines on Thursday warned of a slowdown in ticket [Full Story]
3 Charged With Stealing Surfside Victims' Identities
Three people were arrested Wednesday and charged with stealing the [Full Story]
Moderna Developing 1-Dose Booster for COVID-19, Flu
Moderna Inc said Thursday it was developing a single-dose vaccine [Full Story]
Matt Gaetz: McCarthy Must 'Stand Up To' Cheney, Kinzinger
Matt Gaetz, R-Fla., has called on Minority Leader Kevin McCarthy [Full Story]
Govt Lays Out Plans to Curb Medicare Drugs Costs
The Biden administration on Thursday unveiled its promised drug [Full Story]
Sources: Biden Pulls Nomination of Gun-Control Advocate to Head ATF
Sources: Biden Pulls Nomination of Gun-Control Advocate to Head ATF
President Joe Biden has pulled the nomination of gun-control advocate [Full Story]
More Newsfront
Finance
US Labor Market Recovery on Track as Weekly Jobless Claims Near 18-Month Low
The number of Americans filing new claims for jobless benefits fell to the lowest level in nearly 18 months last week, offering more evidence that job growth was being hindered by labor shortages rather than cooling demand for workers. [Full Story]
S&P 500 Ends Down Even After Jobless Claims Hit 18-Month Low
US STOCKS-S&P 500 Ends Down after Jobless Claims Hit 18-month low
Sweeping New Vaccine Mandates for 100 Million Americans
China's Ximalaya Shelves U.S. IPO Plans after Beijing Crackdown
More Finance
Health
More Deaths From 9/11-Linked Illnesses Than in Attack: Report
More people are believed to have died from illnesses related to 9/11 than were killed on the actual day of the Al-Qaeda attacks on New York and Washington, according to a report published on Tuesday.The September 11 Victim Compensation Fund (VCF) has received more than… [Full Story]
America's Battling a New Crisis: COVID-19 Fatigue
Biden Plan Mandates Private Employee Vaccinations, Testing
More Free Time May Not Make You Happier: Study
Moderna Developing Single-Dose Booster Shot for COVID-19 and Flu
Manufactured Housing Industry Investments Connected Equities Closing Tickers
Some of these firms invest in manufactured housing, or are otherwise connected, but may do other forms of investing or business activities too.
NOTE: The chart below includes the Canadian stock, ECN, which purchased Triad Financial Services, a manufactured home industry lender
NOTE: Drew changed its name and trading symbol at the end of 2016 to Lippert (LCII).
NOTE: Deer Valley was largely taken private, say company insiders in a message to MHProNews on 12.15.2020, but there are still some outstanding shares of  the stock from the days when it was a publicly traded firm.  Thus, there is still periodic activity on DVLY.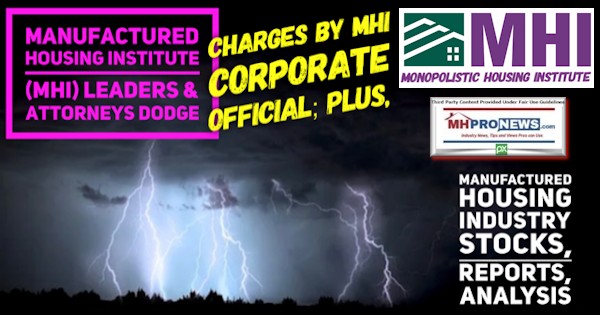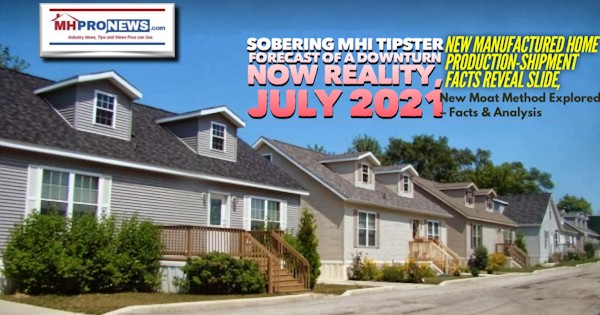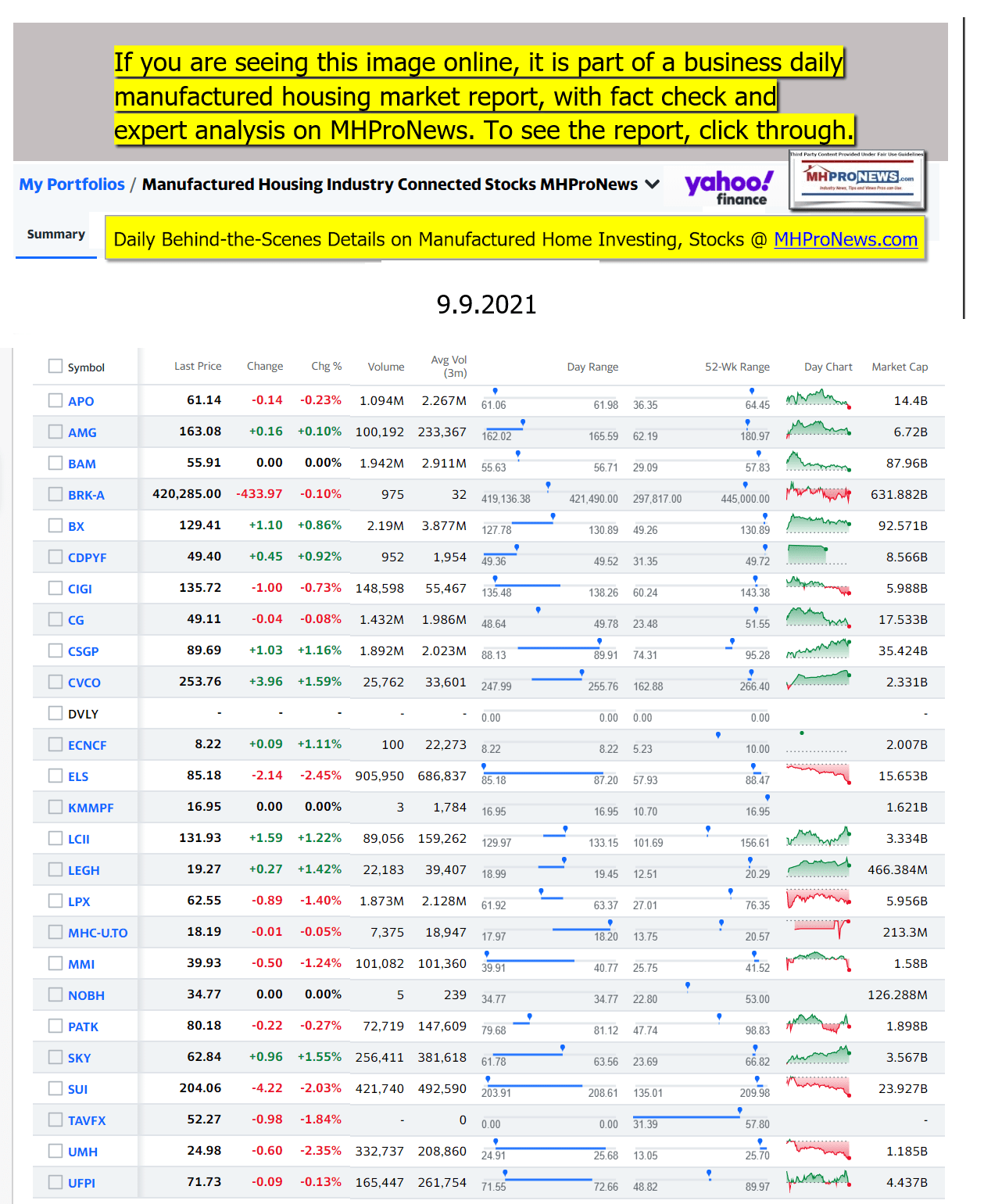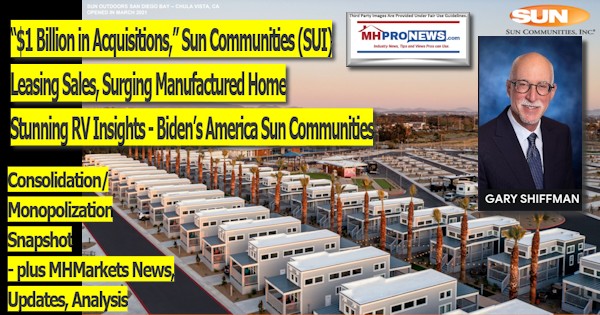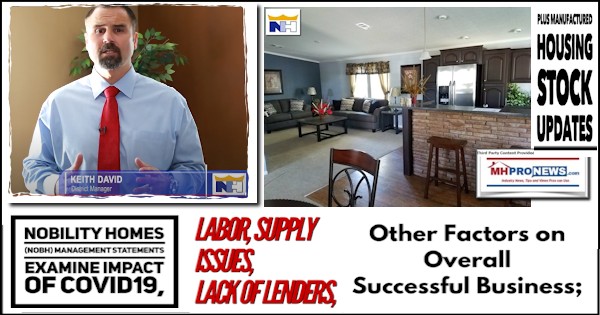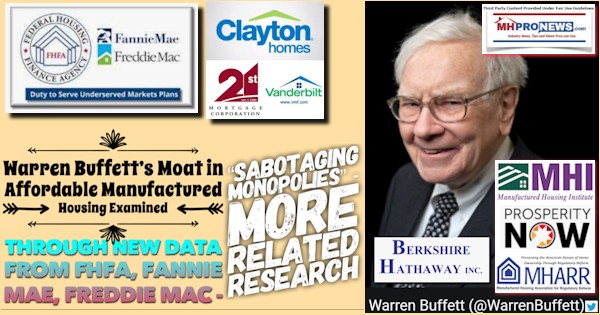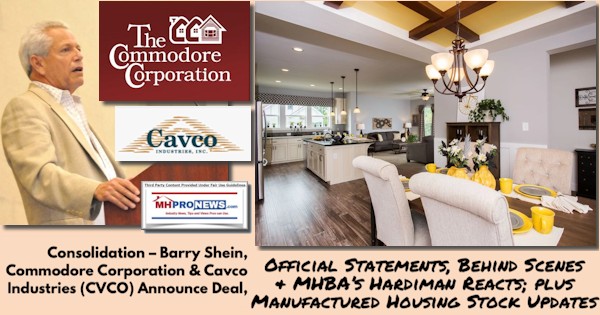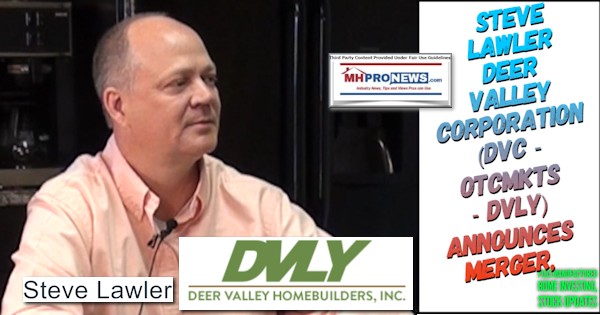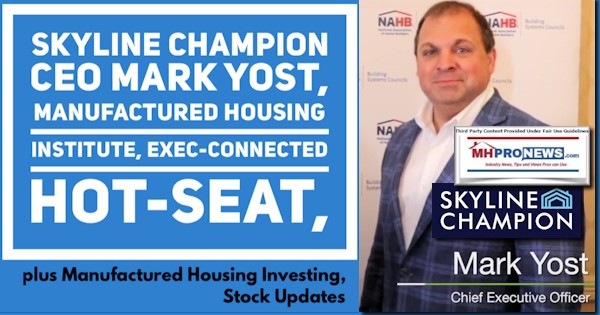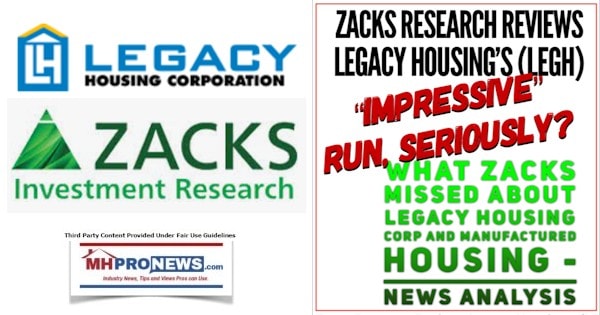 Summer 2021…
Berkshire Hathaway is the parent company to Clayton Homes, 21st Mortgage, Vanderbilt Mortgage and other factory built housing industry suppliers.
· LCI Industries, Patrick, UFPI, and LP each are suppliers to the manufactured housing industry, among others.
· AMG, CG, and TAVFX have investments in manufactured housing related businesses. For insights from third-parties and clients about our publisher, click here.
Enjoy these 'blast from the past' comments.
MHProNews. MHProNews – previously a.k.a. MHMSM.com – has celebrated our 11th year of publishing, and is starting our 12th year of serving the industry as the runaway most-read trade media.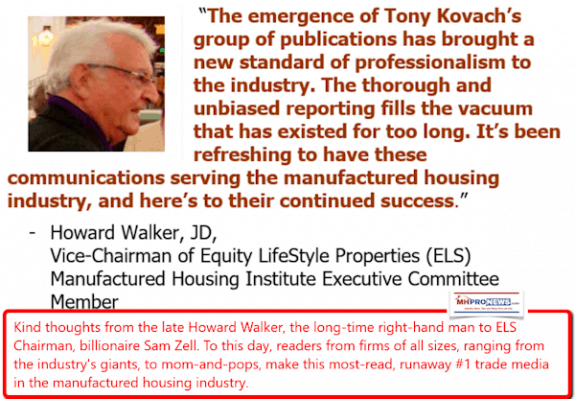 Sample Kudos over the years…
It is now 11+ years and counting…
Learn more about our evolutionary journey as the industry's leading trade media, at the report linked below.
· For expert manufactured housing business development or other professional services, click here.
· To sign up in seconds for our industry leading emailed headline news updates, click here.

Disclosure. MHProNews holds no positions in the stocks in this report.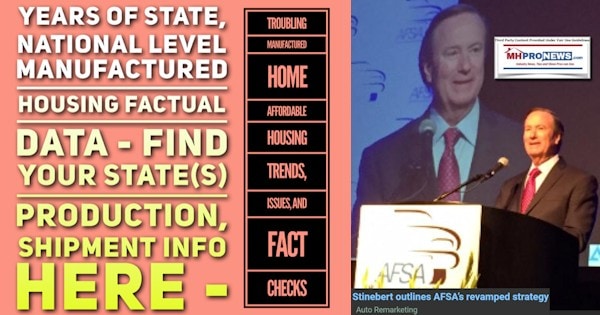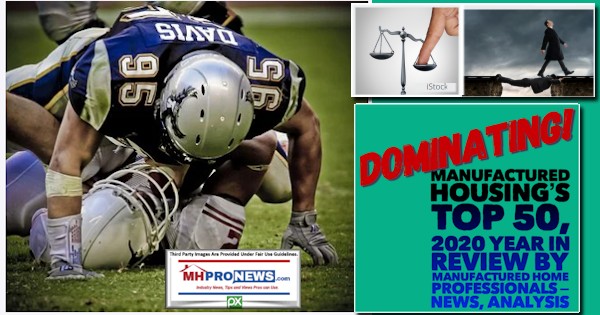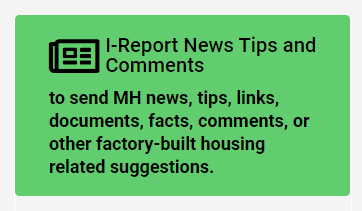 That's a wrap on this installment of "News Through the Lens of Manufactured Homes and Factory-Built Housing" © where "We Provide, You Decide." © (Affordable housing, manufactured homes, stock, investing, data, metrics, reports, fact-checks, analysis, and commentary. Third-party images or content are provided under fair use guidelines for media.) (See Related Reports, further below. Text/image boxes often are hot-linked to other reports that can be access by clicking on them.)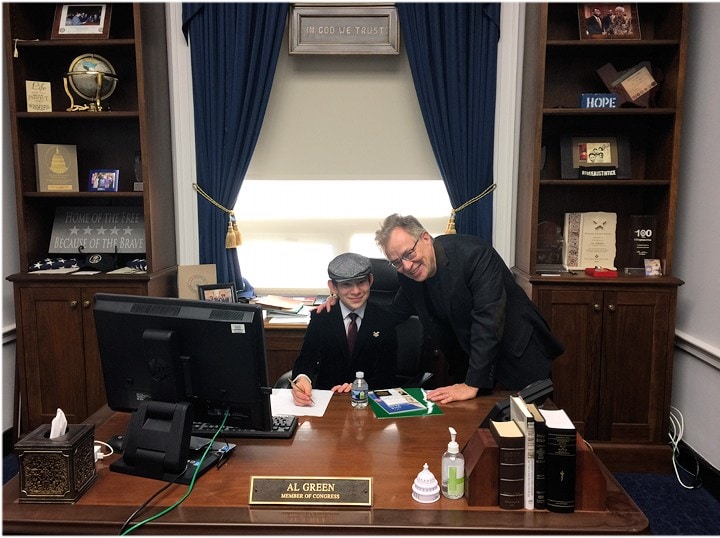 By L.A. "Tony" Kovach – for MHProNews.
Tony earned a journalism scholarship along with numerous awards in history. There have been several awards and honors and also recognition in manufactured housing. For example, he earned the prestigious Lottinville Award in history from the University of Oklahoma, where he studied history and business management. He's a managing member and co-founder of LifeStyle Factory Homes, LLC, the parent company to MHProNews, and MHLivingNews.com. This article reflects the LLC's and/or the writer's position, and may or may not reflect the views of sponsors or supporters.