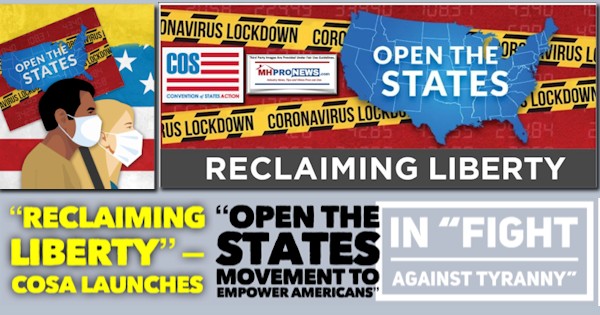 "The coronavirus crisis has caused rampant corruption in Washington. Legislators like Nancy Pelosi and radical Soros-backed organizations have raked in tens of millions of taxpayer dollars as part of the COVID-19 aid packages." So said the Convention of States (COS) team in the Convention of States Action (COSA) alert to MHProNews this morning.
"If the COVID-19 crisis taught us anything, it's that the American people will never kneel to big government, radical activists, or the ruling "elite." It also showed us that even under the heavy hand of tyranny, our grassroots activists are capable of pivoting to face whatever challenges lie before us," said COSA on 7.16.2020.
"COSA patriots from across the country gathered at Open The States and secured major victories in Michigan, Texas, and California, shifting from in-person meetings to a new level of digital activism," their report continued.
"The latest Impact Report details how we launched the Open the States movement to empower Americans in their fight against tyranny. It includes accounts from states across the country, along with our three-step process for reaching out to state legislators during the lockdowns with COS Serves."
The COS movement is one of several nonprofits that have targeted plans that aim to restrict the power of lobbyists and politicians from the center-right perspective.  COS provided a report found at this link here that deals with the headline topic.
While there thrust is different, MHProNews recently showcased a movement favoring term limits that also seeks similar goals. That is f0und in the report linked below.
"Antitrust is important…monopolies…major threat to our economy," Nick Tomboulides, plus Manufactured Housing Investing, Stock Updates
That group's leader Nick Tomboulides, Executive Director for U.S. Term Limits, provided the statement above, blasting monopolistic practices noted in the headline stressing the need for antitrust enforcement. He also said this to MHProNews.
The COVID19/Wuhan Virus Pandemic Dilemmas
Businesses, schools, other institutions, and people often feel fear.
How well grounded are those concerns? As with all things, there are a range of viewpoints.
As rising numbers of cases and hospitalizations make clear, there are reasons for concern. But is another lockdown the answer?  Should schools, for example, be kept closed? Doesn't that in turn limit workers and employers? The concerns raised by COSA and others are very much interlaced with these issues.
"Nancy Pelosi says that this is the biggest risk to the spread of the virus if the kids go back in September," said Martha McCallum on Fox News as reported by Real Clear Politics.
Dr. Scott Atlas, who they said was "Professor and Chief of Neuroradiology, Stanford University," said the following in reply. Note that Dr. Atlas is a Senior Fellow at the Hoover Institute.
"I think we have a different scale because that's just completely wrong and contrary to all the science. And when I say, when I say all the science, I'm talking about signs all over the world not just in the United States but Switzerland, Sweden, Canada, France, the Netherlands, Australia, Asia," Dr. Atlas said.
"I mean, it's totally contrary to the science and here's the science, I'm not sure how many times it has to be said but the risk to children from this disease for fatality is nearly zero. The risk to children for a significant illness is, quote, "far less from seasonal flu" according to JAMA Pediatrics," he continued.
"I mean, this is totally antithetical to the data. And the other thing that we have to, obviously we know this by now it's been confirmed all over the world. Children rarely transmit the disease to adults," Atlas stated.
Here is Dr. Atlas with another news outlet on the same topic.
It should be noted that MHProNews reached out to MDs from various sides of the left-right political divide. They too said that the risks from the diseases for the general population are low.
MHProNews Analysis and Commentary
The idea of holding a convention of the states is not new. Here is how COS frames it.
"An Article V Convention of States can propose constitutional amendments that limit Washington's power and its ability to spend OUR money. The Impact Report details how we've partnered with the grassroots to advance this cause of liberty…" Once more, that report is found at this link here. They go on to say that their recent "Open the States was a short-term solution to tyranny, and it's clearer than ever that we need a long-term solution — we need a Convention of States."
There have been a number of organizations, as previously noted, that have a noble stated aspiration. To limit the spending, power, and unconstitutional efforts of a few "elites" – as COSA put it – that have hijacked "big government" and "radical activists."
This analysis will not seek to make a definitive statement about any of these organizations or their plans. They may or may not be terrific concepts that could prove useful. Rather, this analysis will simply say this. There is an ongoing need for an informed and engaged electorate. What the political left has accomplished is a steady penetration into media, government, and major corporate boardrooms.
Who says? Those in media, government, and corporate board rooms.
Freedom has never been free. There is no doubt a case to be made that minorities in America have at various times suffered at the hands of a majority. But a closer look at American history reveals that sometimes those disadvantaged minorities were white. They included, but were not limited to, those so-called "people of color." The rationale behind famous lines like the one below from the Rev. Martin Luther King Jr. is that people shouldn't allow themselves to be artificially divided. While there are going to be divisions and disagreements, one should look to who is causing or fueling those divisions, and work to overcome them.
Warren Buffett Declared "Class Warfare," Buffett Says Fellow Billionaires – "We're Winning"
Irish and Italians, for instance, were among those who were white and disadvantaged when they first came to America. There are certainly instances where fair-skinned Jews have been in that group that experienced bigotry.  So bigotry and prejudice of various kinds, which can include misunderstanding about the product our industry produces, are to be overcome through sound information that overcomes incorrect claims.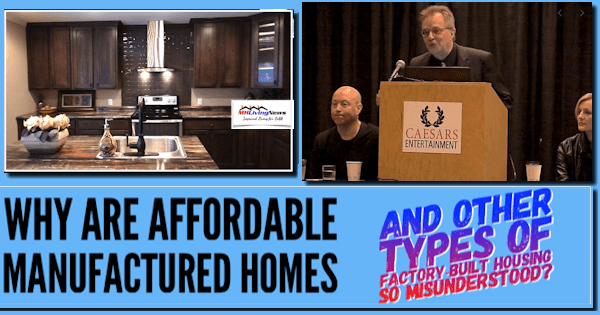 What the COSA memo to MHProNews indicates is that there is an effort by the political left that brings together big government and big money that fuels civil unrest. That information is useful and demonstrable.
Be it COS, the plan to enact term limits, or other such efforts, they have to be able to address the underlying cause of much of these woes. It is this. Monopolization has been steady in the U.S. and in other nations around the world. There are antitrust laws that are supposed to stop or limit consolidation and monopolization.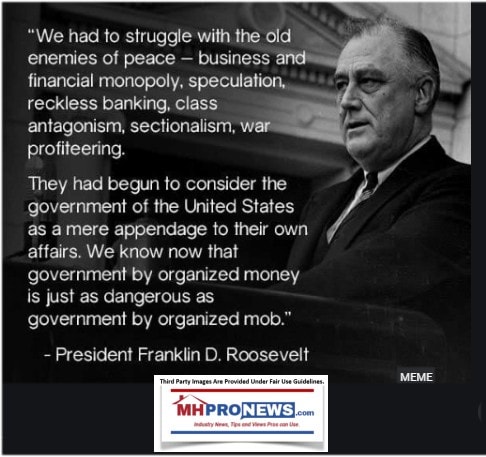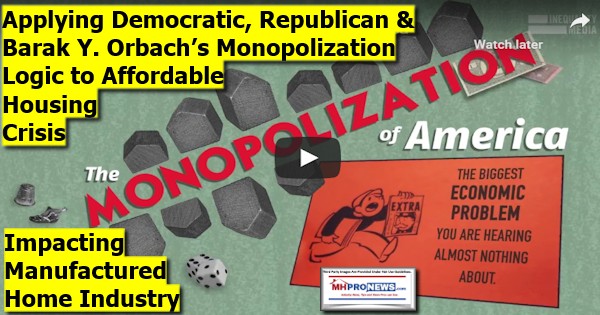 Our industry's independents has suffered due to that monopolization trend. So have others. That means that there are numerous potential allies beyond manufactured housing for our fight for economic and political liberty.
Could there or should there be some level of cooperation between such groups, the Manufactured Housing Association for Regulatory Reform (MHARR) or others? Typically, MHARR is not a political organization. It would be up to MHARR members and their leadership to make such a decision.
But there are natural allies in the U.S. for the struggles that manufactured housing independents face.
MHProNews can raise the issues, but others must be willing to act upon them.
Freedom is never free. Conceptually, we applaud those who point to real problems and seek potential solutions. But there has to be not only short term strategies, but longer term ones. Or else the next generation will suffer in the way that we are suffering today.
Several of the problems our nation faces – such as the increasingly narrow range of views reported by mainstream news – often boils down to growing monopolization. When most of the media is in the hands of a relatively few companies, why should there be a surprise that the range of news and views is limited?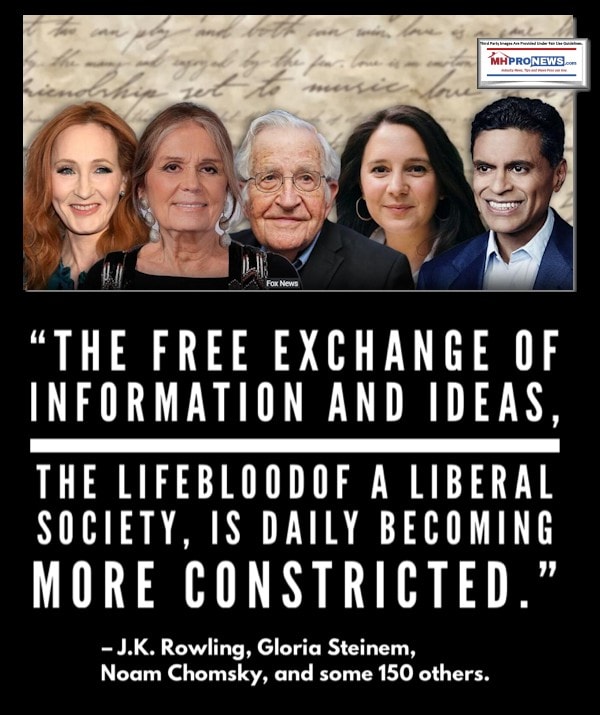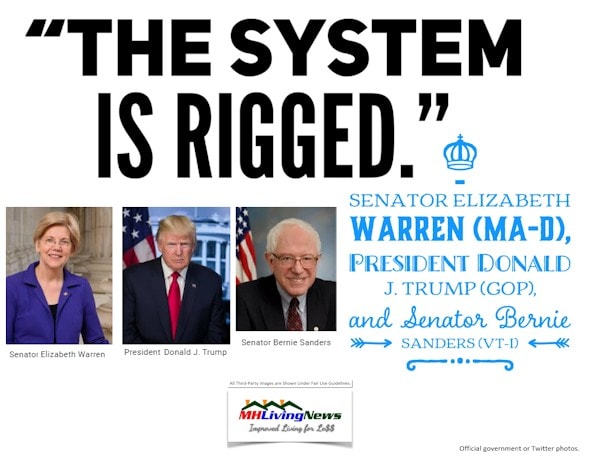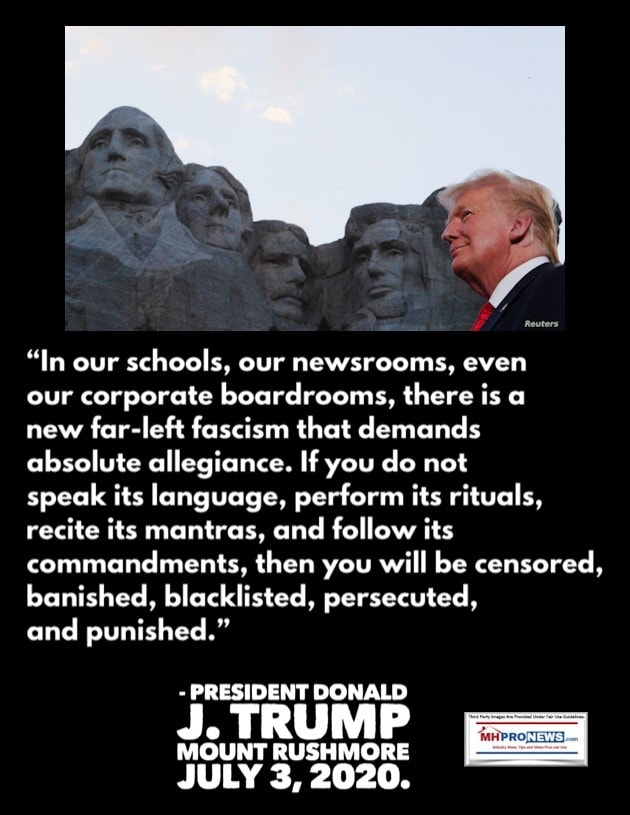 Without proper understanding of the issues, and ongoing engagement on the issues, the trends will only continue.
Ironically, periodic MHI and Berkshire Hathaway defender Andy Gedo has said.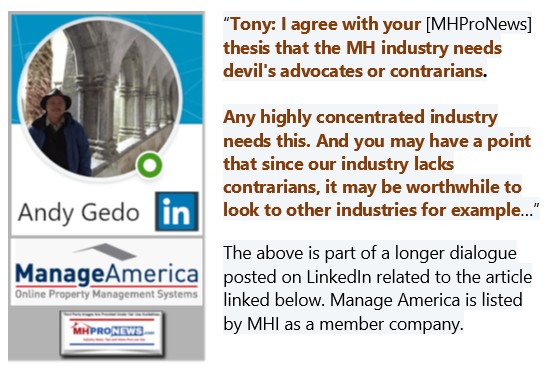 Fisking Andy Gedo, ManageAmerica Partner, Defense of Warren Buffett, Bill Gates, and Acme Brick – Examining Gedo's Debate Argument and Methods
You don't catch flak unless you are over the target. It isn't just Gedo that is arguably laying down flak, there are other items too that could be noted as needed.
It took years for this convergence of problems to occur. It goes well beyond our profession.  The ways that problems are weaponized to build their respective moats are numerous.
Dark Money-Billionaires Buffett, Gates, Soros Funding Black Lives Matter, Antifa – Named by AG Barr in Riots, Looting – Hijacking Peaceful George Floyd Death Racial Justice Protests
It will take more than a 10 minute read to understand the underlying problems and solutions.
New Data Surfaces on Buffett Family, Foundation Funding Sources Which Attacked Manufactured Housing, plus Manufactured Home Stock, Investing Updates
See the related reports to learn more about the fundamental causes and remedies. It is your future.
"We are trained Marxists." – Black Lives Matter (BLM) co-founder Patrisse Cullors, "Deception and Misdirection" – Capital Research Center
Prepare for it and fight to make it the best it can be for you and the majority of Americans who are facing similar challenges.
"I Can't Keep Doing This" – Small Businesses Quitting. MHPros, Small Business, Investing Impacts – Equity LifeStyle Chair Sam Zell Sounds Off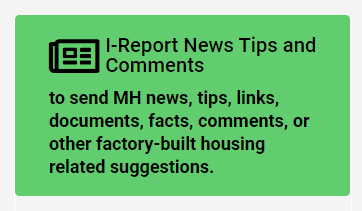 Programing Notice. Additional inside insights from federal sources will be the subject of an upcoming report.
That and other reports on significant topics to manufactured housing industry professionals, investors, advocates, officials, and others are found only here at your sole full-strength source for authentic "News through the lens of manufactured homes and factory-built housing" ©. This is the runaway most-read in manufactured housing trade media, where "We Provide, You Decide." © ## (Affordable housing, manufactured homes, reports, fact-checks, analysis, and commentary. Third-party images or content are provided under fair use guidelines for media.) (See Related Reports, further below. Text/image boxes are often hot-linked to other reports that can be accessed by clicking on them.)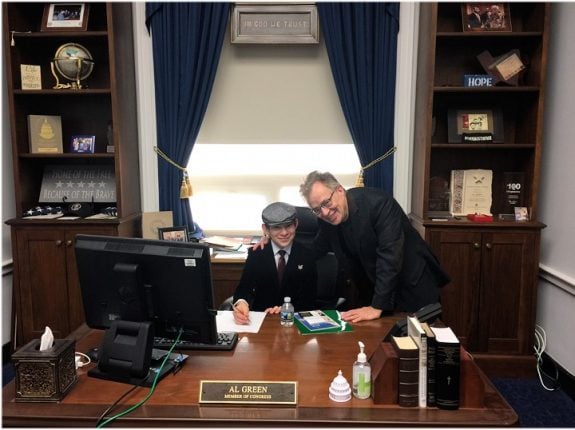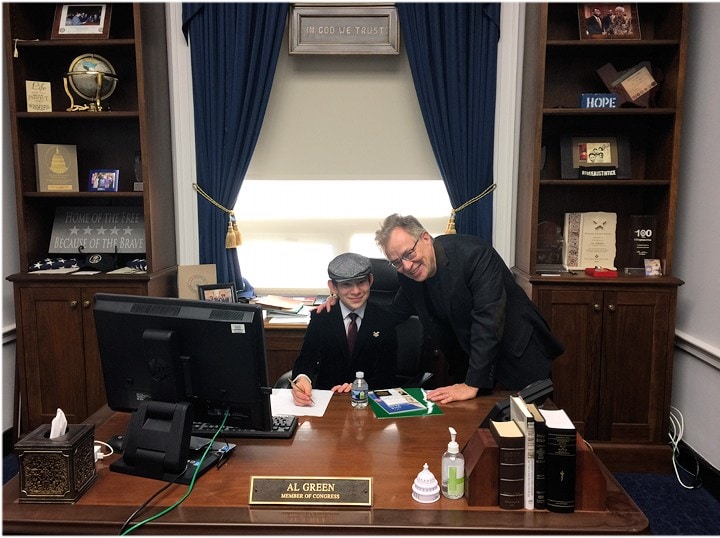 By L.A. "Tony" Kovach – for MHProNews.com.
Tony earned a journalism scholarship and earned numerous awards in history and in manufactured housing.
For example, he earned the prestigious Lottinville Award in history from the University of Oklahoma, where he studied history and business management. He's a managing member and co-founder of LifeStyle Factory Homes, LLC, the parent company to MHProNews, and MHLivingNews.com.
This article reflects the LLC's and/or the writer's position, and may or may not reflect the views of sponsors or supporters.
Connect on LinkedIn: http://www.linkedin.com/in/latonykovach
Related References:
The text/image boxes below are linked to other reports, which can be accessed by clicking on them.
Beneficial Betrayal? HUD Ripped – "Sheer Sophistry" – Federal Enhanced Preemption of Manufactured Homes
Official National Manufactured Housing Production, Shipment Data May 2020 – Plus Added Manufactured Home Professional Facts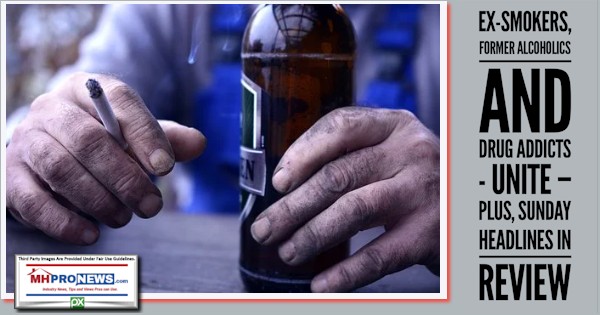 Demographic Trends, New RV Industry Data, Profit-Potential Laced Insights for Manufactured Housing Industry
Arrest, Indictment of Ghislaine Maxwell, Jeffrey Epstein "Madam," Returns Bill Gates–Warren Buffett, Gates Foundation, Donald Trump, Bill Clinton, Others – to Sexual Predator's Spotlight
Complaints to State and Federal Officials, Agencies About Corrupt Practices in Manufactured Housing Industry Growing
"The way to defeat bad ideas is by exposure, argument, and persuasion, not by trying to silence or wish them away." JK Rowling, Gloria Steinem, Noam Chomsky, 150 Others Decry Censorship in "Letter on Justice and Open Debate," Harpers
"Enough is Enough" – Democratic Mayor in Ranking MH State Pleas for End to Black-on-Black Violence, Murder – Crime Wave Spreads
History, Financial Ties-Black Lives Matter, Antifa, Billionaires Warren Buffett, Bill Gates & George Soros–Economic, Political Upheaval Spotlighted by Mary Walter, Tony Kovach on Brian Kilmeade Show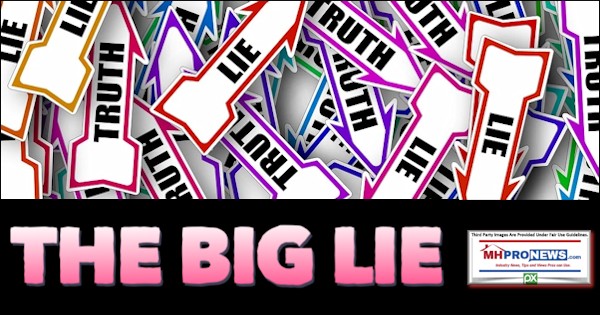 "Never Let a Good Crisis Go To Waste" – COVID19 Pandemic – Problems and Solutions