"We are pleased with the results of the second quarter of 2020," said Curtis D. Hodgson, Executive Chairman of the Board of Legacy Housing (LEGH), adding "the company took proactive steps during the first and second quarter of 2020 to navigate the COVID-19 environment by reducing costs and gaining operational flexibility in our manufacturing operations."
The COVID-19 pandemic has in various ways impacted firms of all sizes in our segment of the affordable housing industry and other professions beyond manufactured housing. Among the information obtained by MHProNews from an SEC filing are the pull quotes from Legacy Housing [LEGH] that follow. Legacy's PPP comments should be understood through the lens of the MHProNews linked reports that bracket that information above and below Legacy's official statements.
Legacy was accused by then-current company insiders and ex-Legacy workers of firing workers and other improprieties as part of a plan to get the Paycheck Protection Plan (PPP) loan guaranteed by the Small Business Administration (SBA) in response to relief signed into law by the Trump Administration in response to the COVID19 pandemic.
Legacy Housing Accused of Firing Workers to Get Millions in SBA Funding, Hiring "Illegal Immigrant" Replacements – Exclusive – Plus, Manufactured
Those allegations from some Legacy team members were strongly denied by Legacy senior management, in their statements to MHProNews.
Here is how Legacy handled that episode in the recent corporate filings  to the Securities and Exchange Commission (SEC).
On April 10, 2020, the Company entered into a loan with Peoples Bank as the lender in an aggregate principal amount of $6,545,700 (the "Loan") pursuant to the Paycheck Protection Program under the Coronavirus Aid, Relief, and Economic Security Act. The Loan was evidenced by a promissory note (the "Note") dated April 10, 2020 and had a maturity date of April 10, 2022. The Note had an interest rate of 1.00% per annum, with the first six months of interest deferred. Principal and interest were payable monthly commencing on November 10, 2020 and could be prepaid by the Company at any time prior to maturity with no prepayment penalties. On May 1, 2020, this loan was paid in full."
Breaking! Legacy Housing Insider Says Announcement Pending on Controversial SBA PPP Loan

Publishing Notice: this is the first of a planned multi-part series publishing Legacy corporate information and related analysis . That periodic reporting plan will be bracketed by other probes into insights about Manufactured Housing Institute (MHI) member companies.
That publishing plan noted, segueing back to information from Legacy SEC filings and statements to media, including MHProNews.

Legacy Corporate Details – Production, Retail Distribution, Markets by State – From Legacy's Own Corporate Filing
"We believe our company is one of the most vertically integrated in the manufactured housing industry, allowing us to offer a complete solution to our customers, from manufacturing custom-made homes using quality materials and distributing those homes through our expansive network of independent retailers and company-owned distribution locations, to providing tailored financing solutions for our customers. Our homes are constructed in the United States at one of our three manufacturing facilities in accordance with the construction and safety standards of the U.S. Department of Housing and Urban Development ("HUD"). Our factories employ high-volume production techniques that allow us to produce, on average, approximately 75 home sections, or 62 fully-completed homes depending on product mix, in total per week. We use quality materials and operate our own component manufacturing facilities for many of the items used in the construction of our homes. Each home can be configured according to a variety of floor plans and equipped with such features as fireplaces, central air conditioning and state-of-the-art kitchens.
Our homes are marketed under our premier "Legacy" brand name and currently are sold primarily across 15 states through a network of 84 independent retail locations, 13 company-owned retail locations and through direct sales to owners of manufactured home communities. Our 13 company-owned retail locations, including 11 Heritage Housing stores and two Tiny House Outlet stores exclusively sell our homes. For the six months ended June 30, 2020, approximately 46% of our manufactured homes were sold in Texas, followed by 9% in Michigan, 8% in Georgia, 7% in North Carolina, and 6% in Kentucky. For the six months ended June 30, 2019, approximately 52% of our manufactured homes were sold in Texas, followed by 8% in Georgia, 7% in Florida, 6% in Kansas and 5% in South Carolina. We plan to deepen our distribution channel by using cash from operations and borrowings from our lines of credit to expand our company-owned retail locations in new and existing markets."
Legacy's SEC Filing also stated the following.
"Consistent with our long-term strategy of conservatively deploying our capital to achieve above average rates of return, we intend to expand our retail presence in the geographic markets we now serve, particularly in the southern United States. Each retail center requires between $500,000 and $1,500,000 to acquire the location, situate an office, provide inventory, and provide the initial working capital. We initially anticipated opening 2 to 4 additional retail centers by the end of 2020, but we will reassess those plans once we have a clearer understanding of the COVID-19 pandemic's impact on the retail business.
| | | |
| --- | --- | --- |
| | ● | We have purchased several properties in our market area for the purpose of developing manufactured housing communities and subdivisions. As of June 30, 2020, these properties include the following: |
Location
Description
Date of Acquisition
Cost
Bastrop County, Texas
400 Acres
April 2018
$
4,400,000
Bexar County, Texas
100 Acres
November 2018
1,300,000
Horseshoe Bay, Texas
133 Acres
Various 2018-2019
2,431,000
Johnson County, Texas
91.5 Acres
July 2019
445,000
Venus, Texas
50 Acres
August 2019
422,000
$
8,998,000
| | | |
| --- | --- | --- |
| | ● | We also expect to provide financing solutions to a select group of our manufactured housing community-owner customers in a manner that includes developing new sites for products in or near urban locations where there is a shortage of sites to place our products. These solutions will be structured to give us an attractive return on investment when coupled with the gross margin we expect to make on products specifically targeted for sale to these new manufactured housing communities. |
| | | |
| --- | --- | --- |
| | ● | Finally, our financial performance will be impacted by our ability to fulfill current orders for our manufactured homes from dealers and customers. Currently, our two Texas manufacturing facilities are operating at near peak capacity, with limited ability to increase the volume of homes produced at those plants. Our Georgia manufacturing facility has unutilized square footage available and with additional investment can add capacity to increase the number of homes that can be manufactured. We intend to increase production at the Georgia facility over time, particularly in response to orders increasingly being generated from new markets in Florida and the Carolinas. In order to maintain our growth, we will need to |
The coronavirus pandemic is an evolving threat to the economy and all businesses. At this time both the duration of the pandemic and the magnitude of the economic consequences are unknown. Risks to the Company include but are not limited to:
| | | |
| --- | --- | --- |
| | o | increased loan losses or deferred loan payments as loan obligors suffer cash flow issues resulting from reduced employment, reduced rental income or unit sales, or other factors; |
| | | |
| --- | --- | --- |
| | o | reduced sales volume as potential customers are unable to shop for new homes or cannot qualify for a home purchase, retail dealers or company stores reduce or stop operations, or MHP owners reduce their future home purchases; |
| | | |
| --- | --- | --- |
| | o | reduced production resulting from factors such as the spread of the illness through the Company's workforce, reduced product demand, or government-mandated closures of our factories, company-owned stores, or retail lots of independent dealers who carry our products; |
| | | |
| --- | --- | --- |
| | o | delays in development projects as zoning, regulatory, and permitting decisions are likely to be postponed and the expected negative impact of the pandemic on the construction industry; |
| | | |
| --- | --- | --- |
| | o | reduced raw material availability related to global supply chain disruption from the pandemic, including possible border closures; |
| | | |
| --- | --- | --- |
| | o | decreased cash flow from operations which could negatively affect our liquidity; |
| | | |
| --- | --- | --- |
| | o | an outbreak of illness among our management and accounting staff could negatively affect our ability to maintain operations, operate our financial systems, delay our statutory reporting, and reduce our internal control of financial reporting. |
We continue to monitor government responses to support the economy and evaluate how those actions might mitigate the risks noted above. At this time, we believe that the pandemic will have a negative effect on our financial results that could range from minor to material.
Management has taken a number of actions in recent months, including stimulating demand by offering discounts and modified purchase terms, reducing production labor, suspending overtime, and reducing rates of pay for non-production workers. Additionally, the Company negotiated a new credit agreement with its primary bank that expanded and extended our credit facility. The new credit agreement closed on March 30, 2020."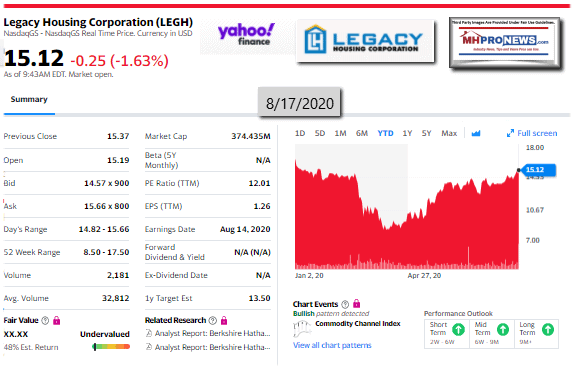 In a statement to MHProNews and others in media dated August 13, 2020 are the following.

BEDFORD, Texas, Aug. 13, 2020 — Legacy Housing Corporation (NASDAQ: LEGH) today announced its financial results for the second quarter ended June 30, 2020.
Financial Highlights:
Revenue for the second quarter of 2020 was $46.0 million, which was a slight improvement from the net revenue of $45.8 million in the second quarter of 2019.
Interest income in the second quarter of 2020 was $6.1 million, a nearly 20% increase from the $5.1 million recorded in the second quarter of 2019.
Income from operations in the second quarter of 2020 was $11.2 million, which was substantially unchanged from the $11.5 million in the second quarter of 2019.
Selling, general and administrative expense in the second quarter of 2020 was $4.1 million, a 33.9% decrease from the $6.1 million in the second quarter of 2019. This was due to a reduction in payroll costs, advertising and dealer show expenses, and warranty service costs as well as certain second quarter 2019 retail store expenses that were subsequently reclassified and recorded into cost of sales in the latter part of 2019.
Total inventory reduced by $6.1 million or 13.6% to $38.9 million in the second quarter of 2020 compared to $45.0 million in the second quarter of 2019.
The manufactured home park loan portfolio increased by $16.8 million or 16.3% to $120.1 million for second quarter 2020 compared to $103.3 million for first quarter 2020. The consumer loan portfolio increased to $107.2 million, inclusive of the allowance for loan loss and other discounts, compared to $105.6 million for the first quarter 2020.
Net income in the second quarter of 2020 was consistent with the second quarter of 2019 with both quarters delivering earnings of $8.6 million. Year to date net income has increased by $1.8 million or 11.2% to $17.6 million for the six months ended June 30, 2020 compared to $15.8 million for the same period last year.
Earnings per share for the second quarter of 2020, based on diluted weighted average shares outstanding, was $0.36 on 24,201,823 diluted outstanding shares versus $0.35 on 24,369,890 diluted outstanding shares for the comparable quarter in 2019. Similarly, earnings per share for the six months ended June 30, 2020 were $0.73 compared to $0.65 for the same period last year.
Curtis D. Hodgson, Executive Chairman of the Board, commented, "We are pleased with the results of the second quarter of 2020, which included a continuation of the strong growth in financed sales to manufactured home parks. Additionally, the company took proactive steps during the first and second quarter of 2020 to navigate the COVID-19 environment by reducing costs and gaining operational flexibility in our manufacturing operations. Over the last six months we have increased the tangible book value of the company by approximately 8% for our shareholders despite the headwinds of the current economy. We believe that manufactured housing presents a compelling, long-term solution for the ongoing lack of affordable housing in the United States, and the Company is well-positioned to take advantage of this market.
This shall not constitute an offer to sell or the solicitation of an offer to buy, nor shall there be any sale of the Company's securities in any state or jurisdiction in which such offer, solicitation or sale would be unlawful prior to registration or qualification under the securities laws of any such state or jurisdiction…"
##
Their press release was accompanied by the typical SEC disclosures.
Legacy Housing is one of the basket of publicly-traded companies tracked involved in manufactured housing reported as part of our business evening/nightly market report. The Friday 8.14.2020 report is linked here, with the closing tickers for each publicly traded involved in manufactured housing company found near the end of that and every business-nightly report.
"Executive Committee and staff of MHI are open and eager to work with MHARR to pursue a set of mutually agreed upon goals to advance and safeguard our industry." – MHI Leader to MHProNews
These issues faced by public and private companies relate directly to controversies that involve the Manufactured Housing Institute. To learn more, see the reports linked above and below.
Publicly Traded Manufactured Housing Firms – Which Source Do You Trust More? Why? MHI, MHARR, Others
Danny Ghorbani Challenges Manufactured Housing Institute (MHI) Leaders on "Must-Do" Zoning, "Failed Miserably" in Placement Issues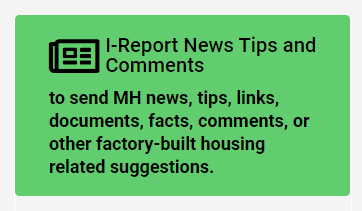 Stay tuned for more of what is 'behind the curtains' as well as what is obvious and 'in your face' reports. It is all here, at the demonstrable runaway largest and most-read source for authentic manufactured home "Industry News, Tips, and Views Pros Can Use" © where "We Provide, You Decide." © ## (Affordable housing, manufactured homes, reports, fact-checks, analysis, and commentary. Third-party images or content are provided under fair use guidelines for media.) (See Related Reports, further below. Text/image boxes often are hot-linked to other reports that can be access by clicking on them.)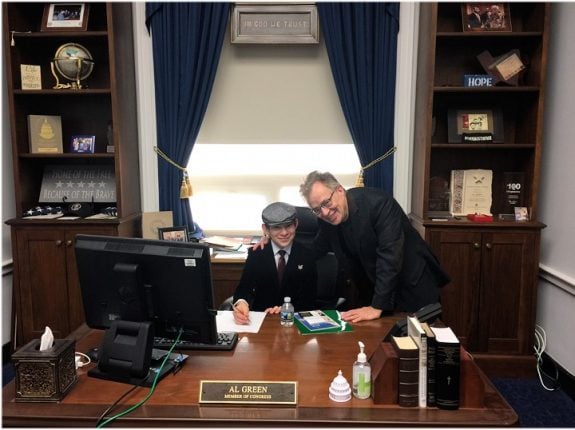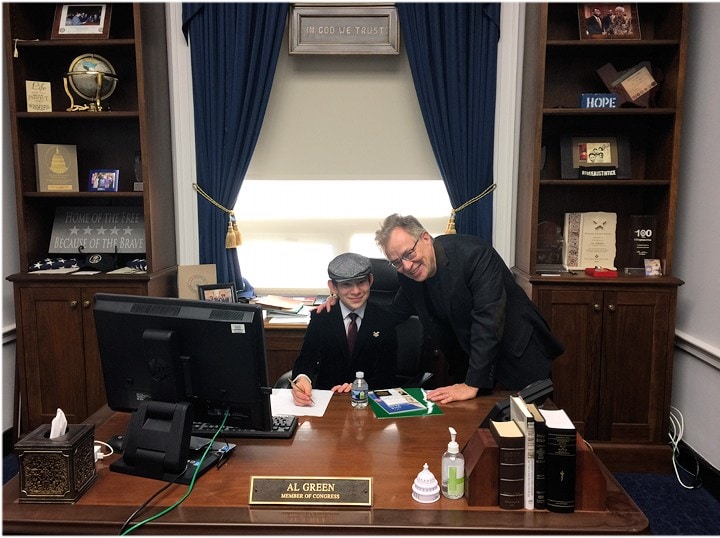 By L.A. "Tony" Kovach – for MHProNews.com.
Tony earned a journalism scholarship and earned numerous awards in history and in manufactured housing.
For example, he earned the prestigious Lottinville Award in history from the University of Oklahoma, where he studied history and business management. He's a managing member and co-founder of LifeStyle Factory Homes, LLC, the parent company to MHProNews, and MHLivingNews.com.
This article reflects the LLC's and/or the writer's position, and may or may not reflect the views of sponsors or supporters.
Connect on LinkedIn: http://www.linkedin.com/in/latonykovach
Related References:
The text/image boxes below are linked to other reports, which can be accessed by clicking on them.
"I Can't Think of a Good Reason to Keep People from Buying Affordable Housing" – Manufactured Home Industry Voices Video
Beneficial Betrayal? HUD Ripped – "Sheer Sophistry" – Federal Enhanced Preemption of Manufactured Homes
Warren Buffett Would be Okay With Clayton Homes Losing Money, Says Kevin Clayton – But Why?
HUD FOIA Battle Over Manufactured Housing Improvement Act Implementation Mask Purported Deep State Style Coverups
HUD's Brian Montgomery – William 'Bill' Matchneer Exposé – If the Shoe Fits, Affordable Housing, Manufactured Homes – Impacting American Dreams?
Focus on More Financing, HUD Program Reforms, Aimed at Increasing Manufactured Homes Sales, Meeting with Assistant Secretary–Federal Housing Commissioner, Brian Montgomery
Is President Trump's Executive Order Seeking to Stay Evictions Unconstitutional? HUD Provides Over $400 Million in Aid, plus, Manufactured Home Investing, Stock Updates
Warren Buffett, George Soros, Jeff Bezos, Strategic Ally Bill Gates Rails Against "Outrageous" Free Speech from Dissenting Views to Gates Foundation, Dr. Fauci
Dark Money-Billionaires Buffett, Gates, Soros Funding Black Lives Matter, Antifa – Named by AG Barr in Riots, Looting – Hijacking Peaceful George Floyd Death Racial Justice Protests
Fear & Frustration-Constitutionality of Business, Religious Shutdowns, Other Restrictions Challenged, plus Sunday Headlines Review 6.28 to 7.5.2020
History, Financial Ties-Black Lives Matter, Antifa, Billionaires Warren Buffett, Bill Gates & George Soros–Economic, Political Upheaval Spotlighted by Mary Walter, Tony Kovach on Brian Kilmeade Show
Saturday Satire and Executive Summaries for Manufactured Housing Professionals, Investors, Advocates, Researchers, Public Officials, and Investigators
New Data Surfaces on Buffett Family, Foundation Funding Sources Which Attacked Manufactured Housing, plus Manufactured Home Stock, Investing Updates
Complaints to State and Federal Officials, Agencies About Corrupt Practices in Manufactured Housing Industry Growing
Buffett/Berkshire Bust! Stunning Charges – Frank Rolfe, Dave Reynolds, Impact Communities Lawsuit Against Residents; MHAction Connection Evidence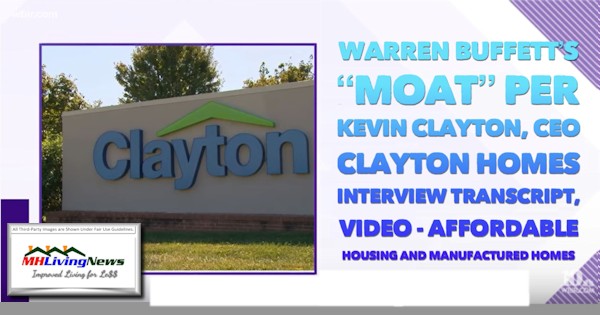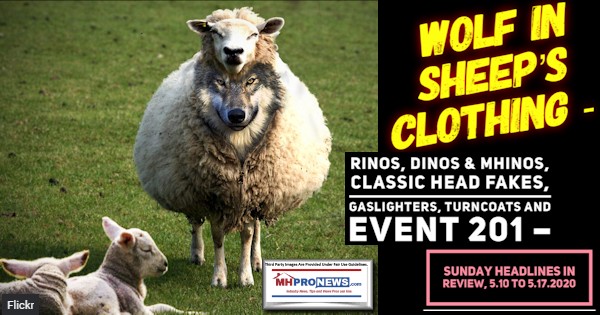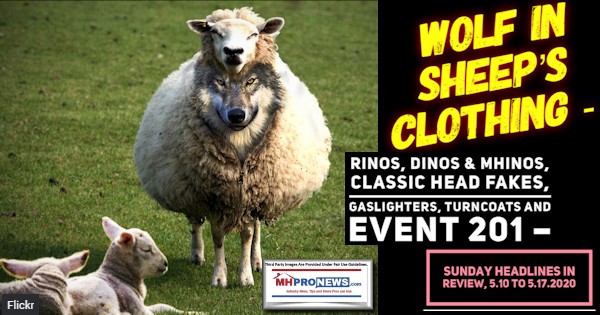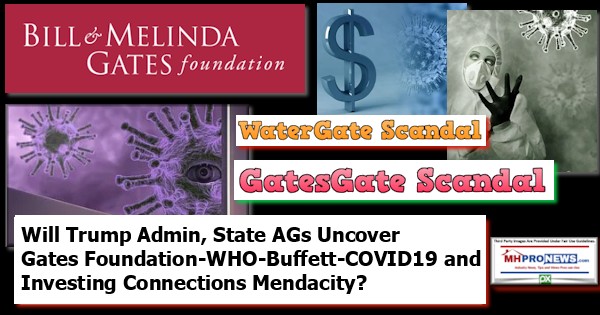 "Where the hell have you been?" – MH Communities Giant Equity Lifestyle Properties Sees Pandemic Gold, Official Remarks, ELS Moves
Kevin Clayton, CEO Clayton Homes, Explains Why Replacing Sales Professionals with Automation Makes Sense
Epic! Creating 200,000 New MH Homesites in 4 Years; Allegations of Corruption by Fannie, Freddie, Others in Duty to Serve Manufactured Housing Law
In Manufactured Housing's COVID19 War, MHARR Wins A Battle – Retailers, Installers & Transporters Alert