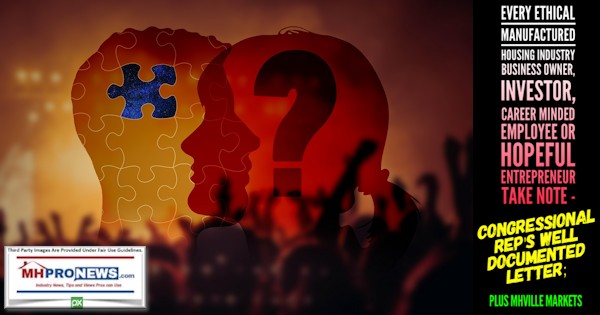 MHProNews will set the table for the headline Congressional letter and related analysis by a series of "stating the obvious" remarks, which may prove to be useful to you and others in your circle.
If we the people don't vote at every legitimate opportunity we have, then those we would like to see serve in public office are more likely to lose. Consider every time that you don't vote as a vote for the person you don't want to see in office. Don't let concerns over election fraud be a reason not to vote at all. The answer to that is to volunteer to be a poll watcher and/or get involved in an election integrity group (more on that in Part II).
If we the people don't file complaints with – or against – problematic public officials as needed, then opportunities to fix what's going wrong are lost. Note, that's what the letter in Part I of today's report is about, a specific letter which can be a thoughtful template.
If we fail to ask for investigations of apparently corrupt corporate and/or nonprofits as needed, then we are making a potentially costly mistake.
More on such themes will follow in Part II of today's report, but first in Part I is a complaint letter by Representative Elise Stefanik. Why is this letter both news and a possible template for you – yes you – to use? Note that Stefanik didn't use Congressional letterhead. Stefanik wrote her letter of complaint as a private citizen.
Stefanik has raised issues that arguably go beyond politics or the specific case she is complaining about.
In every instance, we should think, what if the shoe was on the other foot? What if you or someone you know was being falsely accused or the legal system was being weaponized against you?
Again, more on the importance of this topic in Part II following the Stefanik letter in Part I.
Part I
Elise Stefanik
Post Office Box 500
Glens Falls, New York 12801
(518) 336-5232
November 10, 2023
New York State Commission on Judicial Conduct
61 Broadway, Suite 1200
New York, New York 10006
Re:                Judicial Complaint Against Judge Arthur F. Engoron Supreme Court, New York County Case Name: New York v. Trump Index No.:          452564/2022
Dear Commission Members:
I write today to express my serious concerns about the inappropriate bias and judicial intemperance shown by Judge Arthur F. Engoron in New York's lawsuit against President Donald J. Trump and the Trump Organization. This judge's bizarre behavior has no place in our judicial system, where Judge Engoron is not honoring the defendant's rights to due process and a fair trial. These serious concerns are exacerbated by the fact that the defendant is the leading candidate for President of the United States, and it appears the judicial system is being politicized to affect the outcome of the campaign.
Simply put, Judge Engoron has displayed a clear judicial bias against the defendant throughout the case, breaking several rules in the New York Code of Judicial Conduct.
Last year, Judge Engoron told President Trump's attorney that the former president is "just a bad guy" who Democrat New York Attorney General Letitia James "should go after as the chief law enforcement officer of the state."[1]
At the start of the trial, Judge Engoron infamously smiled and posed for the cameras.[2] After the defendant won an appellate ruling against Judge Engoron on the appropriate statute of limitations in this case, the judge simply ignored the ruling.[3] Judge Engoron entered summary judgment against the defendant before the trial even began, without witnesses, other evidence, and cross-examination. This, despite the fact there's disputed material evidence–and there's no victim of the defendant's supposed fraud. Indeed, as the trial evidence has made clear, the defendant paid back the sophisticated Wall Street banks, on time, in full, with interest, as agreed.[4] No insurance company paid a penny. And these banks and insurance companies, supposedly defrauded, continue to do business with the defendant. Yet Judge Engoron decreed before trial the defendant somehow committed fraud. Now, the judge is holding a trial–with no jury–to determine how much of Tish James' requested $250 million in damages–with no victims–he will extract from the defendant. How does this not violate the defendant's Seventh Amendment right to a jury trial?
And Judge Engoron has made it crystal clear he doesn't care what the defendant or his attorneys have to say. Indeed, Judge Engoron illegally gagged them. Judge Engoron told the defendant: "We are not here to listen to what you have to say." He told the defendant's counsel: "I am not here to hear what he has to say, now sit down!" And Judge Engoron even threatened the defendant's counsel if he filed a routine motion for a directed verdict: "You better not, Chris!"
Judge Engoron and his staff are partisan Democrat donors. As recently as 2018, Judge Engoron donated to the Manhattan Democrats[5]–even though Section 100.5 says that judges "shall refrain" from "making a contribution to a political organization."[6]
Section 100.5 also stipulates that a "judge shall prohibit members of the judge's staff" from contributing more than $500 "in the aggregate during any calendar year to all political campaigns for political office."[7] Allison Greenfield has served as Judge Engoron's principal law clerk since 2019.[8] In both 2022 and 2023, Greenfield donated in 2021]; Rogal v Wechsler, 135 AD2d 384, 385 [1st Dept 1987]). For defendants bound by the tolling agreement, claims are untimely if they accrued before July 13, 2014." New York v. Trump, Supreme Court of the State of New York, Appellate Division, First Judicial Department, decided on June 27, 2023, excess of $500 to political campaigns. In 2022 alone, Greenfield donated "$3,335 in political donations to Democrat candidates and causes."9 She's already given more than $1,000 in 2023 to campaigns.10 When President Trump's attorneys notified Judge Engoron, Judge Engoron responded by issuing an illegal gag order against President Trump's legal team.11
Judge Engoron has gone on to gag and fine President Trump for merely criticizing Judge Engoron's law clerk, which is core political speech protected by the First Amendment.[12] If anyone in America must have the constitutional right to speak out against the judge, his staff, the witnesses, or the process, it's a defendant going through a process he believes is politicized and weaponized against him. To gag a defendant is un-American. It's an illegal prior restraint on the defendant's First Amendment rights, which even the progressive ACLU felt compelled to acknowledge after another Democrat judge–D.C. Obama U.S. District Judge Tanya Chutkan–illegally gagged President Trump.[13] Indeed, three Democrat-appointed judges on the D.C. Circuit have since stayed Judge Chutkan's illegal gag order.[14]
Judge Engoron put his judgment in serious doubt by issuing a summary judgment citing as evidence of fraud that the Trump Organization said Mar-a-Lago is worth between $426 and $612 million.[15] The Associated Press reported that two top Palm Beach-area real estate agents said that the club's "sale of a billion dollars or more would be possible."[16]
In fact, Judge Engoron ridiculously found Mar-a-Lago was only worth somewhere between $18 and $27.6 million. Any Zillow.com search shows that nearly 20 acres of prime real estate in Palm Beach, touching both the Atlantic Ocean and the intracoastal waterway, is worth exponentially more than $18 and $27.6 million. And Judge Engoron had in his hand the sworn deposition of Palm Beach real estate agent Lawrence Moens, who said the Trump Organization's valuations were "reasonable and below my estimate for the market value of the property each year."[17] Moens was asked in his sworn deposition about what sort of buyers would purchase Mar-a-Lago, and Moens responded: "I could dream up anyone from Elon Musk to Bill Gates and everyone in between. Kings, emperors, heads of state. But with net worths in the multiple billions."[18] The judge wrote: "Obviously this Court cannot consider an 'expert affidavit' that is based on unexplained and unsubstantiated 'dream[s].'"[19] Judge Engoron apparently doesn't understand that expert opinions aren't "dreams." And this is yet another example why Judge Engoron demonstrated bad judgment by keeping this case, instead of sending it to the expert judges in the Commercial Division where it belongs.[20]
Judge Engoron's bizarre and biased behavior is making New York's judicial system a laughingstock. Former Southern District of New York federal prosecutor Andrew McCarthy, who has at times criticized President Trump, recently stated that he views the "whole New York justice system" as "fraudulent."[21] Section 100.2(A) states: "A judge shall respect and comply with the law and shall act at all times in a manner that promotes public confidence in the integrity and impartiality of the judiciary."[22] Judge Engoron has grossly failed to do this. The Commission's sanctions against Judge Engoron are necessary to bring back credibility to our great state's legal system. All Americans, including political opponents, must receive due process and equal protection under our U.S. and New York Constitutions.
Judge Engoron's disdain for President Trump and his politics are evident, and the Commission must take corrective action to restore a just process and protect our constitutional rights. Judge Engoron must recuse from this case.
This case is so much bigger than President Donald J. Trump. If Judge Engoron can railroad a billionaire New York businessman, a former President of the United States, and the leading presidential candidate, just imagine what he could do to all New Yorkers. Judge Engoron's lawlessness sends an ominous and illegal warning to New York business owners: If New York judges don't like your politics, they will destroy your business, the livelihood of your employees, and you personally. This Commission cannot let this continue.
Thank you for your prompt consideration of this judicial complaint against Judge Arthur F. Engoron for his inappropriate bias and judicial intemperance in New York v. Trump (452564/2022).
Sincerely,
Elise M. Stefanik
——————————- references from above ——————————-
[1] Papenfuss, Mary, "'He's Just A Bad Guy': Judge Slams Claim That Trump Is Unfairly Singled Out In AG Probe," HuffPost, February 17, 2022, https://www.huffpost.com/entry/bad–guy–trump–letitia–james–judge–arthurengoron_n_620ed544e4b0f701fd702d3e
[2] Stanton, Andrew, "Video of Judge Smiling During Trump Trial Goes Viral," Newsweek, October 2, 2023, https://www.newsweek.com/video–judge–smiling–during–trump–trial–goes–viral–1831500
[3] "Applying the proper statute of limitations and the appropriate tolling, claims are time barred if they accrued – that is, the transactions were completed – before February 6, 2016 (see Boesky v Levine, 193 AD3d 403, 405 [1st Dept Gilbertson, Nick, "NY Judge Gags Trump Lawyers from Discussing 'Confidential Communications' of Activist Court Clerk," Breitbart News, November 3, 2023, https://www.breitbart.com/2024–election/2023/11/03/angry–arthur–nyjudge–gags–trump–lawyers–from–discussing–confidential–communications–of–activist–court–clerk/
[4] Larson, Erick and Patricia Hurtado, "Ex-Deutsche Bank risk manager says loans to Trump were reviewed thoroughly," Bloomberg, October 12, 2023, https://finance.yahoo.com/news/ex–deutsche–bank–risk–manager223621727.html
[5] Scher, Brent, "New York Judge Caught Smiling During Trump Trial Is Lifelong Democrat Donor," The Daily Wire, October 2, 2023, https://www.dailywire.com/news/new–york–judge–caught–smiling–during–trump–trial–is–lifelongdemocrat–donor
[6] "Part 100. Judicial Conduct," NYCOURTS.GOV, accessed November 9, 2023: https://ww2.nycourts.gov/rules/chiefadmin/100.shtml
[7] Ibid.
[8] Boyle, Matthew, "Complaint Calls for Trump New York Trial Judge's Clerk to Be Disbarred for Excessive Political Donations," Breitbart News, November 2, 2023, https://www.breitbart.com/politics/2023/11/02/complaint–calls–fortrump–new–york–trial–judges–clerk–to–be–disbarred–for–excessive–political–donations/
9 Ibid.
10 Ibid.
11 Gilbertson, Nick, "NY Judge Gags Trump Lawyers from Discussing 'Confidential Communications' of Activist Court Clerk," Breitbart News, November 3, 2023, https://www.breitbart.com/2024-election/2023/11/03/angry-arthur-ny- judge-gags-trump-lawyers-from-discussing-confidential-communications-of-activist-court-clerk/
[12] McCarthy, Andrew, "Trump Earns Himself a Dubious Gag Order," National Review, October 4, 2023. https://www.nationalreview.com/2023/10/trump–earns–himself–a–dubious–gag–order/
[13] Gerstein, Josh, "ACLU: Trump's Gag Order in Federal Case Is Unconstitutional," Politico, October 25, 2023, https://www.politico.com/news/2023/10/25/aclu–trump–gag–order–00123541
[14] Legare, Robert, "Appeals Court Pauses Trump Gag Order in 2020 Election Interference Case," CBS News, November 3, 2023, https://www.cbsnews.com/news/appeals–court–pauses–trump–gag–order–2020–electioninterference–case/
[15] New York v. Trump (Supreme Court of the State of New York, County of New York, September 26, 2023)
[16] Spencer, Terry, "Is Mar-a-Lago Worth $1 Billion? Trump's Winter Home Valuations Are at the Core of His Fraud Trial," Associated Press, October 9, 2023, https://apnews.com/article/trump–maralago–lawsuit–palm–beach–51fea4e520b1901c1c045590b2a7bdc0
[17] New York v. Trump (Supreme Court of the State of New York, County of New York, September 26, 2023)
[18] Ibid.
[19] Ibid.
[20] Wester, Jane, "Administrative Judge Rejects Trump's Request to Move New York AG's Fraud Suit to Commercial Division," New York Law Journal, October 19, 2022,
https://www.law.com/newyorklawjournal/2022/10/19/administrative–judge–rejects–trumps–request–to–move–new–yorkags–fraud–suit–to–commercial–division/
[21] Griffing, Alex, "Fox's Andy McCarthy Slams Entire New York Justice System As 'Fraudulent' Over AG's Civil Fraud Case Against Trump," Mediaite, November 6, 2023, https://www.mediaite.com/tv/foxs–andy–mccarthy–slams–entirenew–york–justice–system–as–fraudulent–over–ags–civil–fraud–case–against–trump/
[22] "Part 100. Judicial Conduct," NYCOURTS.GOV, accessed November 9, 2023: https://ww2.nycourts.gov/rules/chiefadmin/100.shtml ##
Part II – Additional Information with More MHProNews Analysis and Commentary
While there are several important aspects to the above, perhaps one of the largest takeaways is this paragraph by Congressional Representative Stefanik is this one: "This case is so much bigger than President Donald J. Trump. If Judge Engoron can railroad a billionaire New York businessman, a former President of the United States, and the leading presidential candidate, just imagine what he could do to all New Yorkers. Judge Engoron's lawlessness sends an ominous and illegal warning to New York business owners: If New York judges don't like your politics, they will destroy your business, the livelihood of your employees, and you personally."
Bingo.
The PDF of the letter by Stefanik is linked here. Note that while MHProNews makes a good effort to faithfully copy and paste the content from a document into a post (as in the example above), the more official version should be considered the PDF of the letter or document itself.
That said, the MHProNews are believers in manufactured housing 'done honorably and properly.'  There is a need for affordable housing in this country. That need is apparently being hampered by problematic behavior that is in several instances is arguably illegal. For those who may think that the rich, powerful and 'infamous' never meet justice, the case below is just the latest example that the system can work – even when a 'connected' billionaire is involved.
Jury Said GUILTY! SBF-FTX Recap w/Fannie-Freddie-Theranos-Enron-WorldCom-Madoff-Lehman AI Insights; USA Lessons for MHVille Black, Gray, White Hats; plus MHVille Markets
In any modern society, there are the well informed, the somewhat informed, the misinformed, and the uninformed.  There are some things that are true, but which are so bizarre – what a CNBC reported called 'surreal' in the instance reported and unpacked in the report below – which makes sense only when people of good will go beyond quick impressions.
Dystopia-Tell It Like It Is-USA Biz Execs Give Chinese Dictator Xi Multiple Standing Ovations at $40000 Plate Table, Guests Include MHVille Tied Larry Fink, Stephen Schwarzman; plus MHMarkets
Veterans Day Facts-Views – Alamo, Marines at Chosin, John Pilger-The War You Don't See, Famous Marine General Smedley Butler Sounds Off-U.S. Military as Wall Street Enforcers; plus MHVille Markets
Employees could be getting significantly more pay, political leaders on the left and the right have said as much.  Reports like the one below explore that in depth, starting with the research behind the insights.
Manufactured Home Employees-Want a 17 Percent Pay Hike? Per YouGov-Most Americans Oppose Monopolies=Facts-Views-Potential Benefits Battling Oligopoly Style Monopolization; plus MHVille Markets
To solve problems in the U.S. that were once thought unthinkable – such as widespread and growing homelessness in U.S. cities, but which now have become commonplace – there is a need for understanding first, and then political action that aligns with the evidence discovered. The report below explores that in depth.
San Francisco's Lessons for U.S. Citizens; Search Engine and Social Media Users Warning – Big Tech, Billionaires, You and Your Loved Ones – Big Picture Facts-Analysis; plus MHVille Markets
'It Reads Like a Crime Novel' – Analysis by NVIC's Barbara Loe Fisher 'This is Not the America My Parents and I Grew Up In' – Facts and Analysis, plus MHVille Market Updates
In our profession, the Manufactured Housing Institute (MHI) routinely seems to say useful things in letters or testimony, but oddly, the full nature of those useful things are often missing from MHI's own website. Why is that so? What explains the disconnects between what MHI claims and what MHI does? Topics like that, evidence-backed including allegations of fraud and other possible crimes are explored in the report linked below.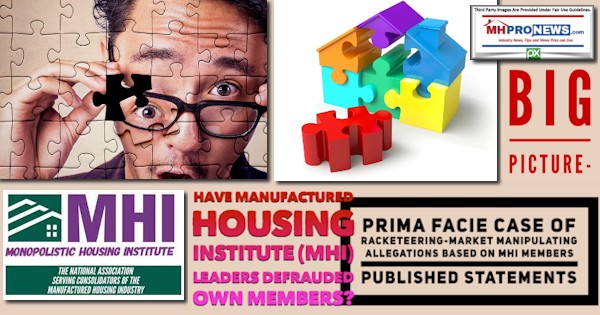 Thousands of manufactured home industry professionals were recruited into the business on the claim that their company was keen on providing affordable housing opportunities.  Thousands of those employees have ended up frustrated or otherwise unhappy with the reality of the companies that they find themselves working for – see that unpacked in the words of employees and customers alike in the report linked below.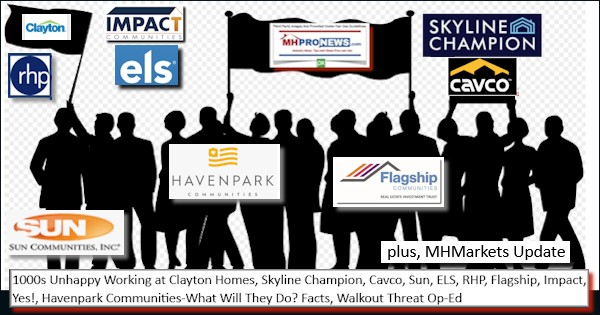 MHProNews and MHLivingNews don't 'see' a specific reader on our website. There is no login required here or on MHLivingNews.  We lack the kind of tools and resources available to giant firms that might detect, for example, a specific IP address and over time, which could identify a specific visitor using sophisticated algorithms and tracking software.  Meaning, here you have PRIVACY that is lacking with several giant firms.
That said, software does give us broad data that indicates – for example – what reports are of interest to readers. How many visits occurred during which hour of the day. If readers /visitors are from the U.S. or elsewhere. Traffic has been rising on MHProNews steadily during this turbulent period where manufactured home sales are down, despite happy talk or ignoring the facts and figures that are publicly reported by the Manufactured Housing Association for Regulatory Reform (MHARR).
Based on published public information, it seems that some companies associated with MHI legitimately want to grow. But meanwhile, several others involved at MHI and/or MHI state affiliates are apparently more concerned with market share and consolidation/acquisitions than they are with organic growth.
Is Legacy Housing Outperforming Some of Their Larger Rivals at the Manufactured Housing Institute (MHI)? Exploring Legacy's Latest 2023 Quarterly Manufactured Home Sales and Financial Results
'Scientia Potentia Est' – Knowledge is Potential Power – It's Been a BIG Week and Month in MHVille, Clayton Homes' Tom Hodges' Self-Described 'Baptism By Fire' plus Sunday Weekly Headlines Recap
Skyline Champion (SKY) Reports Sharp Drop in Manufactured Housing Sales and Profits in Quarterly Report, Facts and Analysis – plus MHVille Markets Update
'Manufactured Housing Industry is a Wonderful Industry – Capital-Intensive – We're Going to Continue as Serious Participant' Gene Landy UMH-Q3-2023 – 'Great Biz' Sales-Rentals-$ Up, Up, and Away
Gary Shiffman–'We Stopped New Development and Acquisitions'–Plan for Property and Manufactured Housing Sales, More Eye-Openers Unpacked in Sun Q3 Earnings Call; plus MHVille Markets Update
"THE TRUTH IS OUT THERE", was tagline of The X-Files. In the real, not the fictional world, the truth IS out there. The truth is all around us. Some in MHVille go along to get along with the powers that be which are steadily consolidating the industry during an affordable housing crisis. The evidence is abundant. Those association, corporate leaders, and their attorneys don't want to reply to those concerns, why is that so? While they certainly have a right to silence, that also leaves the evidence unchallenged.
When someone considers the facts about the manufactured housing industry in the 21st century, and how far the industry has fallen since the mid-to-late 1990s, there are only two trade media sources consistently reporting on those issues, per Bing AI. That would be MHProNews and MHLivingNews.
We are your 'follow the money' trail and 'follow the evidence' source for manufactured housing "Industry News, Tips, and Views Pros Can Use" © where "We Provide, You Decide." ©
Note: to expand the next two images below to a larger or full size, see the instructions
below the graphic below or click the image and follow the prompts.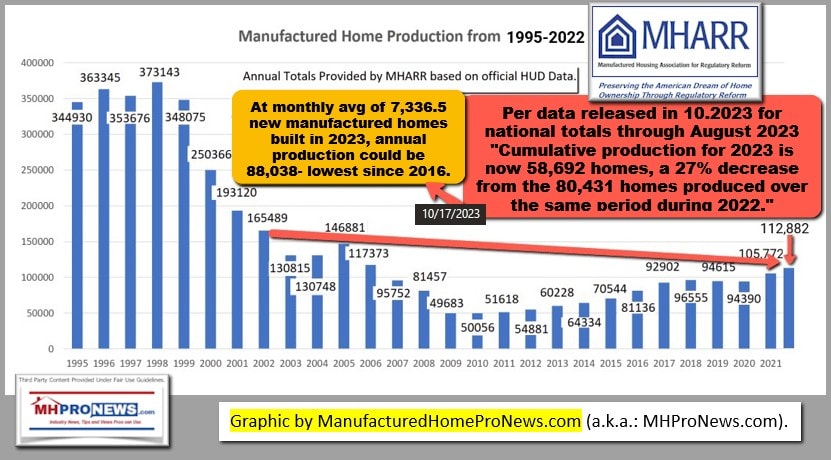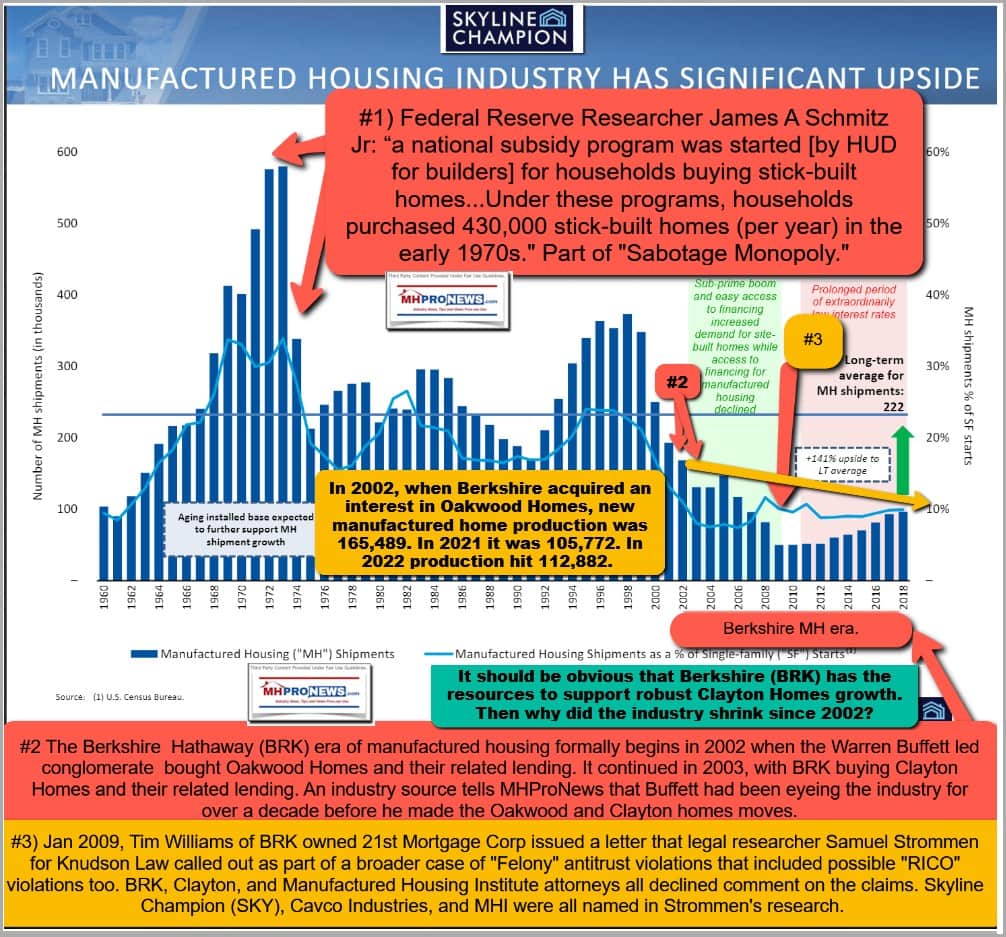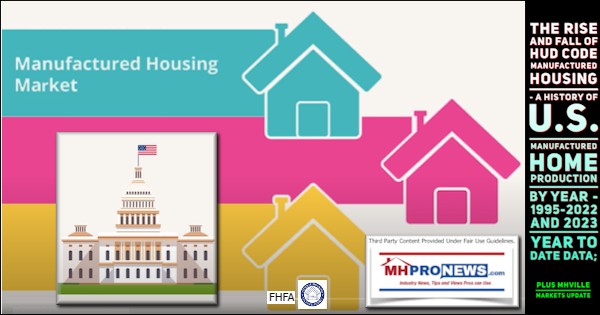 Literally Historic! Former Manufactured Housing Institute (MHI) President-CEO Chris S. Stinebert Remarks Embarrassingly Upend Current MHI Narratives – Why MHI Purged? Plus MHVille Markets Update
On November 3, 2023, the official data released about September 2023 manufactured housing production facts was made available and is found at the link below.
Manufactured Housing Production Decline Persists in Sept 2023 per Manufactured Housing Association 'During Affordable Housing Crisis Affordable Manufactured Housing Continues to Underperform', Facts Analysis –
Programming Notice. MHProNews has obtained a copy of a leaked big corporate document which will be the subject of a planned report. It makes stunning admissions and statements meant for insiders only. Watch for it. Meanwhile, others ready to step up and challenge the system in your company or organization, can use the email address for tipsters found further below in this report and others like it.
Part III – is our Daily Business News on MHProNews stock market recap which features our business-daily at-a-glance update of over 2 dozen manufactured housing industry stocks.
This segment of the Daily Business News on MHProNews is the recap of yesterday evening's market report, so that investors can see at glance the type of topics may have influenced other investors. Thus, our format includes our signature left (CNN Business) and right (Newsmax) 'market moving' headlines.
The macro market move graphics below provide context and comparisons for those invested in or tracking manufactured housing connected equities. Meaning, you can see 'at a glance' how manufactured housing connected firms do compared to other segments of the broader equities market.
In minutes a day readers can get a good sense of significant or major events while keeping up with the trends that are impacting manufactured housing connected investing.
Reminder: several of the graphics on MHProNews can be opened into a larger size. For instance: click the image and follow the prompts in your browser or device to OPEN In a New Window. Then, in several browsers/devices you can click the image and increase the size. Use the 'x out' (close window) escape or back key to return.
Headlines from left-of-center CNN Business – from the evening of 11.20.2023
US Marshals serve CEOs of X and Discord with congressional subpoenas ahead of Big Tech child safety hearing
Sam Altman joins Microsoft as OpenAI names its third CEO in 3 days
Mira Murati, chief technology officer of OpenAI Inc., during an interview on "The Circuit with Emily Chang" in San Francisco, California, US, on Monday, April 4, 2023. Murati discussed the potential for artificial intelligence to improve things like education and productivity.
505 OpenAI employees threaten to quit and call on the board to resign over Sam Altman's firing
Cofounder of Twitch Emmett Shear speaks in the David Rockwell designed TED Theater at TED2019 – Bigger Than Us on April 18, 2019 in Vancouver, Canada.
Who is Emmett Shear, OpenAI's third CEO in three days?
A shopper reaches for a 1,000 pesos banknote, in Buenos Aires, Argentina, Sept. 1, 2023.
Can Argentina really move from the peso to the dollar?
People walk past Microsoft Corp. Fifth Avenue retail store in New York, NY, January 24, 2022.
Microsoft stock hits all-time high after hiring former OpenAI CEO Sam Altman
Honda's new electric scooter, the Honda Motocompo.
Honda's new scooter is also the box it comes in
SpaceX, X (formerly known as Twitter), and Tesla CEO Elon Musk speaks with members of the media during day one of the AI Safety Summit at Bletchley Park on November 01, 2023 in Bletchley, England. The UK Government are hosting the AI Safety Summit bringing together international governments, leading AI companies, civil society groups and experts in research to consider the risks of AI, especially at the frontier of development, and discuss how they can be mitigated through internationally coordinated action.
Tesla shareholder calls on board to suspend Elon Musk for agreeing with antisemitic post
Linda Yaccarino, NBCUniversal, Chairman, Global Advertising & Partnerships, NBCUniversal Investing in Today's Attention Economy: Creating and Building Winning Brands, The Great Minds Stage, Presented by Roundel, Advertising Week New York, The Market Line, New York, USA – 19 Oct 2022
Ad execs encourage X CEO Linda Yaccarino to quit after Elon Musk's antisemitic embrace
Argentina's captain and forward #10 Lionel Messi (R) holds the FIFA World Cup Trophy following the trophy ceremony after Argentina won the Qatar 2022 World Cup final football match between Argentina and France at Lusail Stadium in Lusail, north of Doha on December 18, 2022.
Prices for a set of Messi's World Cup jerseys could exceed a record $10 million
Founder and CEO of GM's self-driving car unit resigns in wake of safety problems
How OpenAI so royally screwed up the Sam Altman firing
ChatGPT parent company OpenAI fires CEO Sam Altman
Apple will make a big change to iPhone messages next year
Sam Altman warns AI could kill us all. But he still wants the world to use it
Average 401(k) account balance fell in the third quarter — but it's still up double digits from a year ago
Sam Altman is back at OpenAI … with a guest badge
Argentina election: Milei's victory puts the peso's future in doubt
From Sin City to Sports Central: How Las Vegas is betting big on a lucrative industry
Extreme weather and falling demand are pushing wineries into the red
Honda recall 2023: Engine concerns impact Pilot, Ridgeline, Odyssey, Acura and other models
OpenAI drama continues: Sam Altman may be mulling a return to the company
UAW members at Ford and Stellantis approve contract
Note: to expand this image below to a larger or full size, see the instructions
below the graphic below or click the image and follow the prompts.