Washington-based Pallet Shelter has drawn regional and national attention by building what has been billed as "tiny houses" or "tiny homes" by several in media. Pallet Shelter says their units range in price from some $5000 to $7000 each.
Pallet appears to blend several emerging needs and trends.
It is a "social purpose" company. As they put it on their website, "

We put people first. Pallet puts people first, regardless of their background — we hire and invest in people actively engaged in recovery and reintegration

." More on that further below.
They are focused on addressing the growing homelessness crisis, which clearly is a 'social purpose.'
Pallet Shelter currently offers emergency shelter. That means it is or could be competition for RV and manufactured housing builders that provide FEMA or other emergency management organizations housing products at prices neither currently could meet.
Pallet Shelter's are tapping into the perceived appeal of the so-called 'tiny house movement.'
Returning to their statement about being a "social purpose" company, per Pallet Shelter's: "People are our bottom line, and we invest in human capital to maximize the potential of our employees and the communities they serve through the manufacturing of our shelters."
"We strive to build people up by providing meaningful, living wage employment in a supportive and purpose-driven environment, and are second-chance friendly — we hire and invest in people actively engaged in recovery and reintegration.
We're building Pallet to shelter the displaced during a time of crisis — following either a personal or natural disaster — and we're hiring. If you have lived experience in homelessness, addiction, or incarceration, we encourage you to look at our current job openings and consider roles for which you are qualified."
There is at least one more point that could be made to the 4 bullets above. From Yurts, to Concrete Pipe Housing, 3D printed housing, container housing (see report linked below), and more – Americans have been experimenting with options that on some level are de facto designed to compete with affordable – and when properly understood – more appealing manufactured homes. Note that the various linked reports offer collectively the most comprehensive look into these movements ever published by anyone in manufactured housing trade media.
Are Americans Hunting for the Single Sectional Manufactured Home Alternative?
Pallet Shelter is tapping into what MHProNews dubbed some years ago as the search for an affordable single-section manufactured home alternative. As will be noted further below, Pallet is not alone in probing this field. According to those keen on this market, the market potential is in the millions of units.
Manufactured Homes Shunned by City for Higher Cost Container Housing
For clarity, the total numbers from these alternatives to manufactured home are yet not known to have hit anywhere near the production levels that rival HUD Code manufactured housing has achieved.  Nevertheless, for reasons that will be explored, these various competing movements should be cause for both renewed optimism regarding the industry's true potential as well as concern and discernment by HUD Code retailers, communities, or obviously their producers and their suppliers.
Each of the mainstream, tech, or business news reports on Pallet Shelter should also spark renewed realization of the potential opportunities for savvy manufactured housing professionals and investors, beyond the looming challenges these trends reflect.
The accelerated time-elapsed video below shows in 20 seconds the 'easy set up' process of an individual Pallet Shelter. Obviously, the interior fixtures are to follow the erection of the frame of the unit itself.
As those who surf videos on manufactured housing and tiny houses know, the later genre has numerous videos with literally millions of views.  The example below has had a stunning 39 million views as of 1.28.2021. It was uploaded on Apr 5, 2019.  It has had far more likes – 728,000 – than most manufactured housing videos have ever been viewed. This is also a message to discerning and objective members of our profession, plus current or potential investors.
By contrast, while some manufactured home connected videos get into 5, 6, or 7 figures in video views – e.g.: think John Oliver's viral "Mobile Homes" video in 2019, which topped 8 million views – the bulk of manufactured housing vides seem to stay in the 4-digits or less range of video-views.
That lopsided disparity in viewing might lead some to suggest that tiny houses are outselling manufactured homes.
But that would be mistaken.
Prior to publishing this report, MHProNews contacted several tiny house trade associations.  We asked them each a simple question; how many tiny houses are being produced in the U.S. annually? Over a day later, not one provided a direct answer.
That noted, a different third-party source told MHProNews off the record that they estimate the number at 800 tiny houses produced annually.
"How Many Tiny Houses Are They In The US? From looking at the number of Tiny Houses that are sold yearly we estimate that there are around 10,000 tiny houses in Northern America. 700 new houses are built every year from certified builders and we estimate that just as many are built privately" said Go Down Size on May 3, 2019.
That statement above would seem to support the estimated 800 annual number of tiny units production mentioned by an informed third-party to MHProNews.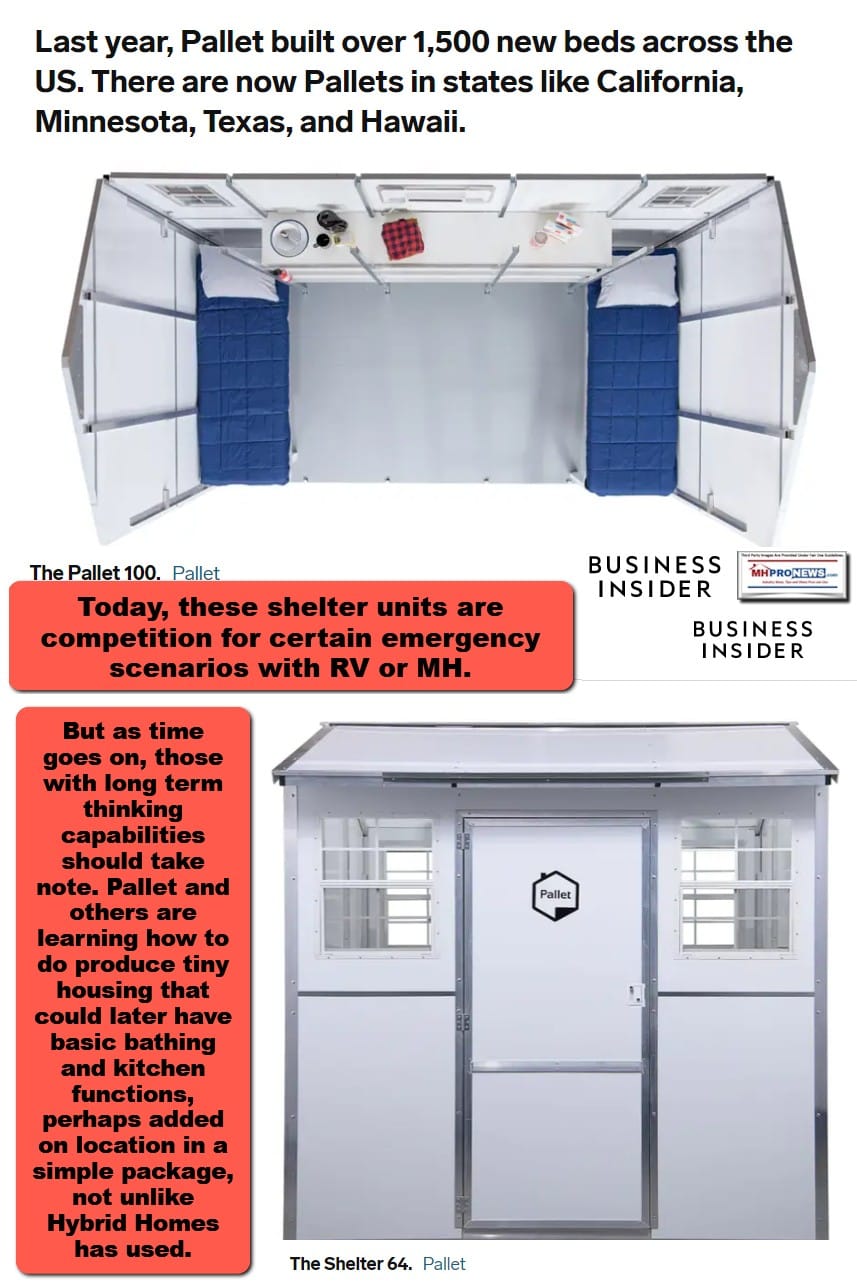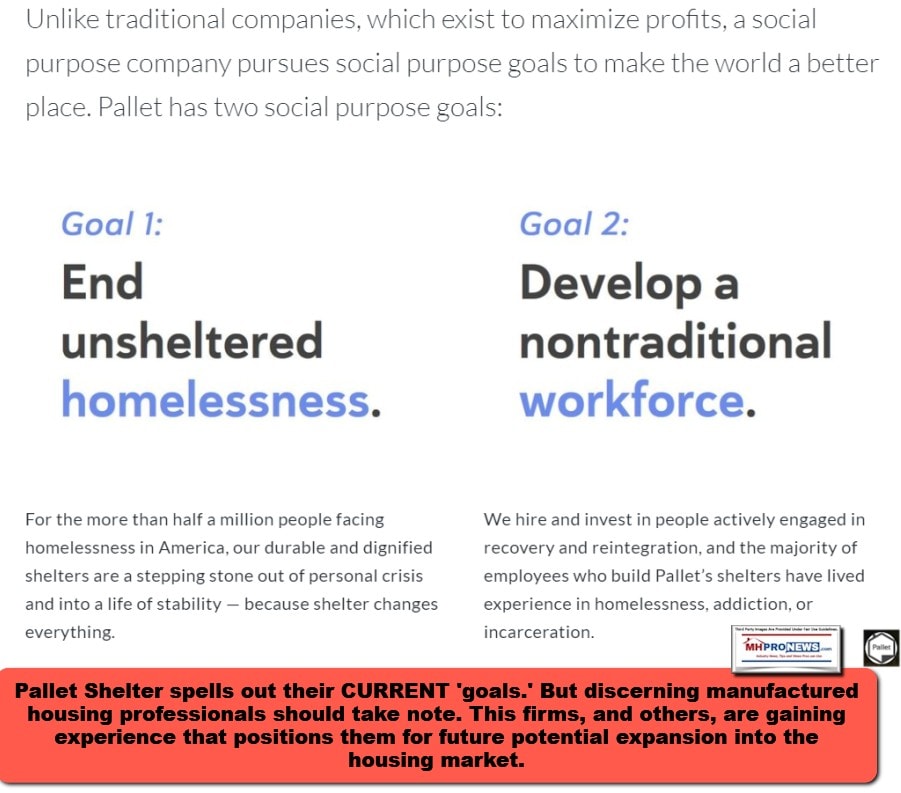 Some weeks ago, MHProNews asked HUD Code builders about what they bill as their tiny house output. Several are doing none. They are not interested in that market. The reported top producer said they are selling about 200 a year. That 200 unit a year builder that also produces HUD Code manufactured homes, by the way, was not Clayton Homes.
When ABC News, Business Insider, The Hill, GeekWire, and several regional news affiliates each provided seemingly gleefully glowing reports about Pallet Shelter, that is a wakeup call to HUD Code manufactured home professionals. It signals both potential for good media coverage that manufactured housing might enjoy if media engagement were better handled, but it also provides a warning that their firm or others like them could at some point be a challenge for our profession.
Some examples of Pallet's positive plugs include these 'earned-media' reports.
The Hill's headline on Pallet Shelter's said "New homeless shelter pops up in 20 minutes without tools."
GeekWire grabbed clicks with this one: "This social purpose corporation builds innovative, durable tiny houses."
Hawaii News Now's headline stated: "Amid pandemic, 17 homeless people move into state's first Kauhale village."
Agree or not with other parts of their report, the Market Research blog aptly said:
"In recent years, consumer awareness of tiny homes has risen alongside the popularity of television shows like Tiny House Nation, Tiny House Builders, and Tiny House Hunters."
Which MHProNews and MHLivingNews repeatedly asked years ago, where is the equivalent interest or storytelling to support manufactured homes?
What happened to the claims by the Manufactured Housing Institute (MHI), or Clayton Homes for that matter, that they were going to grab interest with their respective "national campaigns"?
As MHLivingNews uniquely reported, third-party Zillow's research revealed that while MHI was 'promoting' manufactured housing, the actual interest by the public in manufactured homes declined.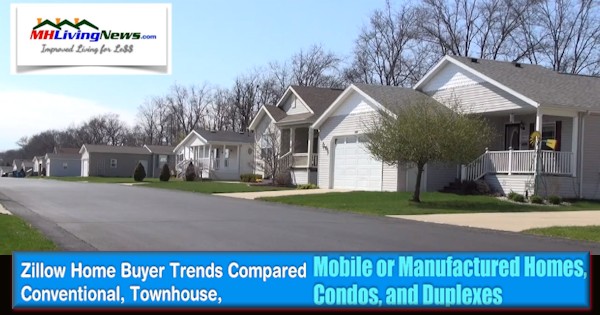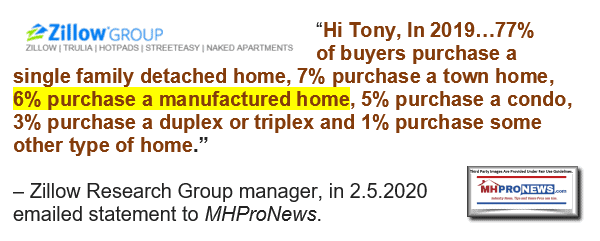 Ouch.
With the backing of Clayton Homes (BRK), Skyline Champion (SKY), Cavco Industries (CVCO), and others involved at MHI collectively pushed their market-failure of what they finally decided to call "CrossModTM" homes. Those far more costly types of 'hybrid' housing have despite their efforts had dim results.
Besides "CrossModTM" purported failure, the year-to-date tallies for manufactured housing in 2020 indicate a modest decline in all manufactured home sales from 2019.
2019 HUD Code manufactured housing production and shipments went down from 2018.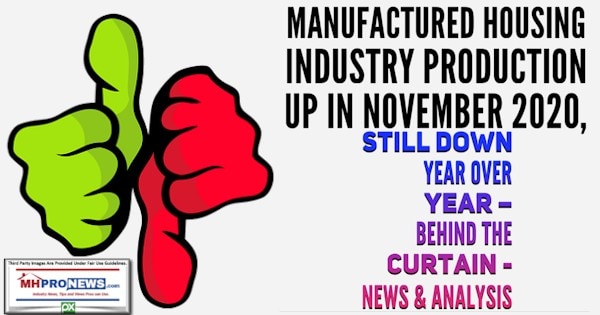 2018 was the year that MHI began touting their "new class" of manufactured homes that Fannie and Freddie each embraced. Fannie called their brand "Fannie Mae MH Advantage," and Freddie Mac trademarked theirs as "CHOICEHome®" mortgages. As previous reports by MHProNews documented, the closings in these loans are in the low 2 digits.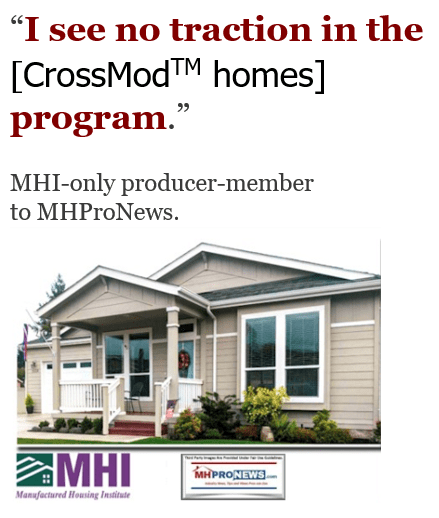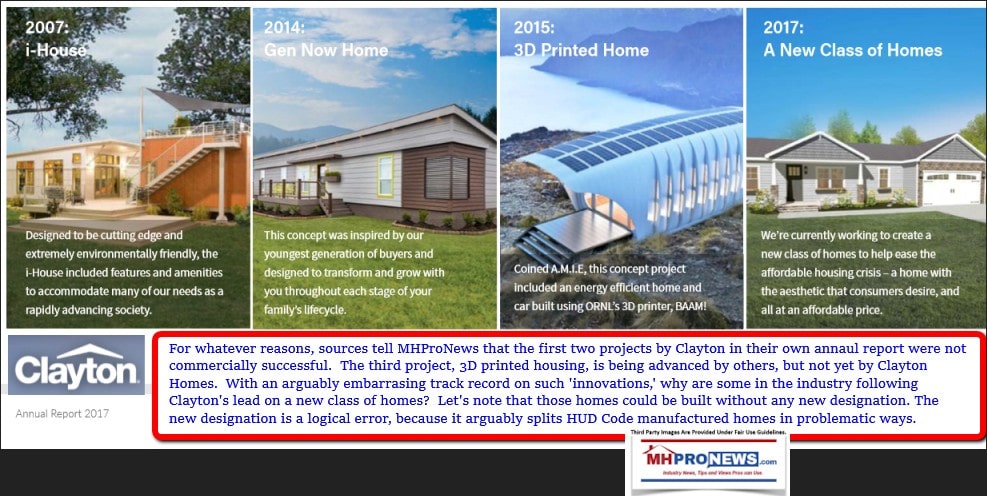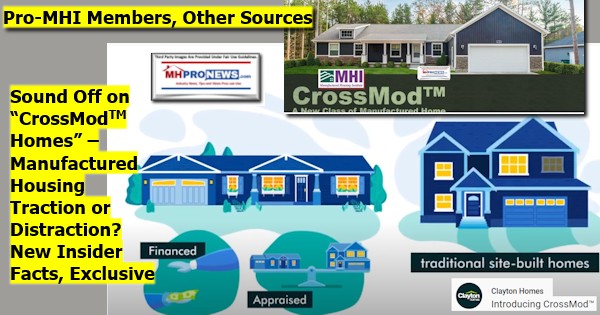 As an MHI-only member producer told MHProNews, "I see no traction" to their programs. What little data has been released by Fannie and Freddie confirms that claim.
Beyond Pallet, Other Types of Factory Building Loom
MHProNews is periodically contacted by firms foreign and domestic regarding their housing products. Two quick examples will illustrate.
One such recent contact was by a firm engaged in container housing. A unit manager from their sizable team said they believe they are poised to move dramatically up.
While some container housing units are being shipped from Communist China or other parts of Asia – such as Vietnam – there are also production centers – per that source – in Mexico and now in Indiana too. That woman said that containers could be shipped from China to the U.S. for about $1600 each.
Another innovator contacted MHProNews with a panelized process they said could be used to either revolutionize manufactured housing or could be used by site builders to challenge our profession.
Thus circling back to Pallet Shelter – or other shelter producers like them – might move beyond emergency housing at some point in the near future. As the Biden regime and Buffett-supported Prosperity Now are pushing "Build Back Better," a phrase used in connection with the World Economic Forum (WEF) internationally-backed "Great Reset," the reasons for thoughtful consideration of the apparent failures of MHI and their larger corporate masters should be carefully considered.
Billionaire Buffett Backed Prosperity Now Touts "Build Back Better," Other Biden Initiatives, plus Manufactured Home Investing, Stock Updates
Additional Information, MHProNews Analysis and Commentary
The container housing company told MHProNews that they think that the affordable housing need in the U.S. is at some 20,000,000 units.
20,000,000 market potential, and HUD Code manufactured housing has been held under 100,000 units for most of the last 15 years?
The case could be made the container executive's estimate is low. How so? There are 111 million renting households, per the Apartment List. Given that people who own conventional housing, but who may want to upsize or downsize, the market for affordable housing is thus far larger than that 20 million unit estimate.
From a regulatory standpoint, the Manufactured Housing Association for Regulatory Reform (MHARR) is logically correct in making the case that:
zoning and placement, as well as
more competitive financing
are the near the apex of impediments to selling more manufactured homes. It is for those reasons that MHProNews launched an exclusive series of Q&A style interviews with Danny Ghorbani.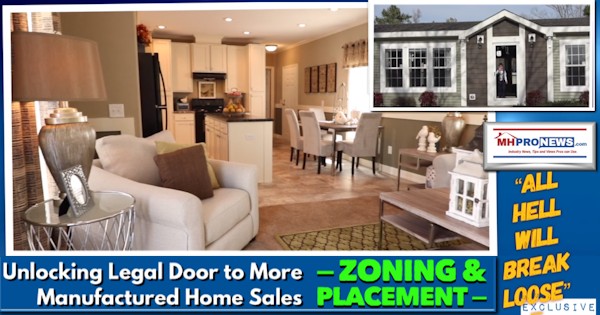 See the newest one, linked above, and the most recent on the finance issue linked below.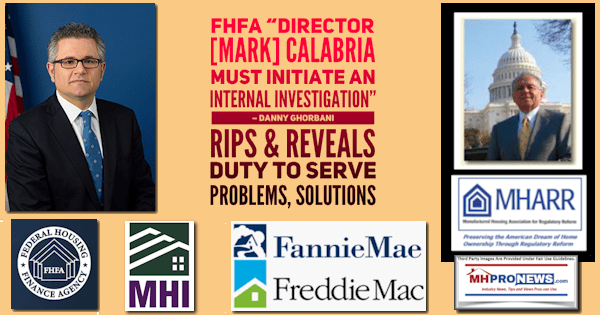 MHProNews has long concurred with those concerns that Ghorbani and Mark Weiss, J.D. at MHARR has raised for years. They are examples of long term thinking, planning, and action.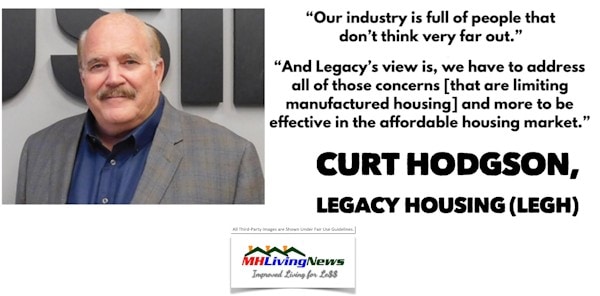 In addition to those, there is obviously an additional need to do authentic and persuasive public engagement. That engagement should not the ersatz genre of clearly lame advertorials or other flaccid marketing that exists and has been touted by the amen corner of the larger brand companies in MHVille.
Furthermore, the examples of:
What Can Manufactured Housing Pros & Investors Learn from Florida Manufactured Housing Association (FMHA) and Bow Stern's "Hand Built Home" Campaign Promotion?
Several "educators" or "sales trainers" in manufactured housing may bring a certain limited value. But the same data-driven point that applies to MHVillage, MHInsider, BowStern or ManufacturedHomes arguably applies to them too.
MHVillage, MHI Present 2020 Manufactured Housing Industry Trends, Statistics – Fact Check Part II
Razzle-Dazzle, hoopla, sweet sounding talk, and eye-candy does not change the data.
The industry's 'leaders' repeating exaggerated or deceptive claims and creating an echo chamber that mimics their words does not make them true.
Rather, repetition of the talking points from the echo chamber and their obvious unwillingness to publicly debate their performance are suggestive that they are attempting to gaslight the industry. Perhaps the data-driven, evidence, accurate quotes, and logically sound analysis found on MHProNews helps explain our vastly superior engagement and audience?!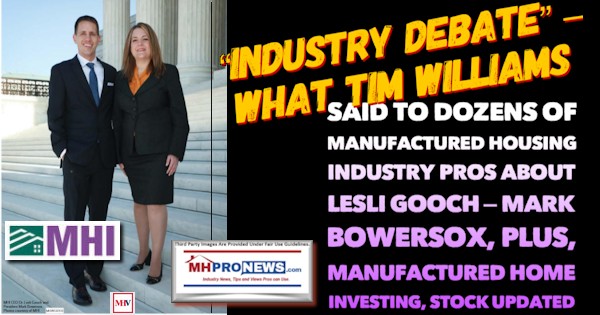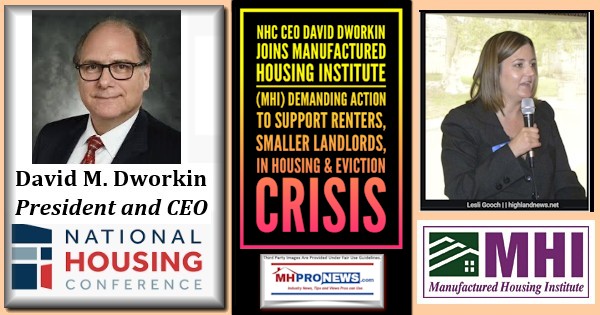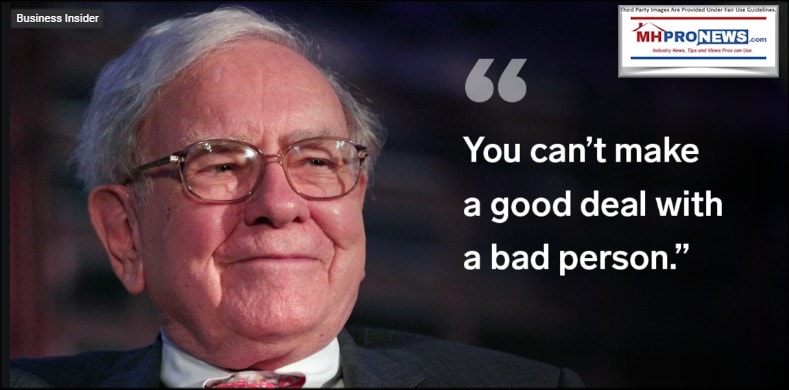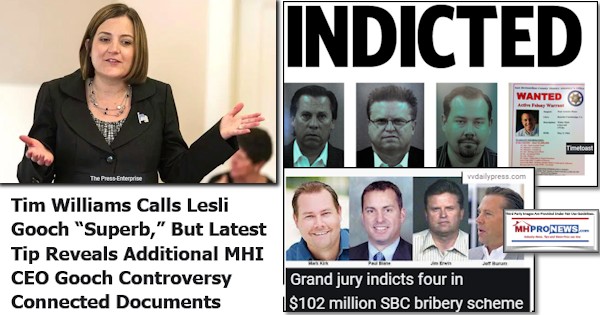 Jim Collins, bestselling author of several data-driven university-level research studies on publicly traded firms has made observations that serious growth-minded manufactured housing business leaders need to consider. "The cold, hard, brutal facts" can not be ignored. Companies and trends may take years to develop. Then seemingly suddenly, Collins has observed, they hit critical mass and seemingly burst onto the scene in a meaningful fashion.
MHARR and MHProNews has each independently long suggested the need for manufactured home professionals to forge a post-production trade group. Such a trade group could team with MHARR and witness the full and proper implementation of existing federal laws that MHI, Clayton, Skyline-Champion, Cavco and others either have not – or for whatever reasons – will not pursue.
Returning to the headline topic, Pallet says that: Shelter 64 is "Designed for people facing homelessness and natural disasters, the Shelter 64 is a stepping stone out of crisis and into stability. Made in the USA of highly durable aluminum and composite materials."  At $5000 per unit, plus whatever additional costs are involved, that base cost for 64 square feet is about $78.13.
Pallet's "Shelter 100" is "At 100 square-feet, the Shelter 100 is more spacious for individuals or families facing homelessness or natural disasters. Made in the USA of highly durable aluminum and composite materials." That unit, with no bath or kitchen facilities, is $70 per square foot, plus add-on shipping and set up costs.
The nation is hungry for affordable housing. MHProNews has reported for years on looming systems, including 3D printing or others previously linked, that could upend the position that manufactured housing could enjoy and for several prior decades successfully experienced.
The status quo apparently 'works' in the minds of those who dominate MHI. That is why the status quo is tolerated. But for the vast majority of the industry's independents, the status quo has shortchanged most. Thousands were put out of business, or sold out for less than they could have in a non-manipulated market environment. The report linked below is the runaway #1 on MHLivingNews, and has been for several months now. ICYMI, or need a refresher, check it out.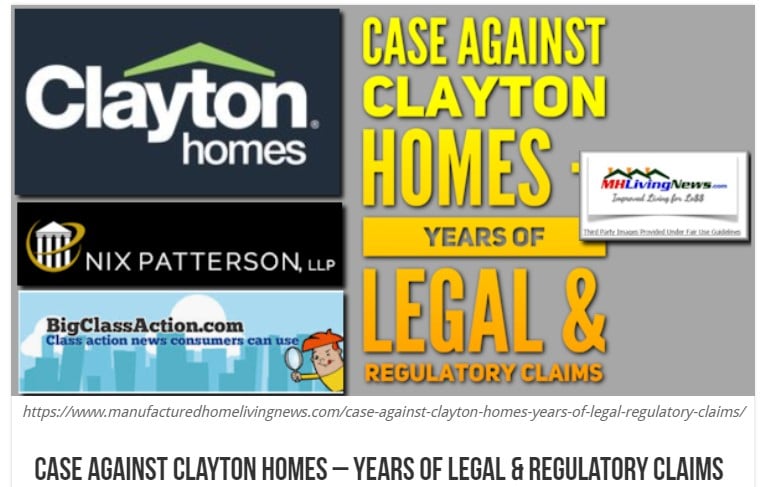 Once more for emphasis. If you have not already read the deep dive Q&A series with Ghorbani, see that linked below. In doing so, keep in mind that "Danny G" oversaw a project for MHI that created some 200,000 home sites in short order pre-HUD Code. As an engineer and passionate multiple decade believer and seasoned veteran of the manufactured home industry, not many could make claims to Ghorbani's grasp of the history and behind-the-scenes insights into the manufactured housing profession that he can.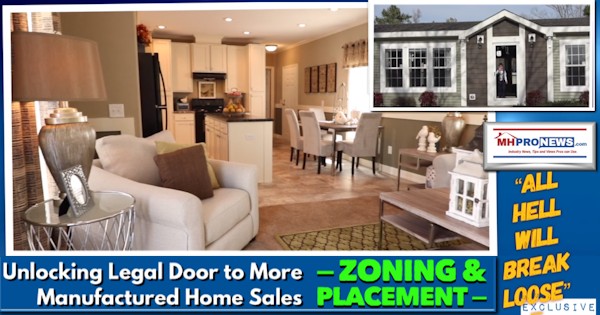 Our industry has rivals. Those rivals, as Danny Ghorbani has pointed out, do not have the good of manufactured housing independents in mind. Even MHI members have said similarly.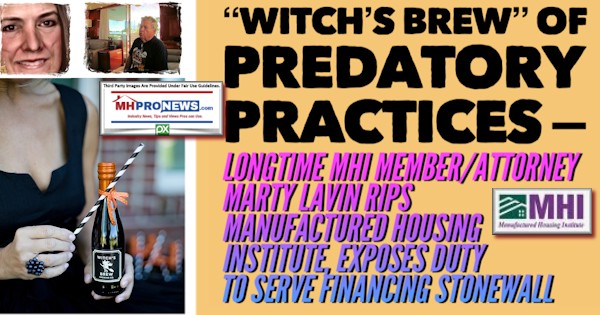 Even those working for one of the 'big boy' companies in MHI should recognize that monopolization has risks for them too. It is only through a return to a robust HUD Code manufactured home market that independents, employees of most firms, and potentially millions of current and potential manufactured homeowners can benefit in a win-win-win fashion.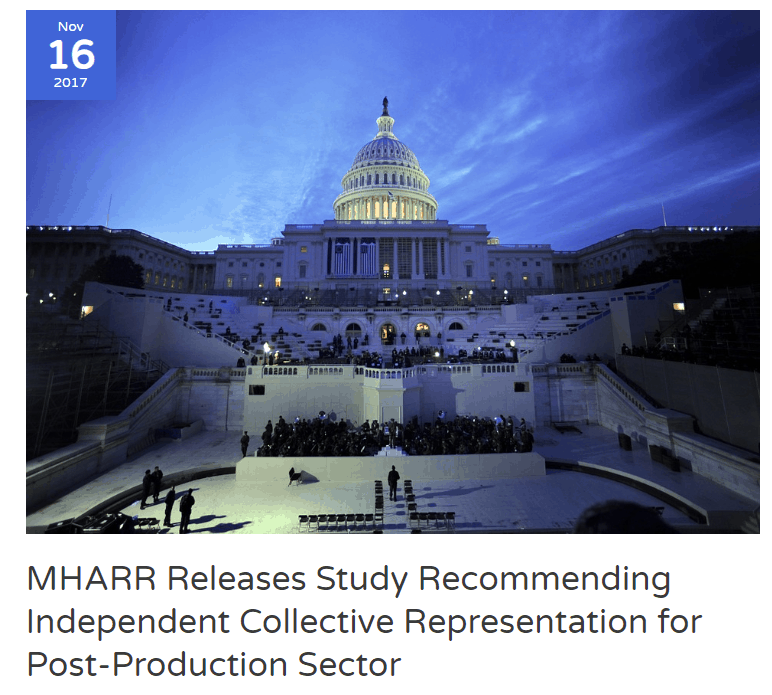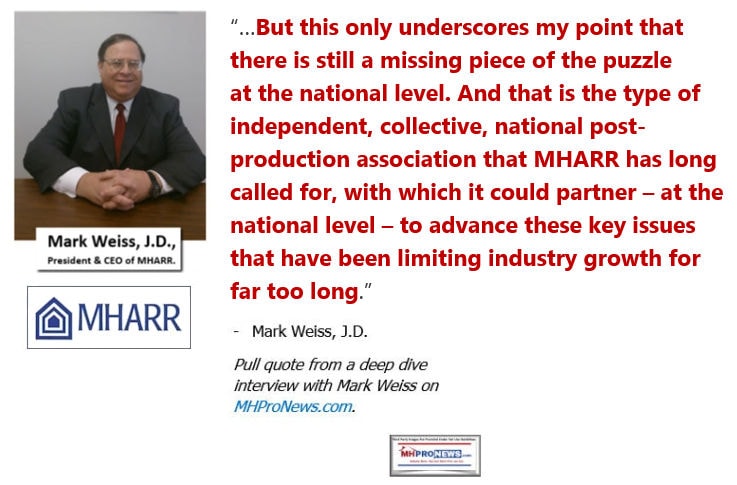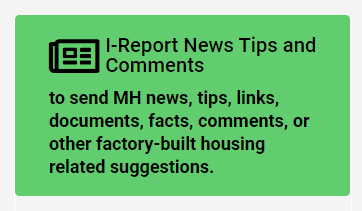 Stay tuned for more of what is 'behind the curtains' as well as what is obvious and in your face reports. It is all here, at the runaway largest and most-read source for authentic manufactured home "Industry News, Tips, and Views Pros Can Use" © where "We Provide, You Decide." © ## (Affordable housing, manufactured homes, reports, fact-checks, analysis, and commentary. Third-party images or content are provided under fair use guidelines for media.) (See Related Reports, further below. Text/image boxes often are hot-linked to other reports that can be access by clicking on them.)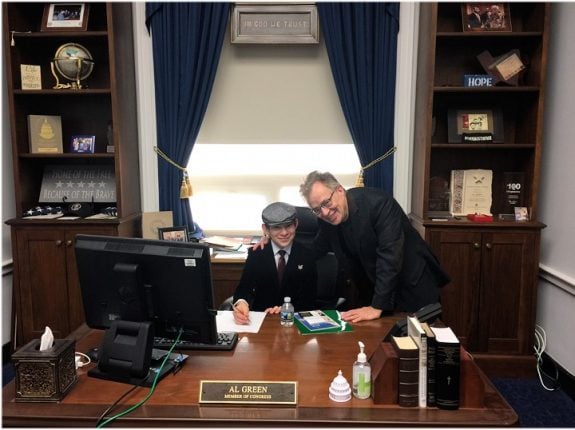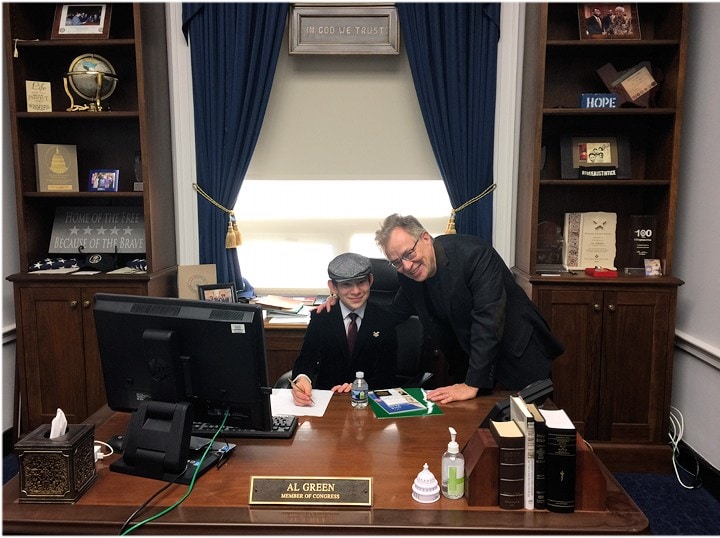 By L.A. "Tony" Kovach – for MHProNews.com.
Tony earned a journalism scholarship and earned numerous awards in history and in manufactured housing.
For example, he earned the prestigious Lottinville Award in history from the University of Oklahoma, where he studied history and business management. He's a managing member and co-founder of LifeStyle Factory Homes, LLC, the parent company to MHProNews, and MHLivingNews.com.
This article reflects the LLC's and/or the writer's position, and may or may not reflect the views of sponsors or supporters.
Connect on LinkedIn: http://www.linkedin.com/in/latonykovach
Related References:
The text/image boxes below are linked to other reports, which can be accessed by clicking on them.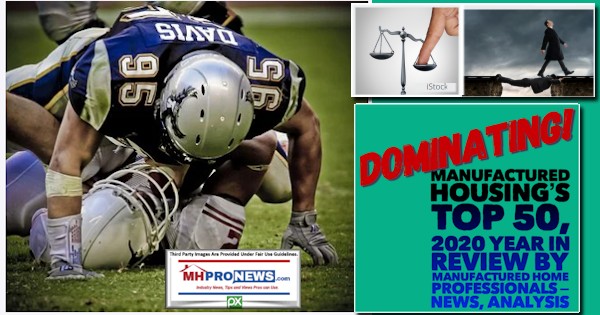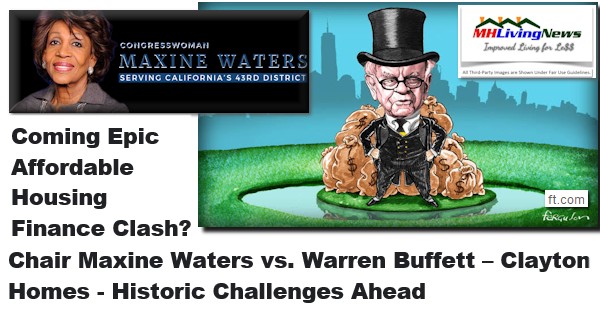 History, Financial Ties-Black Lives Matter, Antifa, Billionaires Warren Buffett, Bill Gates & George Soros–Economic, Political Upheaval Spotlighted by Mary Walter, Tony Kovach on Brian Kilmeade Show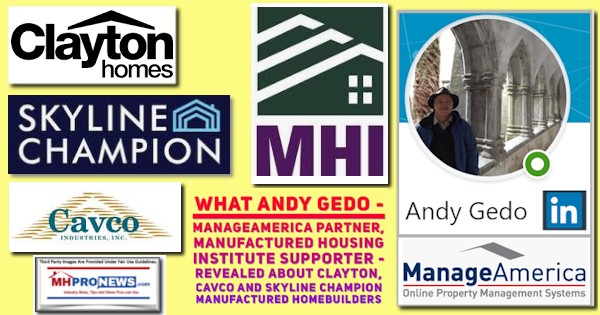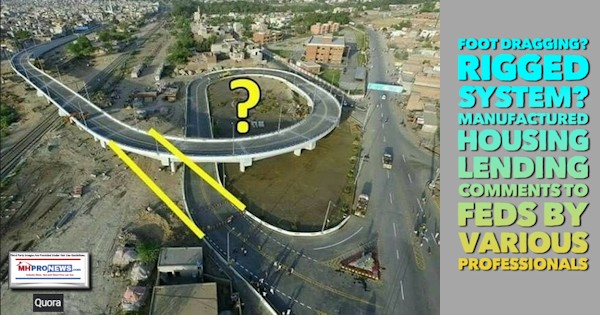 Complaints to State and Federal Officials, Agencies About Corrupt Practices in Manufactured Housing Industry Growing
Buffett/Berkshire Bust! Stunning Charges – Frank Rolfe, Dave Reynolds, Impact Communities Lawsuit Against Residents; MHAction Connection Evidence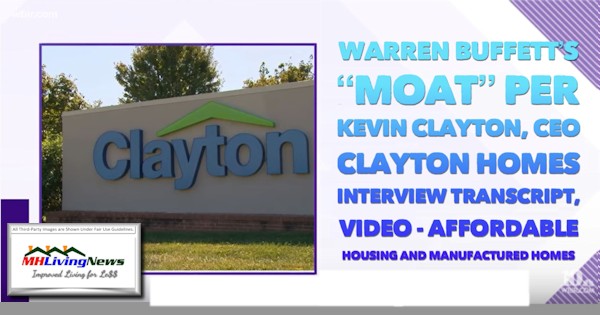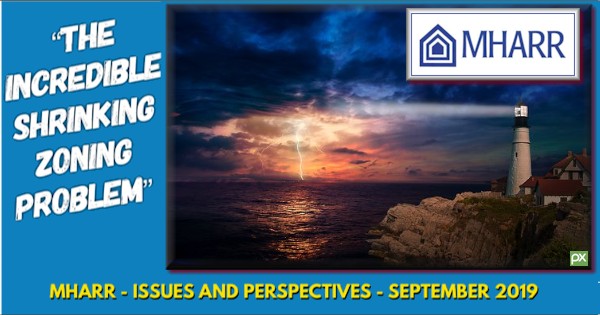 Kevin Clayton, CEO Clayton Homes, Explains Why Replacing Sales Professionals with Automation Makes Sense
Epic! Creating 200,000 New MH Homesites in 4 Years; Allegations of Corruption by Fannie, Freddie, Others in Duty to Serve Manufactured Housing Law
In Manufactured Housing's COVID19 War, MHARR Wins A Battle – Retailers, Installers & Transporters Alert