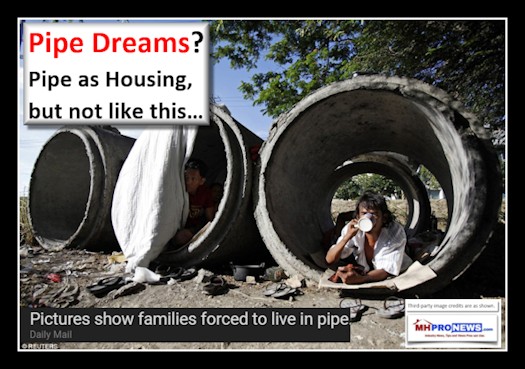 "Behold, the answer to the housing crisis… maybe."
The Metro.uk isn't talking about the homeless living in pipes, as is the sad case with the featured image, above.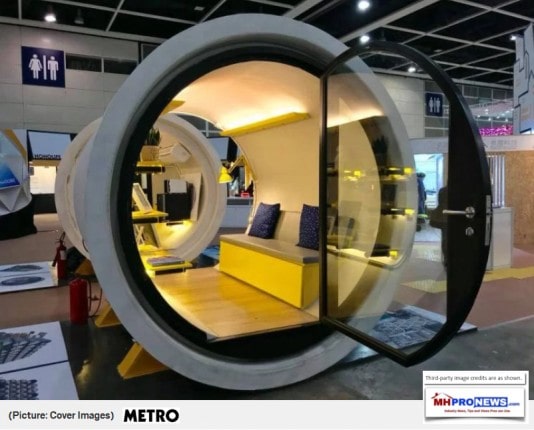 Instead, they are pointing to a reimagined use of piping materials designed as micro-housing units.
"Rather than building increasingly high tower blocks, the future of our housing could be in pipes. Yep. Cylindrical pipes – just a little larger than the ones you're probably imagining. The OPod Tube Housing System is the creation of architect James Law, designed to save residents from the chronic overcrowding and lack of space in Hong Kong," says Metro.
"The tiny homes are created out of repurposed concrete water pipes that measure just over eight feet in diameter and provide around 1,000 square feet of living space," is part of their description for the OPod, which the video below gives a 360 degree snapshot of the concept.
It's another example of people looking for a 'single section alternative,' like container housing, that MHProNews has previously spotlighted.  The Daily Business News has also tracked 3D printing, or other emerging prefab technologies.
Survey Top 2017 PreFab, Modular, Tiny and 3D Printed Housing News Stories
At 1,000 square feet, the pipe-housing would be about the space of a 16×66 floor size single-sectional manufactured home.
The OPods are described as "minimalist interiors…Inside there's a living room with a bench that converts into a bed, a mini fridge, a bathroom, a shower, and storage space for clothes and other bits."
"The tubes actually look quite cosy, and much better than that rubbish studio flat we saw with nowhere near enough room for the fold-out bed to actually, well, fold out," per Metro.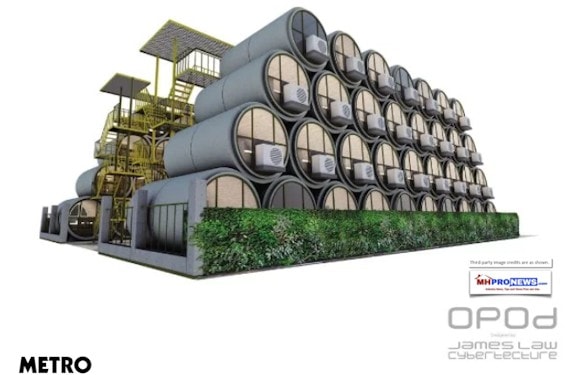 "James Law suggests the tubes as an option for young people looking for homes, or for city governments to offer as affordable housing. While the tubes aren't exactly lightweight, they can be moved fairly easily, with the structure designed to fill gaps between existing buildings and fit where traditional construction might not be an option – down narrow alleyways, in the space between houses, and other places that don't have enough room for a proper house. Smart," says the Metro.
OPod Tube Housing System is the creation of architect, James Law.
The tubes are stackable. Metal stairways could provide access, per advocates.
"At the moment OPod is still in the prototype stage of proceedings, but if all goes well, an OPod could sell for around £11,000. After that, who knows? Maybe they could make their way to London next," says the Metro.
At today's exchange rates, 11000 British Pound equals $15,247.10 US Dollar, per Google.
It should be noted that several such low-cost claims have been debunked by the Daily Business News, once the 'total' costs needed for move-in are scrutinized, considered and all added up.
But it is another example that if manufactured home professionals aren't careful, alternatives will be developed that could leave the industry wondering, 'what happened?'
Thus, the pressing need for authentic business and association leadership, as opposed to posturing, promises, and problems delivered by certain parties within the manufactured housing industry. ##  (News, analysis, commentary.)
(Image credits are as shown above, and when provided by third parties, are shared under fair use guidelines.)

Submitted by Soheyla Kovach to the Daily Business News for MHProNews.com.