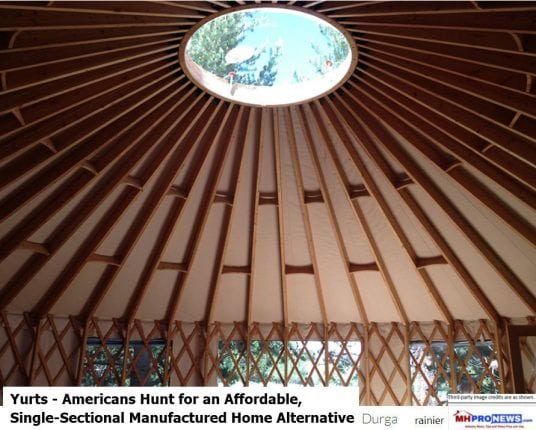 For newcomers, it bears mentioning that MHProNews is pro-manufactured housing, and generally in favor of modular or other forms prefabricated home building in general.
So 'comparison' reports on the Daily Business News – like this one about the growing interest in yurts – should be viewed through that lens.  No one here is in the yurt biz, nor is this advocating it.
That said, Americans, north and south of the U.S./Canadian line, are showing a growing interest in yurts – as housing.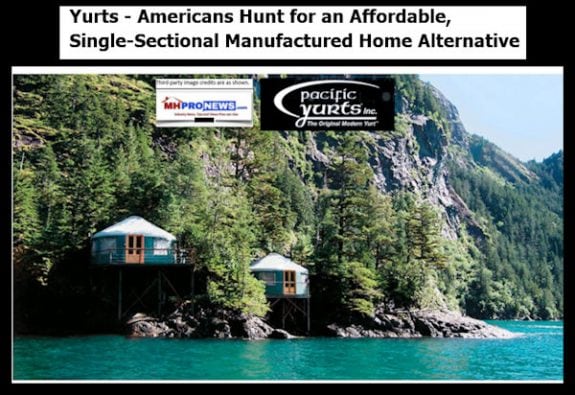 Let's begin with a definition.
Meriam Webster defines a yurt like this, "Definition of yurt: a circular domed tent of skins or felt stretched over a collapsible lattice framework and used by pastoral peoples of inner Asia; also : a structure that resembles a yurt usually in size and design."  Turkish, and Mongolian nomads are among those that used them.
Today, yurts are becoming popular among some in North America is a tiny house alternative.
Yurts have been used as getaways, in rustic areas.  For example, AirBNB says you can rent a yurt in Colorado, starting at $20 a night. Colorado says that at Wolf Creek Pass, that yurt will set you back starting at $159 per night.
But there are some who are promoting yurts as a form of genuine housing.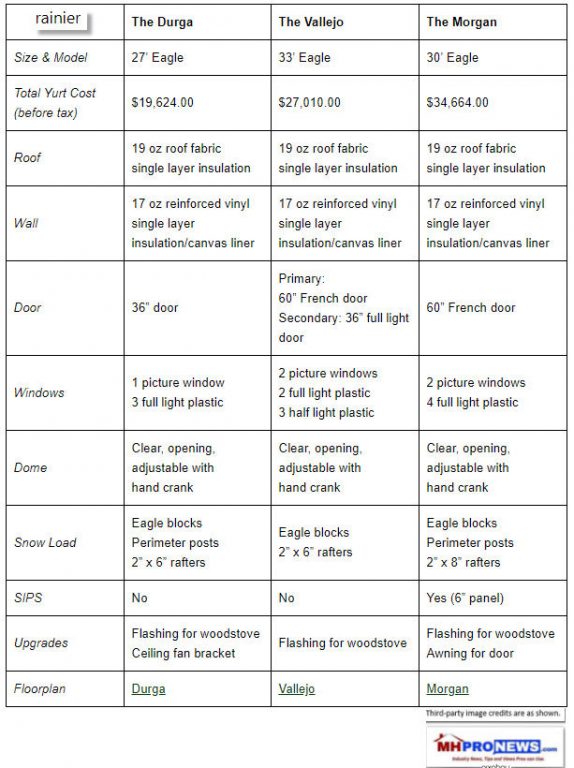 Curbed said last Aug, 2017 that: "Thanks to the tiny house movement, yurts in the United States have gone from a quirky rarity to an increasingly practical, sustainable, and value-friendly choice."
If hundreds of thousands of views on the two videos below is any indicator, people are at least thinking about it.  The two videos total well over 800,000 views as of this date.
Compare over 800,000 views to roughly 2,449 views of all 6 total Manufactured Housing Institute (MHI) videos since Nov 15, 2017.  The MHI videos promote multi-sectional or single-sectional living.
The MHI videos are arguably more professional.
But the public curiosity of yurts for affordable living is responding for more basic videos by about 400 to 1.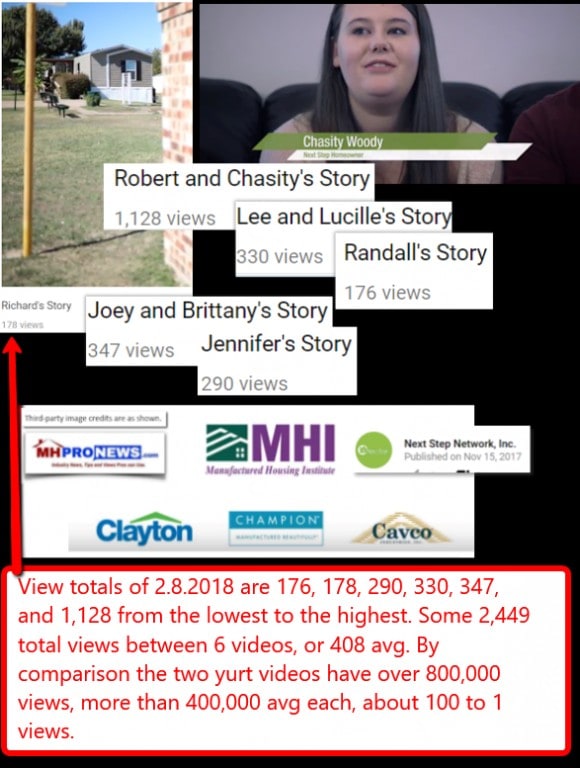 Whatever MHI paid to third-parties for their 'campaign' ought to make members scratch their heads.
The yurt saga is just another take on a theme MHProNews has spotlighted for years.
Are Americans Hunting for the Single Sectional Manufactured Home Alternative?
The demand for affordable housing is there. The raw numbers from third party researchers tell us that the need is over 8 million affordable housing units.
NAR's Yun – No Quick Fixes Spell$ Manufactured Housing Opportunitie$
When will more in the industry demand to discover what has been working for select independent operations?
The public is hungry for affordable homes.  The most popular house in views last year, per Realtor, looked quite a bit like a single sectional with a higher pitched roof.
Most Popular Home of Year Goes To…Shotgun like 'Single Sectional' – Think "Lido" Manufactured Home
When they truly discover what a single section, or multi-sectional contemporary manufactured home can do, they respond positively.
KYPs, and the $64 Billion Dollar Question-Monday Morning Manufactured Housing Sale$ Meeting
Education, and correcting misinformation, are among the proven keys to grow demand at the local market level. Learn more at the link above, and via other reports in our "Monday Morning" weekly series. ## (News, analysis, and commentary.)
Thousands Get It. Sign Up Today! Click here to sign up in 5 seconds for the manufactured home industry's leading – and still growing – emailed headline news updates. You'll see in the first issue or two why big, medium and 'mom-and-pop' professionals are reading them by the thousands. These are typically delivered twice weekly to your in box.
Follow us on Twitter:
ManufacturedHomes
@mhmsmcom
(Image credits are as shown above, and when provided by third parties, are shared under fair use guidelines.)

Submitted by Soheyla Kovach to the Daily Business News for MHProNews.com.
Soheyla is a managing member of LifeStyle Factory Homes, LLC, the parent company to MHProNews, and MHLivingNews.com.