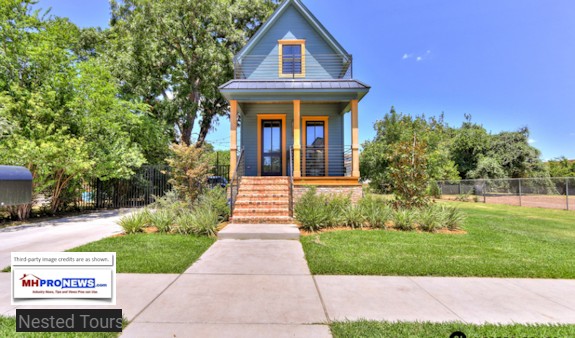 Are millions of housing-hunters still asleep at the switch?
The National Association of Realtors (NAR) ® in a release to MHProNews drew attention to their hyper-busy website's most popular house of the year.
Was it a multi-million dollar mansion?
A coastal mansion?
A mountaintop chalet?
As the headline, suggested, it was a 'shotgun' style home.
And as manufactured home industry pros must be thinking by now, it looks like a two level Victorian style single sectional. For those who've studied the Lido Peninsula, you already know that there have been two level manufactured home single sectionals produced.
The Manufactured Home Lesson from Lido?

NAR's Claudine Zap said, that 624 S 7th St, Waco, TX was their top viewed house in 2017.
Price: $950,000
"The median price per square foot of home in Waco hovers below $100," says Zap, "but this place is asking for a whopping $905 per square foot."
"While San Francisco Bay Area and Manhattan home shoppers may be accustomed to paying nearly $1,000 per square foot, we're talking about Waco here. No disrespect, but the Gaines-based premium on this place seems way too steep a mountain for a buyer to climb," NAR's writer said.
Zap also said the home comes fully furnished.  At the price listed, duh, of course?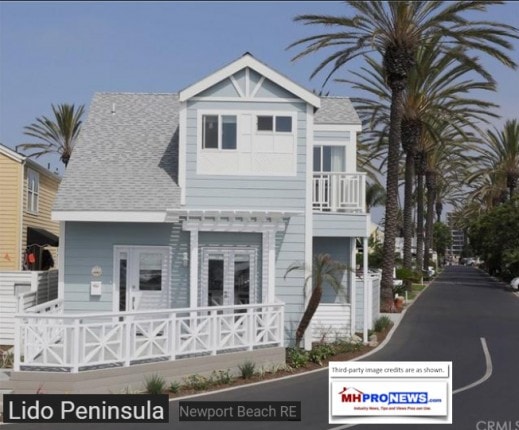 Think again about the lessons from Lido…
Don't misunderstand the point.  Which is this.

If the Lido project can sell manufactured homes at prices well above that of conventional housing prices, why aren't more manufactured home pros selling more residential style manufactured homes, which are well UNDER the price of conventional housing?
What Should This Tell Manufactured Housing Pros for 2018 Inventory, Sales and Marketing Plans?
When you consider this home, it is a good reason to consider again the point Barry Noffsinger made in the video seminar linked below.  The pond where the most fish are, would be the more upscale part of the manufactured home business.
Manufactured Housing Monday Morning Sales Meeting: Finance & Industry Facts, Figures, Sales Tip$ Improving Best Practice$
MHPros?  Are you thinking that for 2018, you should stocking, promoting, and selling more residential style manufactured homes?
The NAR stats don't lie. ## (News, analysis, commentary.)
2 Week Notice. MHProNews will be on a somewhat modified publication schedule from now through January 2nd, resuming normal scheduling in 2018. More details, click here.
Notice 1: Looking for our emailed MH Industry headline news updates? Click here to sign up in 5 seconds. You'll see in the first issue or two why big, medium and 'mom-and-pop' professionals are reading them by the thousands, typically delivered twice weekly.
Notice 2:  Want sustainable growth?  Join the Manufactured Housing Revolution team's proven marketing and other MH Professional Services, click here.
(Image credits are as shown above, and when provided by third parties, are shared under fair use guidelines.)

Submitted by Soheyla Kovach to the Daily Business News for MHProNews.com.