In 2021, manufactured housing professionals, investors, and advocates should expect to see the zoning and placement issue heat up. Apart from what follows, as a private "industry insider" message to MHProNews last week said, expect "all hell will break loose" in 2021.
Properly understood, those predicted hellish fires in 2021 may find serious fuel in this exclusive Q&A.
Thousands of manufactured housing professionals already know experientially – or are beginning to learn by reading reports found first exclusively on MHProNews – what former Manufactured Housing Institute (MHI) Vice President and founding Manufactured Housing Association for Regulatory Reform (MHARR) founding president Danny Ghorbani said in the exclusive 2020 interview and report linked below.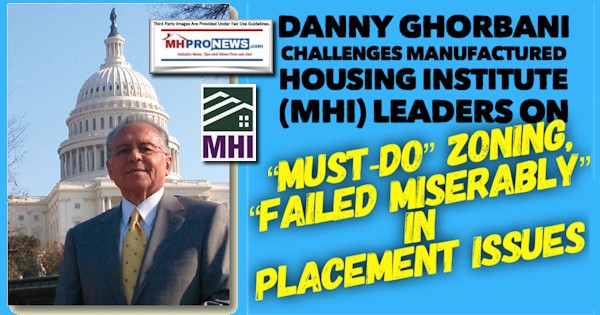 On the zoning and placement has been a hot topic on MHProNews and our sister site for years.
For instance.  MHLivingNews first reported nationally what Gary Adamek of Fayette County Homes said exclusively to our sister-publication in 2015. "Local Star Chambers Wage War on Affordable" Manufactured Housing.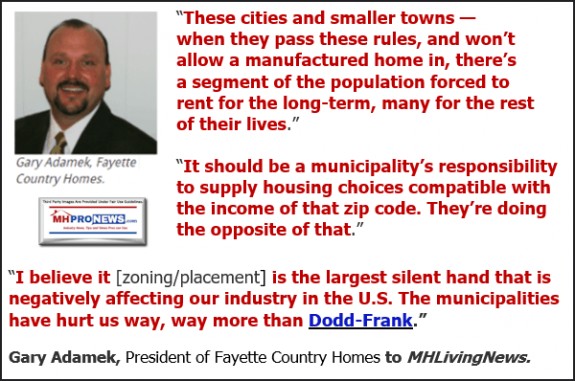 In 2020, MHI award-winner and affiliate executive Mary Gaiski said what thousands of industry professionals know.  The zoning and placement issue is getting worse, not better. So much for the MHI's Post Production Sector (PPS) "leadership?"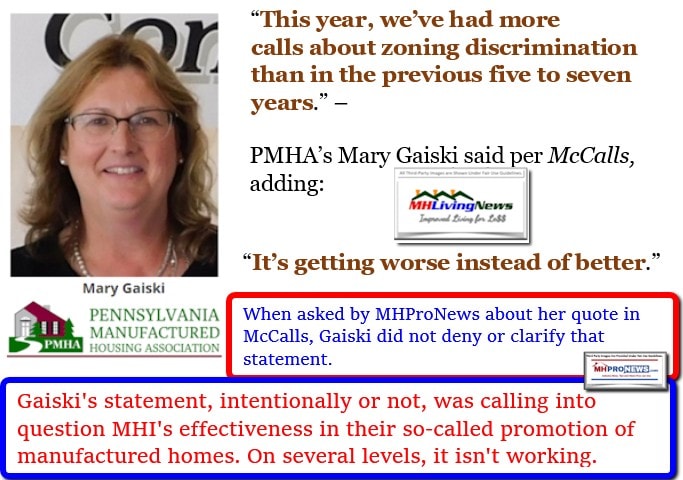 The data reveals that conventional housing is roaring. That begs the question. Why is manufactured housing struggling at historically low levels of performance? In order to understand the why behind manufactured housing's post-production sector struggles, facts, evidence, and a keen – authentic – historic understandings are necessary.
That brief tee up sets the stage for one of the overarching issues facing our industry's professionals. In order to shed light on a developing strategies for engagement in 2021, MHProNews asked RV MH Hall of Fame award winner Danny Ghorbani to shed the factual, historic foundation that will be the predicate for the future.
This MHProNews exclusive deep dive begins with the Question and Answer below.
Following a careful reading of this Q&A, it will become clearer why "all hell will break loose" in 2021. There will be additional information, which will include a third-party graphic that underscores several of the points made by Ghorbani. An MHProNews analysis and commentary will follows this from award winning, actively-retired long-term strategist and engineer, Ghorbani Q&A.
DISCRIMINATORY AND EXCLUSIONARY ZONING LAWS
MHProNews SECOND Q&A with Danny Ghorbani on Zoning & Placement
MHProNews QUESTION
Danny, in your answer to our previous Question No. 1 concerning discriminatory and exclusionary zoning laws, you stressed that the industry's best and strongest weapon to fight against such laws is the "enhanced preemption" language of the Manufactured Housing Improvement Act of 2000 (2000 reform law). I know from my personal communications with several retailers, community owners, consumers and affordable housing advocates that they often do not understand the connection between "enhanced preemption" and the discriminatory zoning laws that continue to block the progress of the industry in reaching its full potential.
In addition, there are increasing signs that government authorities, and other people within and outside the manufactured home industry, have begun exploiting and abusing this lack of knowledge to depress Manufactured Housing's Post-Production Sector.
Based on that and given your extensive knowledge of the industry going back over 50 years, will you please elaborate on this matter and explain to our readers the genesis, evolution, and history of this "enhanced preemption" language?
Also, please explain how the industry arrived at this stage creating such a potentially strong weapon to win in exclusionary battles?
In conjunction with this question, we have noticed that you and many knowledgeable people closely affiliated with MHARR are increasingly using the two words "zoning" and "placement" together when referring to zoning matters. So, will you explain the reason(s) as to why you and others are increasingly doing this?
ANSWER
I will answer the last part of your question first. Because, in my opinion, these two words i.e., zoning and placement – which represent two different functions, processes and procedures – are actually very closely related when it comes to their use in conjunction with manufactured housing developments and communities. Then, my answer to the first part of your question will use the interaction of these two concepts, and their respective functions, processes, and procedures, in order to fully explain the genesis, evolution, and history of the "enhanced preemption" language of the 2000 Reform Law.
To start. The process of "placement" which, in essence, means delivering a manufactured home (MH) to a home-ready site on a piece of land and completing the necessary work to make the home livable, whether it be on a privately-owned land for one home, or a piece of land for one home in a manufactured housing community, is a derivative or function of the zoning law for that specific site. MHs cannot be placed on any given site (i.e., on any piece of land) unless and until a specific zoning law for that site would allow it.
In the United States, zoning laws are written, approved, and enforced by local government authorities, who control and collect taxes on the land that the specific zoning law is intended for. So, while the actual placement of an MH is a technical/engineering/construction process, it cannot occur unless and until the zoning law, which is a governmental process, allows it.
Now, let's focus on the beginning of our industry 80-90 years ago, when it emerged as a basic "trailer house" industry, and both state and local authorities had to start understanding and dealing with it. Given the size, design, and appearance of the early "trailers," there were limited choices for these authorities as to where such vehicles should be parked, or "had" to be parked, when not moving. This is important to understand because the authorities' initial decisions did not automatically and/or routinely start with discriminatory and exclusionary laws and regulations against the trailers of yesteryear.
To the contrary, their decisions were accommodating, thus allowing homeowners who also owned trailers (nearly all affluent people, who would purchase trailers for travel and pleasure), park their units on their own property when not moving. Furthermore, for convenience, they also allowed the development and construction of basic "trailer" parks, where park owners could collect rent for each site from people who were traveling and needed a temporary location to park their trailer, or from homeowners who also owned trailers, but did not wish to park them at their own homes. Needless to say, and for obvious reasons, such "trailer parks" had to be built on the outer perimeters of cities and towns, and their design, engineering, and construction were quite basic and simple (e.g., mostly rib-design with streets intersecting at 90-degree angles and trailer sites very close to each other on each side of the street).
As the popularity of trailers continued to increase, and purchases soared, it did not take long before local government authorities in charge of zoning laws began to realize they had to act consistently with public demand and the necessities of the situation. I personally doubt that early decisions by those authorities had anything to do with or were based on any discrimination against the then trailer industry because, as I indicated earlier, most of the trailers of early years were purchased by financially well-to-do people and the authorities were simply addressing "placement" issues to accommodate those owners.
With constant improvements in the design of "trailers," resulting in more convenience, such as more spacious interiors, modern facilities, better construction and appearance, the industry continued to respond to increased consumer demand for trailers that could accommodate longer stays. Manufacturers thus began building larger trailers that would gradually evolve into permanent living dwellings. This required construction of more and more parks that could accommodate these larger "trailers."
Then, with the country's post-World War II economy booming, and with a shortage of housing for growing families, a gradual evolution of these trailers to what was then referred to as "Mobile Homes" began.
The production of mobile homes increased rapidly to 100-120,000+ homes annually in late 1950s. And when growing public demand for new mobile homes pushed production to 150,000+ homes annually in 1963 and gradually to around 216,000+ homes annually in 1965, the industry realized that it had a "placement" problem that it had to address and resolve.
The problem was that the then-new and fully equipped modern mobile homes, upon leaving the factory, needed new and more modern parks (they were still called "parks" then) designed to accommodate their placement as permanent dwellings, instead of the vehicle-like "trailers" that preceded them. The perception of both the public and public authorities, however, was that the site to place the then-new "mobile homes" was still the old "trailer" parks, and they both resented pressure to change. Thus, the birth of discriminatory zoning laws, which — in my view and in the view of many with the knowledge of the history of our industry — were based on where these parks were going to be placed and not against how the new mobile homes were built (i.e., the code and standard by which mobile homes were built).
In short, while there was a gradual evolution in building the actual units — from trailers to the then new mobile homes — there never existed an actual and corresponding evolution for the "placement" of those mobile homes until the mid-late 1960s, when the industry realized it had a HUGE zoning and placement problem, which needed to be confronted head-on and resolved decisively if the industry were to survive…and the industry did just that, and here is how it did it.
The manufactured housing industry was then represented by one national association, called the Mobile Home Manufacturers Association (MHMA). It was a real and functional national association in every sense, representing ALL sectors of the industry including manufacturers, suppliers, service, finance, land-development, RVs, retailers, parks, and communities. And unlike the "wannabe" association of today, its mission was to serve ALL its members and fight aggressively to advance what was best for the whole industry and its consumers. And while it is true that the association was usually led by the largest manufacturer(s), those leaders would devise management policies for the association that would specifically benefit smaller industry businesses. Their guiding leadership philosophy was to "live and let live" aimed at particularly helping the industry's smaller businesses. As an aside, the then MHMA's successful association management and philosophy was the template that the founders of MHARR used in creating that association in 1985 to address and advance the views and interests of the industry's production sector.
So, it was in mid-1960s that the industry had to seriously deal with its first huge zoning and placement problem. It did not take too long for the industry to realize that the root of the problem was that given the negative perception and stigma of "trailer parks" in existence then, not only were state and local authorities against the construction of new and modern developments and communities, but many professionals including architects, engineers and site planners were giving a cold shoulder to the industry's needs. As a result, MHMA's Board of Directors decided to fight back, by devising, establishing, and implementing a creative new and truly revolutionary program to deal with these emerging zoning and placement problems. And that, incidentally, is when MHMA hired me as the Project Engineer to advance that program. As a young man, I agreed and accepted that position because I thought the program itself would be extremely challenging, worthwhile, and exciting.
It was an ambitious effort, designed to first address and resolve the "placement" problem. The program created MHMA's own professional team comprised of in-house engineers, architects, economists, lawyers, public relations specialists, and a separate group of architects/planners on retainer with the association. The team was assigned responsibility for providing land owners who would build new and modern mobile home developments and communities, with complete, professional and ready-to-use construction packets containing a site-plan, a feasibility and market study, a set of design and engineering drawings with the corresponding specifications for contractors' bidding purposes, and a point by point response to address arguments against new mobile home developments and communities at zoning and placement hearings throughout the United States. All a landowner interested in building a new development had to do was to provide us with an accurate and up to date topography map of the land, hire a local registered civil engineer to stamp and seal the packet and supervise the construction of the development, and pay the association at-cost-only for the work.
The program took off like a rocket. We could not keep up with the demand, as new and modern mobile home development and community projects designed and engineered by MHMA began to be built throughout the country. And the industry's production of mobile homes began to soar, reaching 300-400,000+ homes annually between late 1960s to mid-1970s. We designed and engineered well over 200,000 mobile home sites during that period. It was not long, though, before the program's undeniable and overwhelming success became alarming to the same two groups that I described earlier.
First, professional architects, engineers and planners who were not interested in mobile home developments, but were witnesses to the success of MHMA, began to take a fresh look at such projects as a new and lucrative business. Thus, when their respective national organizations began objecting to and threatening MHMA with legal challenges to stop the program because, in their view, the association was competing with them under the umbrella of a non-profit organization, MHMA's Board of Directors welcomed their interest, declared victory and fully complied with their request by dismantling the program and turning the business over to independent professionals.
That was a wise decision, because all the industry wanted was to get those professionals interested and engaged in treating the design and engineering of our new and modern mobile home developments for the "placement" of new, modern mobile homes, the same as they did with site-built developments. It was a mission well accomplished and a victory for the industry in resolving the "placement" part of its problem. It was a victory that fundamentally changed the negative image of the old "trailer" parks to new developments and communities for the then-new mobile homes, and paved the way for today's new, modern, landscaped, well-designed and engineered communities with curvilinear streets, clubhouses, common grounds for social gatherings, social programs, often larger-size sites, individual and common area swimming pools, etc. — developments and well-managed communities for the placement of today's new and modern manufactured homes. It was – and is — a victory that the representation of the Post Production Sector (PPS) of our industry today has completely failed to utilize against discriminatory zoning laws based on "placement." There is no longer any denying that TODAY's MODERN MANUFACTURED HOUSING DEVELOPMENTS AND COMMUNITIES ARE JUST AS GOOD, IF NOT BETTER, THAN MANY SITE-BUILT HOME DEVELOPMENTS, yet the PPS' so-called "national" representation continues to fail on their issues/problems such as consumer finance and zoning.
Second, though – and much more important and difficult — is the fact that state and local authorities who did not favor new mobile home developments, were then joined by the ever-present-anti-industry "usual suspects" such as home builders, apartment builders, realtors, building trade unions and contractors, code and standards officials and others, who always find a way to hurt our industry, even today under the guise of "partnering" with the industry's newcomers and naive "officials."  They began to penetrate local zoning boards, and having witnessed the industry's continuing success with placement, moved the proverbial goal posts, changing the subject to a battle over codes and standards. They argued that mobile homes were built to a "different" code and standards, which, in their view, was "inferior" to the building code used for site-built homes, thus beginning the flurry of discriminatory and exclusionary zoning laws against our industry, mostly based on how the then- "mobile homes" were built.
As is well known, until 1976, mobile homes were built in compliance with the ANSI A119.1 standard for plumbing and structure, and the NFPA 501B standard for electrical issues – which were enforced through a self-policing system managed by MHMA. The association's Standard Division had a group of inspectors on its payroll that would go to members-only factories and production facilities, inspect the production process for full compliance with the industry's two codes, and issue an MHMA seal that had to be placed on each home before it left the factory. While the system was rigorously enforced and worked well, with manufacturers fully complying with the two codes, the negative perception of a self-policing system persisted. As such it was successfully exploited by industry foes, basically questioning the quality and protection that the industry was offering to homebuyers.
The resulting negative publicity began to consume the industry, and when government officials and consumer groups aggressively intensified their demands for better quality-built homes and more consumer protection, climaxing with the infamous CBS "60 Minutes" hit job on the industry, MHMA recognized that, once again, the industry had a major fight on its hands that had to be addressed and fully resolved. It didn't take very long, though, for the visionary manufacturers of MHMA to devise and implement an ingenious plan of action to once again win the fight.
They determined that in order to: (1) work much closer with the state and local authorities; (2) establish a strong code; and (3) establish a strong corresponding enforcement system to meet and exceed the expected quality and consumer protection that were being demanded, the industry had to be federally regulated. Thus, MHMA began the legislative process that led to the successful enactment of the Mobile Home Construction and Safety Standards Act of 1974. The centerpiece of the 1974 law was the establishment of what I usually refer to as "the three pillars of strength" of today's manufactured homes i.e., federal preemption, a uniform federal code, and a system of uniform federal enforcement. Furthermore, the 1974 law (as amended in 2000) takes into account the uniqueness and exceptionalism of MHs, which result in their unparalleled affordability and the savings that they offer to homebuyers, which no other type of factory-built housing (FBHs) can match.
It is important for industry members to understand these very unique and unmatched characteristics of our homes that fully and completely distinguish today's MHs from any and all other types of Factory Built Homes (FBHs). I warn the industry of this because, in my opinion, there are people within our industry and some government authorities who gradually are trying to join these two different types of homes (i.e., federally regulated MHs and locally regulated FBHs) at the proverbial hip. Just as it was, and continues to be, with the continuing failure to fully and properly implement the Duty to Serve Law (DTS) for consumer finance, this new scheme is a sad commentary, an absurd idea, and a disingenuous attempt to create a hybrid class of MHs at the expense of — and detriment to — mainstream MHs. And no matter how hard they try to blur the existing bright line of demarcation between MHs and FBHs, the industry as a whole MUST try to understand its negative ramifications and MUST reject it.
Another important aspect of the 1974 law was the establishment of federal preemption based on a full partnership between federal and state governments. It created, for the first time, a federal means by which the industry and consumers would have a fair chance to fight discriminatory and exclusionary zoning laws based on the way that MHs are built, as the industry had already won the battle over "placement."
The original preemption language of the 1974 law reads, in part:
SUPREMACY OF FEDERAL STANDARDS
WHENEVER A FEDERAL MOBILE HOME CONSTRUCTION AND SAFETY STANDARD ESTABLISHED UNDER THIS CHAPTER IS IN EFFECT, NO STATE OR POLITICAL SUBDIVISION OF A STATE SHALL HAVE ANY AUTHORITY EITHER TO ESTABLISH, OR TO CONTINUE IN EFFECT, WITH RESPECT TO ANY MOBILE HOME COVERED, ANY STANDARD REGARDING THE CONSTRUCTION OR SAFETY APPLICABLE TO THE SAME ASPECT OF PERFORMANCE OF SUCH MOBILE HOME WHICH IS NOT IDENTICAL TO THE FEDERAL MOBILE HOME CONSTRUCTION AND SAFETY STANDARD.
While this preemption language was supposed to help the industry and consumers with discriminatory zoning laws, it, and many other sections of the 1974 law, were either totally or selectively ignored by the US Department of Housing and Urban Development (HUD), which has jurisdiction over MHs. In fairness to HUD, though, it did complain that the preemption language of the 1974 law did not go far enough to warrant HUD's involvement with its implementation. Subsequently, in 1985, a group of manufacturers walked away from MHI (formerly MHMA) and created MHARR because of MHI's continuing failure to aggressively press for the full and proper implementation of ALL aspects of the 1974 federal law (including the preemption language), which by then had been in effect for nine years (1976-1985), with absolutely terrible results — and dealing with that law became a top priority for the new association.
As the President and CEO of MHARR, my marching orders were quite clear. I was told by those visionary manufacturers to try and work with HUD in order to fully and properly implement the 1974 law, make notes of any and all deficiencies we could detect in the law (e.g., the preemption language) for improvement, try federal courts if we could not work with HUD, and, if all else failed, try to amend, revise and reform the 1974 law for the better, going forward. It was a tall order, but we hit the ground running, and succeeded in advancing the industry and consumers' cause in many areas. We finally determined, though, that the 1974 federal law was basically for the "mobile" homes of yesteryear and needed major revisions and reforms for new, modern manufactured homes. MHARR thus took the lead in a joint effort with several key state associations in 1990 (while it took MHI and the rest of the states eight-wasted years to reach the same conclusion and join MHARR's coalition in 1998) to fully and comprehensively change the 1974 law to what is now known as the Manufactured Housing Improvement Act of 2000, signed by President Bill Clinton into law on Wednesday December 27, 2000. This landmark legislation liberated our industry and forever changed our manufactured "product" from "trailers" and "mobile" homes to today's modern, affordable, and legitimate manufactured homes.
Getting back to federal preemption, a major improvement of the 2000 reform law, among numerous other improvements to the 1974 law, is the preemption language of the 2000 reform law, that is commonly referred to as "enhanced preemption."
That language now reads in part:
SUPREMACY OF FEDERAL STANDARDS
WHENEVER A FEDERAL MANUFACTURED HOME CONSTRUCTION AND SAFETY STANDARDS ESTABLISHED UNDER THIS CHAPTER IS IN EFFECT, NO STATE OR POLITICAL SUBDIVISION OF A STATE SHALL HAVE ANY AUTHORITY EITHER TO ESTABLISH, OR TO CONTINUE IN EFFECT, WITH RESPECT TO ANY MANUFACTURED HOME COVERED, ANY STANDARD REGARDING CONSTRUCTION OR SAFETY APPLICABLE TO THE SAME ASPECT OF PERFORMANCE OF SUCH MANUFACTURED HOME WHICH IS NOT IDENTICAL TO THE FEDERAL MANUFACTURED HOME CONSTRUCTION AND SAFETY STANDARD. FEDERAL PREEMPTION UNDER THIS SUBSECTION SHALL BE BROADLY AND LIBERALLY CONSTRUED TO ENSURE THAT DISPARATE STATE OR LOCAL REQUIREMENTS OR STANDARDS DO NOT AFFECT THE UNIFORMITY AND COMPREHENSIVENESS OF THE STANDARDS PROMULGATED UNDER THIS SECTION NOR THE FEDERAL SUPERINTENDENCE O THE MANUFACTURED HOUSING INDUSTRY AS ESTABLISHED BY THIS CHAPTER. SUBJECT TO SECTION 5404 OF THIS TITLE, THERE IS RESERVED TO EACH STATE THE RIGHT TO ESTABLISH STANDARDS FOR THE STABILIZING AND SUPPORT SYSTEMS MANUFACTURED HOME SITED WITHIN THE STATE, AND FOR THE FOUNDATIONS ON WHICH MANUFACTURED HOME SITED WITHIN THAT STATE ARE INSTALLED, AND THE RIGHT TO ENFORCE COMPLIANCE WITH SUCH STANDARD, EXCEPT THAT SUCH STANDARDS SHALL BE CONSISTENT WITH THE PURPOSES OF THIS CHAPTER AND SHALL BE CONSISTENT WITH THE DESIGN OF THE MANUFACTURER.
So, there is the answer to your question about the genesis, evolution, and history of the "enhanced preemption" language of the Manufactured Housing Improvement Act of 2000 — the industry's best and strongest weapon to fight against discriminatory and exclusionary zoning laws. As to how this can be done, that is another question for another time, which I will be happy to answer and thoroughly explain.
In the meantime, the nagging question for the industry's national Post Production Sector representation, which collects hefty dues from such members continues to be: "Can it or does it even know how to use this best and strongest weapon (i.e., the enhanced preemption) to fight against discriminatory and exclusionary zoning laws, and win this issue once and for all? And if the answer is yes, then why the continuing failure to do so?
###
Note to readers: the red text above was in the original from Ghorbani,
who provided his answers in writing. Clearly, Danny's goal was to emphasize those parts of the law.
This is important on several legal and
pragmatic levels. It also may point to some of the reason why another insider message tipped
MHProNews that in 2021, "all hell" will "break loose" on this issue. Because if MHI and their corporate masters
are failing to use these legal tools, what does that reflect?
Additional Information, MHProNews Analysis and Commentary
There are several levels that this Q&A should be viewed. One is on the historic level. Does it provide accurate historic, evidence, and data driven information?  Another is legal. The third is strategic. More on these topics will be part of a planned MHProNews follow up on this penetrating Q&A with former MHI and MHARR executive Ghorbani.
To look at the historic and accuracy points, this graphic below is being added by MHProNews. It was not part of Ghorbani's reply. MHProNews sought to double check for our readers the value of the information Ghorbani provided. That noted, this graphic below from the American Planning Association (APA) precisely mirrors several parts of Ghorbani's statement. This is one of several indicators that Ghorbani's memory of these historic items is quite clear.
As an aside, while some in MHVille blogging or otherwise claim to be 'historians,' their often self-serving statements and at times demonstrably flawed claims undermine their dubious or errant contentions.
By contrast, without coordination, the illustration above and below from MHProNews  that provides a 'historic' and terminology illustration reflects favorably on Ghorbani's keen and insightful narrative. For researchers who may find this article, the illustration below – again, provided by MHProNews and not Ghorbani – serves to help visualize the historically accurate information he has provided.
Rephrased, Danny knows what he is talking about.
As this writer is a multiple-award winner in history during the years of my formal academic study, accuracy in such historic issues matter.  When we publish, our credibility is on the line too.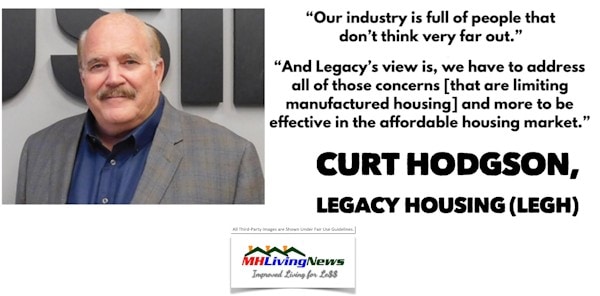 Investors, Take Note!
Another of the many takeaways from the above that merits being underscored is this of interest to investors and public officials. Ghorbani's insightful comments about the evolution of the law highlighted the fact that in decades gone by, the larger firms DID NOT try to manipulate the industry in the same manner as has arguably been occurring in the last 2+/- decades. That has consequences. When the industry was growing, larger mobile home and early HUD Code manufactured housing builders where okay with creating an environment that would spur industry growth.
Fast forward to today and compare and contrast the pro-growth mindset of the past with the arguably corrupt practices of recent years to the present.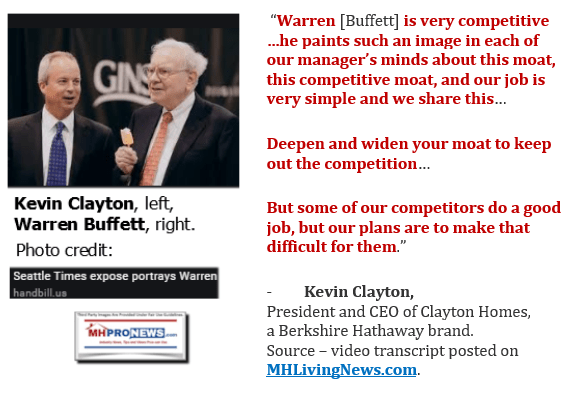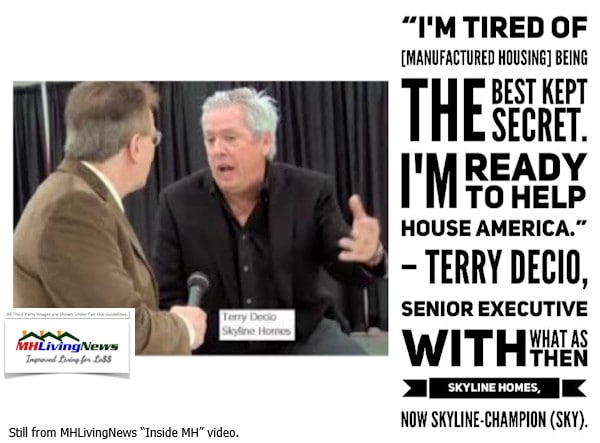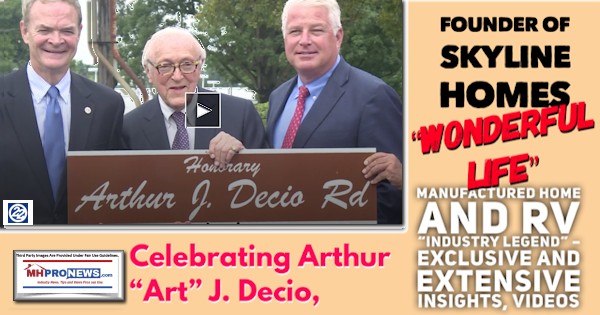 That is 'grow the pie' to 'grow the industry' 'win-win' mindset is largely lacking among the industry's post-production sector today. Nor is it that being hidden, as the Kevin Clayton quote above and others show below reflect. Third-party researchers, take note. Is it mere coincidence that it is larger MHI member-firms that are often the open voices promoting or supporting post-production association policies to result in no, negative, or slow growth?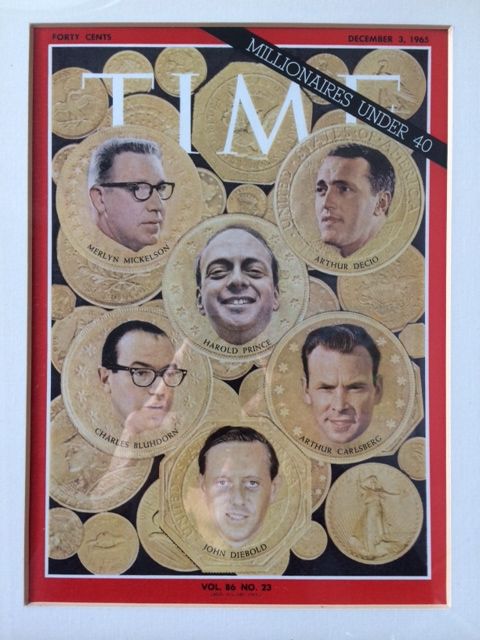 On the production – as well as the community side – as MHProNews has exclusively reported several times, publicly traded firms have plainly stated that their emphasis is on consolidation vs. fostering an environment of growth.  Some pull quotes will illustrate that point. All of these are from MHI members.
While MHARR's "style" of engagement and publishing and that of MHProNews are distinctive, and each of our operations are independent, our respective analysis are often quite similar on a practical level. That is important for public officials and other researchers. Who has said so? MHI leaders.
While it is an entirely different topic that Gulf-War veteran and Congressman Dan Crenshaw (TX-R) made the quotable quote below, the case can be made that it applies to what MHI and their corporate allies have been doing to trusting independents for year.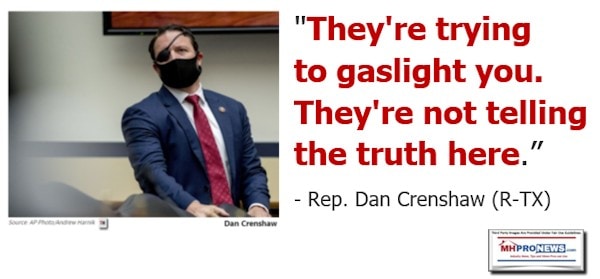 Danny Ghorbani's voice is highly relevant to this discussion. He is one of the few that have lived through this process and has seen what occurs in MHI, their leadership and affiliates, and at MHARR first hand.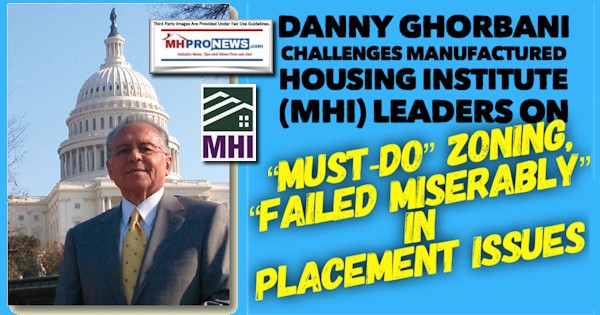 Once more for the convenience of new or longtime readers, prior interviews in this historic series are found above and below.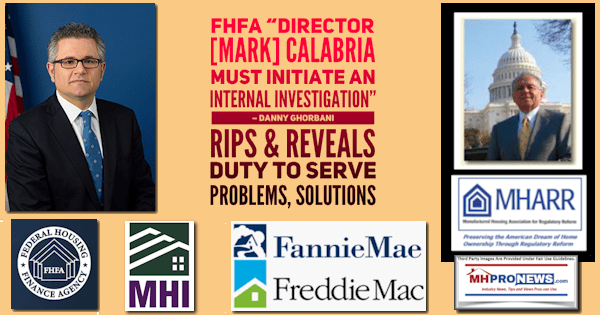 Learn more from the related reports linked above, as well as those below the byline, notices, and disclosures.  Notice: to sign up for our industry leading x2 weekly email headline news, use the tool linked below.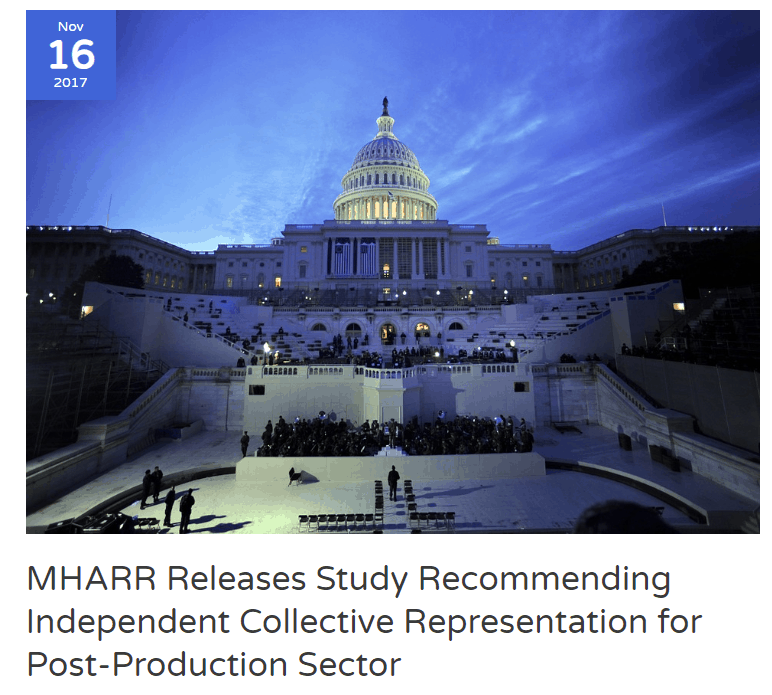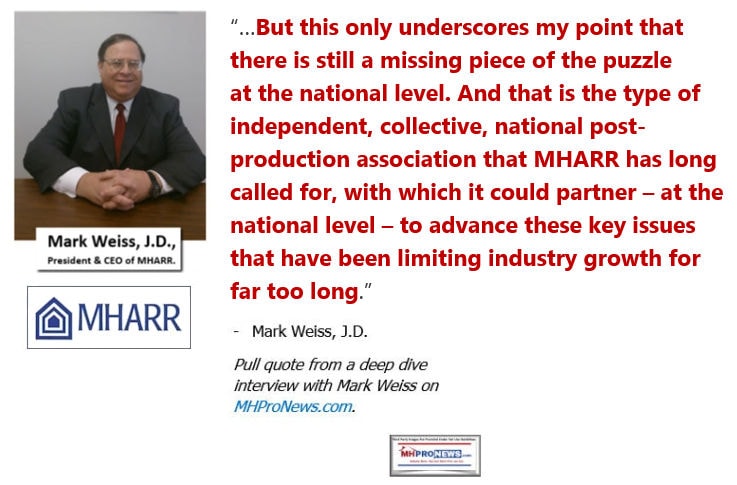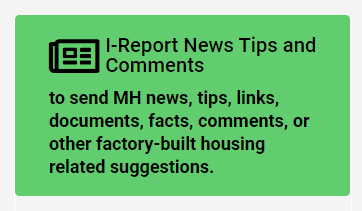 Stay tuned for more of what is 'behind the curtains' as well as what is obvious and in your face reports. It is all here, at the runaway largest and most-read source for authentic manufactured home "Industry News, Tips, and Views Pros Can Use" © where "We Provide, You Decide." © ## (Affordable housing, manufactured homes, reports, fact-checks, analysis, and commentary. Third-party images or content are provided under fair use guidelines for media.) (See Related Reports, further below. Text/image boxes often are hot-linked to other reports that can be access by clicking on them.)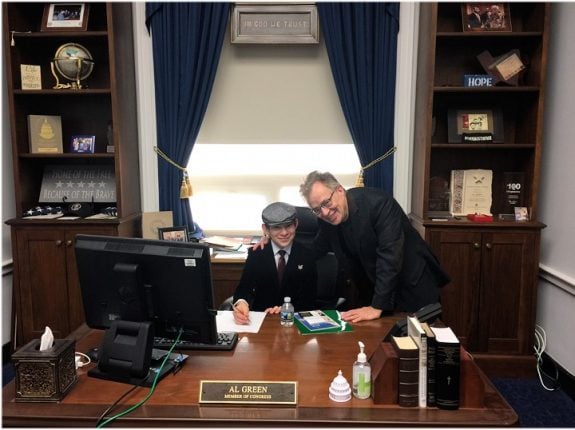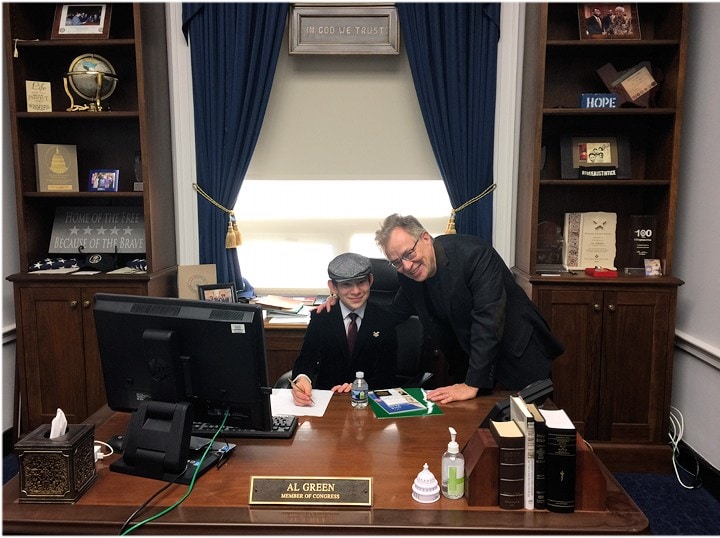 By L.A. "Tony" Kovach – for MHProNews.com.
Tony earned a journalism scholarship and earned numerous awards in history and in manufactured housing.
For example, he earned the prestigious Lottinville Award in history from the University of Oklahoma, where he studied history and business management. He's a managing member and co-founder of LifeStyle Factory Homes, LLC, the parent company to MHProNews, and MHLivingNews.com.
This article reflects the LLC's and/or the writer's position, and may or may not reflect the views of sponsors or supporters.
Connect on LinkedIn: http://www.linkedin.com/in/latonykovach
Related References:
The text/image boxes below are linked to other reports, which can be accessed by clicking on them.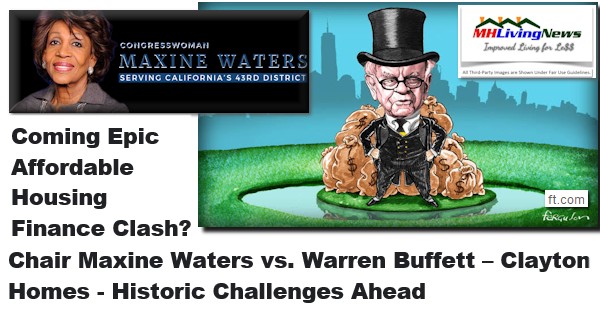 History, Financial Ties-Black Lives Matter, Antifa, Billionaires Warren Buffett, Bill Gates & George Soros–Economic, Political Upheaval Spotlighted by Mary Walter, Tony Kovach on Brian Kilmeade Show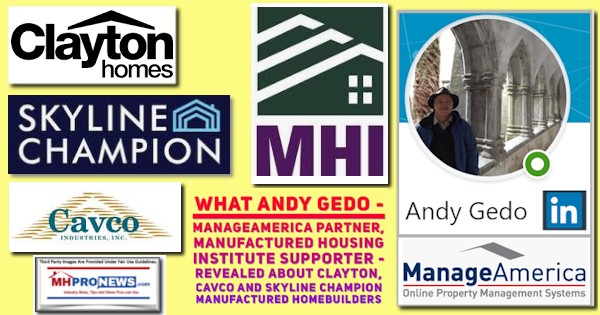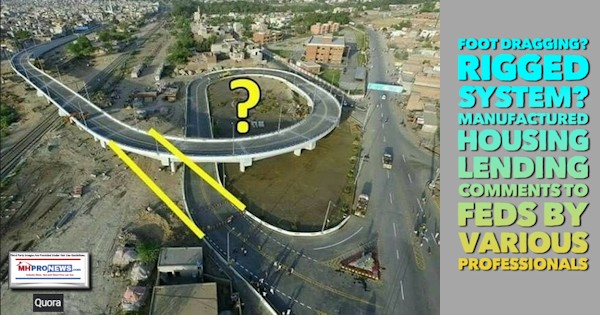 Complaints to State and Federal Officials, Agencies About Corrupt Practices in Manufactured Housing Industry Growing
Buffett/Berkshire Bust! Stunning Charges – Frank Rolfe, Dave Reynolds, Impact Communities Lawsuit Against Residents; MHAction Connection Evidence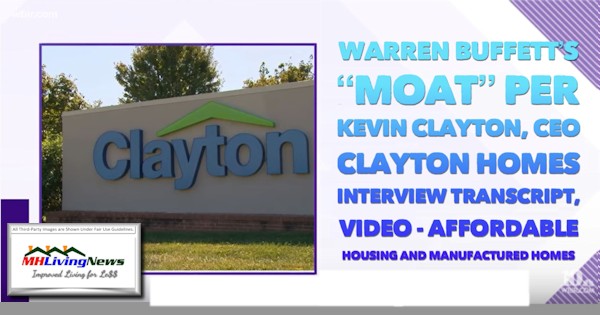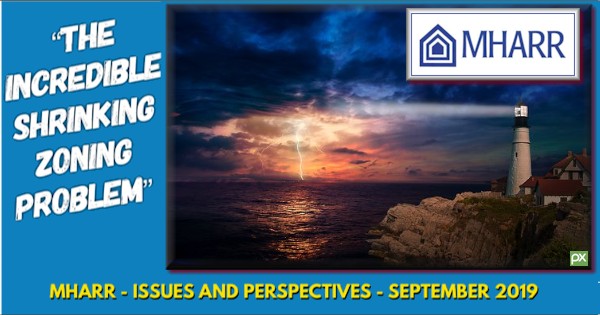 Kevin Clayton, CEO Clayton Homes, Explains Why Replacing Sales Professionals with Automation Makes Sense
Epic! Creating 200,000 New MH Homesites in 4 Years; Allegations of Corruption by Fannie, Freddie, Others in Duty to Serve Manufactured Housing Law
In Manufactured Housing's COVID19 War, MHARR Wins A Battle – Retailers, Installers & Transporters Alert