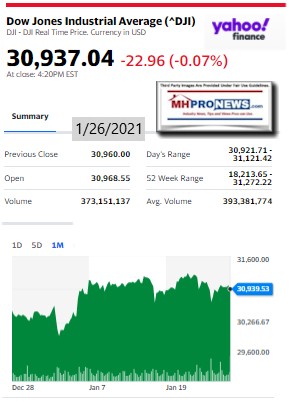 What follows is bigger news than many might think at first blush.
For those who pay close attention, there has been what could be seen as flip flops by 'moderate' Senator Joe Manchin (WV-D) on would he said would be his vote as a check on leftist Democrats who are pushing for changes such as eliminating the filibuster in the U.S. Senate. That noted, Senator Manchin has once more signaled that he will vote against eliminating the filibuster.
Manchin was joined in that signal by Sen. Kyrsten Sinema (AZ-D) of protecting the fillibuster. Senate Minority Leader Mitch McConnel (KY-R) made that announcement today.
Some bills could still pass by reconciliation, as Senator Bernie Sanders (VT-I self-described Democratic Socialist who caucus with Democrats) has said.
"Reconciliation bills can be passed on spending, revenue, and the federal debt limit, and the Senate can pass one bill per year affecting each subject." So said Wikipedia, which added that "…The reconciliation process was created by the Congressional Budget Act of 1974 and was first used in 1980."
If Manchin and Sinema hold to that fresh pledge, there are still plenty of things that can occur, either via reconciliation, through the bureaucracy, via legal challenges in friendly venues, and/or at the stroke of President Alleged Joe Biden's pen, via "executive orders." Left-of-center NBC News reported about 3 hours ago that there are not 40 Biden EOs in the first week.
To sum up, if Senators Manchin and Sinema hold the line, and are joined by Republican Senators, then there is reason for hope that some of the more radical Democratic legislative proposals could be stopped.
But there are already billions of dollars in damage from the Biden Regime EOs alone. As MHProNews previously reported, the EOs to day benefit billionaire Biden backers, encourage the hard left, and also provide advantages to China, Iran, and Venezuela, among others.
The expected rise in oil and energy prices along will harm the consumers and independents in our profession. MHProNews will continue monitor and report as warranted.
The next part of our headline topics will be in tonight's featured focus segment.
For the growing numbers of new readers, a few quick insights.
Every business evening, MHProNews provides a bullet list of left-right news headlines from CNN and In a matter moment, savvy professionals can see at a glance news headlines and views across the political spectrum. It is a time saving and insightful for those who are hooked on this market-nightly feature.
Our featured focus follows the quotable quotes, periodic political cartoons, those left-right headlines, and two of our three market summary graphics as reported at the closing bell.
After the featured focus, are some recent/related report links and the third manufactured housing focused stock equities graphic. There are some additional items that include the free signup for the manufactured housing industry's x2 weekly emailed news to the most-read trade publication in our profession:
That said, let's press ahead to those business-nightly features.
Quotes That Shed Light – Industry, American, Social, National Issues…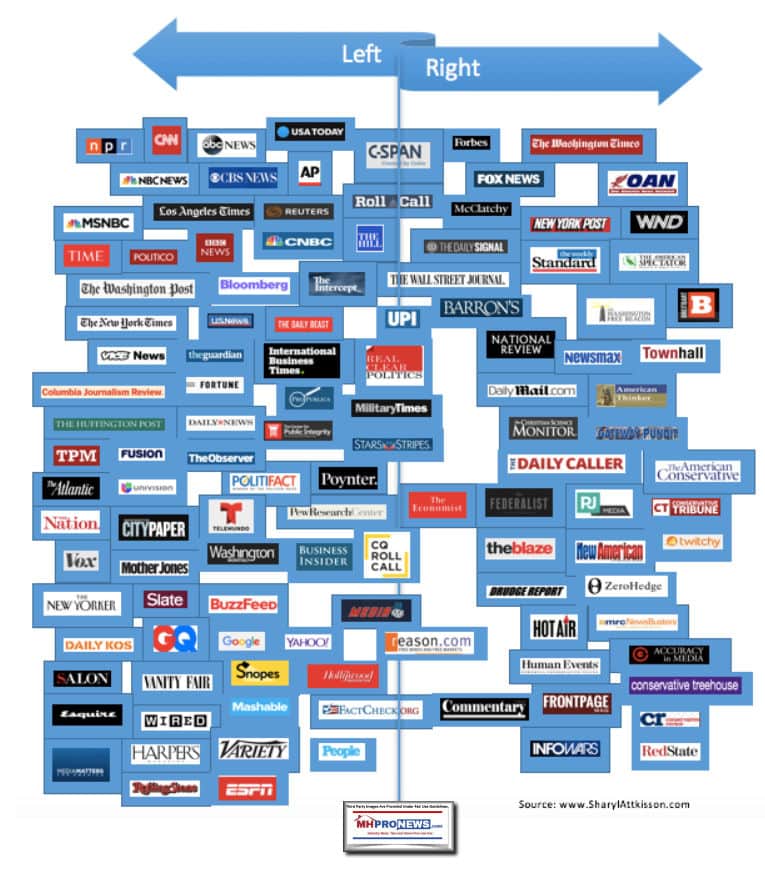 Headlines from left-of-center CNN Business
A CEO silenced
Goya Foods President Robert Unanue speaks at a press conference with Carlos Vecchio, the Venezuelan Ambassador who is recognized by the United States on December 21, 2020 in Doral, Florida. The two held the press conference to discuss details of a recent shipment of humanitarian aid to Venezuela, donated by Goya Foods.
Goya's board voted to muzzle chief exec Robert Unanue after he told Fox the election was rigged
East Coast hit with massive internet outage, disrupting remote work and virtual school
Evictions, unemployment and hunger: This is the American economy Joe Biden inherits
Elon Musk is about $155 billion richer since the spring. He's not alone
New coronavirus variants pose major risk to the global economy
The stock market is at peak dumb: Etsy soars when Elon Musk tweets
Microsoft beats revenue expectations as pandemic fuels sales
Tracking corporate America's revolt against the Electoral College objectors
Pepsi joins the plant-base snacks party with Beyond Meat
Martha Stewart launches line of CBD-infused dog treats
Two of TikTok's competitors are merging
MyPillow CEO Mike Lindell has been banned from Twitter
Target drops Chaokoh coconut milk over allegations of monkey labor
CBS suspends two top execs after LA Times report alleging racism and misogyny
The Washington Monument and U.S. Capitol are seen during sunrise on January 16, 2021 in Washington, DC. After last week's riots at the U.S. Capitol Building, the FBI has warned of additional threats in the nation's capital and in all 50 states. According to reports, as many as 25,000 National Guard soldiers will be guarding the city as preparations are made for the inauguration of Joe Biden as the 46th U.S. President.
Airbnb was ensnared in the Capitol Riot fallout. It somehow still came out on top
An employee arranges Microsoft Corp. Xbox One video games inside a GameStop retail store in Louisville, Kentucky, U.S., on Thursday, March 15, 2018.
The GameStop saga is captivating Wall Street — for good reason
BEIJING, Jan. 22, 2021 — General Secretary of the Communist Party of China CPC Central Committee Xi Jinping, also Chinese president and chairman of the Central Military Commission, addresses the fifth plenary session of the 19th CPC Central Commission for Discipline Inspection CCDI in Beijing, capital of China, Jan. 22, 2021.
Analysis: China is rehearsing for when it overtakes America
APPLE
Apple's 5G new iPhone 12 series are seen at an Apple Store in Tokyo, Japan.
Apple's iPhone 12 series go on sale in Japan, Tokyo, Japan – 23 Oct 2020
Warning: Keep your iPhone 6 inches away from your pacemaker
Take a 'walk' with Dolly Parton on your Apple Watch
Here's why Apple could pick Hyundai for its iCar
Tim Cook once gave Trump a $5,999 Mac Pro
The real cost of being the ultimate Apple fan: Nearly $80,000
PIZZA WARS
Pizza Hut's newest pizza doesn't look like its other pizzas
Pizza buffet chain Cici's files for bankruptcy
Papa John's brings stuffed crust to the pizza wars
Pizza Hut doubles down on the stuffed crust
Panera adds pizza to its menu to double down on dinner
Headlines from right-of-center Newsmax
Senate Vote Shows Trump Likely Headed for Acquittal at Trial
The Biden Presidency
Biden Administration to Boost Vaccine Supply Next Week
Judge Bars Biden From Enforcing 100-Day Deportation Ban
Schumer: Democrats Must Pass Virus Aid with or without GOP
Biden Orders End of Federally Run Private Prisons
Cramer: Biden Jobs Claims 'Ironic' While Stopping Keystone
Blackburn to Newsmax TV: Biden Bypassing Congress With Exec Orders
Biden, in First Call With Putin, Presses on Navalny, Treaty
Senate Confirms Biden Nominee Blinken as Secretary of State
Newsfront
McConnell: Dem Sen. Sinema Backs Keeping Filibuster
Kyrsten Sinema, D-Ariz., told Senate Minority Leader Mitch McConnell, R-Ky., she opposes eliminating the legislative filibuster, The Hill reported…
CDC Study Shows Low COVID Spread in Schools
A newly released study by the Centers for Disease Control and [Full Story]
Related
Lab Confirms 1st US COVID Case Associated With Brazil Variant
Pandemic Gets Increasingly Local as US Cases Keep Dropping
Schumer: Democrats Must Pass Virus Aid with or without GOP
Elizabeth Warren's War on Private Equity Could Cost 24 Million Jobs
Progressives won't back down from their efforts to raise taxes and
Fox Hires Former Trump Adviser Kudlow for New Business Show
Fox Corp. hired Larry Kudlow, the former director of the U.S.
GOP Rep. Zeldin Pushes States to Pass Voter ID Laws
Lee Zeldin, R-N.Y., wants all state legislatures to enact "voter
200 House Republicans Vow to Uphold Bans on Taxpayer Funding of Abortions
A group of 200 members of House Republicans signed onto a letter
Blackburn to Newsmax TV: Biden Bypassing Congress With Exec Orders
Marsha Blackburn, R-Tenn., on Tuesday blasted President Joe
Twitter Removes MyPillow CEO Mike Lindell's Account
Twitter has permanently suspended the account of MyPillow CEO Mike
Trump Endorses Sarah Huckabee Sanders
Former White House Press Secretary Sarah Huckabee Sanders is touting
Ex-WH Press Secretary McEnany Heads to Fox News
Former White House press secretary Kayleigh McEnany is going to work
Taking a Nap Can Make You Smarter
"You snooze, you lose" may not be true when it comes to your brain:
Google Stops Donations to Congress Members Who Voted Against Election Results
Alphabet Inc's Google said on Monday it will not make contributions
Gallup Poll: 88 Percent of Americans Dissatisfied With US
Only 11% of Americans say they are satisfied with the way things are
Ronny Jackson to Newsmax TV: Biden's Virus Plan is 'the Trump Plan'
President Joe Biden spent months in the campaign saying he had a
Manchin Says He Won't Support Axing Filibuster 'Under Any Condition'
Joe Manchin, D-W.Va., on Monday used his most direct words to
Finance
Home Prices Rise at Fastest Pace in Over 6 Years
S. home prices jumped in November at the fastest pace in more than six years, fueled by demand for more living space as Americans stick closer to home during the pandemic. Home prices soared 9.1% in November compared with 12 months ago, according to Tuesday's report on the…
Supersonic Passenger Planemaker Building HQ in Florida
Biden Commerce Nominee Vows to Protect US Networks from Huawei, ZTE
Moderna Says on Track to Deliver 100M COVID-19 Vaccine Doses by First Quarter
Restaurant Openings Picked Up Pace in Fourth Quarter 2020
Health
Blood Test to Predict Severity of COVID-19 in Development
Market Indicator Closing Summaries – Yahoo Finance Closing Tickers on MHProNews…
Featured Focus –
Where Business, Politics and Investing Can Meet
In his latest news/analysis, attorney turned award-winning journalist Greenwald spotlights and builds upon a prior theme of found in his previously spotlighting report and analysis linked below.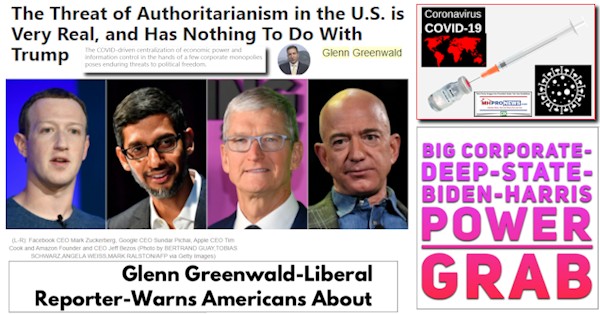 Note that among the topics that Greenwald examines is what the FBI and several mainstream, often left-of-center news reports said was coming on January 20, 2021. Namely, armed Trump supporters were supposed to be at 50 state capitols and in Washington, D.C. What happened to that? Why did that not materialize? Additional information, MHProNews analysis and commentary will follow.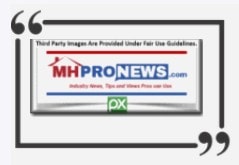 Reflecting the Authoritarian Climate, Washington Will Remain Militarized Until At Least March
The idea of troops in U.S. streets for an extended period of time — an extreme measure even when temporary — has now become close to a sacred consensus.
Glenn Greenwald, Jan 26, 2021
Washington, DC has been continuously militarized beginning the week leading up to Joe Biden's inauguration, when 20,000 National Guard troops were deployed onto the streets of the nation's capital. The original justification was that this show of massive force was necessary to secure the inauguration in light of the January 6 riot at the Capitol.
But with the inauguration over and done, those troops remain and are not going anywhere any time soon. Working with federal law enforcement agencies, the National Guard Bureau announced on Monday that between 5,000 and 7,000 troops will remain in Washington until at least mid-March.
The rationale for this extraordinary, sustained domestic military presence has shifted several times, typically from anonymous U.S. law enforcement officials. The original justification — the need to secure the inaugural festivities — is obviously no longer operative.
So the new claim became that the impeachment trial of former President Trump that will take place in the Senate in February necessitated military reinforcements. On Sunday, Politico quoted "four people familiar with the matter" to claim that "Trump's upcoming Senate impeachment trial poses a security concern that federal law enforcement officials told lawmakers last week requires as many as 5,000 National Guard troops to remain in Washington through mid-March."
The next day, AP, citing "a U.S. official," said the ongoing troop deployment was needed due to "ominous chatter about killing legislators or attacking them outside of the U.S. Capitol." But the anonymous official acknowledged that "the threats that law enforcement agents are tracking vary in specificity and credibility." Even National Guard troops complained that they "have so far been given no official justifications, threat reports or any explanation for the extended mission — nor have they seen any violence thus far."
It is hard to overstate what an extreme state of affairs it is to have a sustained military presence in American streets. Prior deployments have been rare, and usually were approved for a limited period and/or in order to quell a very specific, ongoing uprising — to ensure the peaceful segregation of public schools in the South, to respond to the unrest in Detroit and Chicago in the 1960s, or to quell the 1991 Los Angeles riots that erupted after the Rodney King trial.
Deploying National Guard or military troops for domestic law enforcement purposes is so dangerous that laws in place from the country's founding strictly limit its use. It is meant only as a last resort, when concrete, specific threats are so overwhelming that they cannot be quelled by regular law enforcement absent military reinforcements. Deploying active military troops is an even graver step than putting National Guard soldiers on the streets, but they both present dangers. As Trump's Defense Secretary said in response to calls from some over the summer to deploy troops in response to the Black Lives Matter and Antifa protests: "The option to use active duty forces in a law enforcement role should only be used as a matter of last resort, and only in the most urgent and dire of situations."
Are we even remotely at such an extreme state where ordinary law enforcement is insufficient? The January 6 riot at the Capitol would have been easily repelled with just a couple hundred more police officers. The U.S. is the most militarized country in the world, and has the most para-militarized police force on the planet. Earlier today, the Acting Chief of the Capitol Police acknowledged that they had advanced knowledge of what was planned but failed to take necessary steps to police it.
Future violent acts in the name of right-wing extremism, as well as other causes, is highly likely if not inevitable. But the idea that the country faces some sort of existential armed insurrection that only the military can suppress is laughable on its face.
Recall that ABC News, on January 11, citing "an internal FBI bulletin obtained by ABC News," claimed that "starting this week and running through at least Inauguration Day, armed protests are being planned at all 50 state capitols and at the U.S. Capitol." The news outlet added in highly dramatic and alarming tones:

The FBI has also received information in recent days on a group calling for "storming" state, local and federal government courthouses and administrative buildings in the event President Donald Trump is removed from office prior to Inauguration Day. The group is also planning to "storm" government offices in every state the day President-elect Joe Biden will be inaugurated, regardless of whether the states certified electoral votes for Biden or Trump.
None of that happened. There was virtually no unrest or violence during inauguration week — except for some anti-Biden protests held by leftist and anarchist protesters that resulted in a few smashed windows at the Oregon Democratic Party and some vandalism at a Starbucks in Seattle. "Trump supporters threatened state Capitols but failed to show on Inauguration Day," was the headline NBC News chose to try to justify this gap between media claims and reality.
This threat seems wildly overblown by the combination of media outlets looking for ratings, law enforcement agencies searching for power, and Democratic Party operatives eager to exploit the climate of fear for a new War on Terror.
But now is not a moment when there is much space for questioning anything, especially not measures ostensibly undertaken in the name of combatting white-supremacist right-wing extremism — just as no questioning of supposed security measures was tolerated in the wake of the 9/11 attack. And so the scenes of soldiers on the streets of the nation's capital, there in the thousands and for an indefinite period of time, is provoking little to no concern.
What makes this all the more remarkable is that a mere seven months ago, a major controversy erupted when The New York Times published an op-ed by Sen. Tom Cotton (R-AR) which, at its core, advocated the deployment of military troops to quell the social unrest, protests and riots that erupted over the summer after the killing in Minneapolis of George Floyd. To justify the deployment of National Guard and active duty military forces, Cotton emphasized how many people, including police officers, had been seriously maimed or even killed as part of that unrest:

Outnumbered police officers, encumbered by feckless politicians, bore the brunt of the violence. In New York State, rioters ran over officers with cars on at least three occasions. In Las Vegas, an officer is in "grave" condition after being shot in the head by a rioter. In St. Louis, four police officers were shot as they attempted to disperse a mob throwing bricks and dumping gasoline; in a separate incident, a 77-year-old retired police captain was shot to death as he tried to stop looters from ransacking a pawnshop. This is "somebody's granddaddy," a bystander screamed at the scene.
(Cotton's claim that police officers "bore the brunt of the violence" was questionable, given how many protesters were also killed or maimed, but it is true that numerous police officers were attacked, including fatally).
Cotton acknowledged that the central cause of the protests was a just one, noting they were provoked by "the wrongful death of George Floyd." He also strongly affirmed the right of people to peacefully protest in support of that cause, accusing those justifying the violence of "a revolting moral equivalence of rioters and looters to peaceful, law-abiding protesters," adding: "A majority who seek to protest peacefully shouldn't be confused with bands of miscreants."
But he insisted that, absent military reinforcements, innocent people, principally ones in poor communities, will suffer. "These rioters, if not subdued, not only will destroy the livelihoods of law-abiding citizens but will also take more innocent lives," Cotton wrote, adding: "Many poor communities that still bear scars from past upheavals will be set back still further."
The backlash to the publication of this op-ed was immediate, intense, and, at least in my memory, unprecedented. Very few people were interested in engaging the merits of Cotton's call for a deployment of troops in order to prove the argument was misguided.
Their view was not that Cotton's plea for soldiers in the streets was misguided, but that advocacy for it was so obscene, so extremist, so dangerous and repugnant, that the mere publication of the op-ed by The Paper of Record was an act of grave immorality.
"I'll probably get in trouble for this, but to not say something would be immoral. As a black woman, as a journalist, I am deeply ashamed that we ran this," pronounced the paper's Nikole Hannah-Jones in a now-deleted tweet. The New York Times Magazine writer Taffy Brodesser-Akner posted a multi-tweet denunciation that compared Cotton to an anti-Semite who "says, 'The Jew is a pig,'" argued that "hatred dressed up as opinion is not something I have to withstand," and concluded with this flourish: "I love working at the Times and most days of the week I'm very proud to be part of its mission. But tonight, I understand the people who treat me like I work at a tobacco company."
Former NYT editor and Huffington Post editor-in-chief Lydia Polgreen announced, also in a now-deleted tweet: "I spent some of the happiest and most productive years of my life working for the New York Times. So it is with love and sadness that I say: running this puts Black @nytimes staff – and many, many others – in danger." That publication of the Cotton op-ed "puts Black New York Times staff in danger" became a mantra recited by more journalists than one can list.
Two editors — including the paper's Editorial Page editor James Benett and a young assistant editor Adam Rubenstein — were forced out of their jobs, in the middle of a pandemic, for the crime not of endorsing Cotton's argument but merely airing it. Media reports attributed their departure to a "staff revolt." The paper itself appended a major editor's note: "We have concluded that the essay fell short of our standards and should not have been published." In addition to alleged flaws in the editorial process, the paper also said "the tone of the essay in places is needlessly harsh and falls short of the thoughtful approach that advances useful debate."
There is a meaningful difference between deploying National Guard troops and active duty soldiers on American streets. But both measures are extraordinary, create a climate of militarization, have a history of resulting in excessive force against citizens engaged in peaceful protest and constitutionally protected dissent, and present threats and dangers to civil liberties far beyond ordinary use of law enforcement.
Why was the idea of troops in American streets so grotesque and offensive in June, 2020 but so normalized now? Why were these troops likely to indiscriminately arrest and murder black reporters and other journalists over the summer but are now trusted to protect them? And what does it say about the current climate, and the serious dangers it poses, that the public is being trained so easily to acquiesce to extreme measures in the name of domestic security?
We are witnessing the media and their public treat what ought to be regarded with great suspicion as not only normal but desirable, all through the manipulation of fears and inflation of threats. That does not bode well for those who seek to impede the imminent attempt to begin a new domestic War on Terror. "
##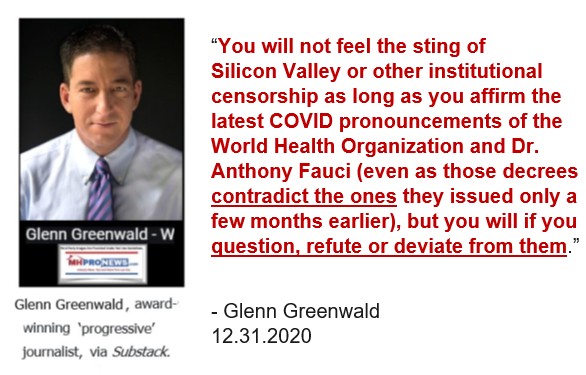 Additional Information, MHProNews Analysis and Commentary in Brief
There are other estimates on the number of Guardsmen, moral routinely in the 25,000+ range, than the figure of 20,000 used by Greenwald above. But whichever figure is accurate, that in no way changes the cogency of this news analysis.
It should also be noted that what Greenwald, an award-winning professional journalist is doing is similar to what MHProNews has done for years. Namely, one report builds on another. While Greenwald is from the political left, he is clearly not blindly so. He has called out big tech and the rising authoritarian regime that is forming.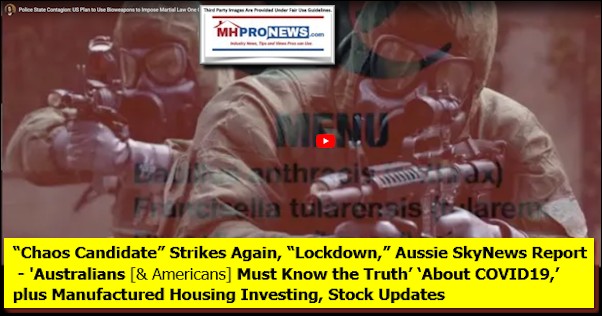 See the related reports above and below to learn more.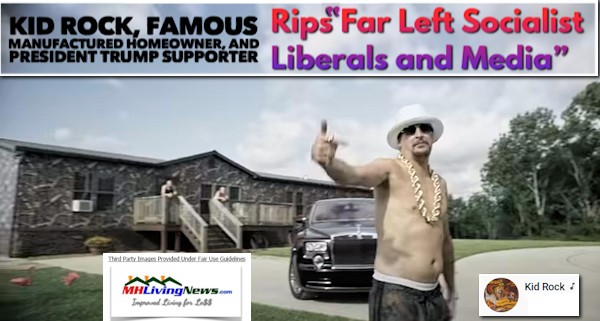 Related, Recent, and Read Hot Reports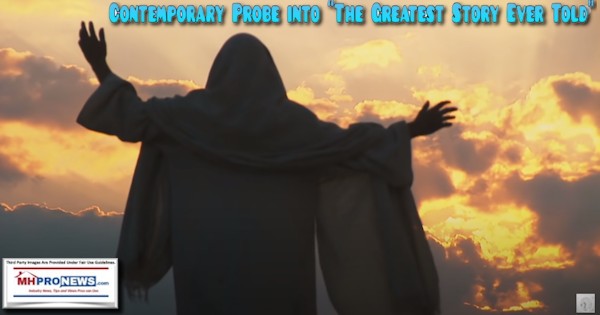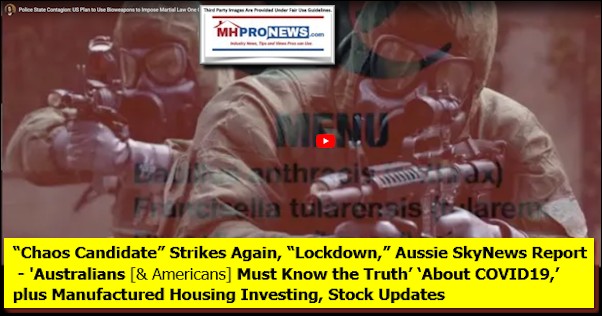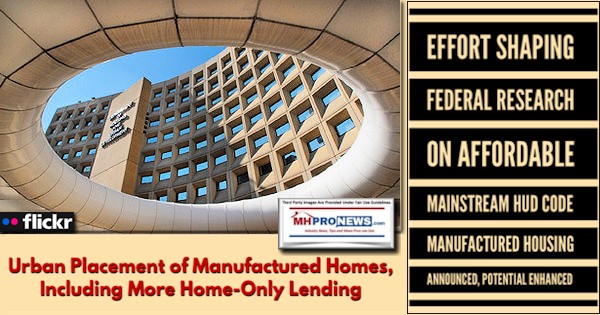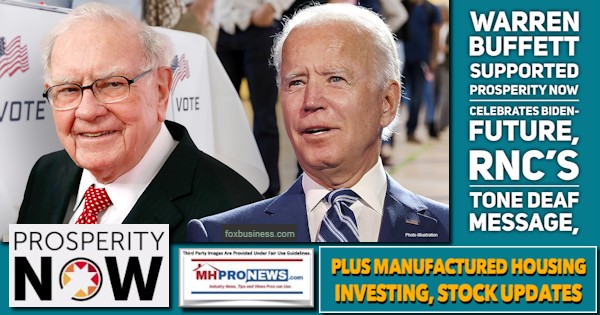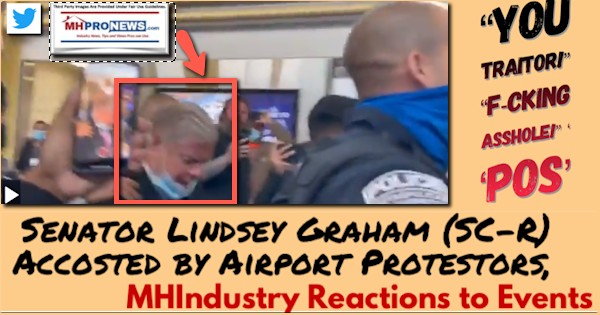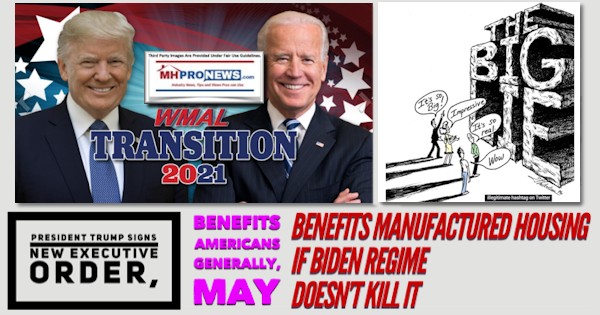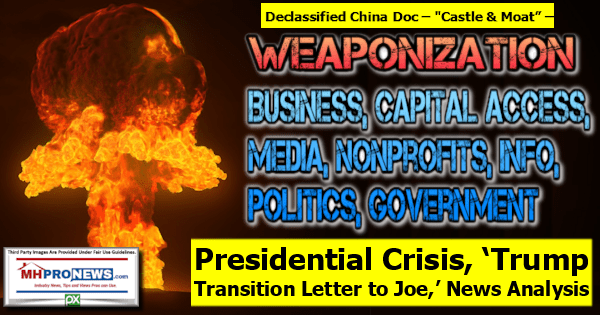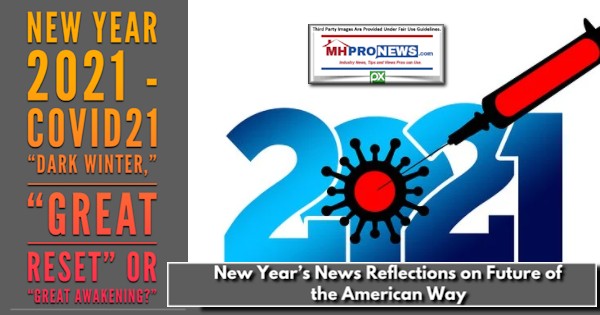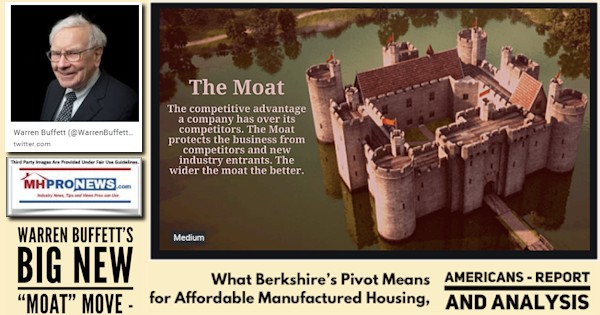 Manufactured Housing Industry Investments Connected Closing Equities Tickers
Some of these firms invest in manufactured housing, or are otherwise connected, but may do other forms of investing or business activities too.
NOTE: The chart below includes the Canadian stock, ECN, which purchased Triad Financial Services, a manufactured home industry lender
NOTE: Drew changed its name and trading symbol at the end of 2016 to Lippert (LCII).
NOTE: Deer Valley was largely taken private, say company insiders in a message to MHProNews on 12.15.2020, but there are still some outstanding shares of  the stock from the days when it was a publicly traded firm.  Thus, there is still periodic activity on DVLY.
Winter 2021…
Berkshire Hathaway is the parent company to Clayton Homes, 21st Mortgage, Vanderbilt Mortgage and other factory built housing industry suppliers.
· LCI Industries, Patrick, UFPI, and LP each are suppliers to the manufactured housing industry, among others.
· AMG, CG, and TAVFX have investments in manufactured housing related businesses. For insights from third-parties and clients about our publisher, click here.
Enjoy these 'blast from the past' comments.
MHProNews. MHProNews – previously a.k.a. MHMSM.com – has celebrated our 11th year of publishing, and is starting our 12the year of serving the industry as the runaway most-read trade media.
Sample Kudos over the years…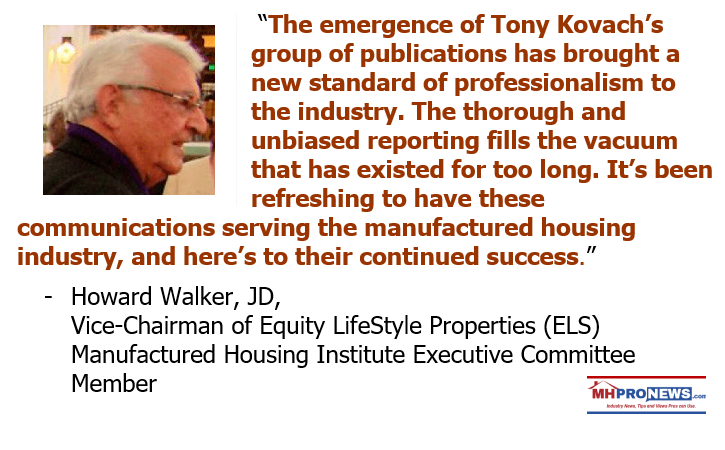 Learn more about our evolutionary journey as the industry's leading trade media, at the report linked below.
· For expert manufactured housing business development or other professional services, click here.
· To sign up in seconds for our industry leading emailed headline news updates, click here.

Disclosure. MHProNews holds no positions in the stocks in this report.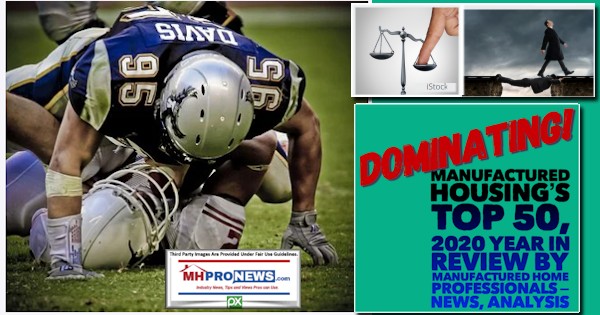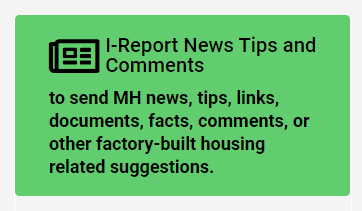 That's a wrap on this installment of "News Through the Lens of Manufactured Homes and Factory-Built Housing" © where "We Provide, You Decide." © (Affordable housing, manufactured homes, stock, investing, data, metrics, reports, fact-checks, analysis, and commentary. Third-party images or content are provided under fair use guidelines for media.) (See Related Reports, further below. Text/image boxes often are hot-linked to other reports that can be access by clicking on them.)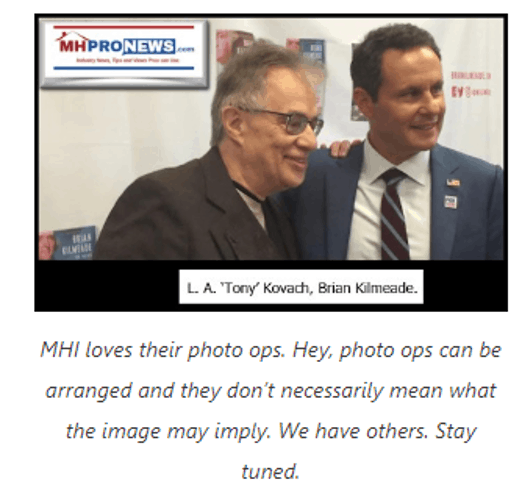 By L.A. "Tony" Kovach – for MHLivingNews.com.
Tony earned a journalism scholarship and earned numerous awards in history and in manufactured housing. For example, he earned the prestigious Lottinville Award in history from the University of Oklahoma, where he studied history and business management. He's a managing member and co-founder of LifeStyle Factory Homes, LLC, the parent company to MHProNews, and MHLivingNews.com. This article reflects the LLC's and/or the writer's position, and may or may not reflect the views of sponsors or supporters.