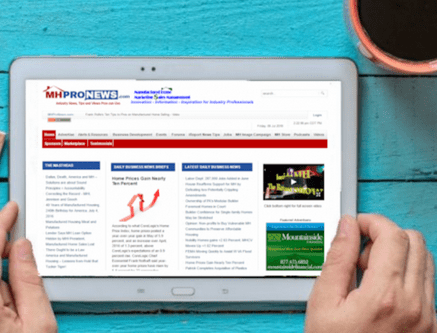 This past week wraps up our theme of Superior September 2016 coverage of the news that matters for manufactured housing industry professionals, and all those who follow or are engaged in the factory-built home industry.
The articles below will include special reports from respected writers Joe Dyton and RC Williams. Let's dive in to our headline news recap.
What's New On MHLivingNews 
Pride and Prejudice: The Truth About Manufactured Home Communities and Crime
Taking on the Trash Talk! Are People Defined by their Housing Choice? Video, Photos
What's New On MHProNews 
Saturday, October 1st 
NorthStar Realty Finance's target price and investor moves
7th Anniversary Issue of MHProNews Schedule Announced
Friday, September 30th 
Strong Finish For The Markets – Sky Corp. Has Big Day – Wells Fargo Illegally Seized Soldier's Car China Cutting Off Cash To Venezuela – Does Deutsche Bank Need A Bailout? 
County Zoning Administrator Aaron Lacher Opting Out "Granny Pod" Law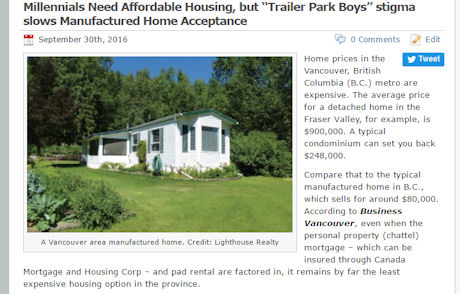 Millennials Need Affordable Housing, but "Trailer Park Boys" stigma slows Manufactured Home Acceptance
Boulder City Planning Commission Approves Rezoning Of Mobile Home Park
Clinton, Trump Try New Lines of Attack – Daily Tracking Poll, Political Cartoons
Thursday, September 29th
Wells Fargo Chairman/CEO Grilled, Buffett speaking out, All Markets Down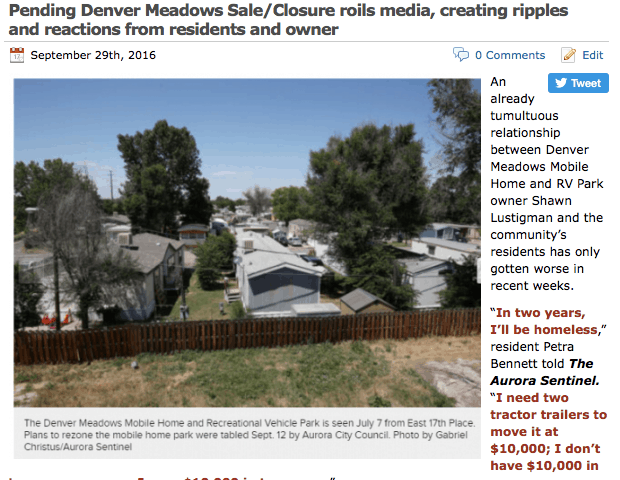 Pending Denver Meadows Sale/Closure roils media, creating ripples and reactions from residents and owner
Manufactured Home Community grabs positive media via New Clubhouse Construction
Equity LifeStyle Properties Investor Management Fund, Dividend Updates
Community Owners, Residents Clash over Measure V 
Trump's New Theme vs Clinton – Follow the Money, Crowd Shouts Back: 'Lock her up!'
Wednesday September 28th   
Markets Rise Again – OPEC Agrees To Production Cuts, Oil Prices Surge – Senate Overrides Obama Veto – CA Punishes Wells Fargo with Sweeping Sanctions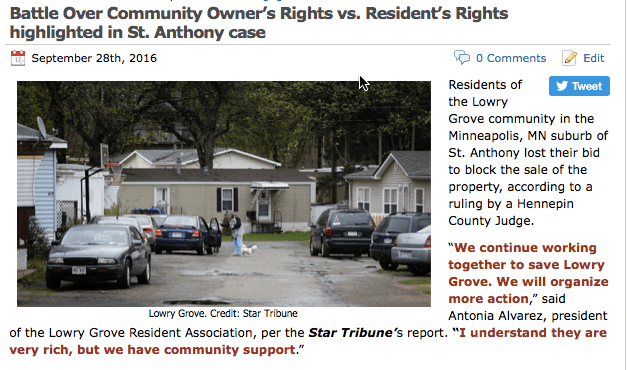 Battle Over Community Owner's Rights vs. Resident's Rights highlighted in St. Anthony case
"Trailer Trash" (sic) Talk – Manufactured homeowners and professionals ask – What's in a name?
Mixed Post 'Great Debate' Polling Results, but most Pundits Tilt Round 1 Towards Hillary
Patrick Industries, Drew Industries Announce Executive Moves
Tuesday September 27th
Market Rebounds, Manufactured Home Index Down, But Drew and Patrick Up On Executive Moves
Emerging Mainstream News Trend? Are Positive Manufactured Home Reports Increasing?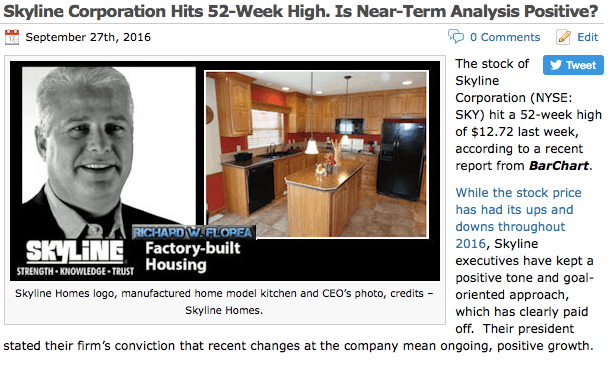 Skyline Corporation Hits 52-Week High. Is Near-Term Analysis Positive?
The Big First Presidential Debate – Pundits, Politicos and Instant Polls
Monday September 26th
Cavco, Sun's Run, Manufactured Home CV rises – other U.S. Markets slip – Market's await Presidential Debate, Brexit Noise
U.S. Senator touts Lexington Homes, awarded $6.76 million contract from FEMA for manufactured homes
SBA, George Washington University, Blast Proposed DOE Energy Rule for Manufactured Housing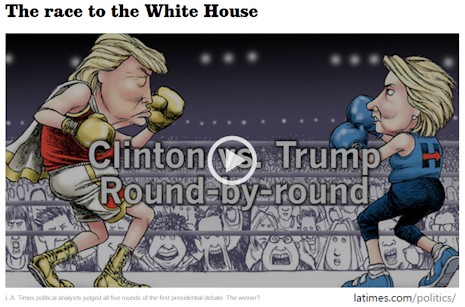 First Debate May Draw 100 Million Viewers, Election Headline Coverage Rundown
New Rules for Tiny Houses crafted, Manufactured Housing Connections
Sunday September 25th
Sunday Morning Weekly Recap – Manufactured Housing Industry News – September 19th through 24th
(Image credits are as shown on the original page where the image is posted.)

Submitted by RC Williams to the Daily Business News for MHProNews.