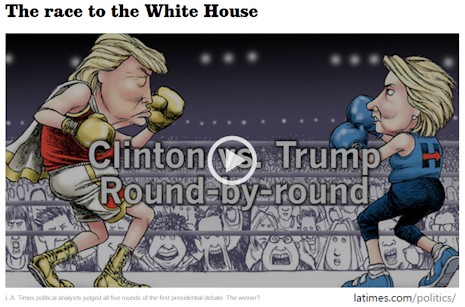 The first super-hyped presidential debate of the 2016 election cycle is history.  There is what the pundits say.  There is what the politicos and news junkies walked away with.  There are instant polls, which to a certain degree will reflect what their readership composition is.
Then there are the voters.
Two of the three instant polls – not scientific polls -went for Trump, one was dead even as of the time this was published.  The LA Times daily tracking poll is also listed below.
Some of the top headlines from across the spectrum – and all three of those instant polls this morning, plus content and comments from around the web – are below.

LESTER HOLT: THE THIRD DEBATER…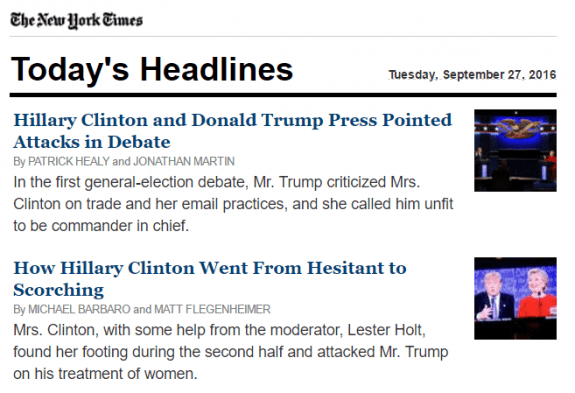 Why Trump should double down on crazy at tonight's debate

'Fact-checking' becomes opinion journalism…
Debate wrap-up: Does a draw go to the challenger?
Dick Morris on Trump at Debate: 'He's Coasting'
CLINTON, TRUMP BATTLE FIERCELY OVER TAXES, RACE, TERROR… 
JUAN WILLIAMS: Trump failed to exploit the email issue
SCHIEFFER: She Didn't Gain Any Votes Tonight… 
Trump: Quiet on Clinton Scandals Out of Respect for Chelsea
Urgent: Do You Back Trump or Hillary? Vote Here Now!
POLL: TRUMP TAKES LEAD IN ELECTORAL COLLEGE…
**DRUDGE POLL** WHO WON THE FIRST PRESIDENTIAL DEBATE?
LA Times Daily Tracking Poll (note: this isn't an instant poll, click to see details).
What will the polls reflect by this weekend? Our pre-debate report from yesterday, at this link here.  The vice-presidential debates are a week away, and the next presidential debate is two weeks out. "We Provide, You Decide." © We plan to bring you video clips and the full debate. ##
(Image credits are as shown above.)

Submitted by L. A.'Tony' Kovach to the Daily Business News, MHProNews.