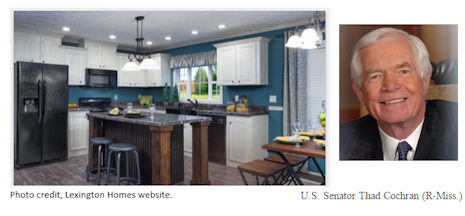 In the effort to provide shelter for the many displaced after the devastating August flooding in Louisiana, Mississippi-based Lexington Homes is about to step into the limelight, the Clarion-Ledger reports.
Lexington Homes, a HUD Code manufactured home builder, was awarded a $6.76 million fixed-price contract from the Federal Emergency Management Agency (FEMA), which will be used to construct and deliver 155 manufactured homes.
The agreement includes four option years.
Flood victims whose pre-disaster home is either inaccessible or uninhabitable may apply for temporary housing assistance through the FEMA Individuals and Households Program. FEMA provides one, two and three-bedroom units through this program, as was reported in the story linked here on MHLivingNews.
Lexington Homes was one of seven builders in the running for this delivery/indefinite quantity contract.
"The temporary housing assistance offered by FEMA can help disaster victims rebuild their lives," U.S. Senator Thad Cochran (R-Miss.) said in a statement. "I am pleased that a Mississippi manufacturer has been awarded a contract to supply this housing."
Cochran is chairman of the Senate Appropriations Committee and serves on the subcommittee with funding jurisdiction over FEMA and the Department of Homeland Security.
Cochran was supported during his re-election bid by Mississippi Manufactured Housing Association (MSMHA) Executive Director, Jennifer Hall, as the photo below reflects.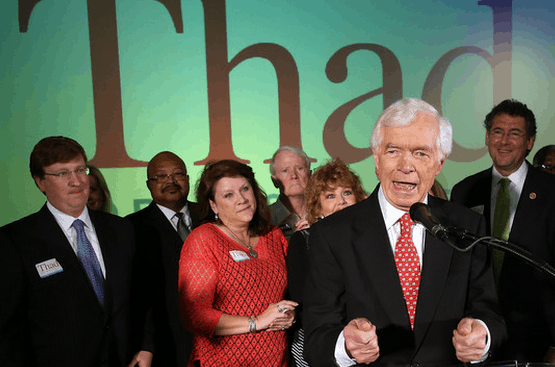 Perhaps the most surprising part of the recovery process was the hesitancy to embrace manufactured homes as an option sooner. It was just a few days ago in R.C. Williams' "one month later" report, that FEMA insisted that manufactured homes were a last resort for flood victims.
Instead, FEMA instructed families to find hotels. But according to local station WBRZ, no rooms were available after calls were made to 10 different hotels.
Manufactured homes are a proven option for displaced residents. They will also be selected by some who may opt to buy a home rather than rebuild a badly flood-damaged house.
"We're slowly turning from response to recovery. This is going to be a long time effort," a FEMA spokesman said. "The thing with the manufactured house units, is that we have to work with the state and local officials that we put it in a safe place."
Lexington Homes, Inc. was founded in August 2004 in Lexington, MS. The company provides affordable housing to Mississippi residents, as well as those living in the surrounding states, through a network of independent retailers.  ##
(Image credits are as shown above.)

Submitted by Joe Dyton to the Daily Business News, MHProNews.com.